No Thanksgiving dinner is complete without the dessert. I always think of our big holiday dinners and a large table filled with just desserts.
For many empty nesters or when there will only be 2 for dinner, the following desserts may be just the right choice.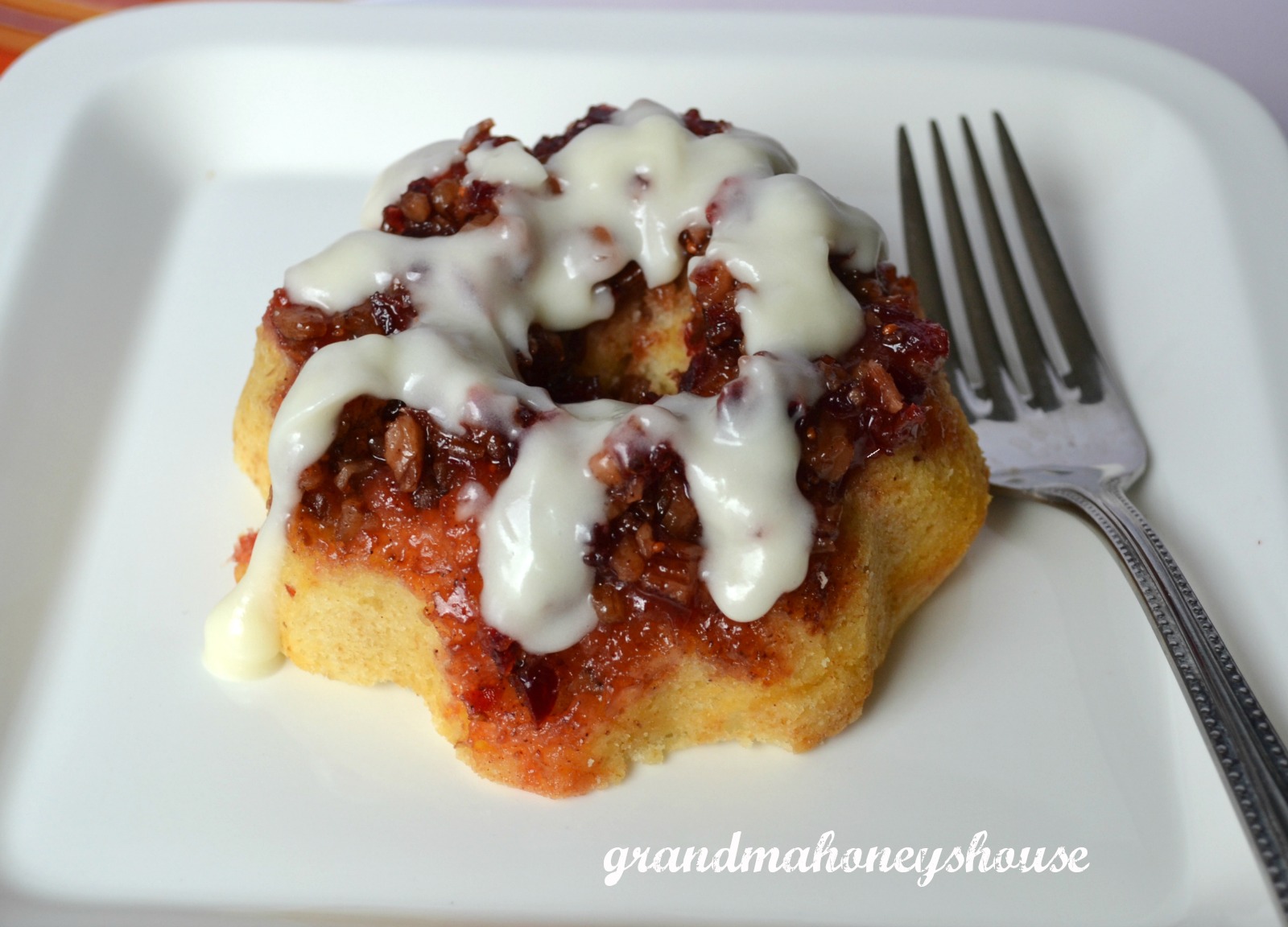 Mini Cranberry-Orange Bundt Cakes with Mascarpone Drizzle are bundt cakes with a topping of fresh cranberries, pecans, frozen orange juice concentrate and then drizzled with a mascarpone glaze.

I place the topping ingredients in the bottom of 3 mini bundt cake pans, followed by the cake batter. Bake as directed then allow to cool 10 minutes before removing from pan. If there is any topping remaining in the pan, remove it with a spoon and place on cake. Place on a serving platter and drizzle mascarpone glaze over the cakes while still warm.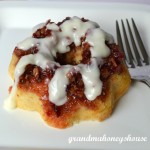 Mini Cranberry-Orange Bundt Cakes with Mascarpone Drizzle
2015-11-18 21:24:48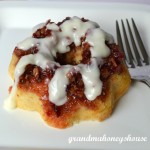 Serves 3
CAKE
1 cup all purpose flour
1 teaspoon baking powder
1/4 teaspoon salt
1/4 cup butter, softened
1/2 cup sugar
1 egg
1 teaspoon vanilla extract
1/4 cup milk
TOPPING
1 Tablespoon butter, melted
1 Tablespoon brown sugar
1/2 teaspoon ground cinnamon
1/4 cup fresh cranberries, chopped
1/4 cup pecans, chopped
3 Tablespoons frozen orange juice concentrate
2 Tablespoons mascarpone cheese, room temperature
3 Tablespoons confectioner sugar
1- 1 1/2 teaspoons milk
Instructions
Preheat oven to 350 degrees F. Spray 3 mini bundt cake pans with no stick cooking spray.
In a small mixing bowl, combine the flour, baking powder, and salt; set aside.
Place the butter in a medium size mixing bowl and beat on a medium speed of electric mixer. Beat in sugar, egg, and vanilla until well combined. Add the flour mixture and milk, alternating with half of each at a time; mix only enough to combine. Set aside.
Place 1 teaspoon of the butter in the bottom of each of the cake pans. Combine the brown sugar and cinnamon and divide evenly between the 3 pans. Top with even amounts of the cranberries, and pecans. Spread 1 tablespoon of the orange juice over the cranberries. Divide the cake batter evenly between the pans.
Bake for 20-25 minutes or until toothpick inserted into the center comes out clean.
Remove from the oven and allow to set for 10 minutes. Run a flat knife along the edges of each cake to loosen.
Carefully invert pan onto a platter. Scrape any remaining topping out of the pan and onto cakes.
Place onto serving plate. Bottoms of the cake may be rounded and can be sliced off with a large serrated knife if desired.
In a small mixing bowl, stir together (may use mixer) the mascarpone cheese, confectioner sugar, and 1 teaspoon milk. Stir until smooth. Add small amounts of additional milk if needed to obtain a consistency to drizzle.
Drizzle even amounts of the glaze over each cake while they are still slightly warm.
Makes 3 mini cakes.
GRANDMA HONEY'S HOUSE http://grandmahoneyshouse.com/
Pumpkin Parfaits with Chocolate Toffee Bits are a light dessert that let you enjoy the taste of traditional pumpkin pie and without having most of the pie leftover.
I was happy when I found pumpkin pie filling in 1/2 cup size cans at the grocery store this year.
I use graham cracker pie crust crumbs for my base layer instead of plain graham cracker crumbs. They have a sweeter flavor.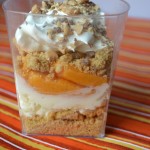 Pumpkin Pie Parfait
2015-11-18 20:41:51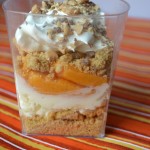 Serves 2
Ingredients
3 oz cream cheese, softened
1/3 cup confectioner sugar
3 Tablespoons instant vanilla pudding mix
1/3 cup canned pumpkin
1/3 cup whole milk
2/3 cup graham cracker pie crust crumbs
4 Tablespoons frozen whipped topping, thawed
2 Tablespoons chocolate toffee chips
Instructions
In a small mixing bowl, beat together the cream cheese and confectioner sugar until smooth;set aside.
Place the pudding mix, pumpkin and milk into a medium size mixing bowl. Beat together until well combined, using an electric mixer. Set aside.
Place 2 tablespoons of the graham cracker crumbs into the bottom of each of the 2 (8 or 9oz) parfait glasses. Press down with fingertips. Divide the confectioner sugar mixture evenly between the 2 glasses and spread with small spoon. Divide the pumpkin mixture evenly between the 2 glasses and spread over the cream cheese layer.
Sprinkle the remaining graham cracker crumbs over the pudding layer. Top each parfait with 2 tablespoons of whipped topping. Sprinkle half of the toffee bits over each parfait.
Refrigerate until ready to serve.
GRANDMA HONEY'S HOUSE http://grandmahoneyshouse.com/