Jump to recipe
Italian Breakfast Crostada is one delicious recipe that you have got to try!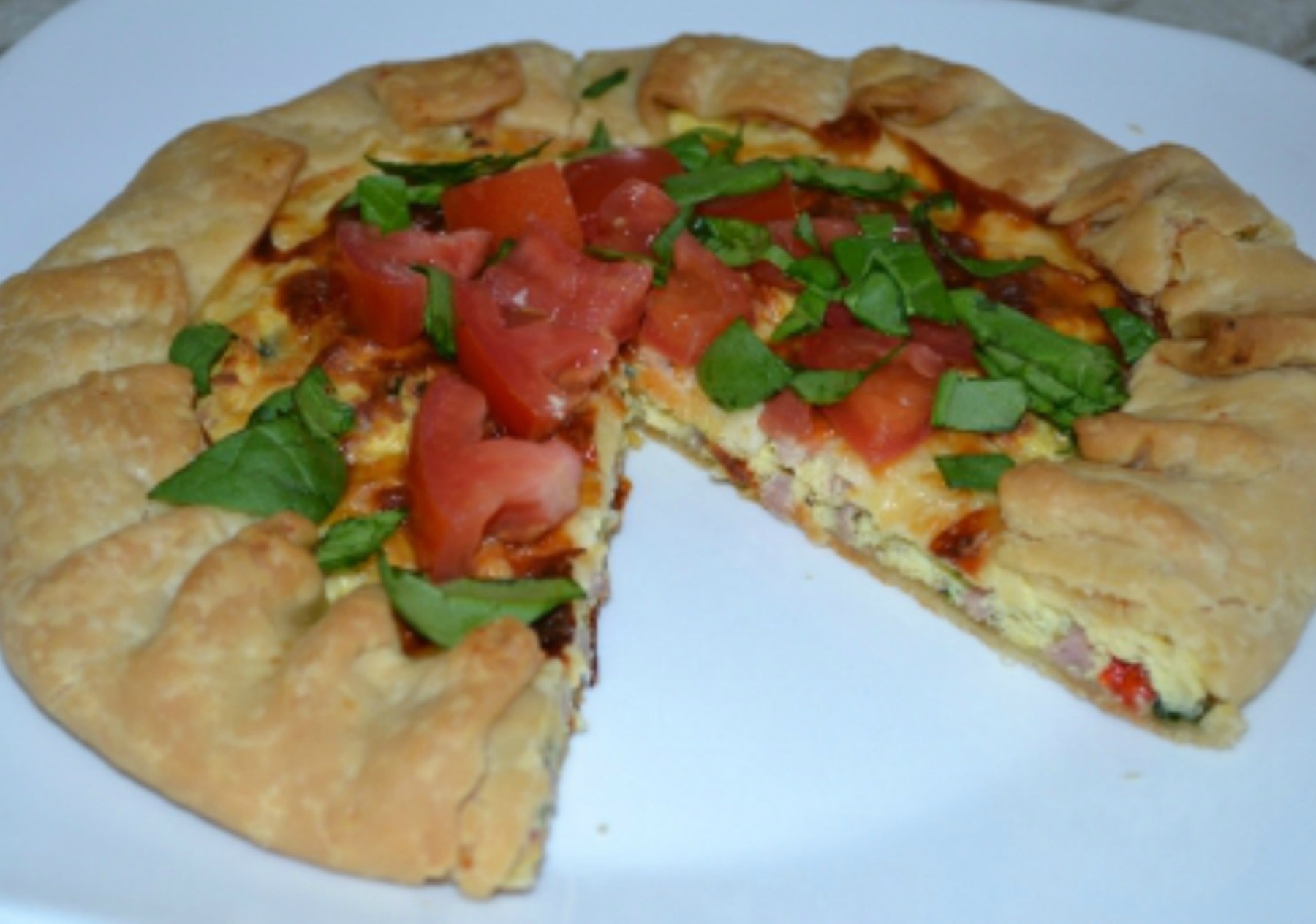 This was a healthy breakfast recipe that I won a contest with a couple of years ago.   It is easy to make and filled with Italian inspired ingredients .  A crostada  adds a special touch to your weekend breakfast table or looks impressive to serve to guests.
ITALIAN BREAKFAST CROSTADA
Ingredients
1 (9 inch) refrigerated pie crust
no stick cooking spray
1 Tablespoon extra virgin olive oil
1/4 cup red onions, diced
1/4 cup roasted red peppers, diced (oil packed from jar & drained)
1/2 cup ham, cut in 1/2 inch cubes (I use packaged)
5 large eggs
1/4 cup half & half
2 Tablespoons chive & onion cream cheese
2/3 cup baby spinach leaves, chopped
1/2 teaspoon kosher salt
1/4 teaspoon black pepper
1/2 cup shredded Italian blend cheese
2 roma tomatoes, chopped
Instructions
Preheat oven to 350 degrees F. Set pie crust out of refrigerator. Spray a large cookie sheet with no stick cooking spray or may use a sheet of parchment paper.
Spray a 10-inch skillet with no stick cooking spray. Heat oil in skillet over a medium heat. Add the onions, peppers, and ham; sautee' for 2 minutes, stirring frequently.
In a medium size bowl, whisk together the eggs, half and half, and cream cheese. Reserve 1 tablespoon of the spinach leaves for garnish and stir the remaining spinach, salt, and pepper into the eggs. Pour the egg mixture into the skillet and allow to cook, over medium heat, just until the eggs begin to set. Push egg mixture gently with a spatula toward center of the pan. Remove skillet from the heat and allow to cool 8-10 minutes.
Meanwhile, unroll the pie crust and place in the center of the baking sheet. Spoon egg mixture into the center of crust; spread evenly to within 1 1/2 inch of the edges. Sprinkle cheese over the filling. Fold edge of crust over the filling forming pleats; press down lightly.
Bake about 25-30 minutes or until crust is light golden brown.
Transfer to a serving platter and garnish with reserved spinach and the tomatoes.
© 2022 Copyright GRANDMA HONEY\\\\\\\'S HOUSE
Please follow and like us: