Today we finally had our first snow of the season, so I just had to make a big pot of homemade chili to welcome it.
I wish we would have had this snow at Christmas, but it is so pretty today, that I cannot complain. I made the homemade chili early in the morning so that it could simmer a few hours. Bob built a fire and I baked some cookies. What a perfect day.
We did not actually get a lot of snow, about 3-4 inches at our house, but it was so cold. The temperature was only 10 degrees.
This is a basic chili recipe that I created a few years ago, but it always seems to turn out just the way we like it. I have shared this recipe with many people who say their families love it too.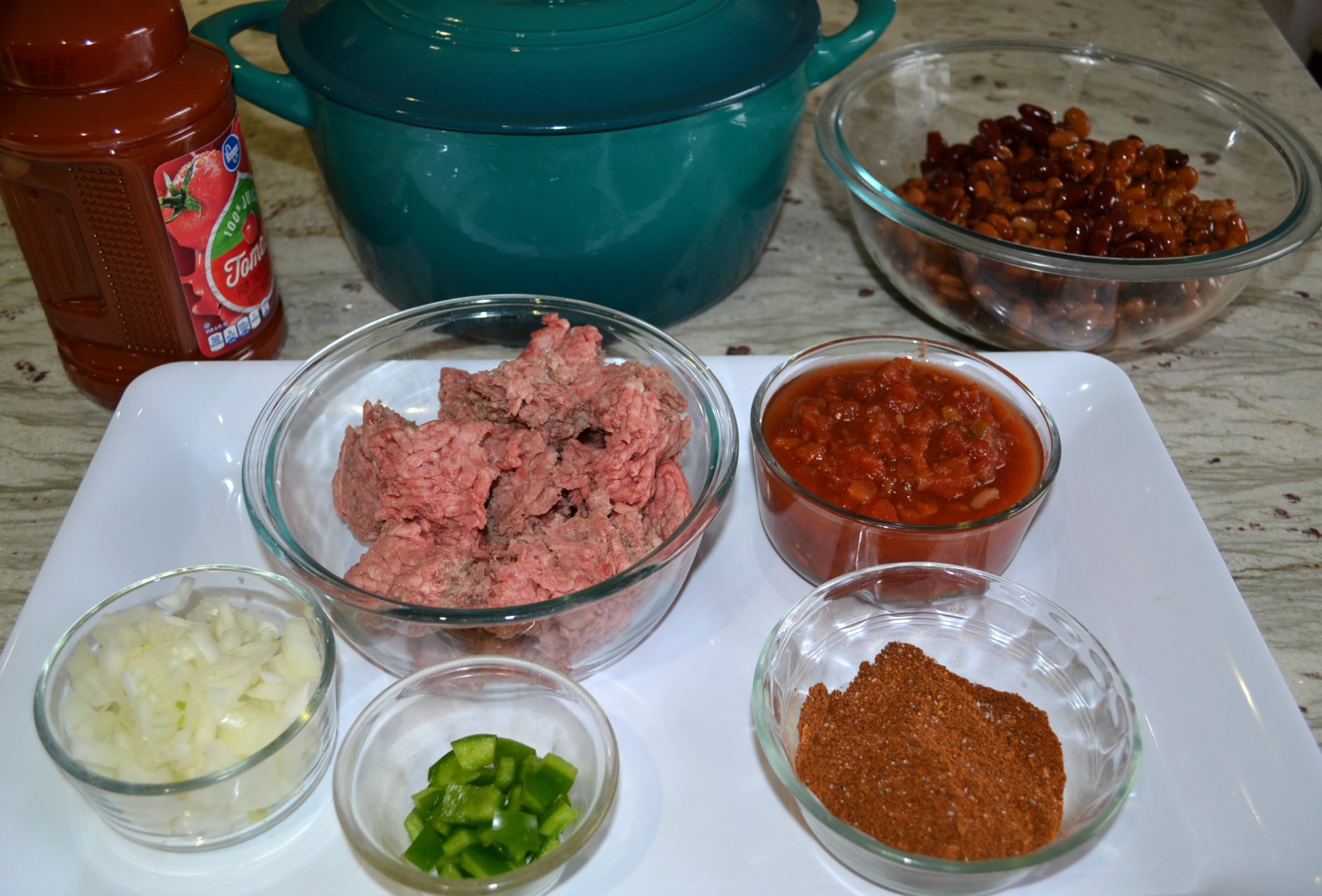 Assemble the ingredients.
Ground beef, onions, green peppers, seasonings, tomatoes with jalapenos, 3 kinds of beans, and tomato juice.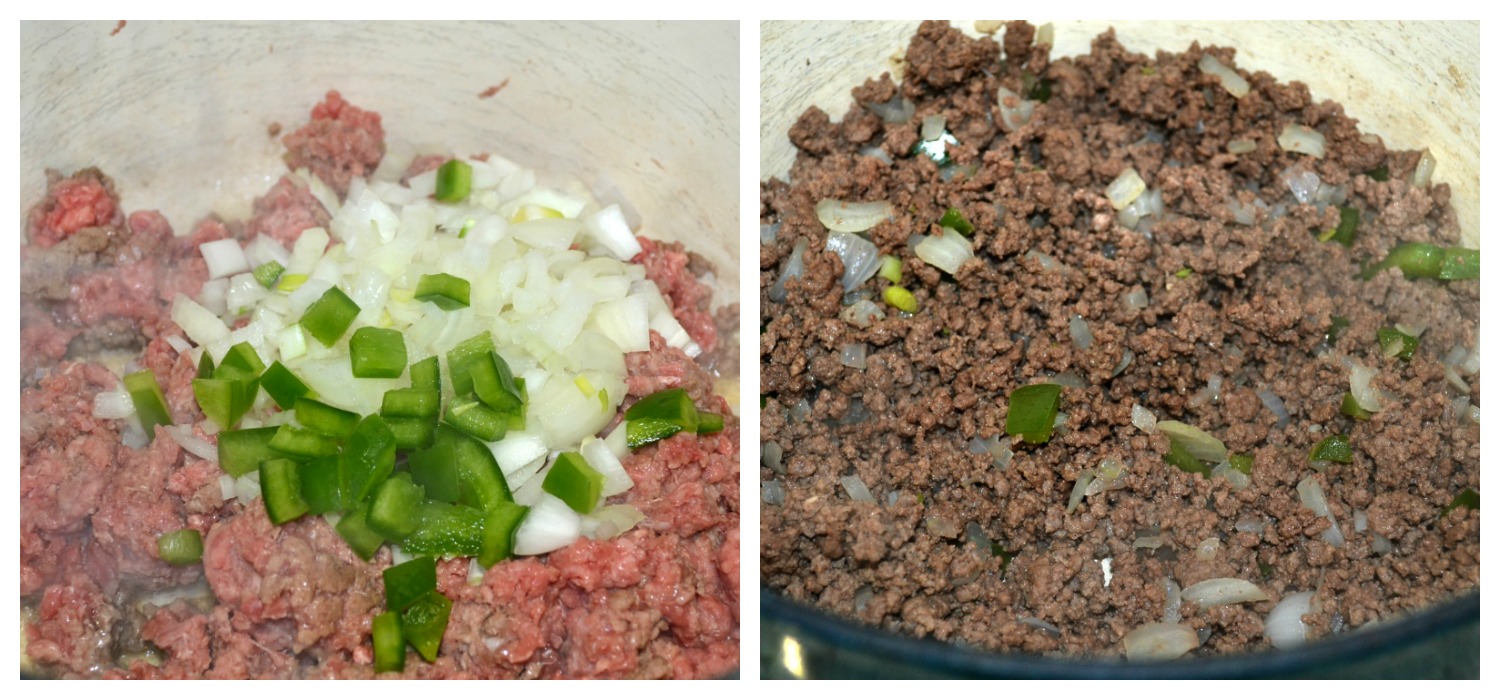 Brown the ground beef, onions, and green peppers. Drain grease.
Combine the chili seasoning packet, salt, pepper, and chili powder in a small bowl. (I use Hot Chili Seasoning packet but Mild or Original can be used). Stir into meat mixture.
Stir in tomatoes. I use ones with zesty jalapenos, but plain ones can be substituted. I do that if making it for just the grandkids.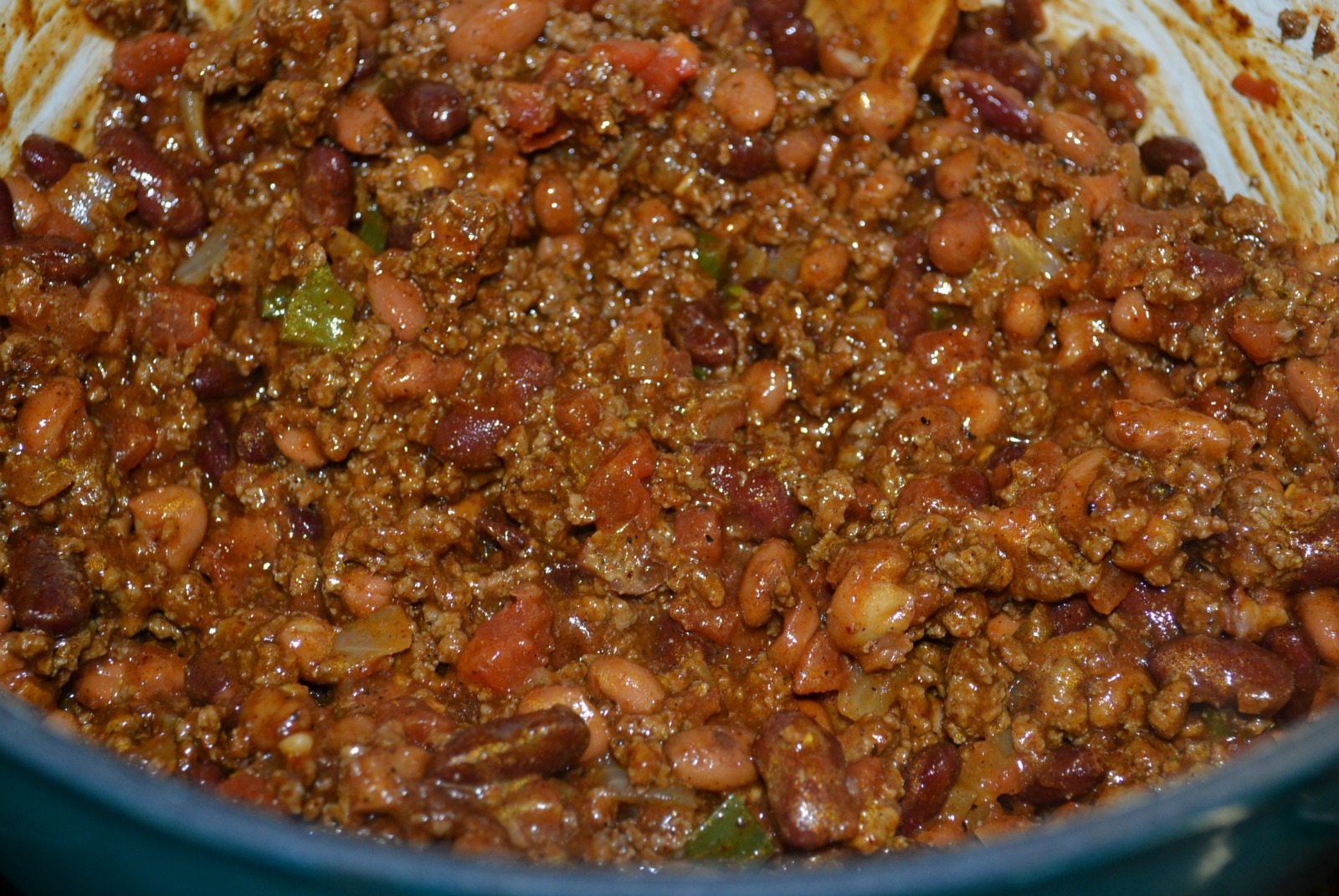 Drain the cans of beans and stir into meat. I use a can each of Hot Chili Beans, Kidney Chili Beans and Pinto Chili Beans. Simmer about 5 minutes, stirring constantly and then add tomato juice.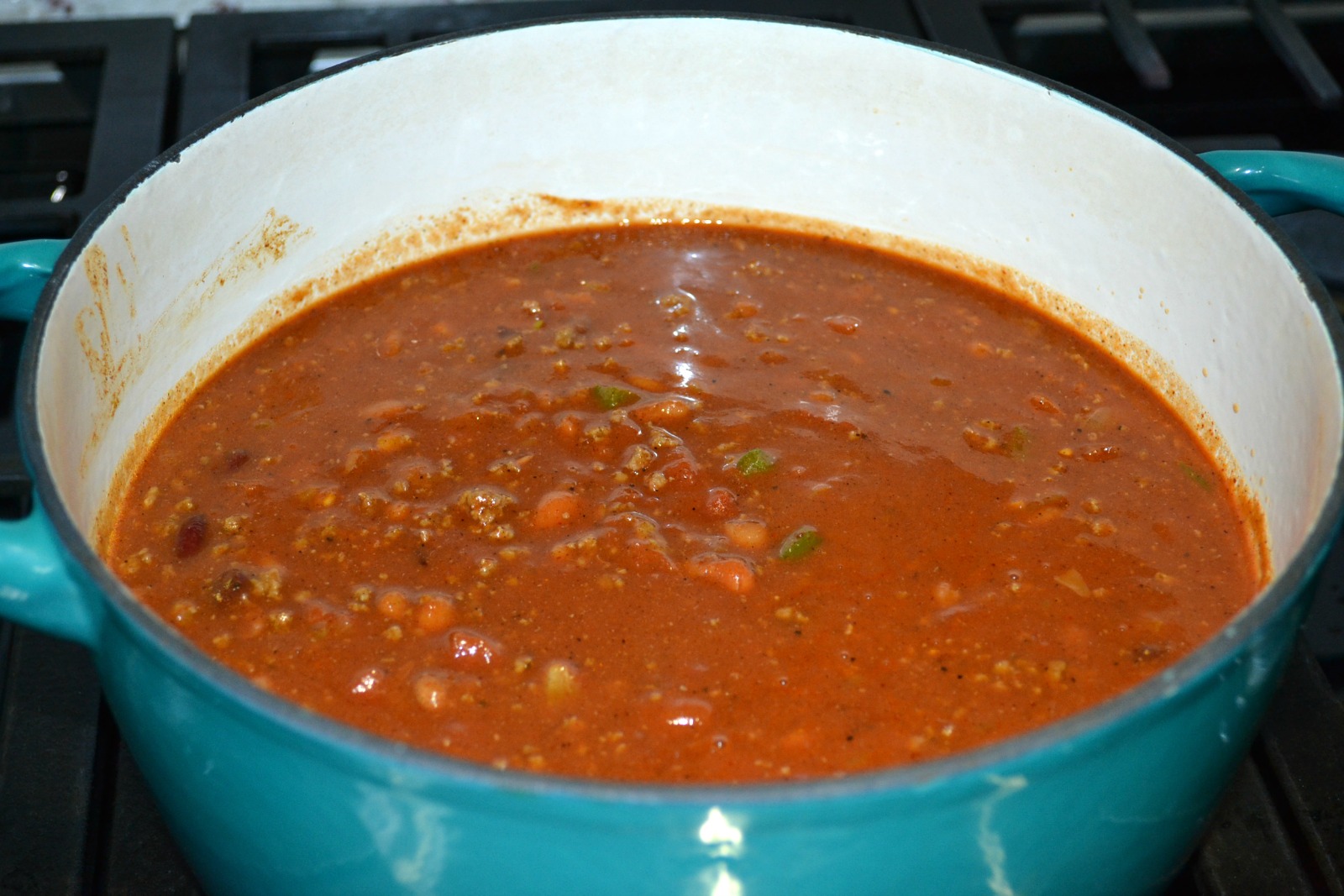 Add the tomato juice, stir, and simmer over a low heat for about 1 1/2 hours. If you want the chili to be thinner, add additional tomato juice or simmer with pot covered. If you prefer thicker chili, allow it to simmer with the pot uncovered.
I think chili tastes the best if you make it the day before serving so that the flavors have more time to blend.
Heat over a low heat, stirring frequently, before serving.
I like to set up a variety of toppings to go with this homemade chili.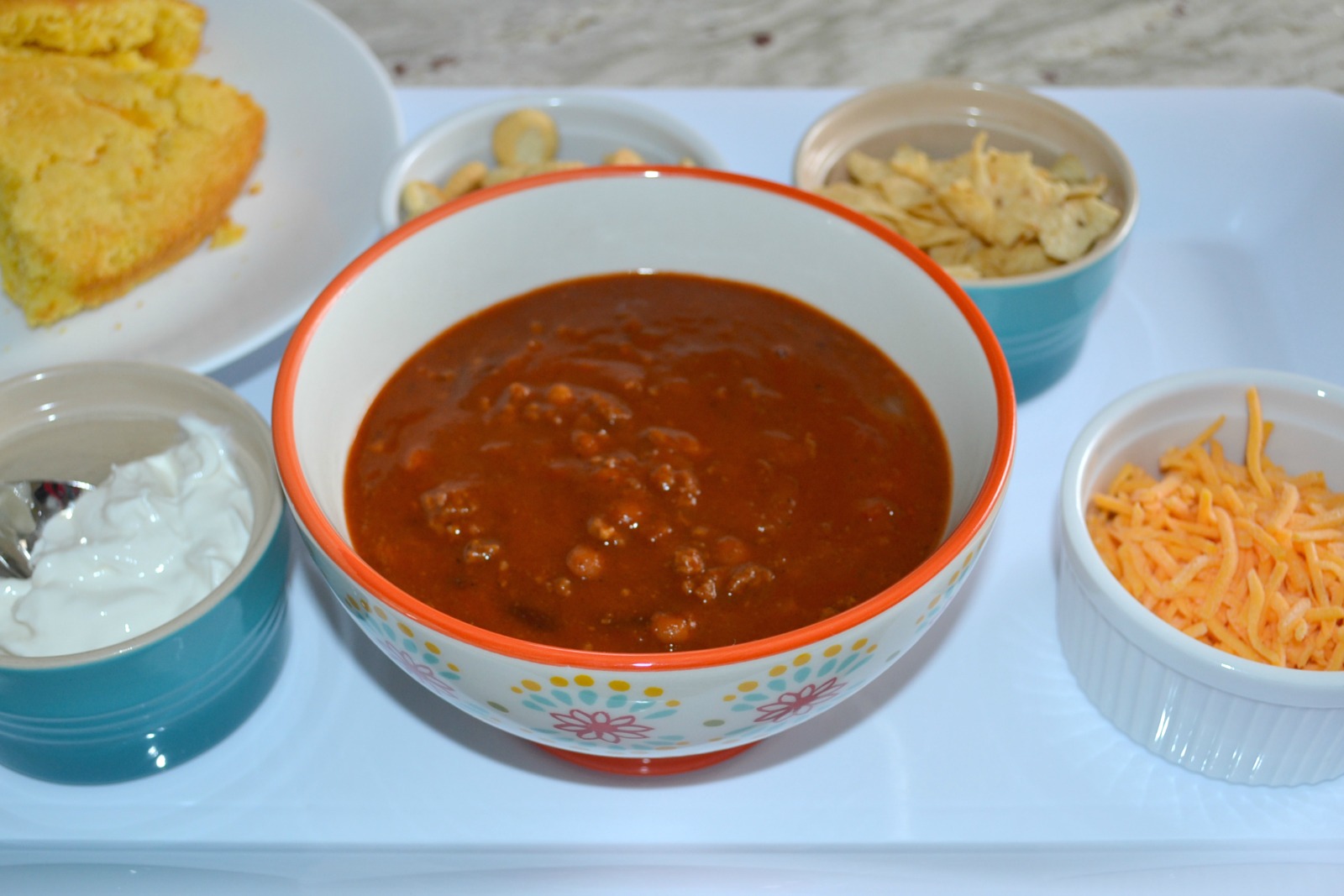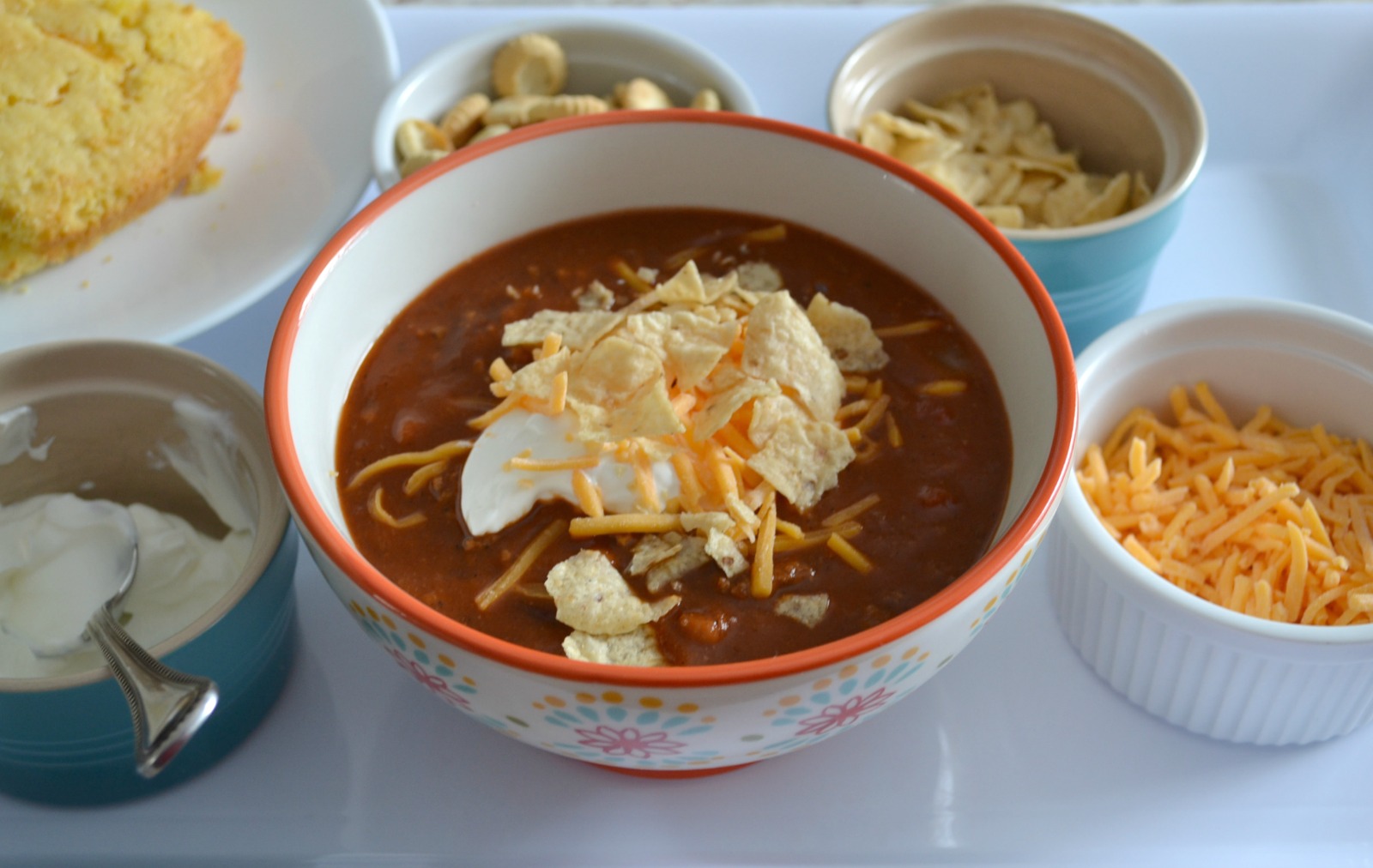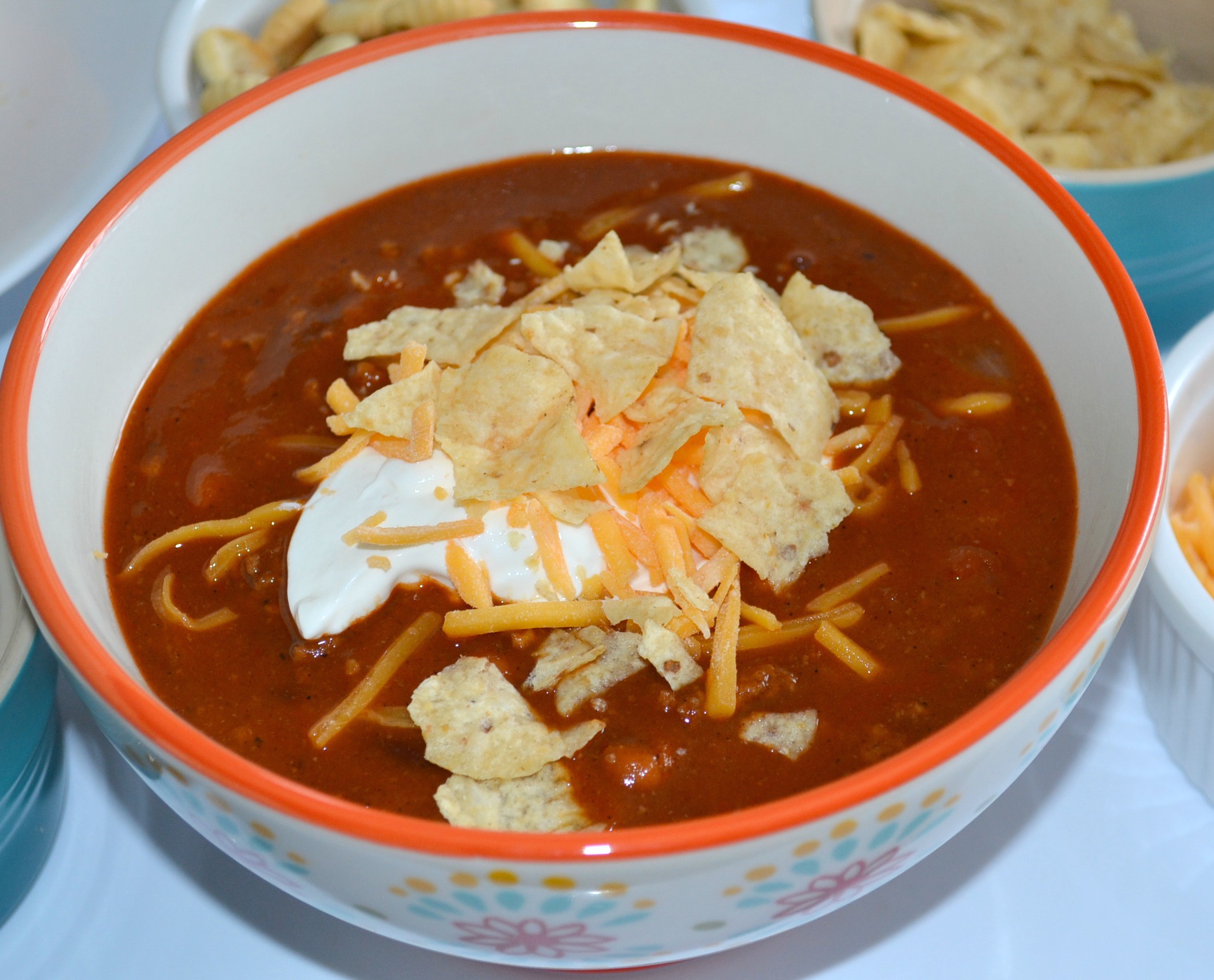 I always make a pan of cornbread. I also serve corn chips or Doritos, shredded cheddar cheese, sour cream and green onions.
Spicy Beef and 3 Bean Chili
2017-01-05 19:03:17
Serves 6
Ingredients
2 lbs ground chuck
1 medium onion, chopped
1/2 green bell pepper, diced
1 1/2 teaspoon kosher salt
1/4-1/2 teaspoon coarse black pepper
1 (1.25 oz} package HOT Chili Seasoning Mix
2 teaspoons chili powder
1 (14.5oz) can diced tomatoes with jalapenos
1 (15oz) can Hot Chili Beans
1 (15oz) can Kidney Chili Beans
1 (15oz) can Pinto Chili Beans
1 (46oz) jar tomato juice
1-2 Tablespoons sugar (optional)
Optional Toppings
shredded cheddar cheese
corn chips/Doritos
sour cream
Instructions
In a large dutch oven, over a medium heat, crumble and brown the ground beef, onions, and green pepper. Drain grease. Return meat mixture to pot, over a low heat.
In a small bowl, stir together the salt, pepper, seasoning packet, and chili powder. Sprinkle over the meat and stir to combine well.
Stir in the tomatoes. Drain beans and add to meat mixture. Stir well to combine. Simmer 5-10 minutes, stirring constantly.
Stir in tomato juice and sugar (optional). Simmer for about 1 1/2 hours on very low heat, stirring frequently. To obtain a thinner chili, may add additional tomato juice or simmer pot covered. For a thicker chili, simmer uncovered.
Best if made the day before or at least several hours prior to eating.
Reheat over low heat and serve with optional toppings. Great with cornbread.
GRANDMA HONEY'S HOUSE https://grandmahoneyshouse.com/
Hope you enjoy this homemade chili and a nice snowy day.