Jump to recipe
This recipe for Easter Kaleidoscope Cookies is so much fun to make with your children or grandchildren.  You will love it!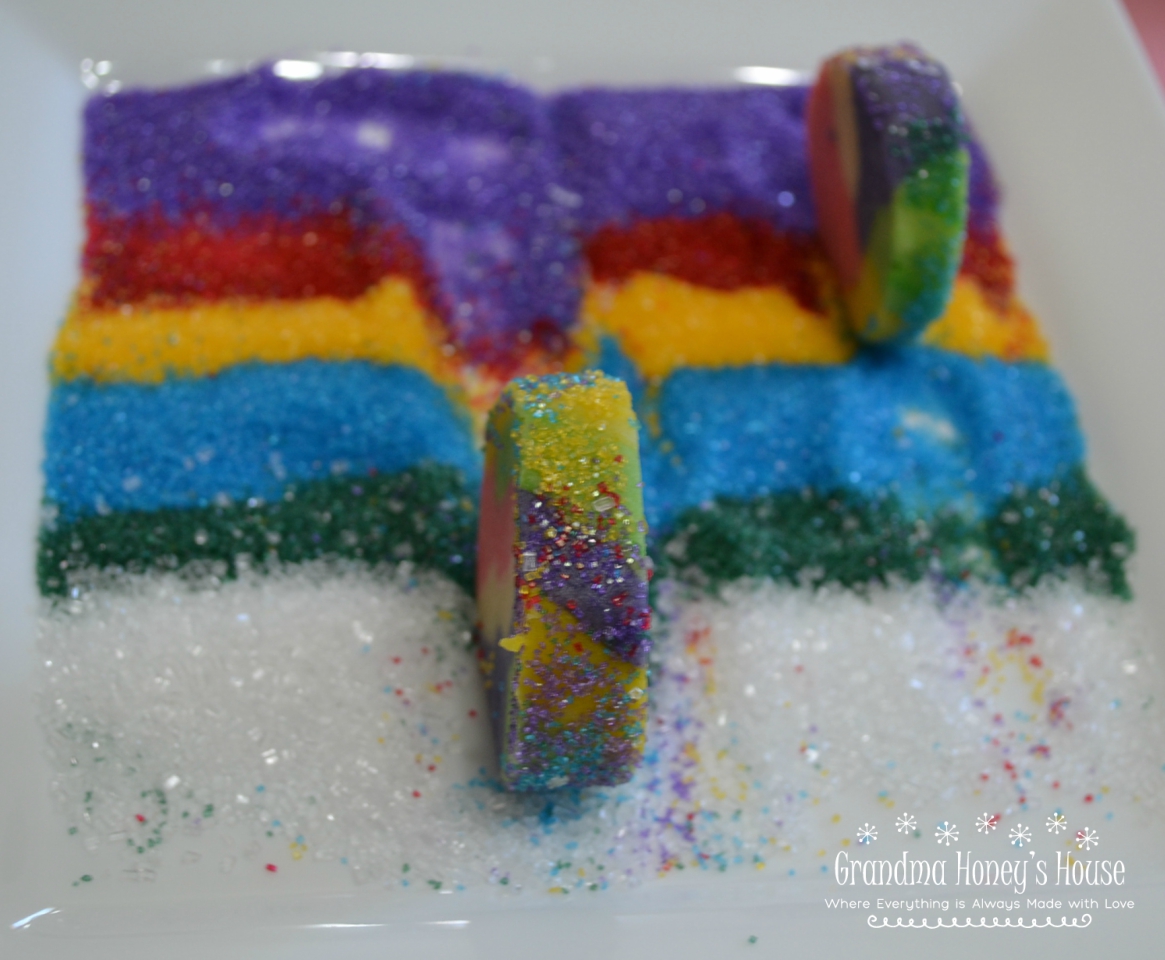 I always make decorated sugar cookies for my grandchildren for whatever occasion is coming up. The past few weeks I have been working on a new cookie that is not quite as sweet, or so time consuming.  These colorful Easter Kaleidoscope Cookies are like a sugar cookie rolled in sparkles.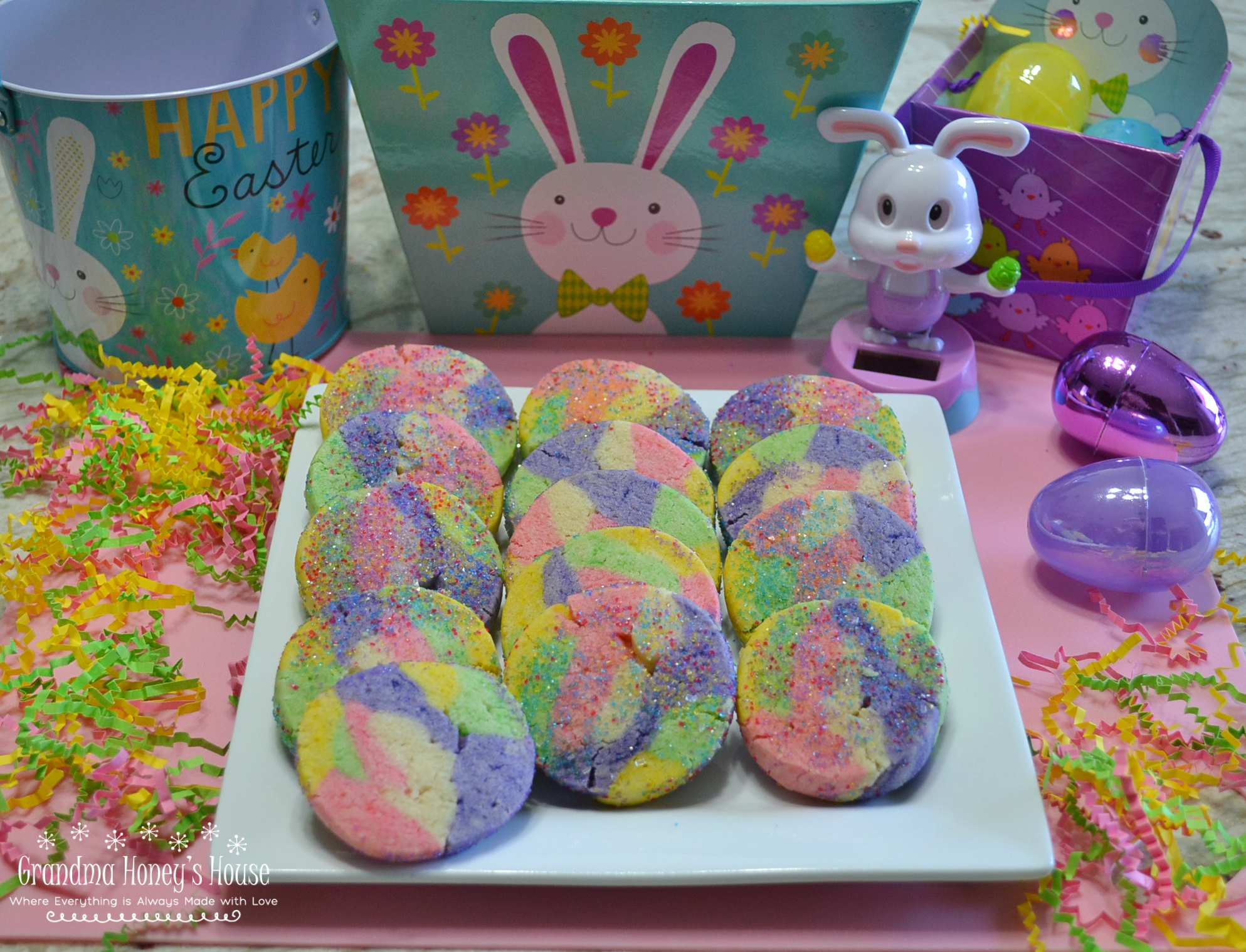 I tested them on some of my grandchildren and some of my neighbor boys.  They all gave them a thumbs up, along with a few suggestions.
When I first started rolling out this dough, it looked like play-dough to me and I started to call them Play-dough Cookies , but figured the children may be afraid to make eat them.
Combine the ingredients for the dough, roll into a ball.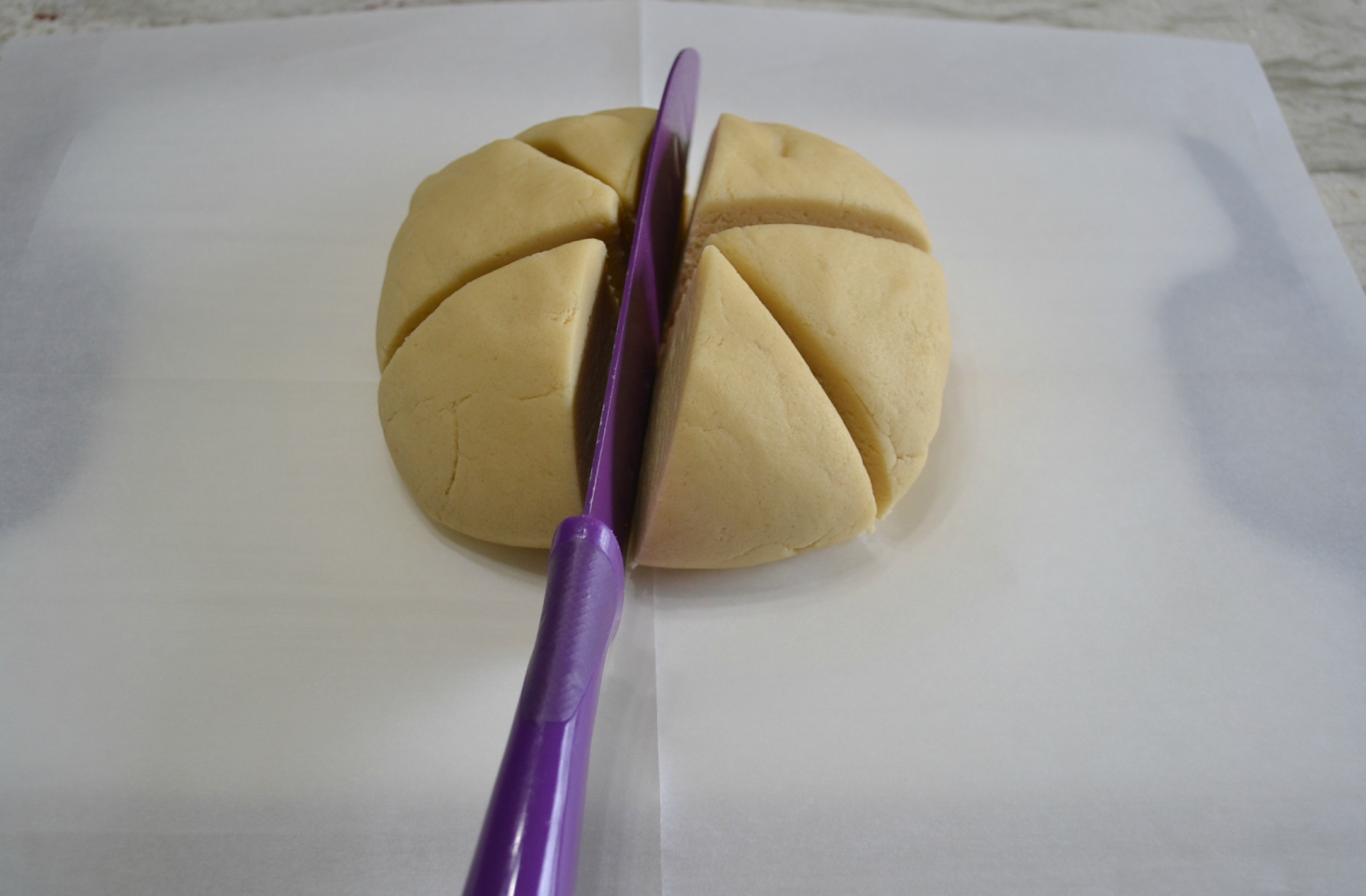 Cut the dough into the number of different colors you will be making.
Love this dough. It reminds me of the spritz cookies for the cookie press.  Not too sweet.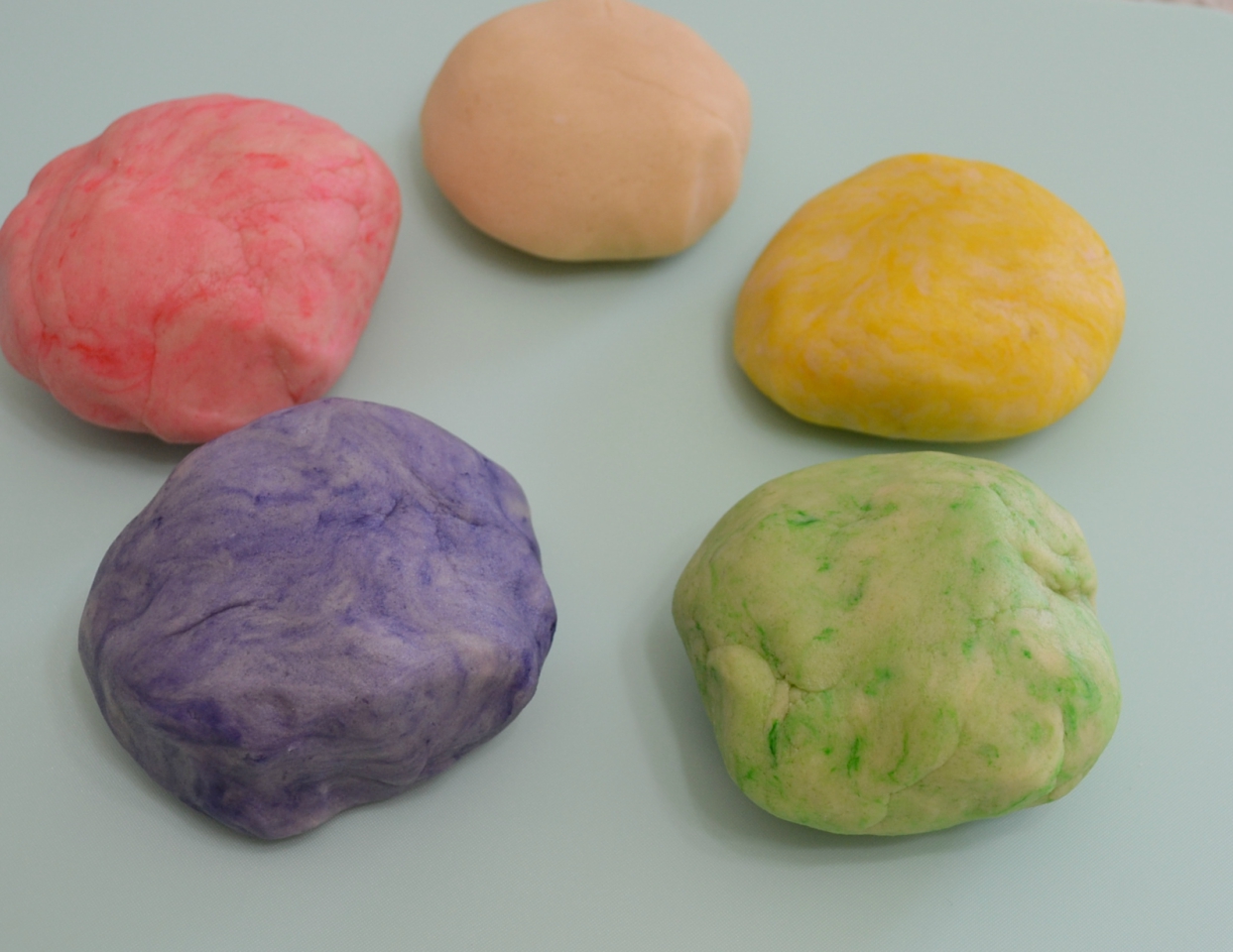 Add coloring paste to each section of dough and blend.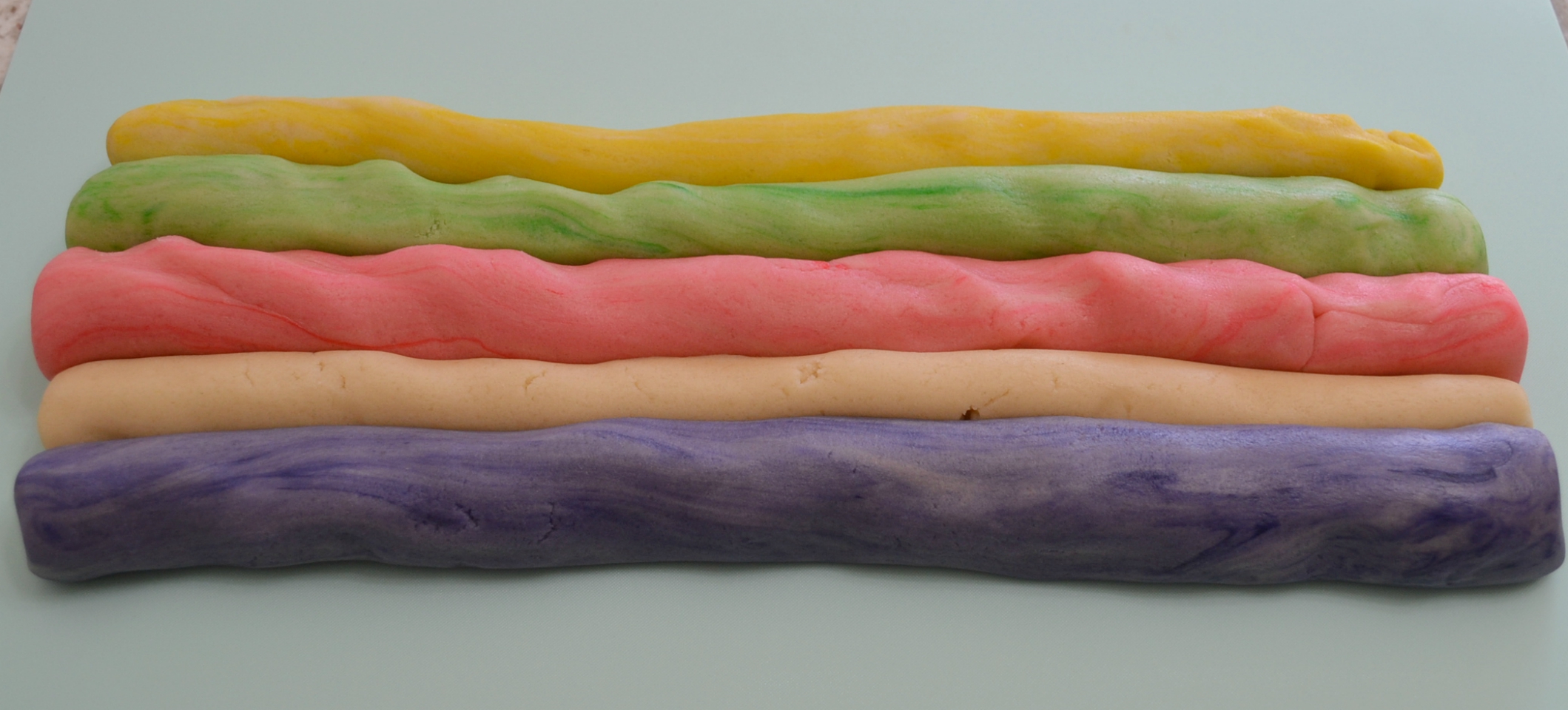 Roll each section into a rope about 12-14 inches long.
Line them up beside each other.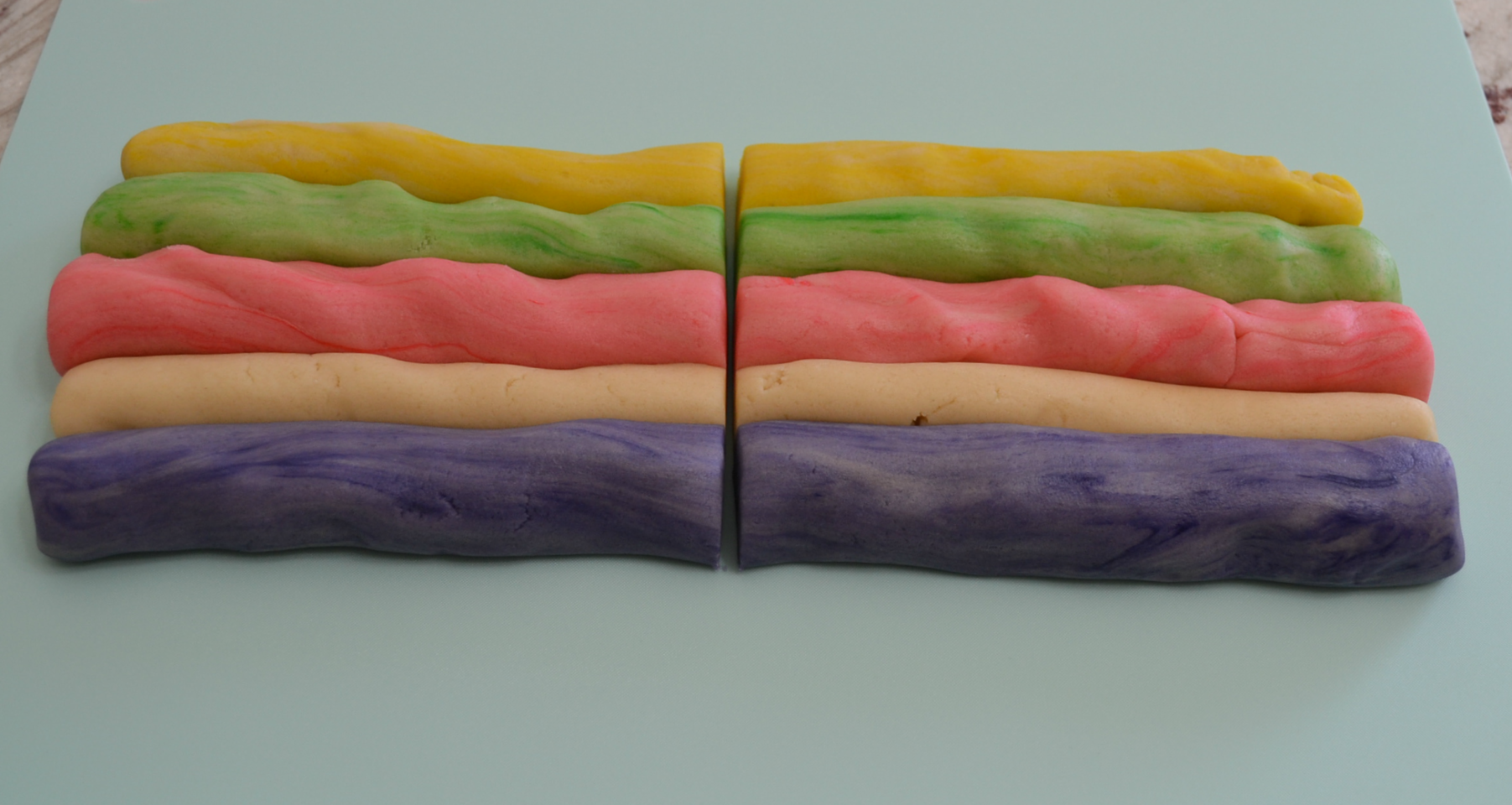 Cut the ropes in half.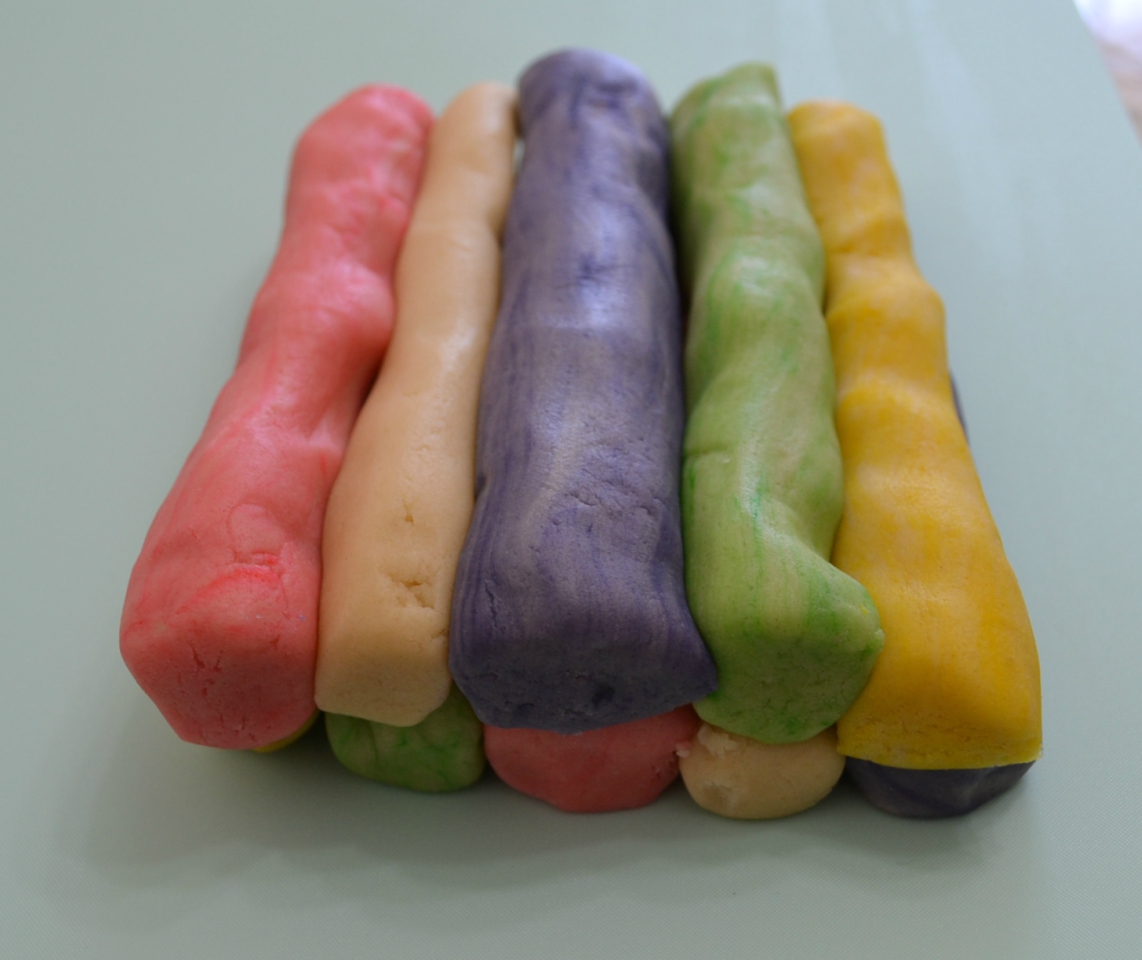 Stack the ropes, alternating colors, on top of each other.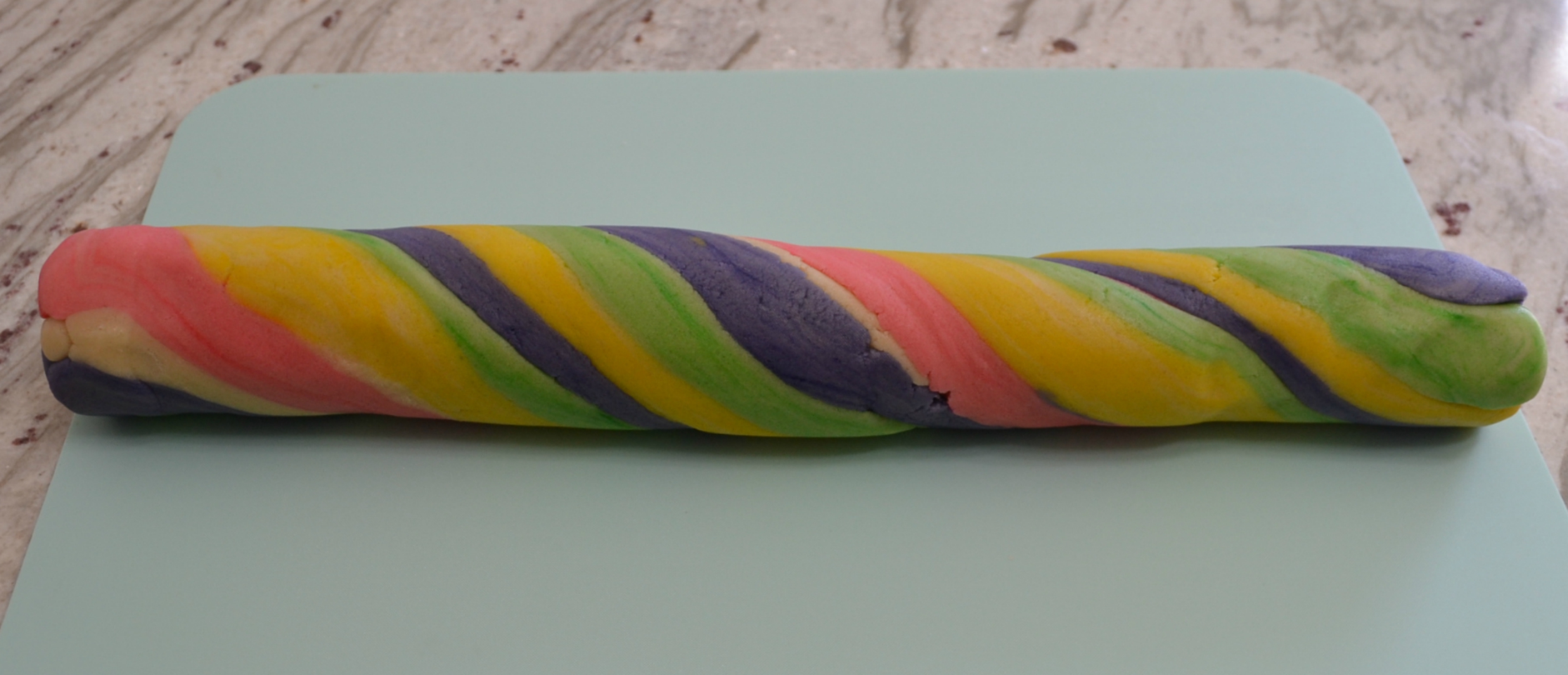 Gently, start rolling the ropes together, twisting them to form one long log.  I rolled it on my cutting board. Press ends to keep the log even.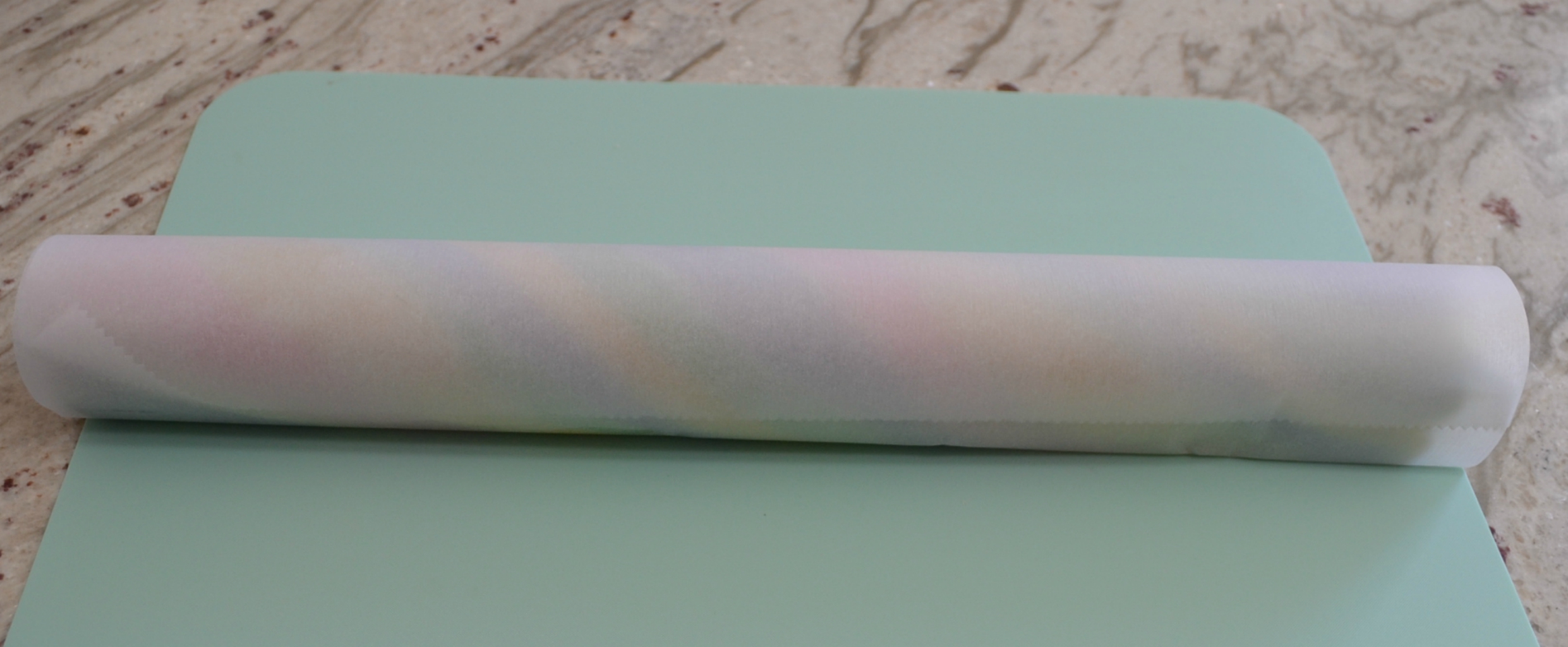 Roll the log in a sheet of parchment paper and chill for 30 minutes.
Remove the log and unroll paper.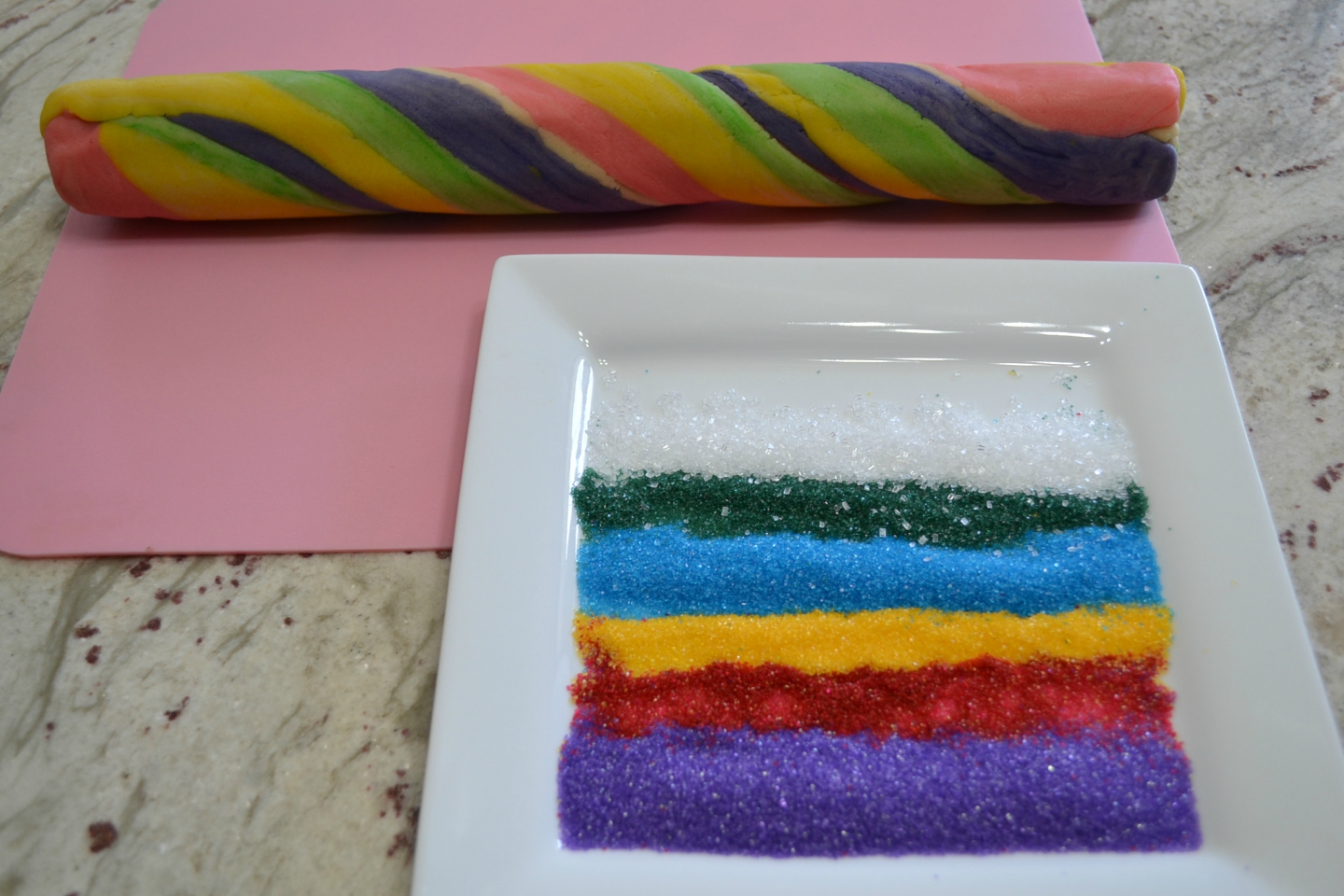 Pour colored sugars, sparkles, or sprinkles onto a plate.
Make sure to have straight lines of the same colored sugars etc.
Slice into 1/4 inch slices. I cut some of mine too thick and the children did not like them as well.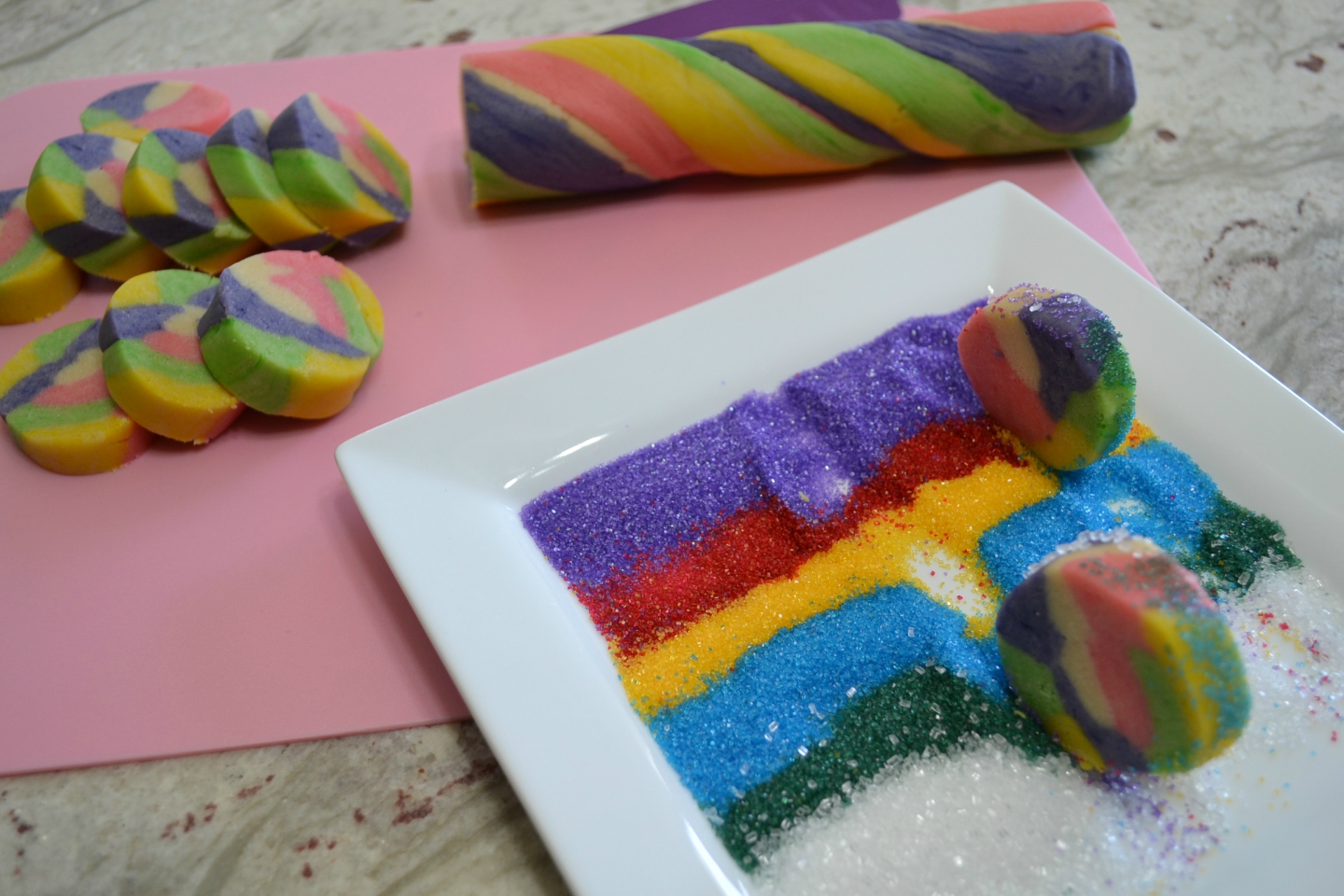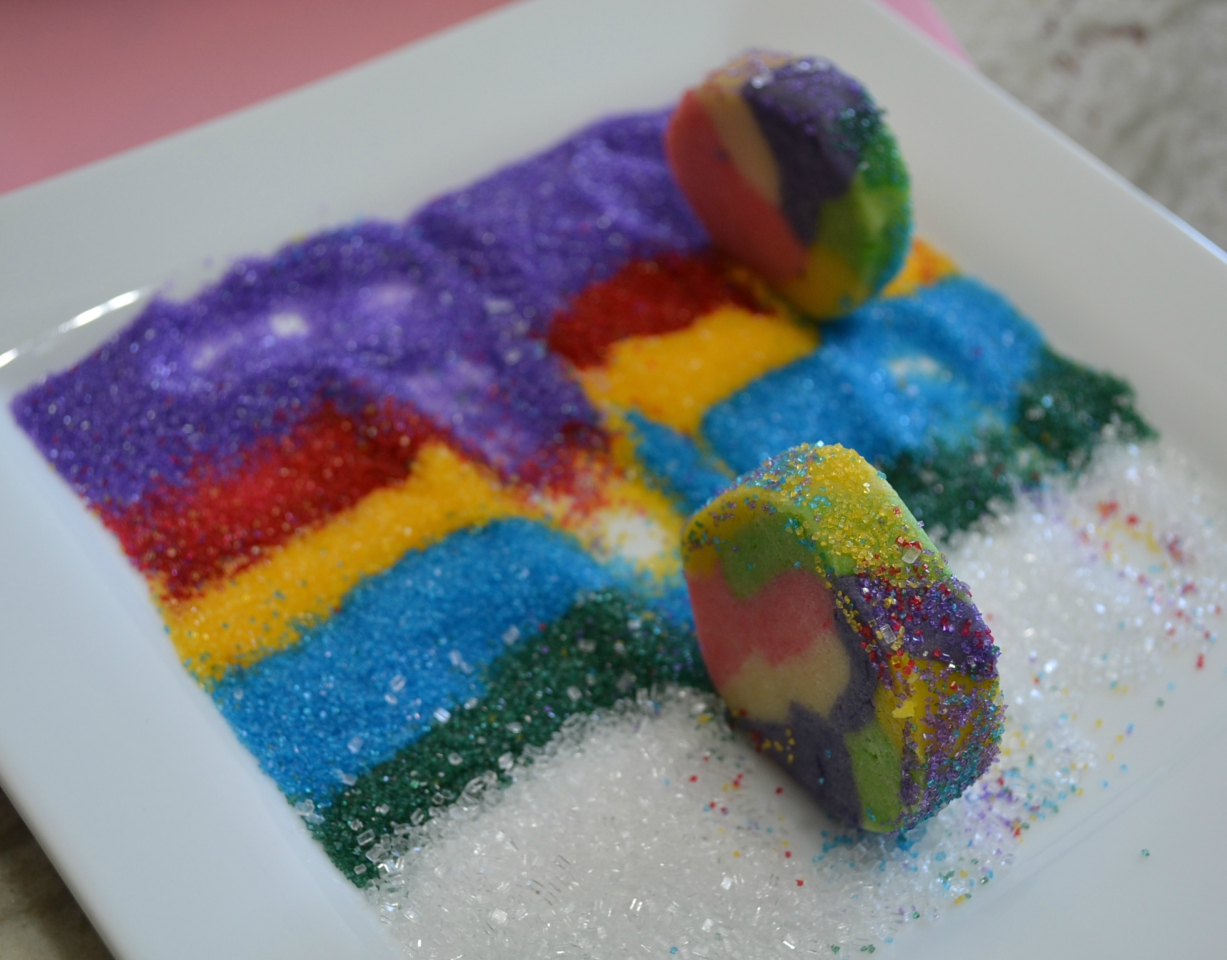 Roll the cookie slices thru the colored sugars. Some of ours resulted with the entire cookie being pressed into the sugars instead of rolled, but that's ok too.
Bake and arrange on plate for eating!
Have fun and enjoy these colorful cookies.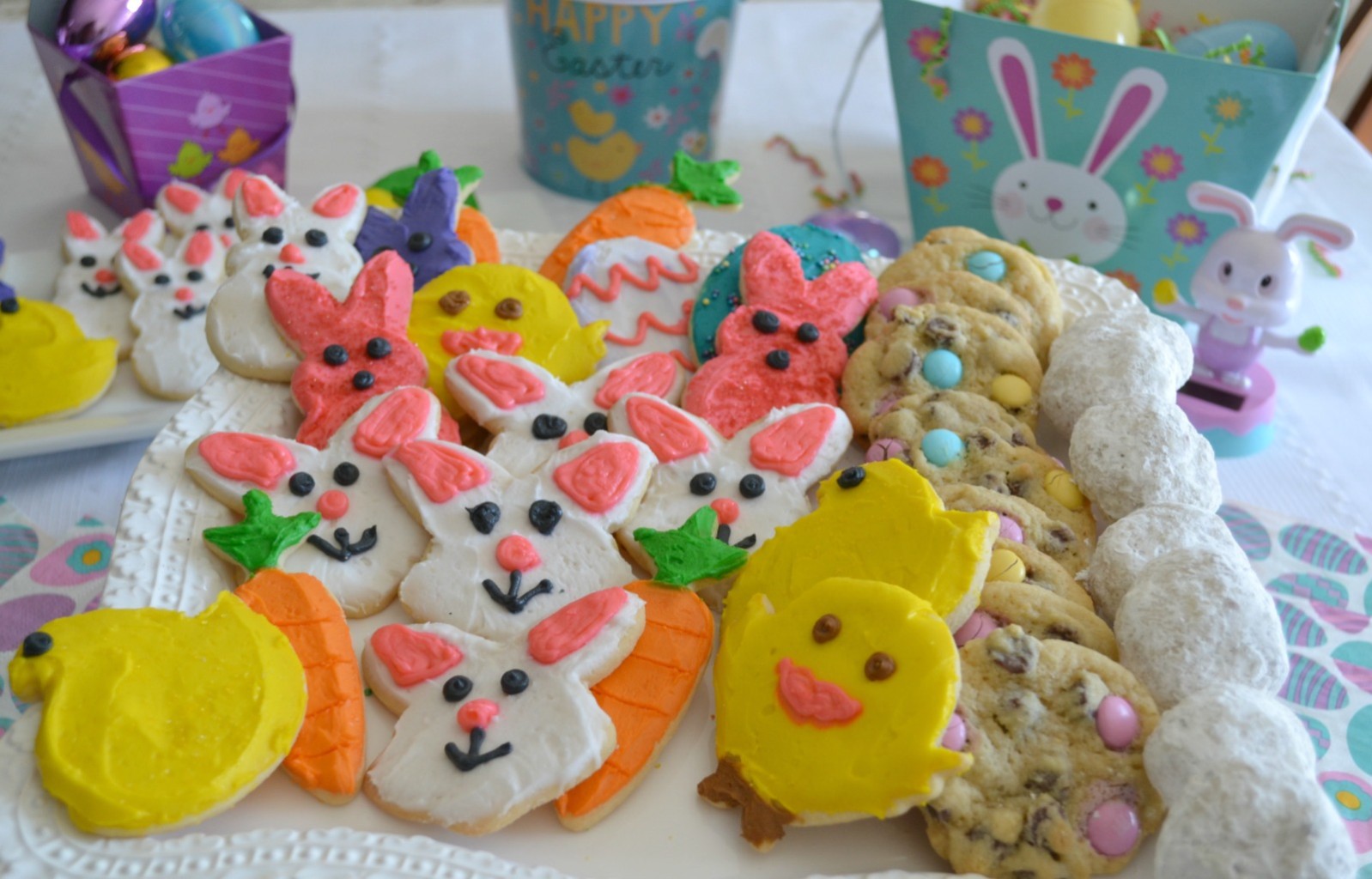 Here is the link for my Easter Decorated Sugar Cookies. 
EASTER KALEIDOSCOPE COOKIES
Ingredients
2 1/4 cups all purpose flour
2 teaspoons baking powder
1/4 teaspoon kosher salt
1/2 cup butter, softened
1 cup sugar
1 large egg
2 Tablespoons milk
1 teaspoon vanilla extract
coloring pastes or food coloring
colored sugars, sparkles, or sprinkles
Instructions
In a large mixing bowl, whisk together the flour, baking powder, and salt.
In another large mixing bowl, using an electric mixer, beat butter and sugar together until light and fluffy. Beat in the egg, milk, and vanilla until well combined.
Gradually add the flour mixture to the butter mixture, beating until a soft dough forms. Shape into a large ball, or disc shape.
Cut dough evenly into the number of colors you are making. Tint each section with a color of paste or food coloring. You can do this by beating each section with the mixer or by putting on food gloves and blending it with your hands. (I did this) Colors do not have to be perfect!
Roll each section into a rope about 12-14 inches long. Lay them beside each other and gently press them together. Cut in half in the middle of ropes. Stack the cut ropes to make 2 layers, alternate the colors. Gently roll them together, twisting and stretching dough at the same time. Make a log about 10-12 inches long. Press the edges with palm of your hand so they are even. Roll log in parchment paper and chill for 30 minutes.
Preheat oven to 350 degrees F. Line baking sheets with parchment paper.
Pour colored sugars, sparkles, sprinkles onto a plate. Make a straight line with each of them. Unroll the log and slice into 1/4-inch thick slices. Roll slices across the sugars. Arrange on baking sheets.
Bake about 8-10 minutes until bottoms are light golden brown. Allow to set on cookie sheets until firm enough to remove. Transfer to a wire cooling rack. Do not overbake as these will continue to harden while cooling. We prefer a softer cookie.
© 2023 Copyright GRANDMA HONEY\\\\\\\'S HOUSE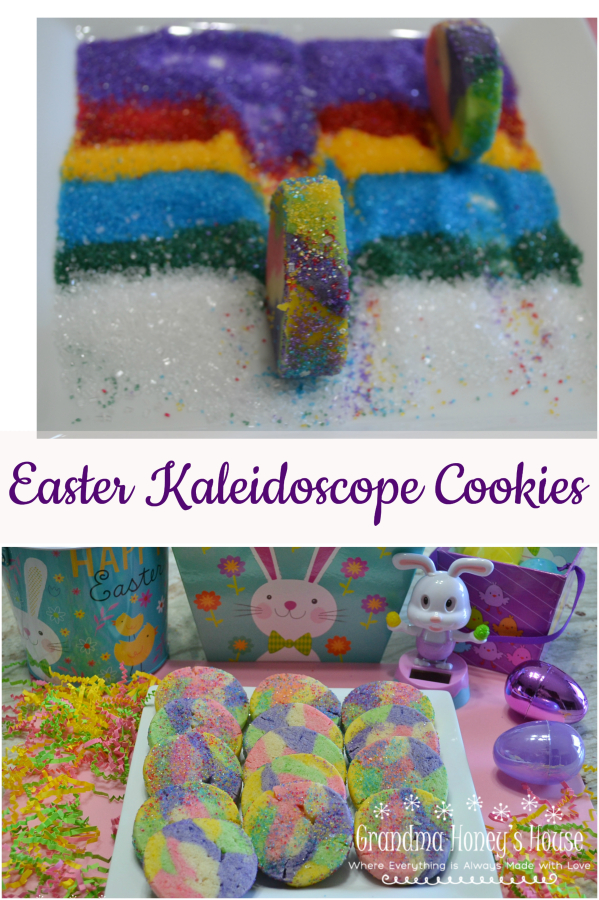 Please follow and like us: