Jump to recipe
Start your day with these colorful, delicious, St. Patrick's Day Sizzlin Breakfast Skillets.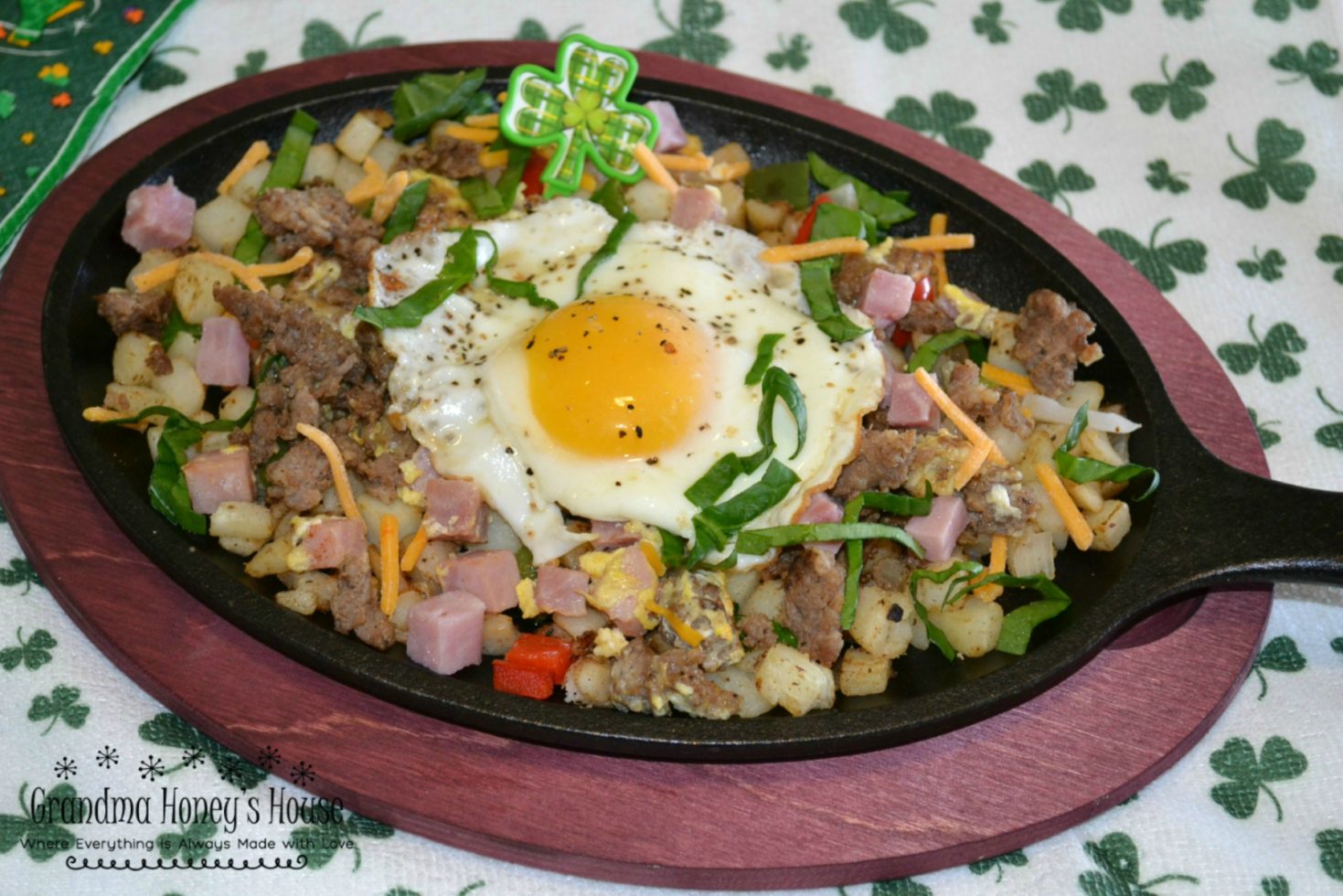 I like creating something special for my family on each holiday, so that was my inspiration for these St. Patrick's Day Sizzlin Breakfast Skillets.
I bought these cast iron fajita skillets last year, and have had so much fun creating meals on them.  This is the first time that I have prepared a breakfast recipe on them.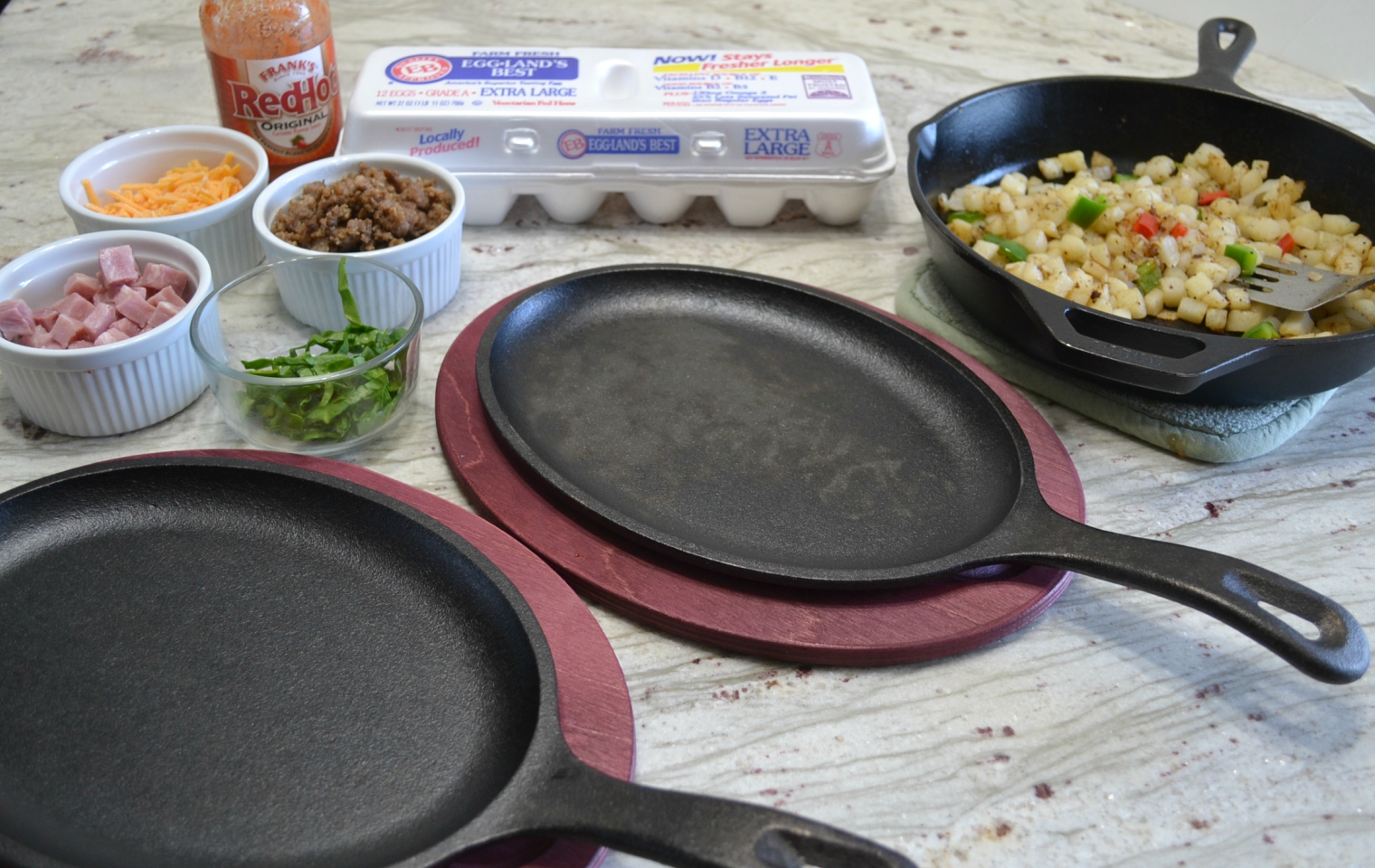 Start with the breakfast ingredients your family likes.
Mine were Potatoes O' Brien (so Irish), ham, sausage, cheese, baby spinach, hot sauce, and eggs.
I made 2 different versions of these St. Patrick's Day Sizzlin Breakfast Skillets.
Keep the skillets in an oven on low heat to keep them warm prior to placing your food on them.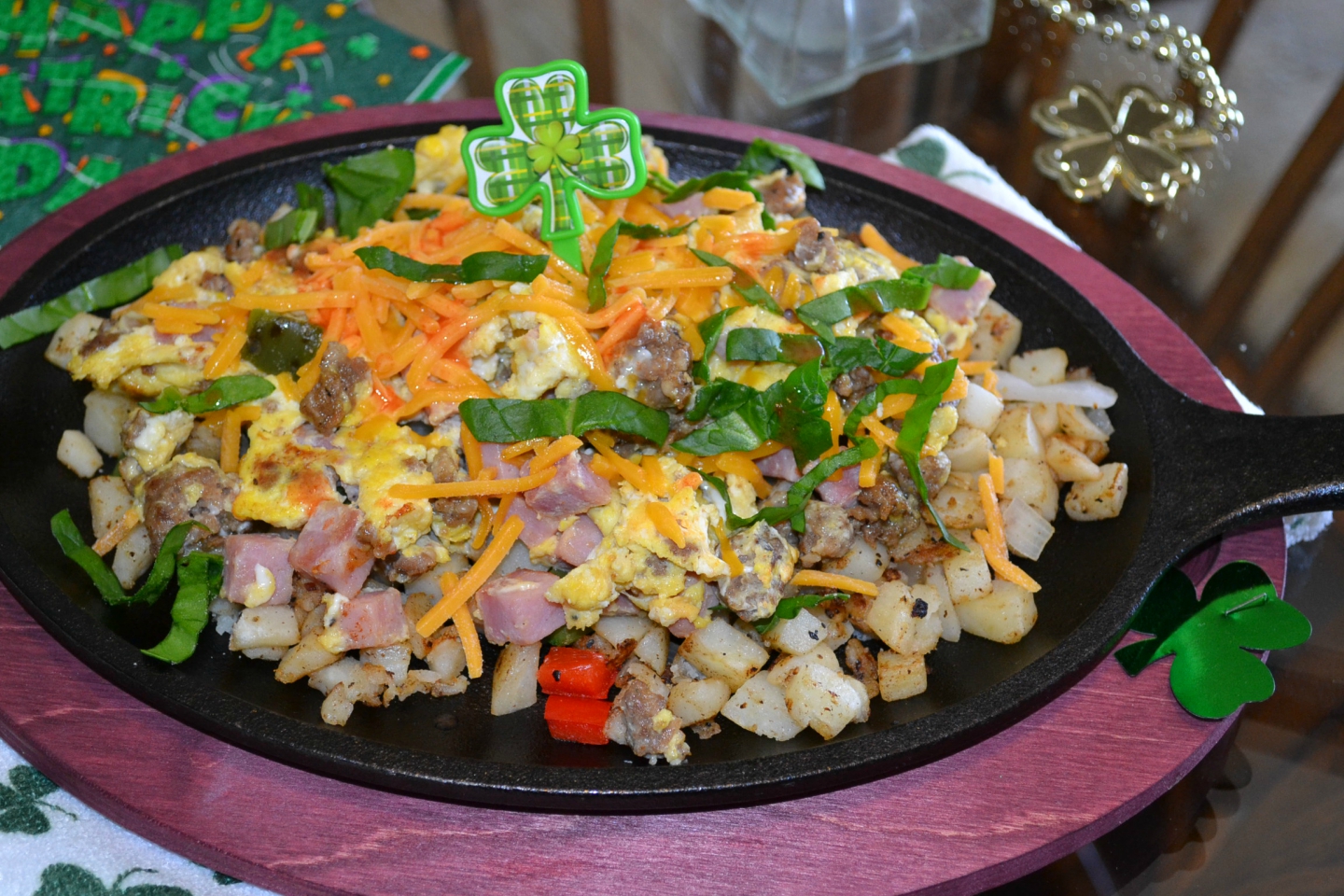 Brown your potatoes in a skillet with oil, then place them on the fajita skillets. In another skillet, scramble the eggs, stirring  in the ham and sausage. Place on top of potatoes. Sprinkle with cheese and baby spinach.  Serve warm.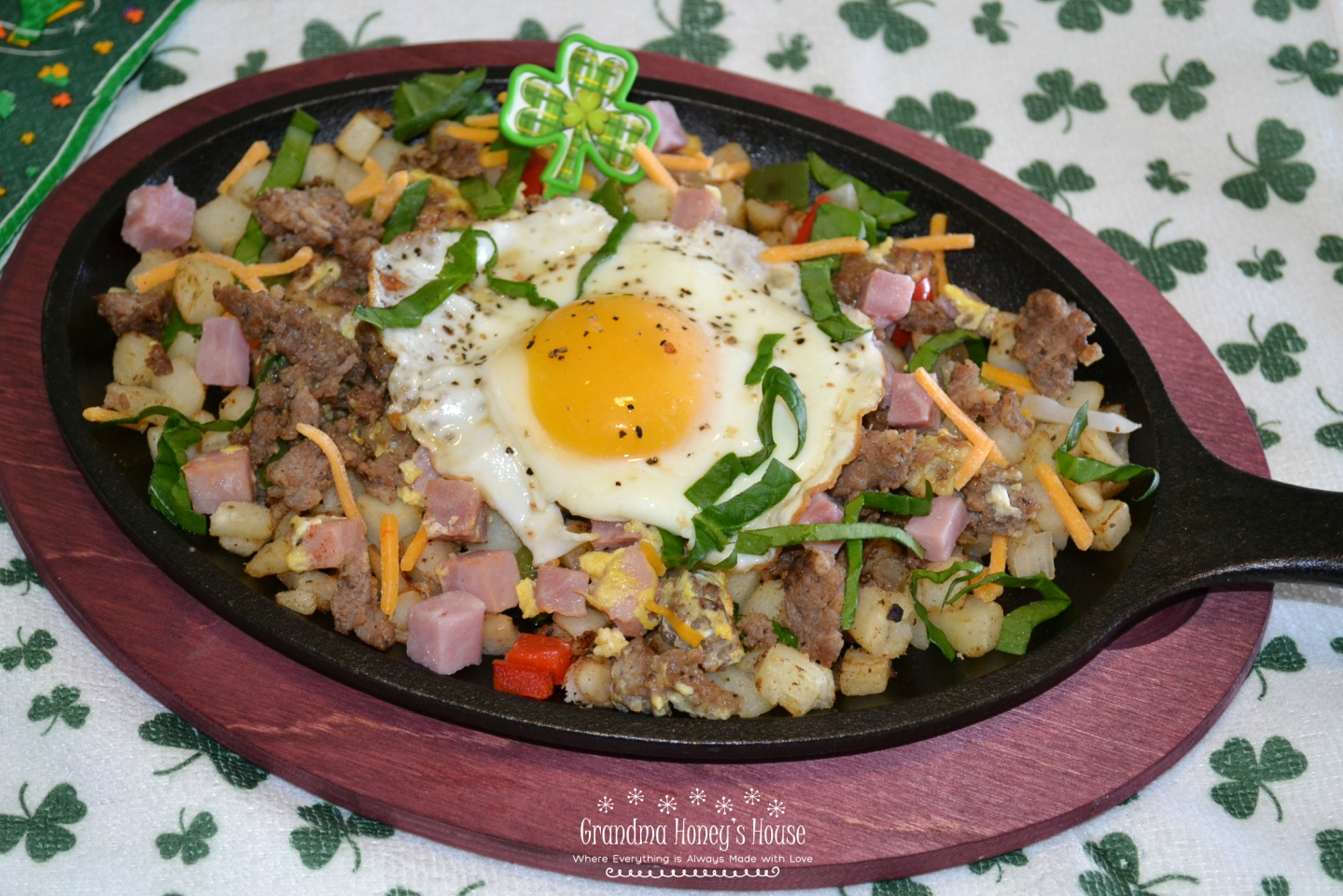 The other version of my St Patrick's Day Sizzlin Breakfast Skillet I made was my husband's favorite with a fried egg on top.
Brown the potatoes in a skillet.  Stir in the ham and sausage.  Place on a warm skillet. Sprinkle shredded cheese and baby spinach over the potatoes.  Fry egg and place on top.  Serve warm.
St. Patrick's Day Sizzlin  Breakfast Skillets are a fun way to make the morning special for your children, grandchildren, guests, or your family.
Some other fun breakfast ideas are:
Country Breakfast Bowl Board
Brunch Board for 2
This recipe was shared on Weekend Potluck @ Sweet Little Bluebird link party.
ST. PATRICK'S DAY SIZZLIN BREAKFAST SKILLETS
Ingredients
3 Tablespoon vegetable oil
1/2 bag frozen Potatoes O'Brien
6 large eggs
1/4 cup half and half
salt and pepper
1 Tablespoon hot sauce (optional)
1 cup ham cubes, chopped
1/4 lb ground sausage, browned
1 cup shredded cheddar cheese
4-6 fresh baby spinach leaves, chopped
Instructions
Preheat oven on low heat. Place 2 fajita cast iron skillets in oven to keep warm.
Spray a 10-inch skillet with no stick cooking spray. Heat oil in skillet. Add potatoes and cook until browned, turning occasionally. Arrange potatoes on heated skillets and return to oven.
Spray skillet again with no stick spray. In a large mixing bowl, whisk together the eggs, half and half, salt, pepper, and hot sauce together. Pour into skillet and scramble until almost set. Stir in the ham cubes and sausage. Continue to cook eggs until done.
Remove skillets from the oven. Arrange egg mixture over the potatoes. Sprinkle with cheese and baby spinach. Serve warm.
*** For variation: Prepare the potatoes as above. Stir in the hot sauce, salt & pepper, ham, and sausage. Arrange on skillets. Top with cheese, spinach, and fried egg.
© 2023 Copyright GRANDMA HONEY\\\\\\\'S HOUSE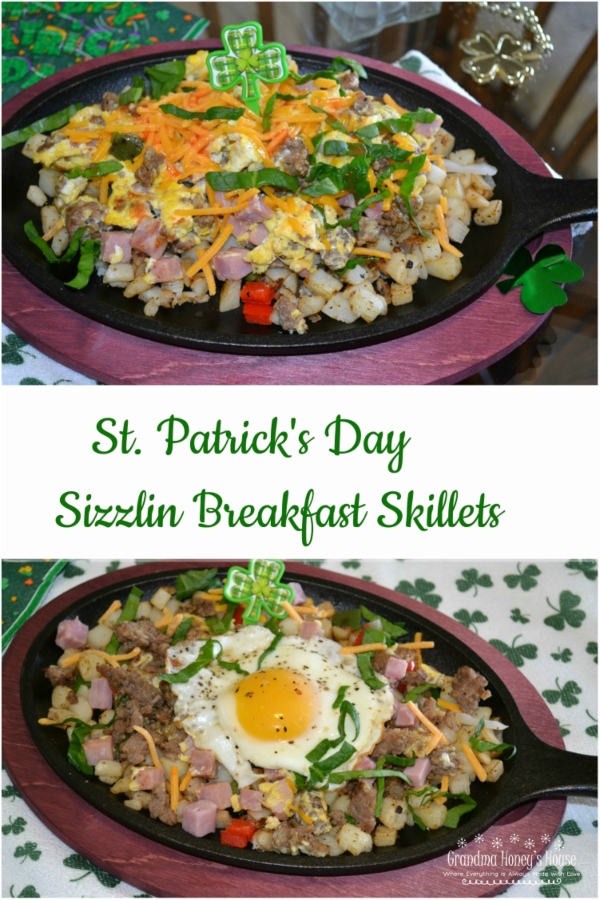 Please follow and like us: