Thanksgiving traditions are created from memories.
Traditions are defined as the transmission of customs or beliefs from generation to generation. I was thinking of my Thanksgiving traditions and asked a few of my friends to tell me about theirs.
When I was growing up I remember that my mother cooked and baked for days preparing foods for Thanksgiving. I believe that I can still feel the warmth in our home and experience the wonderful smells coming from the kitchen. Everyone came to our house to eat including grandparents, aunts and uncles, cousins and friends. My father and the men in our family always liked to deer hunt so they were out in the morning doing that. After dinner we drew names for our Christmas gift exchange.
When I was in high school we moved to the country and for several years the same tradition continued. My mother decided to try hunting and enjoyed it so she started going out herself. Over the years as my brother, sister and I grew up and had our own families we were not always able to be together.
My husband and I have a blended family of 8 children. When they were growing up I cooked and baked for days preparing for the Thanksgiving feast. I remember them having friends over that whole week and many of them ended up in the kitchen enjoying the desserts being baked. Many great conversations happened while hanging out in the kitchen.
My husband is one of those men who counts down the days on the calendar for each deer hunting season to begin. He owns a hunting cabin with his brother and some friends. He hunts on Thanksgiving morning. He comes home around 10am and we usually have our dinner around 1pm. When the children were small, he would take the boys back to the cabin with him for a few days to hunt. The girls and I always went to a movie that evening. We would start some Christmas shopping the next day. The children are all grown now and have their own families. We are not able to be together on Thanksgiving so we talk on the phone or do FaceTime.
I asked some of my friends what their traditions are and how they are passing these on to their own grandchildren.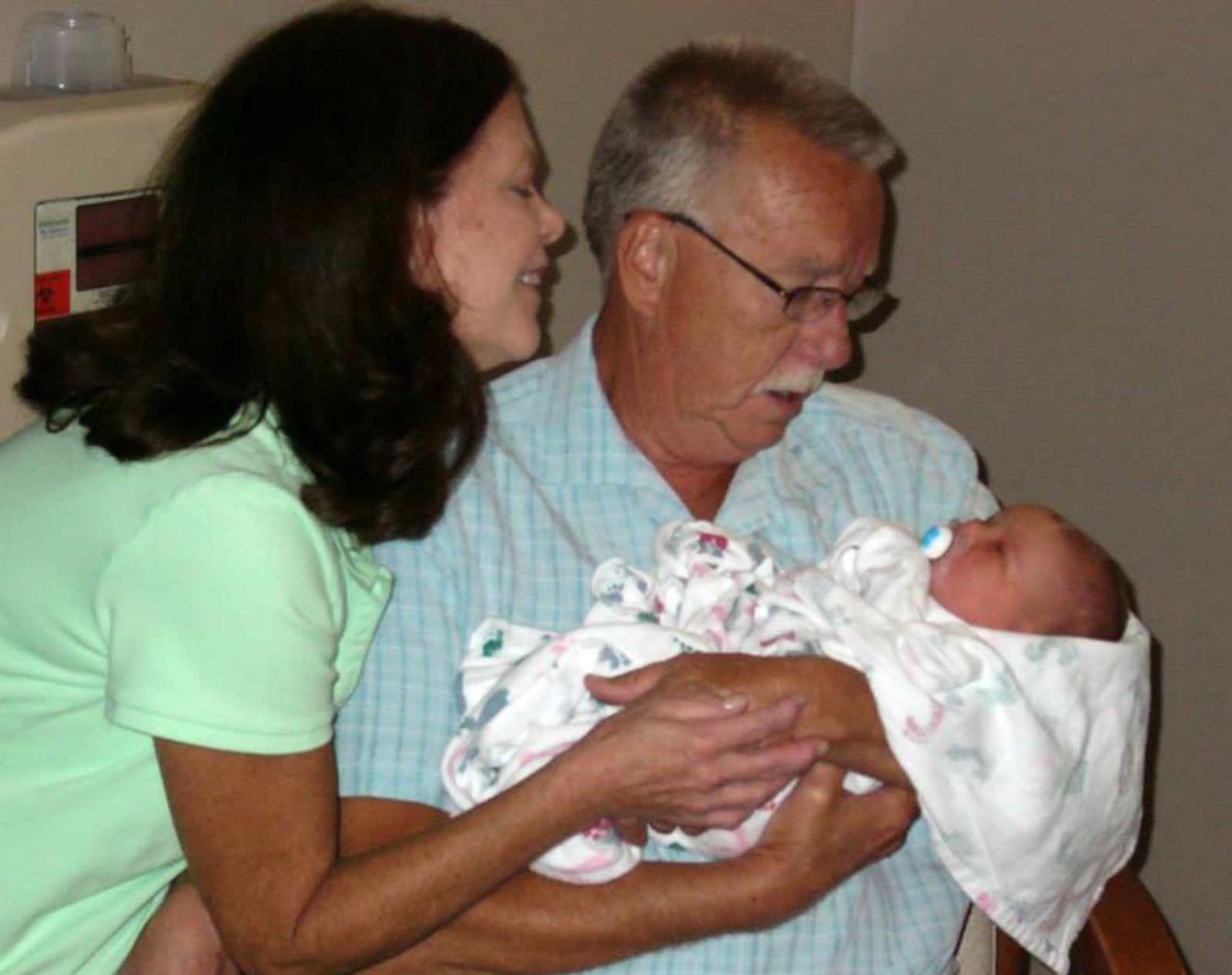 Kim and Larry have 1 grandson and say that he is "the highlight of their day when they see him".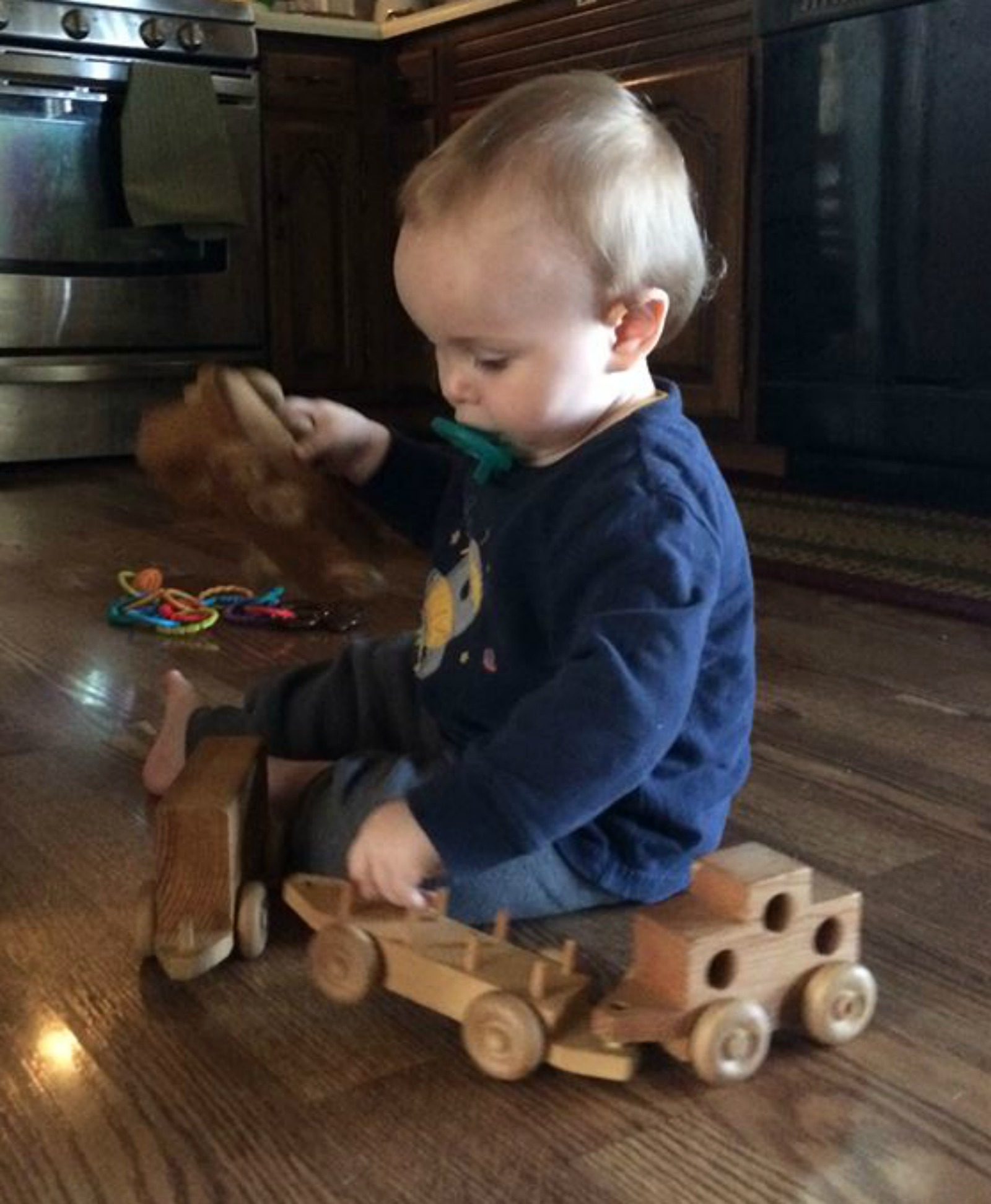 Kim has always cooked and baked for days preparing the big meal, but this year, their daughter Kayla and her husband have a new home and will be hosting their first Thanksgiving.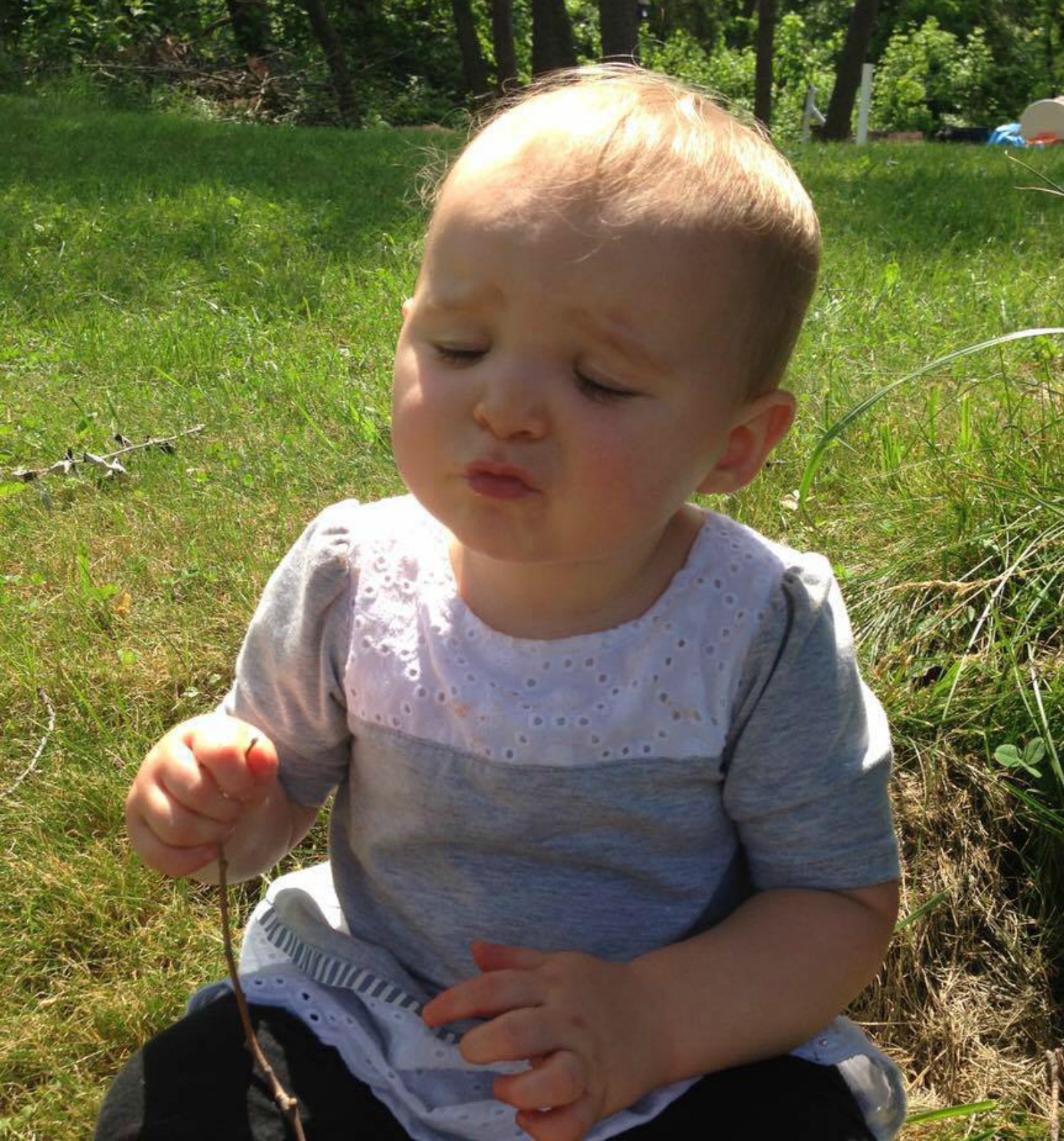 Amber and Mark have a grand-daughter that "makes each day brighter, happier, and fun. No matter how stressful a work day is, how busy life gets, or on a cloudy day..when she enters the room or calls me nothing else matters." She was smelling flowers in this picture.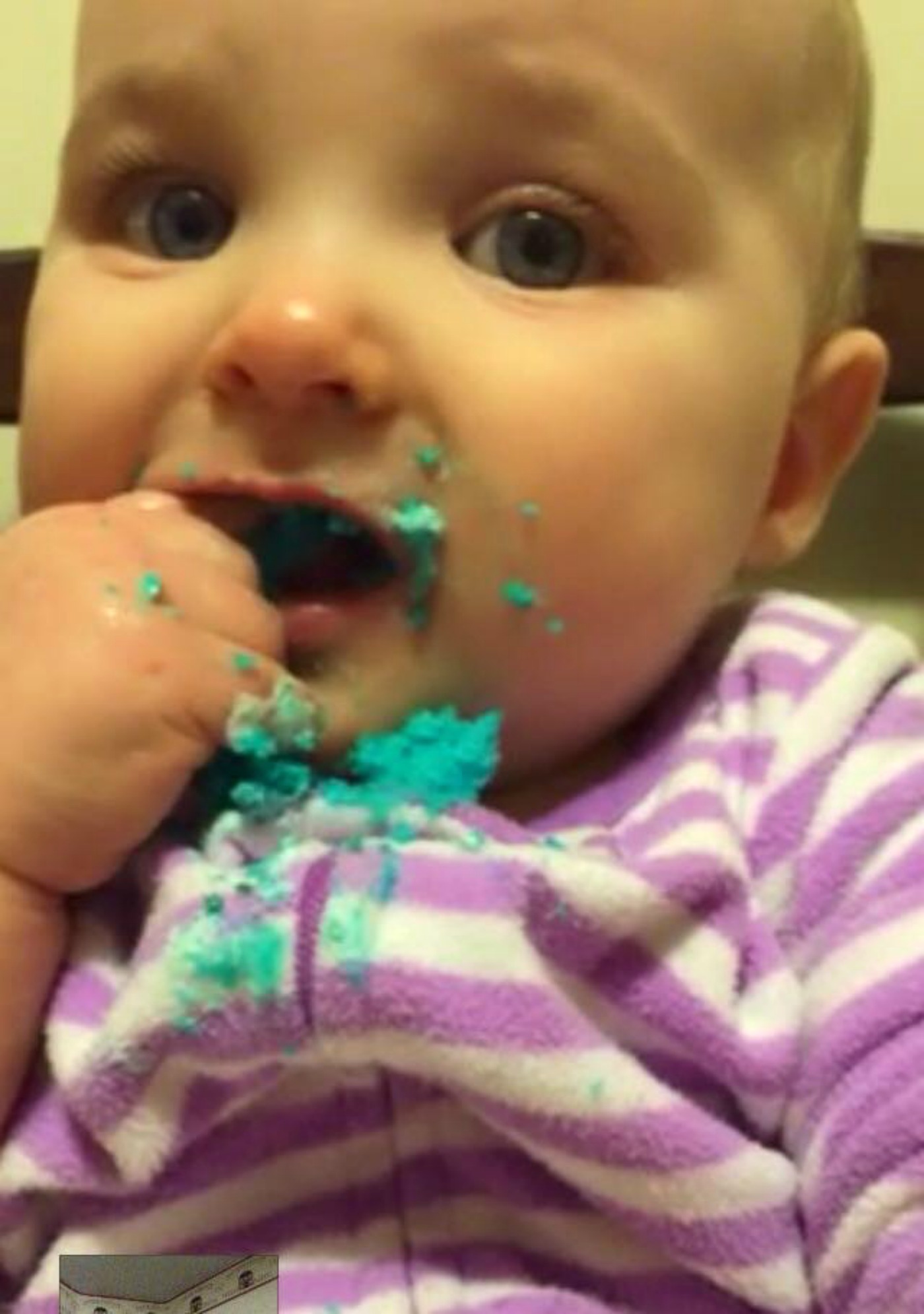 Scarlett is Amber's taste-tester. She is being raised with wooden spoons, measuring cups and has an appetite for all kinds of food. Amber usually cooks a big Thanksgiving dinner for her immediate family at an earlier time and then on Thanksgiving day the entire family gets together at her parents house. Each person brings a covered dish that was decided upon the previous year.
Teresa and Tom have a big household with 12 grandchildren. They have a unique tradition.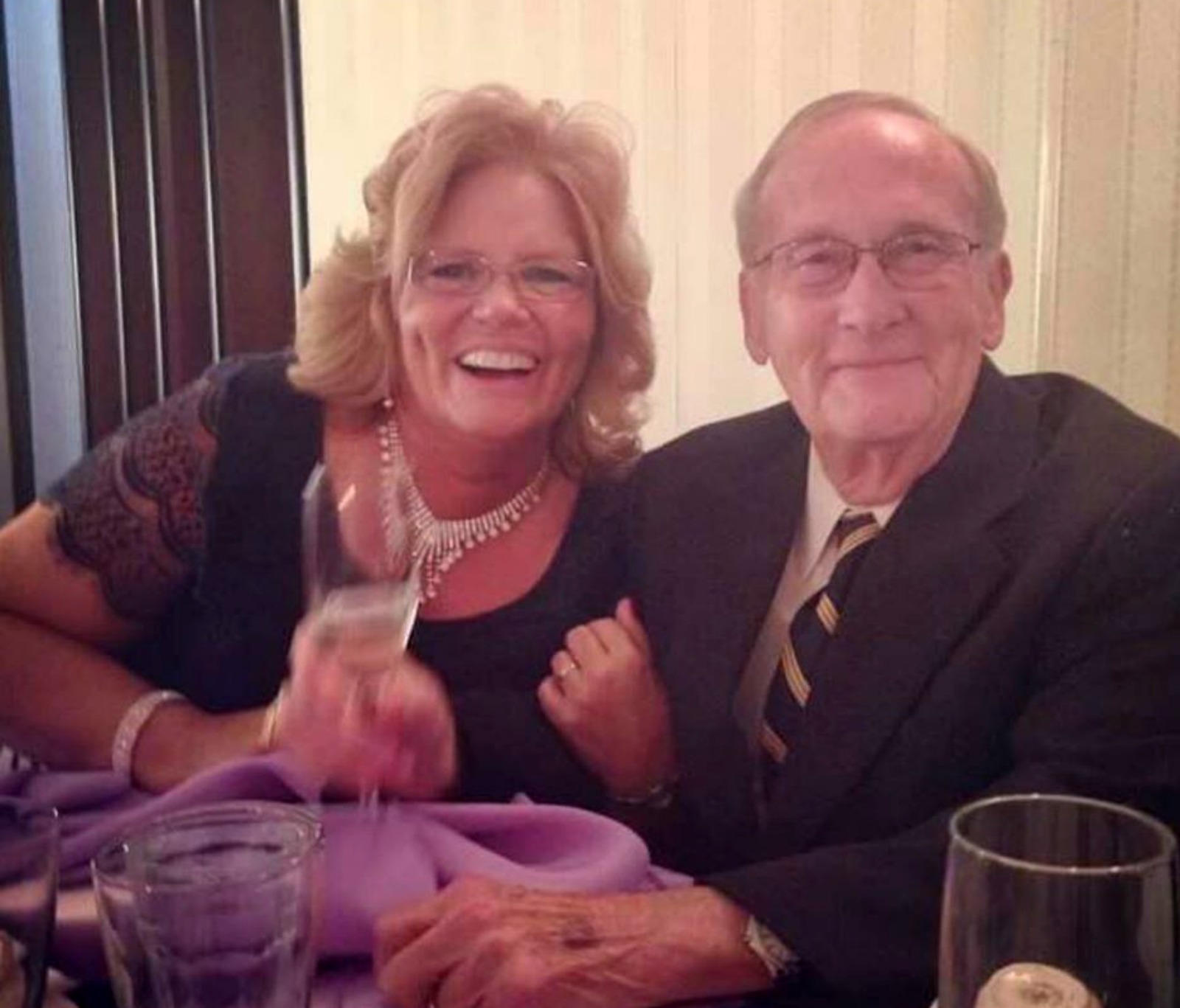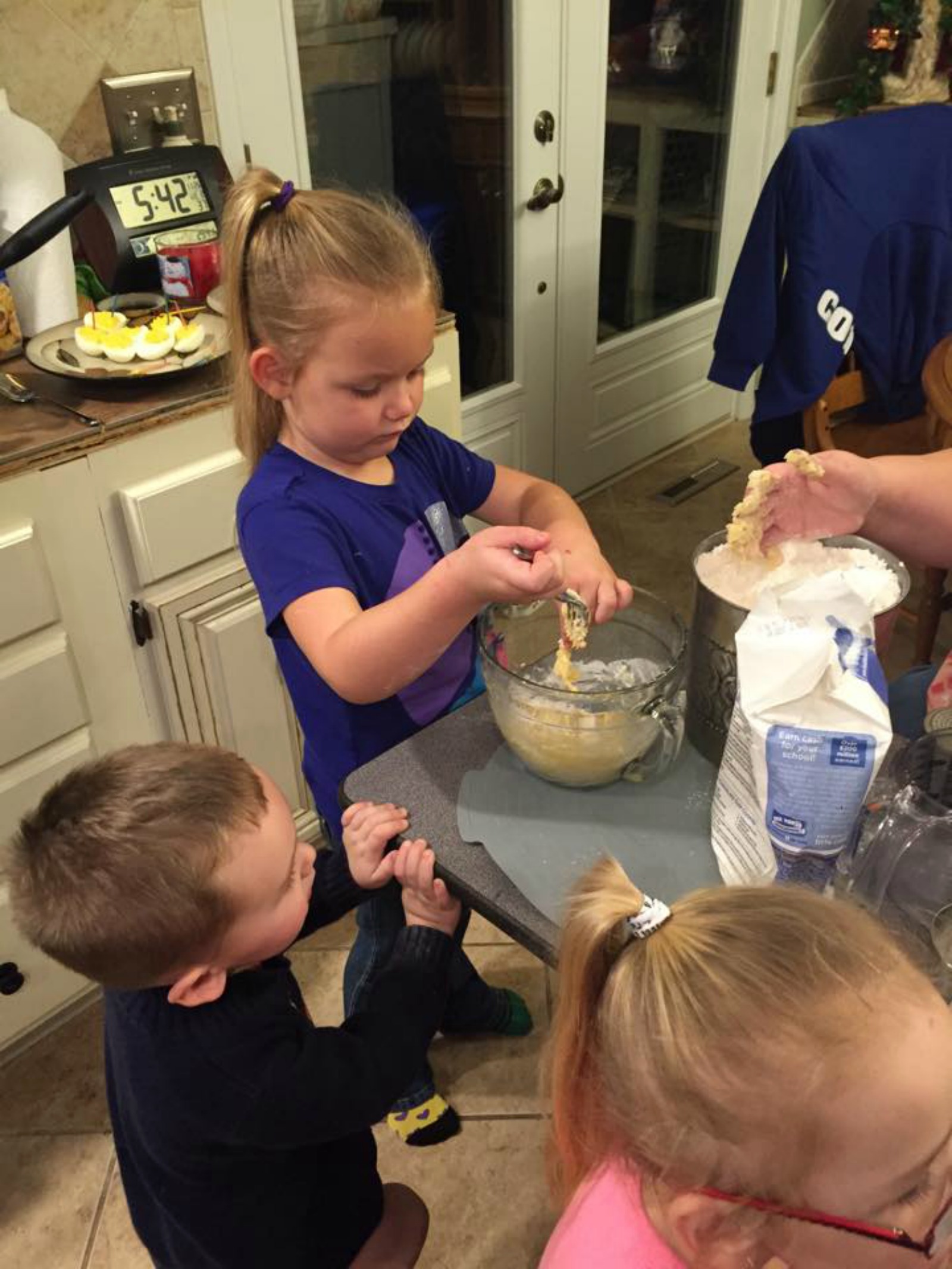 On Thanksgiving eve they all get together and make homemade noodles! The grandchildren help. Many times it turns into a noodle battle with some being thrown at each other in fun. It makes a big mess but they all love it. She tells me that they argue over whose noodles are the best, but no one really knows because they all go into the same pot. This tradition will always be remembered by the grandchildren.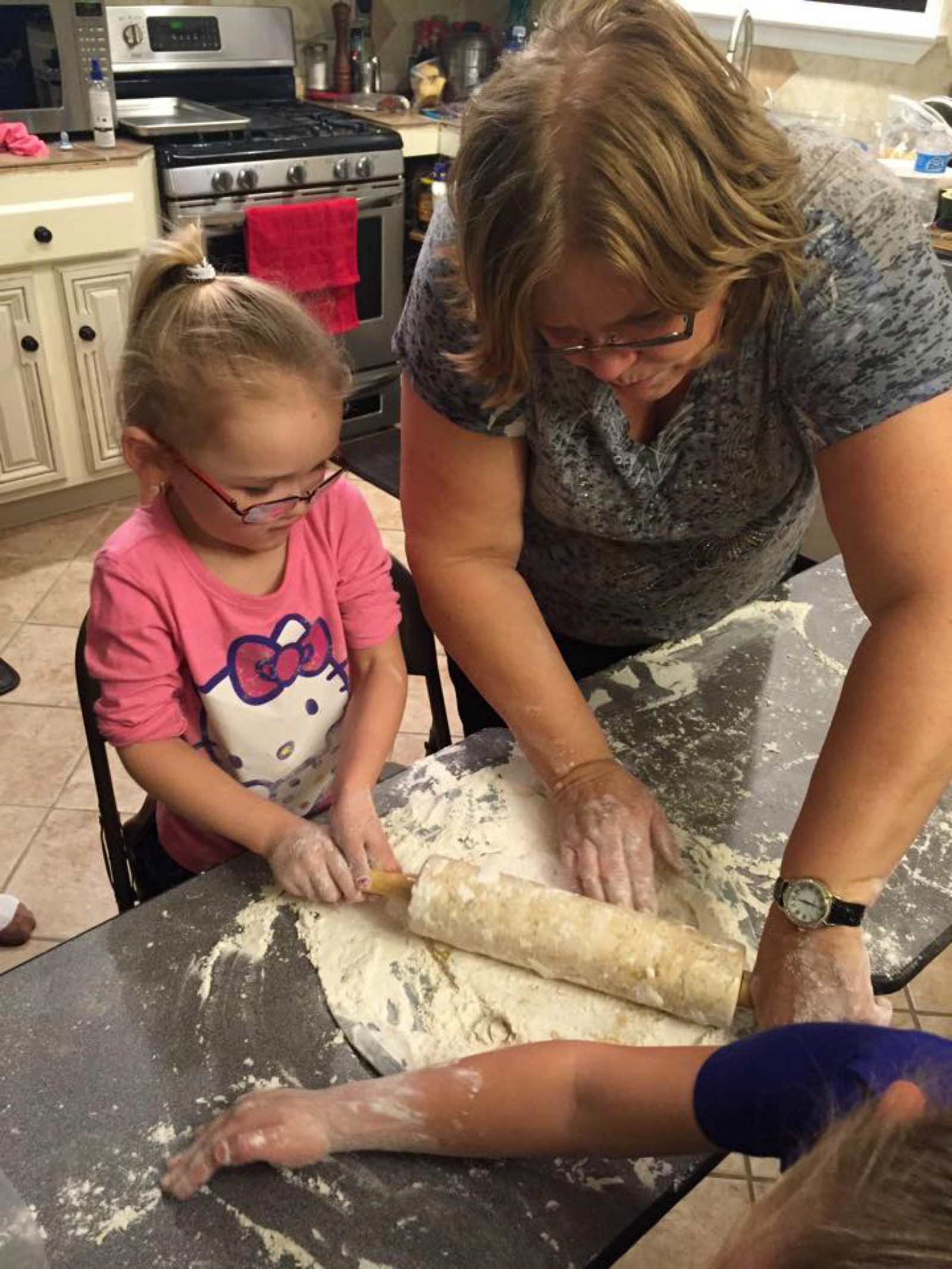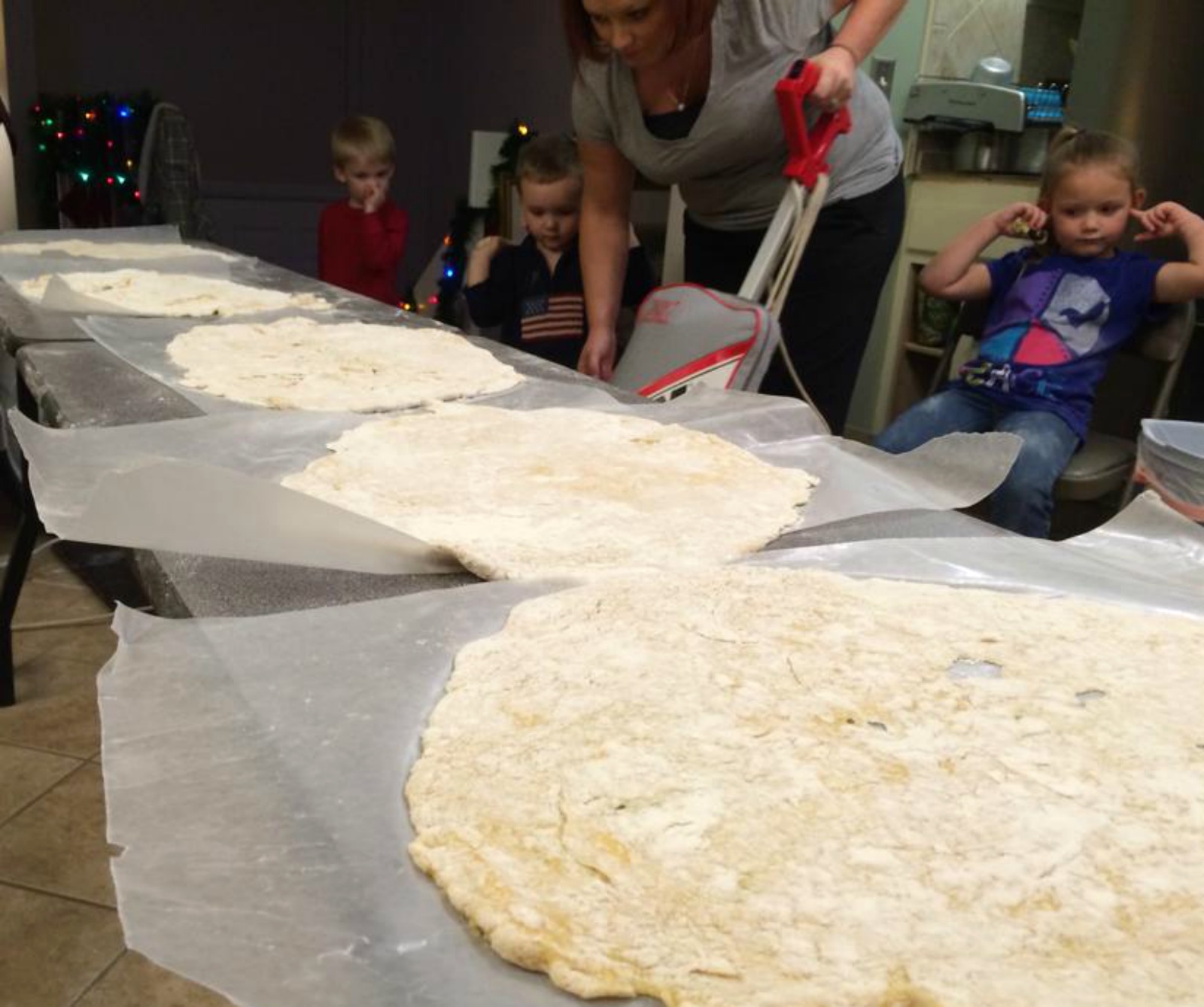 Mandee is one of Teresa's daughters and is continuing to pass on the noodle making tradition. She and her husband John have grandchildren that live in another town.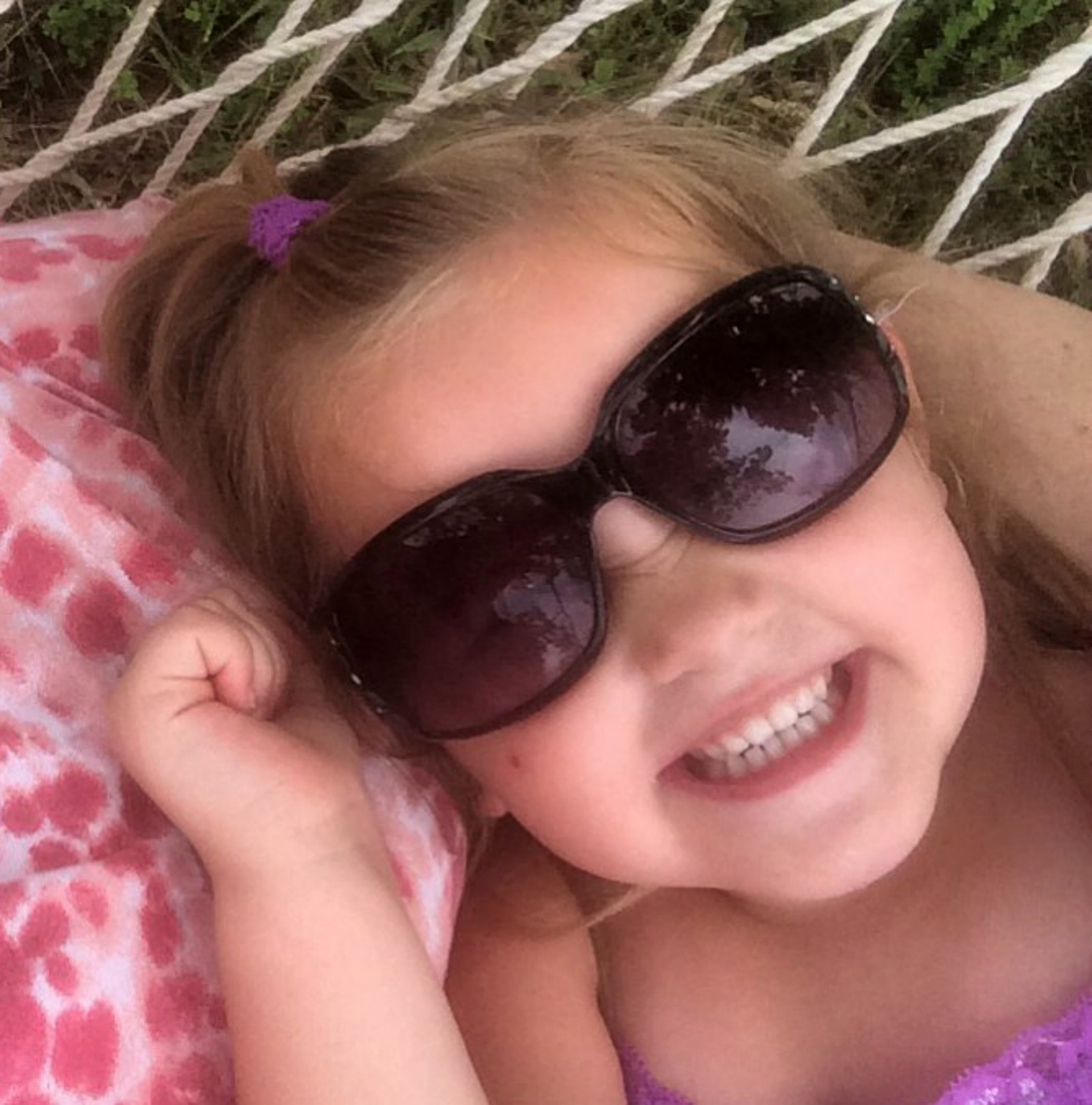 This year they are going to visit them between Thanksgiving and Christmas and calling it "Thankmas". She is going to make noodles with the grandchildren. Mandee has this recipe as well as many other great ones on her blog The Kitchenwife.
Julie and Mike have 2 grandchildren at this time with a set of twins that will be born to their daughter next summer.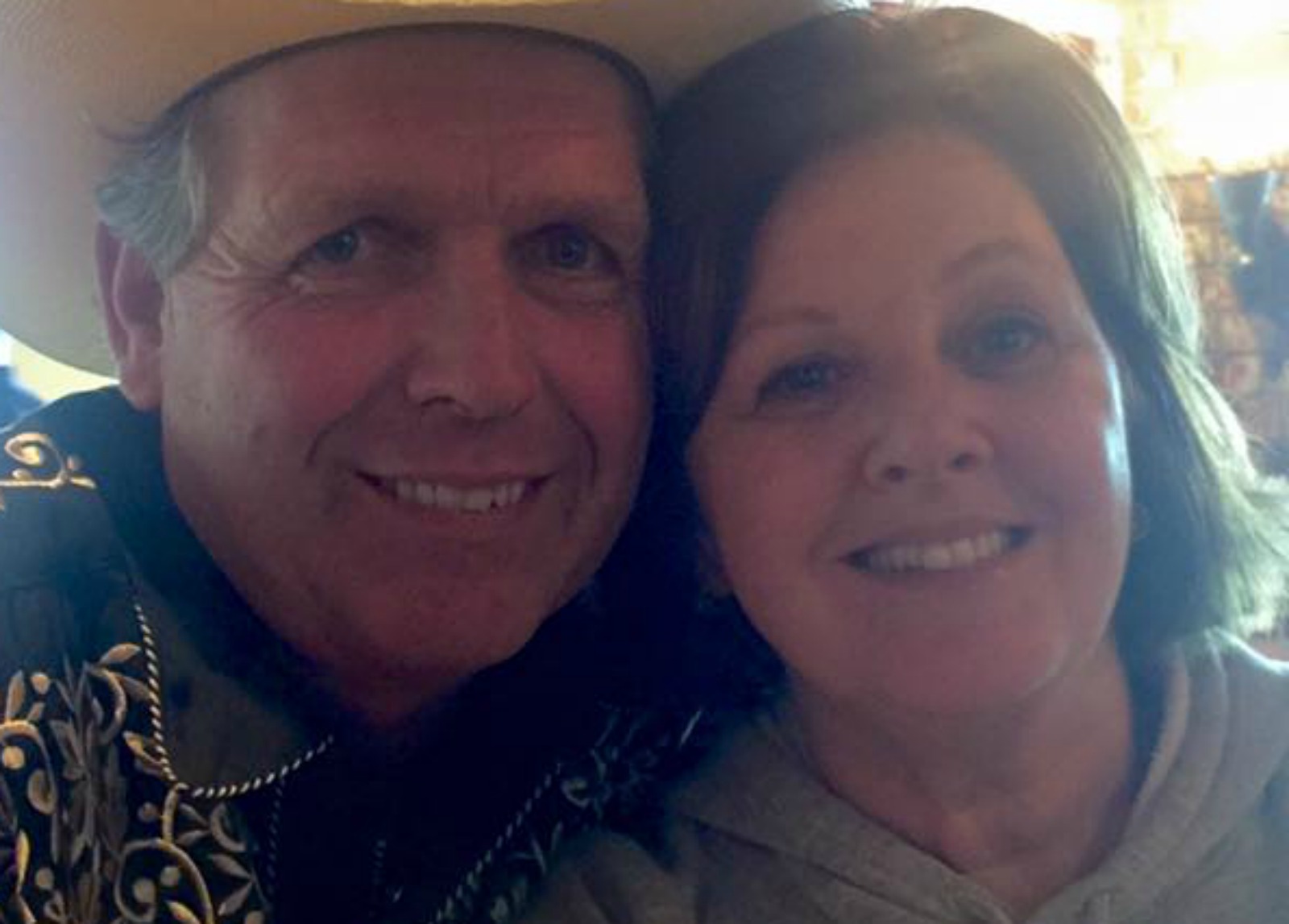 Julie tells me her family has had a big Thanksgiving celebration for as long as she can remember. She comes from a large Catholic family. They all get together that morning and cook, pray and eat. After that it is "let the games begin". There is usually about 30 people. They divide into teams and create and record commercials advertising something. They play them back for all to enjoy. There are card games, and watching football. How much fun does this sound. She tells me that this year the 2 daughters will not be able to make it home so she and Mike are going to their son's house in another state and spend Thanksgiving getting lots of hugs from the grandchildren.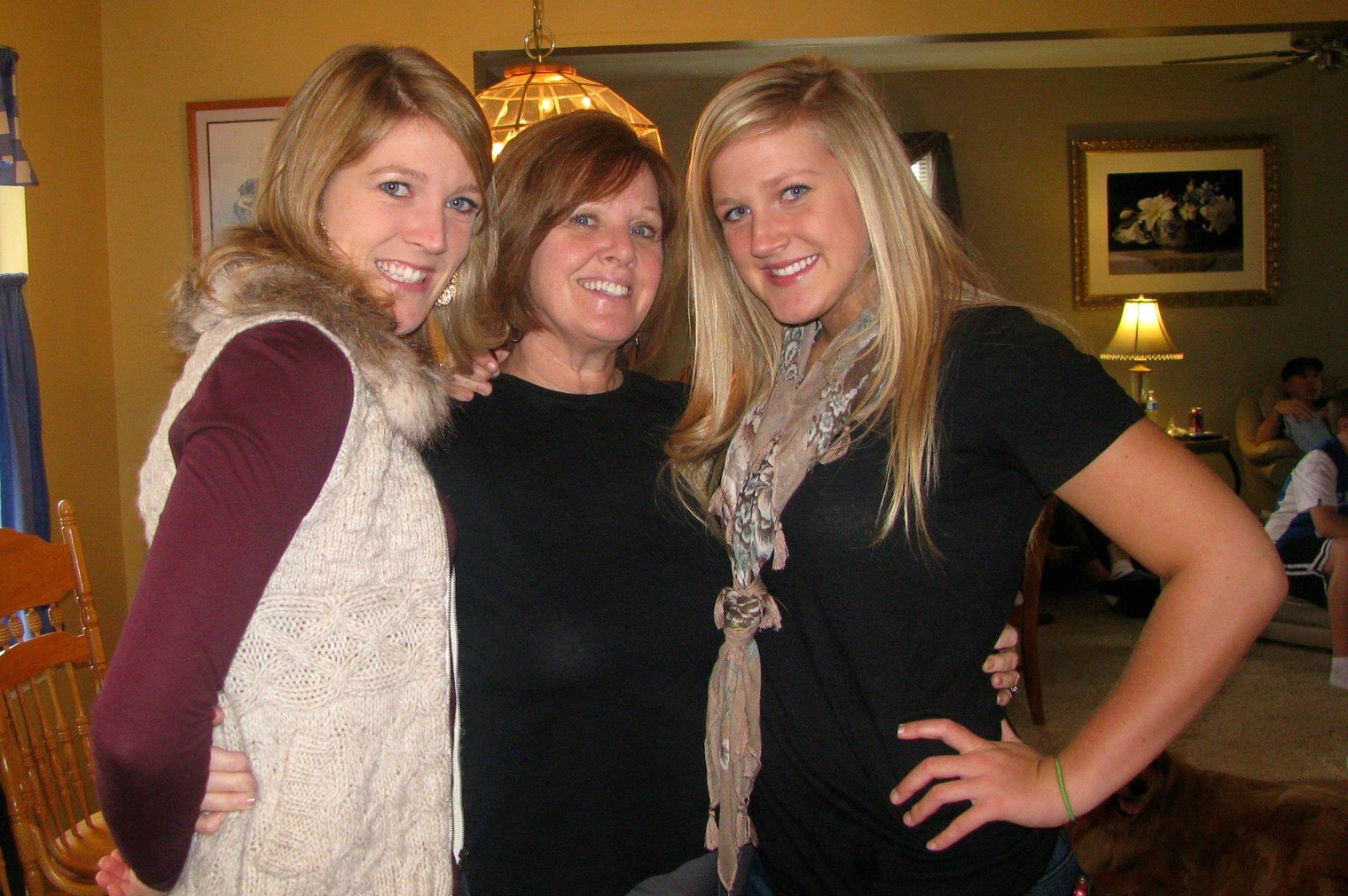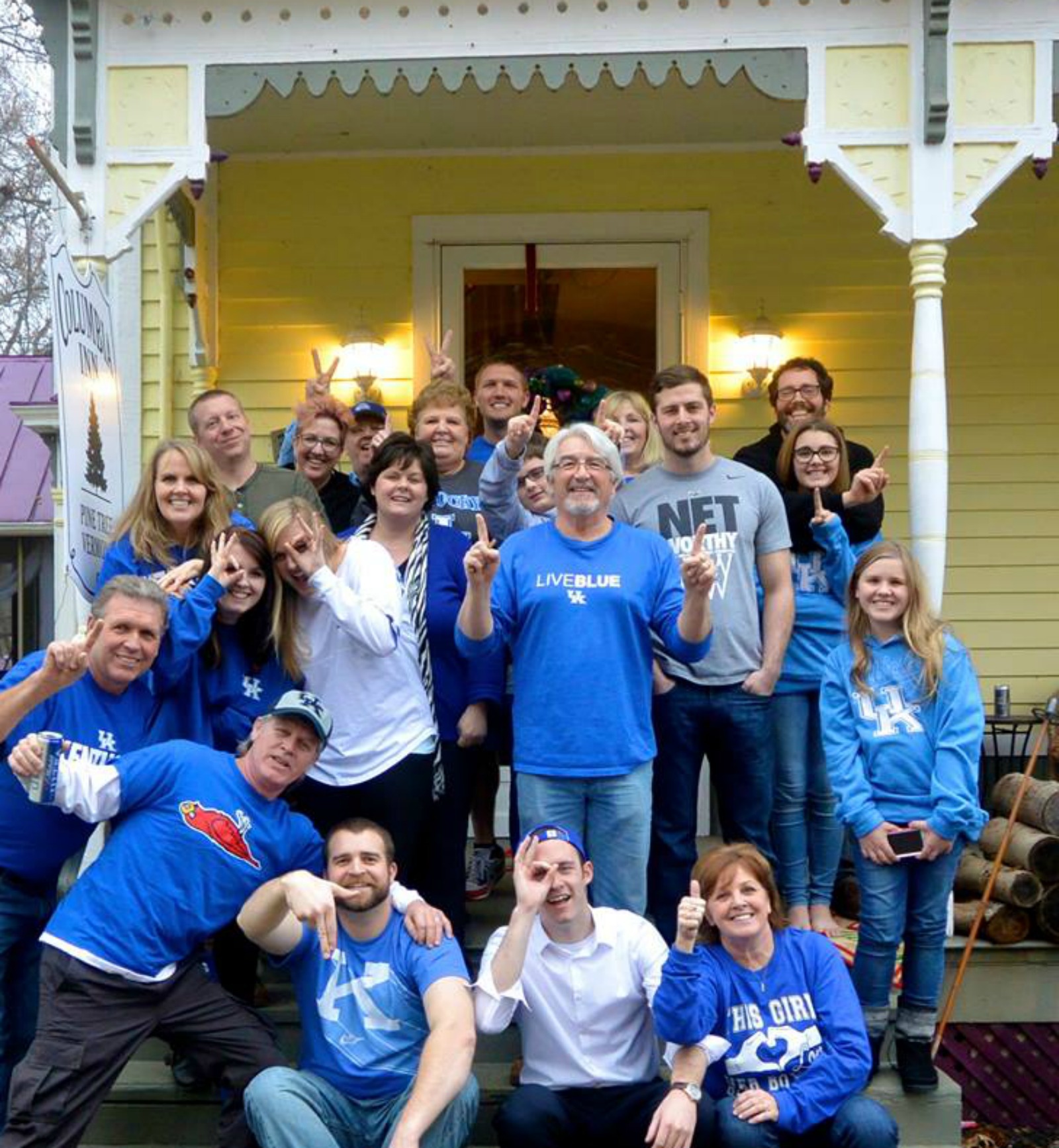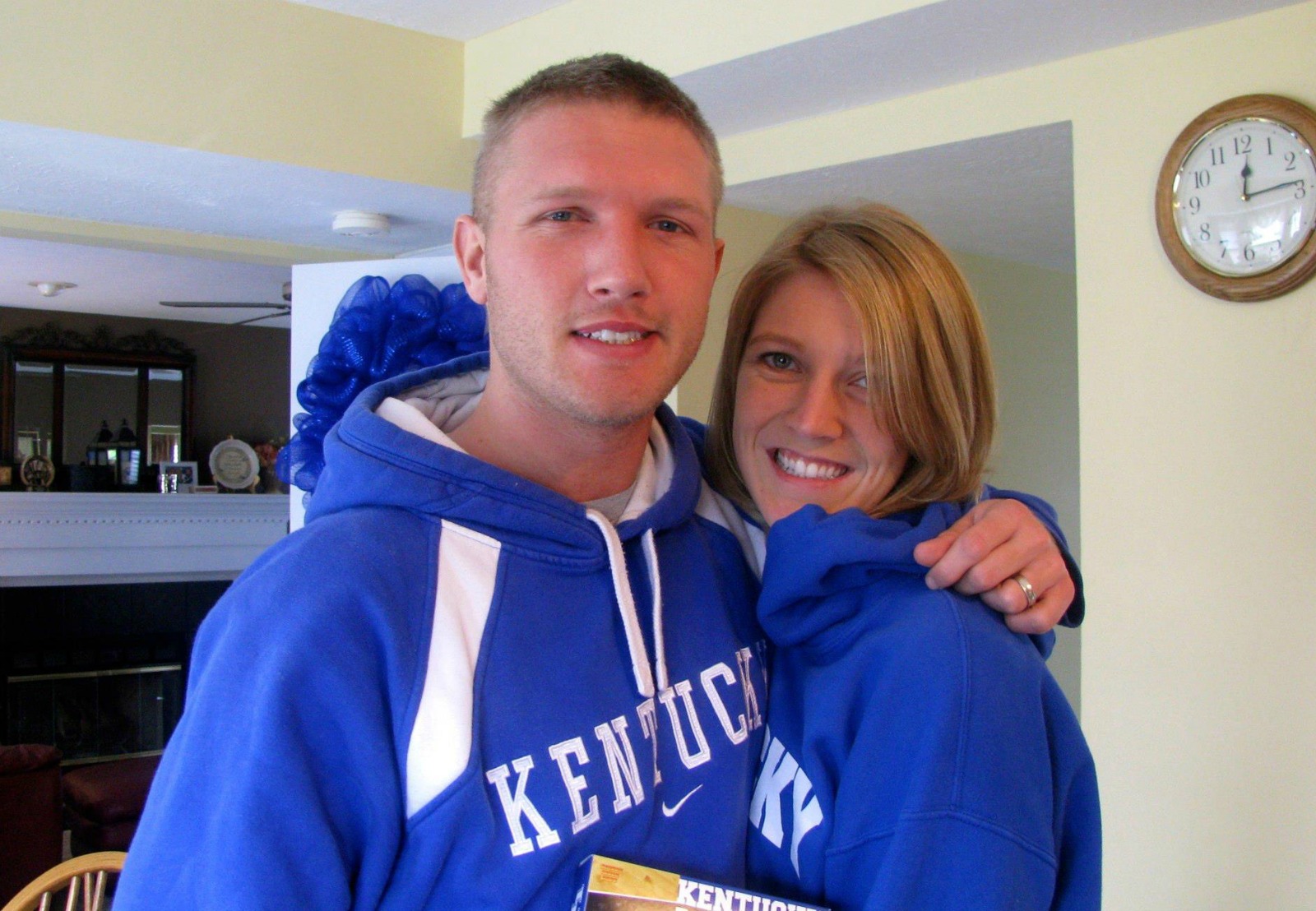 I loved hearing from some of my friends and how they will spend this special holiday. Some of my friends will be volunteering at churches and other facilities hosting Thanksgiving dinner for the less fortunate.
I think that each of us are thankful for the wonderful blessings we have been given and if we are lucky enough to have family to share it with, we can ask for nothing more.
Please follow and like us: