I believe that most of us become emotional when unpacking our Christmas decorations.  They are not just "things" but are precious memories that we get to re-live each year.  Afterwards, we then lovingly put them away in a safe spot until next year.
I love to decorate our home for Christmas and unpacking my Christmas decorations means so much fun to me.  I have heard comments from people complaining that it is such a chore and not worth it.
I realize that as I get older, there may come a time when I cannot physically do this, but until then I will continue to enjoy this.
Our decorations take us back many years sometimes.  They may be a treasure from our first Christmas as a new family.   They may be something passed down in a family.
When I am putting out my Christmas decorations, I allow myself to take the time to enjoy each special memory.  I like to think of them as my treasures instead of my decorations.
Each and everything that I have holds a special memory but here are a few that I want to share with you.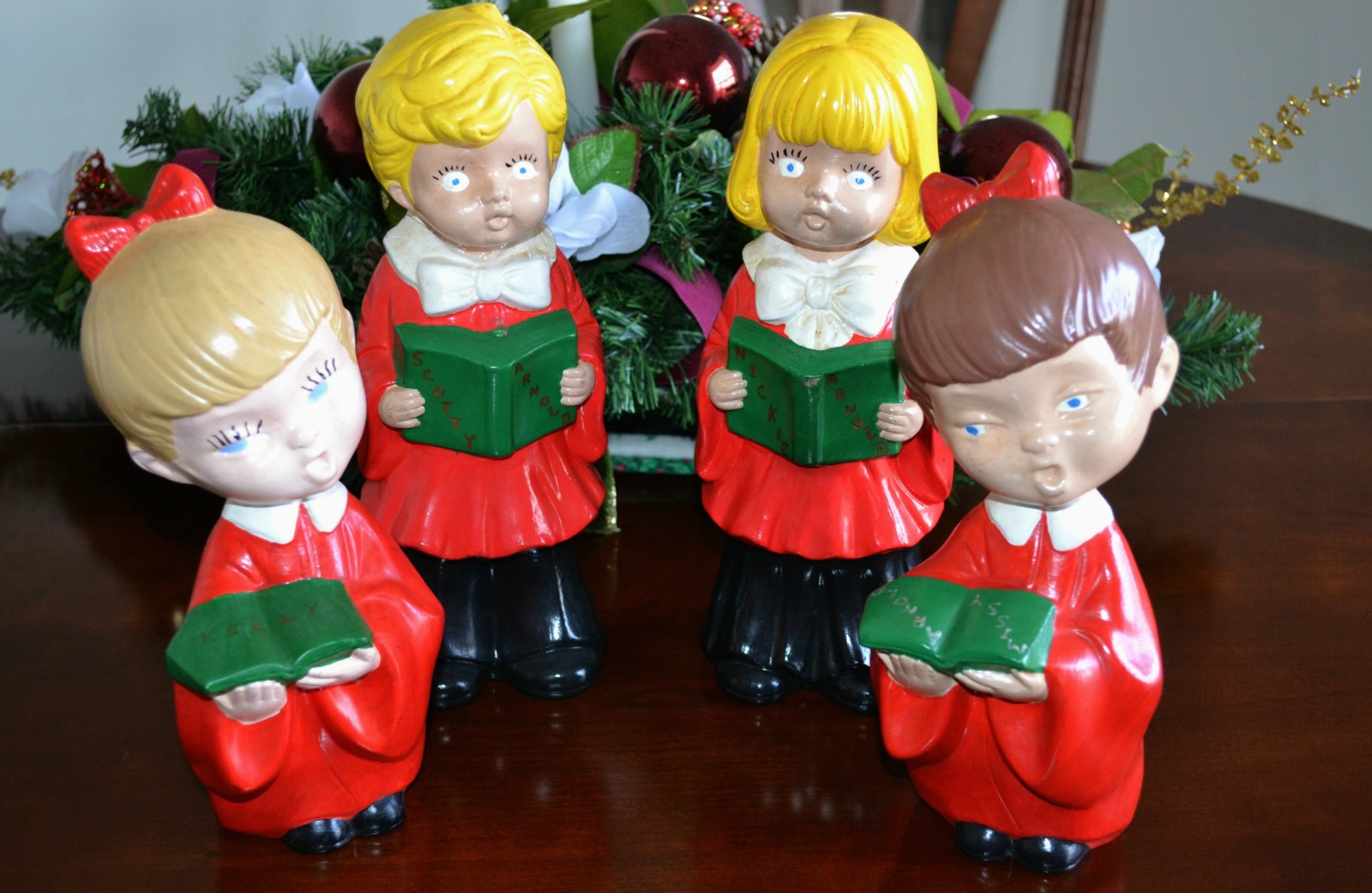 I have had these carolers since the early 1970's. When I worked at the hospital, our department always did a gift exchange. The lady that had my name made 2 because that was all the children I had at that time. Two years later I had another baby so she made another caroler. A year and a half later, I had another baby so she made me another one.  We laughed so much over the fact that she did not know the year she drew my name it would be never ending!
The children's names are painted on the books. They always sit on the mantle over one of our fireplaces.
Ornaments have their own stories.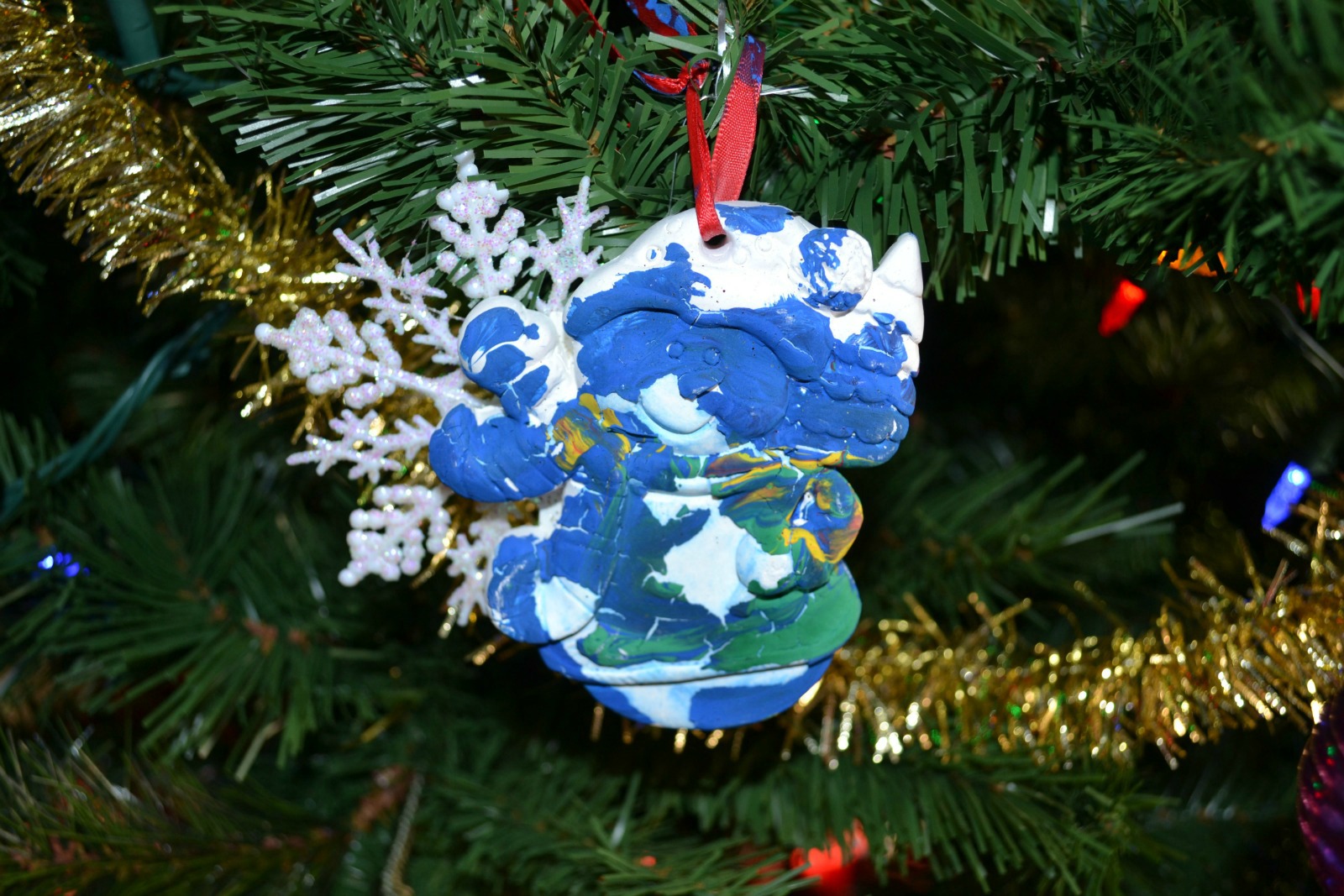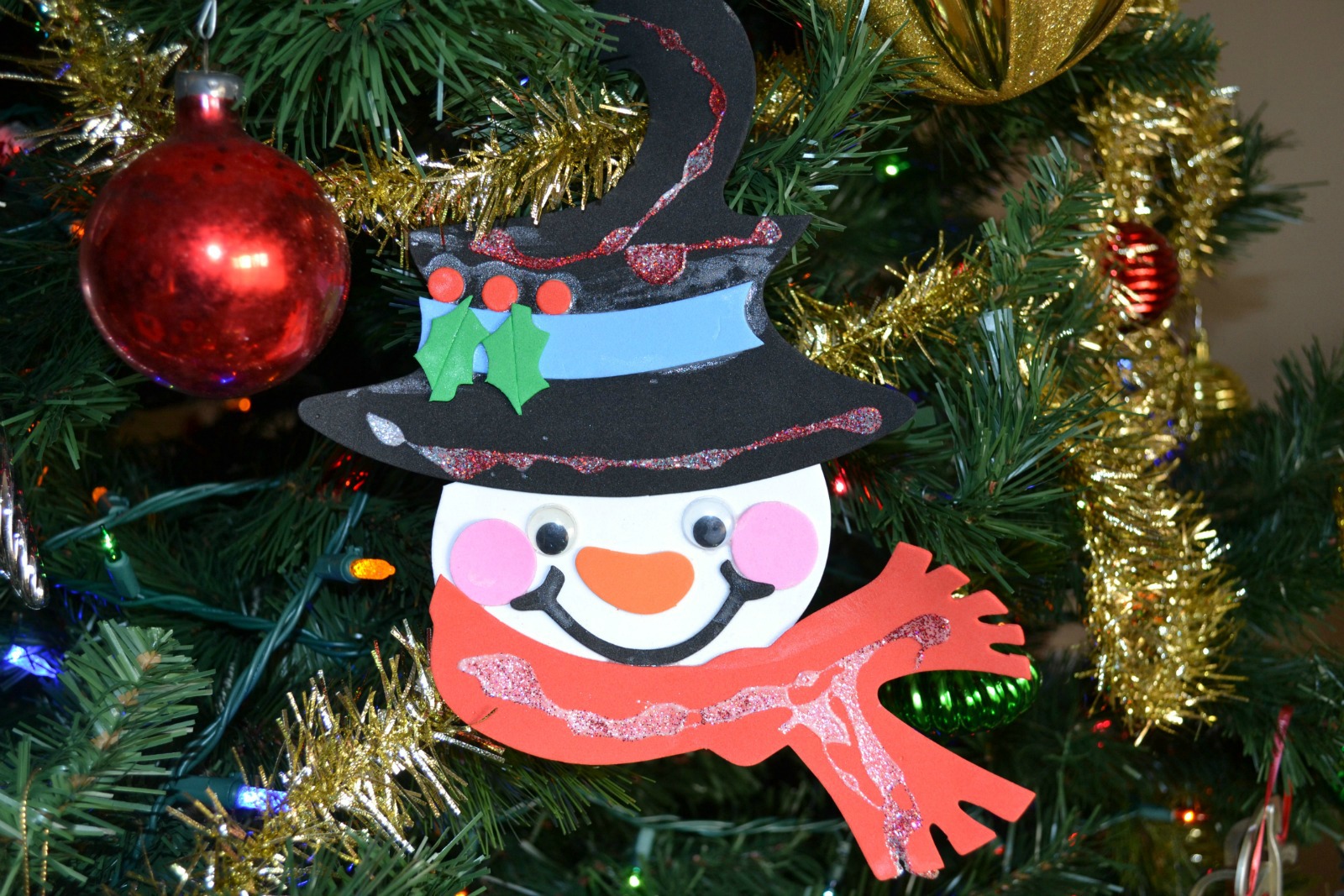 There are the homemade ones made by our children and our grandchildren.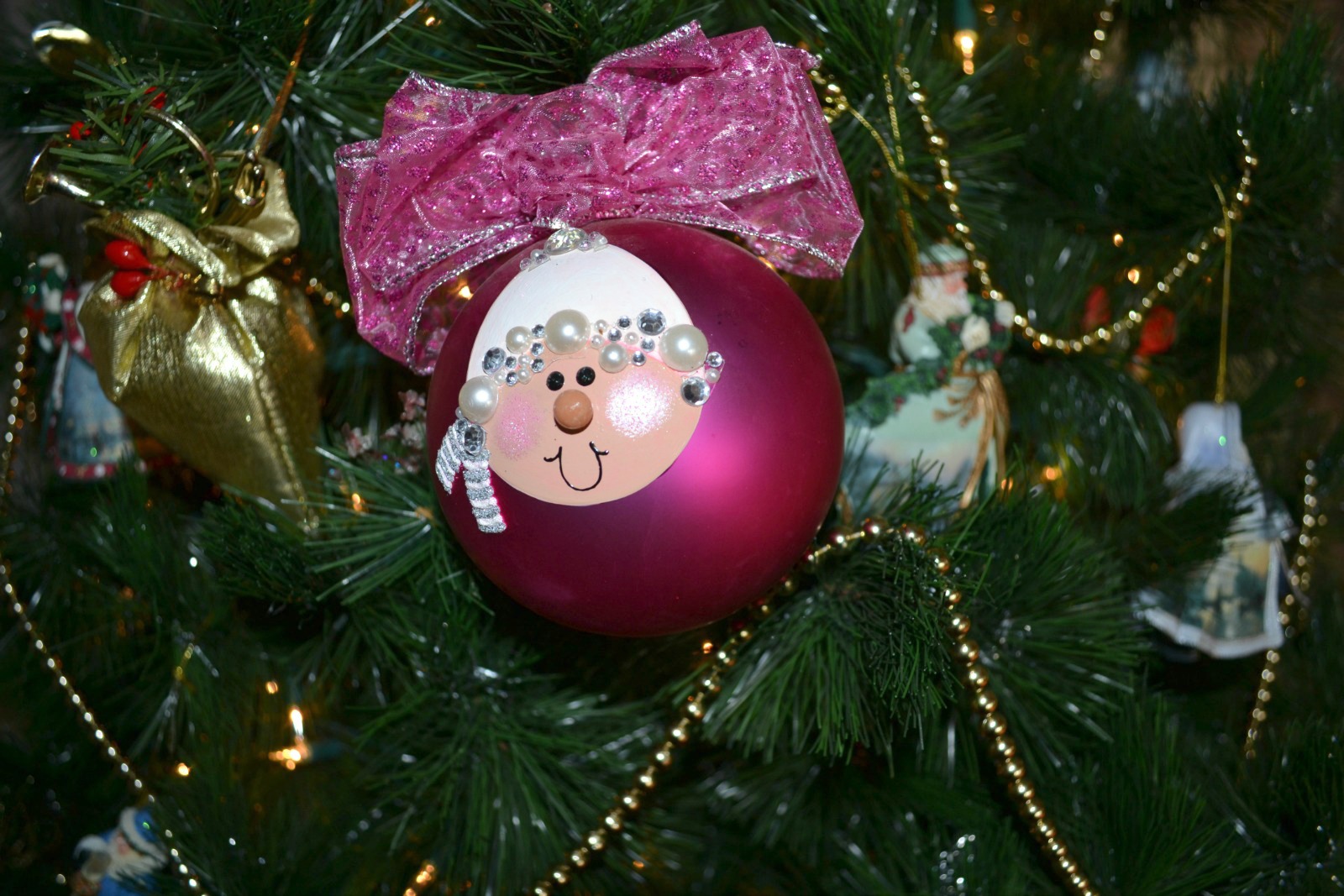 There are some beautiful ones made by a special friend.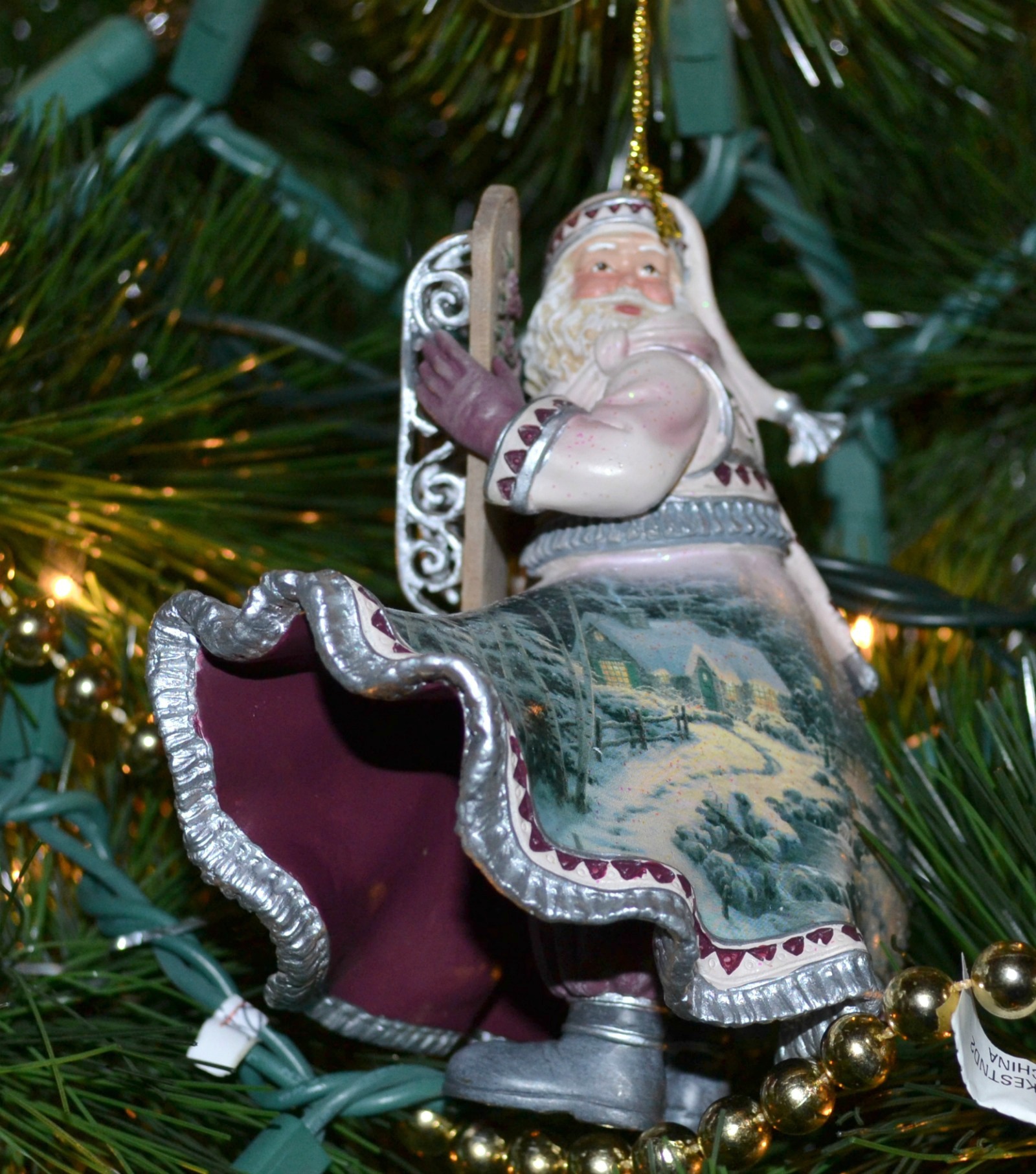 There are my Thomas Kinkade ornaments that my daughter bought me.
These treasures are something that I  bought that we really could not afford that year.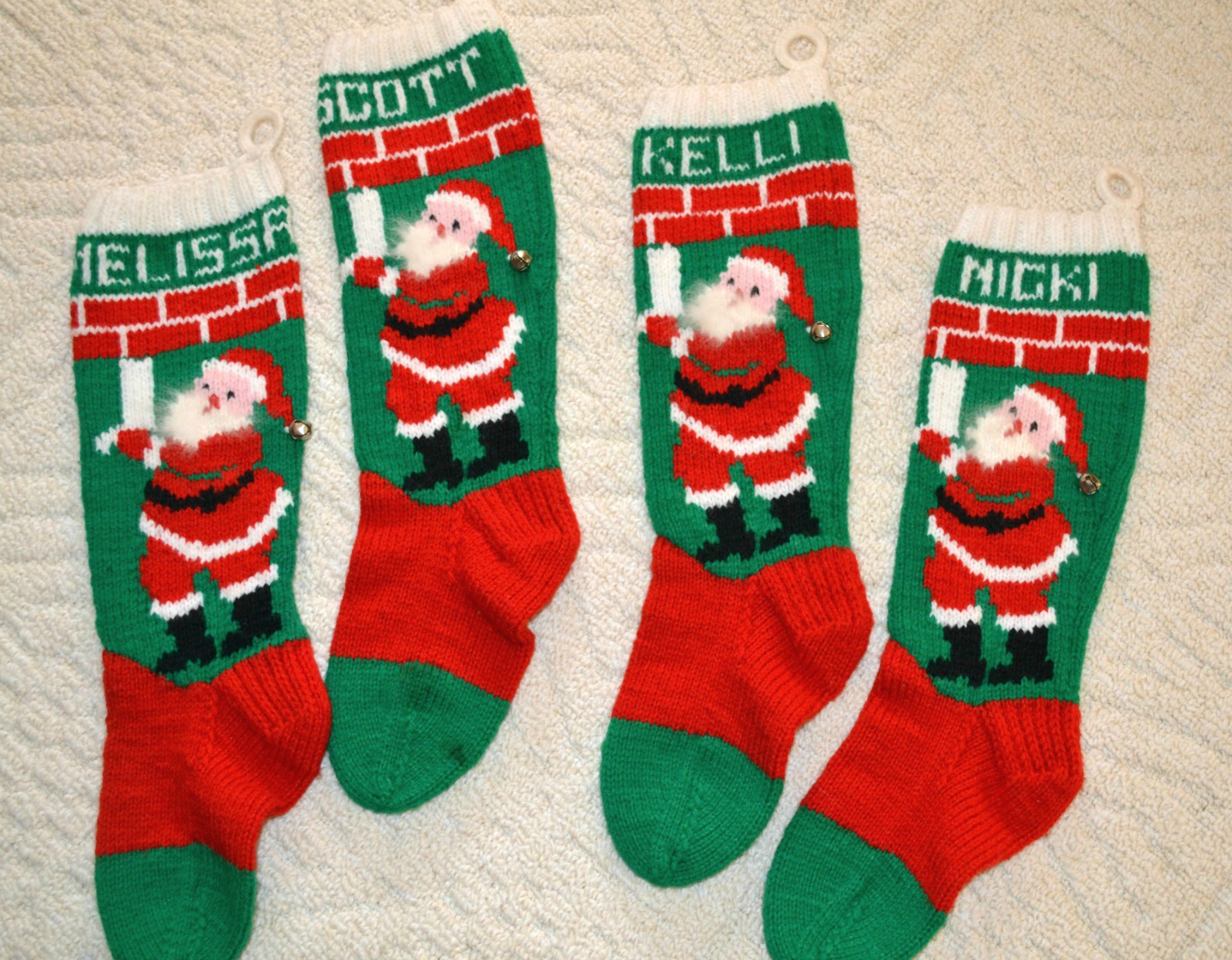 I was working as a Home Health Nurse back in the early 1980's and one of my patients was making these to sell. The picture does not do them justice.  She used expensive, soft yarn and angora. They were $15 each. At that time, my paycheck was $250 every 2 weeks, so to spend $60 of it on stockings was really a struggle, but I have never regretted it.
Every Christmas I take all of the dishes out of my china cabinet and fill it with a special set of dishes.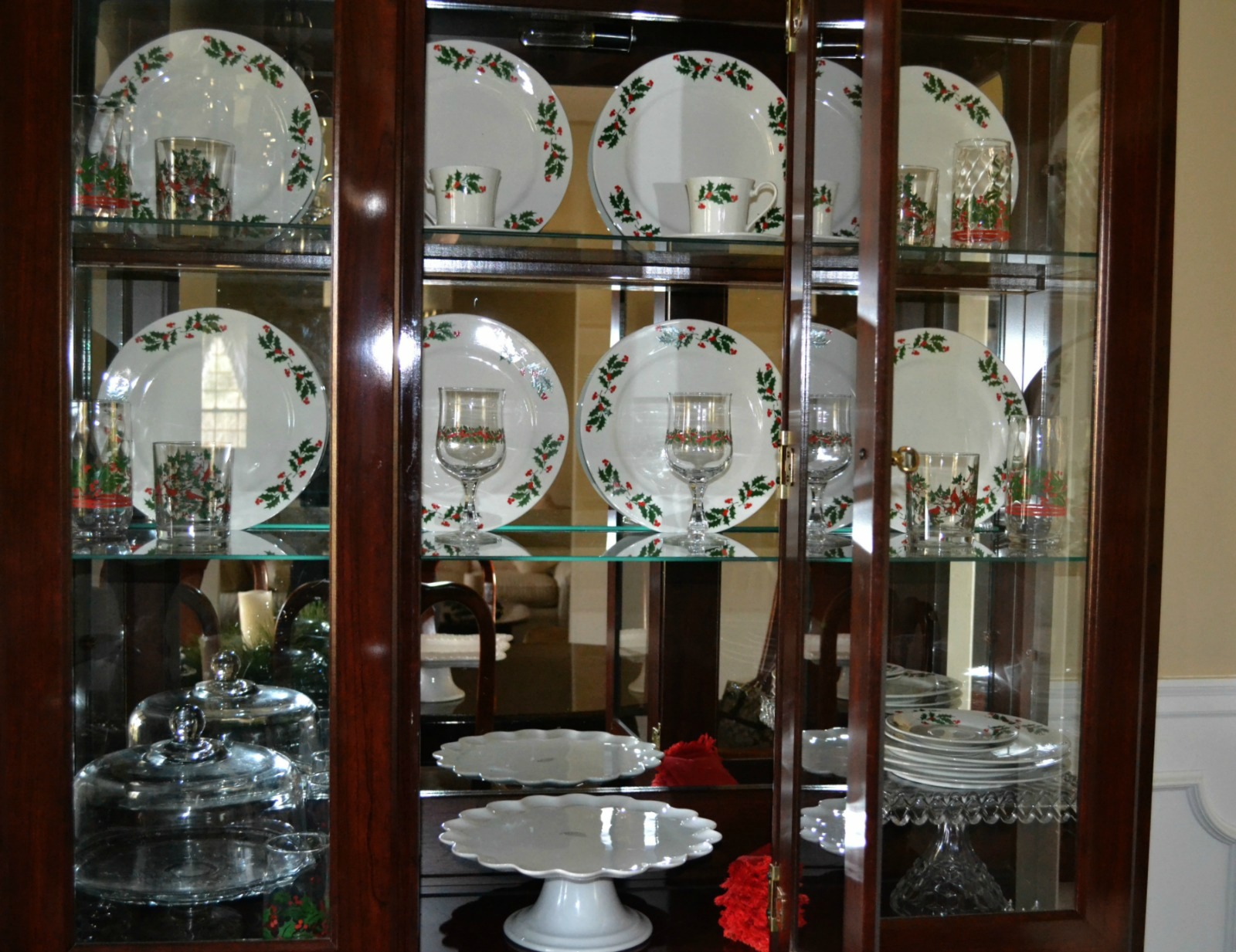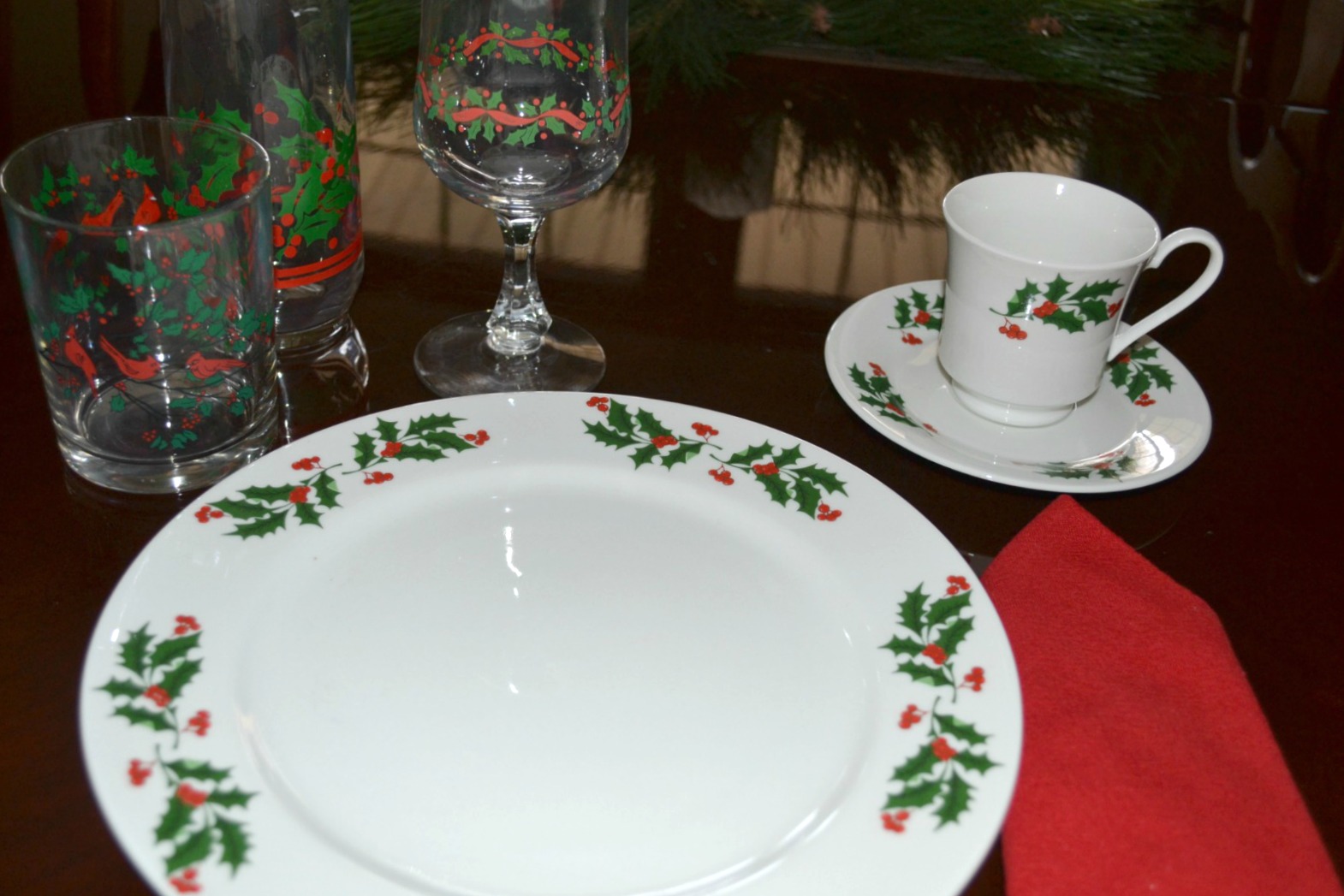 Our children were in elementary school when they went together and bought us these Christmas dishes from Big Lots.  They were so proud and these mean as much as any expensive china.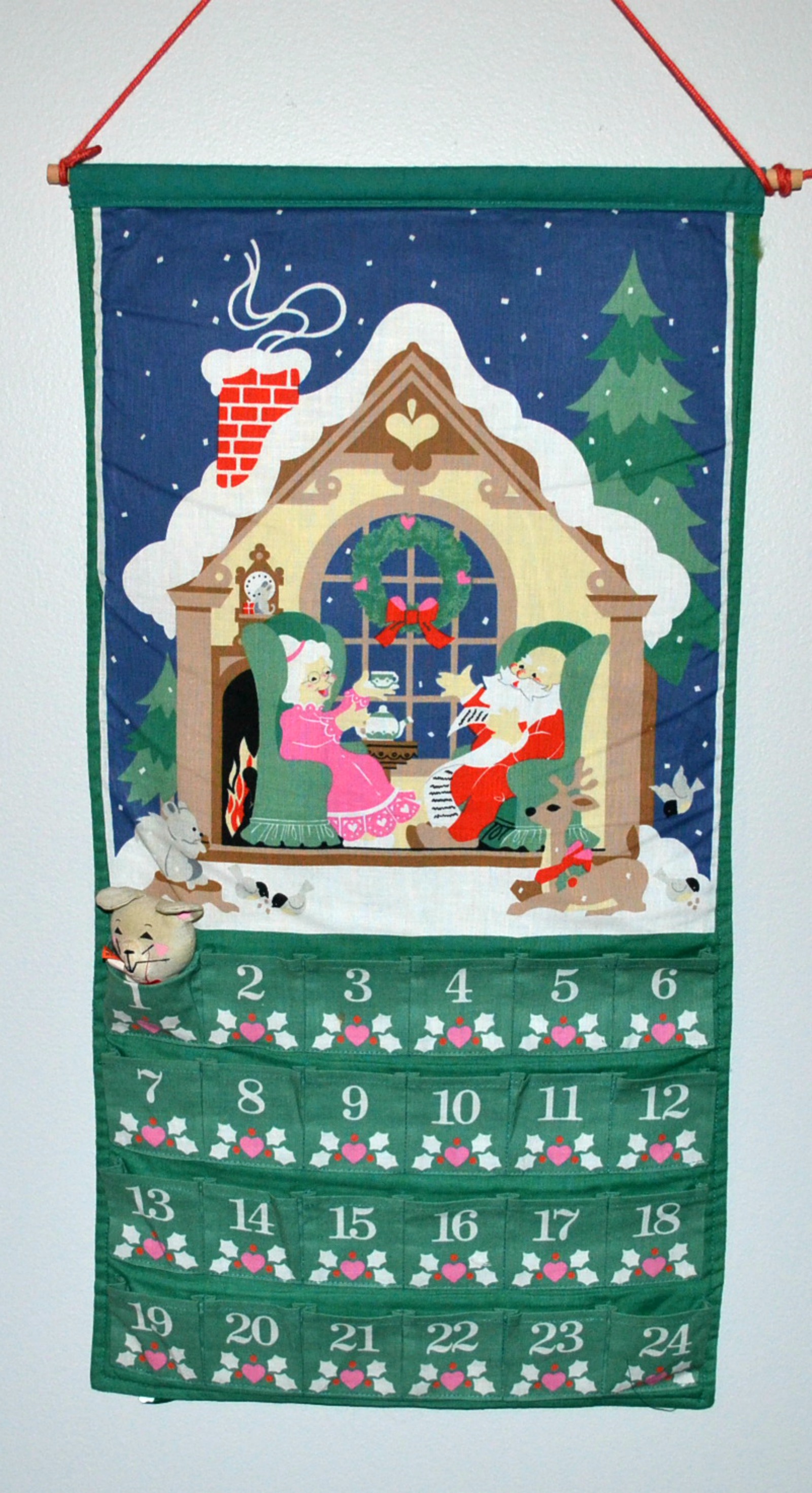 The countdown calendar that I bought from Hallmark when my first 2 children were little (40 yrs ago).  I have bought one of these for each of them on their first Christmas when they got married.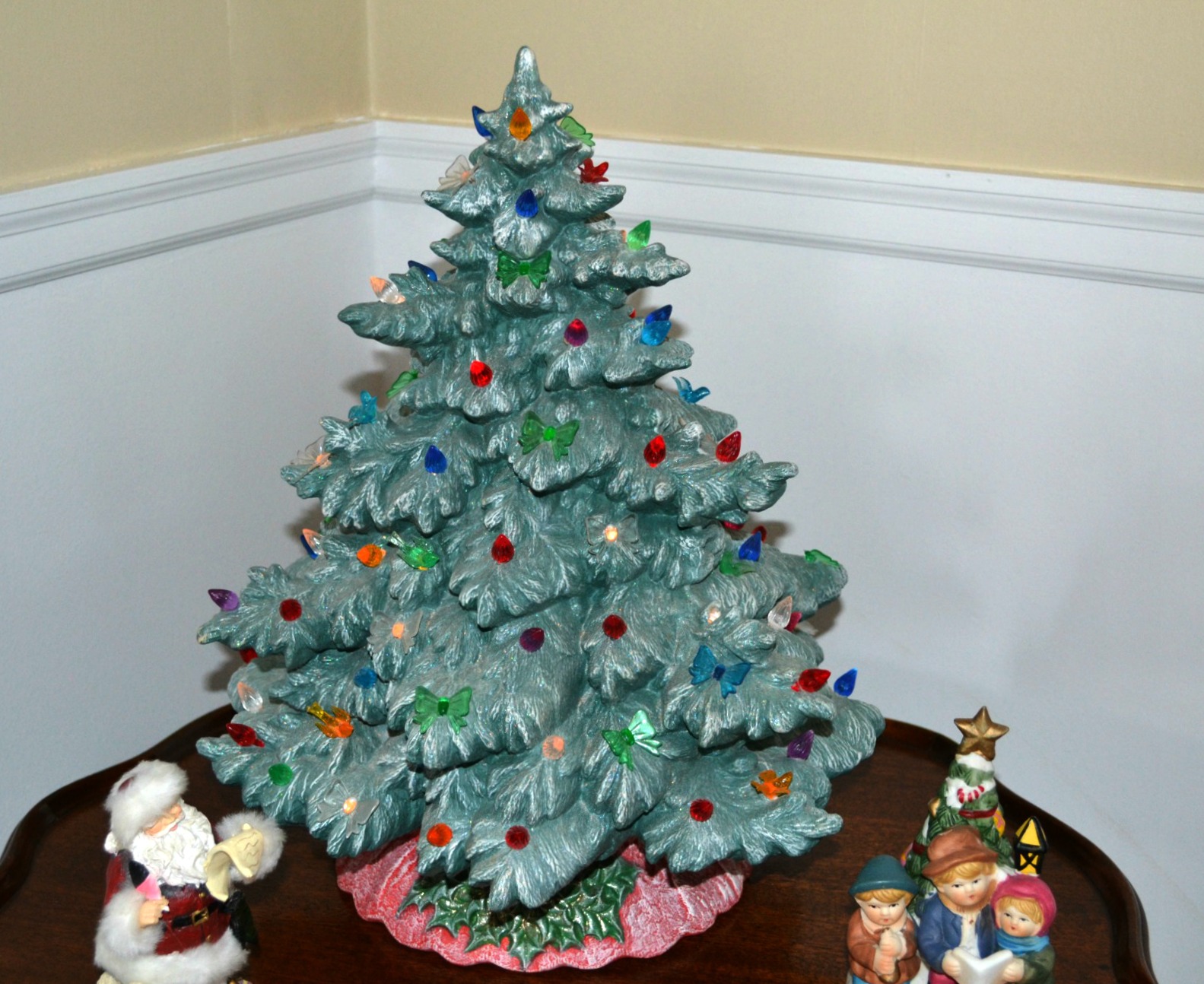 Doesn't everyone have one of these ceramic trees?
My mother bought this for me many years ago.  She loved to buy Christmas decorations for us each year and we always said she must have bought everything in Cracker Barrel each year.
This was a gift from my sister about 30 years ago.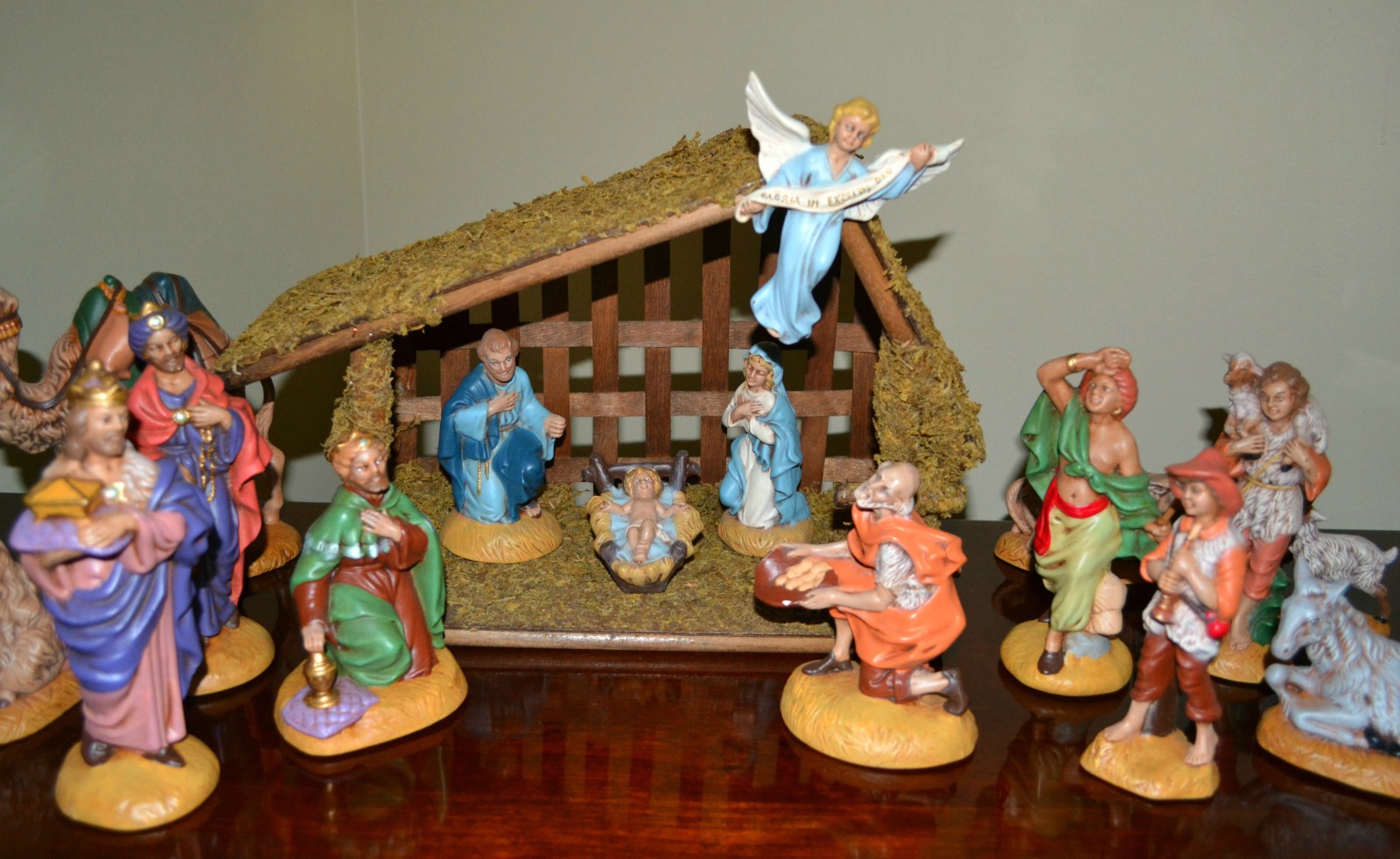 There are many more pieces that the picture does not show.  It is a ceramic, hand painted set.  A lady that worked at the hospital was making these to sell that year.  My children, now the grandchildren, enjoy carefully rearranging it every time they are at my house.
Once again, these are some of my Christmas decorations (treasures).  I have so many more but this would turn into a novel.  I hope that everyone else enjoys their treasures as much as I do and enjoys that walk down memory lane each year.
Please follow and like us: