Jump to recipe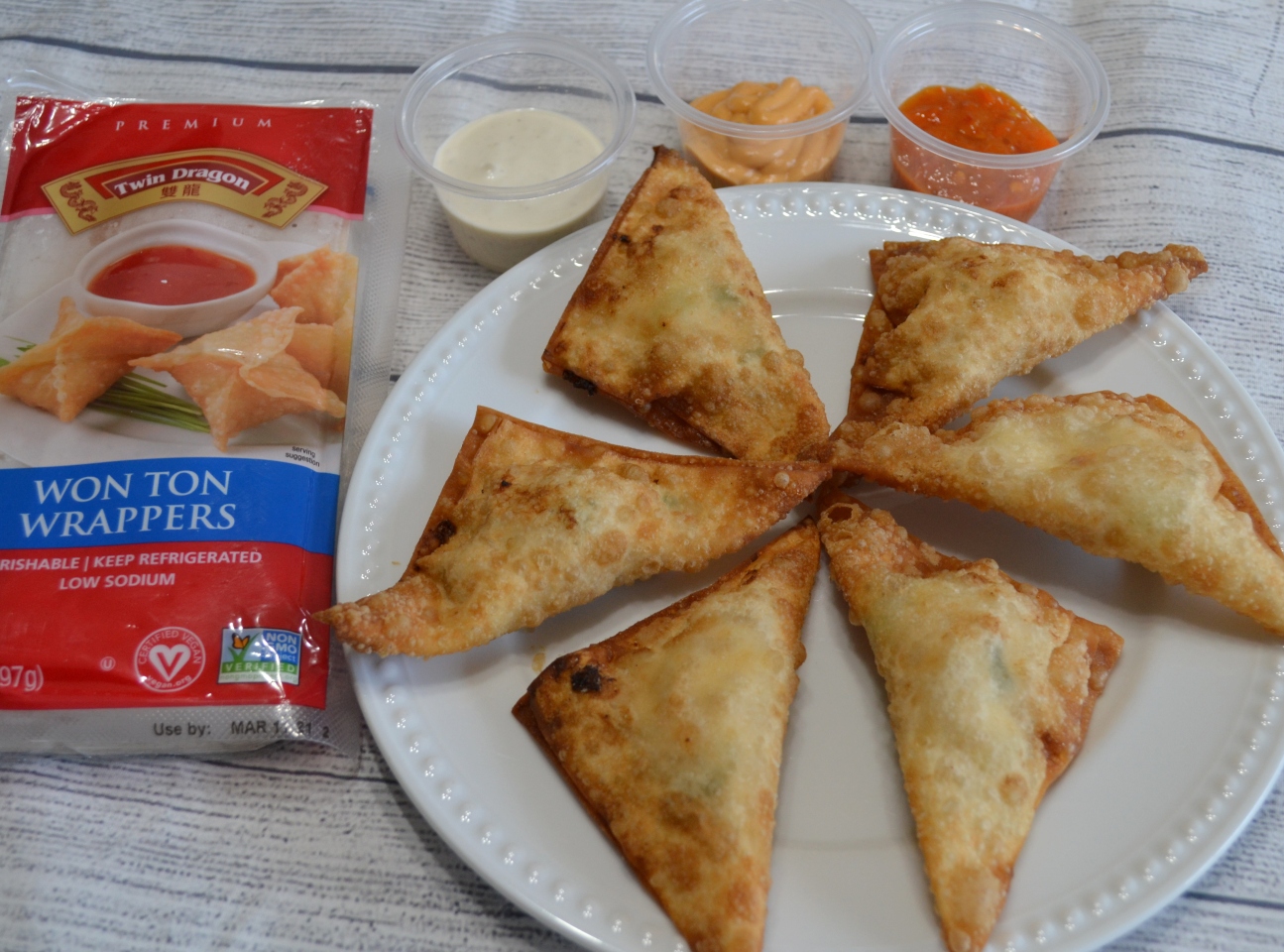 Cream Cheese Asian Chicken Wontons are a fun appetizer to serve while watching the upcoming Super Bowl.  They are crispy on the outside with a filling of cream cheese,  ground chicken, green onions, and sweet chili sauce.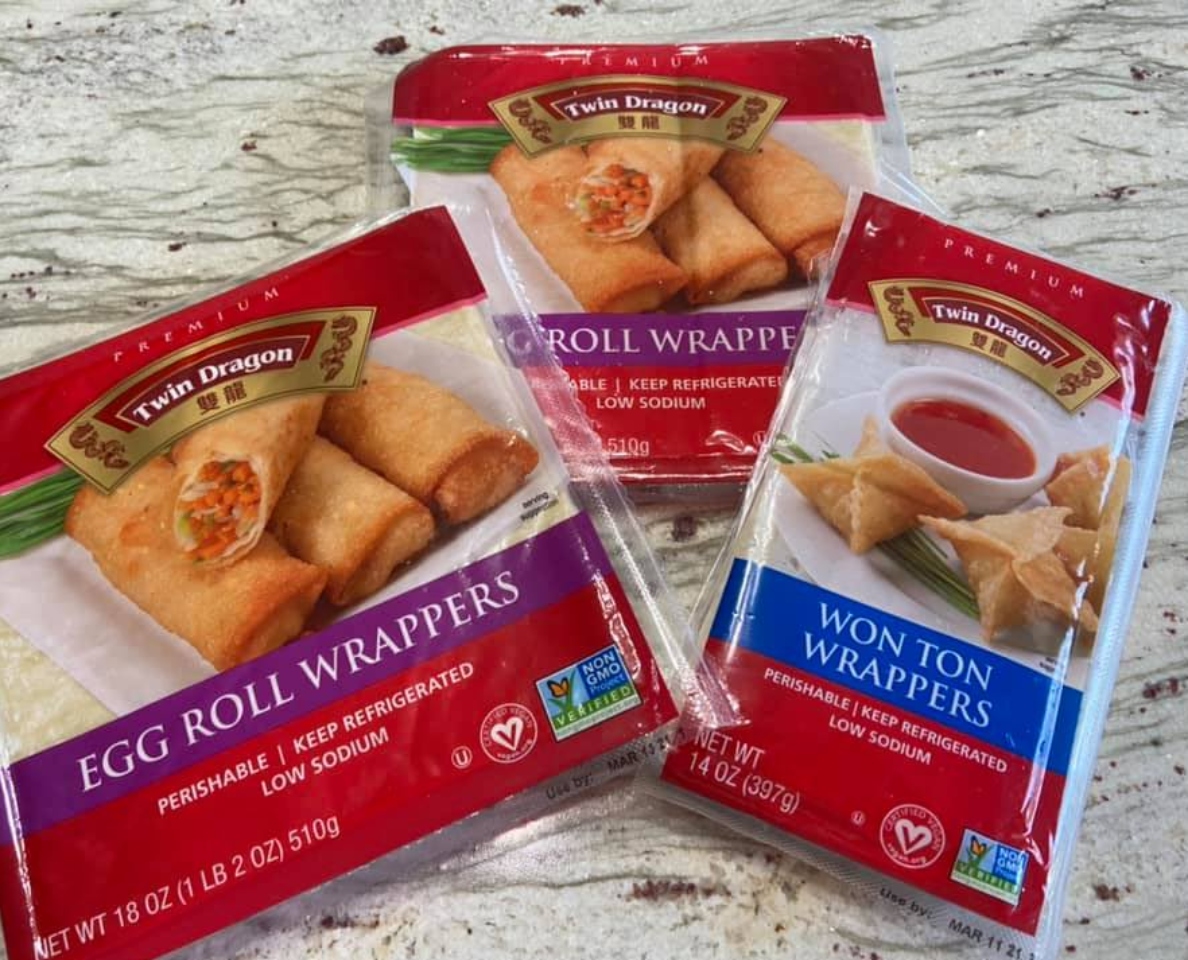 These tasty wontons are my entry in the game day category of the TWIN DRAGON ASIAN WRAPPER RECIPE CONTEST.  I was sent packages of their wonton and egg roll wrappers to create appetizers in holiday and game day categories. I tested several recipes one afternoon, and my husband and I could not stop eating them.
The wonton wrappers are so easy to work with.  They separate easily and stay sealed with just a little water around the edges. They are vegan, non-gmo, contain no preservatives, and are very light.
To create the filling, combine softened cream cheese, diced green onions, cooked ground chicken, and sweet chili sauce.
Place 1 teaspoon of filling  in the center of wonton wrapper.  Moisten edges of each wrapper with water and fold in half diagonally to make a triangle, pressing edges to seal.  Fry in heated oil for about 3 minutes until golden brown.
Serve the Cream Cheese Asian Chicken Wontons warm with ranch dressing, hot pepper butter,  spicy dipping sauce, or your favorite sauce.
The other game day appetizer I created for this contest was
BBQ Chicken and Cheddar Wontons.
CREAM CHEESE ASIAN CHICKEN WONTONS
Ingredients
4 oz cream cheese, softened
1/2 lb ground chicken, cooked and crumbled
2 green onions, diced
1 Tablespoon sweet chili sauce
24 TWIN DRAGON WON TON WRAPPERS
water
4 cups vegetable oil for frying
1-1 1/2 cup total dipping sauces (ranch, sweet chili, hot mustard, spicy dipping sauce)
Instructions
In a large mixing bowl, stir together the cream cheese, ground chicken, onions, and sweet chili sauce.
Separate 24 wonton wrappers and lay on a flat work surface. (I did 6 at a time). Place about 1 teaspoon of the filling onto center of the wonton. Moisten the edges of wrapper with water, by using fingertips, and fold in half diagonally in a triangle shape. Press edges together to seal.
Heat oil in a skillet or pan to 350 degrees F. Fry about 3 or 4 of the wontons at a time, until golden brown. Transfer to a paper towel lined plate to drain any grease.
Transfer to a serving platter with choices of dipping sauces.
© 2023 Copyright GRANDMA HONEY\\\\\\\'S HOUSE
Twin Dragon Wrappers are sold at  Walmart,  Shaw's, Stater Bros, Fred Meyer, QFC, Safeway,  Giant Stores, Shop N Shop, Winco,  Vons,  Albertson, and Price Chopper.
Visit these Social Media Links for more information and recipes:
Website:   JSL Foods http://www.jslfoods.com/
Facebook:  https://www.facebook.com/JSLFoods/
Twitter:  https://twitter.com/JSL_Foods
Instagram:  https://www.instagram.com/jslfoods/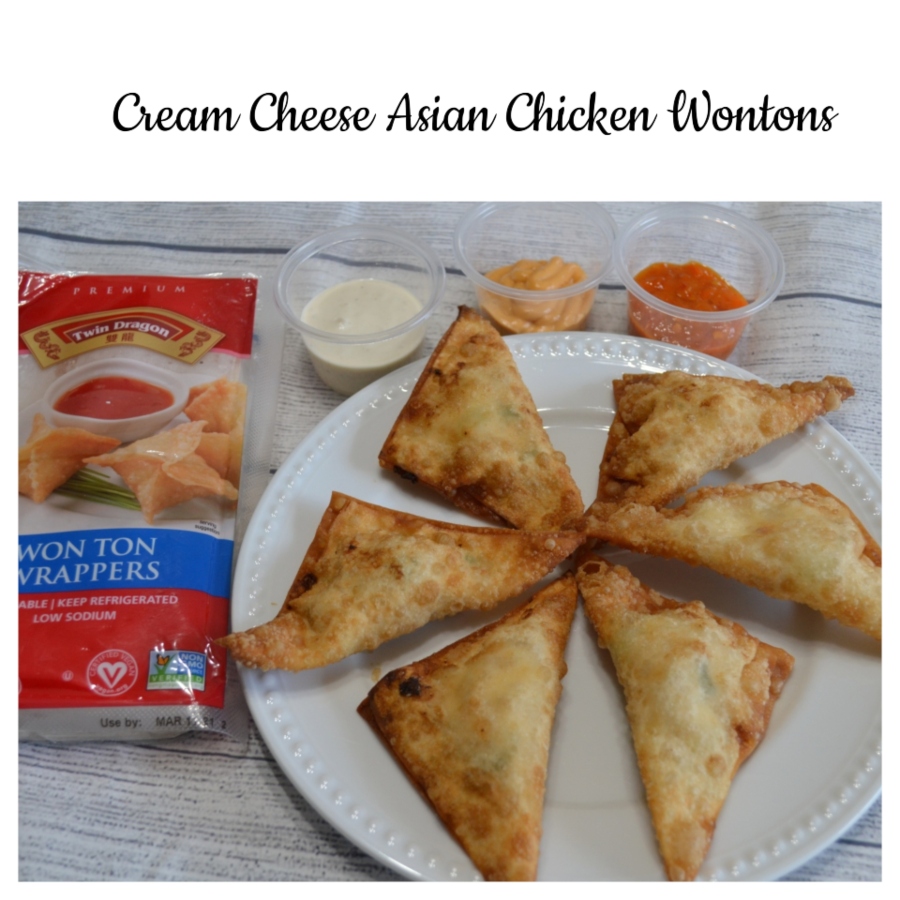 Please follow and like us: