Jump to recipe
The past year I have been making this breakfast  souffle  and wanted to share the recipe.  My husband wants to cut back on carbs, so a crustless breakfast dish is just perfect.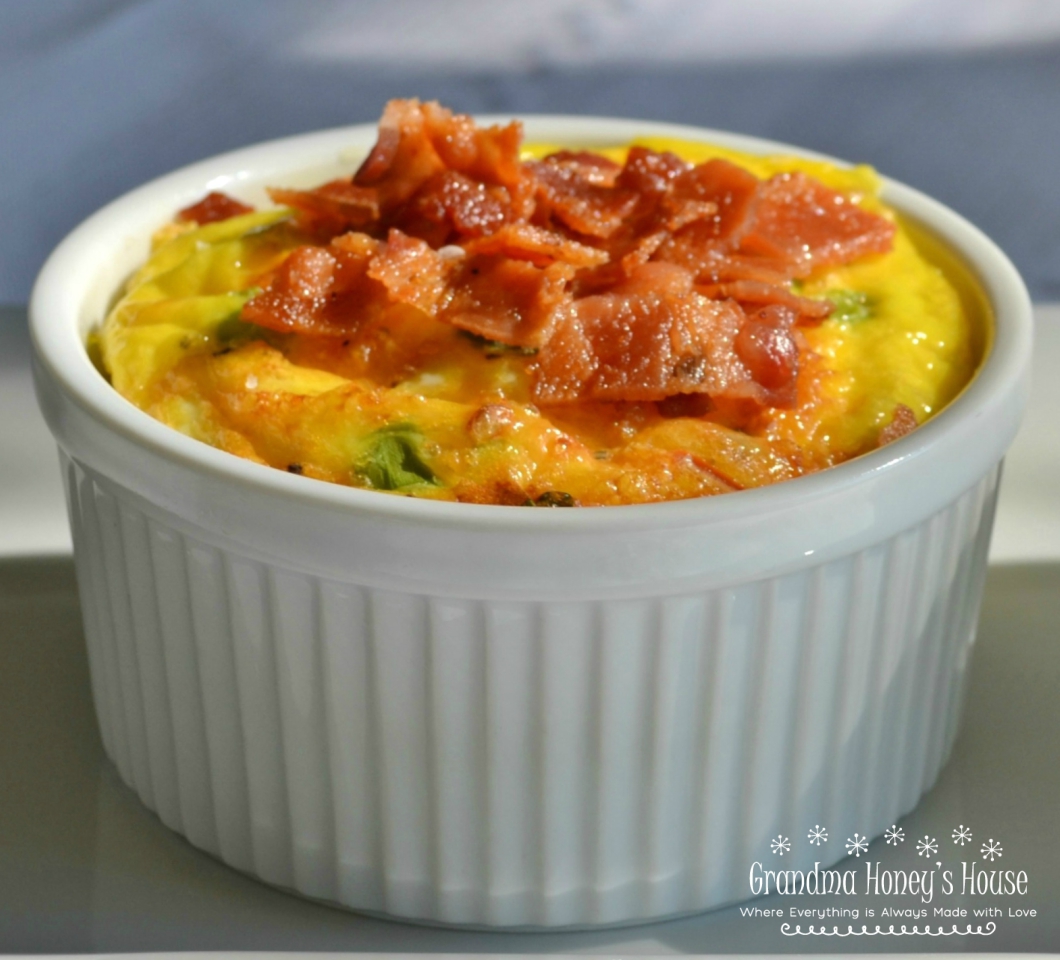 My recipe is a basic one but you can individualize your soufflé by adding any ingredients you have available.  My grand-children enjoy making their own.  I just set up little bowls with ingredients that I know they like, and they fill their dishes with what they want.  This is a good recipe for the children to make because you do not have to be exact with the measurements and they will eat it because they made it themselves.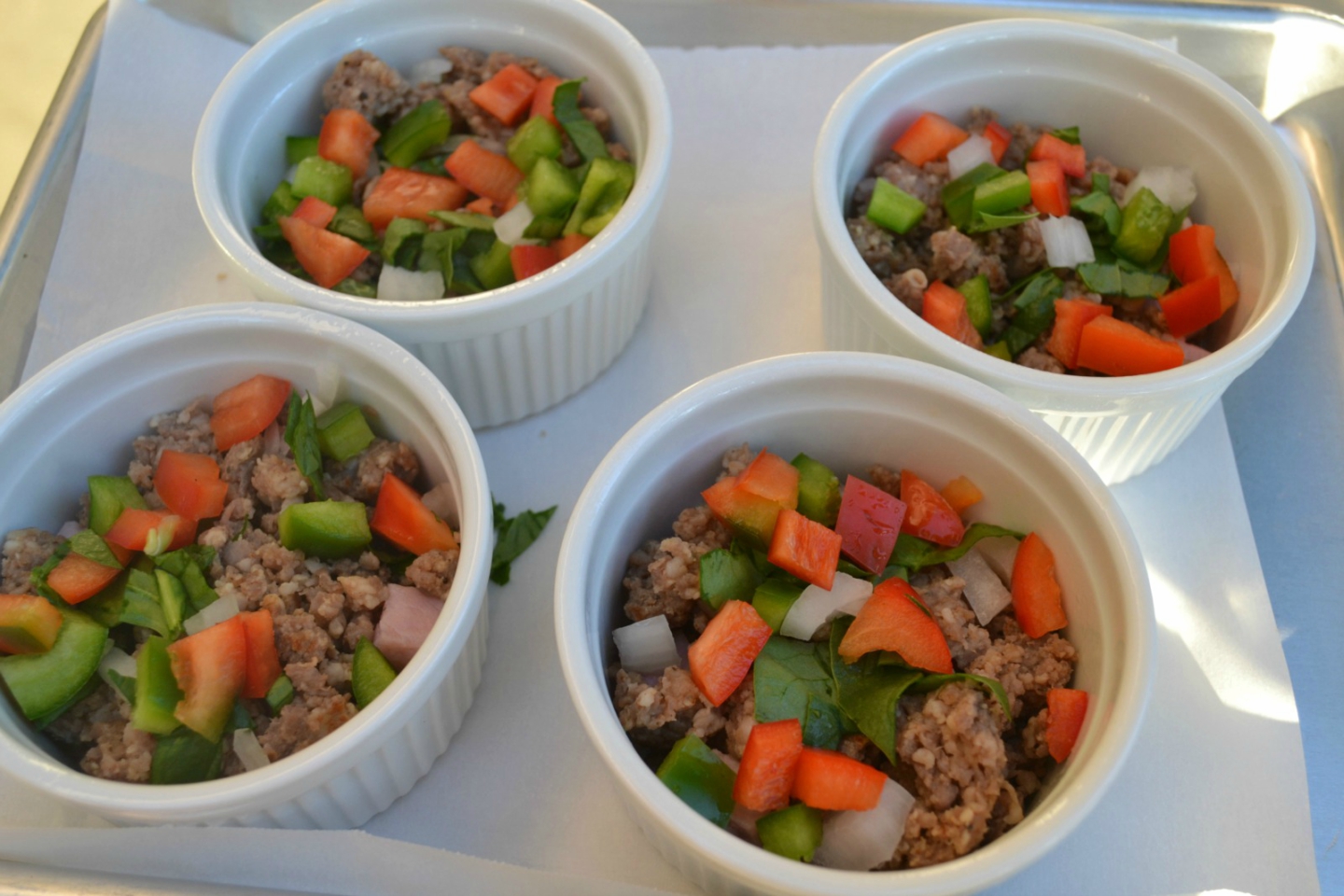 Preheat oven to 350 degrees F.  Spray 4 (1 cup) ramekins with no stick cooking spray.  Place dishes on a baking sheet lined with foil or parchment paper.  Place the meat and veggies in the ramekins.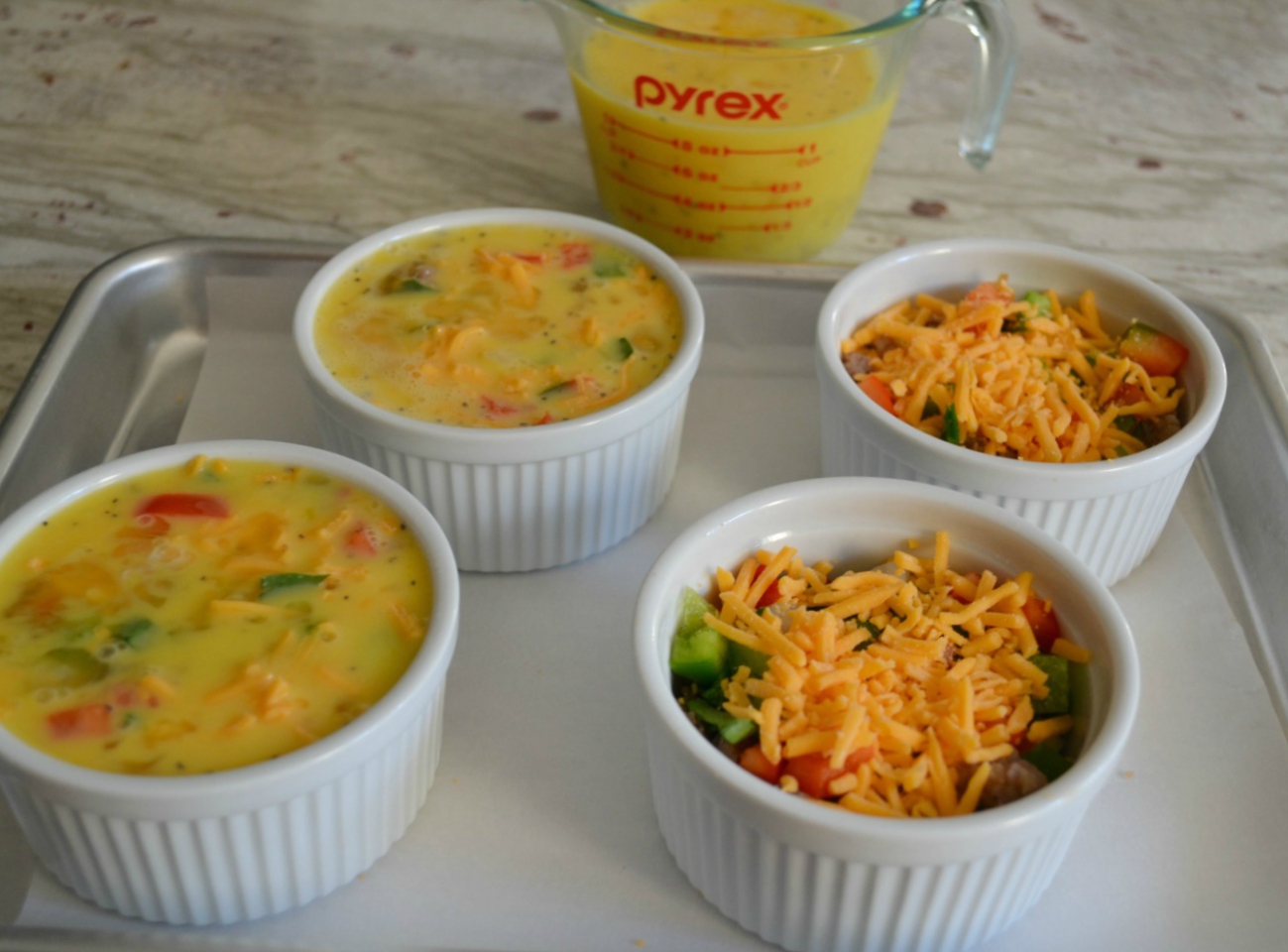 Top with shredded cheese then divide the egg mixture evenly between the ramekins.  I combine the egg mixture in a larger bowl but use a measuring cup to pour it into the ramekins.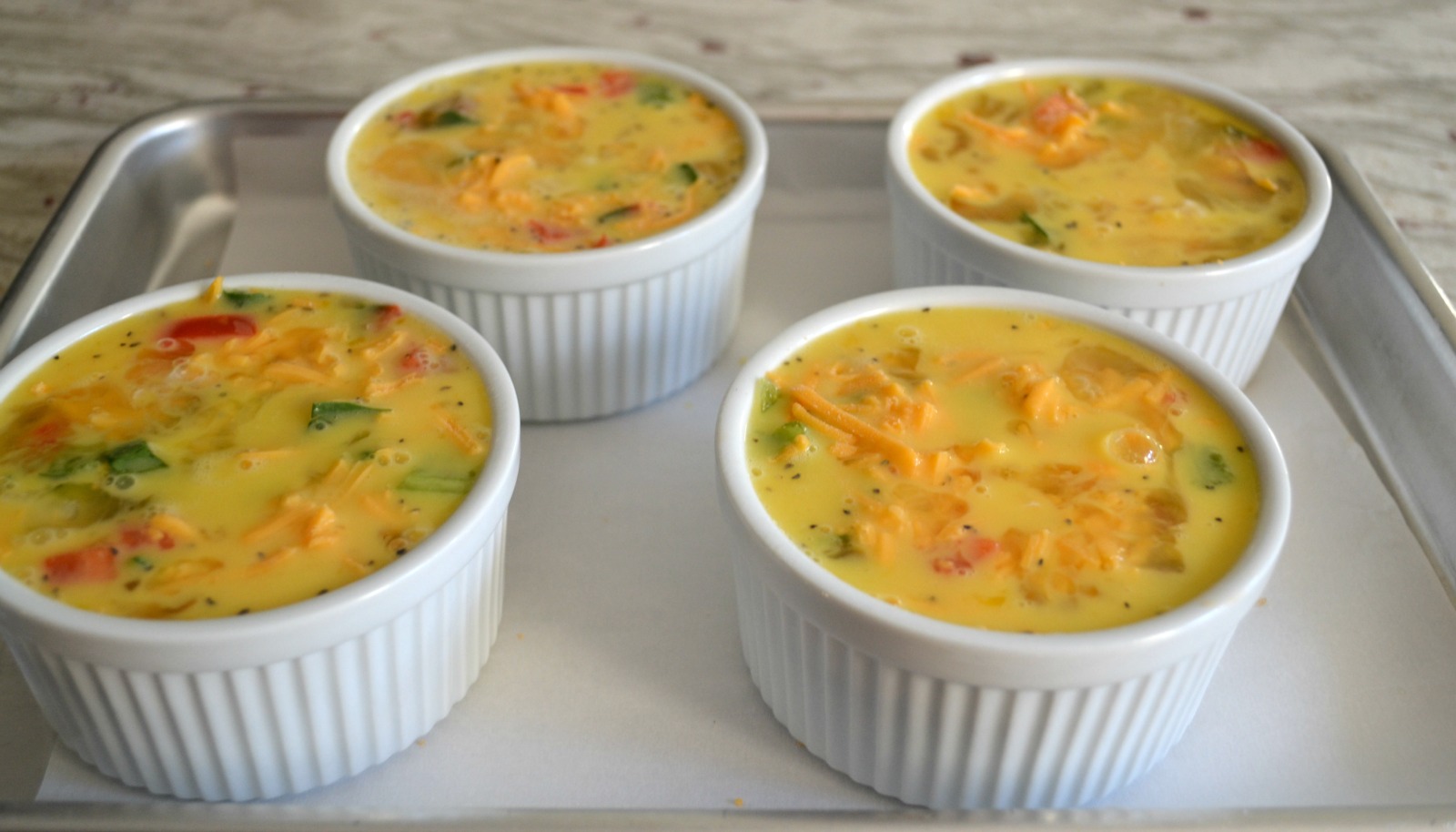 After the ramekins are filled, bake as directed.  Remove from the oven and allow to set about 5 minutes before removing from the ramekins.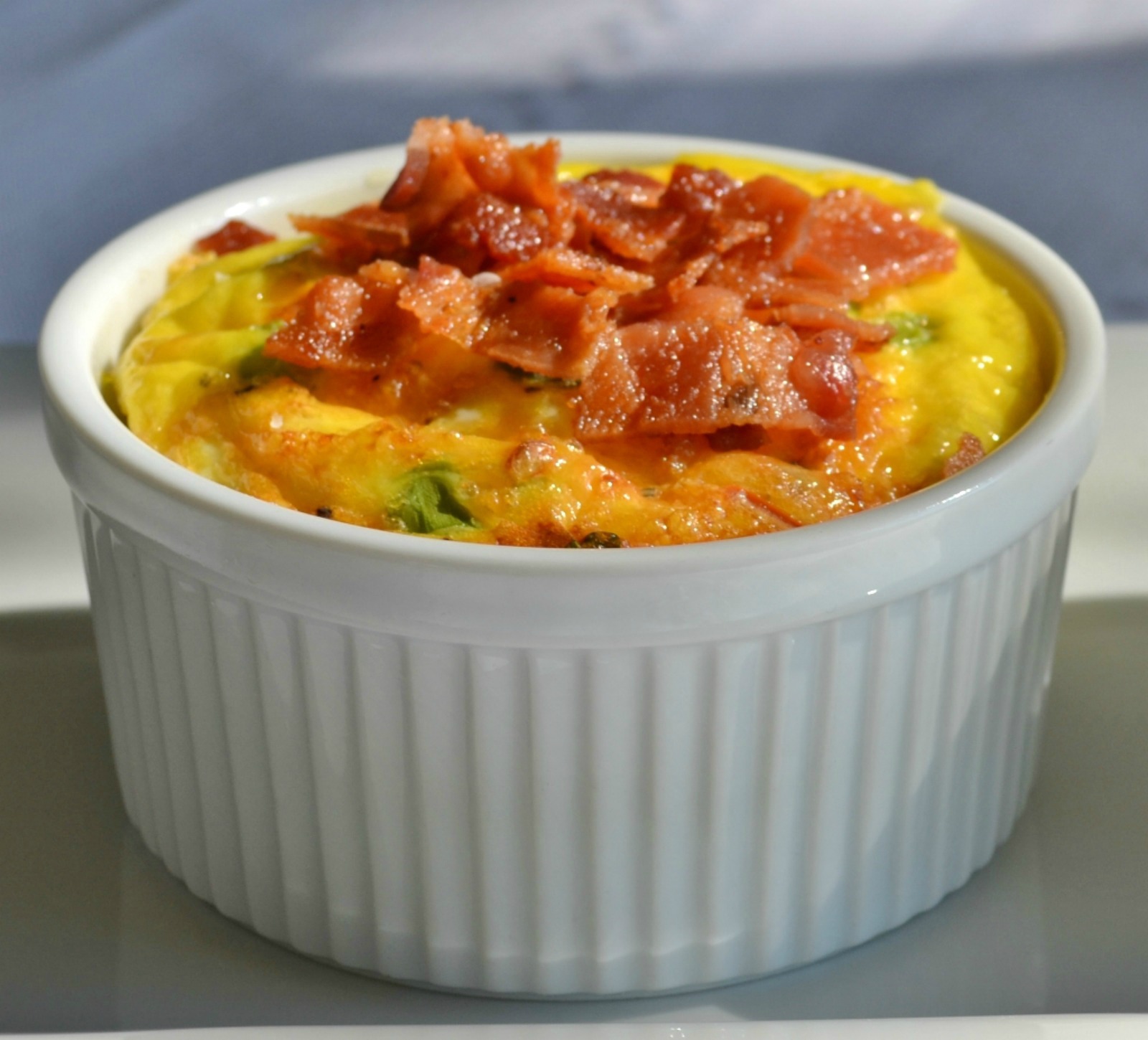 I topped this souffle with crumbled bacon.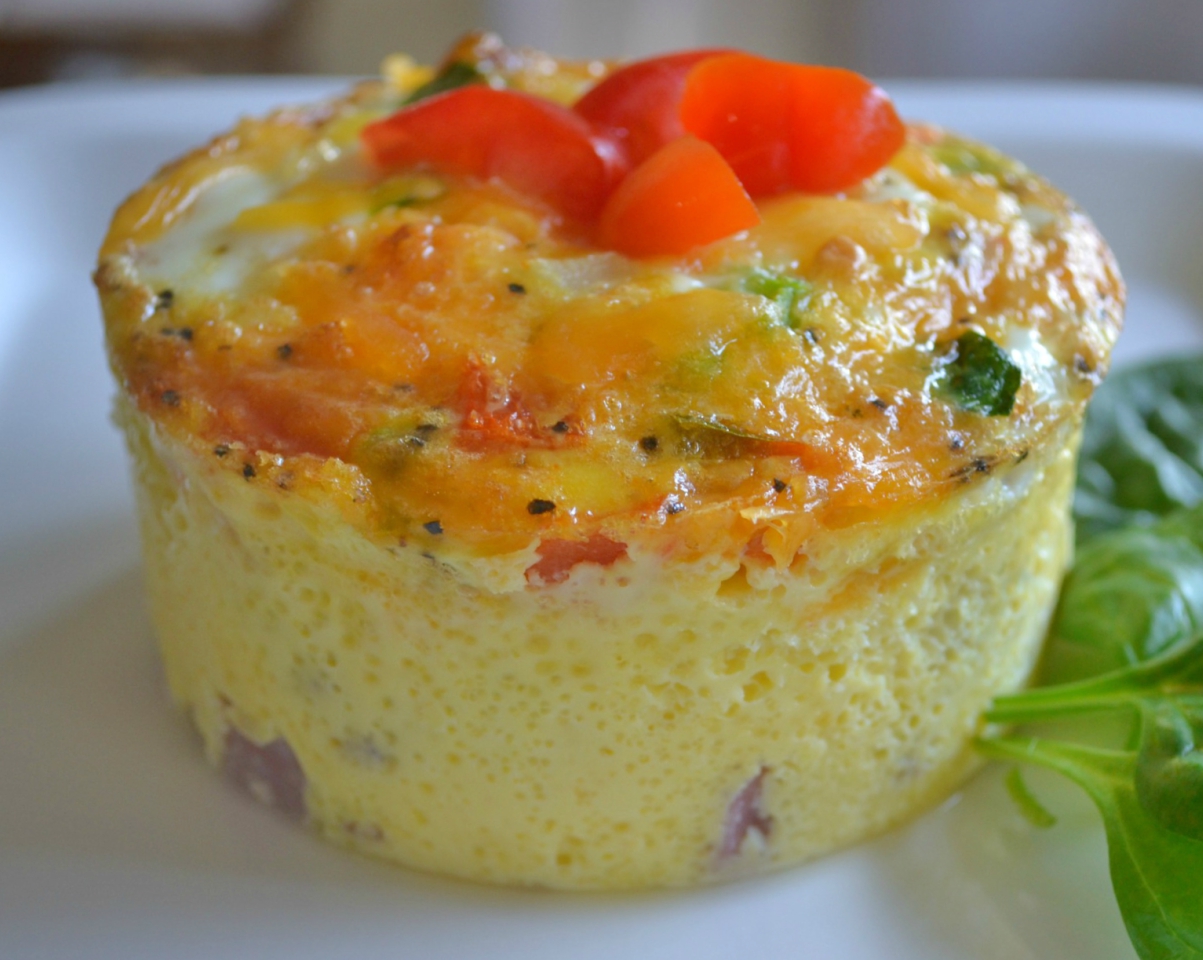 This is one after being removed from the ramekin and it was topped with diced tomatoes.
I have usually made these for my husband and I when we can  enjoy a leisurely breakfast but a few weeks ago I made them, packed them in a Tupperware container, and he took them to his hunting cabin.  The men just warmed them up in the microwave and he said they were wonderful.  I will take them sometime when we are camping in our RV.
I hope you enjoy these and have fun being creative.
LOADED CRUSTLESS MINI BREAKFAST SOUFFLE
Ingredients
1/2 lb ground sausage
1/4 cup ham, diced
8 baby spinach leaves, chopped
1/3 cup mixture red and green bell peppers, diced
2 green onions, diced
3/4 cup shredded cheddar cheese
8 extra large or 9 large eggs
1/3 cup half and half
1/2 teaspoon kosher salt
1/4 teaspoon coarse black pepper
1 Tablespoon hot sauce (optional)
6 slices bacon, cooked
Instructions
Preheat oven to 350 degrees F. Spray 4 (1 cup) ramekins with no stick cooking spray. Place dishes on a foil or parchment paper lined baking sheet.
In a small skillet, crumble and brown the sausage until no longer pink. Drain on a paper towel lined plate.
Divide the sausage, ham, spinach, peppers, onions, and cheese evenly between the ramekins.
In a medium size mixing bowl, whisk together the eggs, half and half, salt, pepper, and hot sauce. Pour the mixture into a 1 or 2 cup measuring cup and pour equal amounts into each ramekin. Fill the ramekins to the top of dish.
Bake for 25 to 30 minutes or until eggs are set. Remove from the oven and allow to set 5 minutes.
Run a small plastic knife along the inside of each dish for easier removal. Carefully, invert each ramekin onto a small dish and then flip back over to place on serving dish. Top with crumbled bacon.
© 2023 Copyright GRANDMA HONEY\\\\\\\'S HOUSE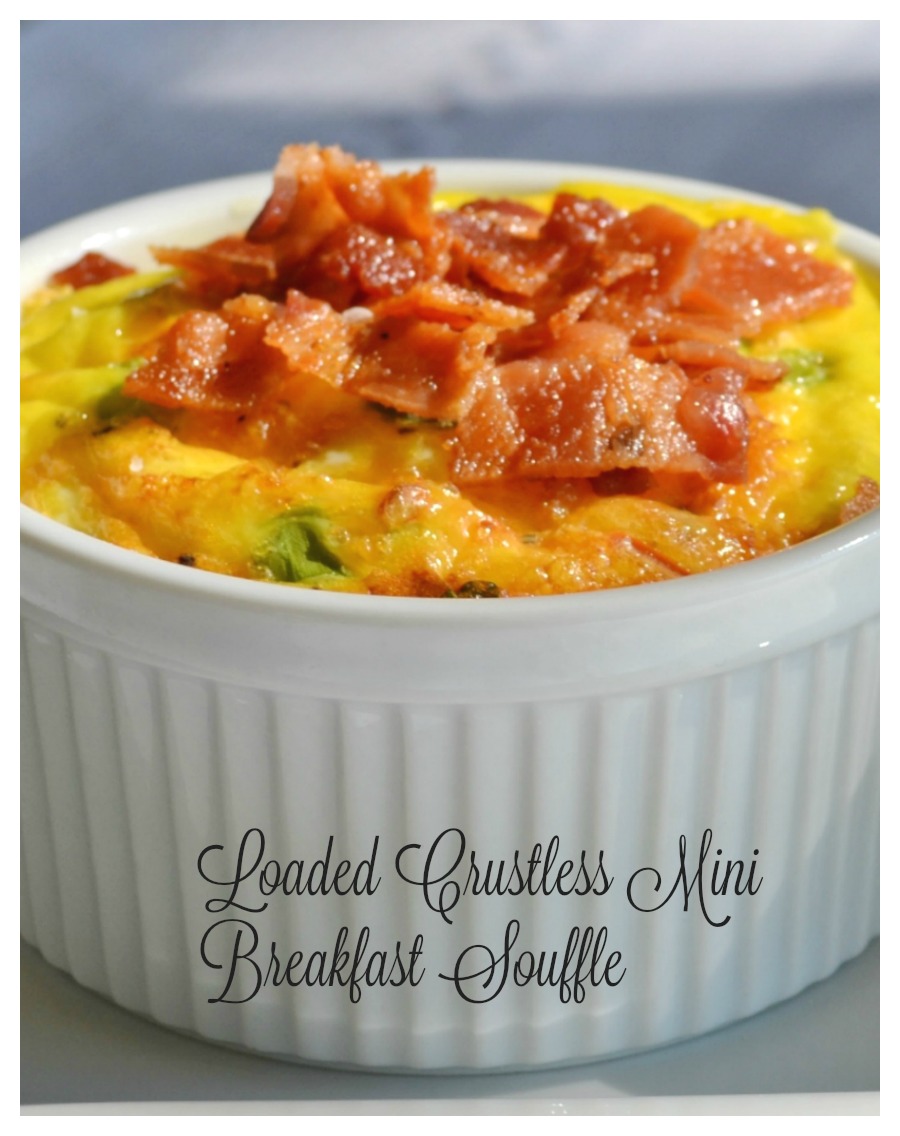 Please follow and like us: