Jump to recipe
These Mini Skillet Frittatas are perfect to serve to family and guests for any breakfast or brunch.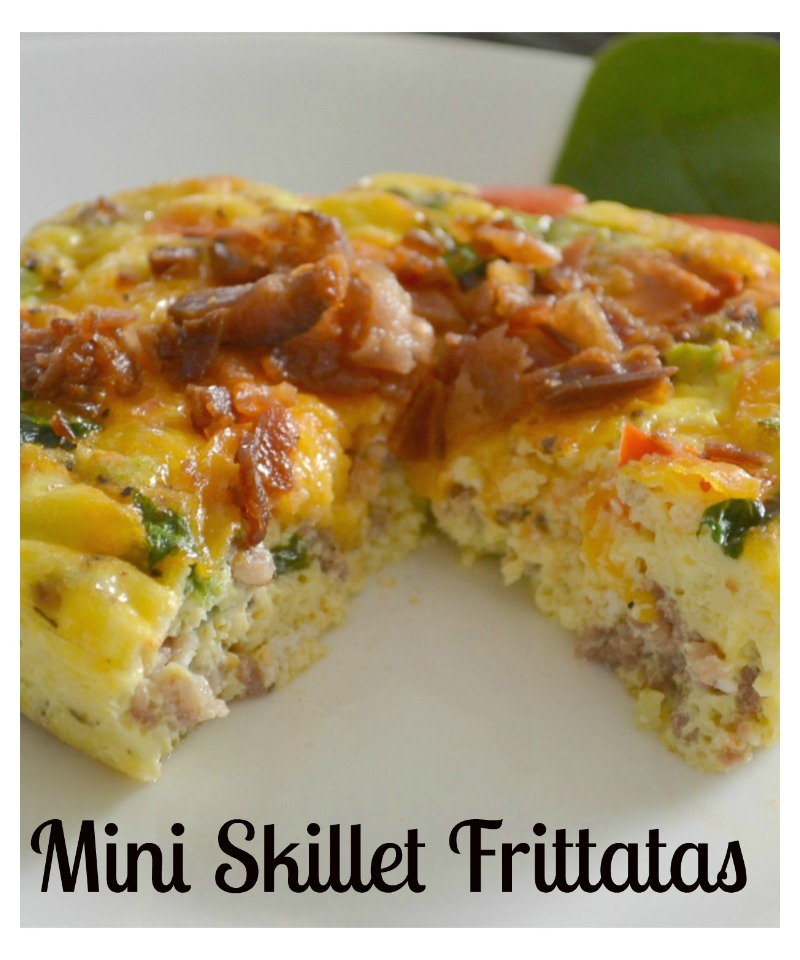 I love to serve foods in mini serving dishes.  They look more elegant and children/grandchildren love being served in them.  I found these mini cast iron skillets a few years ago and am always trying to come up with new ways to use them.   My family enjoys eating quiche and souffles frequently, so I decided to bake  Mini Skillet Frittatas in them a few days ago.
My grandchildren had fun making these one day, because they were able to create their own, using ingredients they like.   If you have guests for a brunch,  just line up the skillets and mix ingredients  to create a delicious variety of frittatas.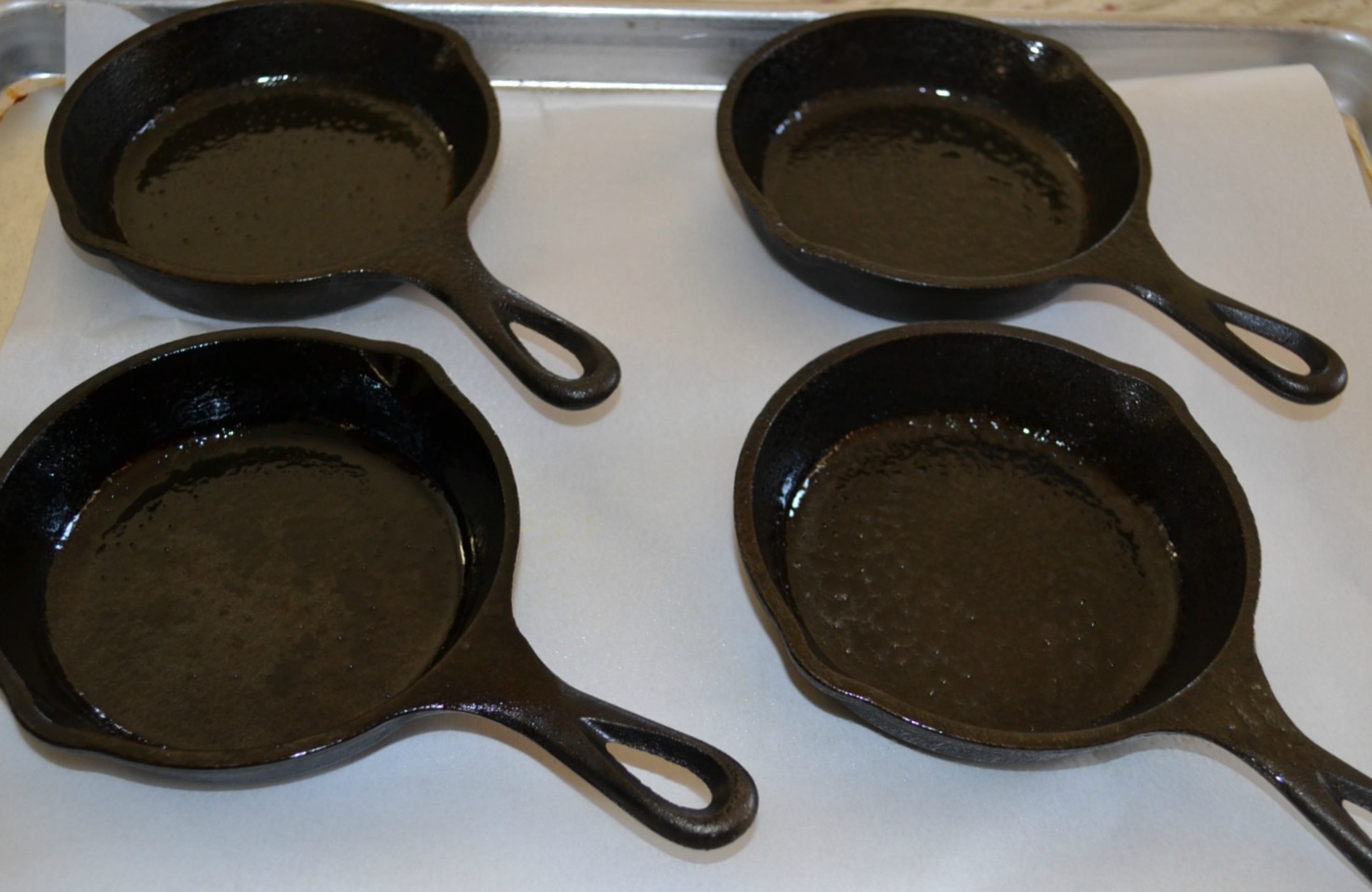 Start by spraying the skillets with no stick cooking spray and place them on a parchment lined baking sheet.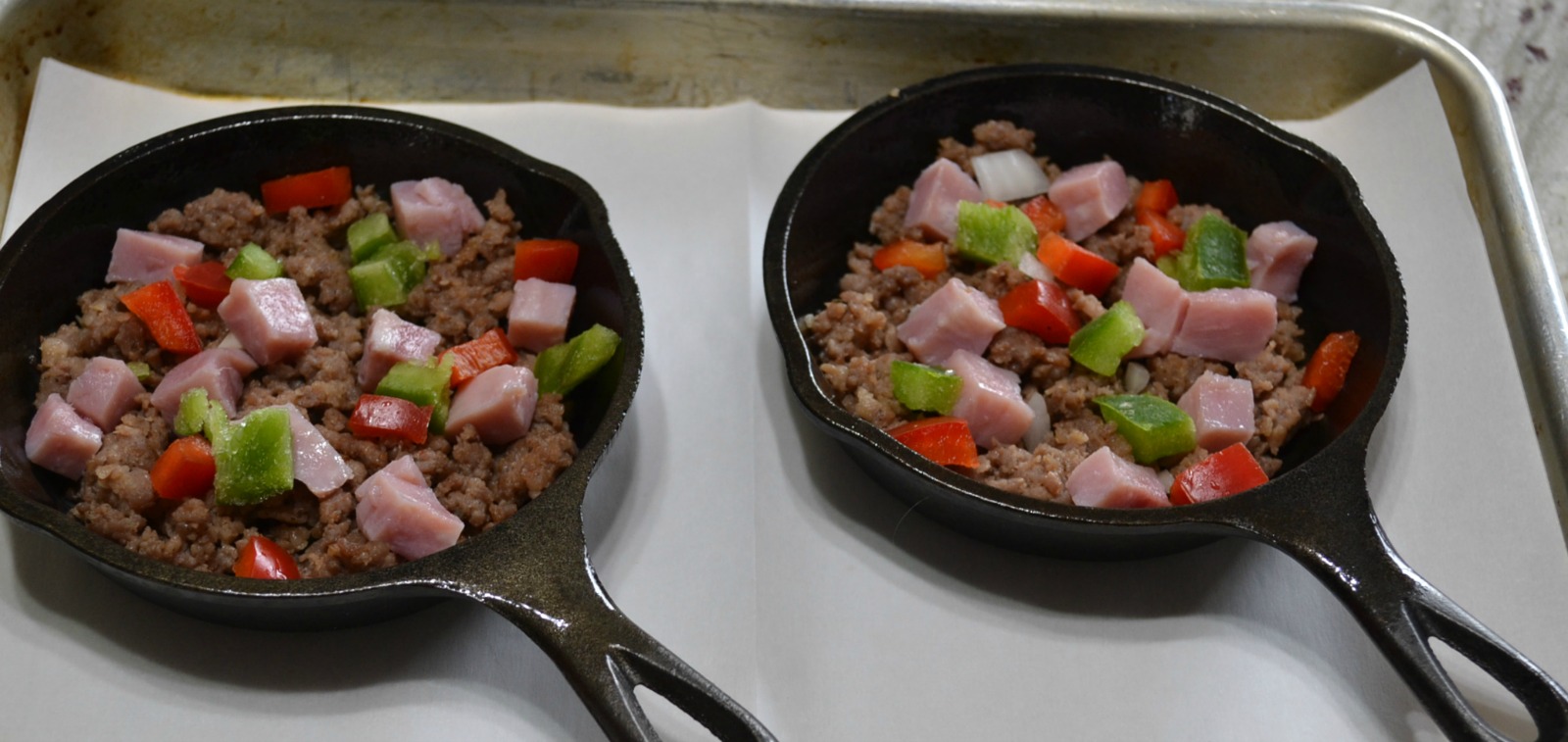 Arrange sausage, ham, and veggies evenly in the skillets.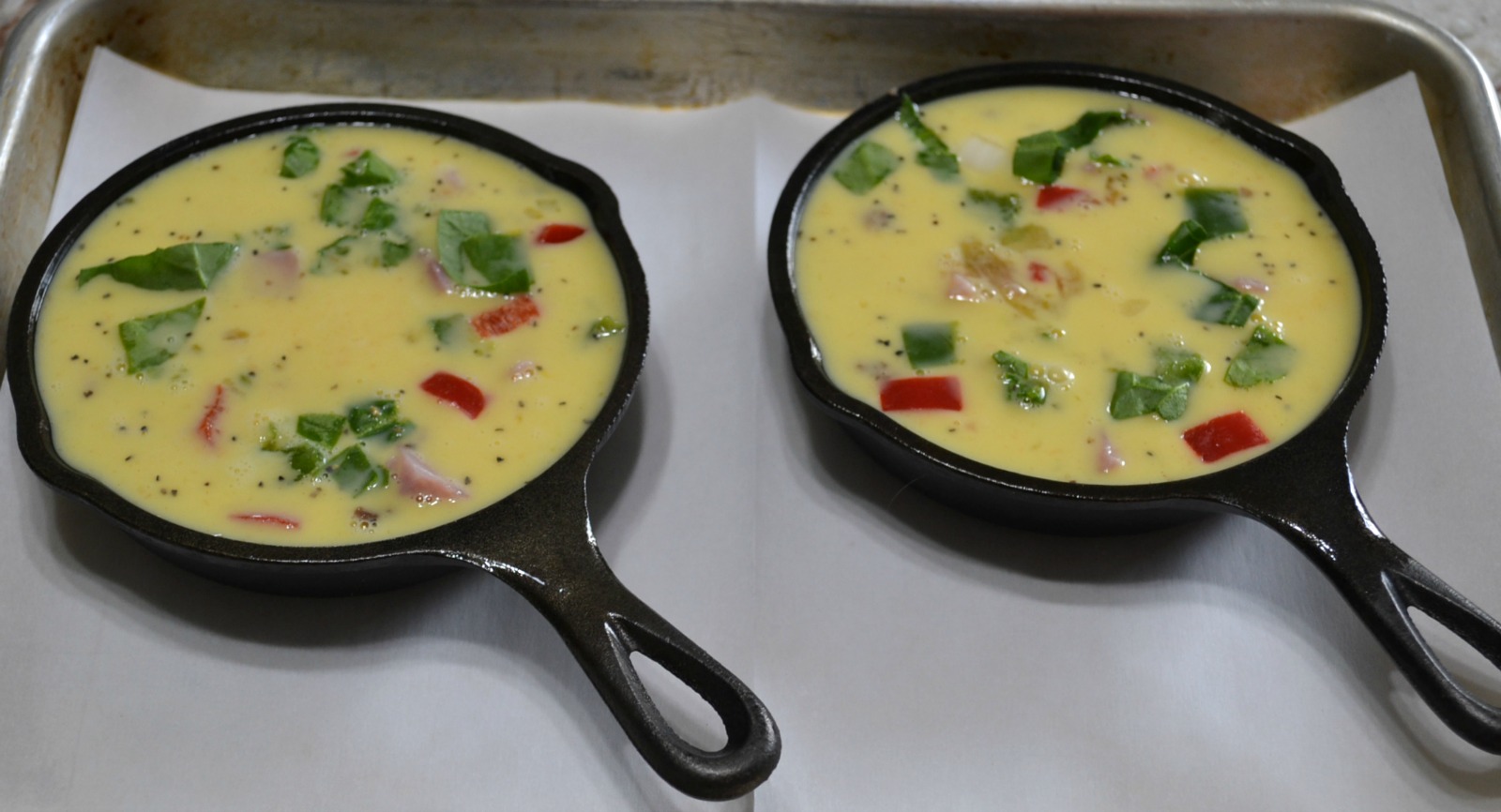 Whisk eggs, salt, pepper, hot sauce, and half and half together.  Pour carefully between the mini skillets.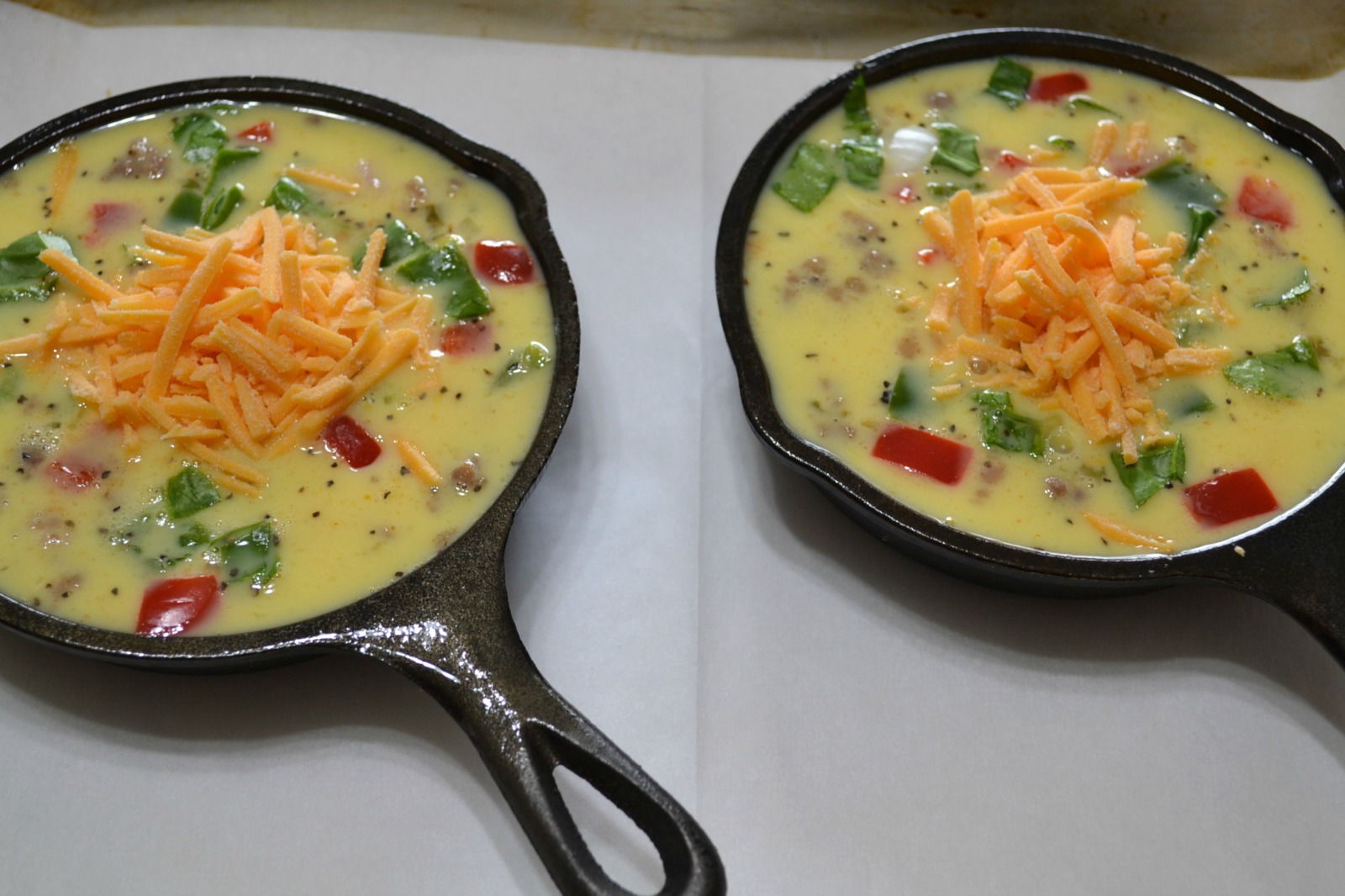 Top with cheese.  Bake.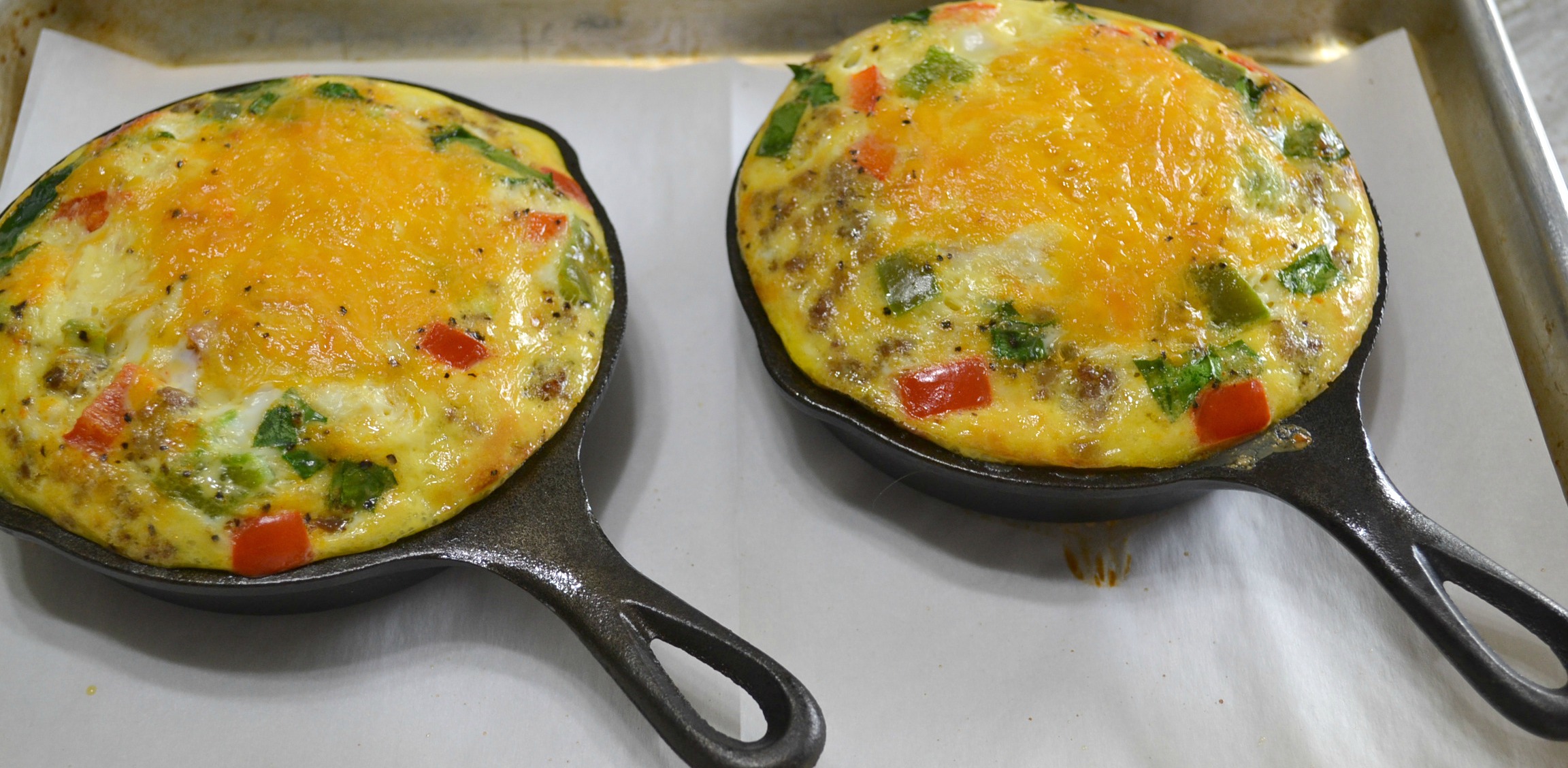 Remove from oven.   Serve in mini skillet or remove to a plate.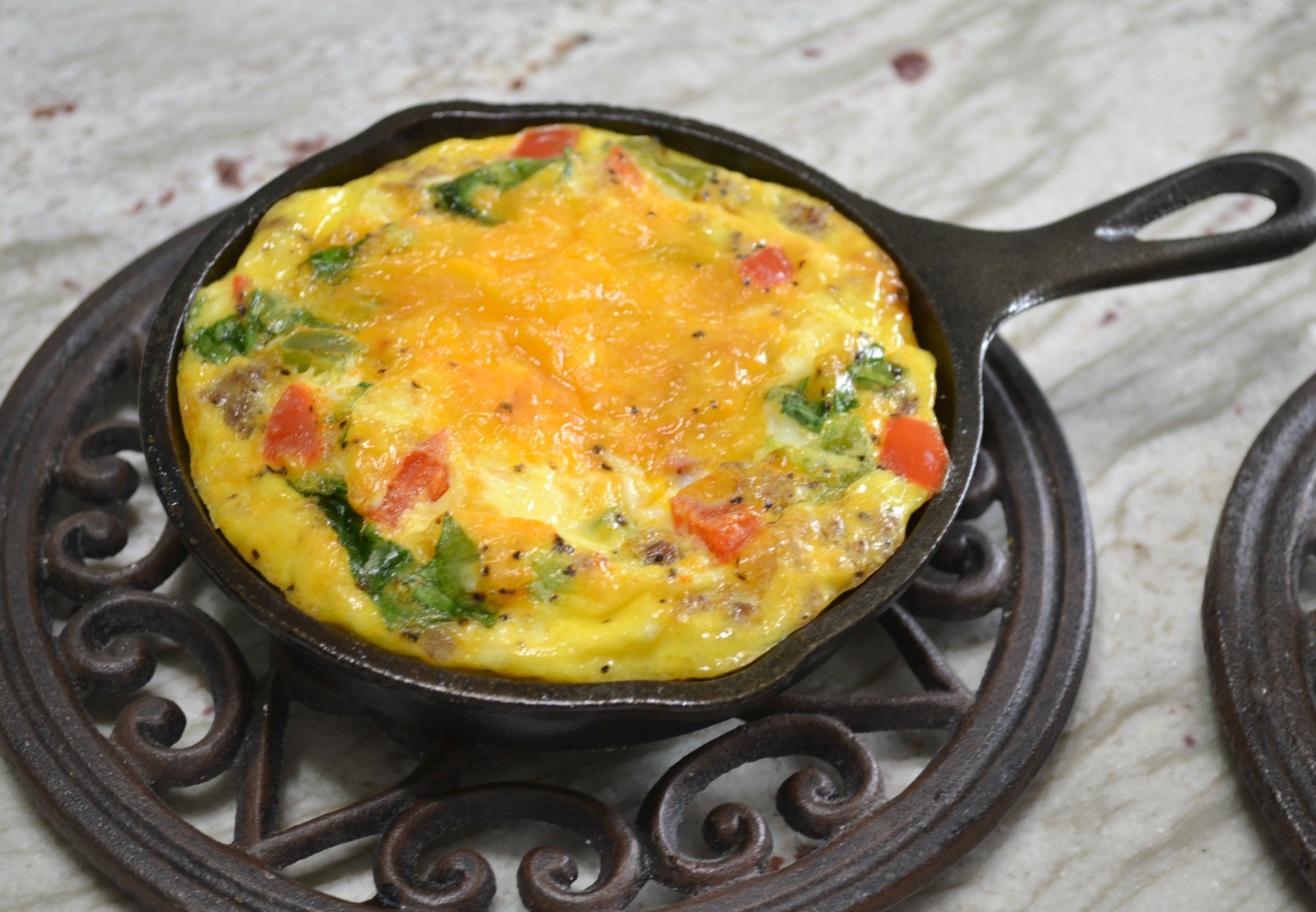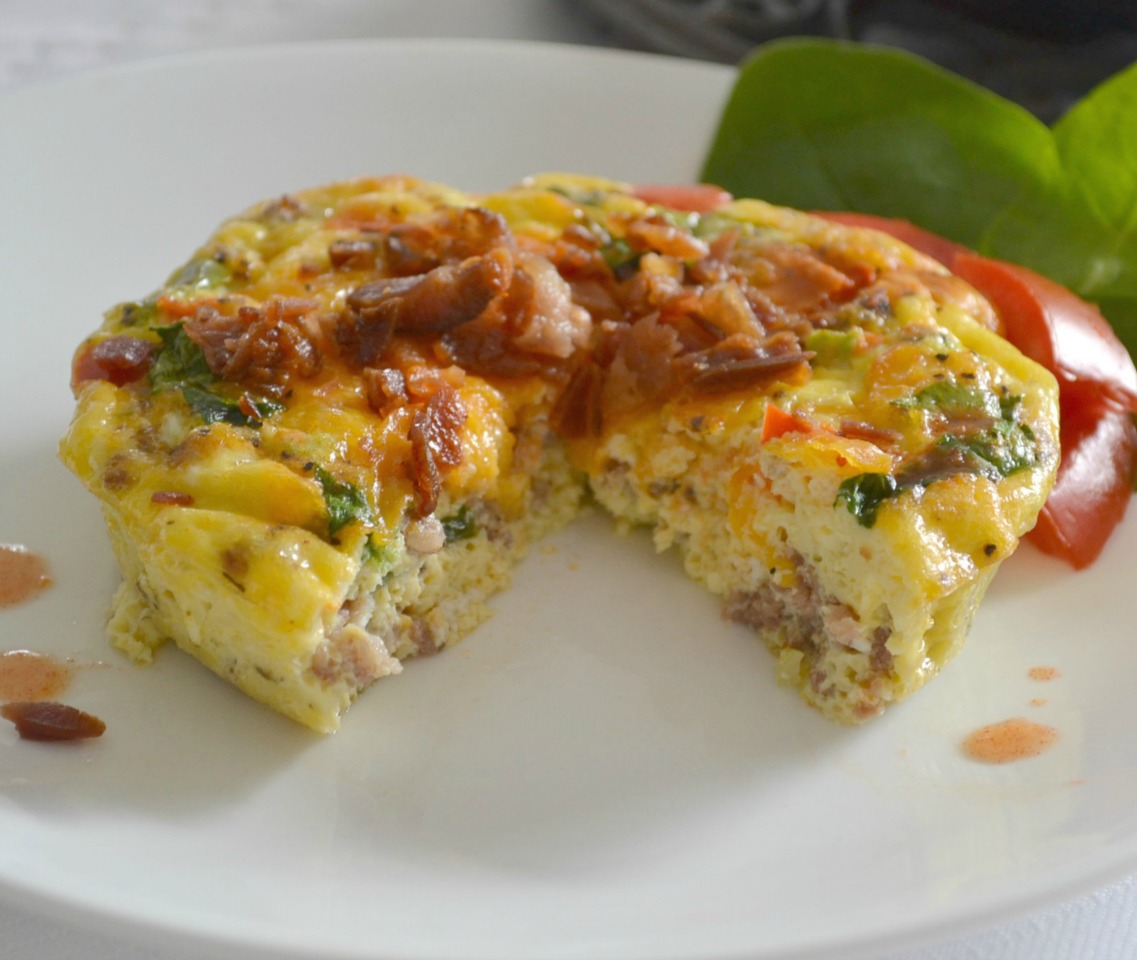 Top with bacon.  Garnish with baby spinach and tomatoes.  Add a few more dashes of hot sauce.
These can be served warm or at room temperature.  They can even  be reheated and served the following day.
Try these Mini Skillet Frittatas for brunch, showers, tea parties and a lazy weekend morning.
MINI SKILLET FRITTATAS
Ingredients
1/2 lb ground sausage, crumbled and browned
1/2 cup ham cubes, chopped small
1/4 cup red bell pepper, diced
1/4 cup green bell pepper, diced
1 green onion, diced
4 baby spinach leaves, chopped
6 large eggs
1/2 teaspoon kosher salt
1/4 teaspoon coarse black pepper
1/4 teaspoon hot sauce (or desired amount)
1/2 cup half and half
1/3 cup shredded cheddar cheese
2 slices bacon, cooked crisp and crumbled
1 roma tomato chopped
baby spinach leaves to garnish
hot sauce to drizzle if desired
Instructions
Preheat oven to 350 degrees F. Spray (4) mini cast iron skillets (3.5 inch) with no stick cooking spray. Place on parchment lined baking sheet.
Divide the sausage and ham evenly between the skillets.
Top each skillet with equal amounts of the red and green peppers, onion, and spinach leaves.
In a medium size mixing bowl, whisk together the eggs, salt, pepper, hot sauce, and half and half. Pour mixture into a mixing cup and carefully pour equal amounts into each skillet. Top with cheese in the center.
Bake for 25 to 30 minutes, or until eggs are set.
Remove from the oven. Top with crumbled bacon. Allow to set about 5 minutes.Run a flat knife along the outside edge of skillet to remove from the pan.
Serve in mini skillet or transfer to a plate and garnish with tomatoes and spinach leaves. Drizzle additional hot sauce if desired.
Makes 4 mini skillets.
© 2023 Copyright GRANDMA HONEY\\\\\\\'S HOUSE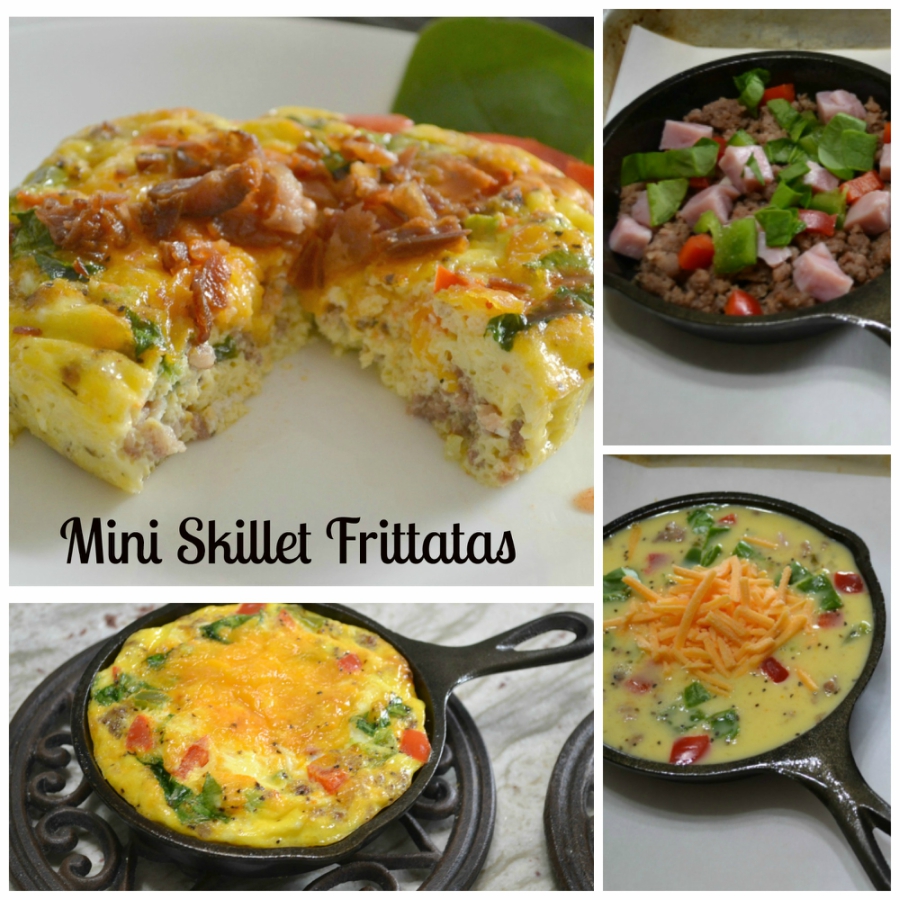 *Shared on Week-end Potluck@ www.sweetlittlebluebird.com 

*Shared on Week-end Potluck @ The Country Cook
Please follow and like us: