Jump to recipe
Loaded Baked Potato Soup is my absolute favorite soup.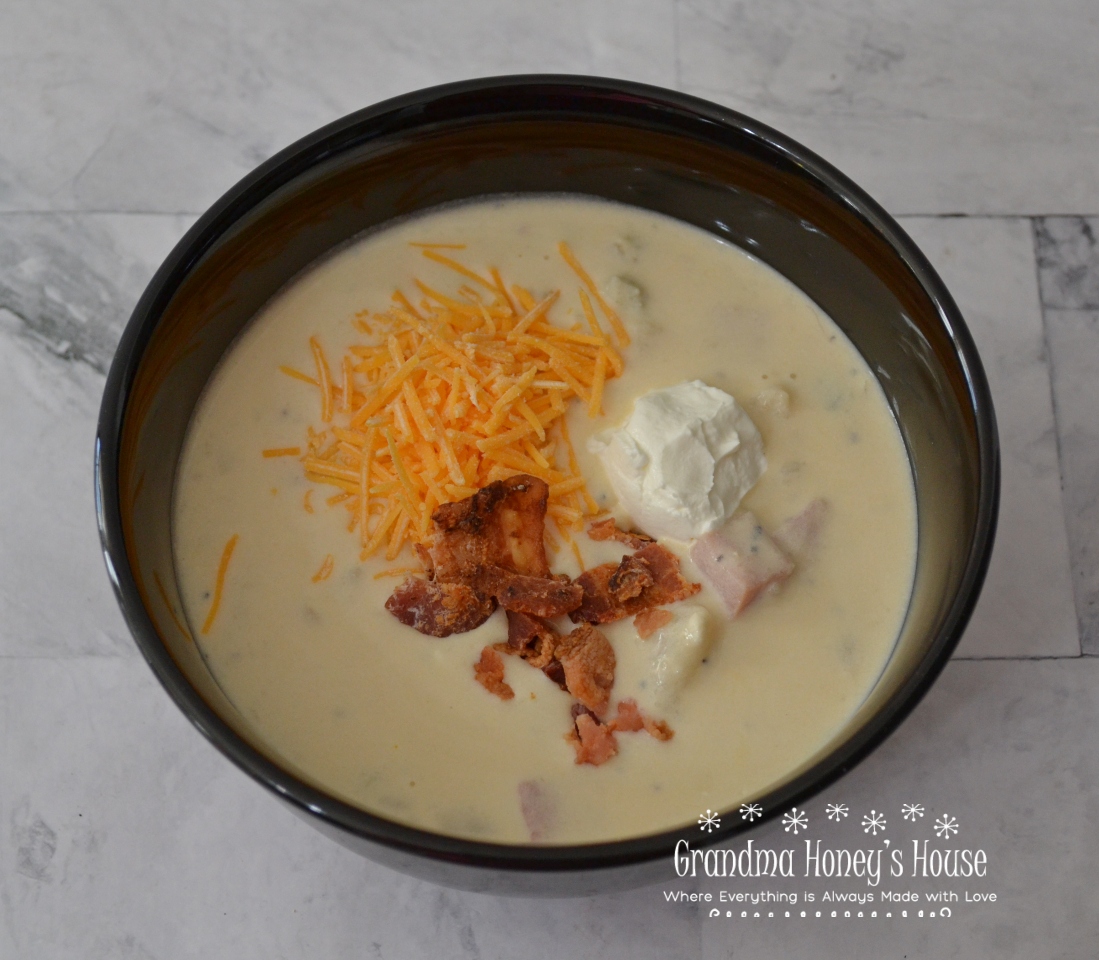 There is nothing more comforting than a big pot of warm Loaded Baked Potato Soup on a cool, fall or winter day.  I have always made big pots of soup for our large family. The leftovers are perfect for lunches the next day or two.
LOADED BAKED POTATO SOUP
Ingredients
6 large baking potatoes
1/2 teaspoon kosher salt
1/4 teasppon coarse black pepper
2 Tablespoons butter
6 slices bacon, cut in small pieces
2 stalks celery, diced
1 large carrot,peeled and diced
1/2 jalapeno pepper, seeded and finely chopped
1/2 cup onions, chopped
1/4 cup red bell pepper, diced
1/2 teaspoon garlic, minced (I use from a jar)
2 cups chicken broth
1 cup half and half
2 cups ham, cubed
2 oz sour cream
1 cup shredded cheddar cheese
GARNISH:
cooked bacon
1/4 cup sour cream
1/2 cup shredded cheddar cheese
1/4 cup green onions, diced
Instructions
Bake the potatoes until tender, cut open in half, and allow to cool enough to handle. Scrape potatoes out of the skins into a large bowl (ok to have different size chunks). Season with salt and pepper. Fold in the butter.
Heat a large dutch oven over medium heat. Add bacon and cook until brown and crisp. Remove the bacon, and drain grease, leaving about 2 Tablespoons of the grease to saute veggies.
Add the celery, carrots, jalapenos, onions, and bell pepper to dutch oven. Cook over low heat for 10 minutes. Stir in the garlic and simmer another 3 minutes.
Stir in the chicken broth and half and half. Add the potatoes and ham. Combine well and cook on low for 20 minutes, stirring frequently.
Turn soup off and stir in the sour cream and cheese.
Place soup in bowl and top with choices of sour cream, bacon, cheese, and green onion.
** Soup can be made up to a day ahead of time, reheat on low when ready to serve. May add additional half and half if it becomes too thick**
© 2023 Copyright GRANDMA HONEY\\\\\\\'S HOUSE
I make my soups in a large dutch oven.  I like to have plenty of room for all of the ingredients to blend well, they don't  stick, and the foods cook more evenly in these pots.
HOW TO MAKE LOADED BAKED POTATO SOUP:
First, prepare the baked potatoes. You may do them in the
oven, wrapped in foil, or use the microwave ready potatoes.  Cook potatoes until tender, cut in half, and allow to cool enough to handle. I scrape them out of the jackets, into a bowl, and season with salt, pepper and butter.
The Loaded Baked Potato Soup starts with bacon browned in a dutch oven.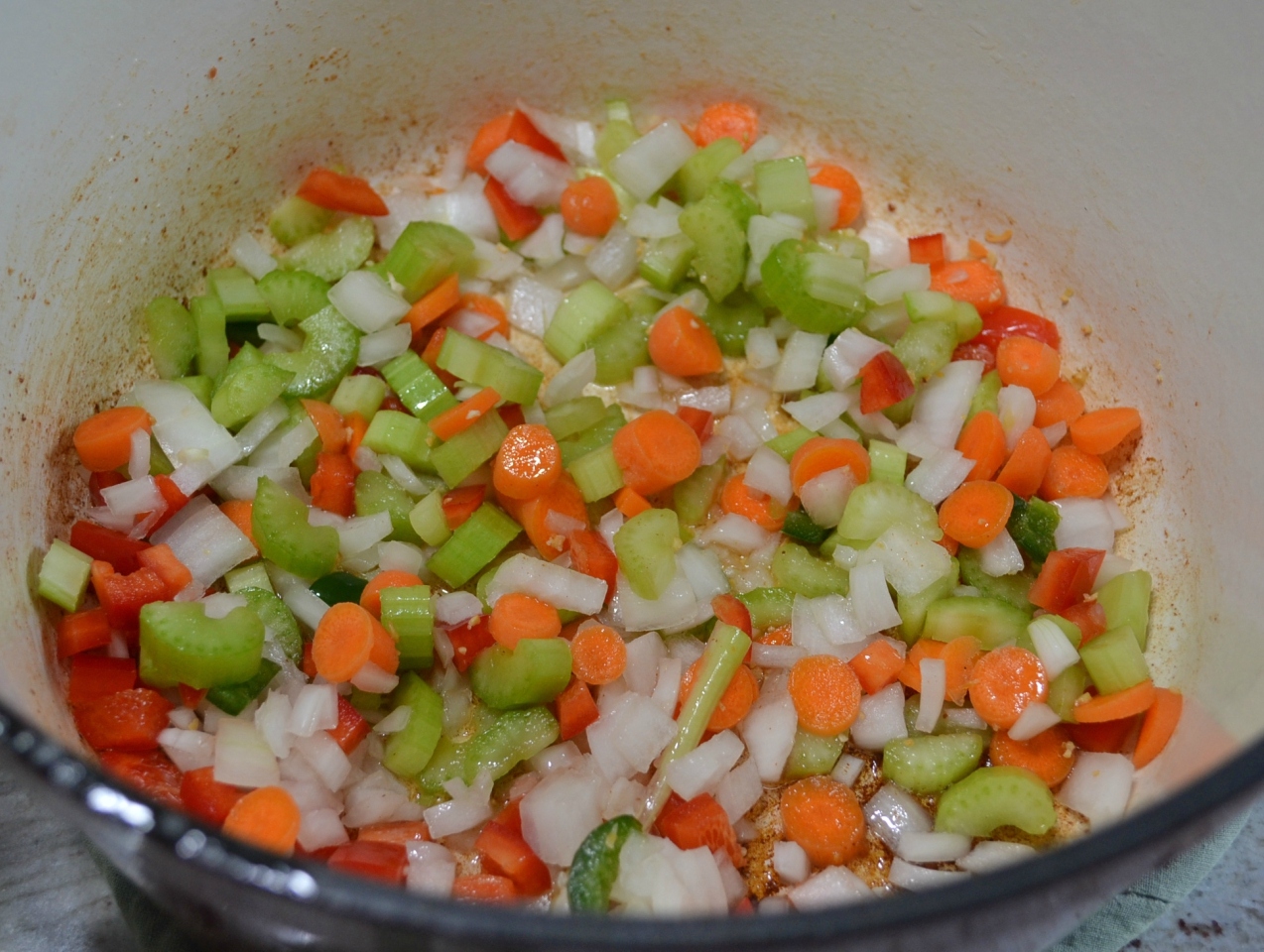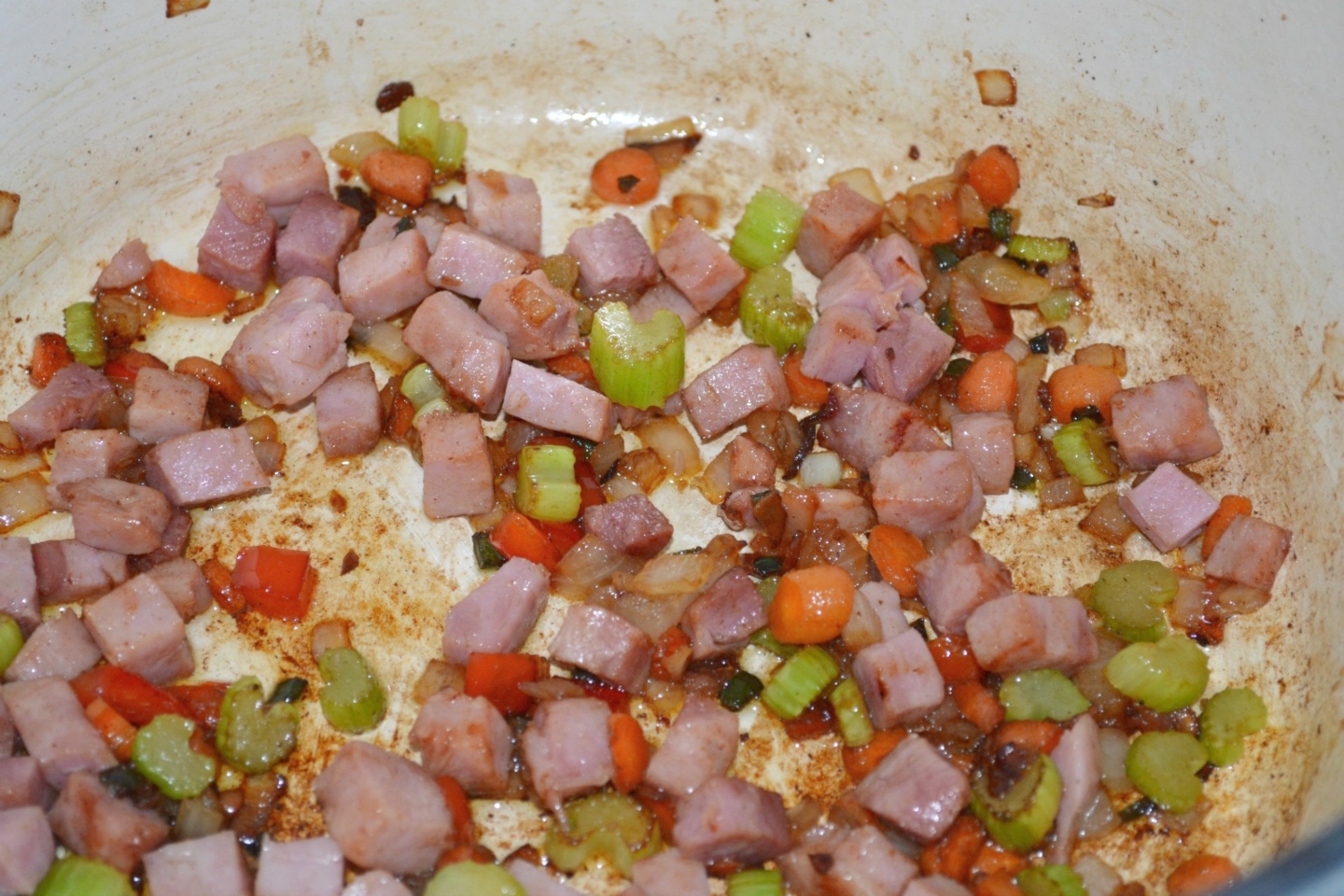 The bacon is removed and fresh veggies are sautéed in some of the bacon grease.
Stir in the chicken broth and half-and-half.  Carefully, fold in the potatoes. and ham.  Simmer on low 20 minutes,  stirring frequently. Turn off soup.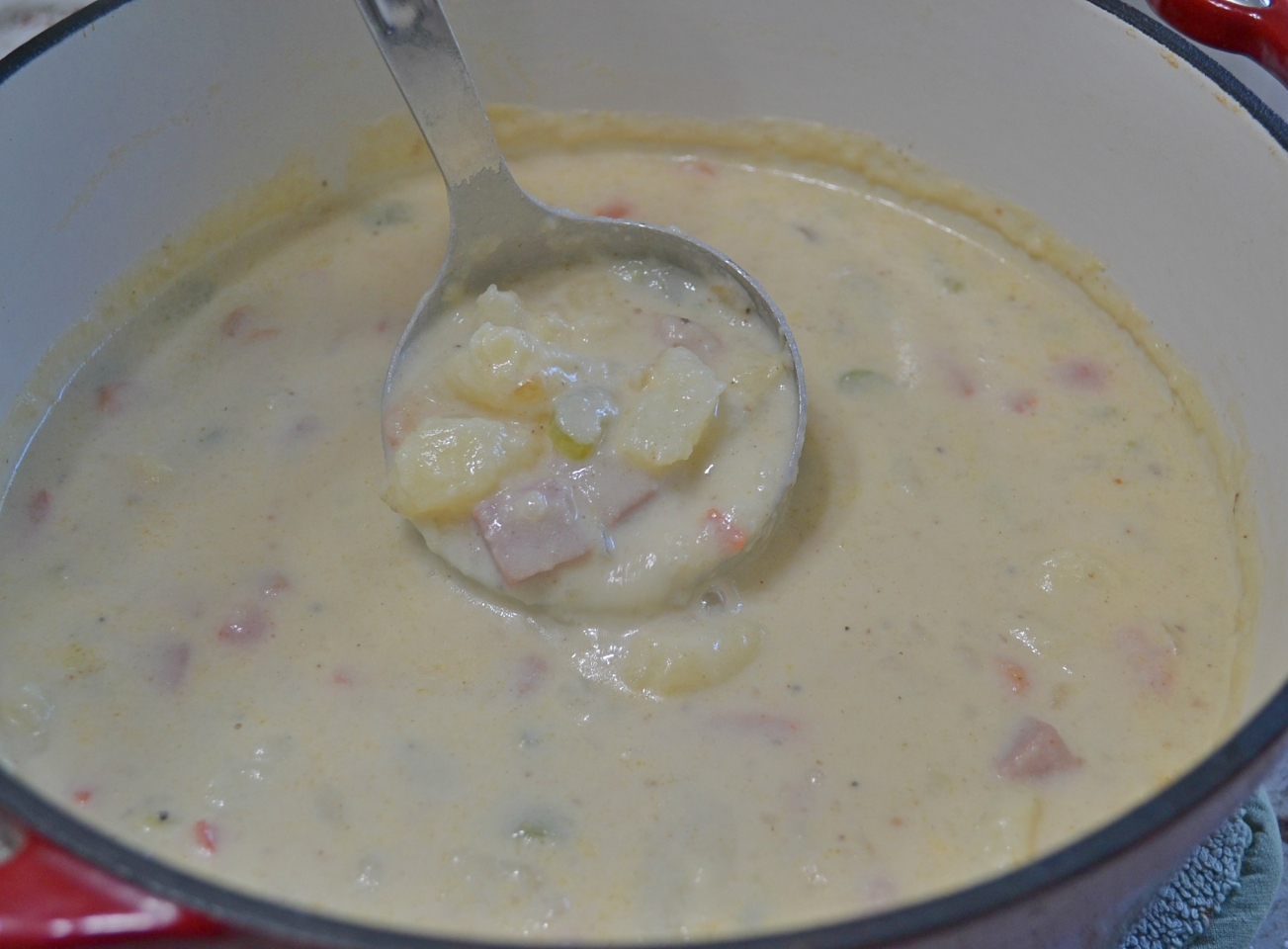 Add cheese and sour cream to make a rich, delicious soup.
Season with additional salt & pepper if needed.
Remove from stove at this time to serve or re-warm later.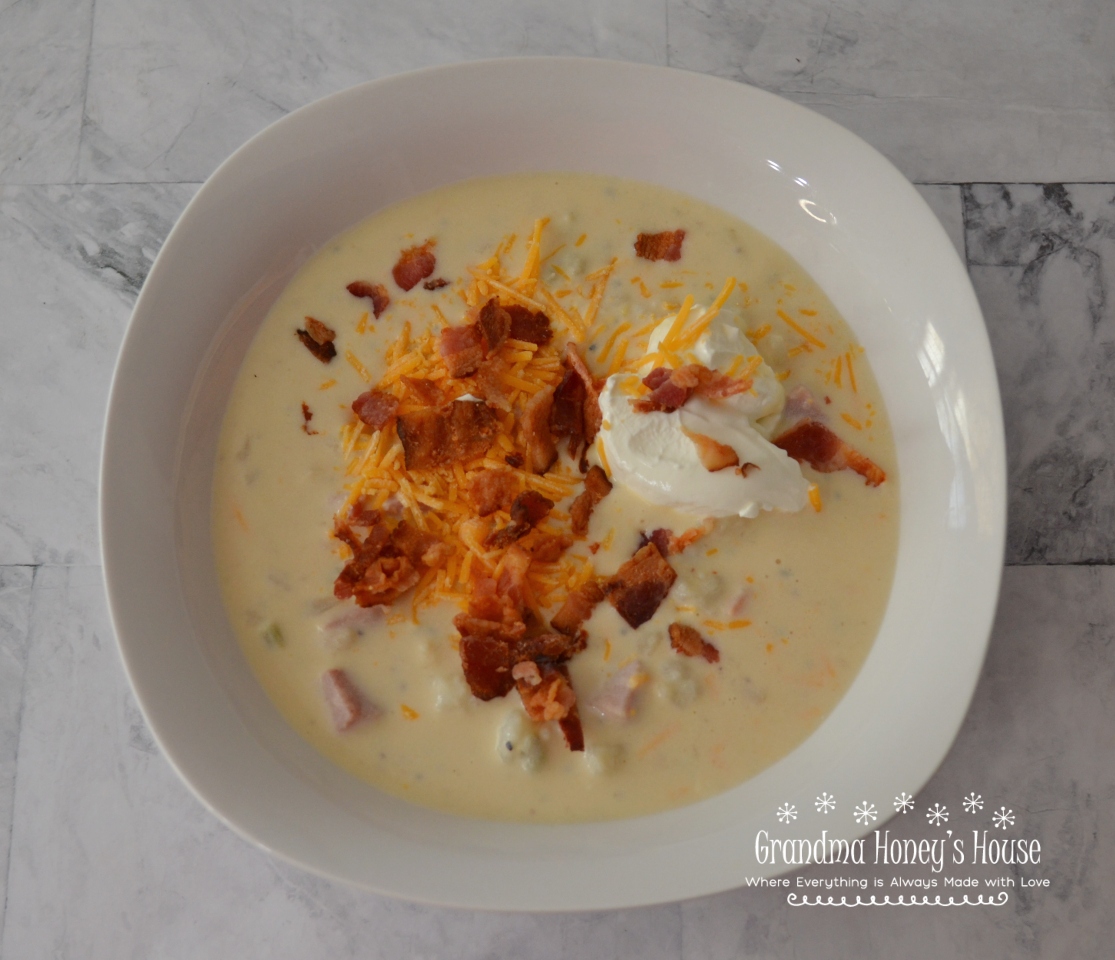 Serve with your choice of toppings such as the bacon, sour cream, shredded cheese, and green onions.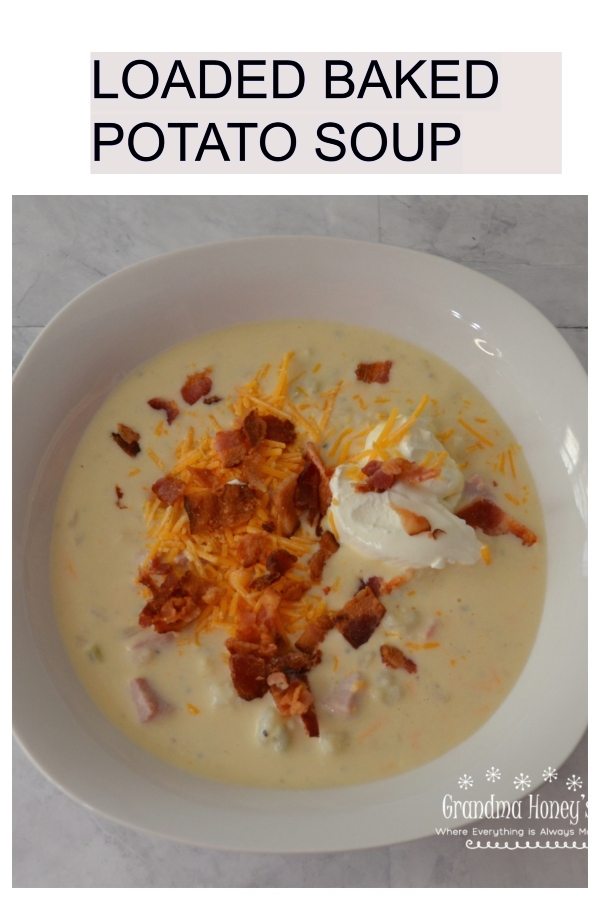 Please follow and like us: