Jump to recipe
Potato Soup is one of our favorite soups.
My husband prefers an Old Fashioned Potato-Ham soup, but  I love Loaded Baked Potato Soup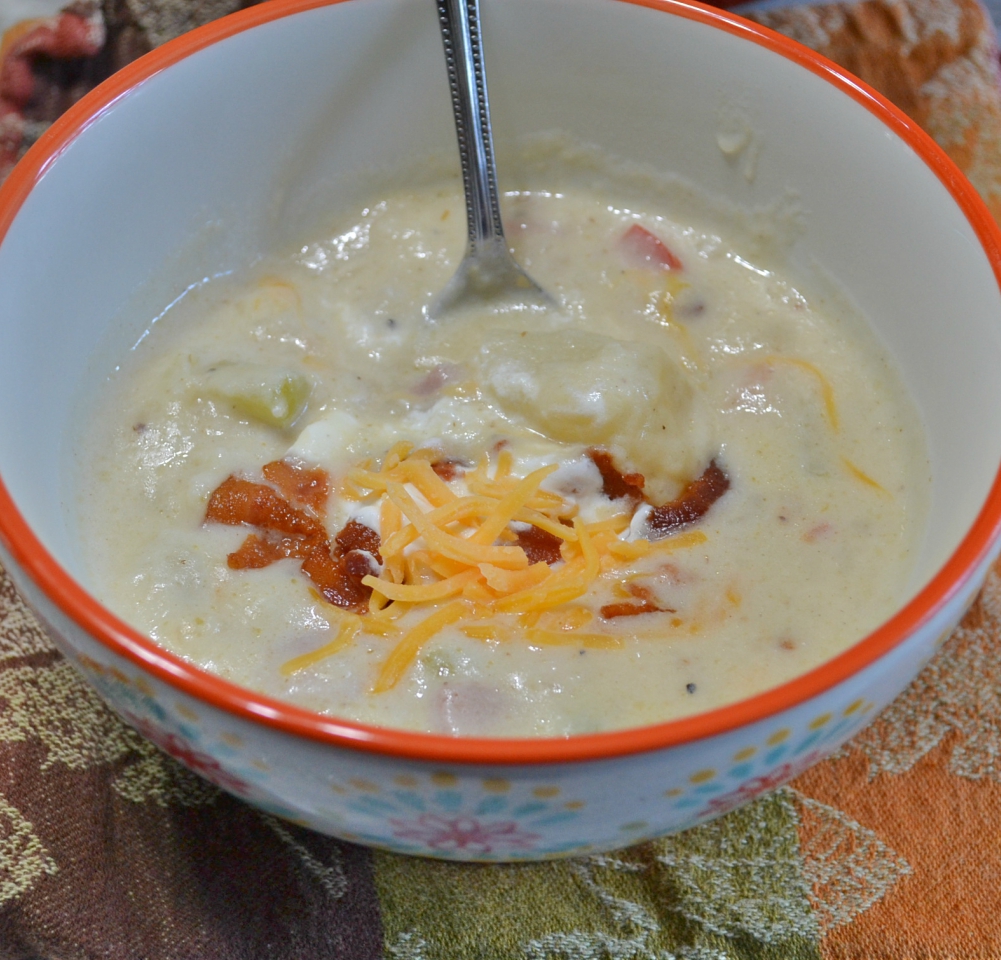 The weather has been cold here today, so I made both of these soups.
There is nothing more comforting than a big pot of warm potato  soup on a cool, fall or winter day.  I have always made big pots of soup for our large family. The leftovers are perfect for lunches the next day or two.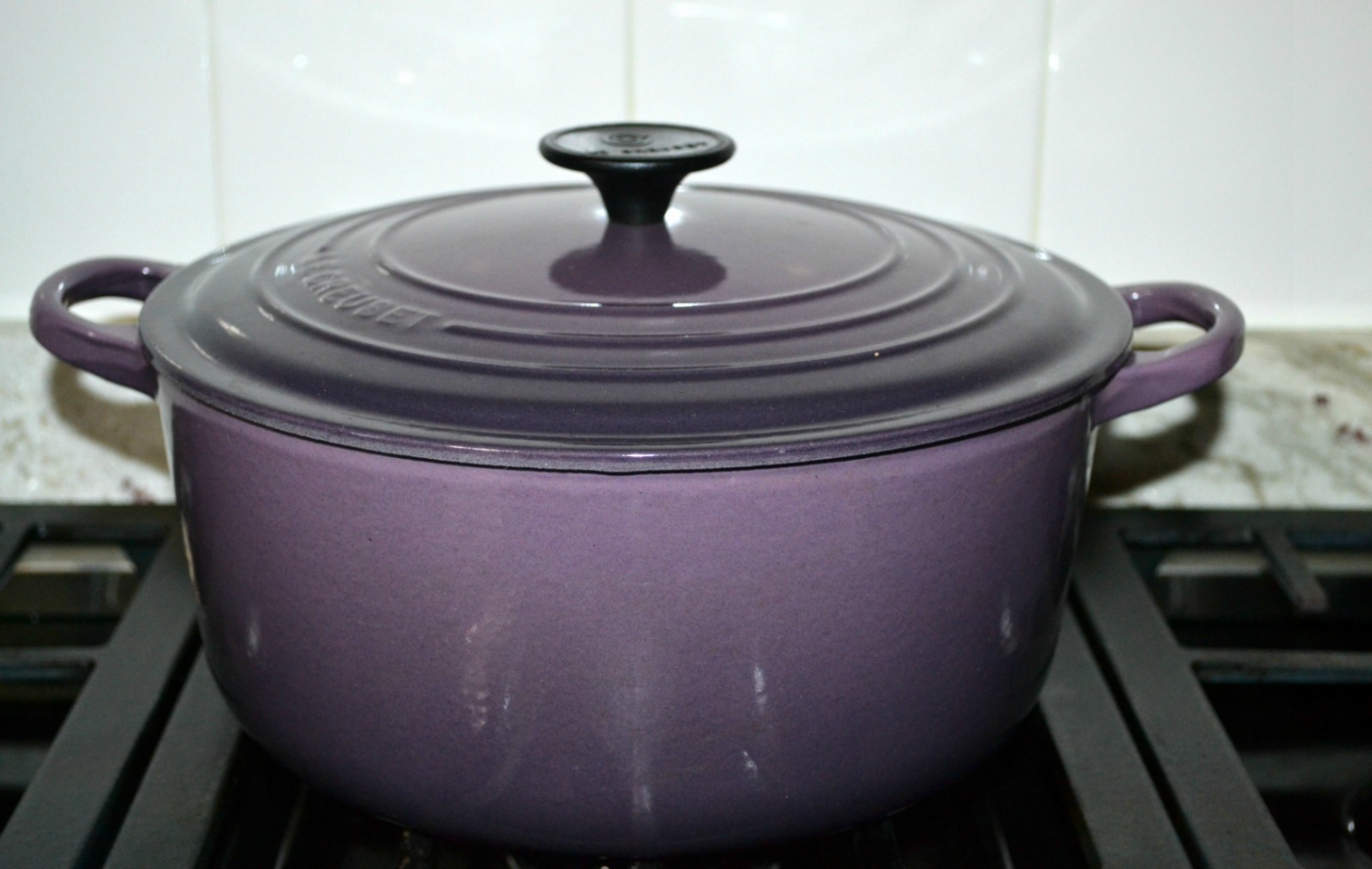 I  make my soups in my large dutch oven.  I like to have plenty of room for all of the ingredients to blend well, they don't  stick, and the foods cook more evenly in these pots.
First, my husband's favorite potato soup.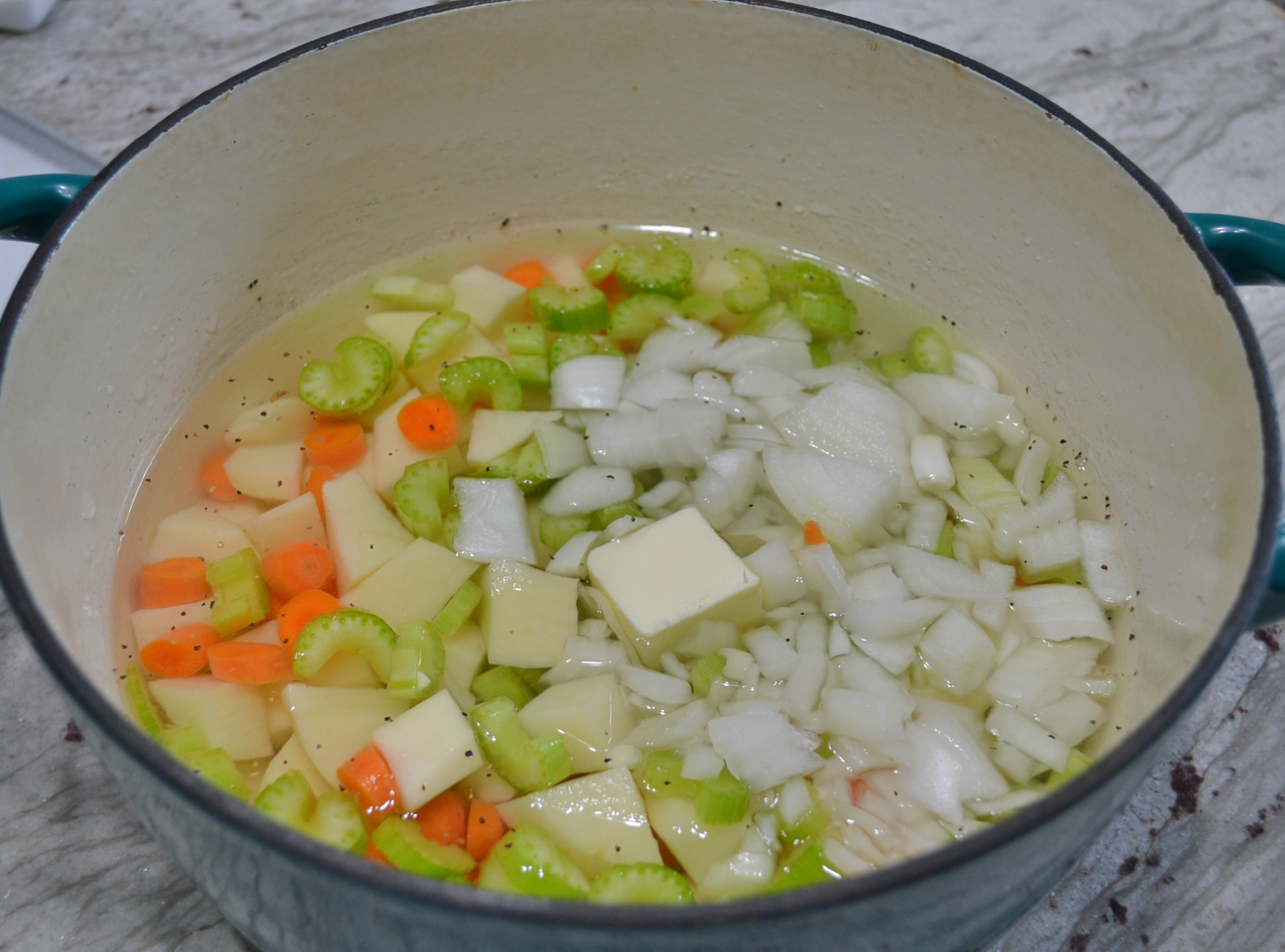 The Old-Fashioned Potato-Ham soup starts with fresh, chopped veggies placed in the dutch oven.
Cover with water, bring to a boil, then cover and simmer.  I make a roux to add to the pot to make a richer, slightly thicker broth.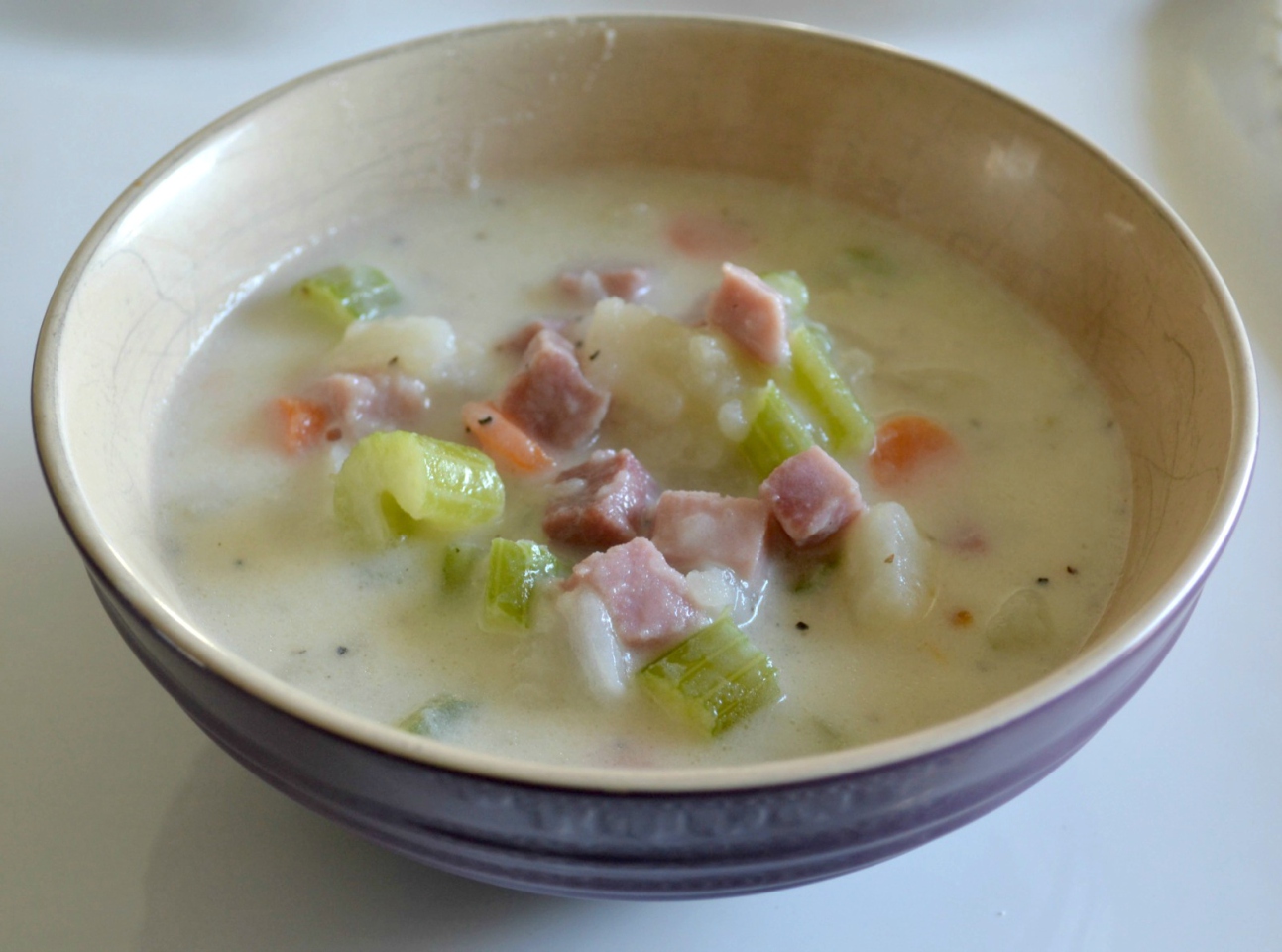 Stir in ham chunks, simmer a little longer and you have the perfect soup.
OLD FASHIONED POTATO AND HAM SOUP
Ingredients
8 medium-large size potatoes
1/2 cup carrots, sliced thin
1 cup celery, chopped
1 cup onion, chopped
salt and pepper to taste
4-5 cups water
4 Tablespoons butter, divided
2 Tablespoon flour
1-2 cups ham cubes, diced
1-2 cups half and half
Instructions
Peel, wash, and cut potatoes into 3/4 inch cubes.
Place potatoes, carrots, celery, and onions in dutch oven or large size saucepan. Season with desired amount of salt and pepper. Add water to slightly cover vegetables.
Bring water to a boil, then reduce heat to low. Add 2 Tablespoon of butter. Cover and simmer until potatoes are tender, about 15-20 minutes.
Melt remaining butter in a small, microwave safe bowl. Stir in the flour. Spoon 2 or 3 Tablespoons of the broth from vegetables into flour mixture, and then stir mixture into pot of vegetables.
Allow vegetables to simmer 5 minutes, stirring frequently. Stir in the ham and half-and-half. Allow to simmer on low heat until mixtures starts to thicken.
Remove from heat. Add additional salt or pepper as needed.
May add additional half-and-half to thin if mixture becomes too thick
© 2023 Copyright GRANDMA HONEY\\\\\\\'S HOUSE
This Loaded Baked Potato Soup is my favorite.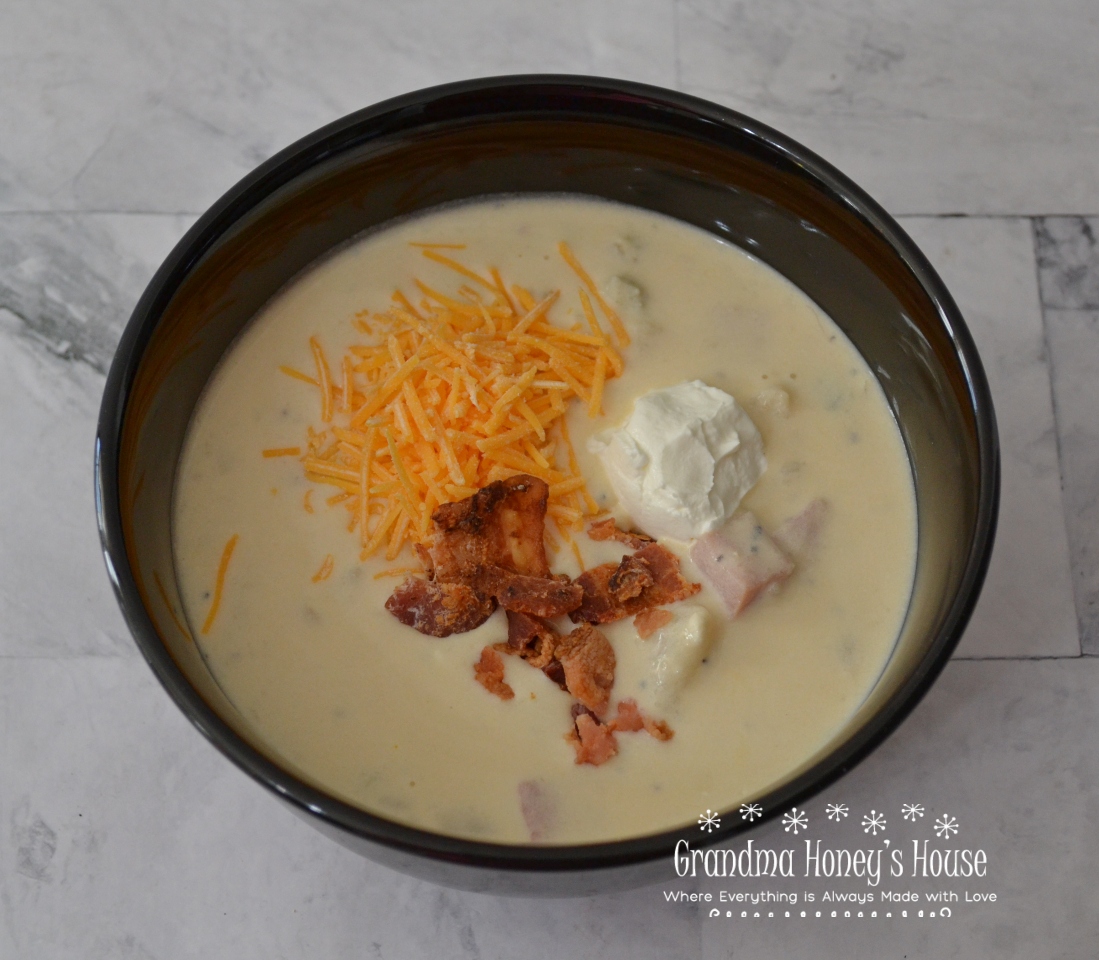 It starts with baked potatoes and bacon, then loaded with veggies, chicken broth, half and half, ham, cheese, and sour cream.  Top a big bowl off with extra cheese, sour cream and green onions.   Perfect for lunch or dinner.
Please follow and like us: