Jump to recipe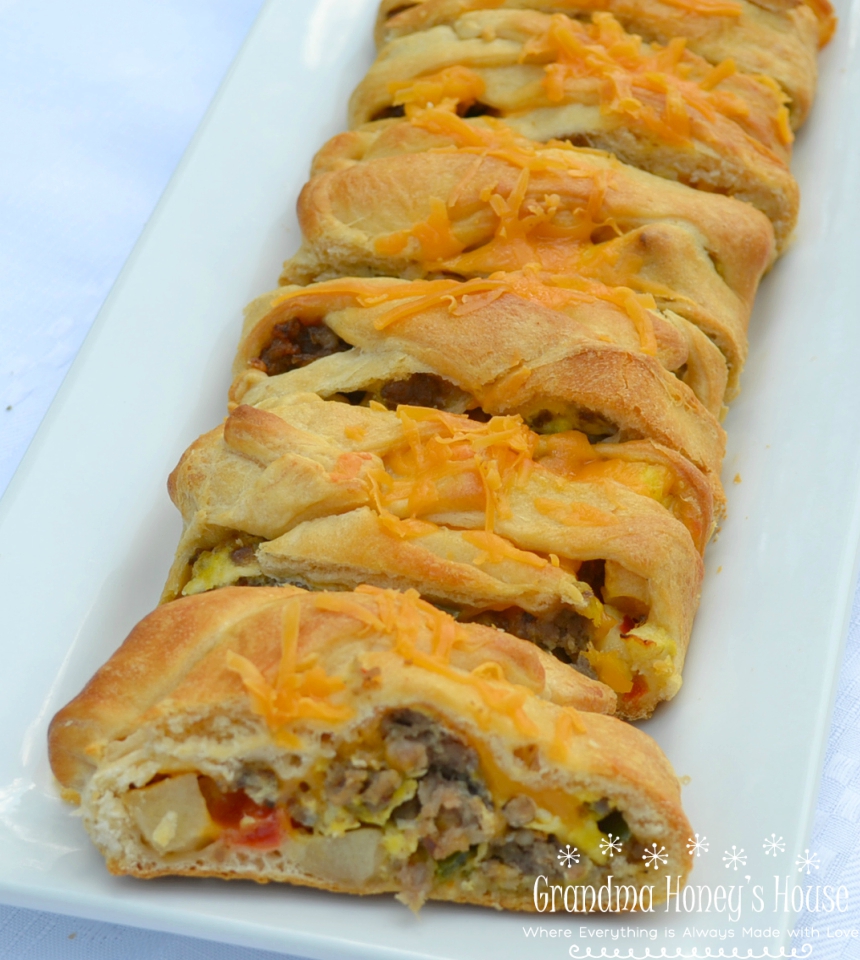 Sausage Apple Cheddar Brunch Braid
Sausage Apple Cheddar Brunch Braid is a breakfast filling wrapped up in a crescent dough and baked. It is so easy to make and adds a special touch to your brunch table.
The Pillsbury Bake-off Contest is taking entries right now, and thousands of home cooks are busy creating and testing recipes.  I was one of the lucky people that did get to experience this amazing event.  I was a finalist 3 times, and will never forget all of the wonderful memories I have. A person is not permitted to go to the Bake-off more than 3 times in your life, and so I am no longer eligible to enter.
This recipe may have been one I would have entered, if I was still eligible. My family loves anything wrapped up in a crescent dough sheet.
The ingredients in this braid are so perfect together.
In a skillet, combine the cooked sausage, eggs, onions,  peppers, and apples.  Set aside to cool.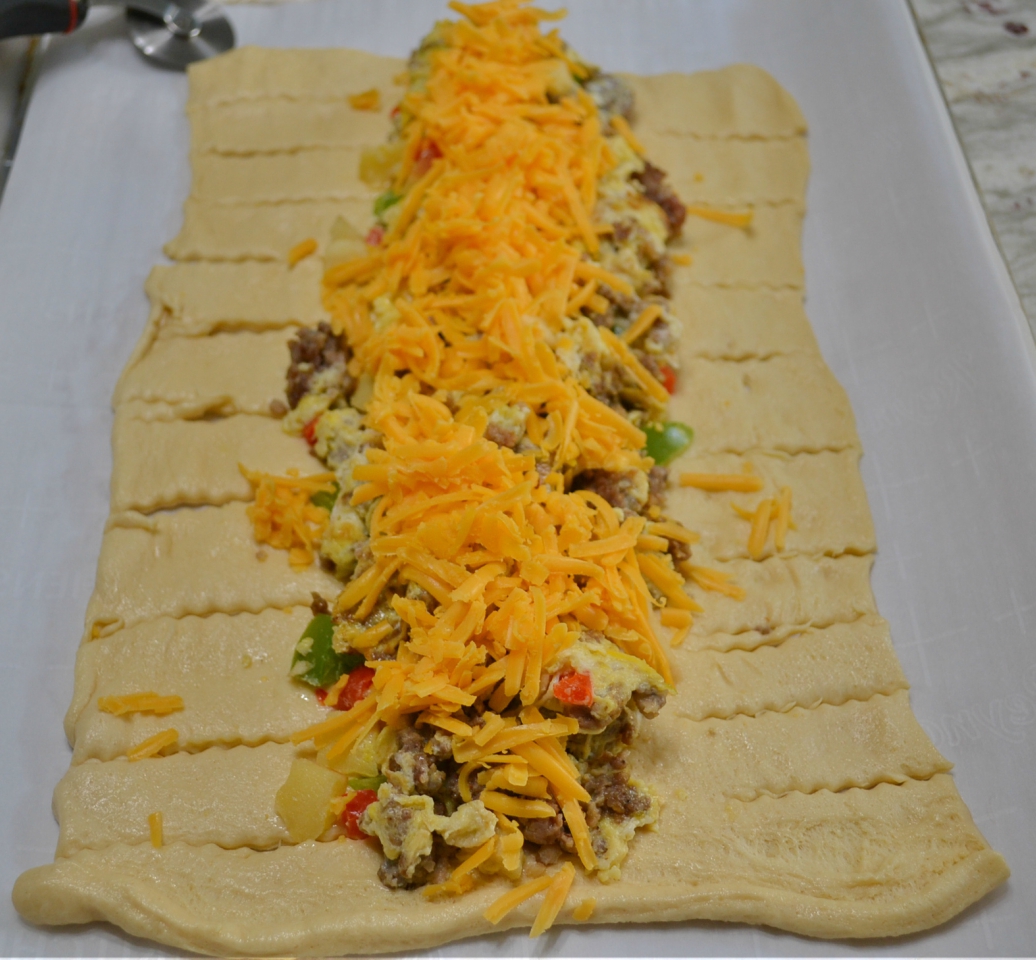 Unroll the crescent dough sheet onto a parchment lined baking sheet.  Arrange the cooled filling down the center.
Sprinkle with shredded cheddar cheese.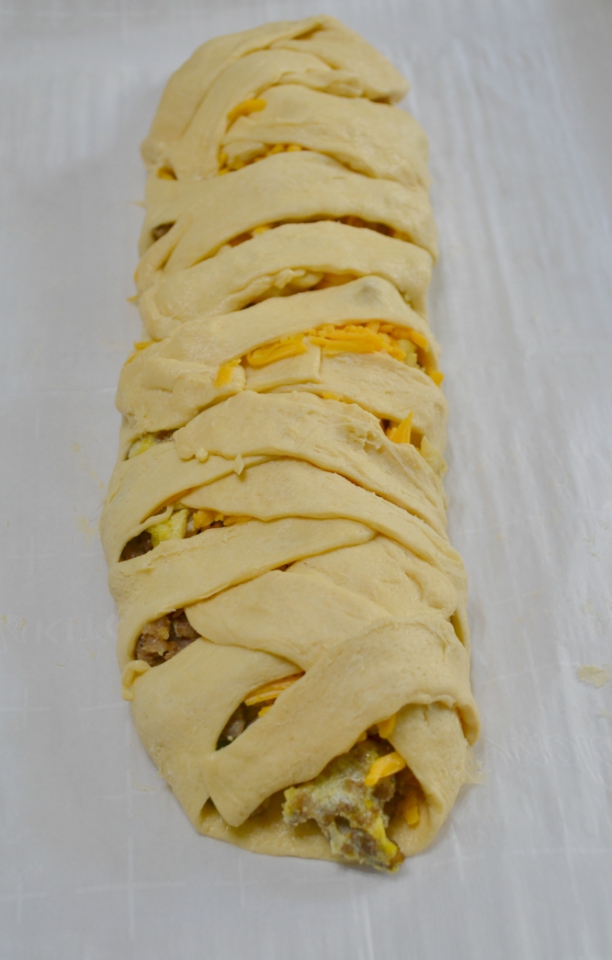 Using a pastry wheel, or knife, cut 1-inch strips down both edges to within about a half an inch of the filling.
Cover the filling by criss-crossing the dough strips over the filling. Press edges down.
This does not have to be perfect!  The breakfast braid is nice when it has a rustic look.
Bake until crust is a light golden brown.
Sprinkle more cheese.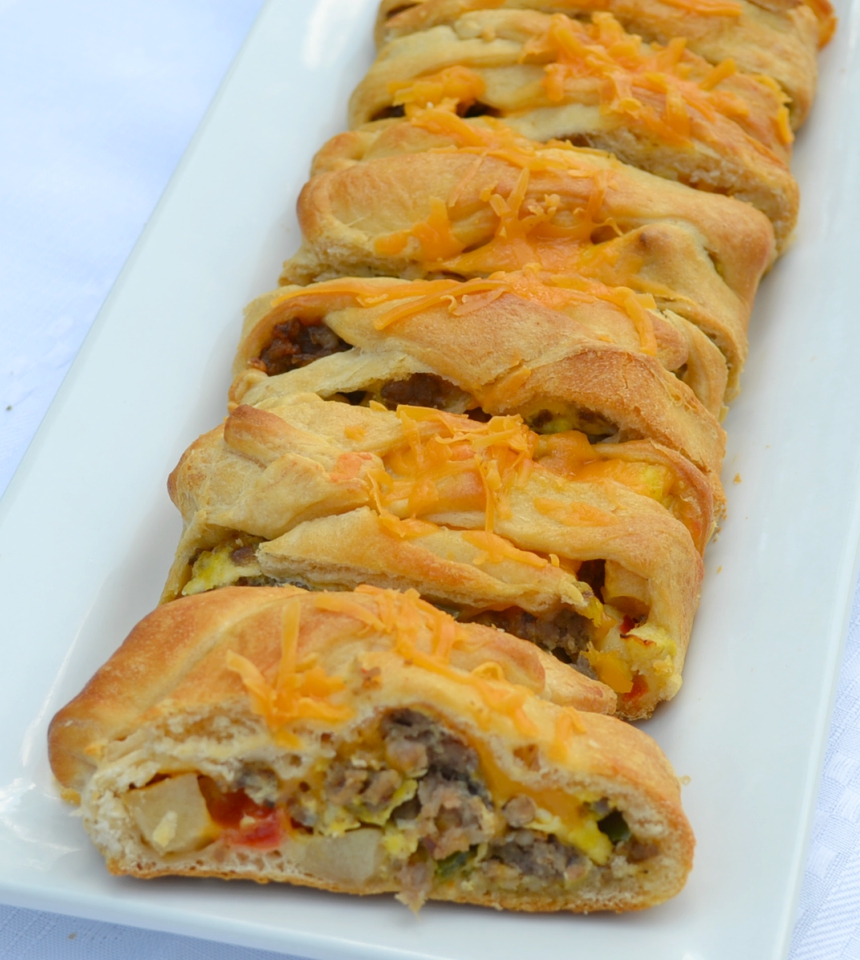 Transfer to a serving platter or cut and serve on a cutting board.
This post is not sponsored, but 100% my opinions. I hope that any home cooks out there will go the Pillsbury web site, read the rules, and enter this contest.
If you are lucky enough to be chosen as a finalist, you will never regret it.  Hope you get to meet the Doughboy!!
This post was shared at Week-end Potluck party on
SAUSAGE APPLE CHEDDAR BRUNCH BRAID
Ingredients
1/2 LB spicy ground sausage
3 large eggs
2 Tablespoons half & half
1/2 teaspoon kosher salt
1/4 teaspoon coarse black pepper
1/4 cup red bell pepper, diced
1/4 cup green bell pepper, diced
2 Tablespoons onion, diced
1/2 medium size apple, peeled & diced
1 1/4 cup shredded, sharp cheddar cheese
1 Pillsbury Refrigerated Crescent Dough Sheet
Instructions
Preheat oven to 350 degrees F. Line a baking sheet with parchment paper.
Crumble and brown sausage in a small skillet. Drain grease. Spray a 10-inch skillet with no stick cooking spray. Heat over a medium heat. Whisk together the eggs and half & half. Pour into skillet. Add the cooked sausage,salt, black pepper, red and green peppers, onions, and apples. Stir ingredients together, cooking until the eggs are set. Place egg mixture into a medium size mixing bowl: set aside to cool.
Unroll crescent sheet in the center of parchment lined baking sheet.
Arrange egg-sausage filling down the center of crescent dough. Using a pastry wheel or knife, cut 1-inch strips down both sides, within 1-inch of filling. Sprinkle 1 cup of the cheese over filling. Criss-cross the dough strips to cover filling. Press edges or loose ends together.
Bake for about 15-18 minutes, until crust is light golden brown. Remove from the oven. Sprinkle remaining cheese over the braid. Transfer to serving platter or a cutting board. Cut into 8 slices to serve. Serves 4
© 2023 Copyright GRANDMA HONEY\\\\\\\'S HOUSE
Please follow and like us: