Jump to recipe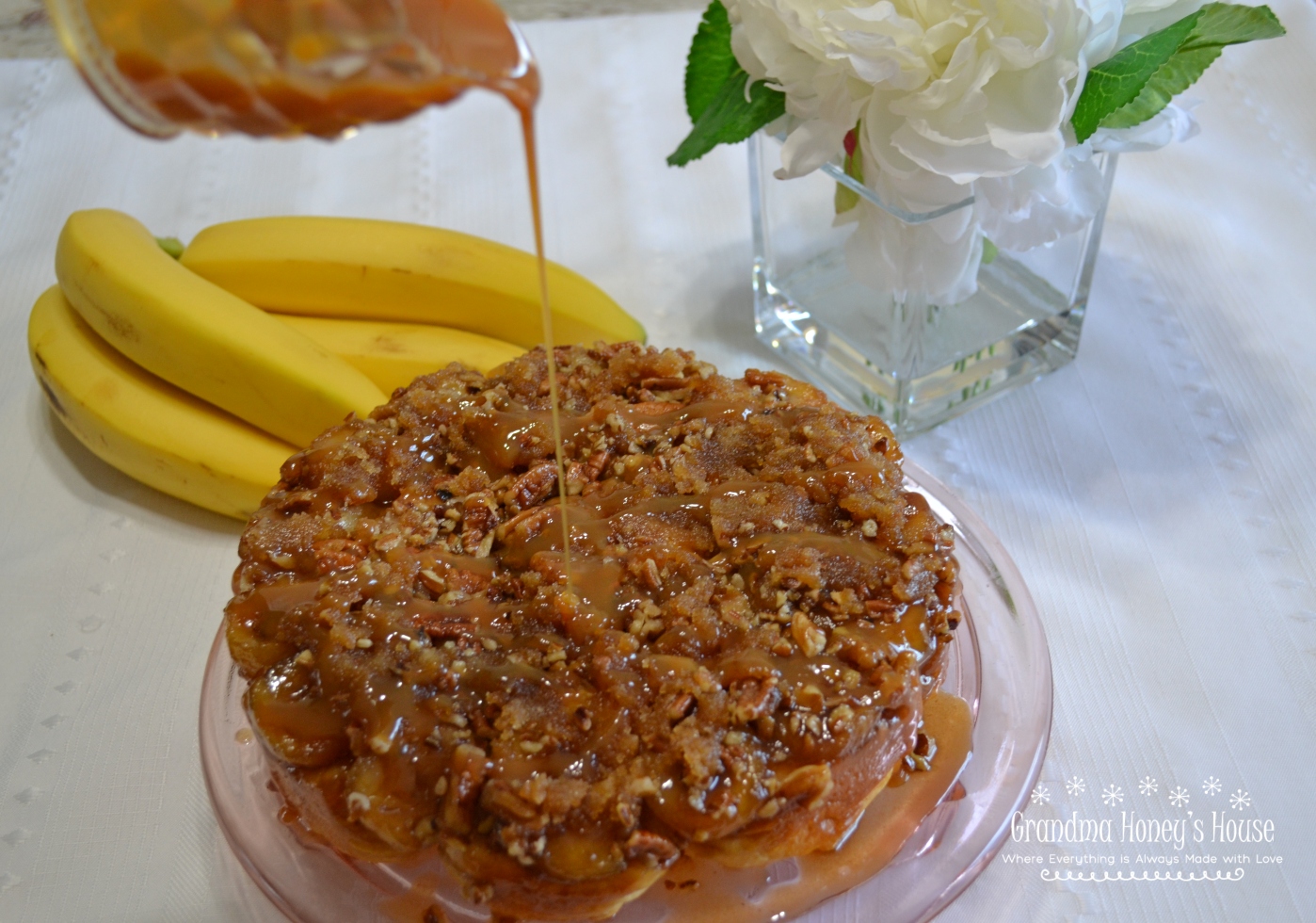 Caramel Banana-Nut Breakfast Rolls
A pan of sticky, pull-apart rolls made with refrigerated biscuits, bananas, butter, brown sugar, nuts, and  drizzled with caramel topping.
These breakfast rolls are so quick and easy to make, only 6 ingredients, and done in less than 30 minutes total.  Perfect to serve guests or for your family to enjoy.

HOW TO MAKE CARAMEL BANANA-NUT BREAKFAST ROLLS:
Melt butter in a 9-inch round cake pan that has been lightly sprayed with no stick cooking spray.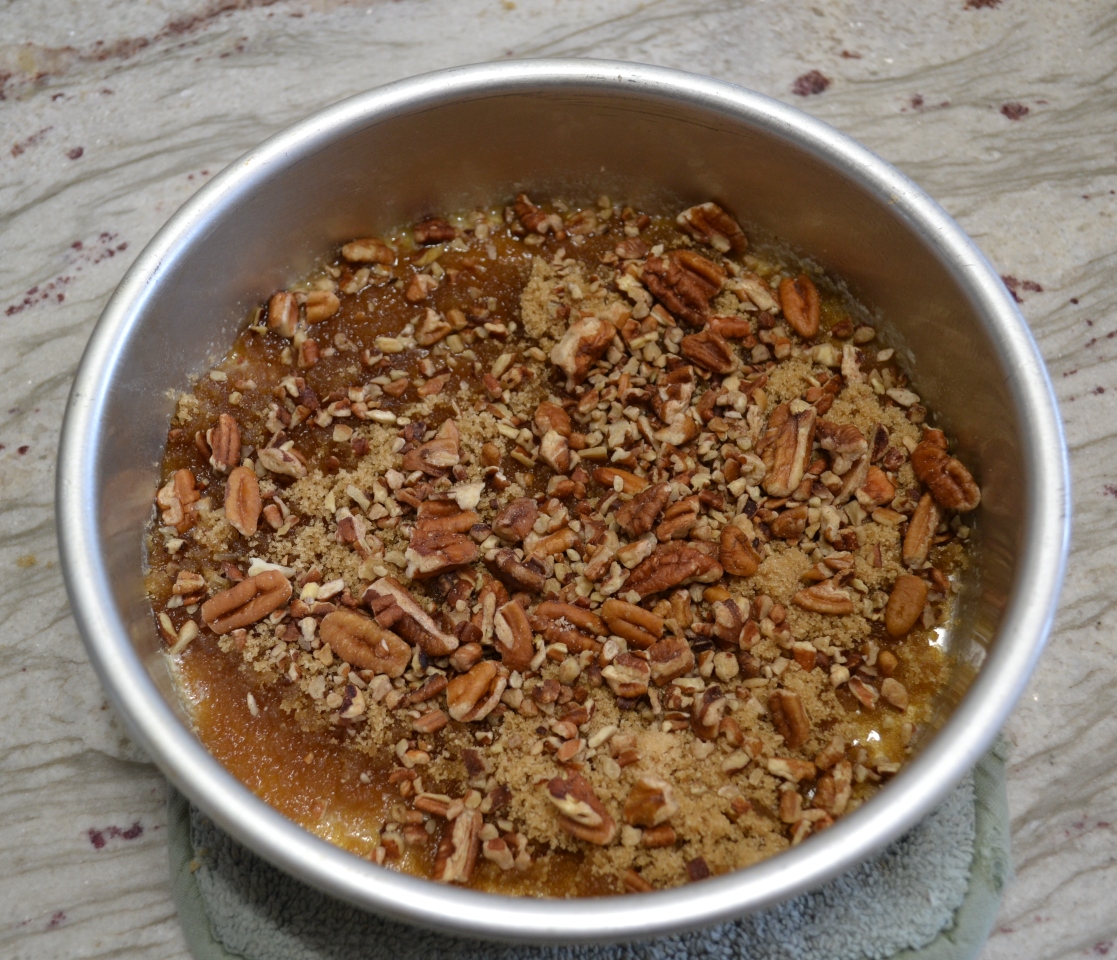 Sprinkle brown sugar and nuts over the butter.  Top with sliced bananas, cut in a diagonal.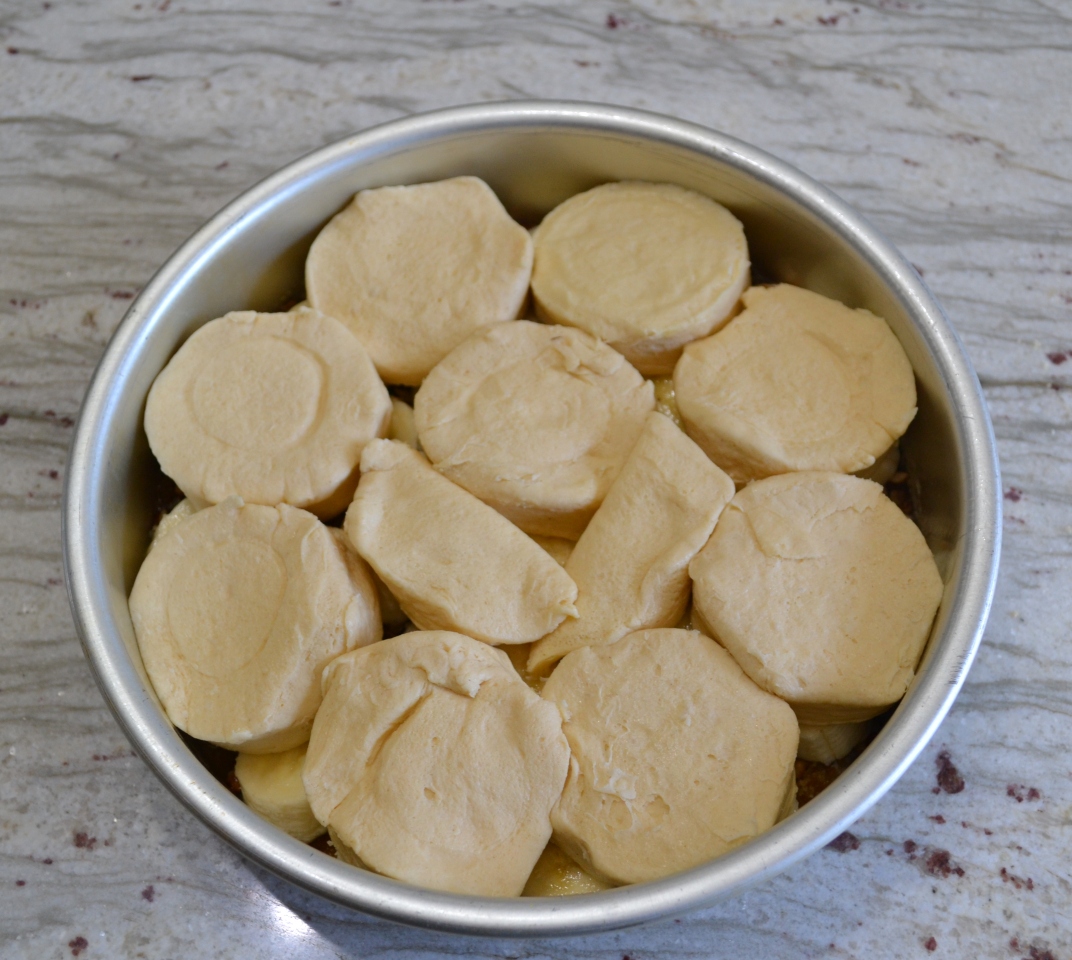 Open can of biscuits and arrange them over the mixture to cover.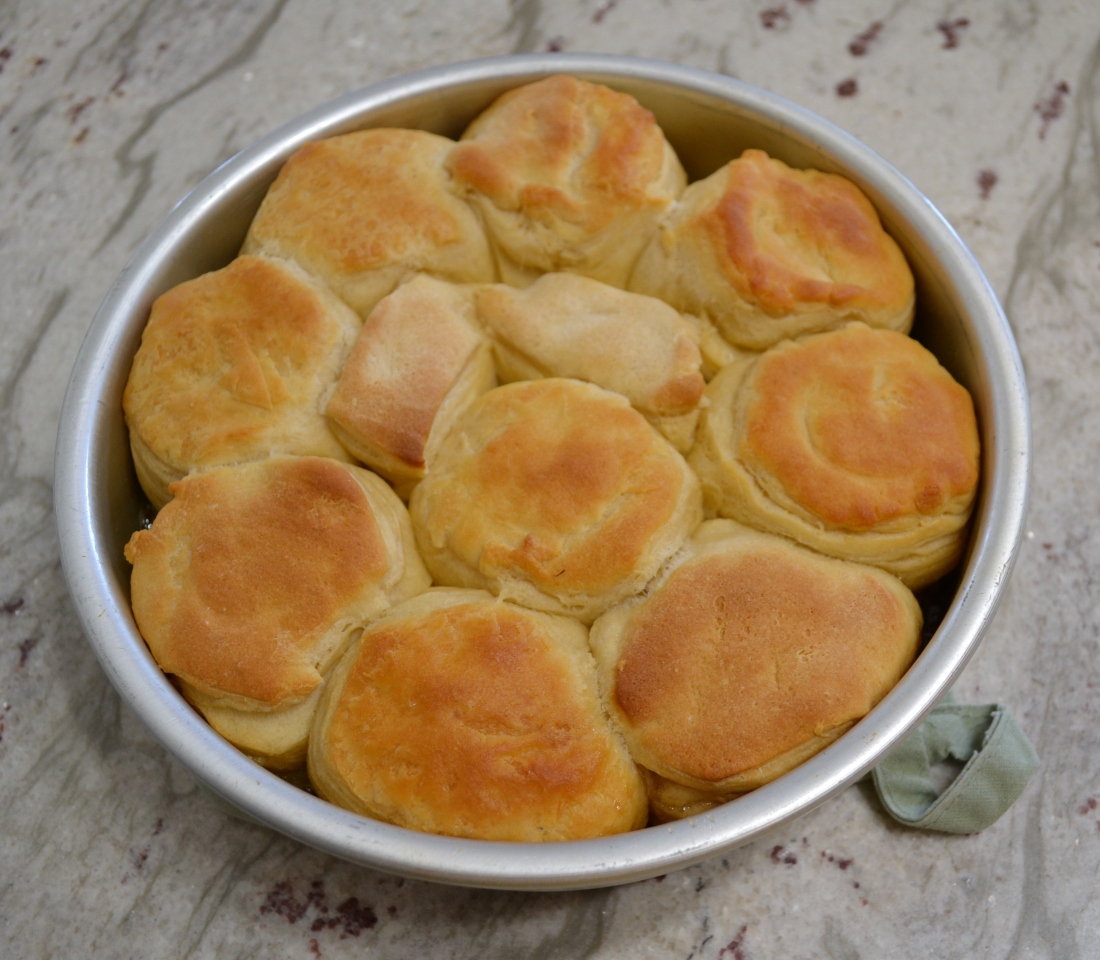 Bake until biscuits are golden brown.
Remove from the oven, run a butter knife along outside of biscuits. Carefully place a heat proof plate, upside down, over the pan and carefully invert.  Allow to cool about 1-2 minutes, then remove the pan. Scrape any of the sugar mixture, that may be in the pan, onto to top of rolls.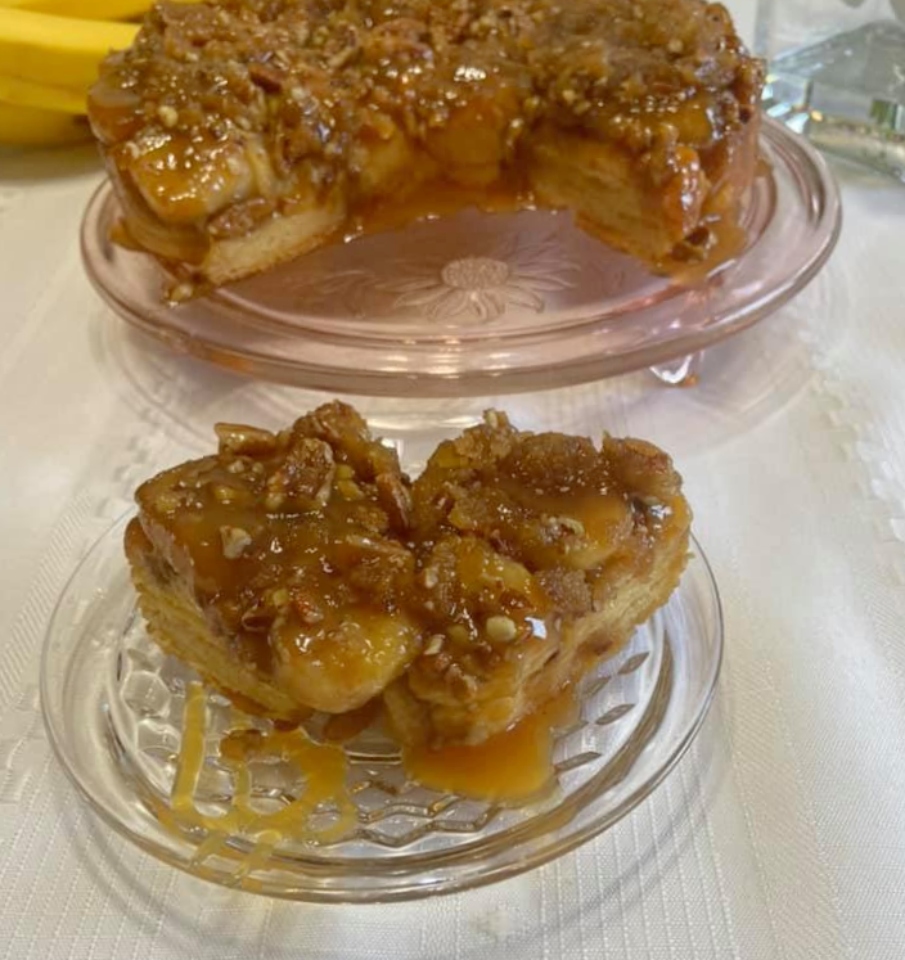 At this point, you may drizzle the warm caramel sauce over the rolls, or drizzle it when serving individually.
My Mascarpone Filled Cranberry Walnut Rolls are another breakfast treat you will want to try. This recipe won me a trip to the Pillsbury Bake-off Contest, a new oven, and $5000 dollars.
This recipe was share on Weekend Potluck@ Sweet Little Bluebird
This awesome site has so many wonderful recipes.
CARAMEL BANANA-NUT BREAKFAST ROLLS
Ingredients
4 Tablespoons butter
3/4 cup brown sugar
1/2 cup chopped pecans (prefer Fisher Chef's)
2 large, firm bananas
1 can (10 count) Pillsbury Refrigerated Flaky Layer Biscuits
1/4 cup warm Caramel Syrup (prefer Hershey's)
Instructions
Preheat oven to 350 degrees F. Lightly spray a 9-inch round baking pan with no stick cooking spray.
Place butter in pan and set in oven until melted. Remove from the oven and sprinkle with brown sugar and pecans.
Slice bananas in diagonal slices, about 1/2 inch thick and arrange over the nuts.
Open the biscuits and separate. Arrange the biscuits over the bananas to cover, flattening a little if needed.
Bake until golden brown, about 22 minutes. Remove from the oven. Run a butter knife along outside of rolls. Place a heatproof serving dish upside down on the pan. Carefully invert and allow to set 1-2 minutes. Remove the pan. Scrape any sugar mixture from the pan onto the rolls.
Drizzle with desired amount of caramel syrup. May place rolls on individual plates and drizzle caramel at that point if preferred.
© 2023 Copyright GRANDMA HONEY\\\\\\\'S HOUSE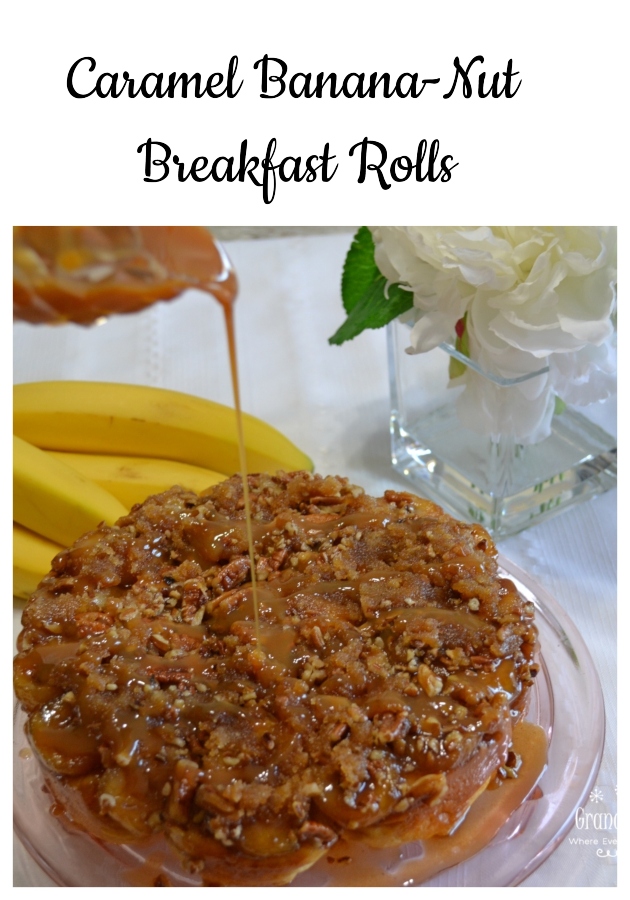 Please follow and like us: