The toyroom is an area between 4 walls where special memories are made. You watch your grandchildren grow, share secrets, give hugs and sometimes break up fights.
As a grandparent, I feel it is very important to have a space in your home that is designated for the grandchildren. Depending on the space available, the toyroom may be just a section of a room or it could be a whole room. My own grandchildren area has changed over the years.
When my first grandson was born, I purchased a baby bed, a swing, and some baby toys. I set this up in a guest bedroom. After a year, our needs changed so I converted the room to a toyroom with the baby furniture in it. We soon added more grandchildren so, again, I changed the room. I put a toddler bed, a baby bed, and a twin bed plus the toys, into a different guest bedroom. The children loved playing in there when they came to visit. After about 3 years, I started working from home so one of the bedrooms needed to be converted to an office.
The "toyroom/playroom" was now moved to an extra bedroom we have in our basement. It has been here for about 10 years and has provided many hours of fun.
Creating a space for your grandchildren does not have to involve a lot of expense. I painted the walls, added some inexpensive curtains, painted some shelving units, purchased paper posters, and added plastic covers over the electric receptacles. I decided to set my toyroom up in zones for different activities.
I went to a store that sells used children items, Once Upon A Child, and found this kitchen set with a washer/dryer and ironing board for only $35 total!!!! It is a heavy plastic and the children of all ages, boys and girls, have loved playing with it. This was my favorite purchase. I like it better then the new ones which are just one unit. I purchased the table and chairs new.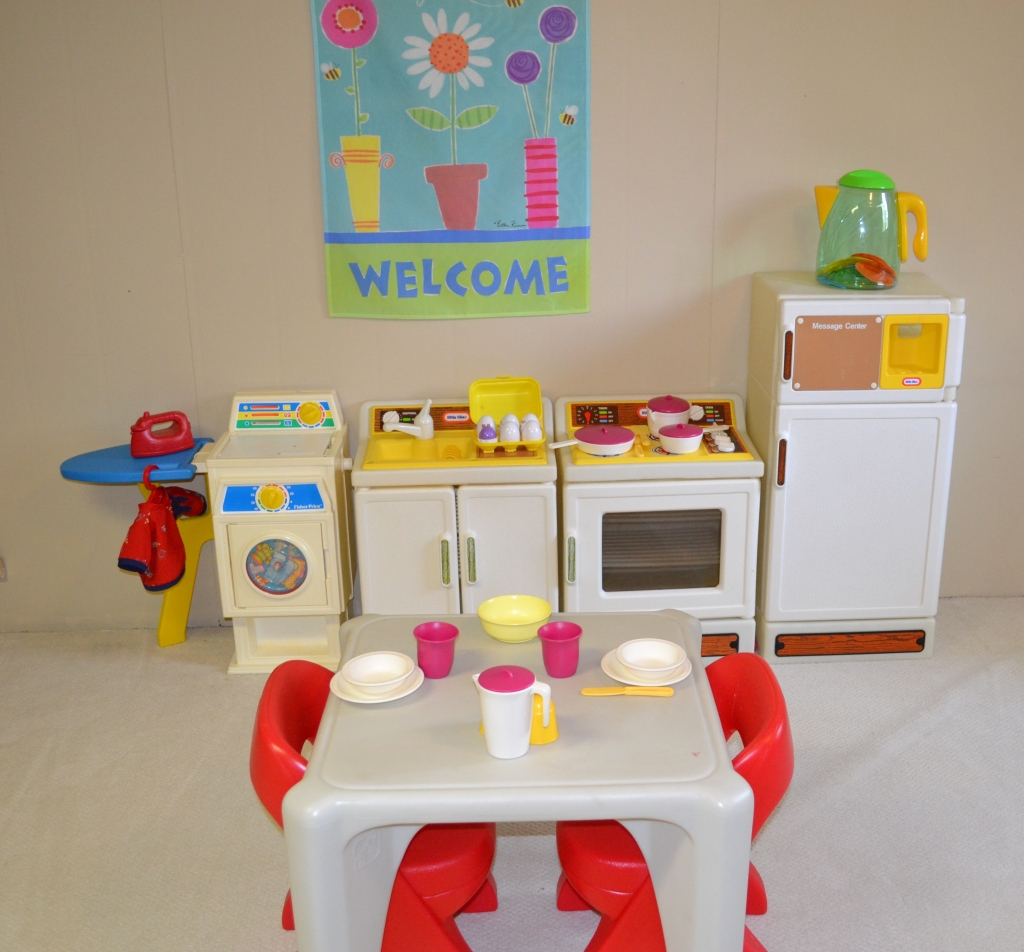 One of my daughters had a long wooden table she was not using so she gave that to me. I painted it, bought some small chairs, and created an arts/craft center.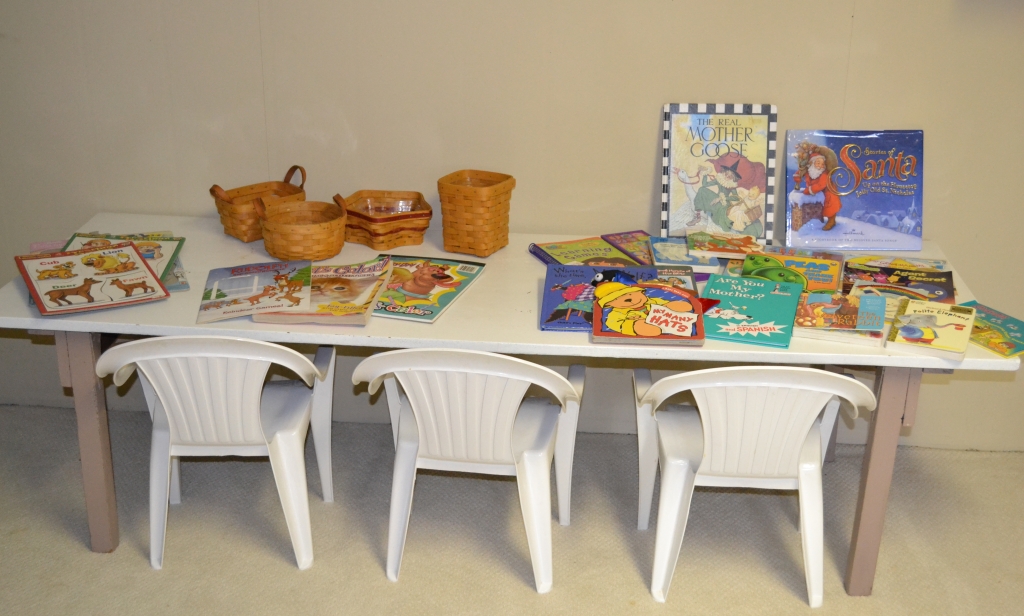 I bought some plastic tubs on sale to keep toys organized. I did buy some new toys over the years, but in the beginning, my own children and family members donated toys that the kids no longer played with. Amazingly, the children loved playing with the recycled toys because they were at my house. You could also pick up items at garage sales but I would clean them very well and make sure there are no safety issues.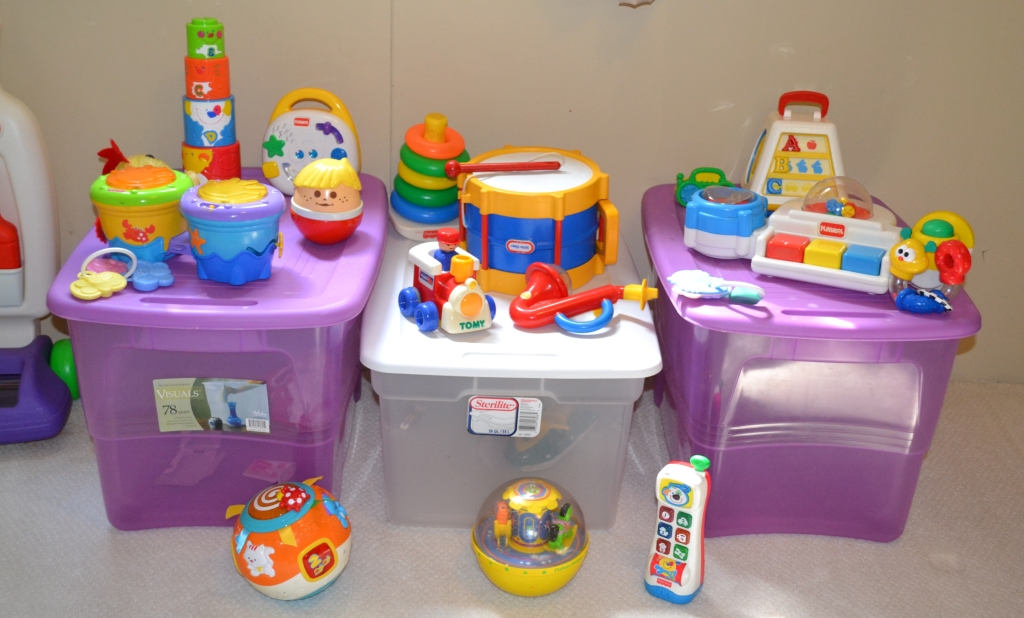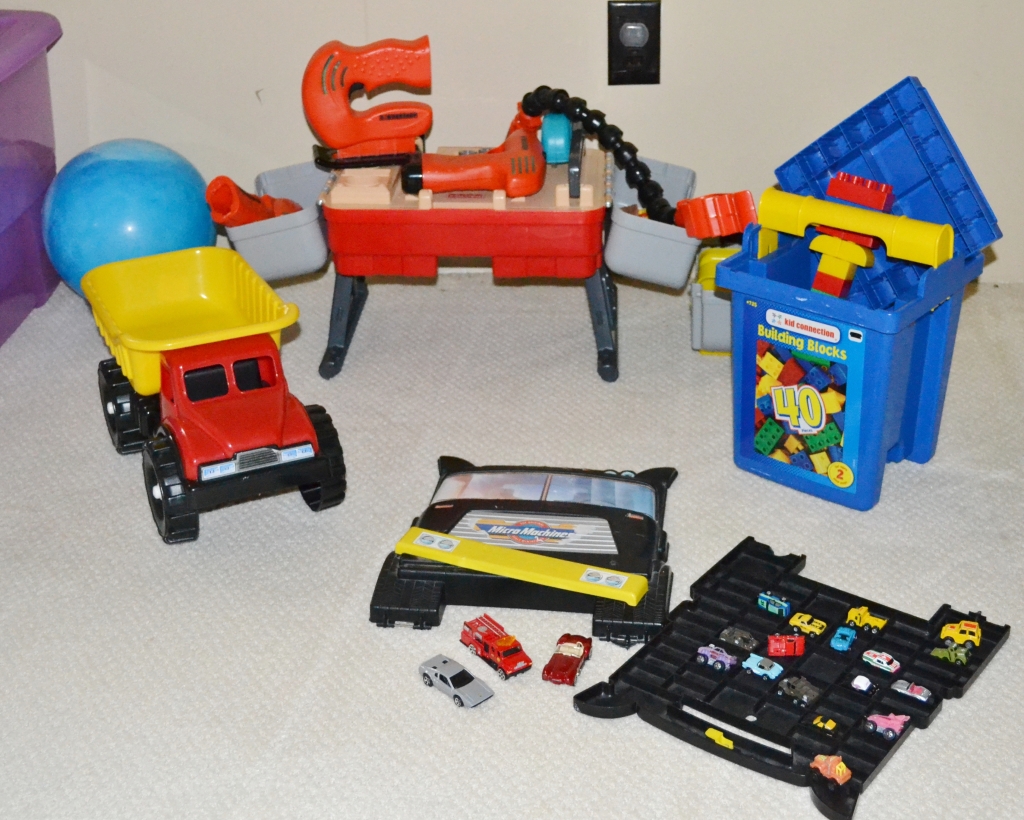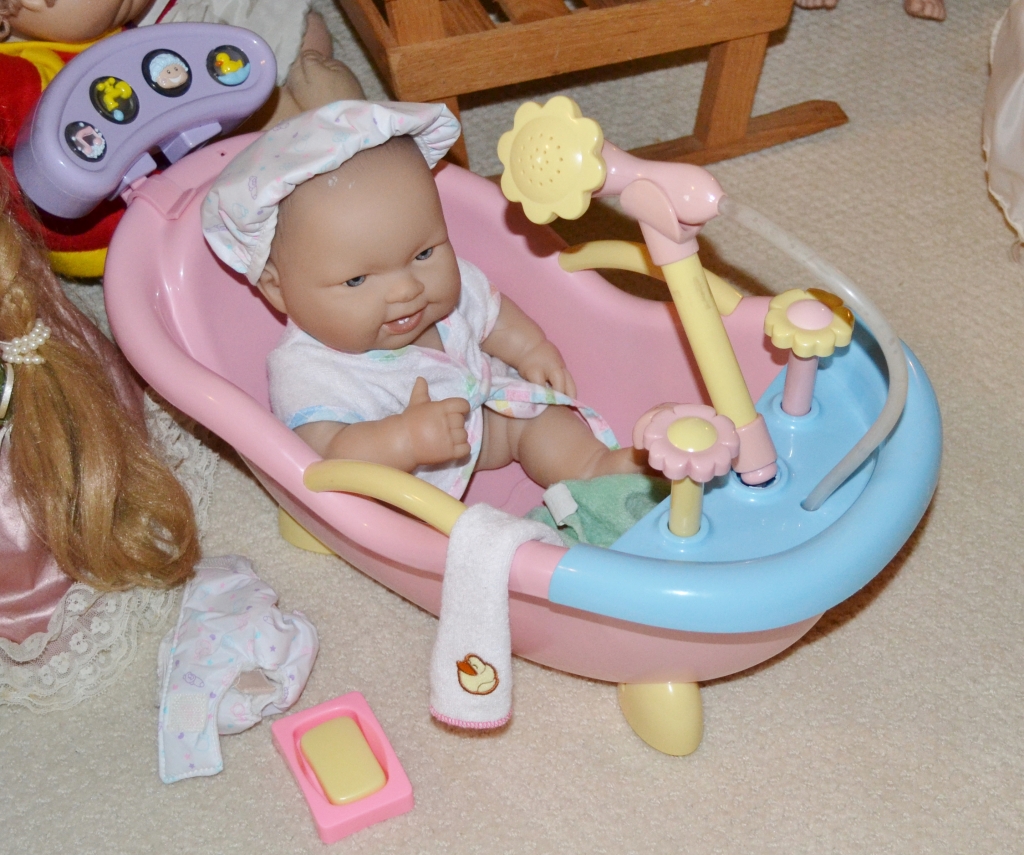 My favorite toys are the old fashioned ones like the Fisher Price pull toys…the puppy with the wagging tail, red ball on the end, and the telephone with the eyes that roll. The children really enjoy these priceless toys. (my puppy with red ball on tail, telephone, and the popcorn pull toy have gone home with some of the children over the years).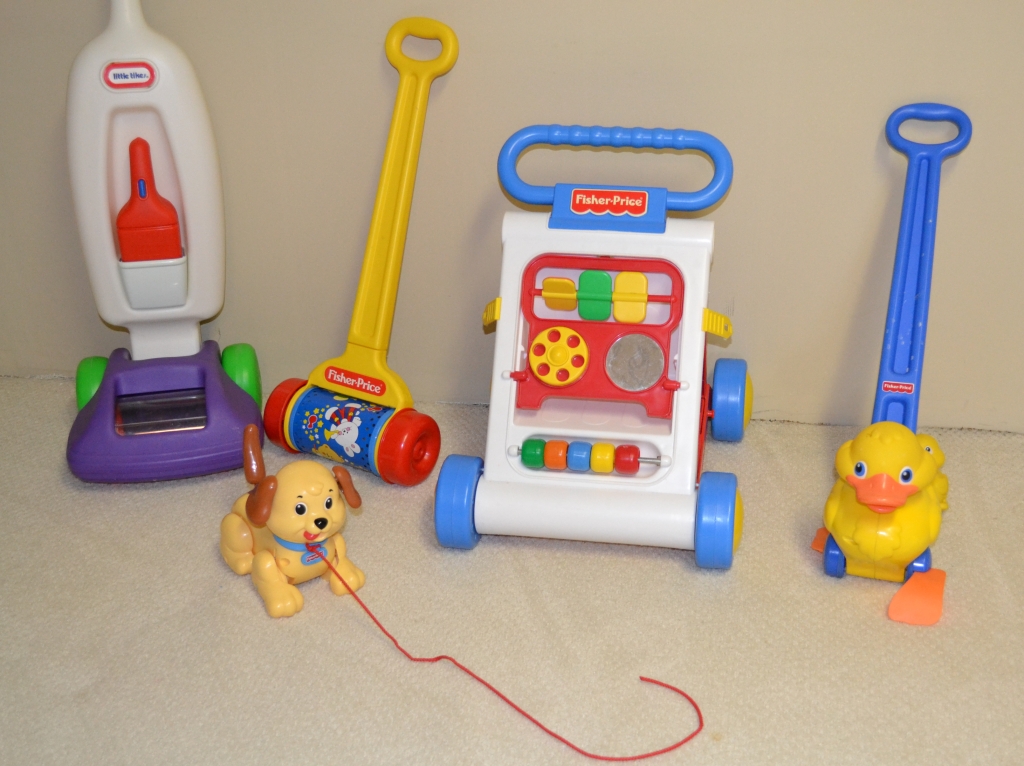 I have also added a box spring and mattress from a twin bed I do not use to the room for extra seating. (Also used for jumping)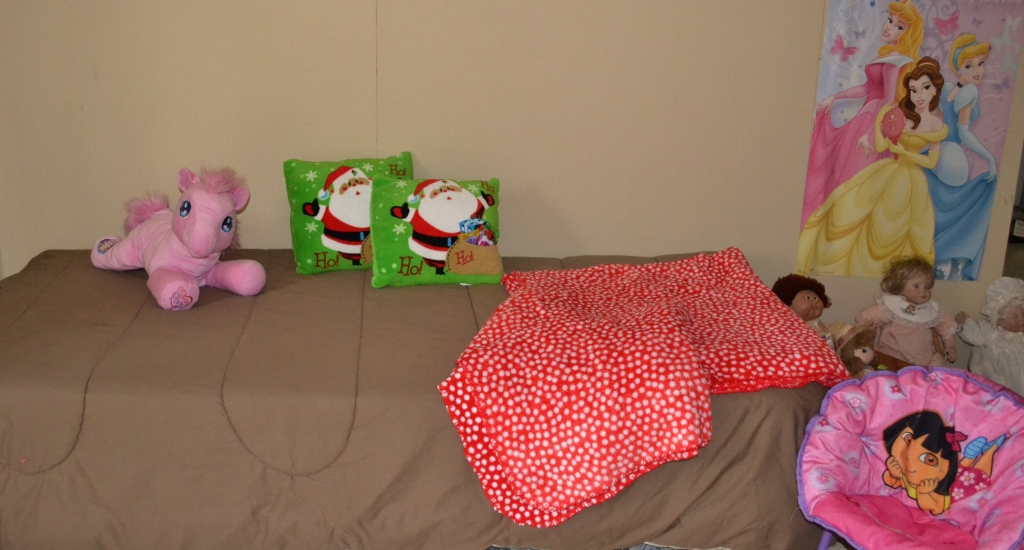 We have Barbie dolls, Polly Pockets, 35 cabbage patch dolls from my own daughters, stuffed animals, games and lots of baby toys. My teenaged grandson donated an older video game set with the games since he has an updated version. Our 13 grandchildren are between the ages of 2 and 16 years old. When the last one has outgrown the toyroom,we will convert the room into a guest bedroom/apartment type place for them to hang out when they stay.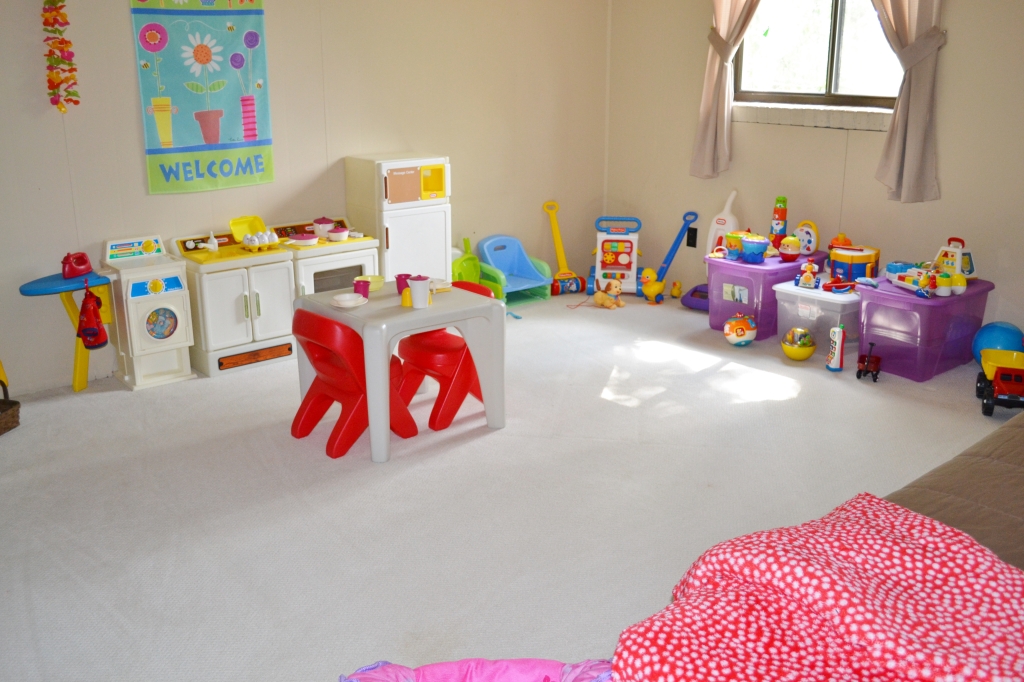 I hope that you can find a place in your home to convert to this very special place and enjoy the memories.