These Raspberry Lime Cookie cups are not only pretty to look at, they taste delicious.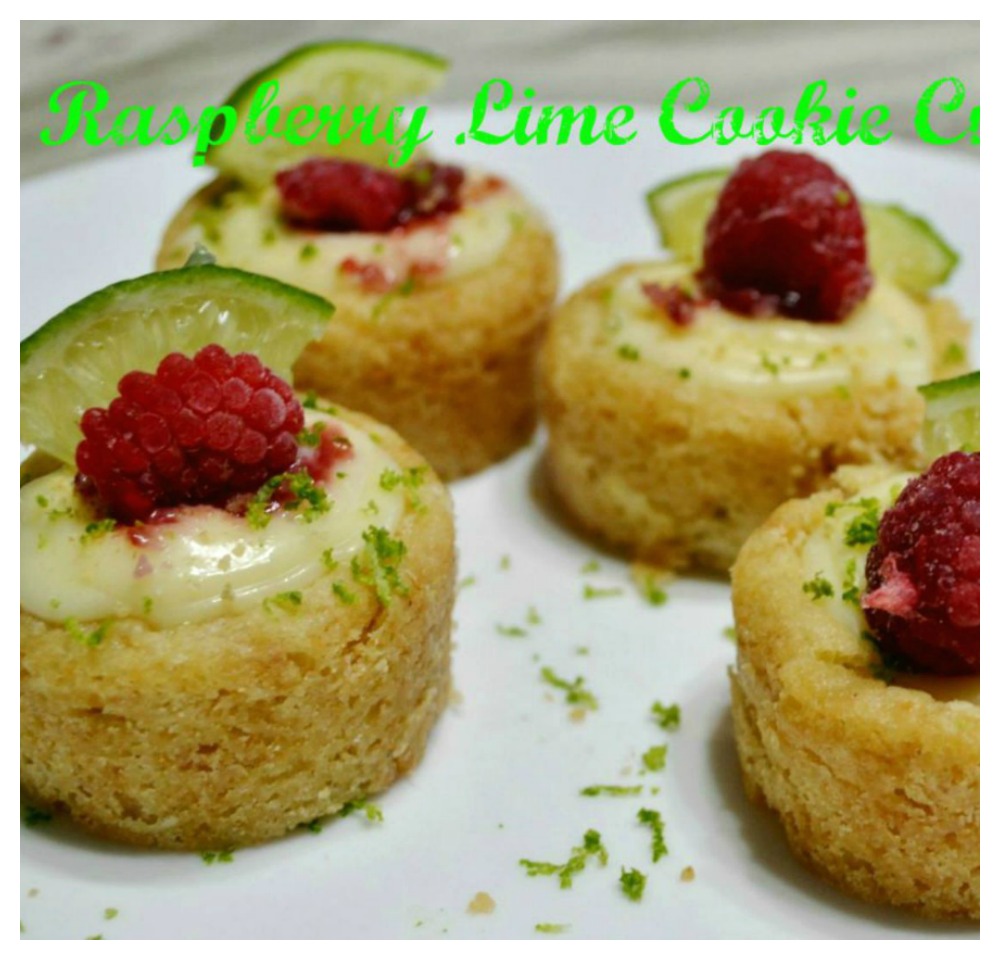 This recipe that I created for a summertime party is light, refreshing, and looks so pretty on your serving tray.
It is a winning combination of sweetened condensed milk, cream cheese, and raspberry preserves, topped with a fresh raspberry and lime slice.
Raspberry Lime Cookie Cups
2015-09-07 16:47:20
Ingredients
1 (16.5oz) roll refrigerated sugar cookie dough
1/4 cup crumbs from graham cracker ready made pie crust (may use graham cracker crumbs)
1 (14oz) can sweetened condensed milk
6 oz cream cheese, softened
3 medium limes, washed
1/4 cup red raspberry preserves
24 medium fresh raspberries, washed and dry
Instructions
Preheat oven to 350 degrees F. Lightly spray 2 (12 cup) mini cheesecake pans with removable bottoms, with no stick cooking spray.
Break up and crumble the cookie dough into a large mixing bowl. Add the graham cracker crumbs and combine well, using hands. Divide the dough into 24 equal size balls, about 1-inch each. Press a ball into the bottom of each cup to form a crust. Bake for 10 minutes. Remove pan from oven to a wire cooling rack. Using the end of a wooden spoon, make a slight indentation in each cookie cup.
Meanwhile, combine the sweetened condensed milk and cream cheese in a medium size saucepan. Cut 6 slices from one of the limes (1/4 inch each). Squeeze the juice from the remaining part of that lime into the saucepan. Set the slices aside. Zest the remaining 2 limes and set this aside. Cut each of the limes in half and squeeze the juice from them into the saucepan with sweetened condensed milk. Cook the milk, cream cheese and lime juice over a low heat, stirring constantly until mixture begins to bubble and starts to thicken; about 20 minutes. Remove from the heat.
Spoon equal amounts of the filling (about 1 Tablespoon) onto each cookie crust. Top each with 1/2 teaspoon preserves. Using a toothpick, lightly swirl into the filling. Chill pans for 1 hour. Loosen the cookie cups around the edges with a small plastic knife. Return to refrigerator for 1 hour.
Carefully, remove the cookie cups from pan by pushing the bottom disc upward with fingers. Remove disc from bottom of crust using a butter knife. Transfer to a serving platter. Cut each lime slice into 4 wedges. Garnish each cookie cup with a lime wedge pointed into the filling, and a raspberry. Sprinkle lime zest over the cookie tops. Refrigerate until ready to serve.
Notes
I like to use a ready made graham cracker crust instead of the plain graham cracker crumbs because it is a little moister and has a sweeter taste. Plain crumbs works fine though.
GRANDMA HONEY'S HOUSE https://grandmahoneyshouse.com/
Please follow and like us: