ut class="jpibfi" type="hidden">
The perfect way to start National Sandwich Day is with my yummy breakfast panini.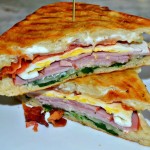 Loaded Breakfast Panini
2015-11-02 09:58:29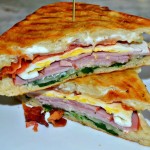 Serves 1
Ingredients
2 teaspoons butter, softened
2 slices sourdough bread
1 teaspoon mayonnaise
4 slices mozzarella cheese, sliced thin
6 baby spinach leaves
3 slices deli ham, sliced thin
1 egg, fried with yolk semi soft
3 slices bacon, cooked
2 slices tomato, thin
Instructions
Preheat panini pan to medium heat. May use a grill pan or 2 cast iron skillets instead.
Butter one side on each slice of bread. Spread half of the mayonnaise on inside of 1 slice of bread. Place the bread, butter side down into hot pan.
Layer 2 slices of the cheese, the spinach leaves, ham, egg, bacon, tomato and remaining 2 slices of cheese onto bread. Spread remaining mayonnaise on inside of the other slice of bread and place on top of sandwich, butter side up.
Grill sandwich until bread is crisp, golden brown, and cheese has melted. Carefully, turn sandwich and cook on the other side, about 6-7 minutes total.
Notes
This recipe is so easy and can be made with any other ingredients you have available. I have used pesto instead of mayo to give it an Italian flavor.
GRANDMA HONEY'S HOUSE https://grandmahoneyshouse.com/
Please follow and like us: