Jump to recipe
This is a sponsored post in which I received product samples from Frick's Quality Meats  to create an original recipe and blog post for the Blogger Challenge Contest. All opinions are my 100% my own. #fricks #smokedmeats #itsfrickingood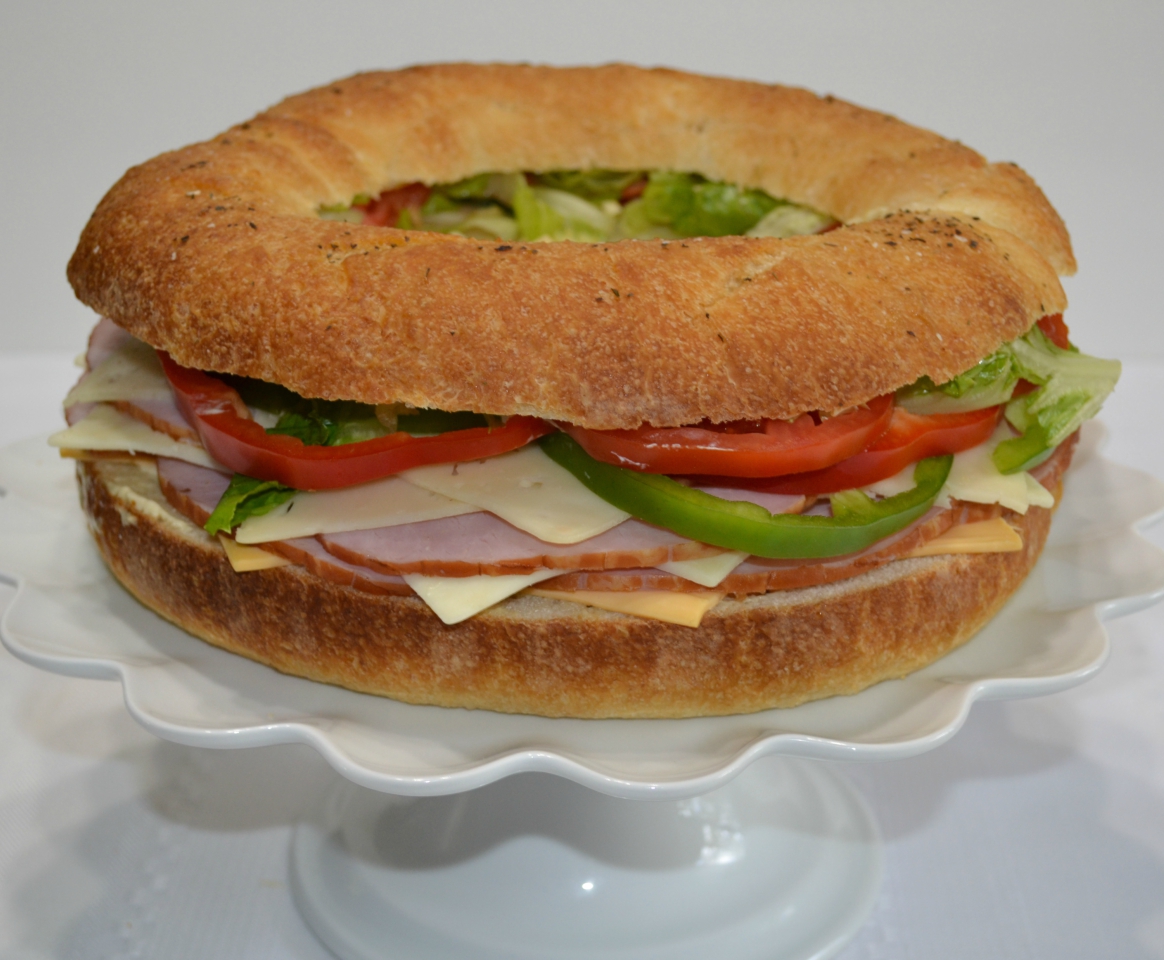 Gourmet Ham and Cheese Party Ring
This Gourmet  Ham and Cheese Party Ring is such an easy recipe to put together, looks impressive, and is perfect for any gathering. It is loaded with ham, cheeses, and veggies.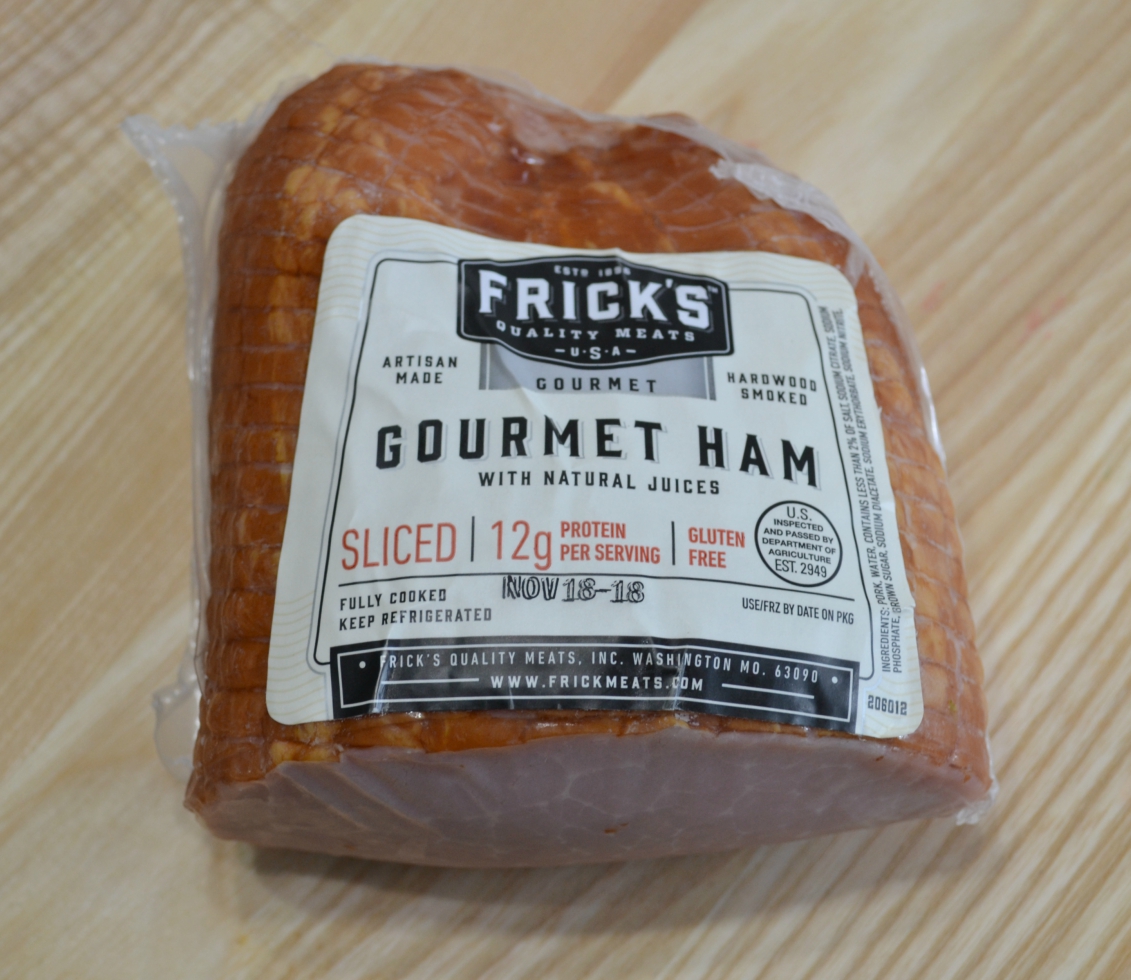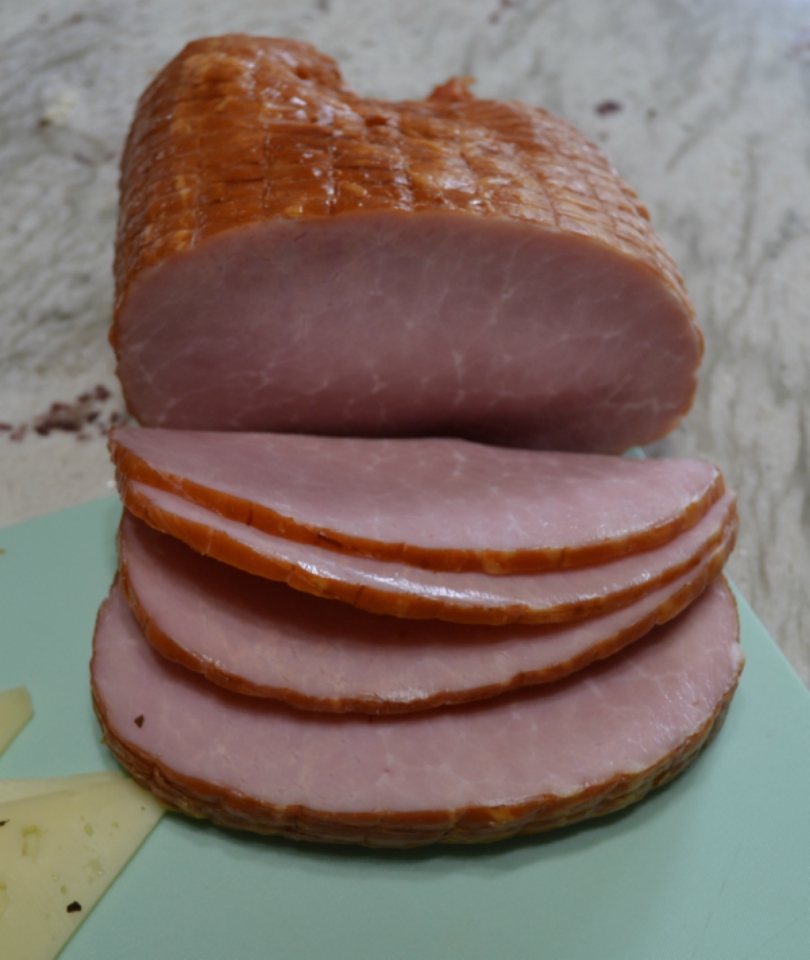 I was lucky enough to be one of the bloggers chosen for this contest.  This package of Frick's Gourmet Ham was sent to me to create a recipe in the "Center of the Plate" category.
A sandwich ring was the first thing that came to mind since it is always in the center of the plate!  I have made many party rings over the years for different occasions.
A Gourmet Ham and Cheese Party Ring is perfect for game day, holiday gatherings, and even gift giving.  I took this to welcome a new baby home, and the mom told me recently that she started doing this for her friends.
A great idea is to purchase a round cutting board for the party ring and give the board as part of the treat.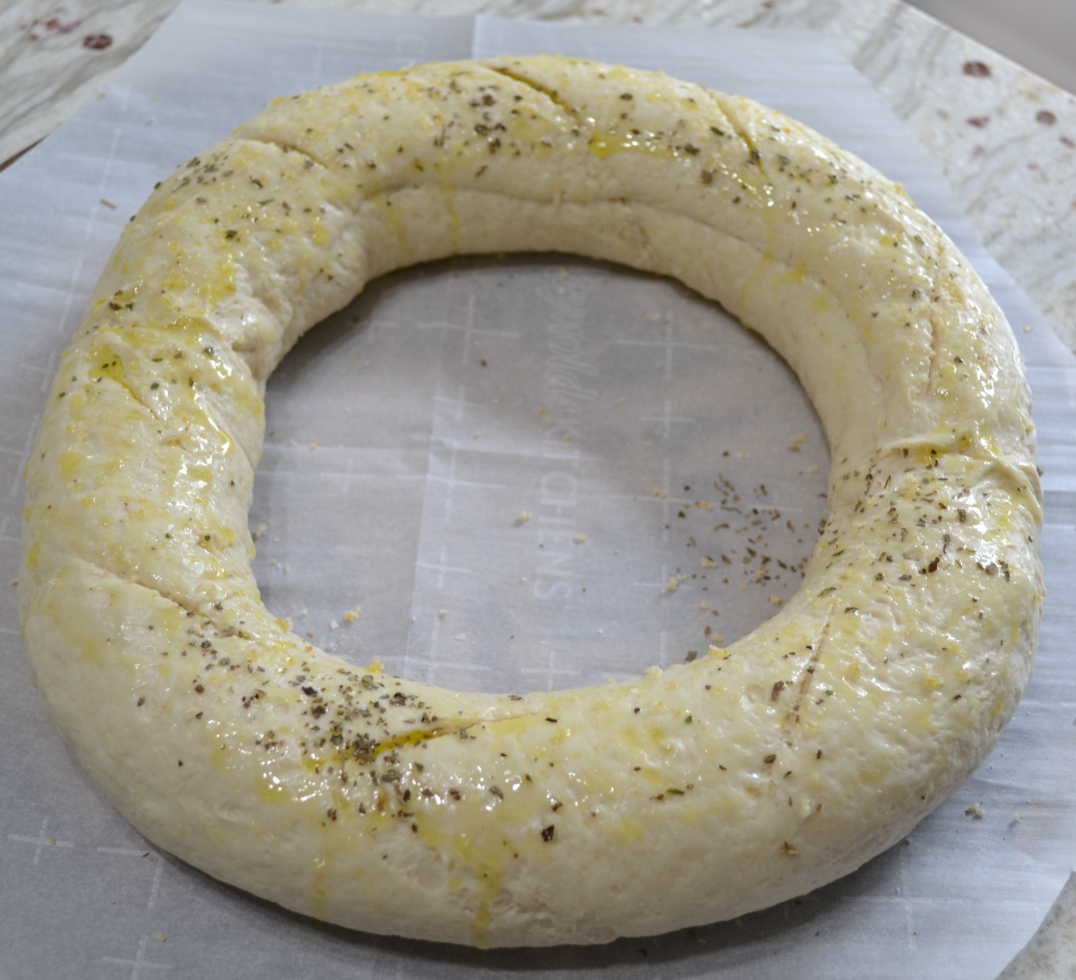 To prepare this party ring, start by baking the bread, 2 cans of refrigerated French bread dough.
Place on parchment paper lined baking sheet.
Cut small slits across top. Brush with olive oil. Sprinkle top with Italian seasoning and garlic salt.
Bake until golden brown.  Remove from pan to a cooling rack.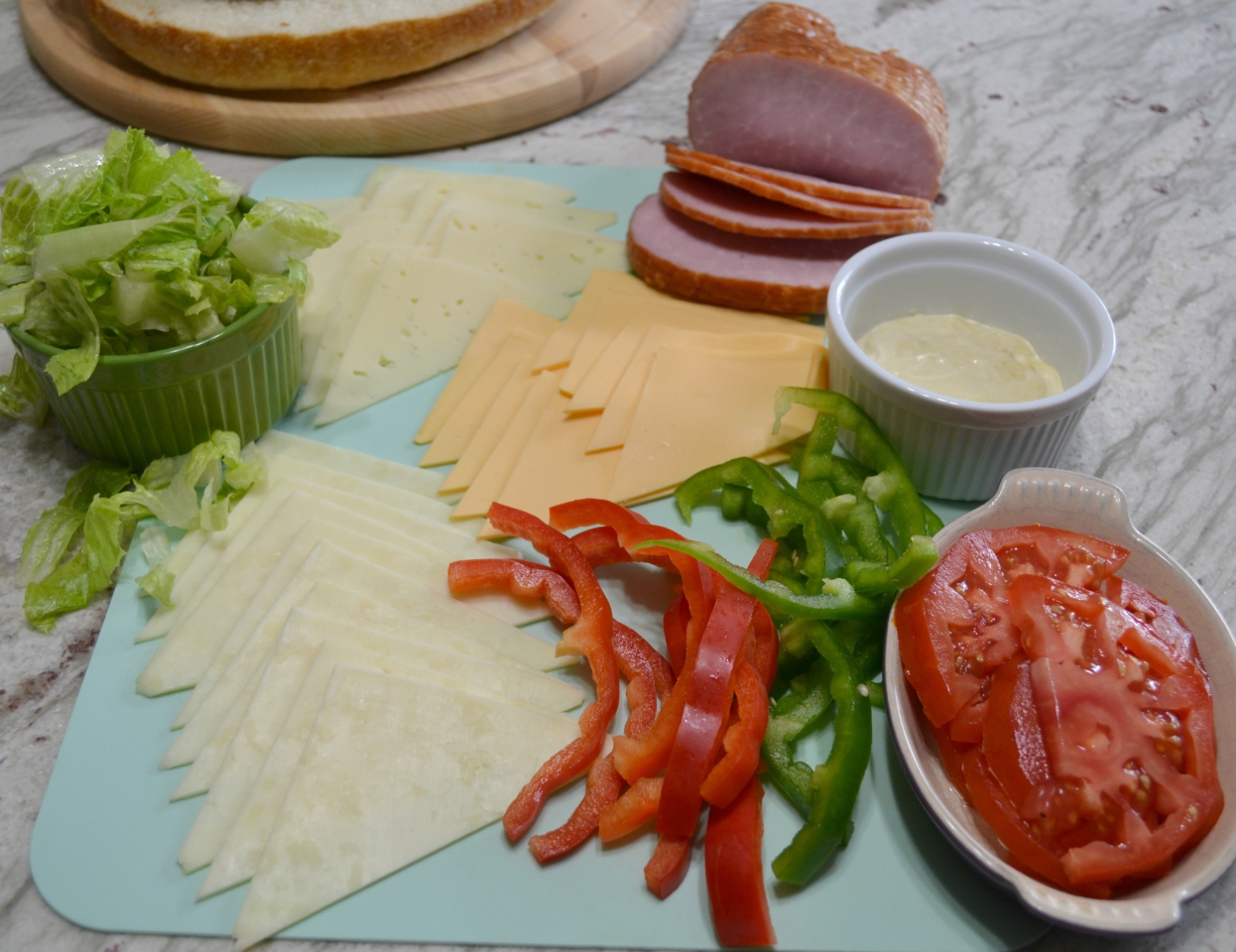 Prepare the mustard spread, ham, cheeses, and veggies.
I warmed the ham slices 30 seconds in the microwave.
Slice bread horizontally and separate top and bottom.
Spread each half of bread with mayonnaise mixture.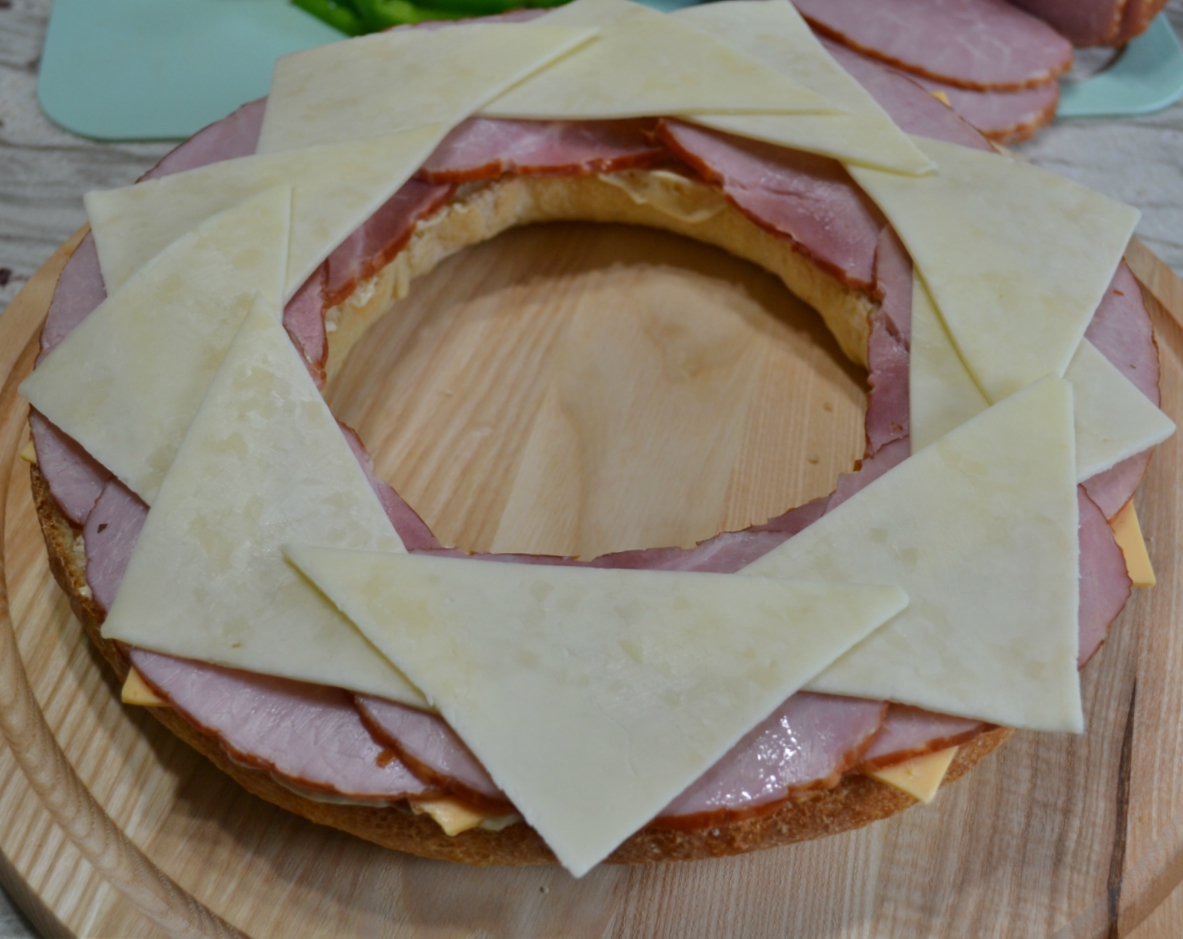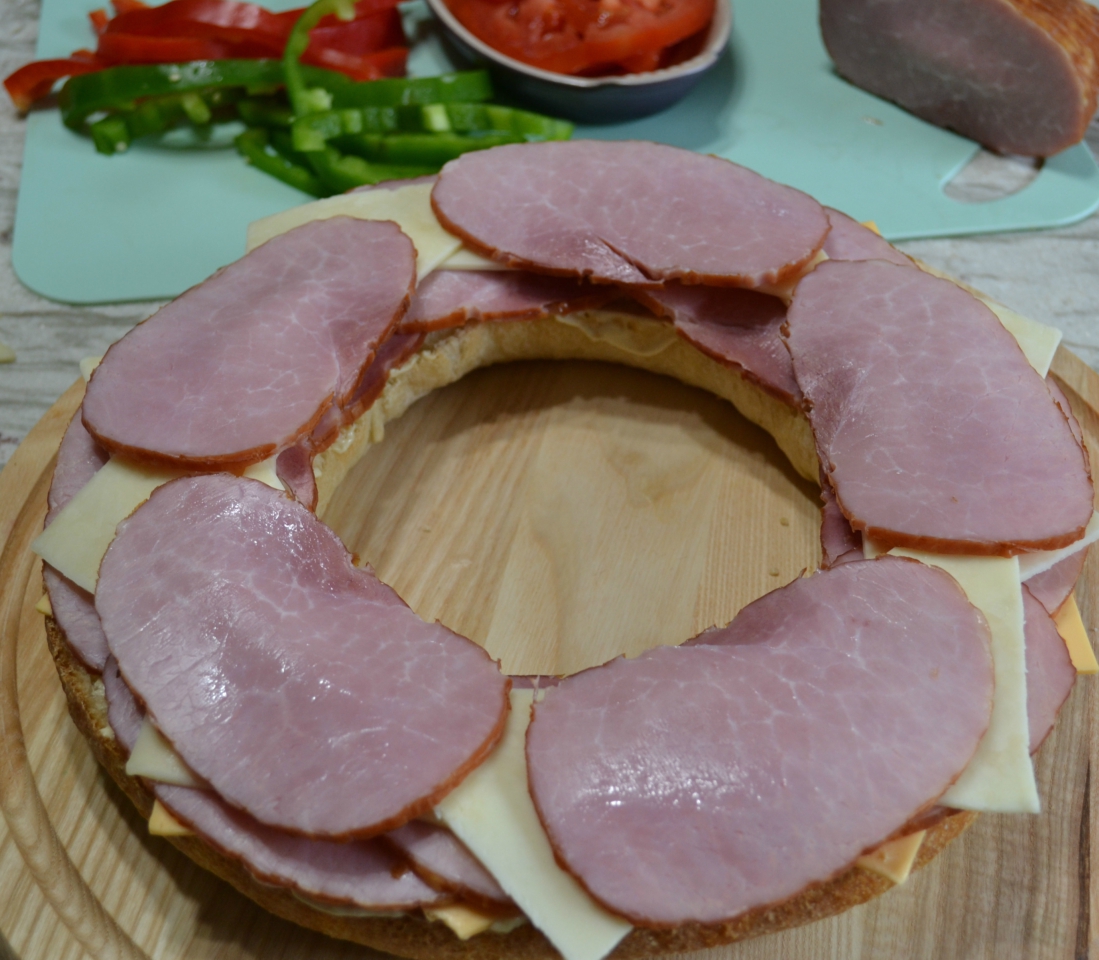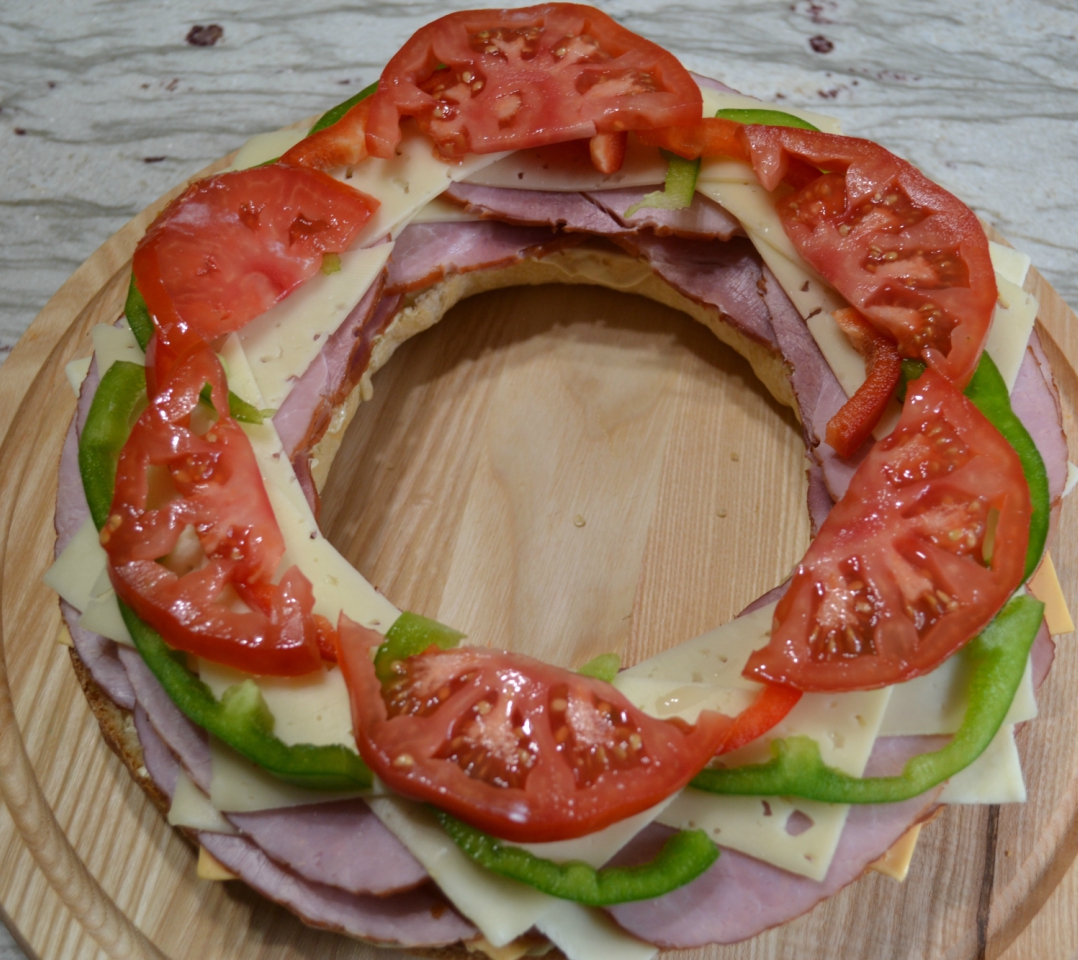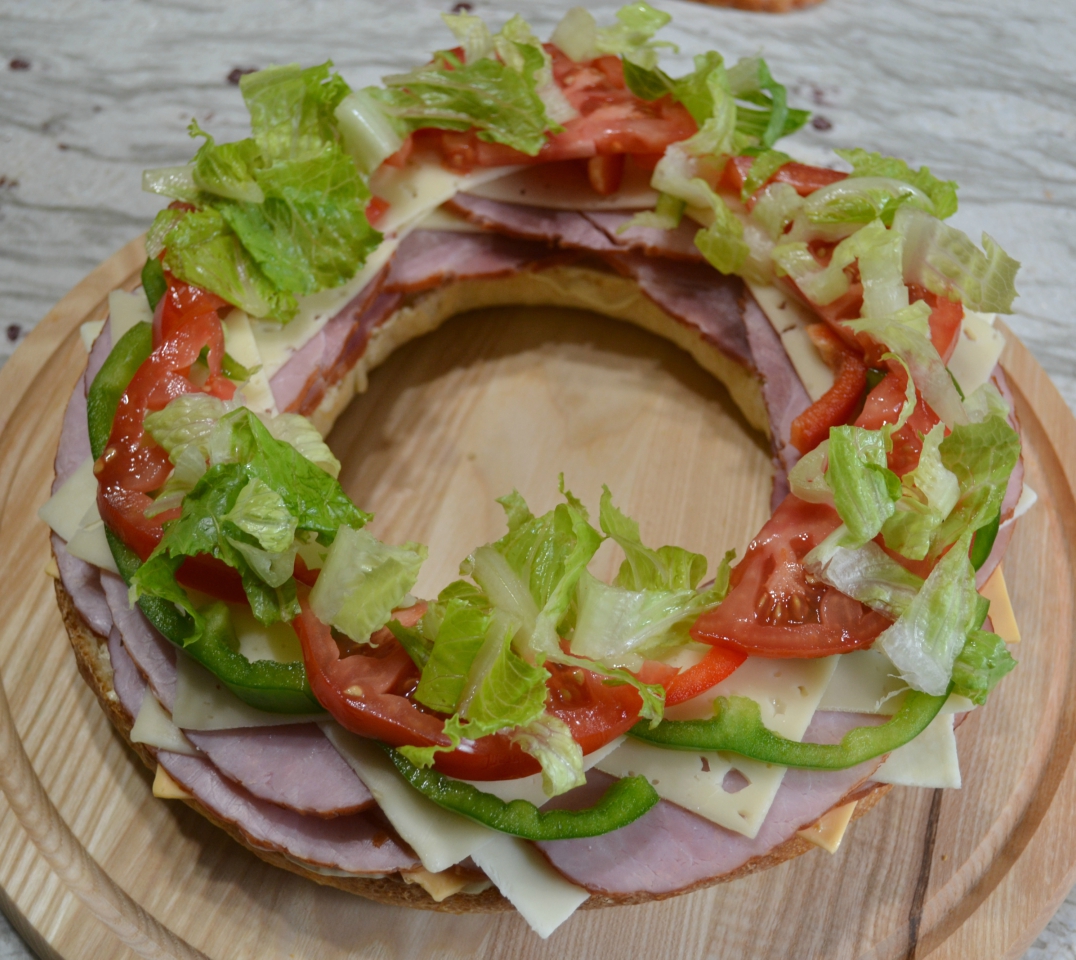 Start with a layer of cheese. Add ham, cheese, another
layer of ham, more cheese and veggies.
Replace top of bread onto sandwich.
Prior to serving, drizzle with Italian dressing.
Decorate with party toothpicks.
Cut into desired size wedges.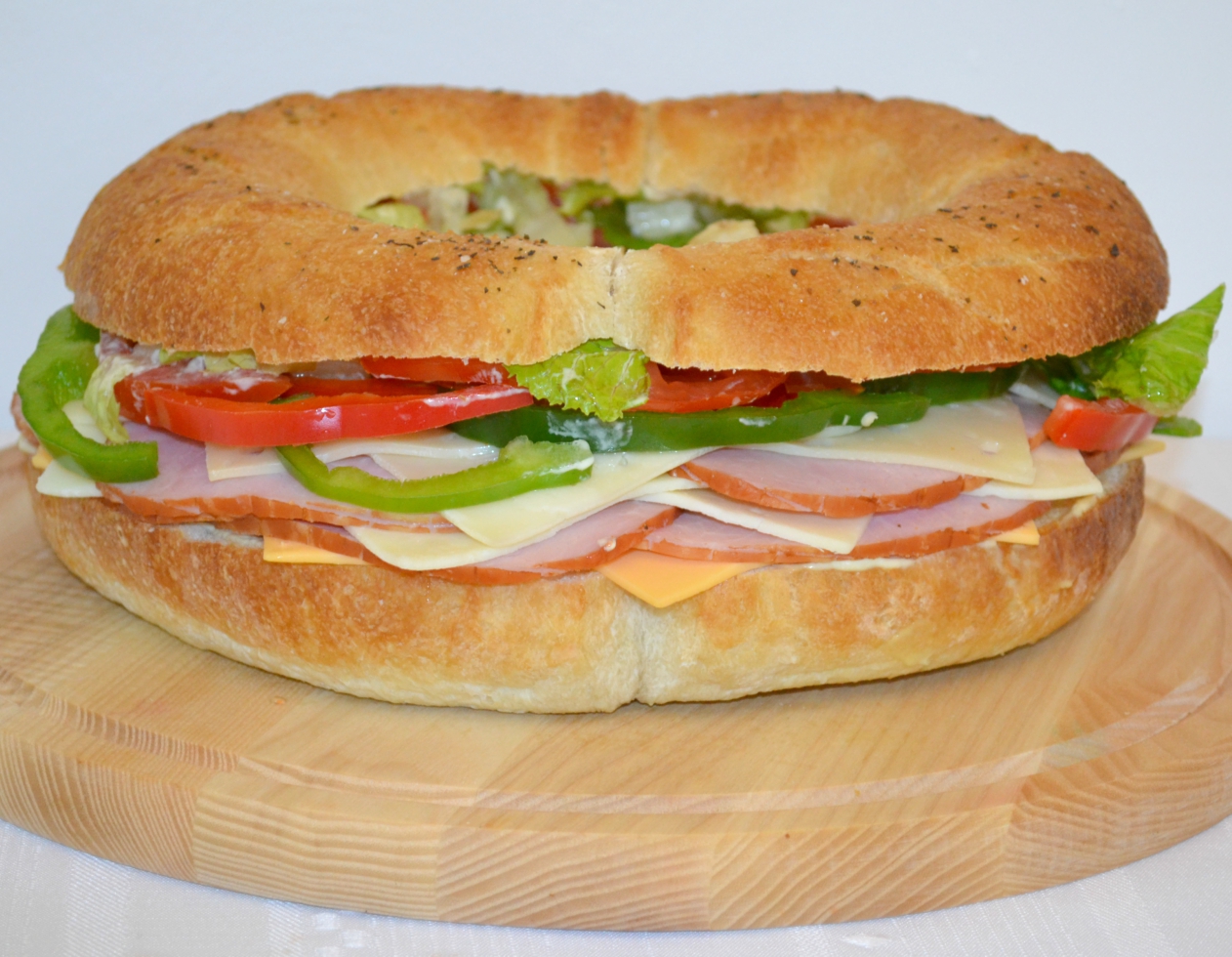 Here are just a few ideas on decorating for a special occasion.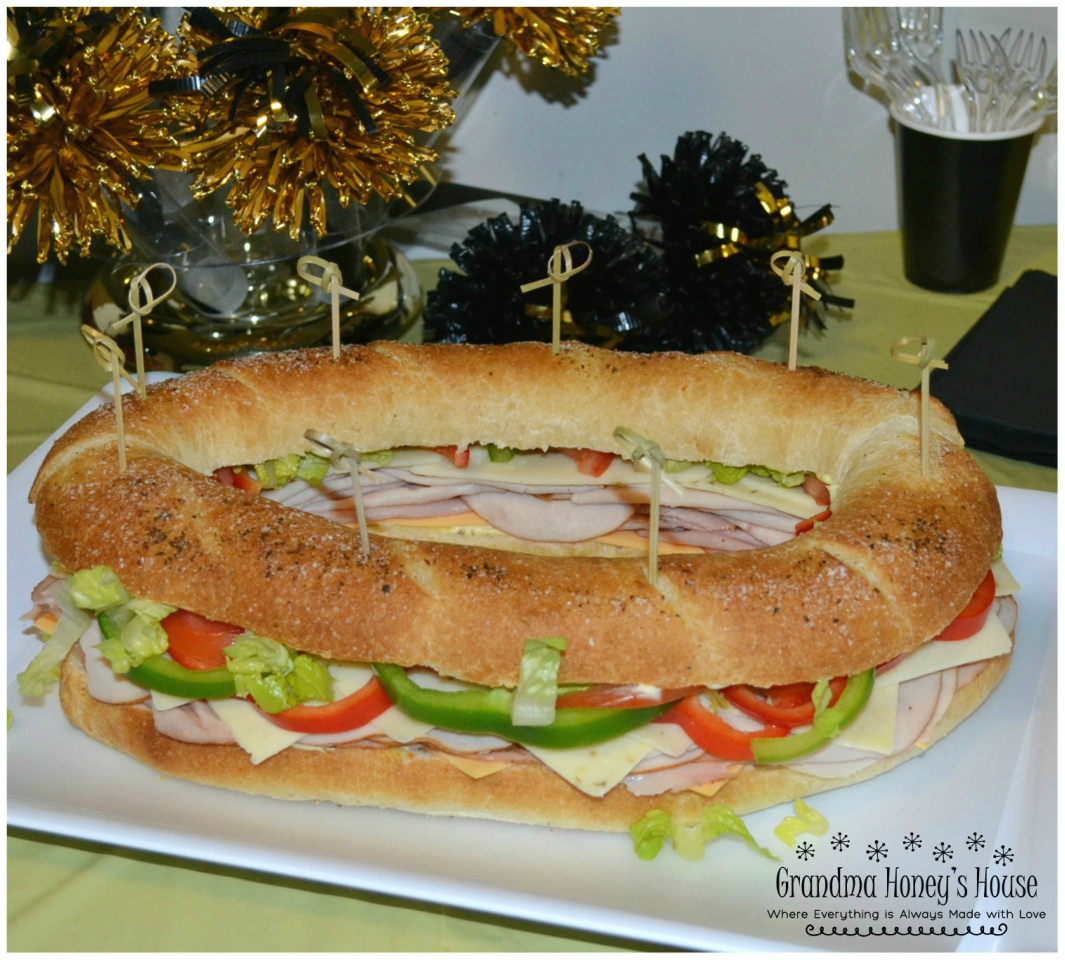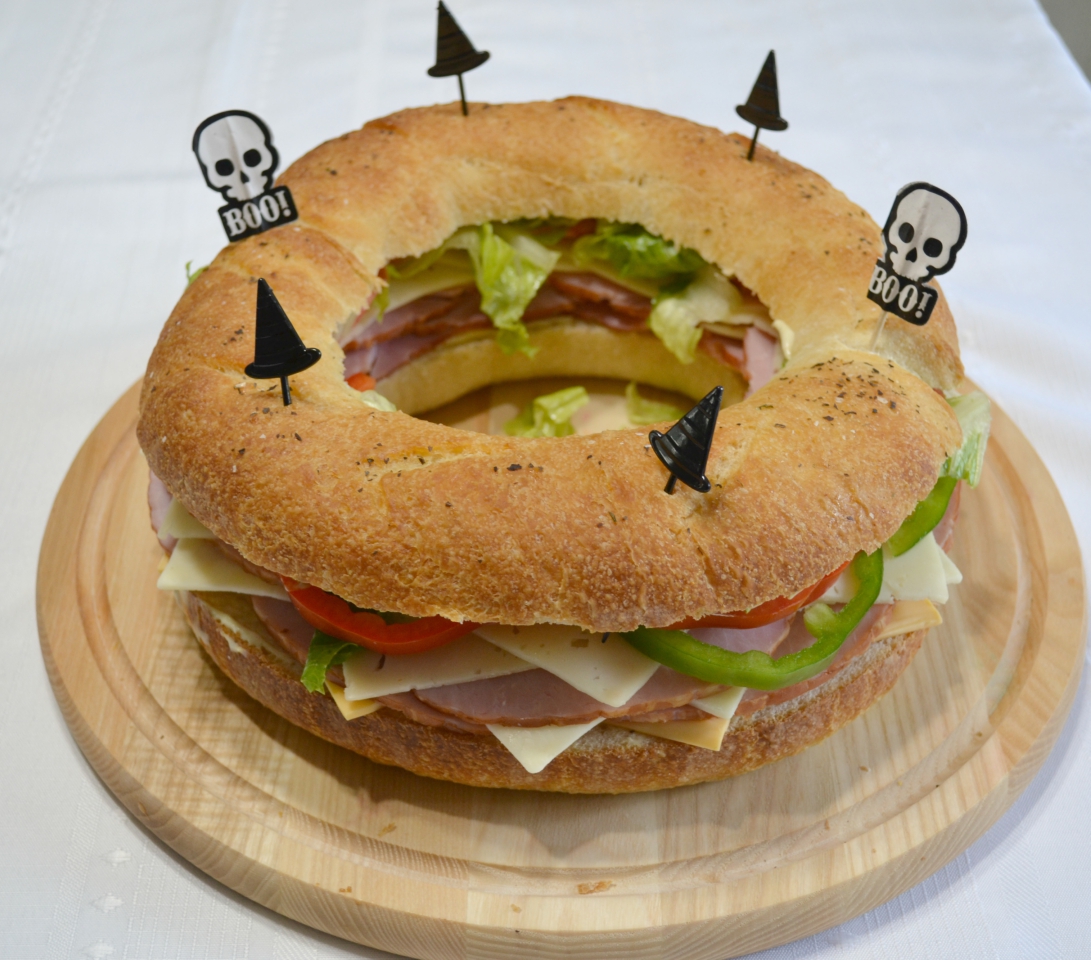 The website for Frick's Quality Meats is very interesting. They have been a  family owned business for over 5 generations.  A large variety of products are available, and the pictures made my mouth water! They describe how their meats are only the finest handpicked cuts of meat, cured with real cane sugar, and are slow-roasted in small batches over American hardwood to lock in their sweet, smoky flavor.
GOURMET HAM AND CHEESE PARTY RING
Ingredients
2 (11oz) cans refrigerated French Bread Loaf
1 Tablespoon olive oil
1 teaspoon Italian seasoning
1 teaspoon garlic salt
3 Tablespoons mayonnaise
2 Tablespoons dijon mustard
5 slices American cheese, cut at an angle
16 slices FRICK'S GOURMET HAM
5 slices Italian blend cheese, cut at an angle
5 slices swiss cheese, cut at an angle
1/2 large green bell pepper, sliced thin and cut in half
1/2 large red bell pepper, sliced thin and cut in half
1 medium tomato, thin sliced and cut in half
1 cup romaine lettuce chopped or shredded
Italian dressing (optional)
party toothpicks
Instructions
Preheat oven to 350 degrees F. Line a large baking sheet with parchment paper.
Open cans of bread dough and stretch slightly. Place on the center of pan. Connect the 2 rolls at the ends and press dough together. Make 5 small cuts around the top of dough with a knife. Brush the olive oil over top. Sprinkle the Italian seasoning and garlic salt evenly over the top.
Bake for about 25 minutes or until light golden brown. Remove from the oven and transfer to a wire cooling rack.
While bread is baking and cooling, prepare the meats, cheeses, and vegetables. Combine the mayonnaise and mustard in a small mixing bowl.
After bread has cooled, slice horizontally with a serrated knife. Lay top aside and place the bottom on cutting board or serving platter.Spread half of mayonnaise mixture on each bread half.
Arrange American cheese around the bottom half of bread. Build layers with the ham, cheese, ham, cheese, bell peppers, tomatoes, and lettuce. Lightly drizzle with Italian dressing if desired.
Carefully, place top of bread on sandwich. Add long party toothpicks.
Cut into desired size wedges.
© 2023 Copyright GRANDMA HONEY\\\\\\\'S HOUSE
Please check the Frick's Quality Meats website for more recipes and ideas.
Also, follow them on Facebook and Instagram.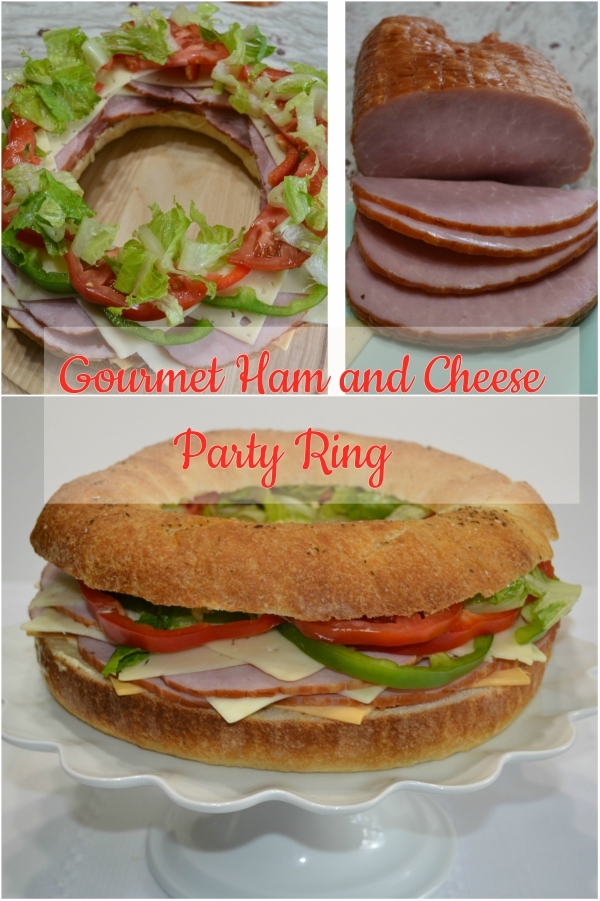 Please follow and like us: