Jump to recipe
I am happy to be sharing this Sensational Stadium Sandwich again, that I created last year.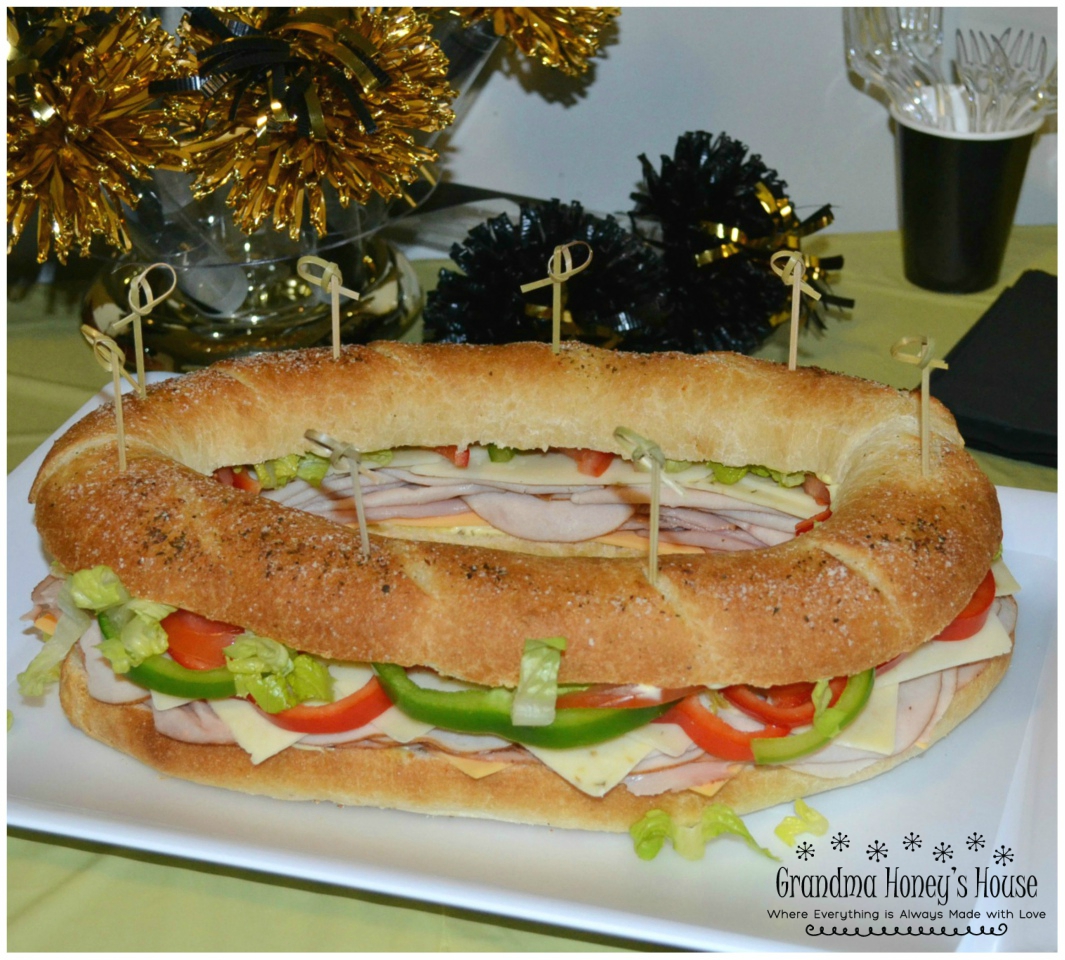 We are big football fans at my house and last week-end was spent watching NFL and college football games.   Watching hours of football means there must be plenty of snacks.  This Sensational Stadium Sandwich is packed full of meat, cheese, and veggies and is perfect to serve at any tailgate party.
I remember making the sandwich ring from Pampered Chef parties back in the 1980's.  I have made that sandwich ring over the years for parties, luncheons, and made it once to give a friend when she came home from the hospital, after having a baby.  I decided to make it again this past week-end and this treat developed.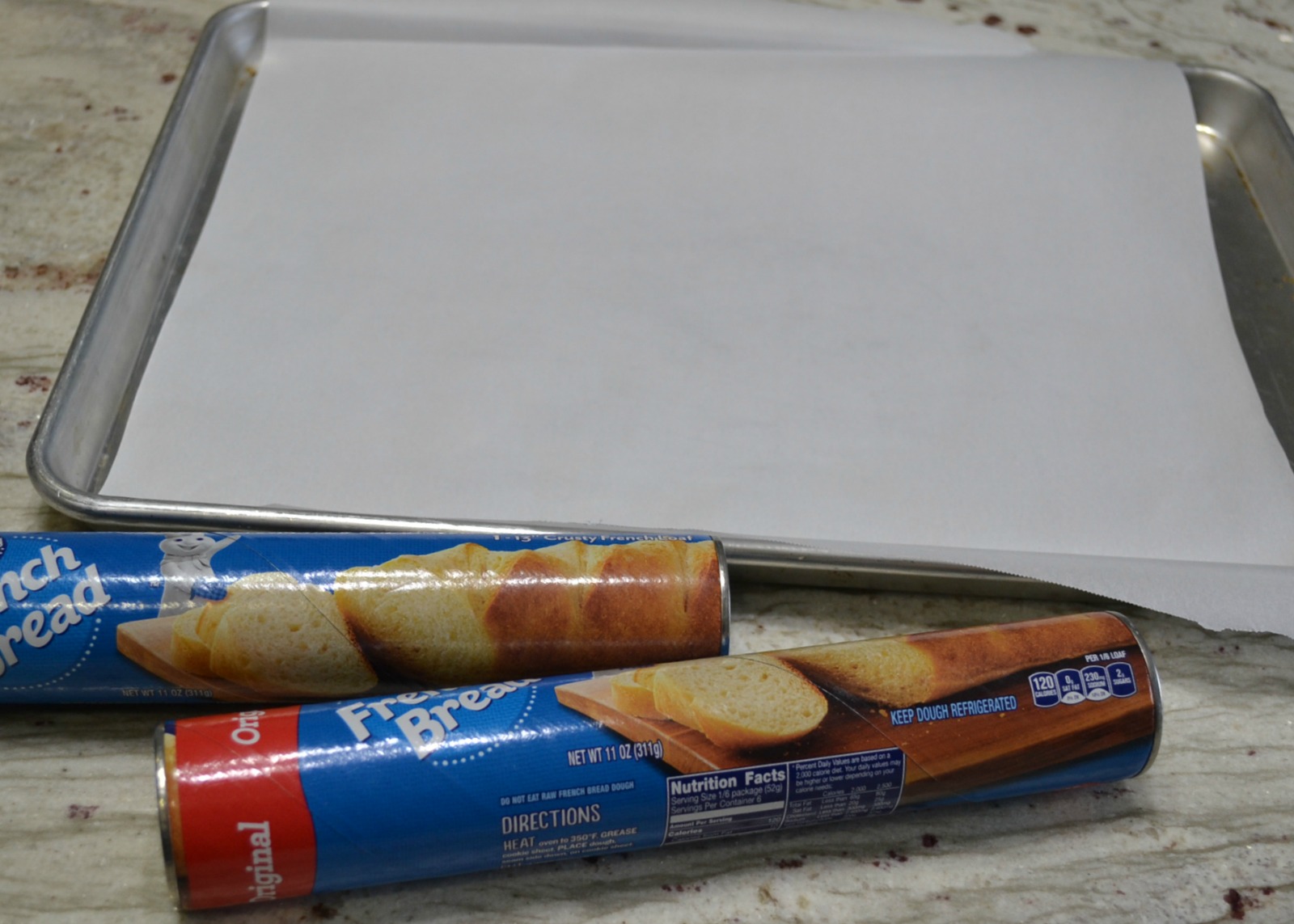 Start with 2 cans of refrigerated French bread dough.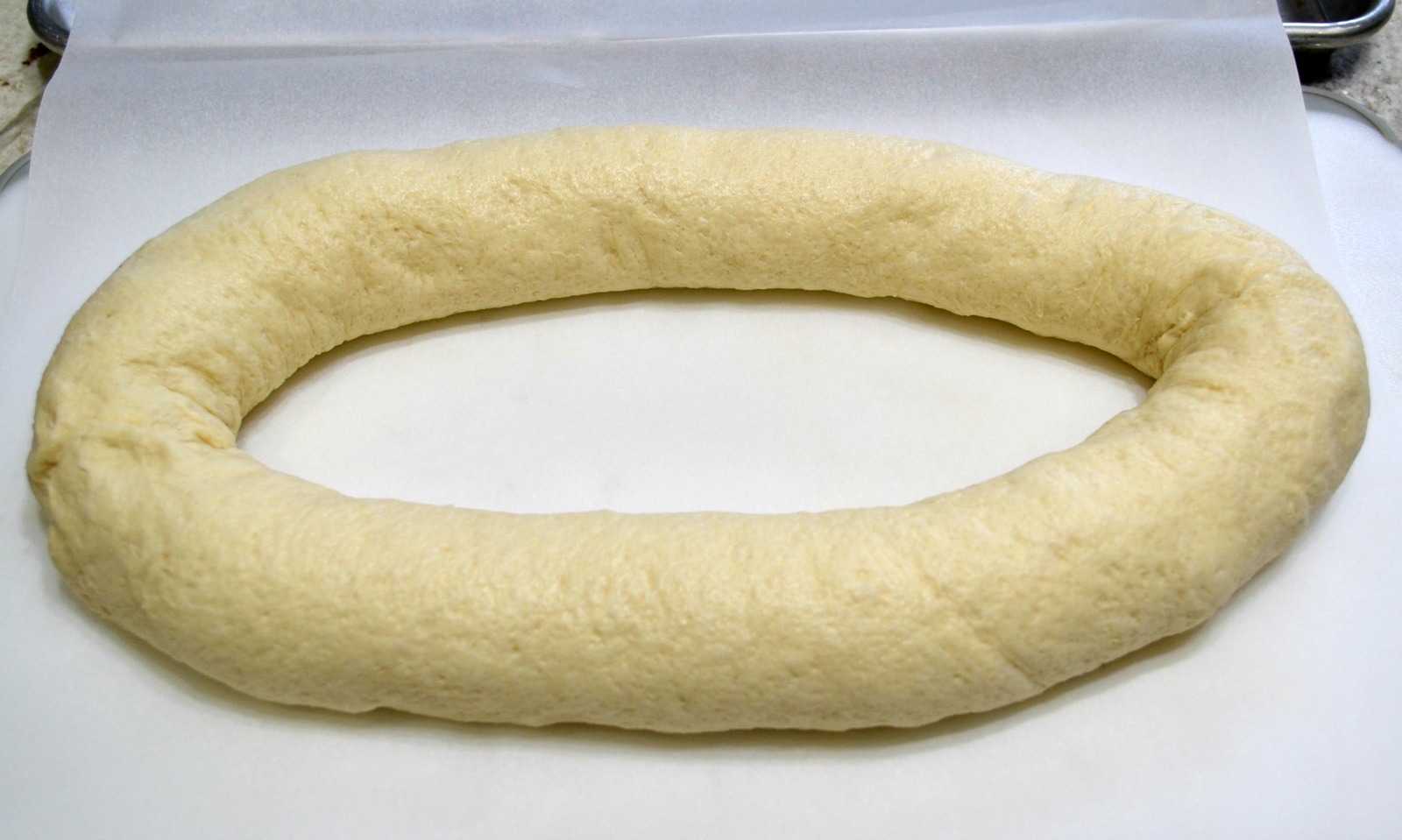 I shaped it into an oval shape to make a football. Place on parchment paper lined baking sheet.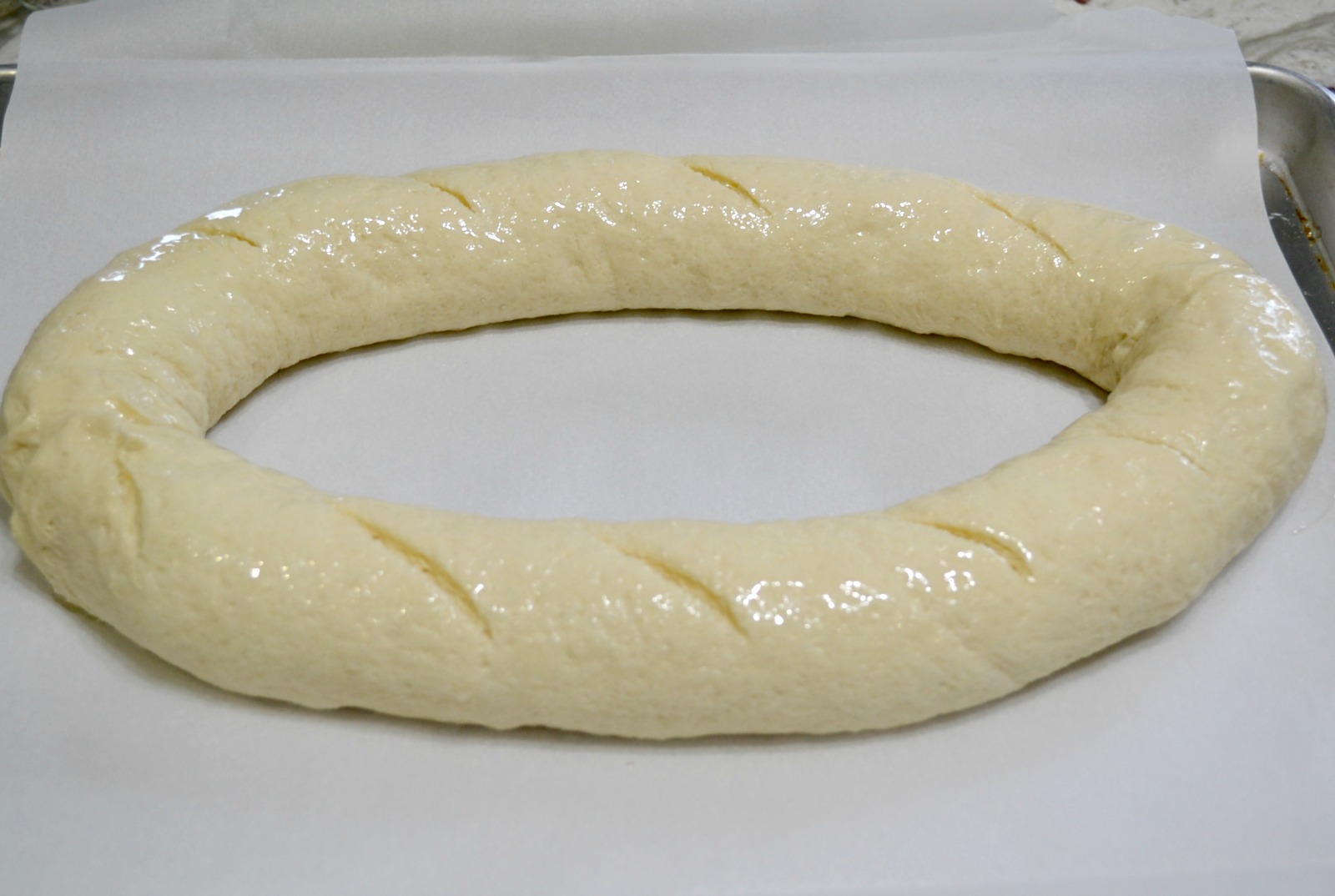 Cut small slits across top. Brush with olive oil.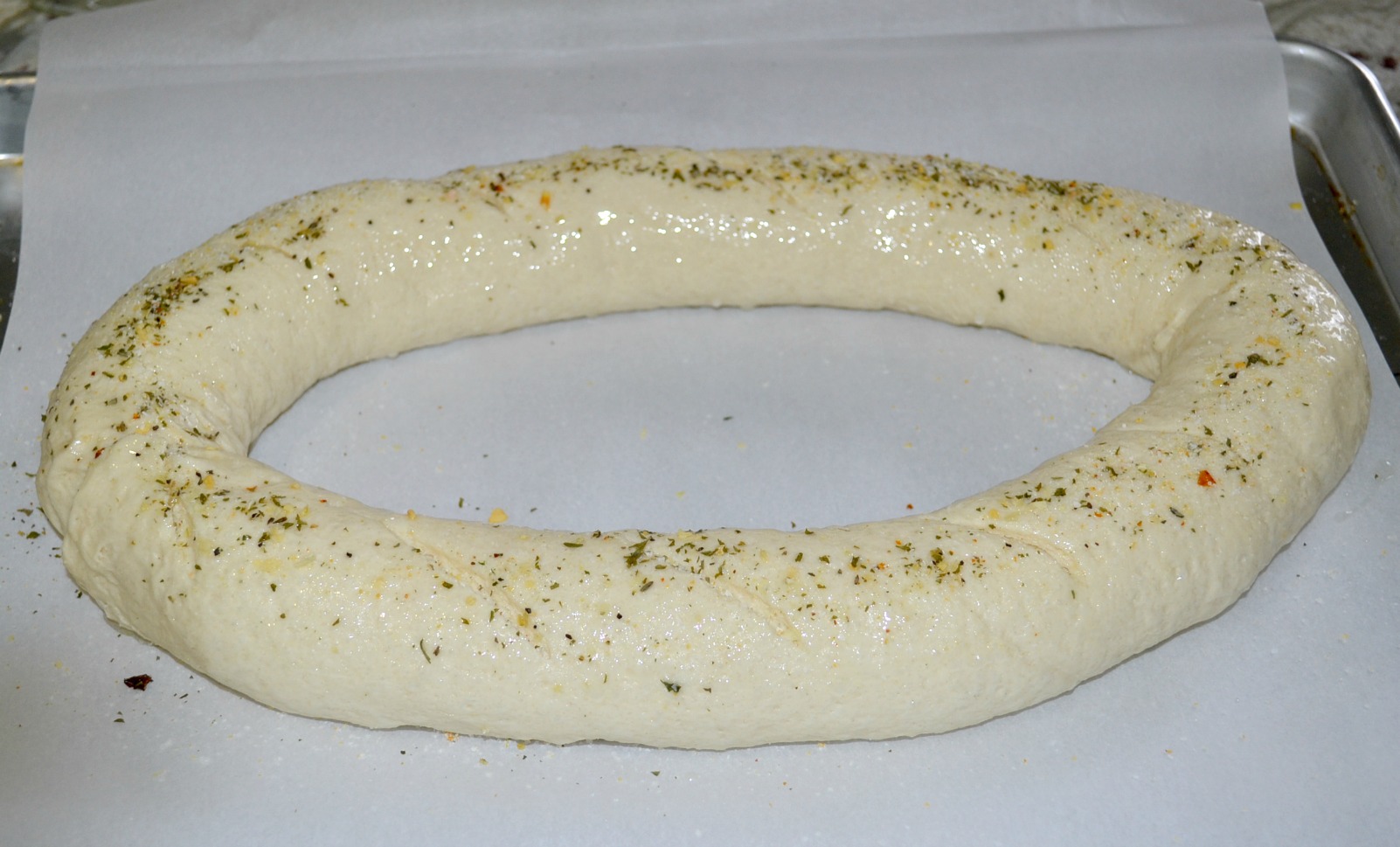 Sprinkle top with Italian seasoning and garlic salt.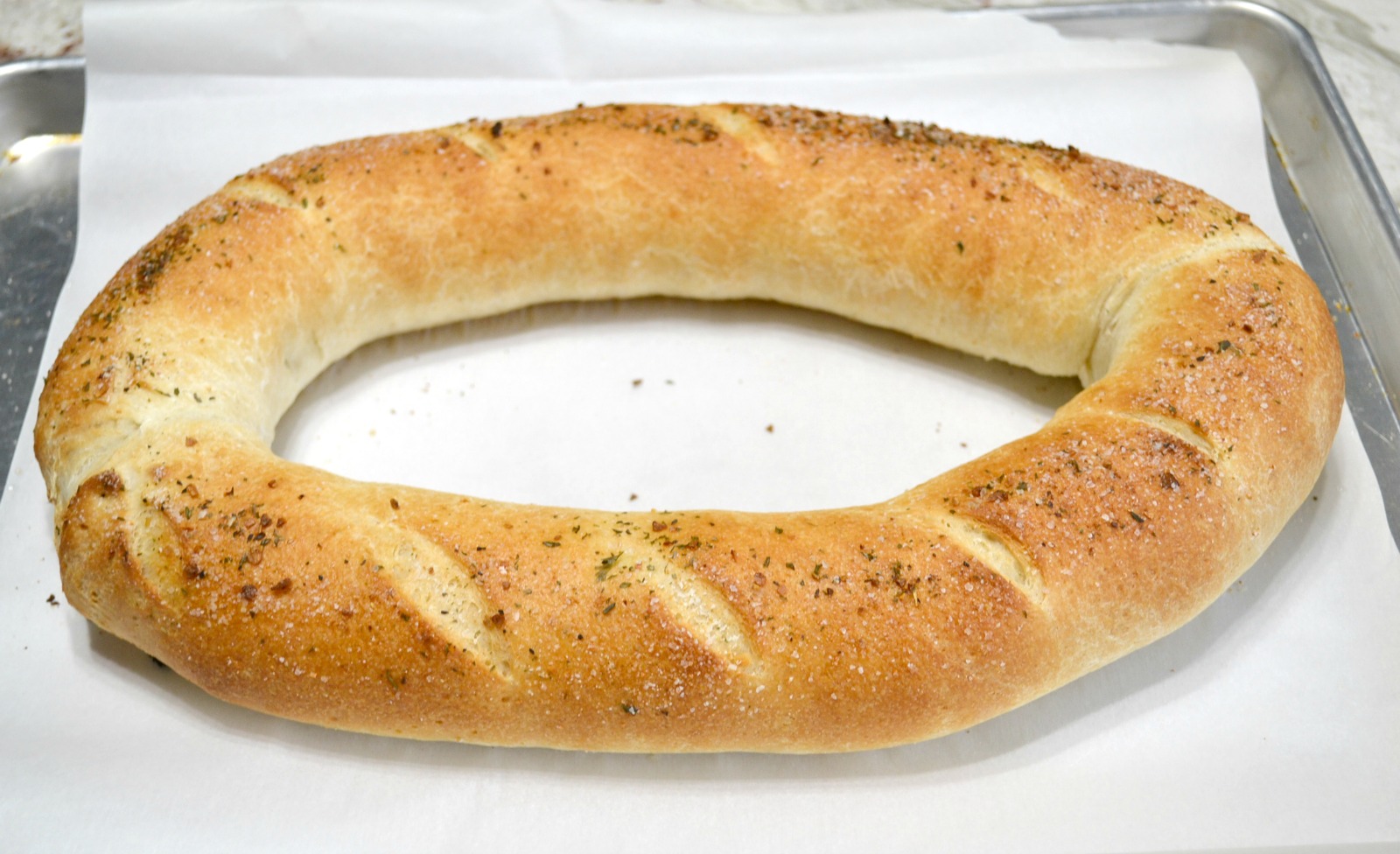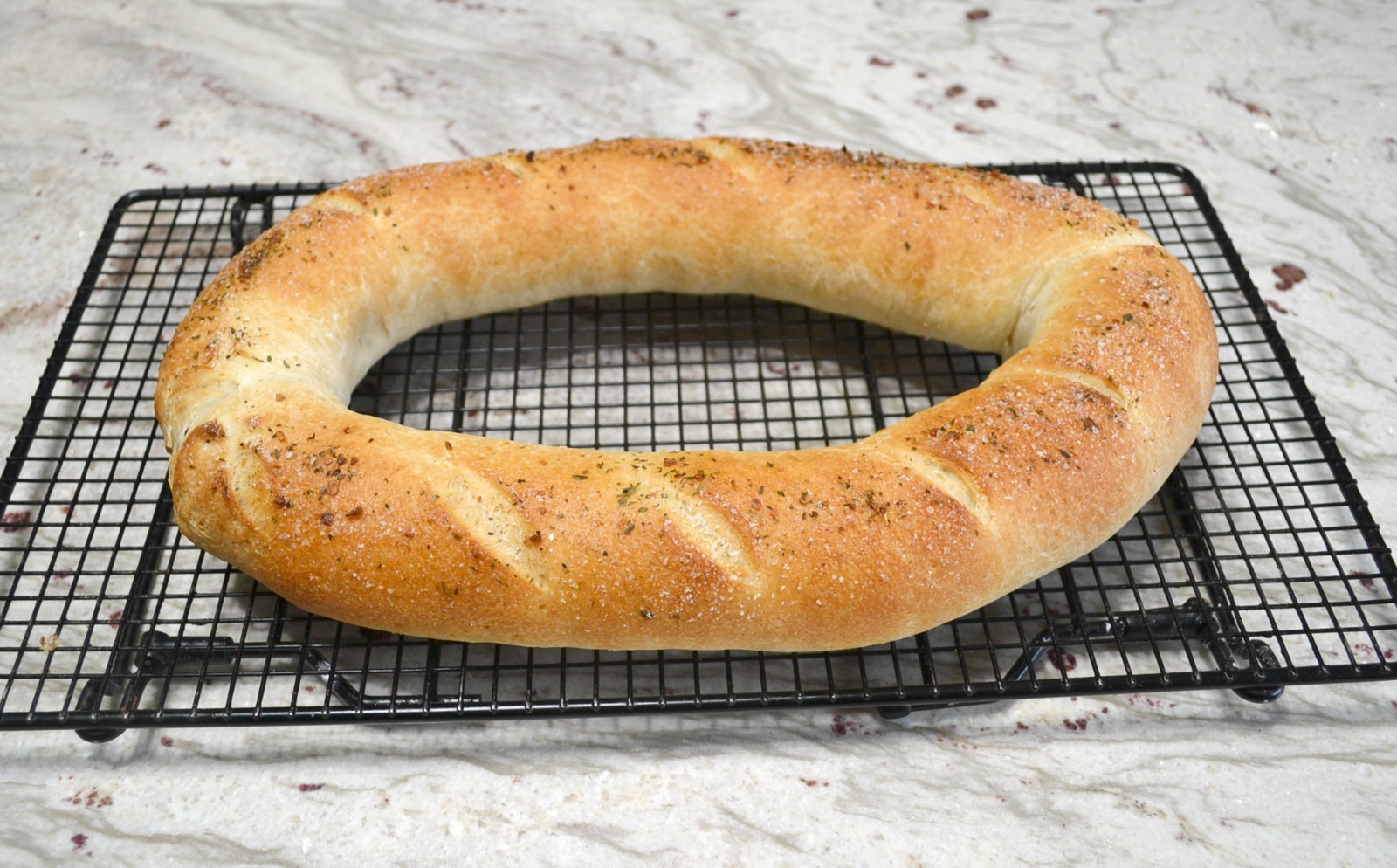 Bake until golden brown.  Remove from pan to a cooling rack.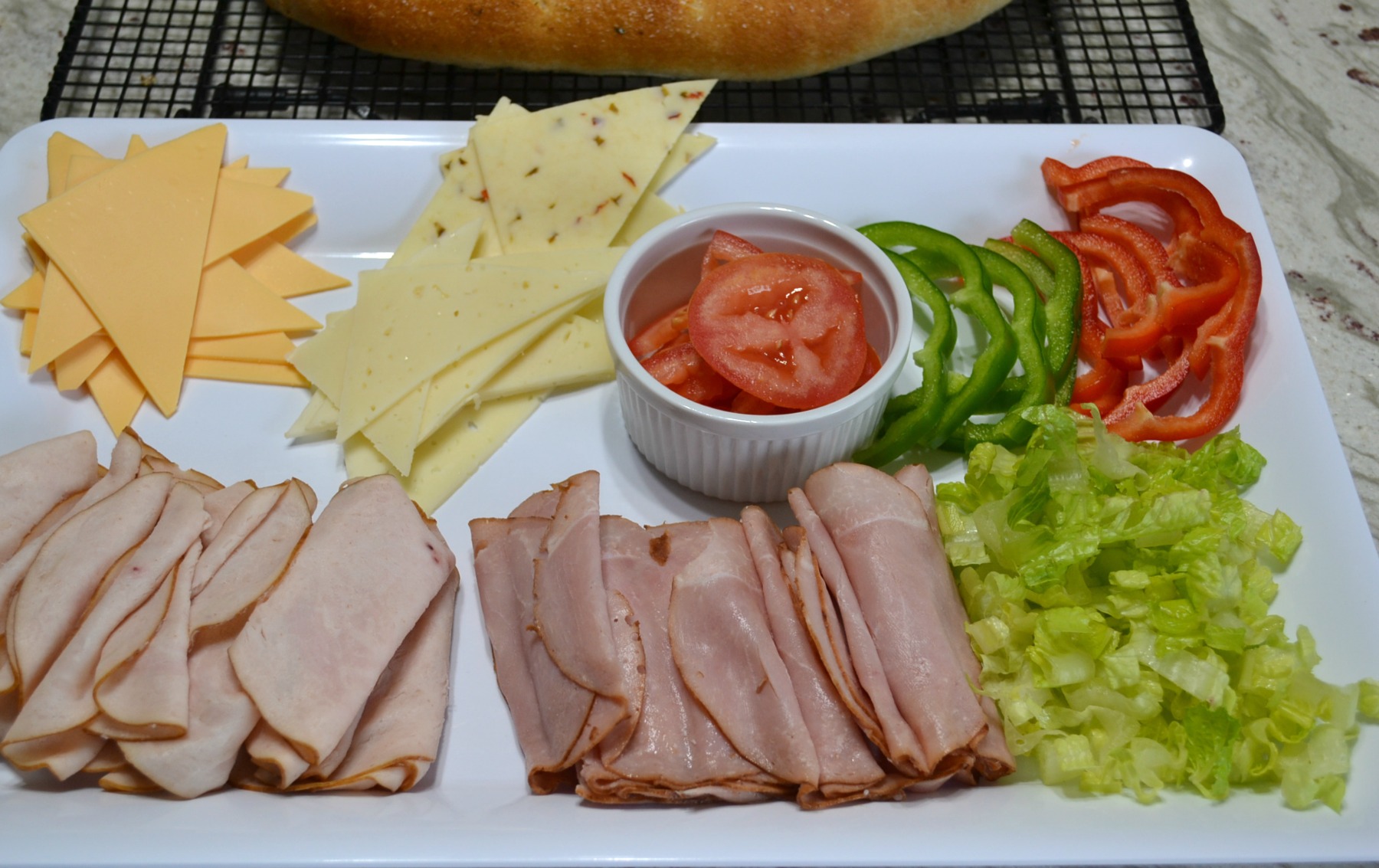 Prepare the meats, cheeses, and veggies.  I cut cheeses and veggies to fit shape of the football.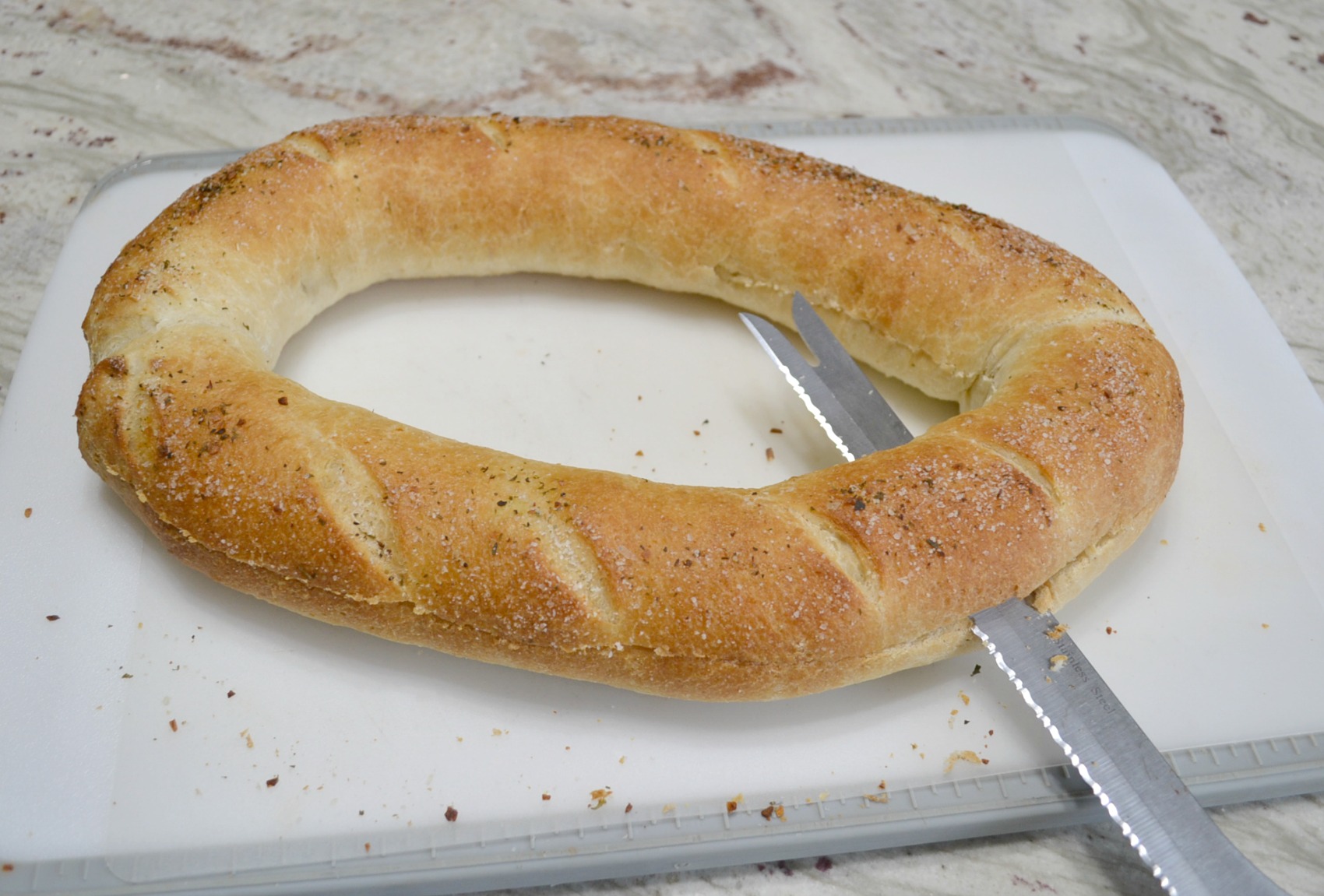 Slice bread horizontally and separate top and bottom.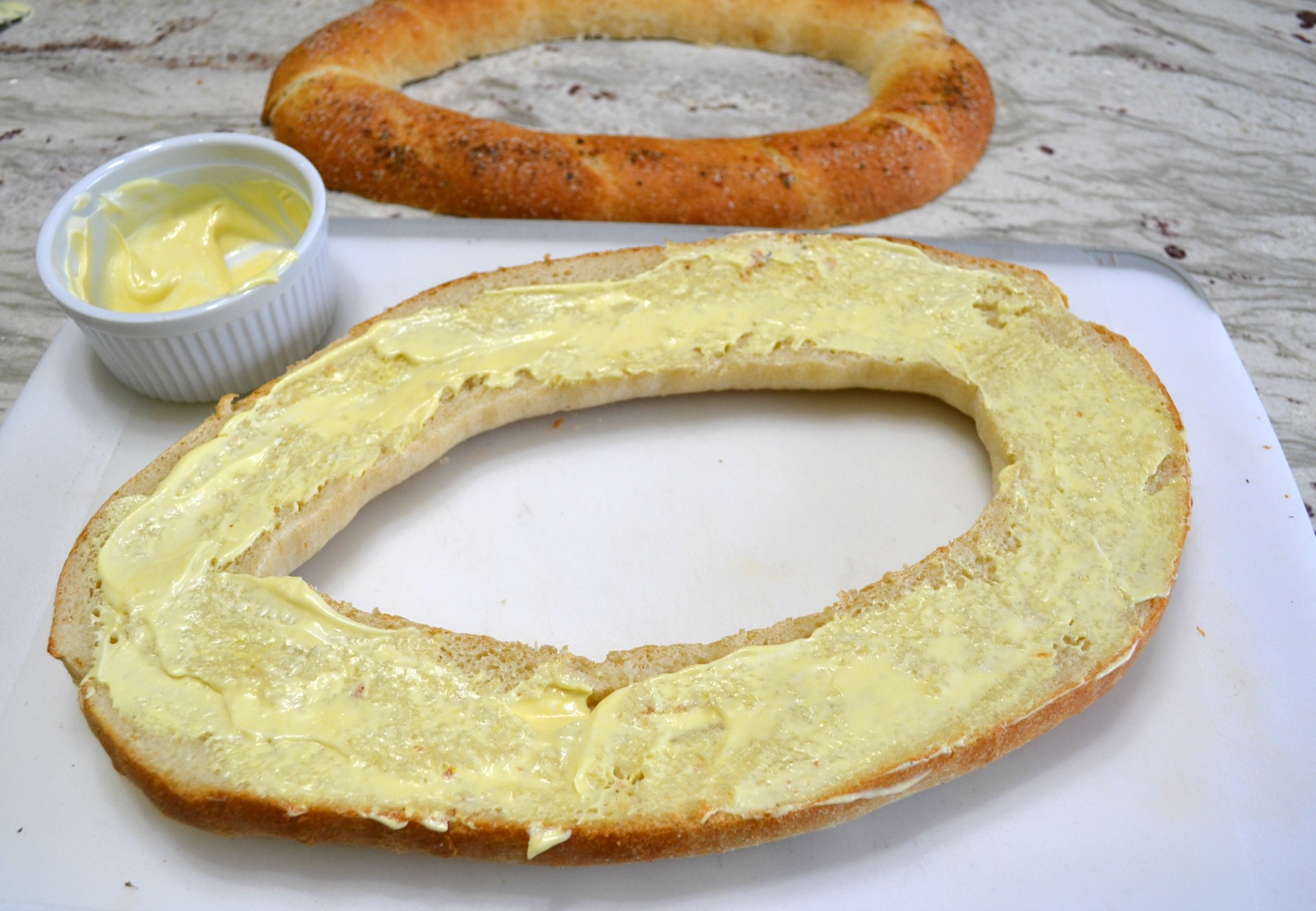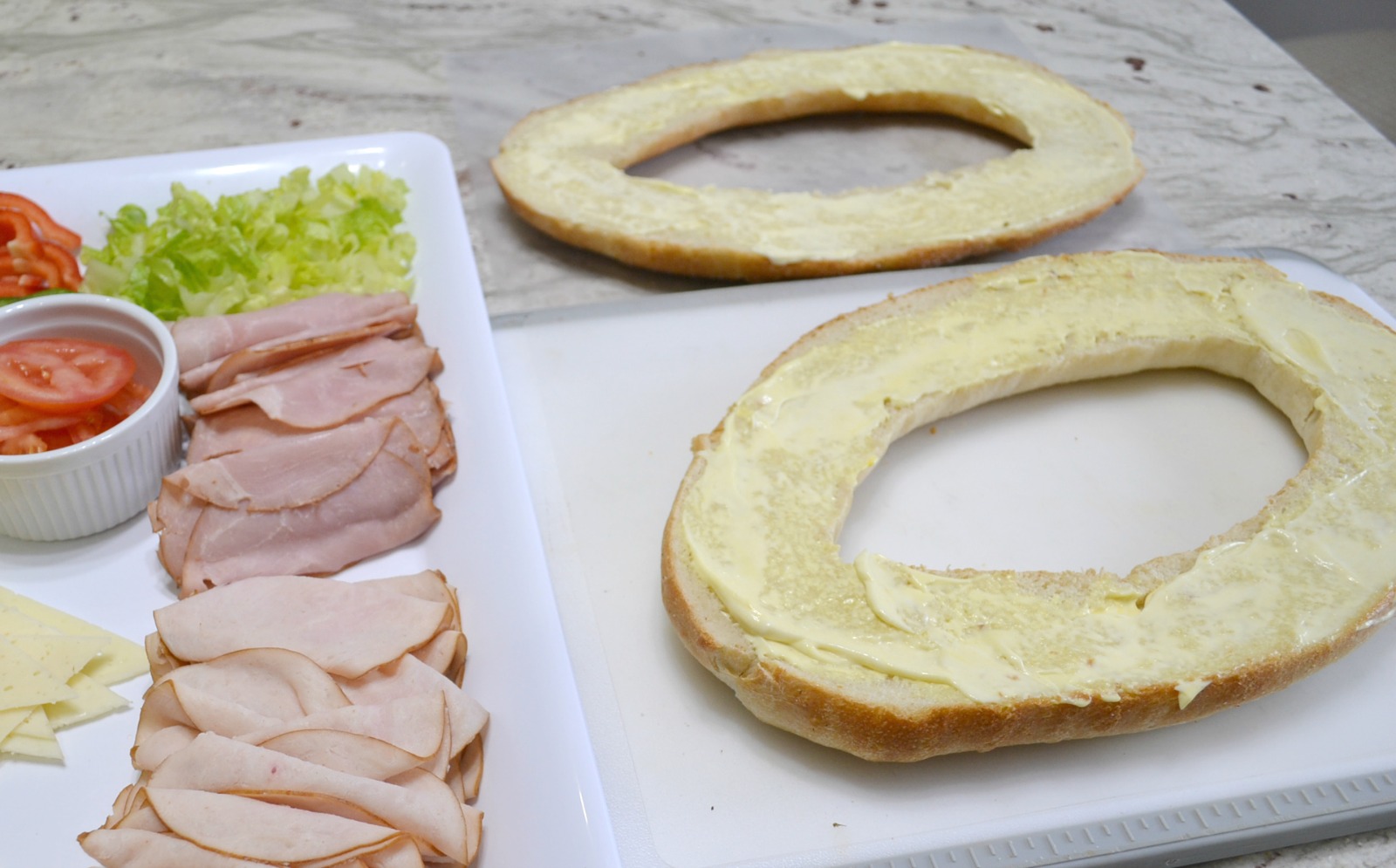 Spread each half of bread with mixture of mayonnaise and mustard.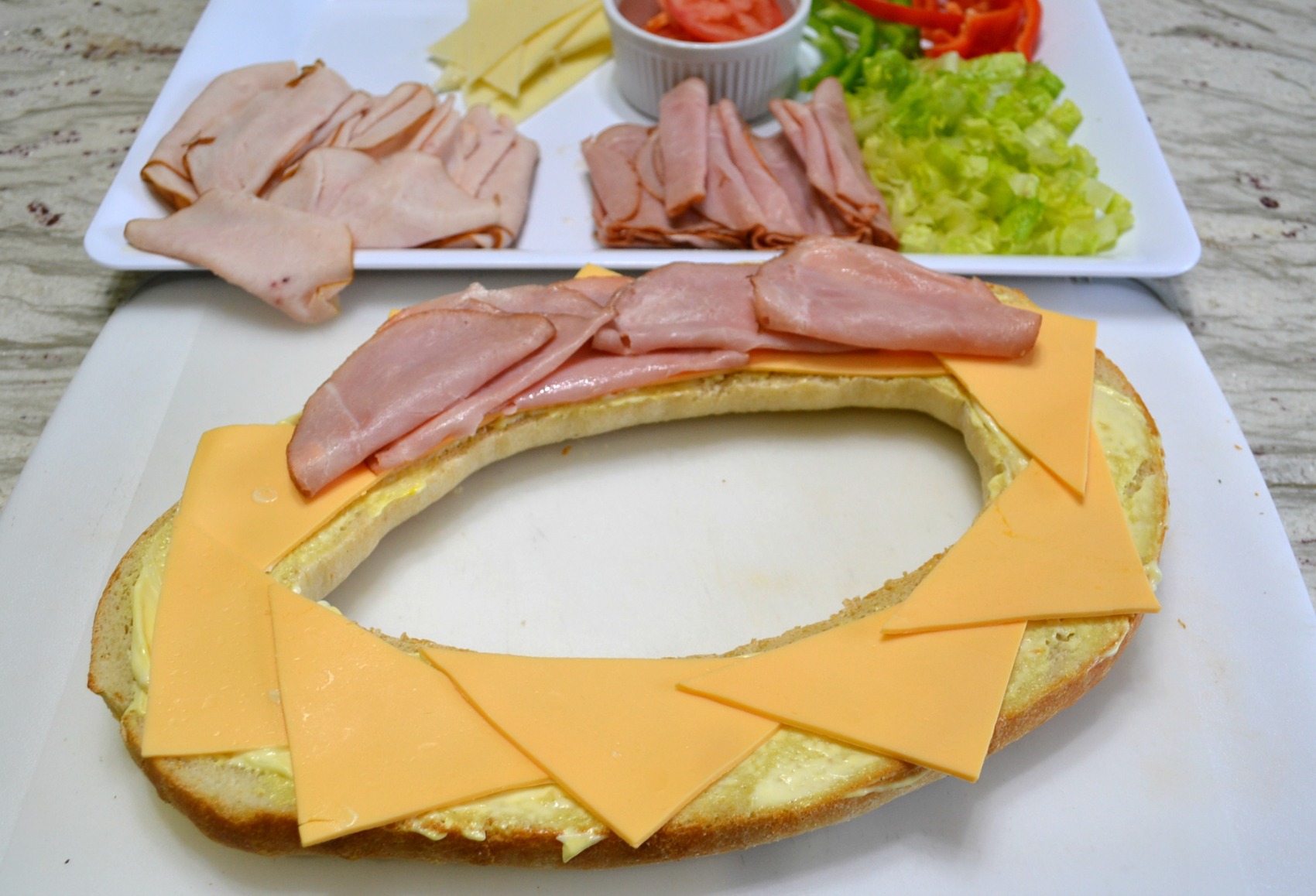 Start with a layer of cheese.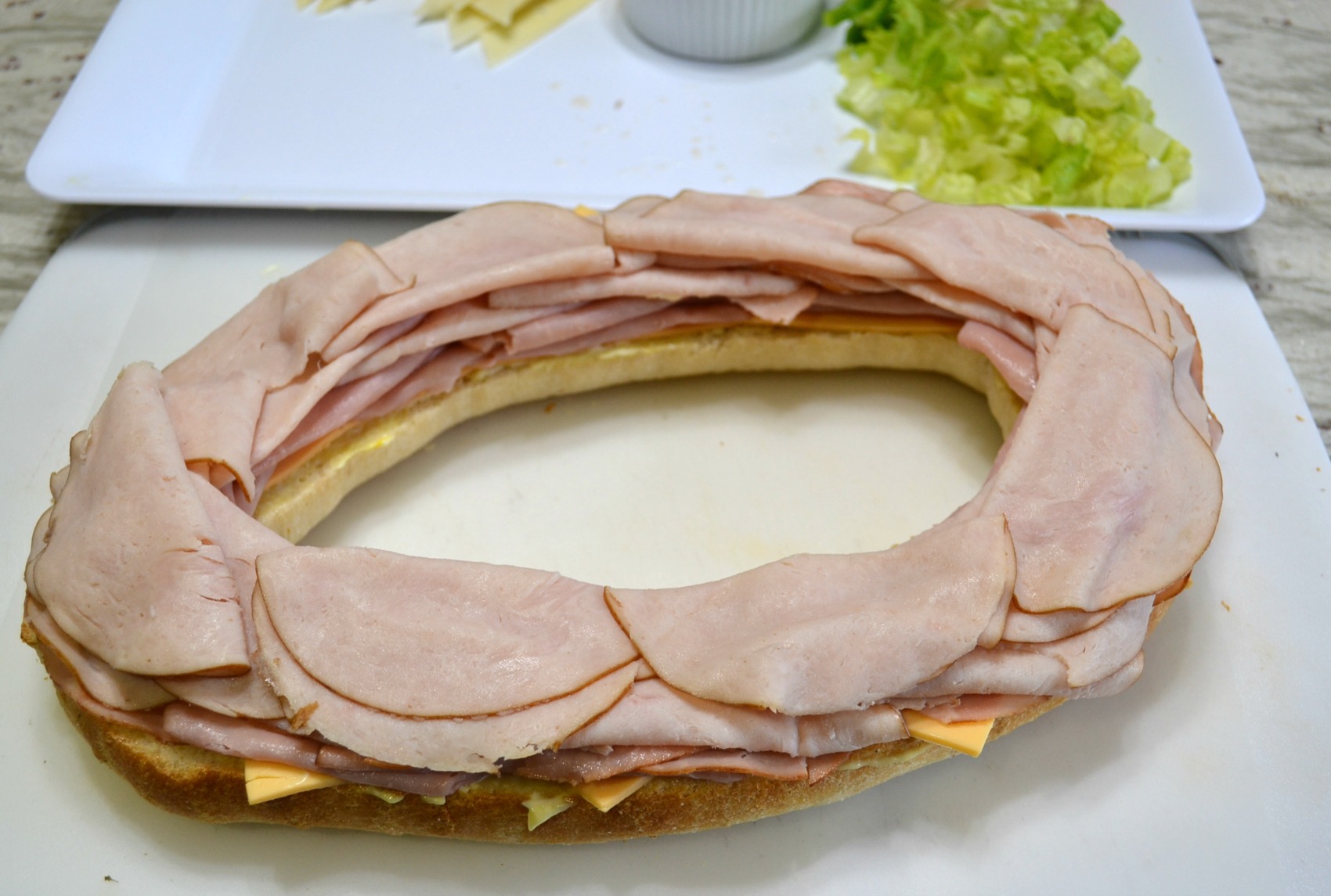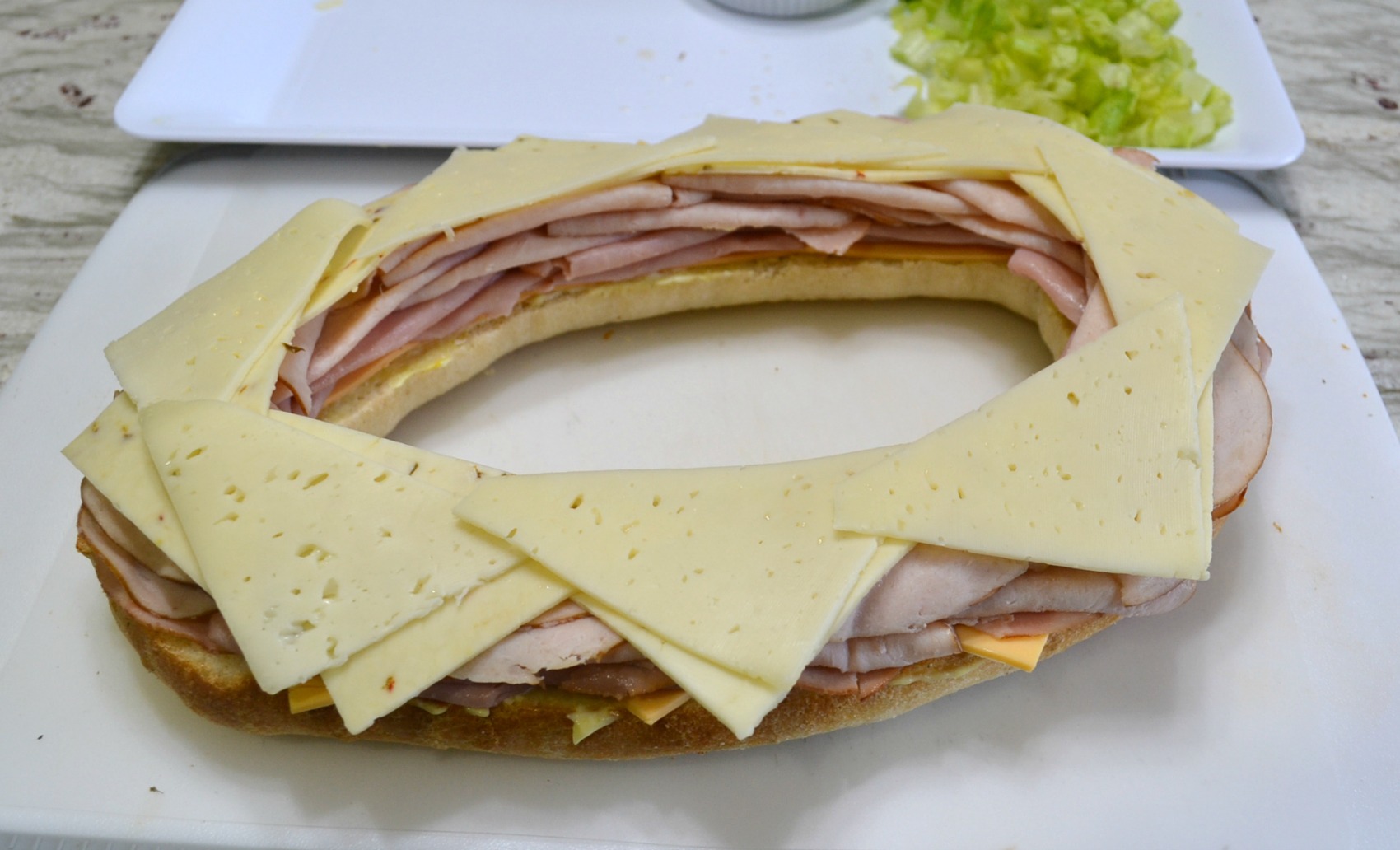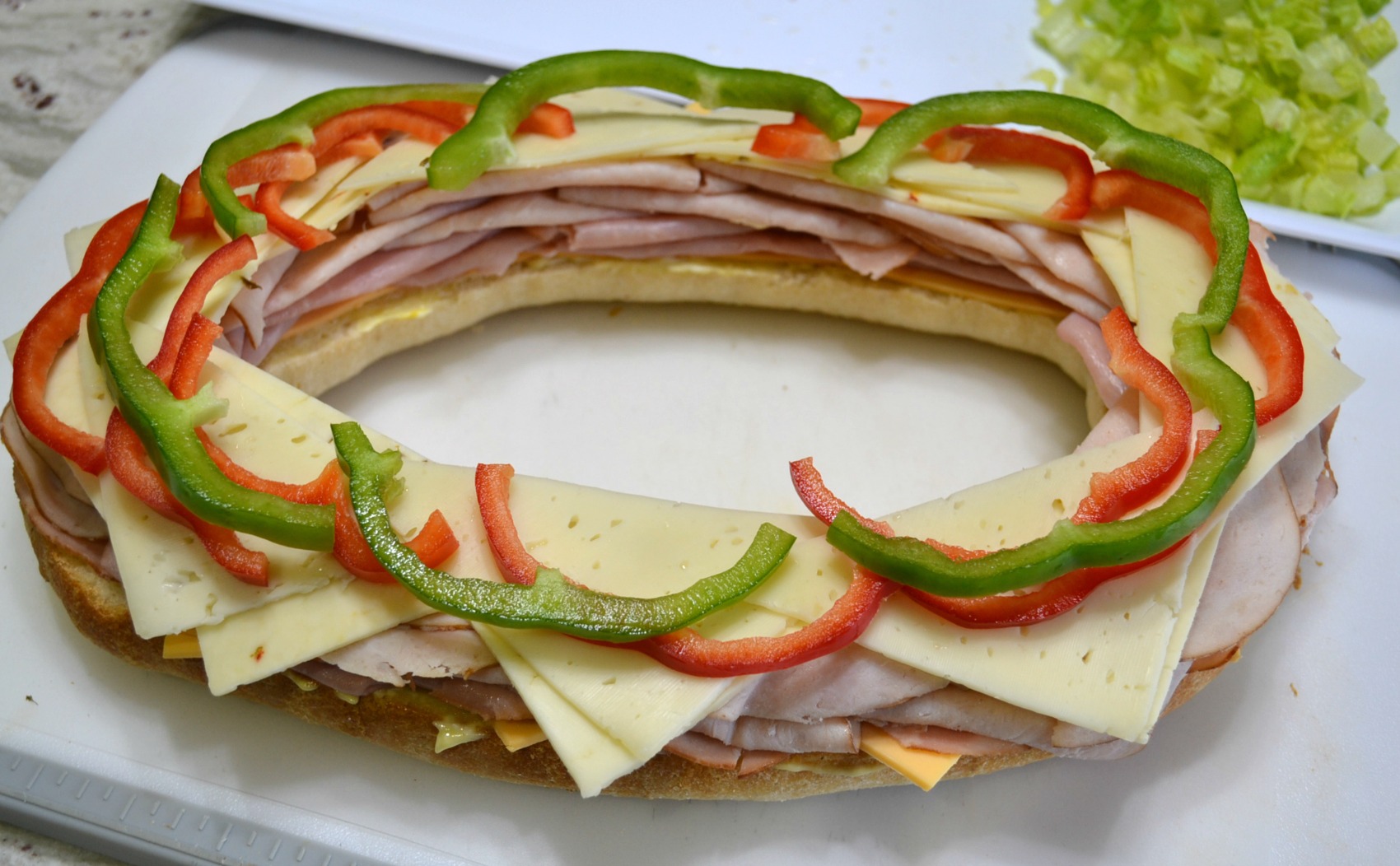 Continue adding meats, cheeses, and veggies.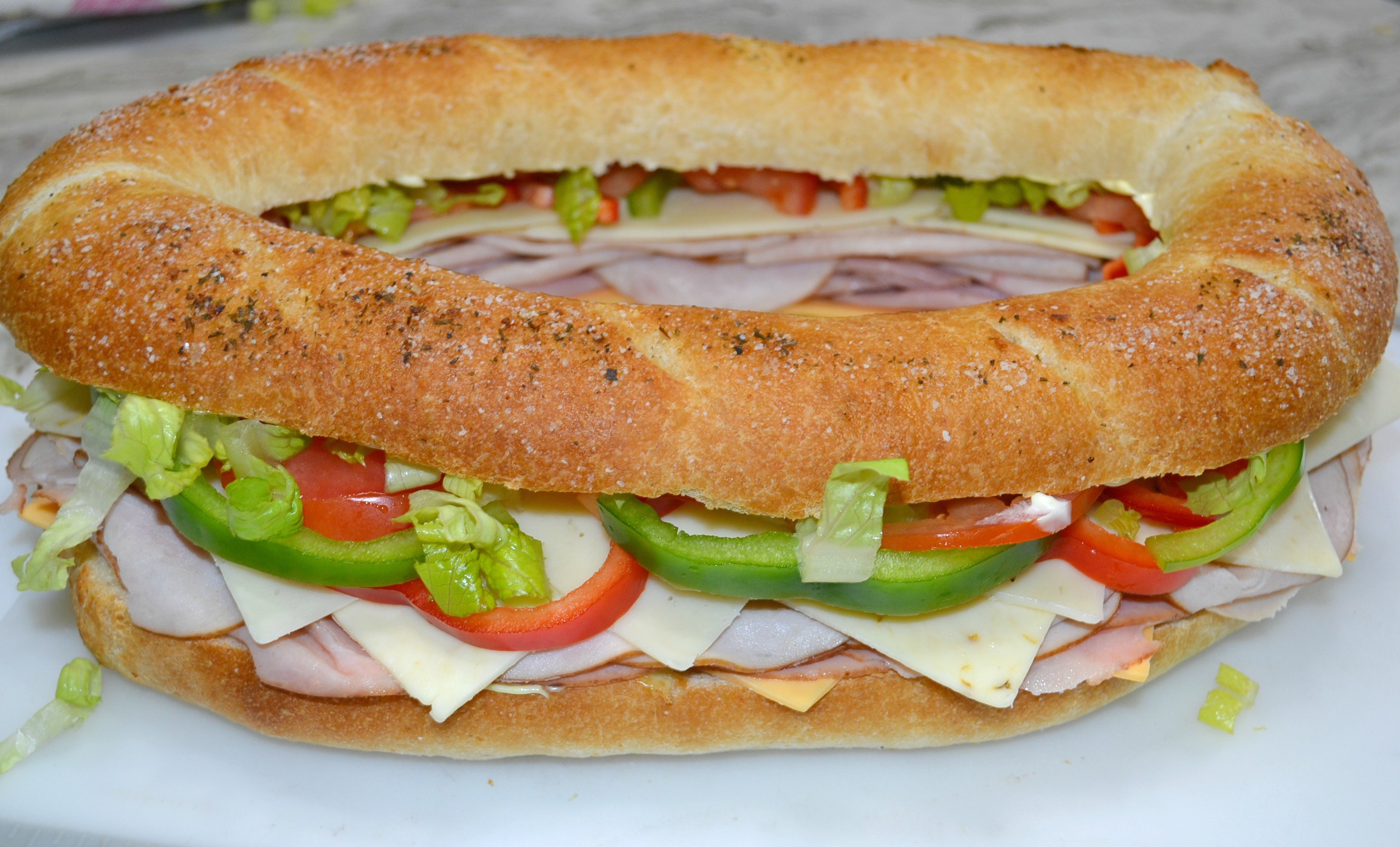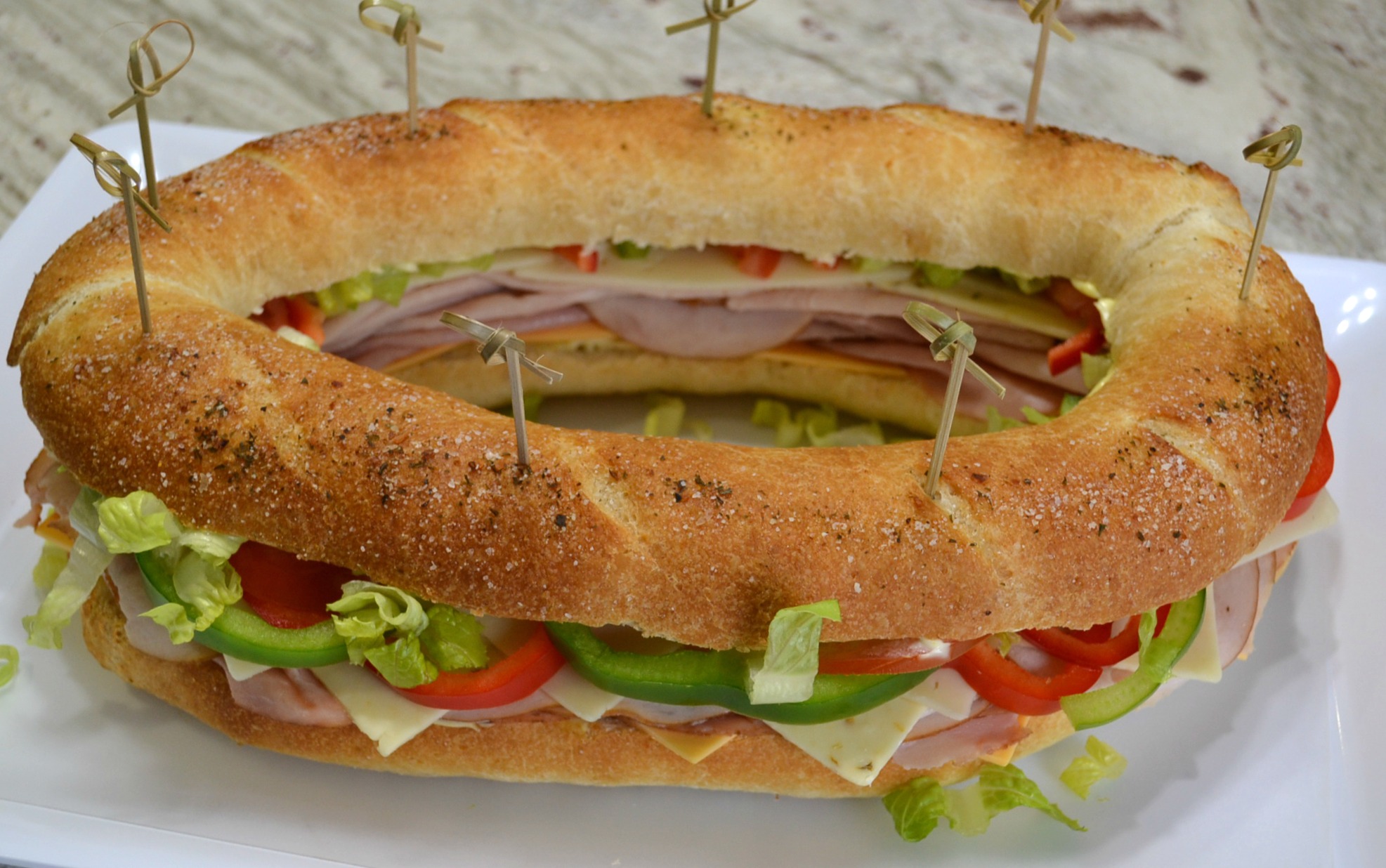 Add the top and place long party picks around it.
At this point I decided that it looked more like a stadium than a football, so that's when I decided to call it the stadium sandwich.
I had placed a clear plastic sheet onto my cutting board that made it easy to transfer sandwich to a serving platter after cutting into wedges.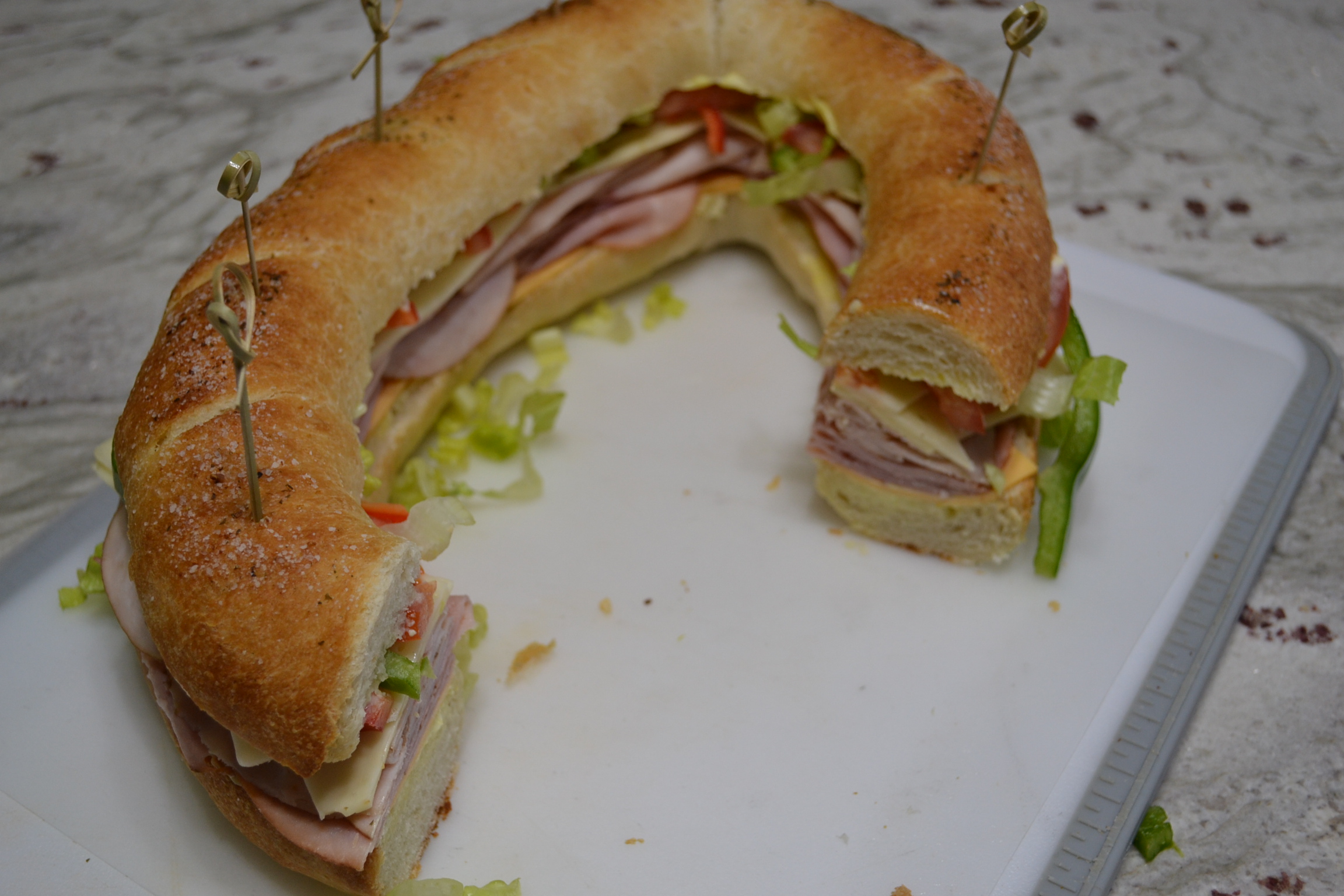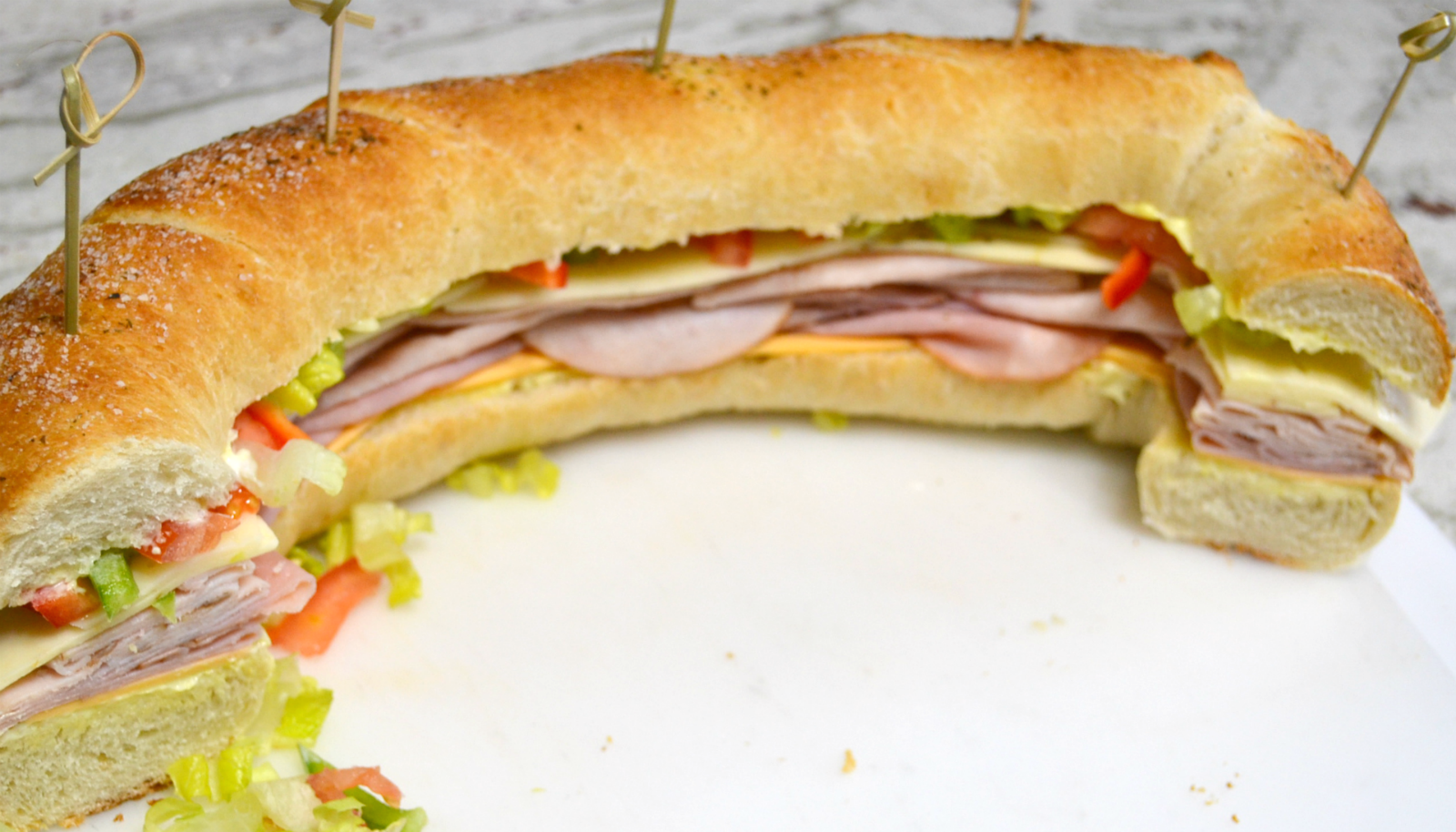 My family stopped by and the giant sandwich starting disappearing quickly.
This Sensational Stadium Sandwich was easy to put together and looked very impressive.  You can use any ingredients that your crowd prefers.  You can also drizzle Italian dressing over the meats and cheese before you put the top back on.   Have fun and enjoy.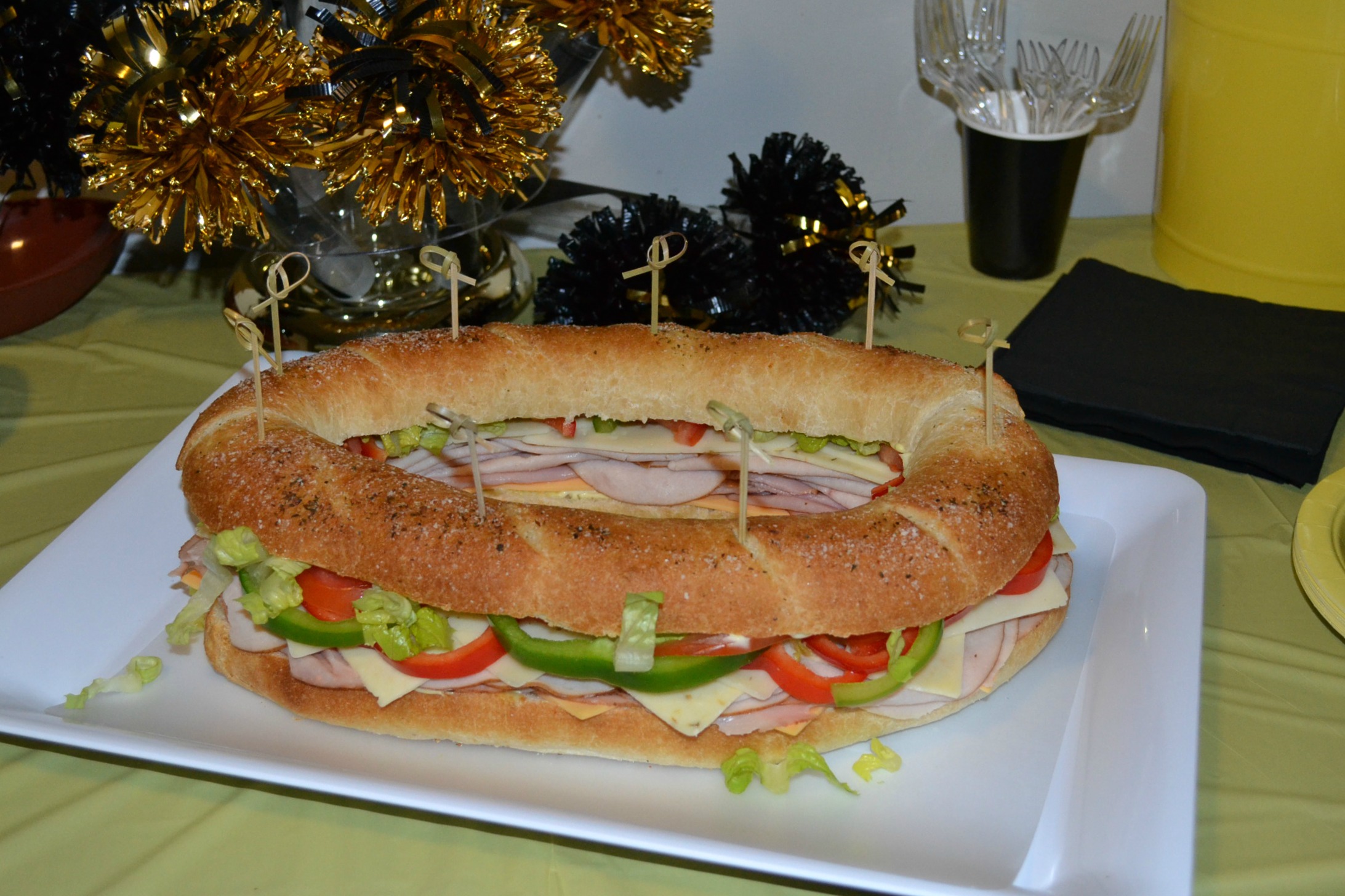 SENSATIONAL STADIUM SANDWICH
Ingredients
2 (11oz) cans refrigerated French Bread Loaf
1 Tablespoon olive oil
1 teaspoon Italian seasoning
1/2 teaspoon garlic salt
3/4 cup mayonnaise
3/4 teaspoon yellow mustard
5 slices American cheese, cut at an angle
1 (9oz) package sliced ham
1 (9oz) package sliced turkey
5 slices pepper jack cheese, cut at an angle
5 slices swiss cheese, cut at an angle
1/2 large green bell pepper, sliced thin and cut in half
1/2 large red bell pepper, sliced thin and cut in half
1 medium tomato, thin sliced and cut in half
2 cups romaine lettuce chopped or shredded
Italian dressing (optional)
long party toothpicks
Instructions
Preheat oven to 350 degrees F. Line a large baking sheet with parchment paper.
Open cans of bread dough and stretch slightly. Place on the center of pan. Connect the 2 rolls at the ends and press dough together. (May do round) Shape dough into a football, oval, shape. Make 5 small cuts around the top of dough with a knife. Brush the olive oil over top. Sprinkle the Italian seasoning and garlic salt evenly over the top.
Bake for about 25 minutes or until light golden brown. Remove from the oven and transfer to a wire cooling rack.
While bread is baking and cooling, prepare the meats, cheeses, and vegetables. Combine the mayonnaise and mustard in a small mixing bowl.
After bread has cooled, slice horizontally with a serrated knife. Lay top aside and place the bottom on cutting board or serving platter. Spread half of mayonnaise mixture on each bread half. Line American cheese around the bottom half of bread. Build layers with the ham, turkey, cheeses, bell peppers, tomatoes, and lettuce. Lightly drizzle with Italian dressing if desired.
Carefully, place top of bread on sandwich. Add long party toothpicks.
Cut into desired size wedges.
This sandwich can be prepared with any combination of meats, cheese, and vegetables. Wrap any leftovers pieces. Refrigerate.
© 2023 Copyright GRANDMA HONEY\\\\\\\'S HOUSE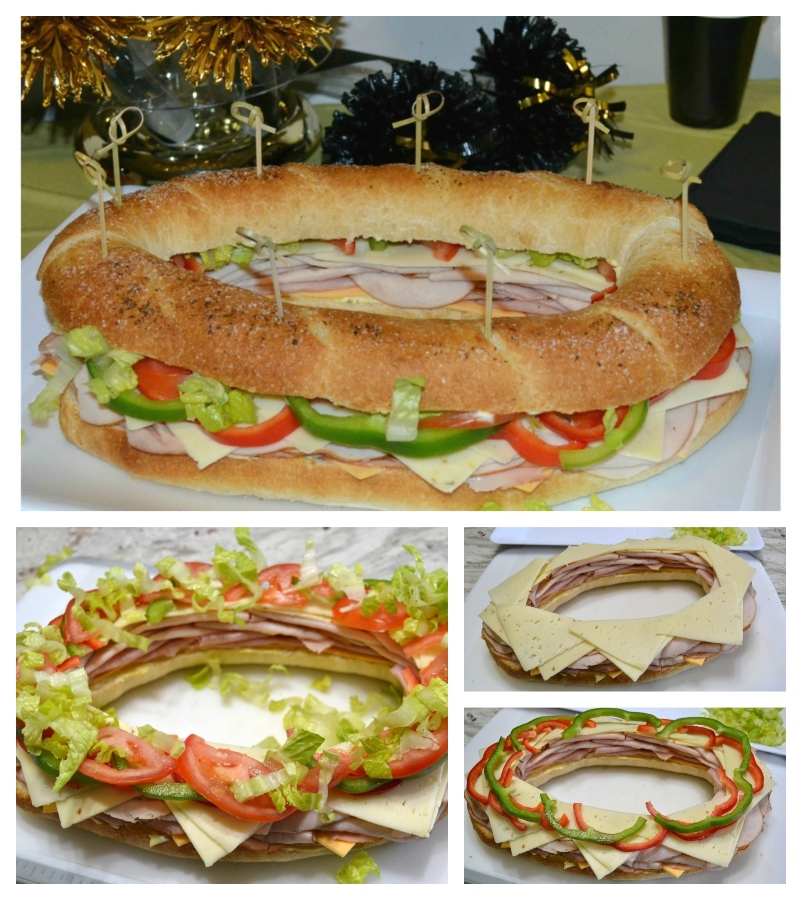 Please follow and like us: