Jump to recipe
These Mini Chicken Bacon Croquettes are a tasty addition to your tailgate party menu.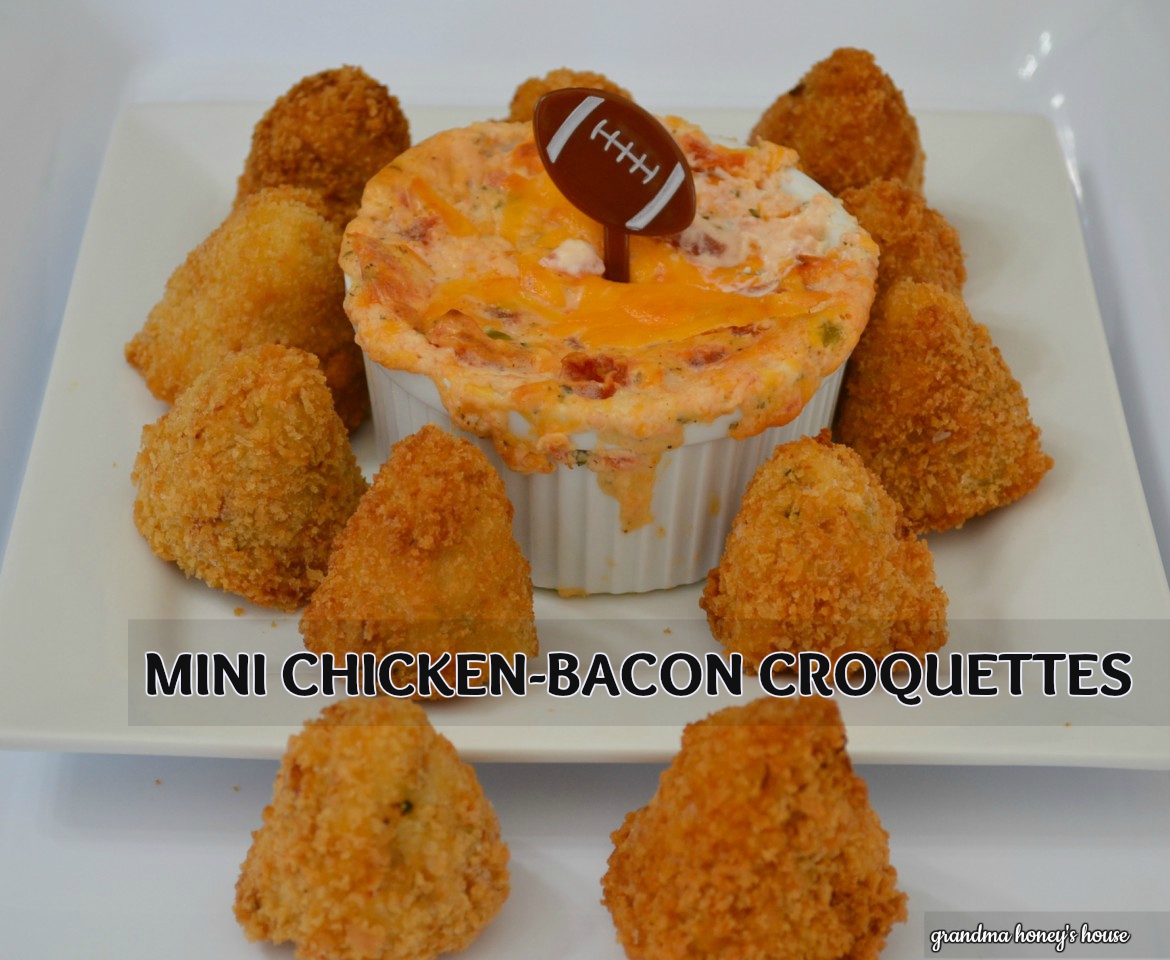 I am always trying to create a new snack to serve when we are watching football.  Last week, I came up with this idea and my family thinks it is a keeper.  Mini Chicken Bacon Croquettes are crispy,  cone shaped  bites filled with a combination of chicken and bacon in a thick white sauce.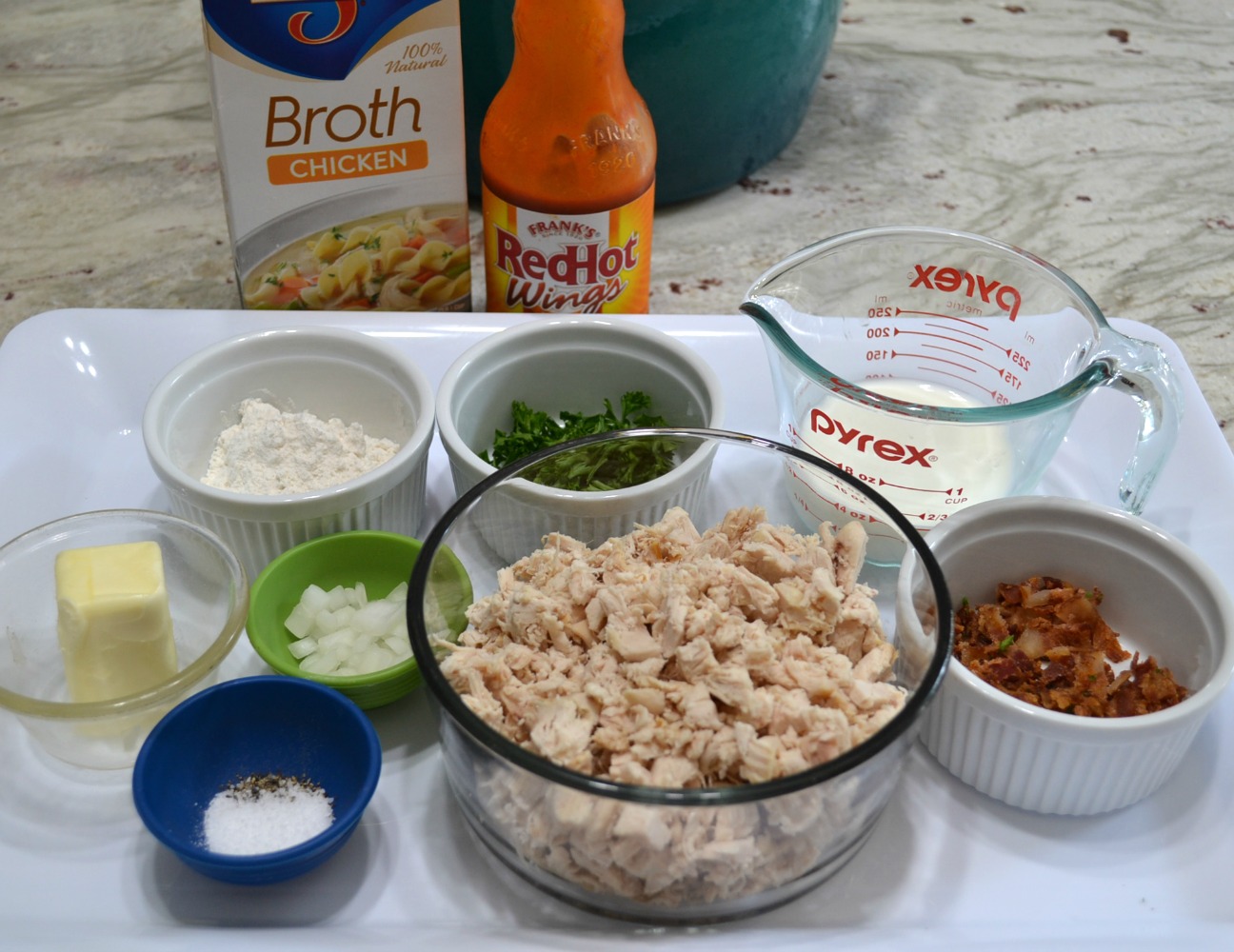 I used a rotisserie chicken, which is so convenient.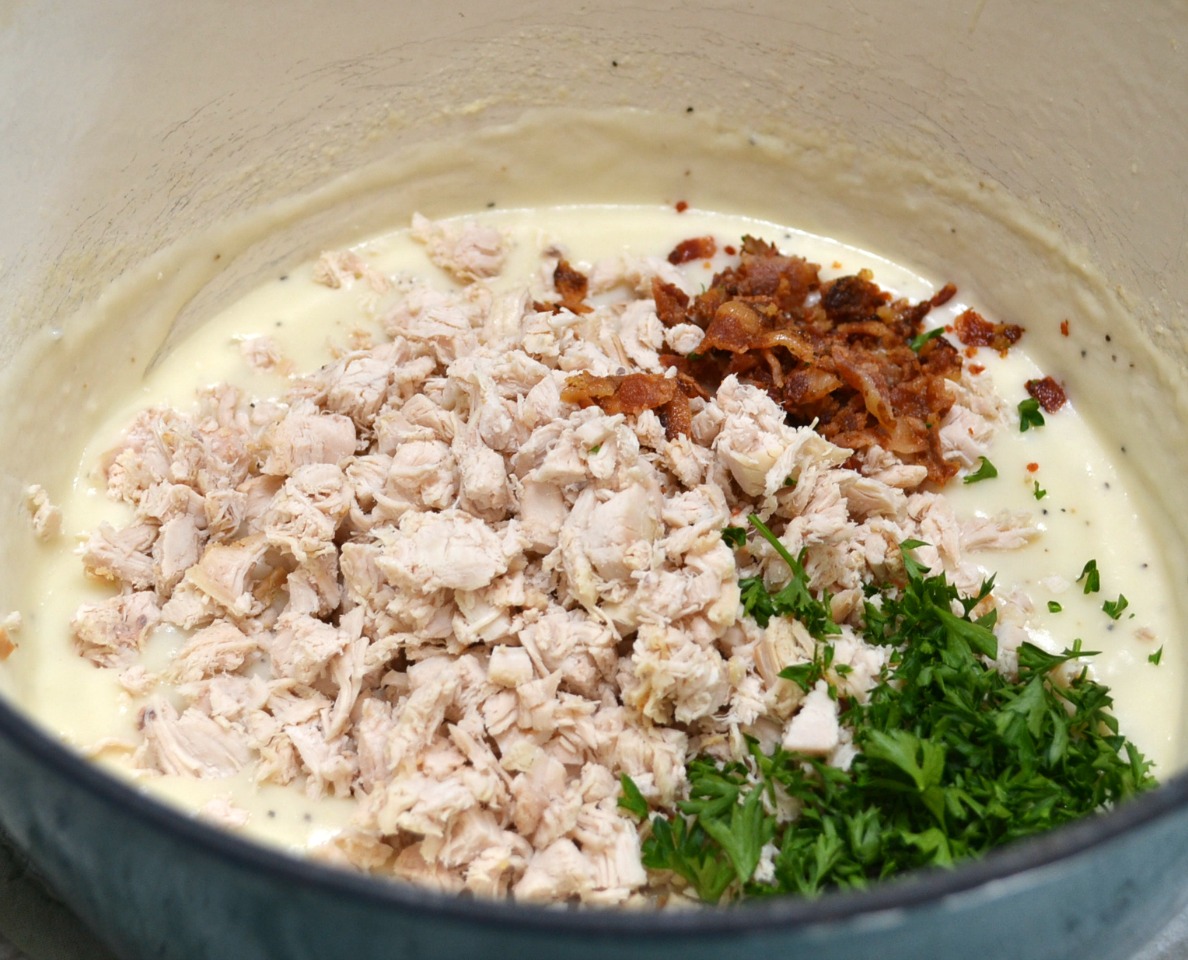 In a large dutch oven, melt the butter.  Whisk in flour, salt,
pepper, and onion.  Add milk and chicken broth.
Remove from the heat. Stir in chicken, parsley, bacon, and buffalo wing sauce.   Transfer to a bowl, cover and chill for at least 3 hours.
Next, set up a dredging station with combination of milk and egg, flour, and panko bread crumbs.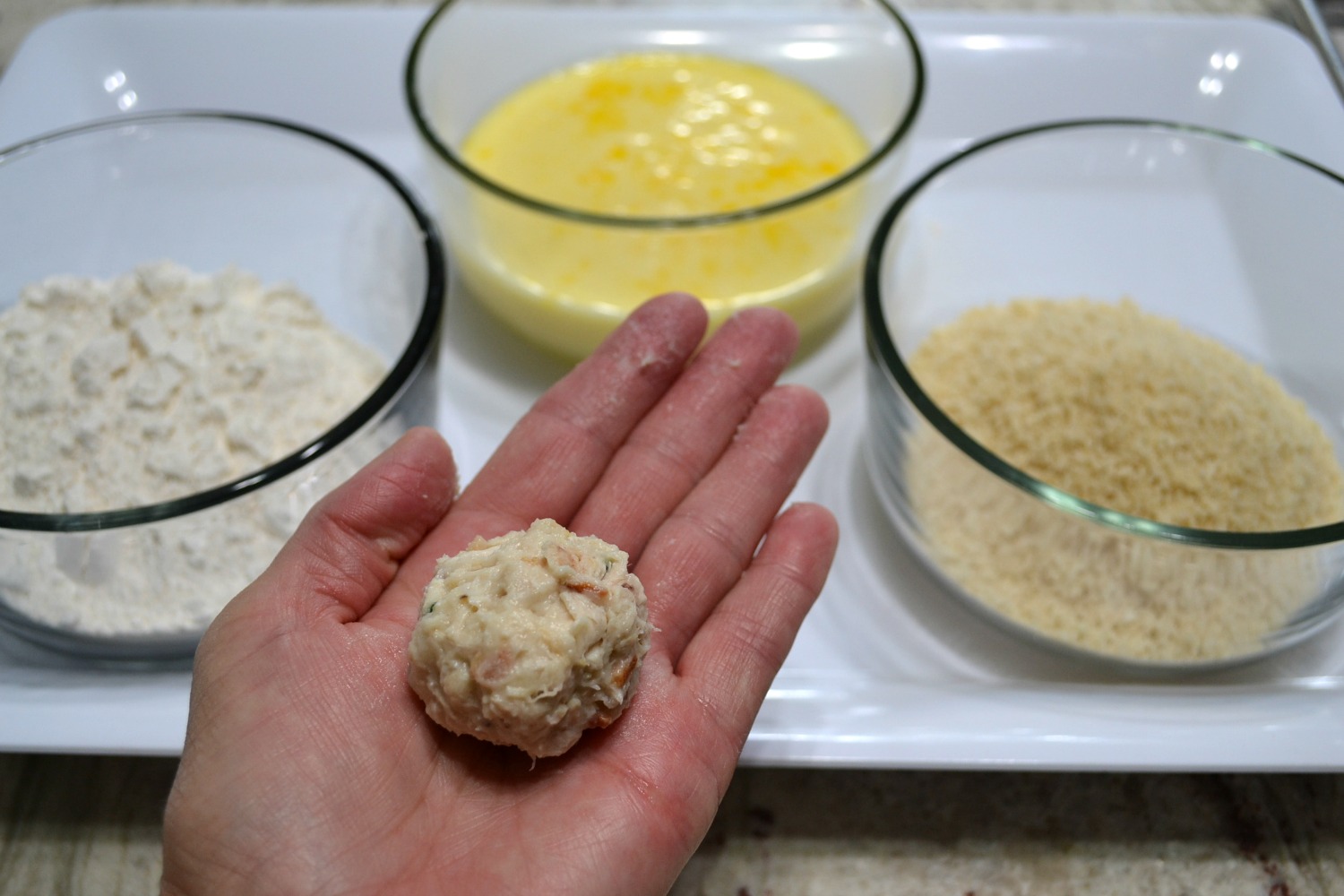 Using a small scoop, shape mixture into equal size balls.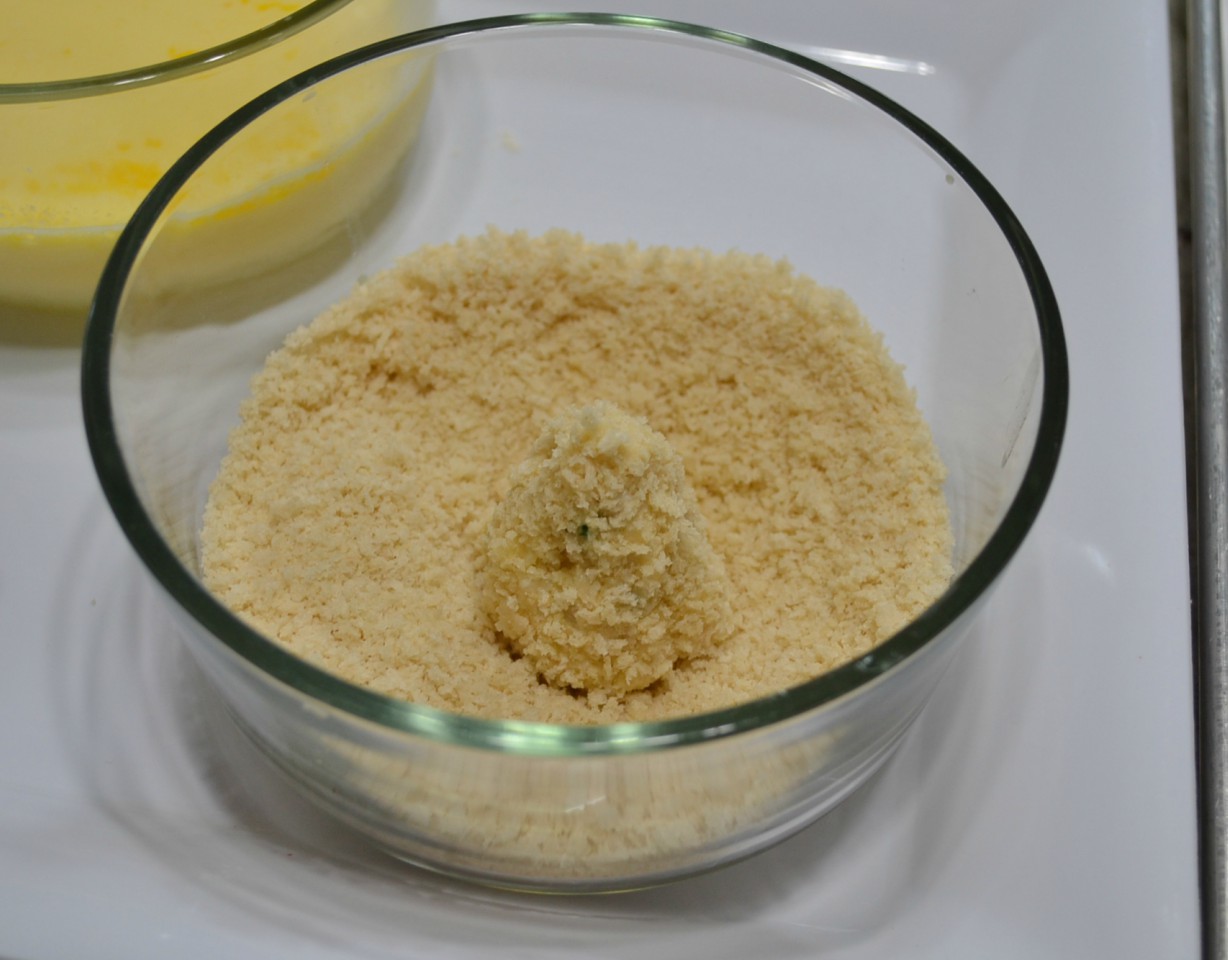 Dip each ball into egg mixture-flour-egg mixture and then
bread crumbs. Form into a cone shape.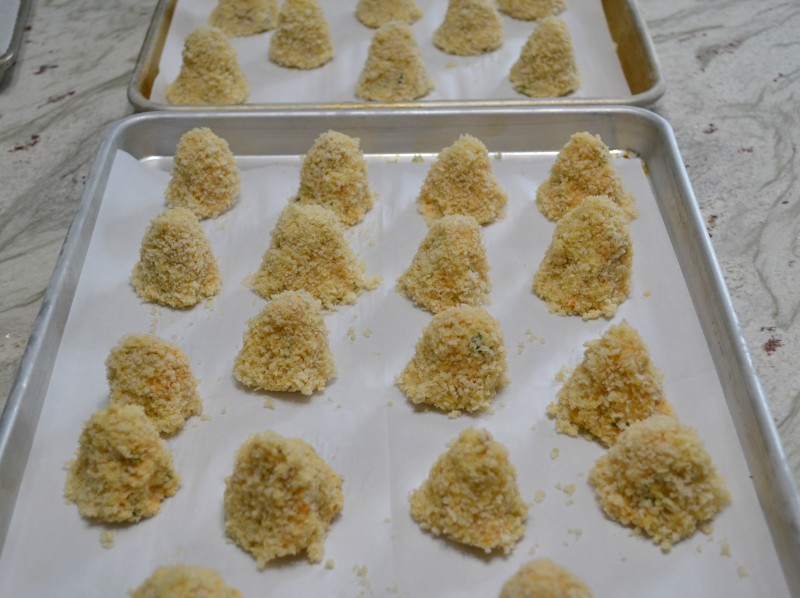 Place cones onto a parchment lined baking sheet.
Heat oil to 350 degrees F.  Fry about 4 or 5 at a time, until
they are crispy.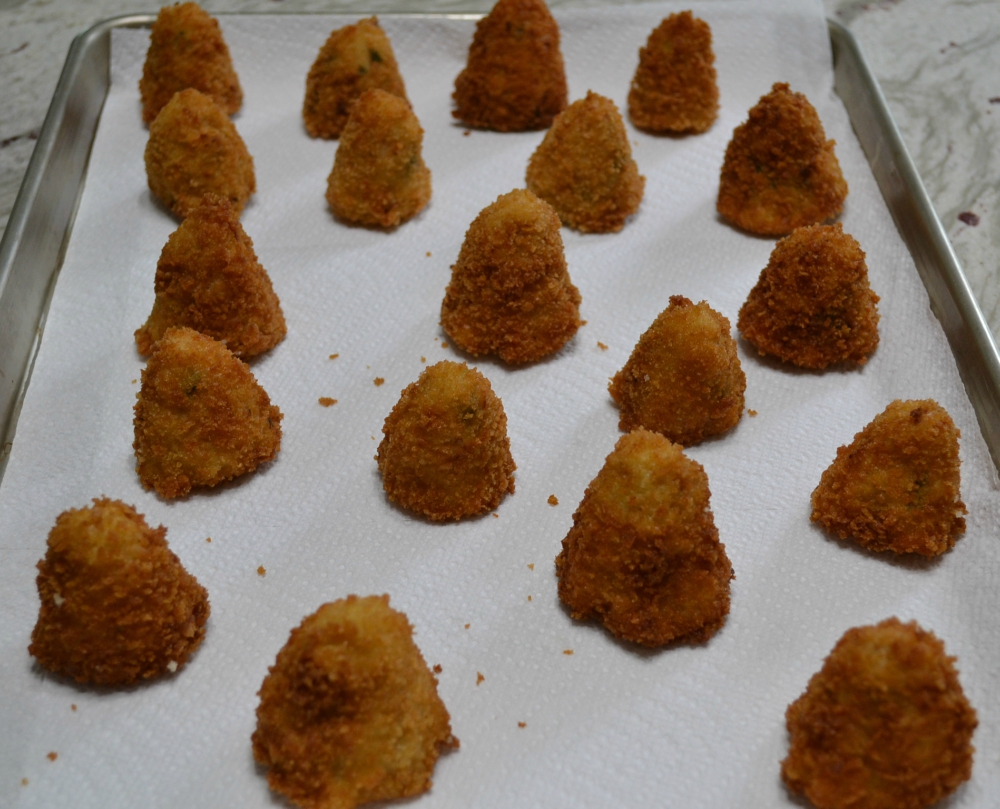 Remove from oil onto paper towel lined pan.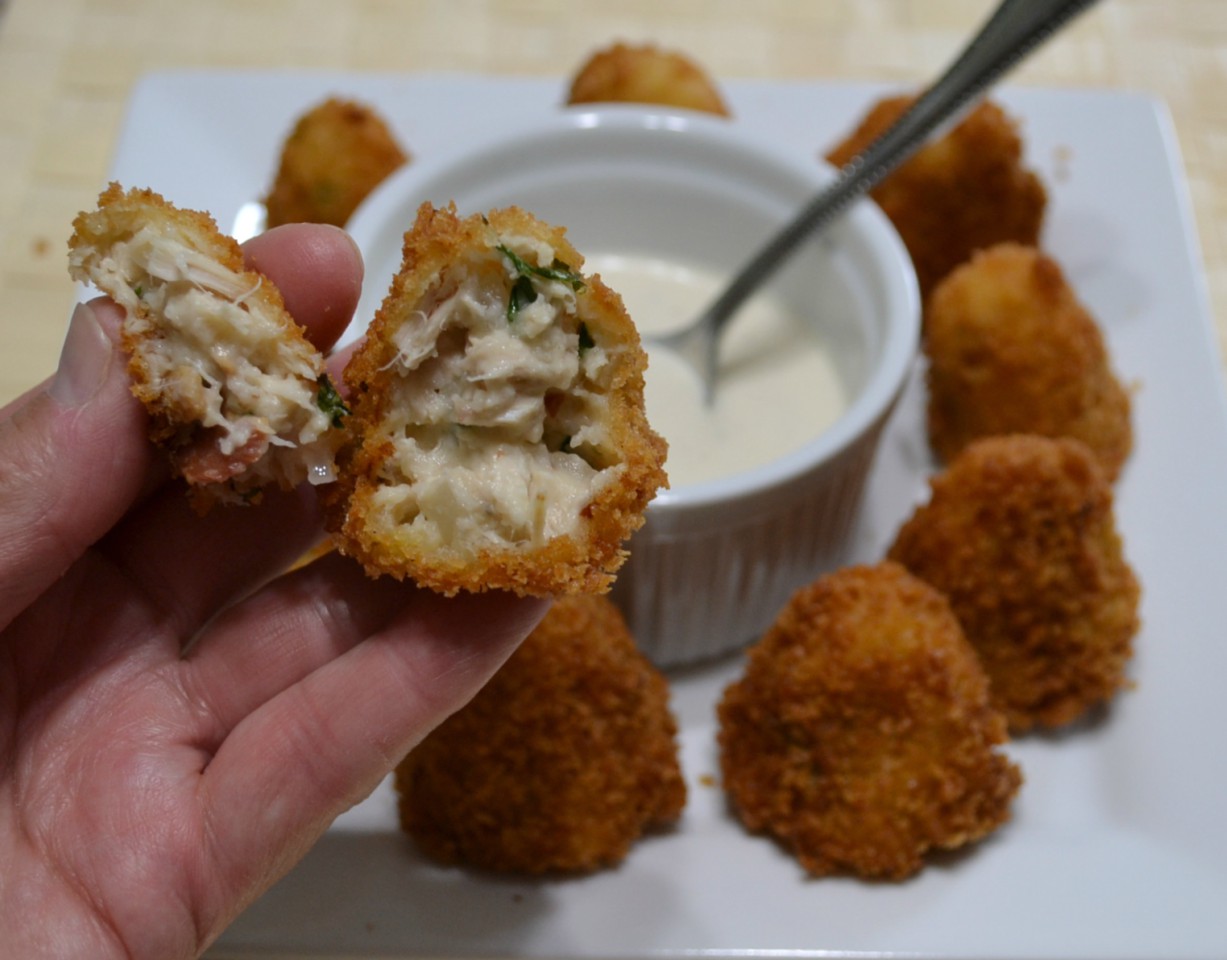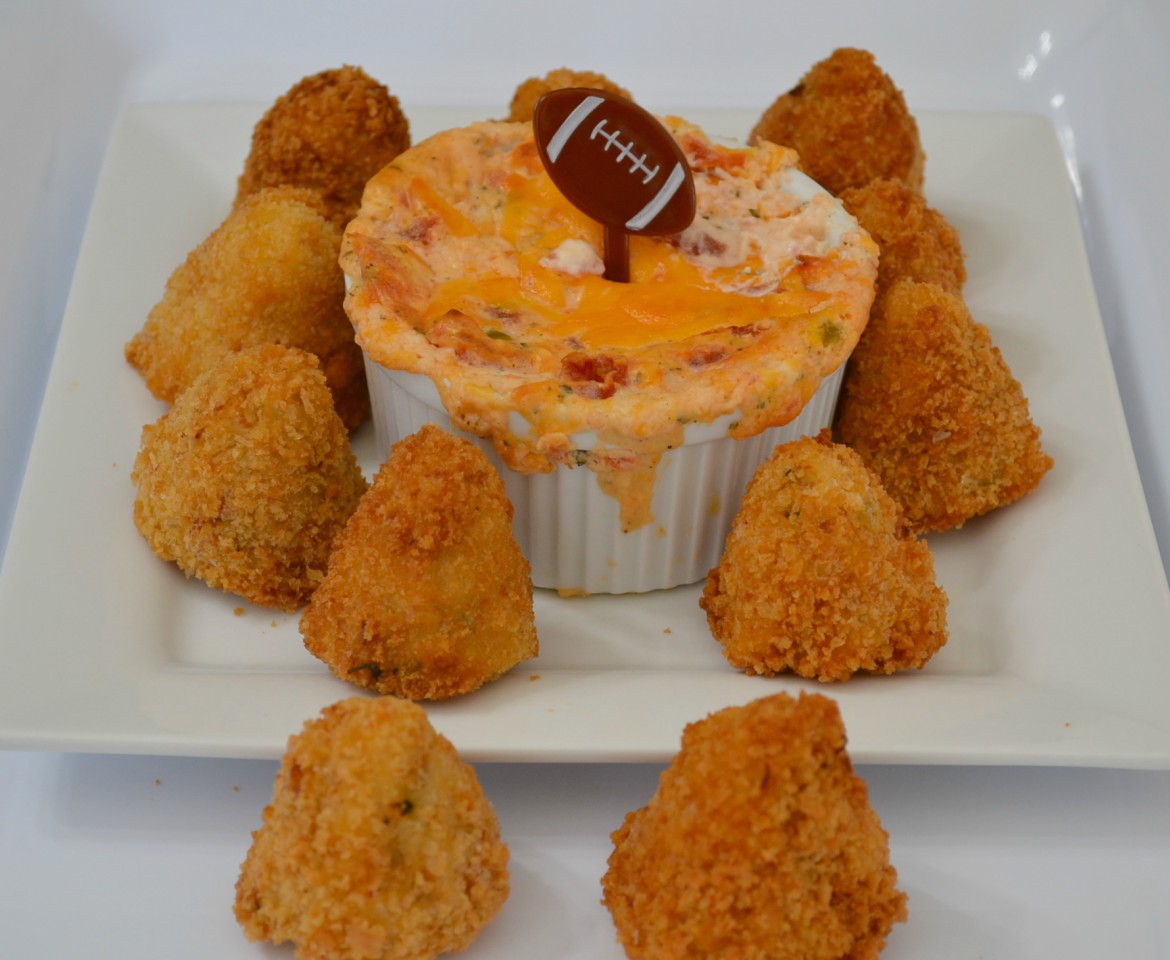 These Mini Chicken Bacon Croquettes can be served with
ranch dressing, honey mustard dipping sauce, or the Rotel
dip I also created for them.
I placed some of these in a Ziploc freezer bag after they were fried and froze them.  They maintained their shape.
To reheat them, I put them in the oven at 375 degrees for about 15-20 minutes, or until hot in the center.
If you want to add more heat, add some diced jalapenos to
the chicken mixture before chilling.
Ro*tel Ranchero Dipping Sauce: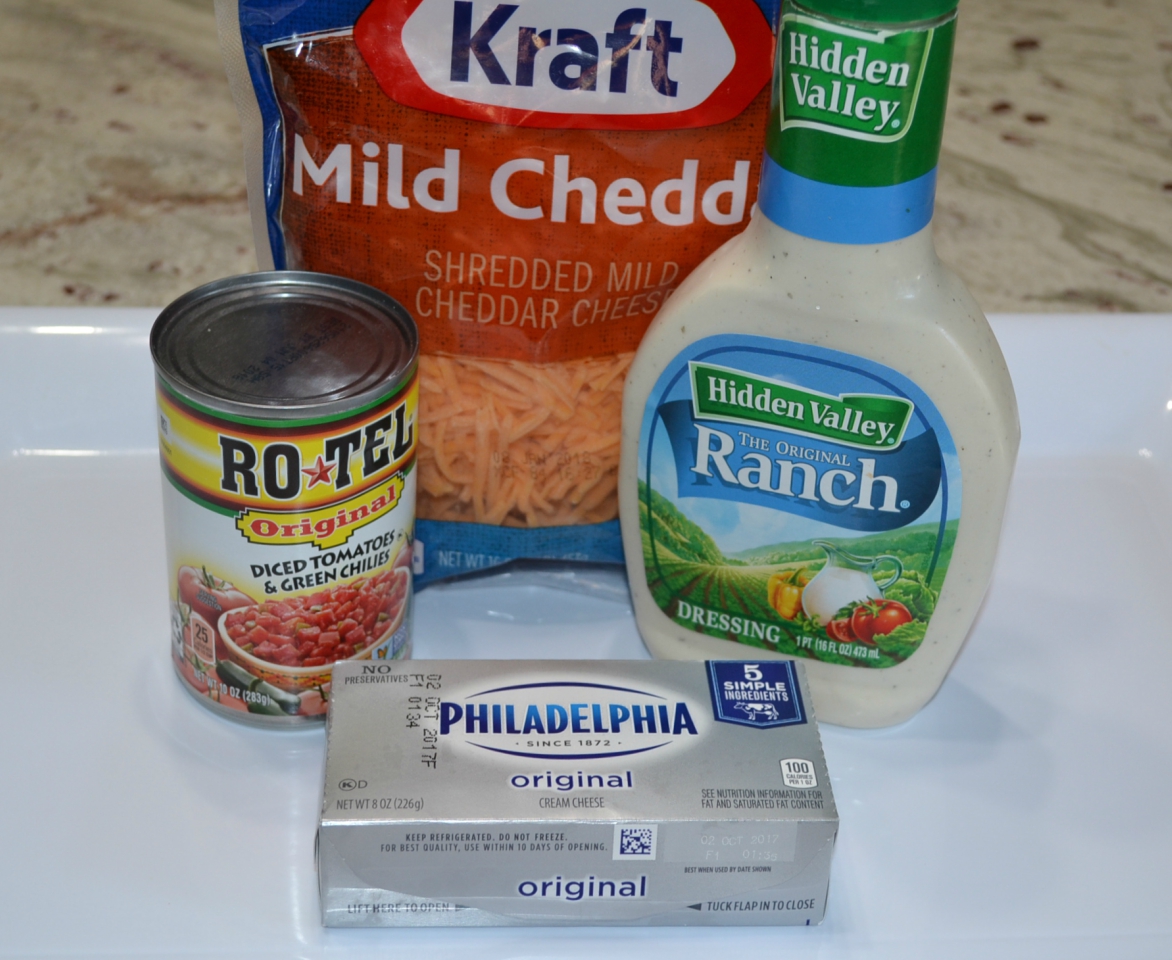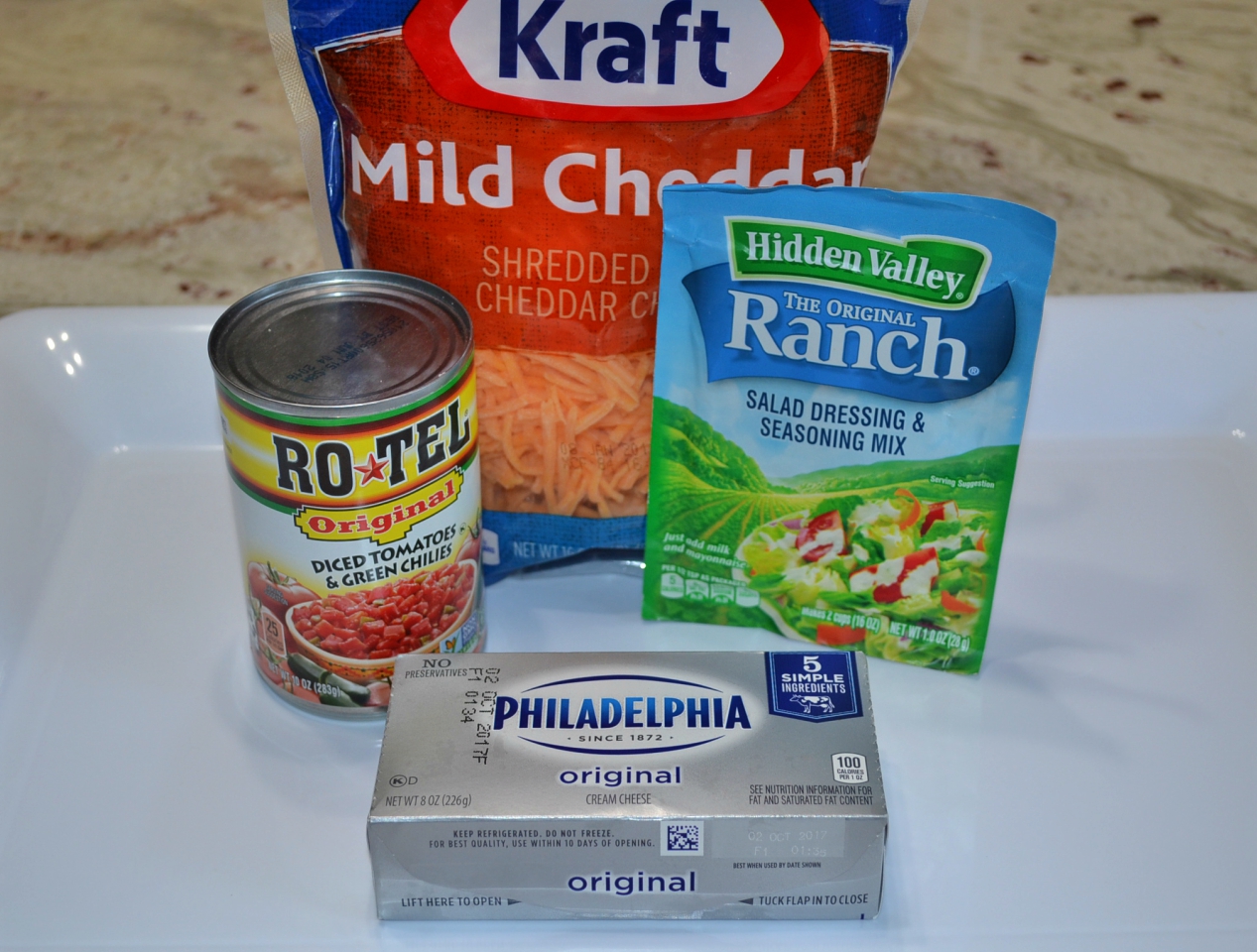 I tested this recipe using Ranch dressing from a bottle vs the dry dressing mix from package, and they both tasted
the same. The dry mix was a thicker dip, so either works.
To make the dip, combine 1/2 cup ranch dressing from jar, or a (1oz) pkg dry mix with 8 oz softened cream cheese with mixer.
Stir in a 10oz can Ro*tel and 1 cup shredded cheddar cheese.  Place in an ovenproof dish. Sprinkle more
cheese on top.
Bake at 350 degrees about 15-20 minutes or until bubbly and cheese is melted.  May also be heated in a crockpot.
MINI CHICKEN BACON CROQUETTES
Ingredients
CROQUETTES:
2 Tablespoons butter
2 Tablespoons flour
1/2 teaspoon kosher salt
1/4 teaspoon coarse black pepper
1 Tablespoon onion, minced
1 cup chicken broth
1/4 to 1/2 cup whole milk
2 Tablespoons fresh parsley, chopped
2-3 cups rotisserie chicken, finely chopped or ground in food processor
4-6 slices bacon, crisp fried and crumbled
2 Tablespoons buffalo wing sauce
jalapeno slices, diced (optional)
Crisco vegetable oil for frying
BREADING:
1 cup milk
2 extra large eggs
2 cups all purpose flour
3-4 cups panko bread crumbs
Instructions
In a large dutch oven, melt the butter. Whisk in flour, salt, pepper, and onion. Simmer over a low heat for about 1 minute, whisking constantly.
Slowly, whisk in the chicken broth and milk until smooth. I start with 1/4 cup of milk. Cook over a medium heat, whisking constantly, until mixture becomes thick and bubbly. Remove from the heat
Stir in the parsley, chicken, bacon and buffalo wing sauce. Mixture should be thick. It will thicken more as it cools. Place in a bowl, cover, and refrigerate for at least 3 hours. May even be done overnight. **(if mixture is too thin to roll into balls after cooling, just add some panko bread crumbs. If it is too thick, stir in a little more of the milk)
Create a breading station. Whisk together milk and eggs in one bowl. Place flour in one bowl. Place bread crumbs in another bowl. (Add additional ingredients to any of the bowls if needed. I ran low on panko the first time I made these)
Line baking sheets with parchment paper.
Using a small scoop, or spoon, shape chicken mixture into small balls. I used a scoop that gave me the size of a 2 bite croquette. Roll a ball of chicken mixture into egg mixture, then flour, back into egg, and then into bread crumbs. This is where I shaped them into cone shapes and rolled again in the crumbs. Place cones on the parchment paper. Repeat with each croquette. Refrigerate or place in freezer if not frying immediately.
Heat desired amount of vegetable oil in a pan for frying. Temperature should be 350 degrees F.
Carefully, add about 4 or 5 croquettes at a time. I flipped them around with a large spoon. Fry until they are golden brown and crispy. Remove from the oil onto a paper towel lined tray.
Serve hot. May be re-heated in oven if needed.
Serve with your favorite dip. They are great with a ranch or honey mustard dip.
Number of servings will depend on size you make them. I got about 36.
© 2023 Copyright GRANDMA HONEY\\\\\\\'S HOUSE
Please follow and like us: