Jump to recipe
I am sharing some side dish recipes this week that our family enjoys.  Old Fashioned Scalloped Potatoes is one of their favorites.
I have been making this recipe for Old Fashioned Scalloped Potatoes at least 50 years.  This is a  basic recipe that  other ingredients can be added to for some variety.  I have added ham chunks, diced garlic, or crumbled, crispy bacon in the past.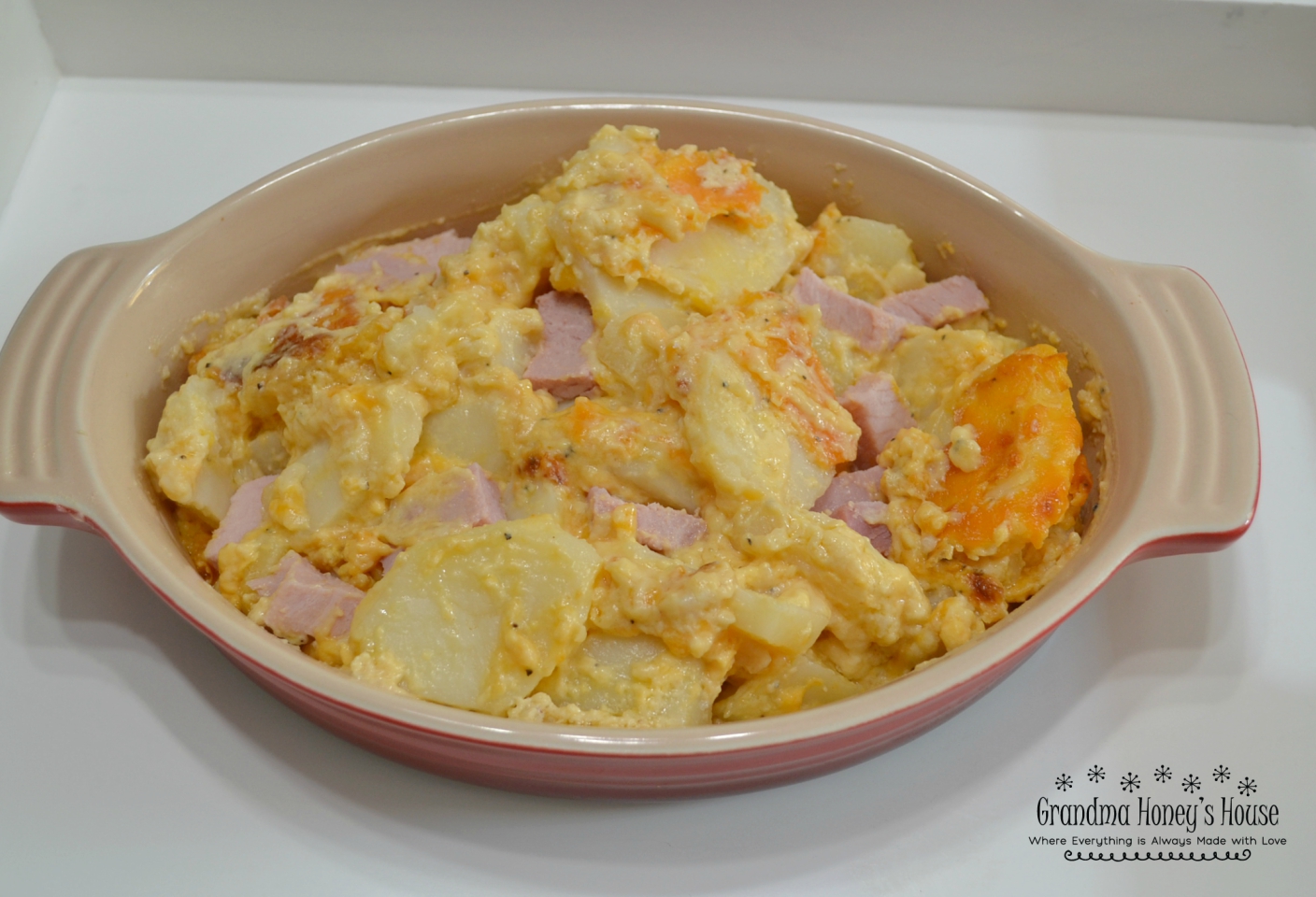 This dish is by no means a low calorie, low carb or healthy one, but everyone enjoys it on a special occasion.
One of my daughters has to eat gluten-free, so when I know that she will be eating them, I can use gluten free flour.
This recipe is great to take to a covered dish dinner because it serves many people, it can be prepared a day ahead of time and baked on the day of serving.
Wash and peel the potatoes.  Slice into thin slices.
Prepare the sauce first by melting the butter, whisking in the flour, half-and-half, milk, salt and pepper.
Add the Velveeta, lower heat to low, stir frequently
until it is melted.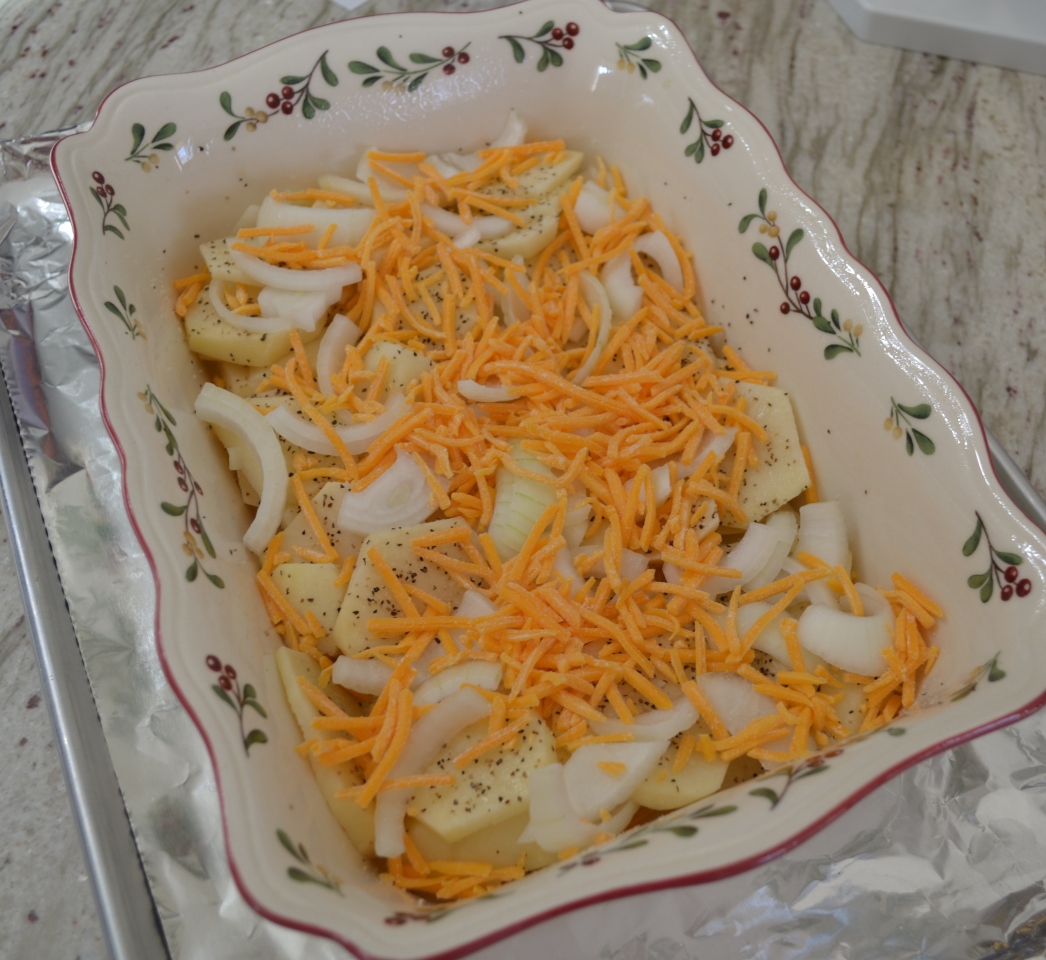 Layer potatoes, onions, seasonings and a sprinkle of cheddar cheese.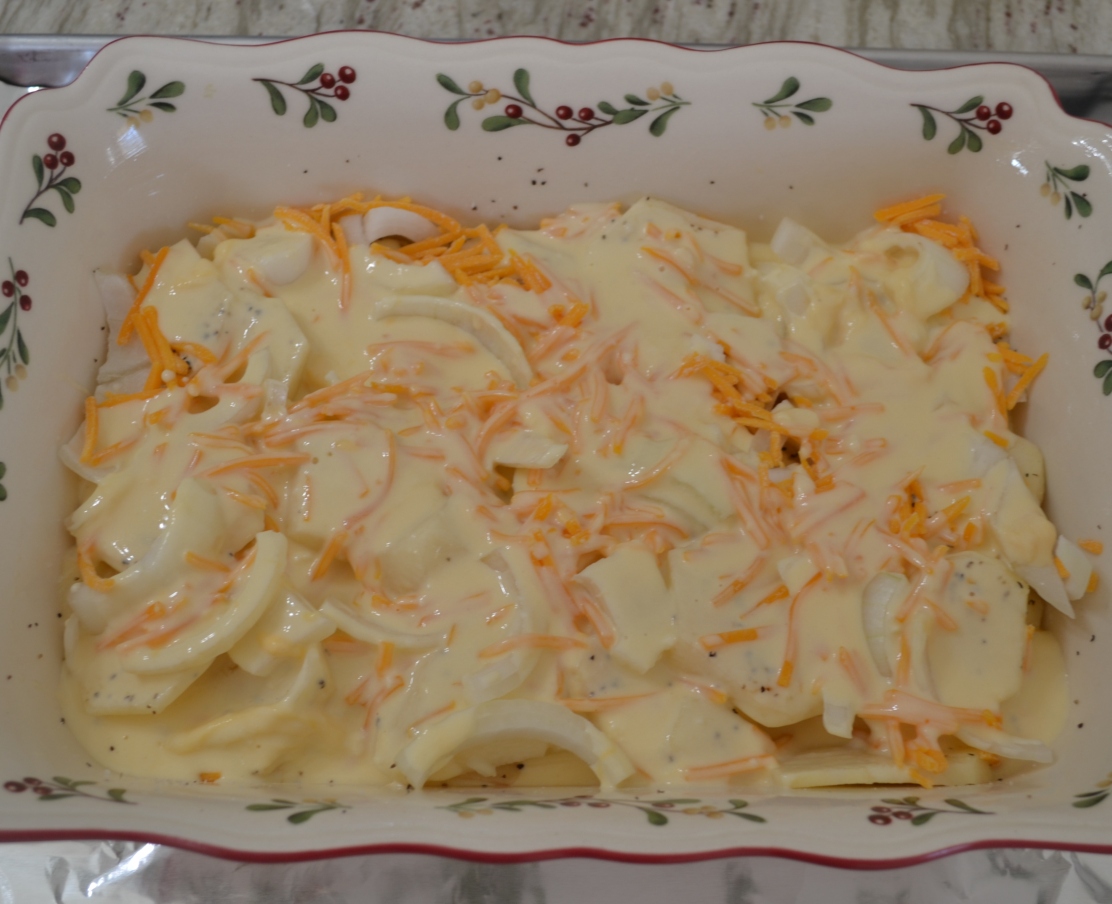 Cover with half of the cheese sauce.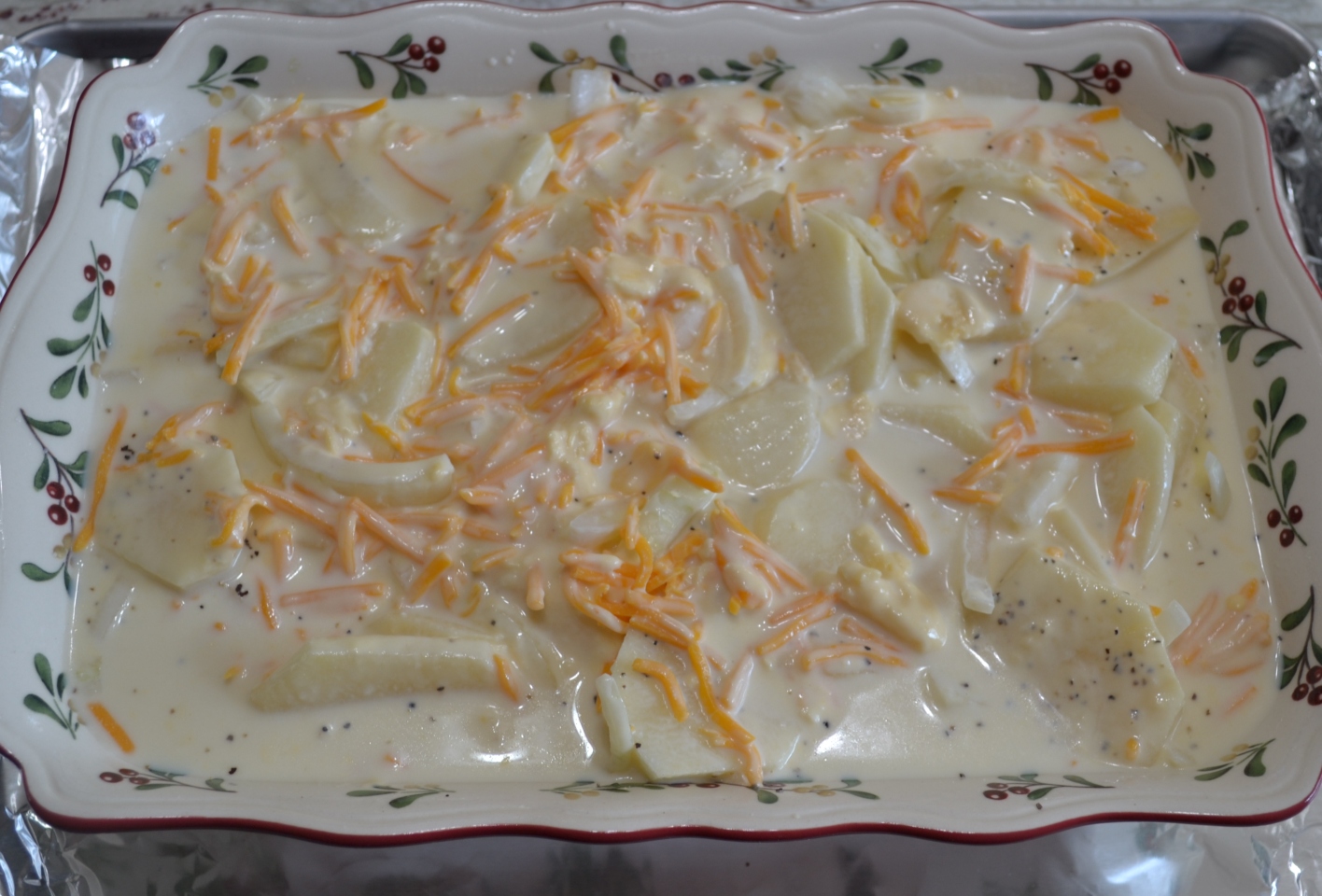 Add remaining layer of the same ingredients.  Top with
remaining cheese and cheddar cheese.     Bake
This recipe was shared on Week-end Potluck @Sweet Little Bluebird
OLD FASHIONED SCALLOPED POTATOES
Ingredients
5 Lbs white potatoes, peeled and washed
4 Tablespoons butter
1/4 cup flour
2 cups half-and-half
2- 2 1/2 cups whole milk
8 oz Velveeta Cheese
1/2 medium size onion diced
1 teaspoon kosher salt, or to taste
1/4 teaspoon black pepper, or to taste
2 cups shredded cheddar cheese
1/2 cup shredded parmesan cheese
1 cup ham cubes (optional)
6 slices crisp bacon, crumbled (optional)
2 cloves diced garlic (optional)
Instructions
Preheat oven to 350 degrees F. Spray a large baking pan with no stick cooking spray. ( I use the disposable aluminum pans if transporting to an event).
Cut potatoes into thin slices; set aside in cold water.
In a large dutch oven or saucepan, melt the butter. Whisk in the flour until smooth. Slowly,add the half-and-half then milk, whisking constantly until well combined. Add the Velveeta. Allow to cook over low heat until mixture is thickened and cheese is melted, stirring constantly. Remove from the heat.
Drain water from potatoes. Arrange half of the potatoes in the pan. Season with salt and pepper. (Add any optional ingredients like garlic, bacon or ham). Add half of the onion slices and 3/4 cup shredded cheddar cheese. Pour about half of the milk/cheese sauce over the potatoes.
Repeat with remaining potatoes, onions, salt & pepper, 3/4 cup shredded cheddar cheese. Top with remaining milk/cheese sauce.
Cover with aluminum foil (sprayed with no stick spray). Bake about 1 to 1 1/2 hours until potatoes are tender. Remove from oven. Remove foil, sprinkle the remaining cheddar cheese and the parmesan cheese over the top. Bake about 15-20 minutes until cheeses are melted.
***if cheese sauce seems too thick, add additional milk to thin** I start with 2 cups of the milk and increase amount after that.
© 2023 Copyright GRANDMA HONEY\\\\\\\'S HOUSE
Some other great old family side dish recipes are:
BAKED BEANS AND WIENERS
BAKED SWEET POTATOES IN BROWN SUGAR SYRUP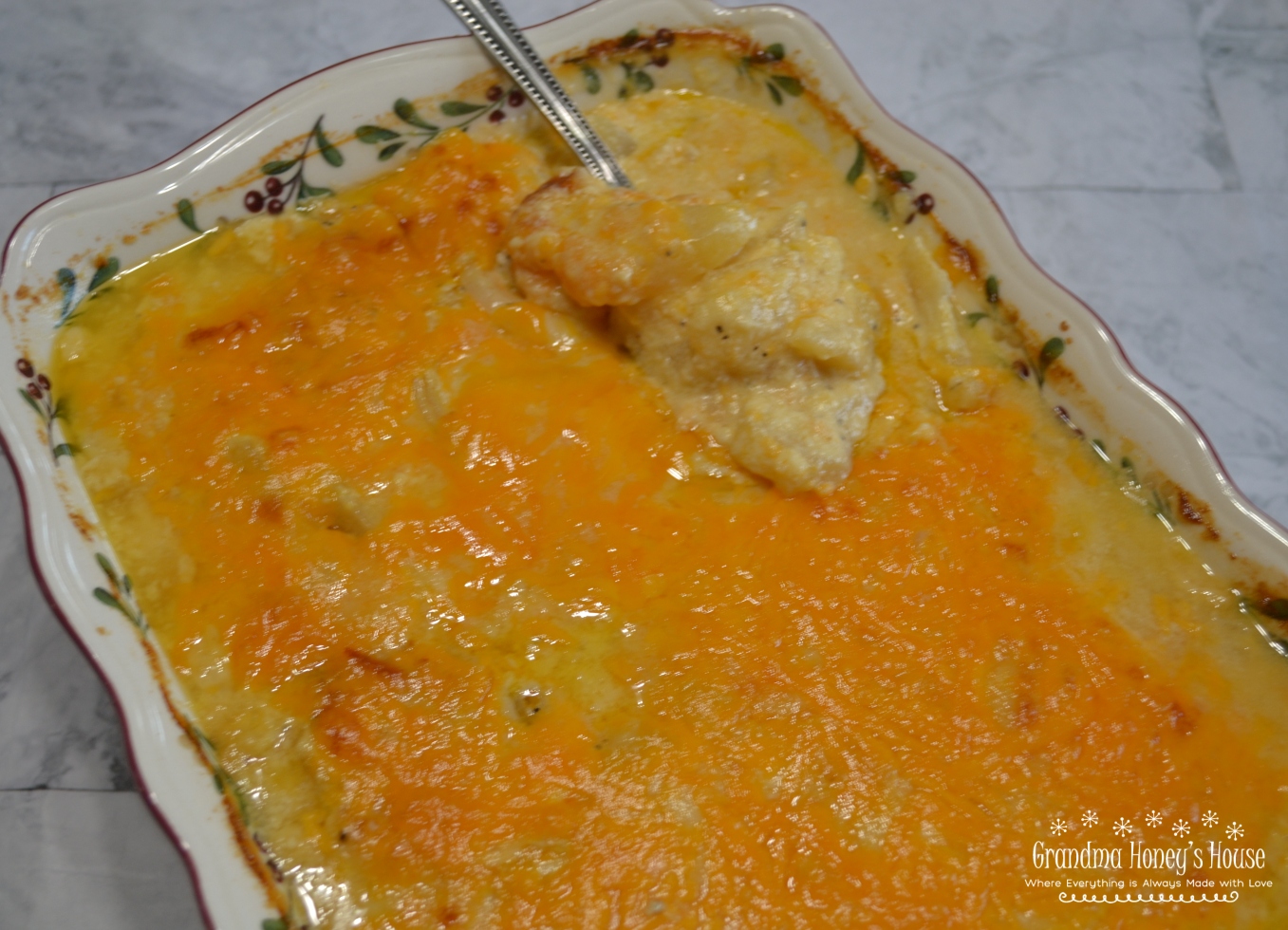 Please follow and like us: