Jump to recipe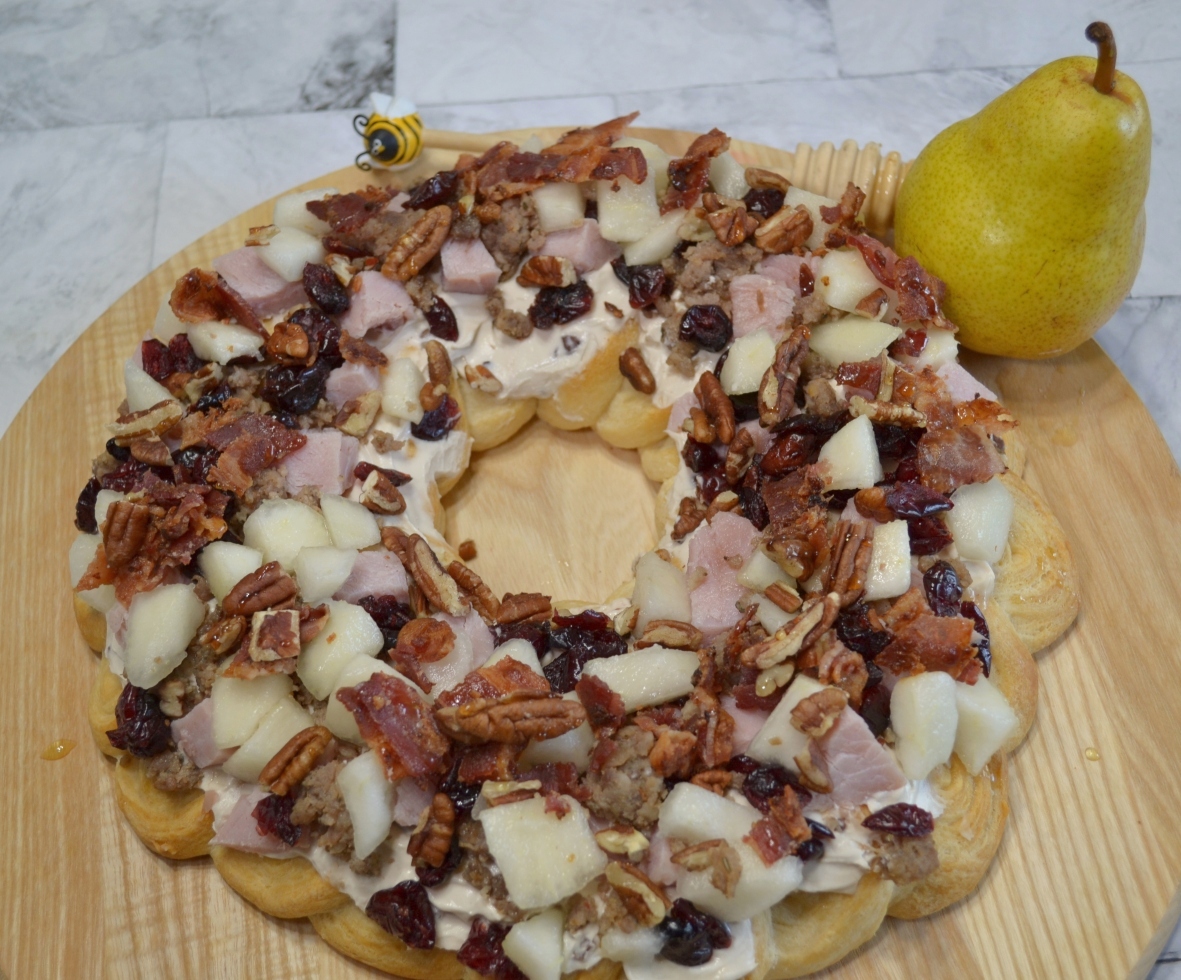 Holiday Pear Appetizer Wreath
This Holiday Pear Appetizer Wreath begins with a crescent dough crust in the shape of a wreath, and covered with a honey pecan cream cheese spread.  It is then loaded with sausage, ham, pears, cranberries, bacon, pecans, and drizzled with honey. So perfect to serve at your upcoming holiday events!
I am one of the lucky bloggers chosen to compete in the USA PEARS BLOGGER RECIPE CHALLENGE.  It has been so much fun researching, creating, and taste testing different ideas to submit.  My husband and I were totally in love with the flavor combinations on this pear wreath.
While doing some research, I learned that there are 10 varieties of Northwest  Pears.  For my recipes, I chose to use the Bartlett and the Anjou. They are sweet, juicy, and the Anjou has a hint of citrus taste. Pears are so versatile and are used in appetizers, salads, side dishes, baked goods and just eaten fresh.
Pears go with so many other ingredients that I could not decide what to put on my wreath, so I loaded it with all of the ones I wanted to try. This appetizer came together so easy.
How To Make a PEAR Appetizer Wreath:
Open 2 cans of refrigerated crescent dough sheet, but do not unroll.  Cut each into 16 equal size slices. Place a small, round ramekin in the center of a round baking sheet.  Arrange the first layer of dough around the dish in a clockwise pattern, with edges slightly overlapped. Use 12 of the slices.Next, open and slice the second can of crescent dough into 16 slices.Arrange the 20 slices in a counter clockwise patter around the first ring. Edges should be slightly overlapped
Remove the ramekin. Bake until crust is light golden brown. Remove pan  from oven to a cooling rack for 20 minutes. Run a long sharp knife under the bottom of crust and slide carefully onto a wire cooling rack. Transfer cooled crust to a serving platter.
Prepare the toppings while the crust is baking and cooling. Peel and dice the pears, drizzle lemon juice over them, and stir to cover. Drain if necessary when ready to add pears to spread.
Spread the cream cheese spread over the crust with on offset spatula, leaving some of the crescent edges showing.
Arrange the toppings over the cream cheese. Drizzle with honey. Refrigerate until ready to serve.
May garnish center with a fresh pear, an LED candle or other holiday themed items.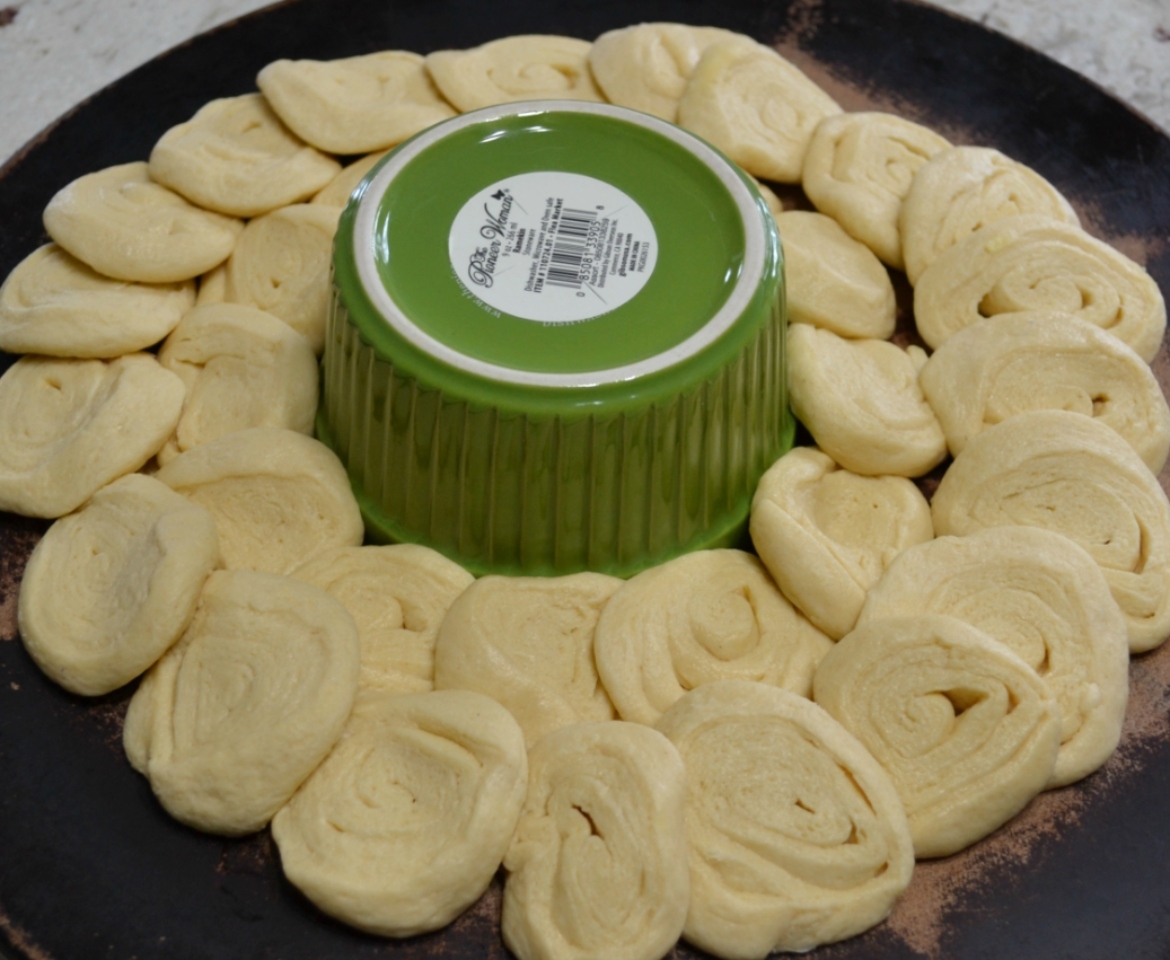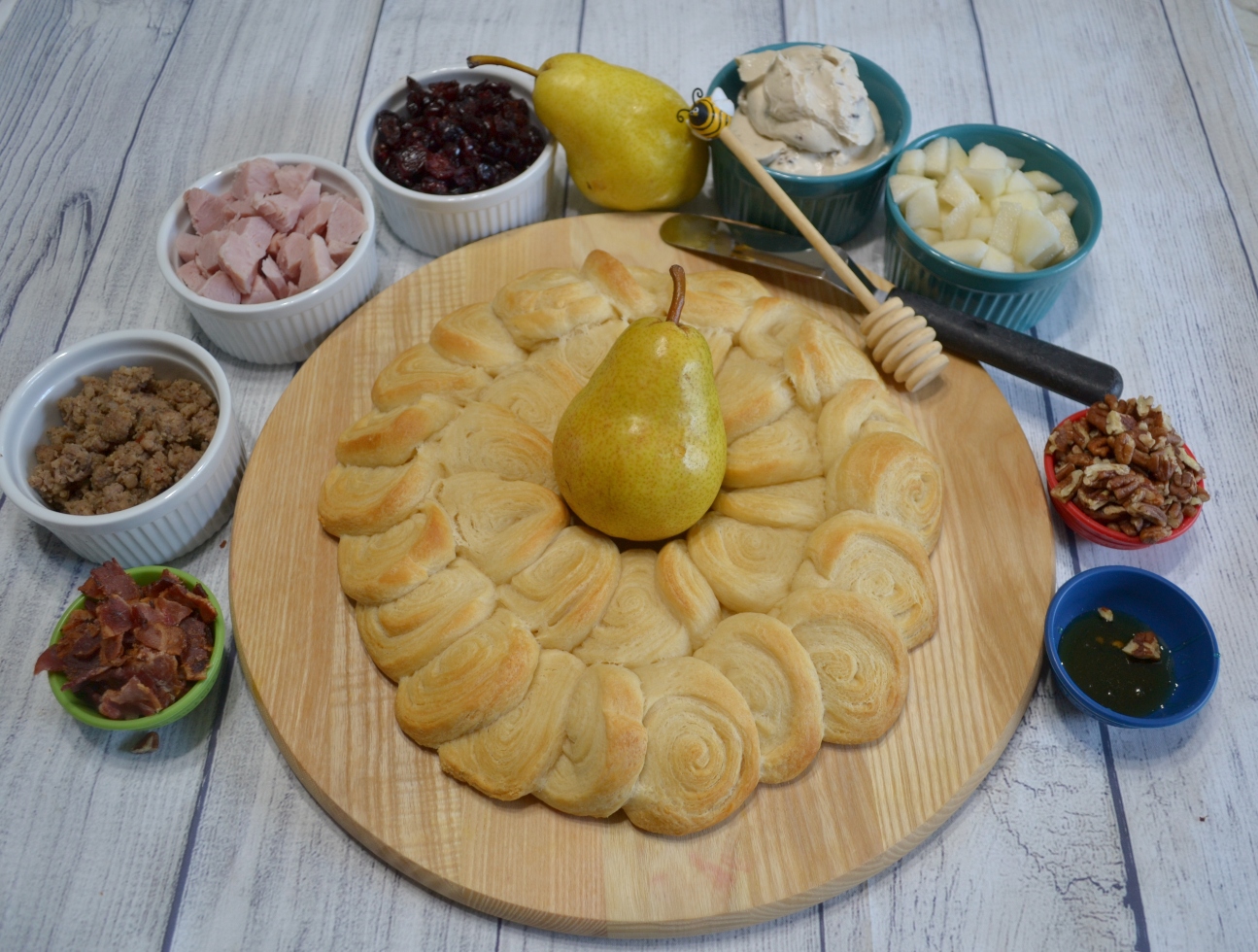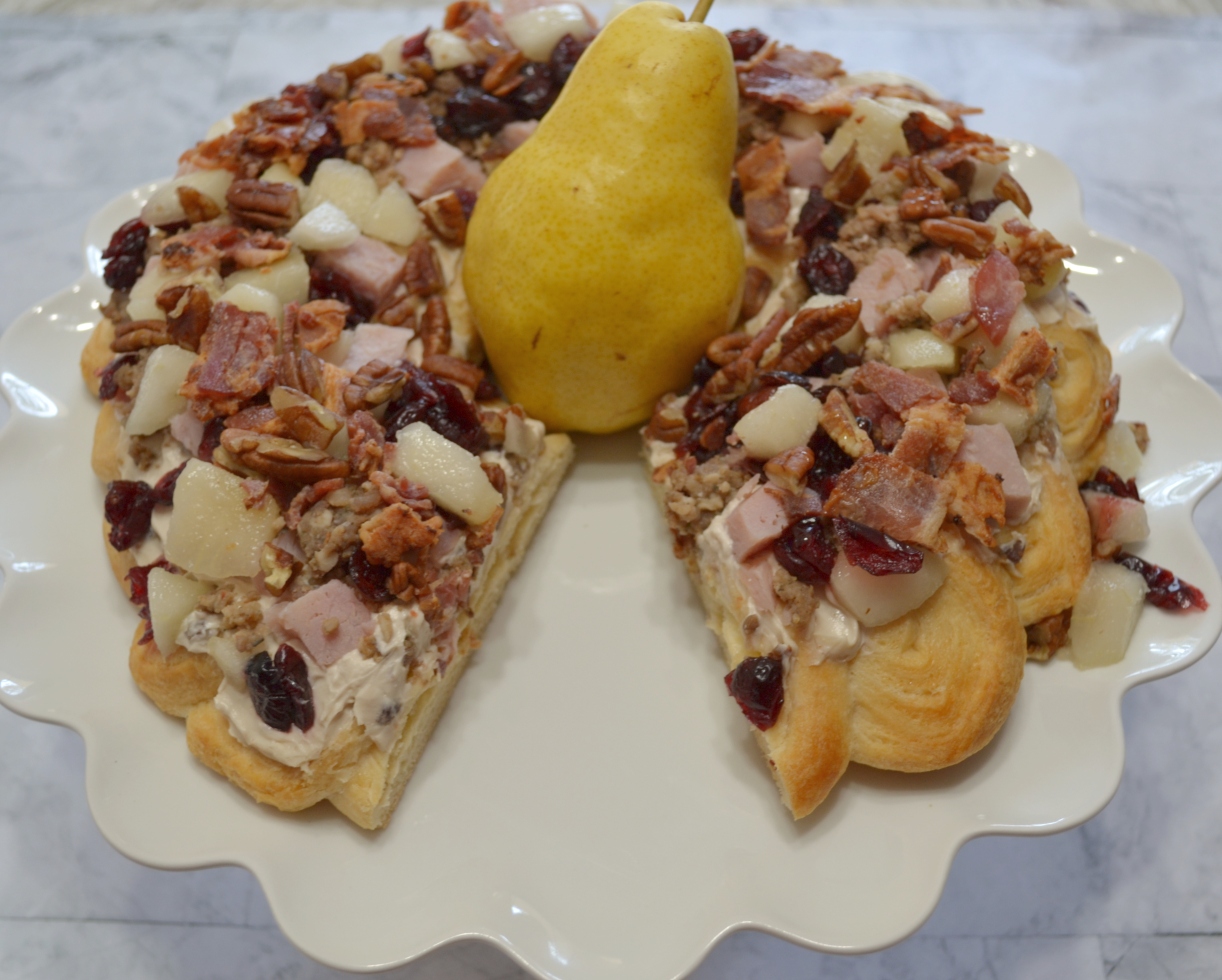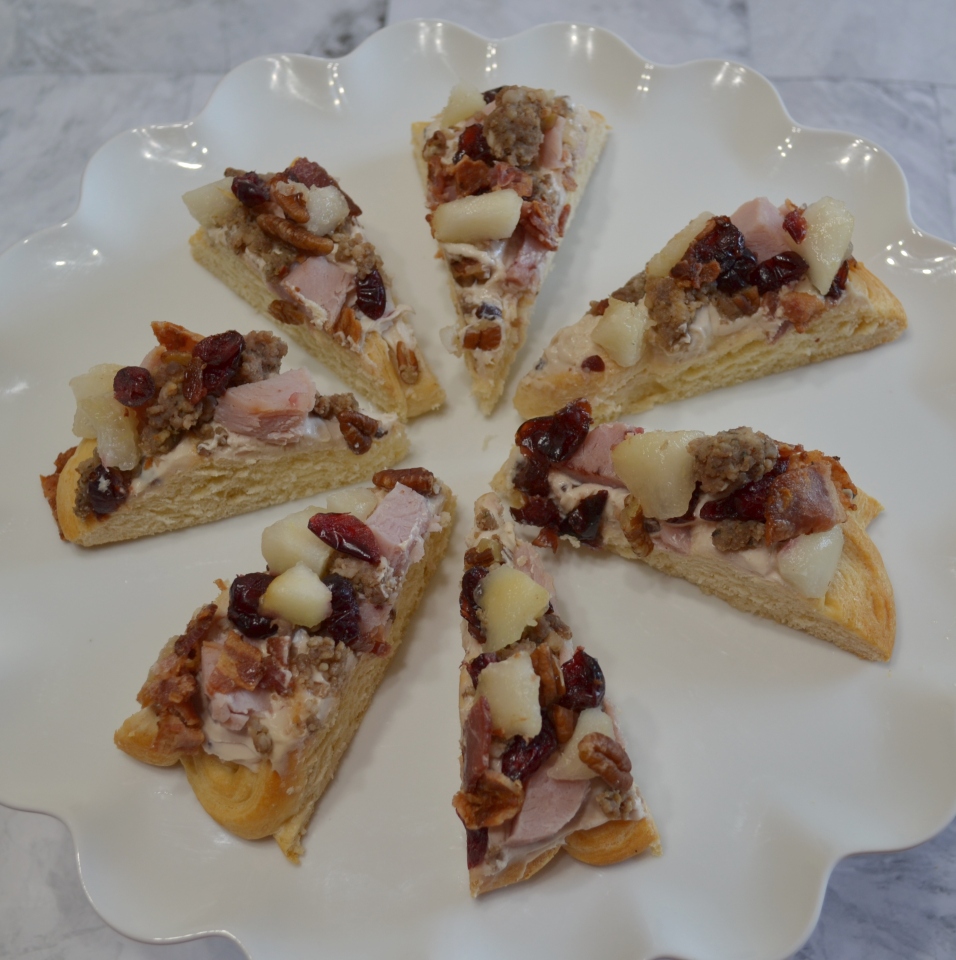 Visit the USA PEARS website for more information and delicious recipes.
Follow USA PEARS on Facebook, Twitter, Pinterest, and Instagram
HOLIDAY PEAR APPETIZER WREATH
Ingredients
2 (8oz) cans refrigerated crescent dough sheets
1 (7.5oz) container honey pecan cream cheese spread
1/4 LB spicy ground sausage, crumbled and browned, grease drained
1/2 cup ham cubes, diced
2 ripe USA Pears, Bartlett, peeled and cut in small cubes
1-2 Tablespoons lemon juice
1/2 cup dried cranberries
2 slices bacon, cooked and crumbled
1/4 cup pecans, chopped
2 Tablespoons honey to drizzle
Instructions
Preheat oven to 350 degrees F. Line a baking sheet with parchment paper, or use a baking stone. Place a small, round bowl such as a ramekin in the center of pan.
Open one can of crescent dough and do not unroll. Roll carefully into a 12 inch log. Cut into 16 equal slices. Make a ring around the bowl, clockwise, in a wreath pattern, slightly overlapping the edges. Use 12 slices.
Open the second can and repeat procedure. Create a ring around the first one, using 20 slices of dough. Arrange these slices in a counterclockwise pattern. Slightly overlap edges.
Bake crust about 18 minutes, or until crust is light golden brown. Remove pan from oven to a cooling rack. Cool about 20 minutes, then carefully slide the crust onto a wire cooling rack.
While the crust is baking and cooling, prepare the toppings. After the pears are peeled and diced, brush the lemon juice on them, toss gently in in a bowl, and drain any excess lemon juice.
Place cooled crust on a serving platter. Spread the cream cheese evenly over the crust, allowing some of the crescent edges to show.
Arrange the sausage,ham,pears, and cranberries evenly around crust. Top with the bacon and pecans. Drizzle with the honey. Cut into desired size wedges to serve.
Refrigerate until ready to serve.
© 2023 Copyright GRANDMA HONEY\\\\\\\'S HOUSE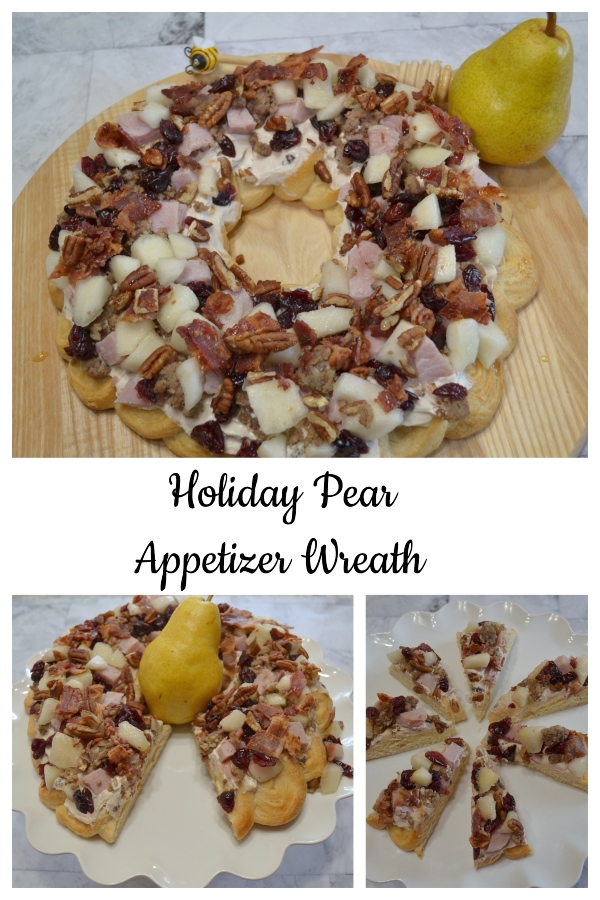 Please follow and like us: