Jump to recipe
Creamed Chicken and Biscuits is a family recipe that has to be on my blog.   
Creamed  Chicken and Biscuits  was one of my favorite meals that my mother fixed  when I was growing up. My recipe has a lot of convenience ingredients in it that hers did not, but this still has a lot of home-style flavor and is quick to get on the table.
This is one of those meals that has worked great for me on different occasions.  It is also one that not many people fix anymore so I like to think of it as a "grandma" kind of dish.
My grandchildren love this and a few weeks ago  2 of them were  coming to my house  between school and sporting activities.  They were not  going to be there at the same time so I made a pot of creamed chicken,  mashed potatoes, and baked some biscuits. I could serve them each a warm meal when they arrived.  later in the evening my husband and I had this for supper.
Add a green vegetable or salad on the side, and you have a complete meal.
I have also made this ahead of time and taken it different places.  We have an RV and like to go to a nearby lake for the weekend. I took it there once.   My husband has a race car and sometimes I send a big pot of this with the guys when they are at the race track for the weekend.   They can warm up a plate in the microwave and have a home cooked meal.   They really love when I do that.
Two years ago my husband was going through treatment for throat cancer and finding foods he was able to eat was very difficult.  He was able to eat the creamed chicken with only a small amount of the chicken in it, diced very small.  The broth was comforting to him and actually helped give him nourishment.
I hope you will add this to your recipe file of comfort foods and give it a try on a cold, winter day or when you want to have a fix ahead meal that can just be warmed up.
For added convenience you can use a deli rotisserie chicken, frozen biscuits and refrigerated, purchased mashed potatoes so this is truly one of the easiest meals ever.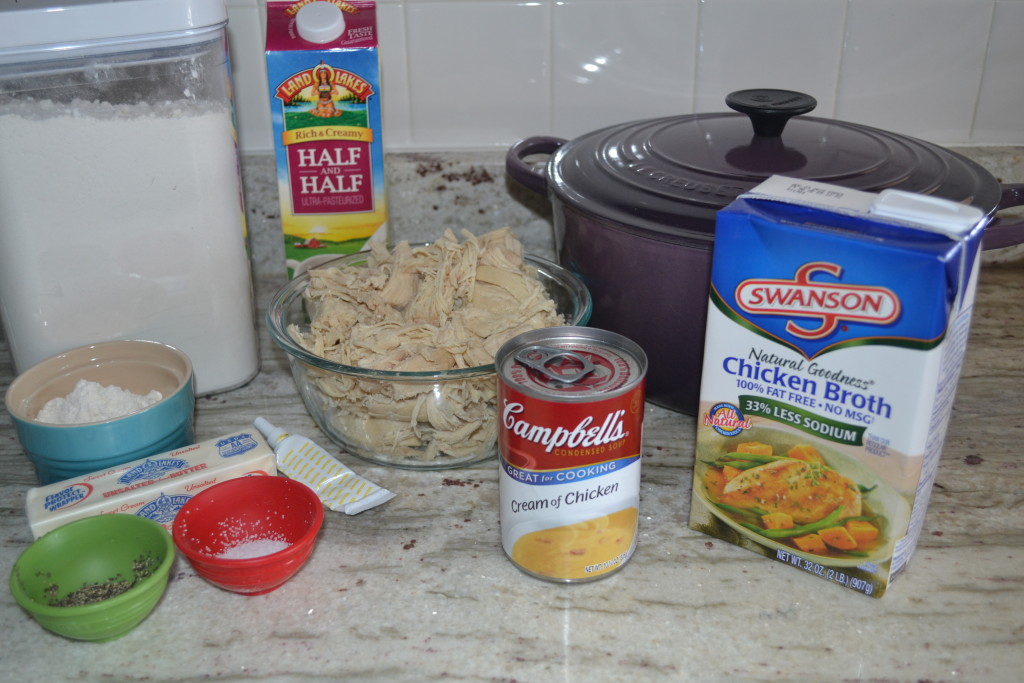 Line up of ingredients for the creamed chicken.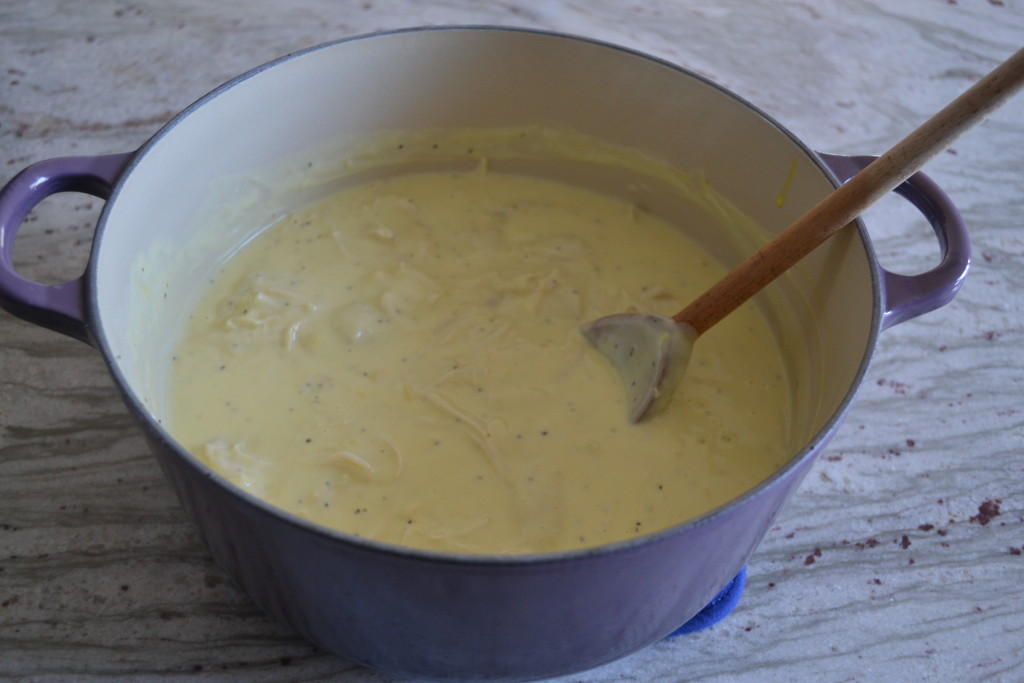 A pot of delicious, warm, creamy chicken.
CREAMED CHICKEN AND BISCUITS RECIPE
Ingredients
6 tablespoons butter
6 tablespoons all purpose flour
1 1/2 teaspoons kosher salt
1/4 teaspoon coarse black pepper
2 cups chicken broth
2 cups half & half or whole milk (do not use 2% or skim)
1 can cream of chicken soup
3-5 drops of yellow food coloring
4 cups cooked chicken, cut in bite size pieces
3 cups mashed potatoes
6 biscuits, baked
Instructions
Melt butter in a large saucepan or dutch oven over a low heat. Whisk in the flour, salt and pepper; blend until smooth.
Slowly whisk in the broth, half & half, and soup. Add the food coloring a few drops at a time to obtain a light yellow color. Cook over a medium heat, stirring frequently until mixture begins to thicken.
Stir in the chicken, reduce heat to low and simmer for 10 minutes or until desired consistency. Stir frequently while mixture is cooking. Remove from heat.
Mixture will continue to thicken as it cools. Add additional salt and pepper to taste if needed.
Serve warm with biscuit, mashed potatoes and a green vegetable.
If mixture becomes too thick, may be thinned with additional chicken broth or milk.
If mixture becomes too thin, may add additional can of soup.
© 2023 Copyright GRANDMA HONEY\\\\\\\'S HOUSE
*This recipe was shared at Week-End Potluck party @https://sweetlittlebluebird.com/
Please follow and like us: