Jump to recipe
Homemade noodles from scratch was one of the specialties my mother always made for every holiday and special meal.  That was my inspiration for my Home-style Chicken and Noodles.
I was grocery shopping today and saw the frozen Reames Noodles in the freezer section.  I make home-style chicken and noodles so often in the fall and winter.   Since we have cooler weather this week, they are now on our menu.
I remember that my mother always cooked a big chicken, picked the meat  off of it, and used the broth for the noodles.  She mixed them up, rolled them out, cut them into long strips and let them air dry before cooking.  So much work!!!  She loved doing it and everyone loved eating them.  I never thought to get her recipe before she passed away.
My own children and grandchildren love chicken and noodles too.  I tried to come up with a much quicker recipe but to capture some of   that great flavor that  hers had.  My 15 year old granddaughter sent me a text one day asking for this recipe. I felt so honored and have taught all of my granddaughters to make this now.
This has very few ingredients and I think  it is more about the process that makes these so delicious.
These are perfect to try for Thanksgiving dinner.  I always  double the recipe. I also make them in the morning, let them set for a few hours, then reheat on a very low heat.   This process makes the broth become thicker and more flavorful.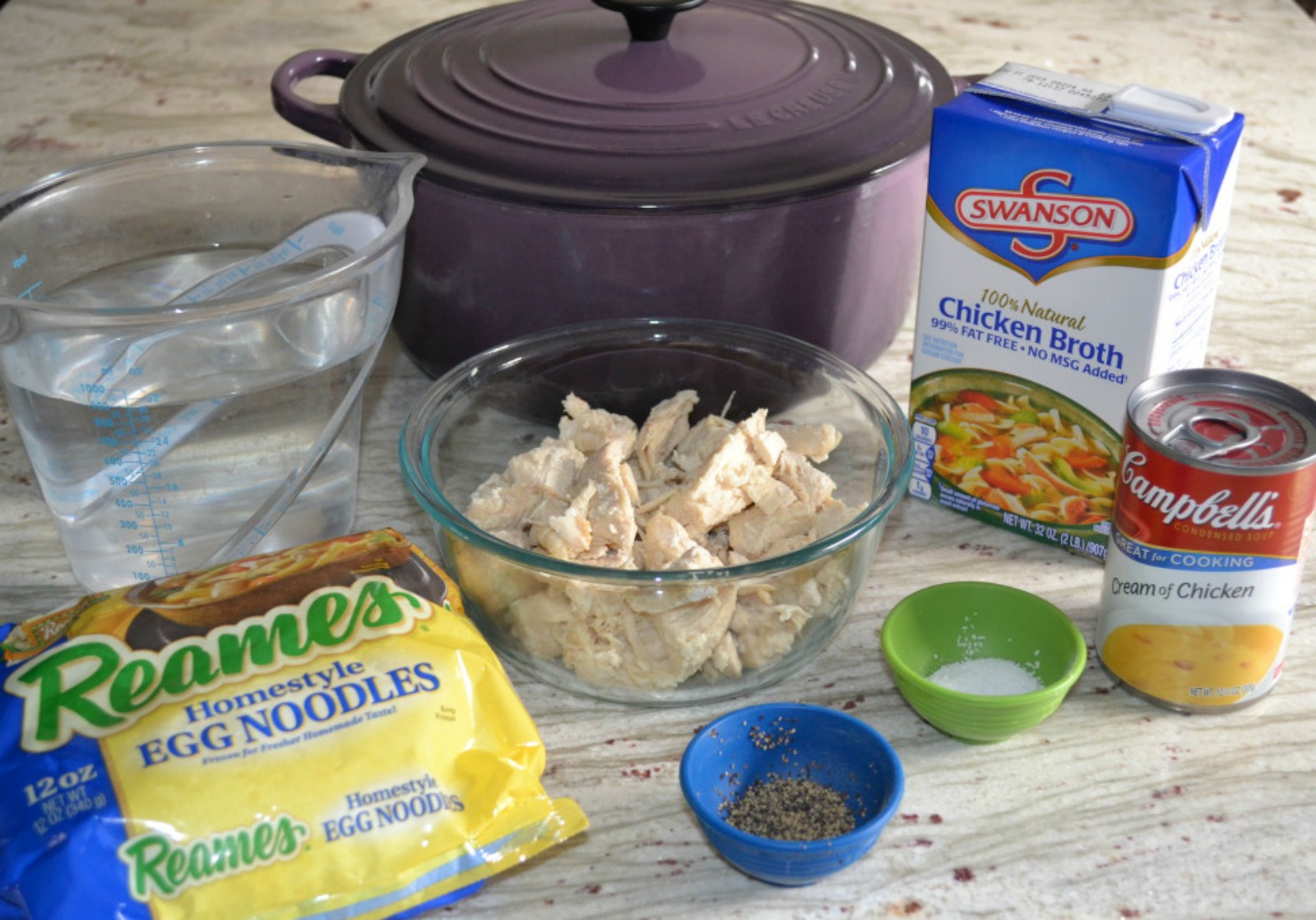 Here are the ingredients.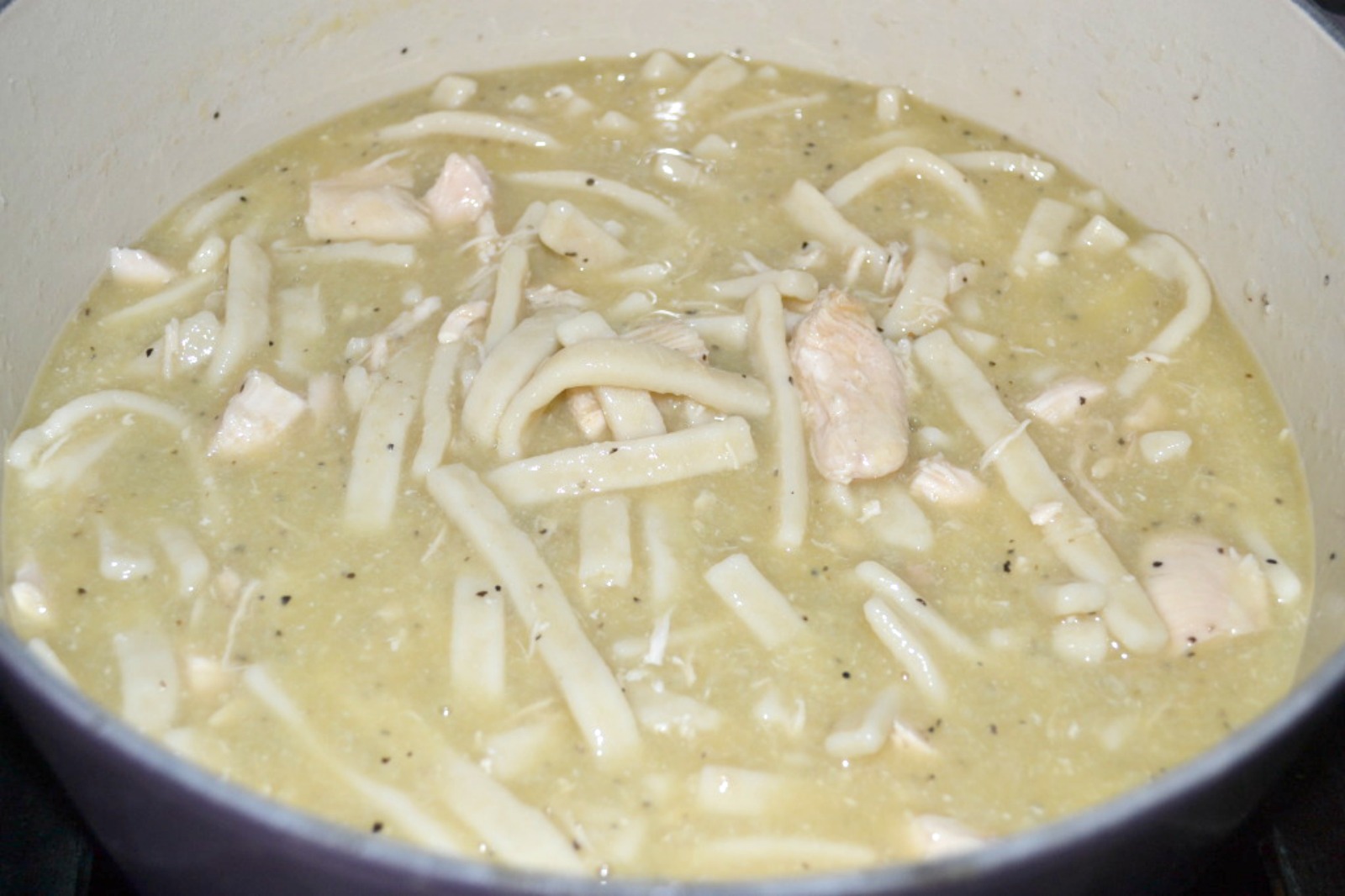 Combine ingredients in a large saucepan or dutch oven.
HOME-STYLE CHICKEN & NOODLES
Ingredients
2 cups water
1 (32oz) box chicken broth
1 (12 oz) package frozen egg noodles
2 cups cooked chicken, shredded or cut in cubes (may use deli roasted chicken)
1 (10 3/4 oz) can cream of chicken soup (cream of chicken with herbs excellent also)
1 teaspoon kosher salt
1/2 teaspoon coarse black pepper
Instructions
Pour the water and chicken broth in a large dutch oven or saucepan. Bring to a boil over a high heat.
Stir in the noodles, reduce heat to low, cover and simmer 20 minutes. Stir frequently.
Stir in the chicken, soup, salt, and pepper. Bring to a boil, lower heat, cover and simmer for 30 minutes. Continue to stir frequently.
Turn heat off and allow the noodles to set for a few hours. If more than 2 hours, refrigerate.
Prior to serving, heat pan, slowly, over a low heat and stir frequently. Add more salt and pepper if needed to taste. If noodles are too thick, add small amounts of chicken broth to obtain desired thickness.
© 2023 Copyright GRANDMA HONEY\\\\\\\'S HOUSE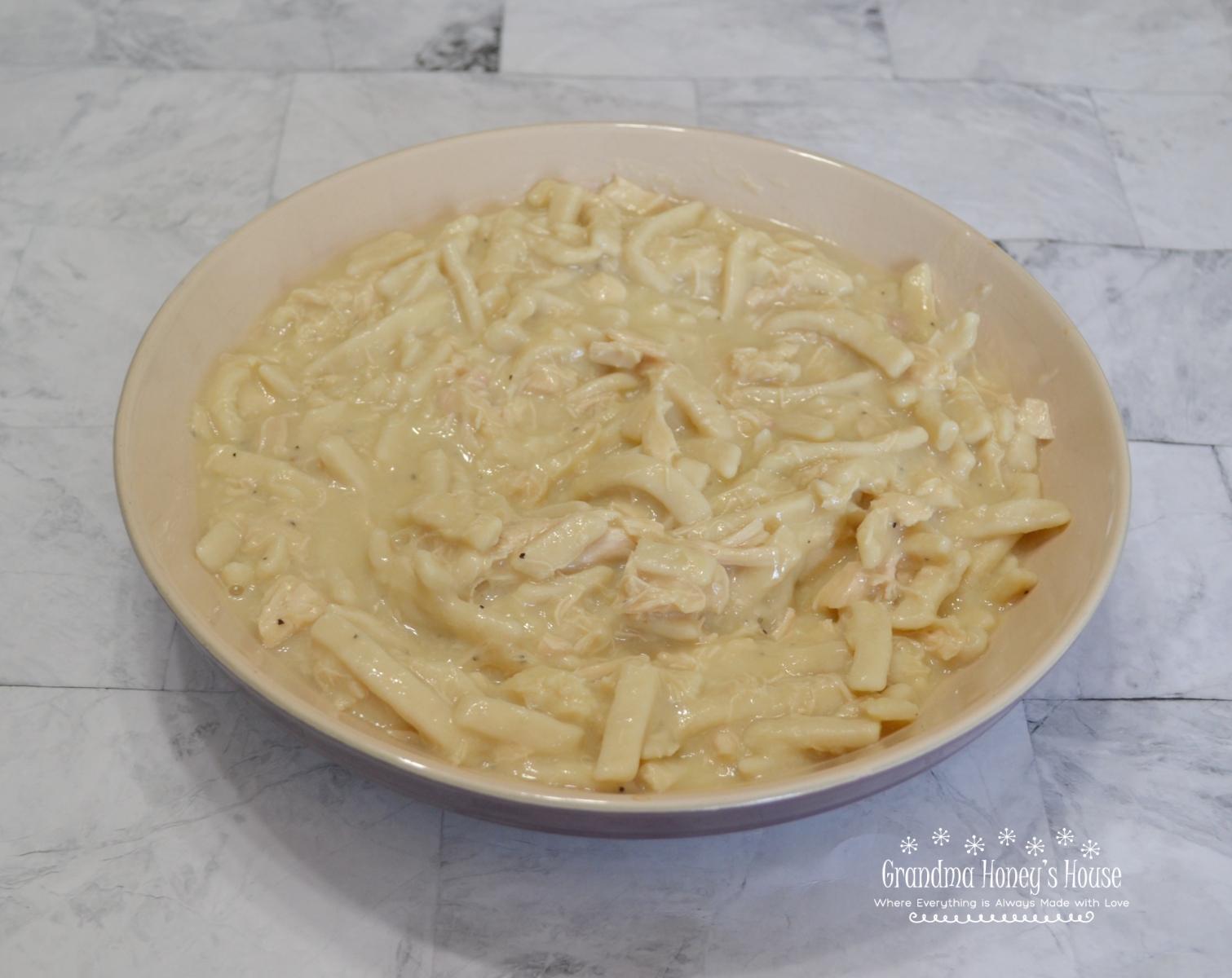 This can be served as a side dish or a meal itself.  They are delicious served as leftovers also.
Home-Style Chicken and Noodles are a comfort food that you must add to your recipe collection.
This recipe was shared on Week-end Potluck @sweet little bluebird 
Please follow and like us: