Jump to recipe
This Firecracker Potato Casserole will spice up your upcoming summer parties.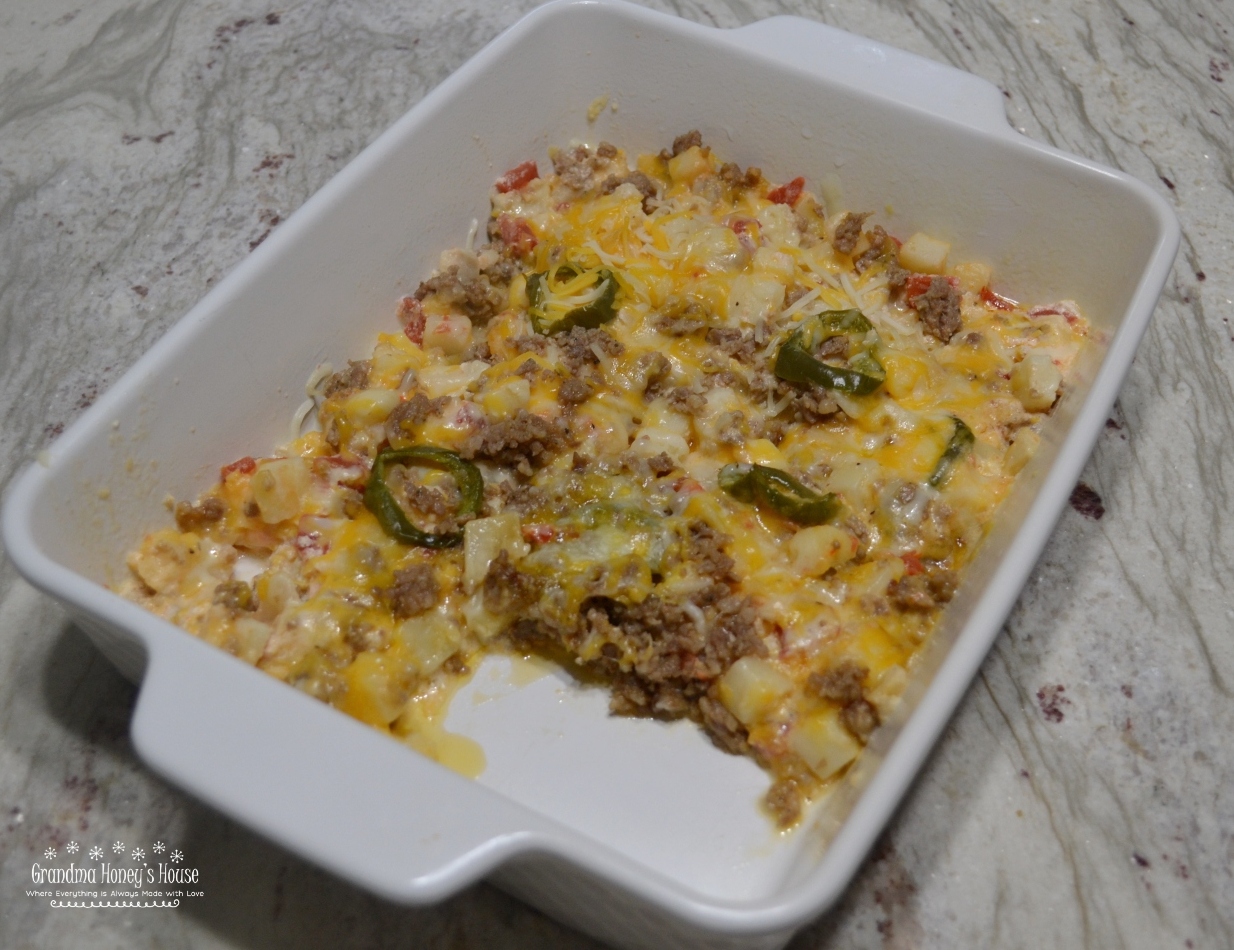 Frozen Potatoes O Brien,  Rotel,  spicy sausage, sour cream, butter, jalapenos, and lots of cheese makes this Firecracker Potato Casserole a great addition to your 4th of July cook-outs. It is easy to transport and serves a lot of people.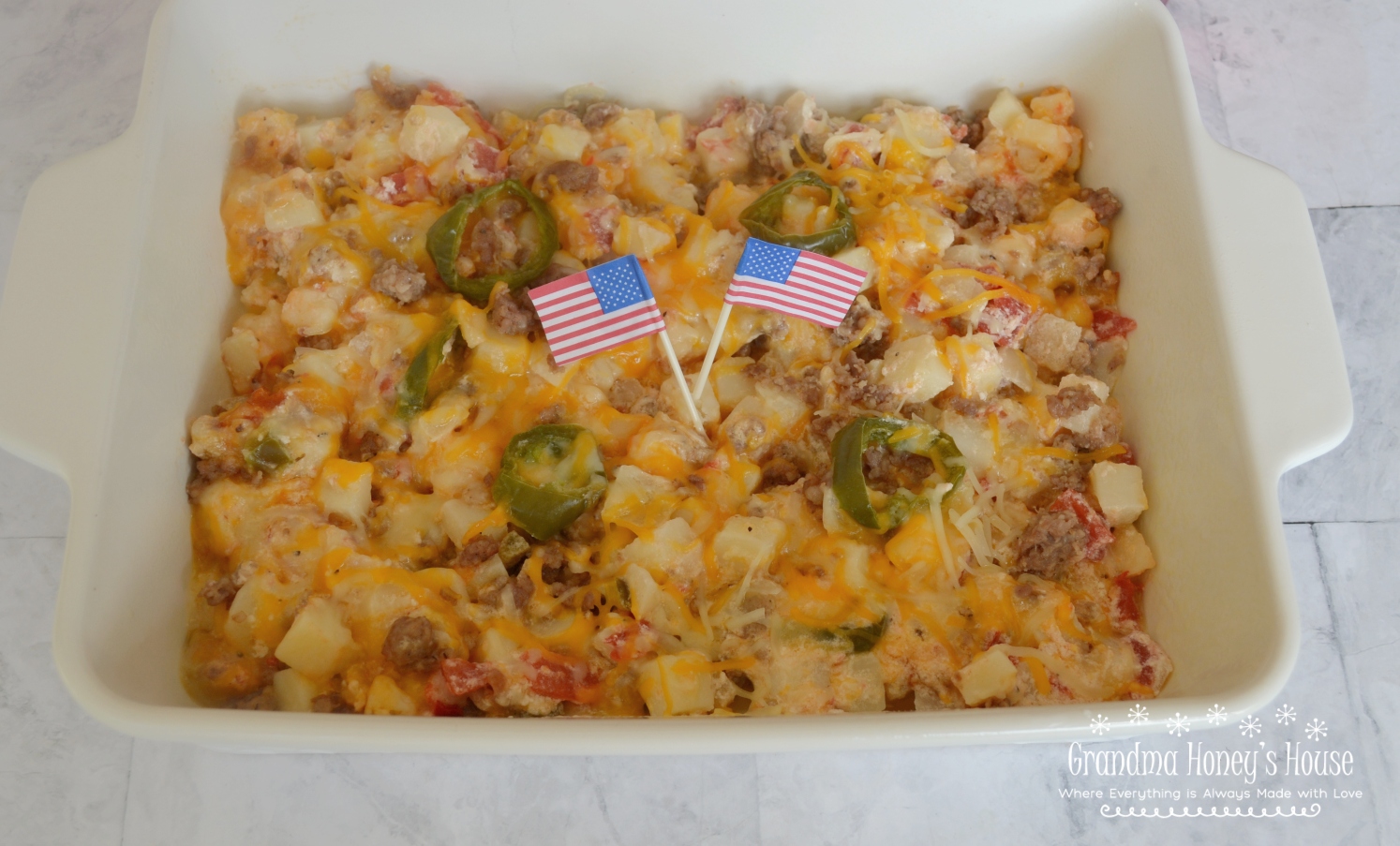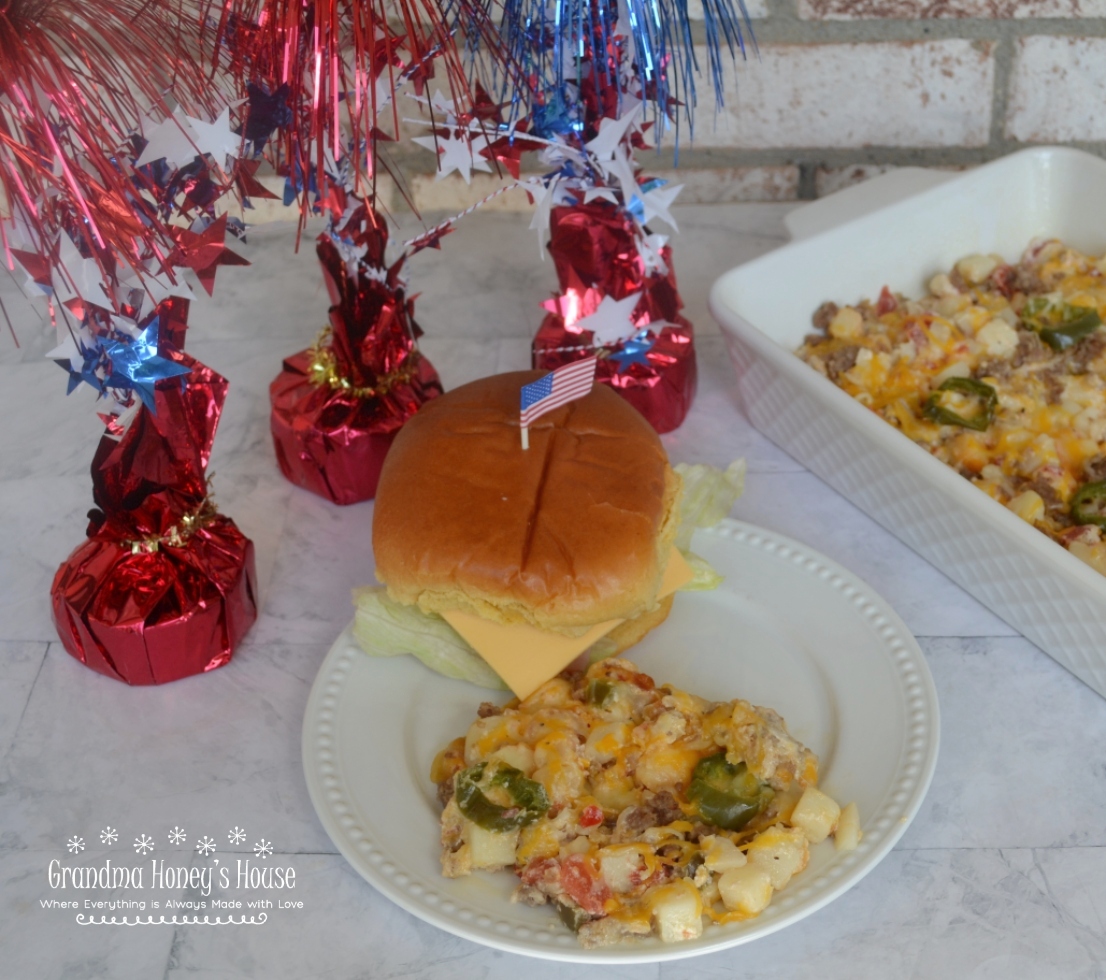 FIRECRACKER POTATO CASSEROLE
Ingredients
1 lb spicy ground sausage
2 lb bag frozen Potatoes O' Brien (Ore-Ida)
1 (10oz) can Rotel
1 teaspoon kosher salt
1/4 teaspoon coarse black pepper
1 cup sour cream
3 cups shredded cheddar or mexican blend cheese, divided
1 stick butter (1/2 cup) melted
1/4 cup jalapeno slices
Instructions
Preheat oven to 350 degrees F. Spray a 9x13 inch baking dish with no stick cooking spray. If transporting this to a cook-out, use a disposable aluminum pan.
Crumble and brown sausage, drain grease: set aside.
Open the potatoes and place in a large mixing bowl. Add the cooked sausage, rotel, salt, pepper, sour cream, and 2 cups of the shredded cheese. Drizzle melted butter over the mixture. Stir to combine all ingredients well.
Transfer mixture to baking dish. Top with remaining 1 cup of cheese and the jalapeno slices.
Bake, uncovered, for about 40 minutes or until mixture is bubbly and cheese is melted.
© 2023 Copyright GRANDMA HONEY\\\\\\\'S HOUSE
Our family loves the traditional cheesy,  hashbrown casserole and we have it at every get together.  I like to try some variations,  and went with this spicy recipe for an extra side dish.  It really was a big hit.
This recipe can also be a one pan meal as well as a side dish.
HOW TO MAKE FIRECRACKER POTATO CASSEROLE: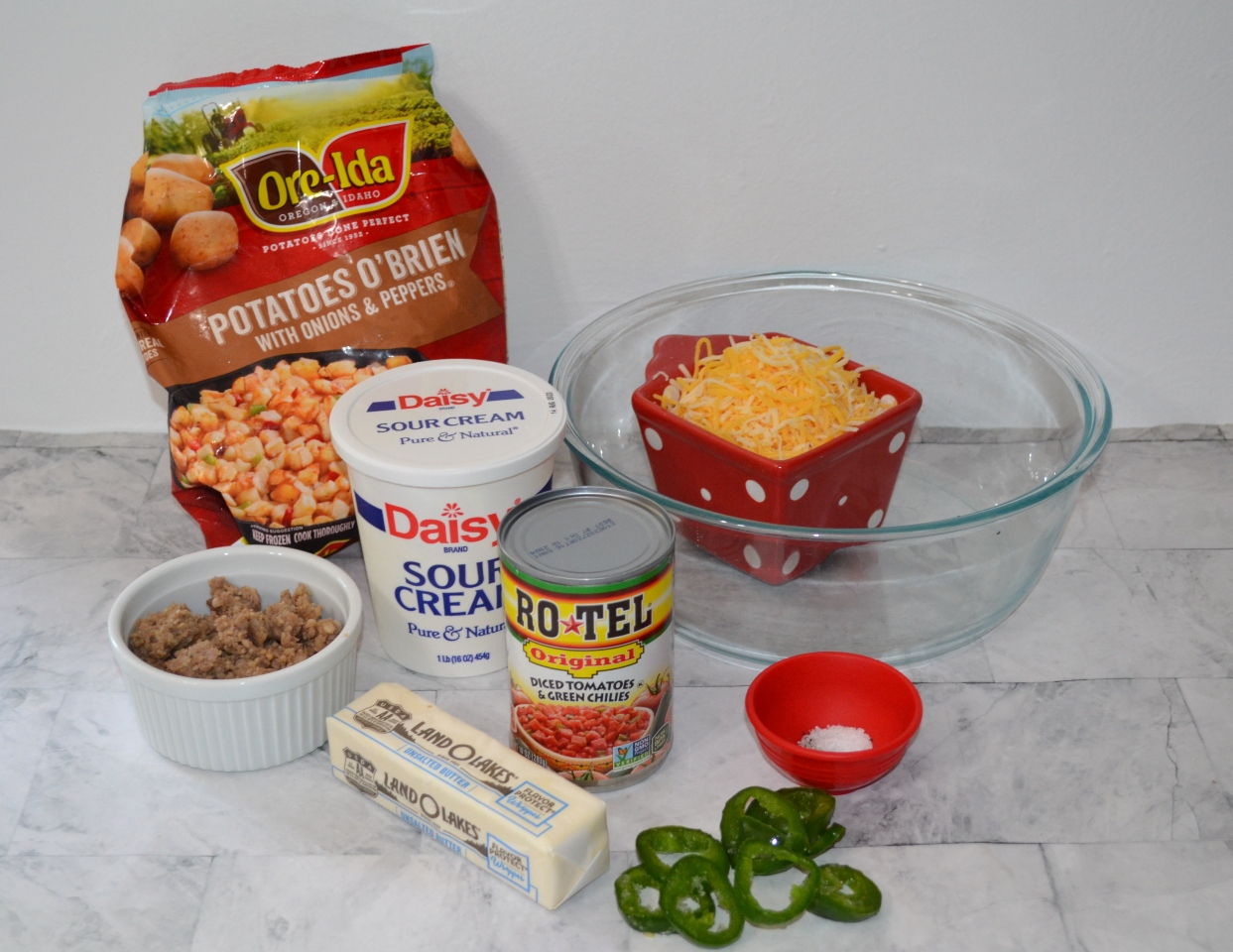 The ingredients are frozen potatoes o' brien, cheese, sour cream, spicy ground sausage, salt, pepper, butter, jalapeno slices, and a can of rotel.
Place potatoes in a large mixing bowl, add the other ingredients and stir well to combine. Save part of the cheese and the jalapenos for the top.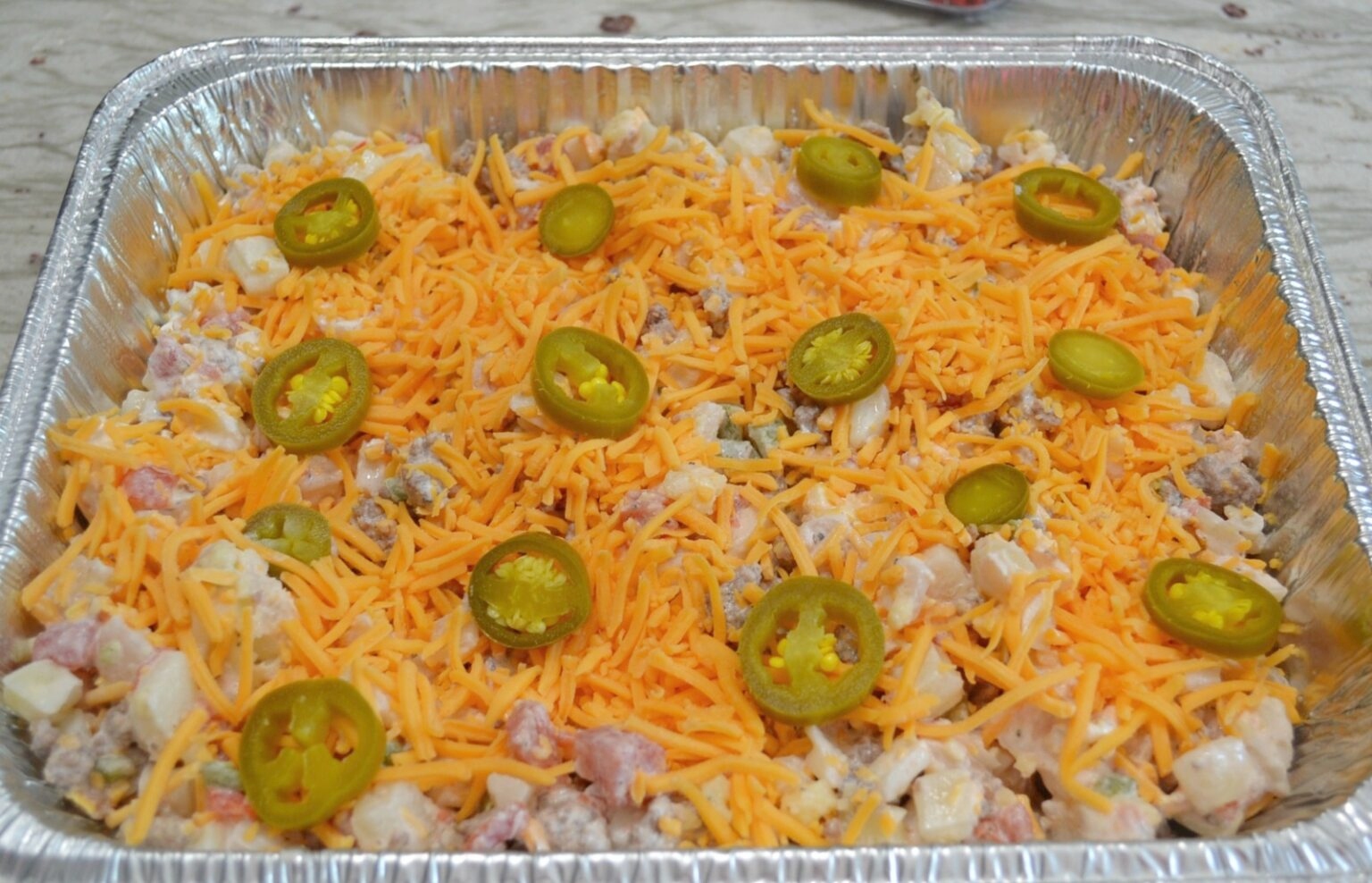 Transfer mixture to a baking dish. If transporting this to a cook-out, a disposable aluminum pan works great.  Top with remaining cheese and the jalapeno slices.
Bake until bubbly and cheese is melted, about 40 minutes.
If you would like to try another variation of the casserole, here is a delicious one.
Chicken Bacon Ranch Potato Casserole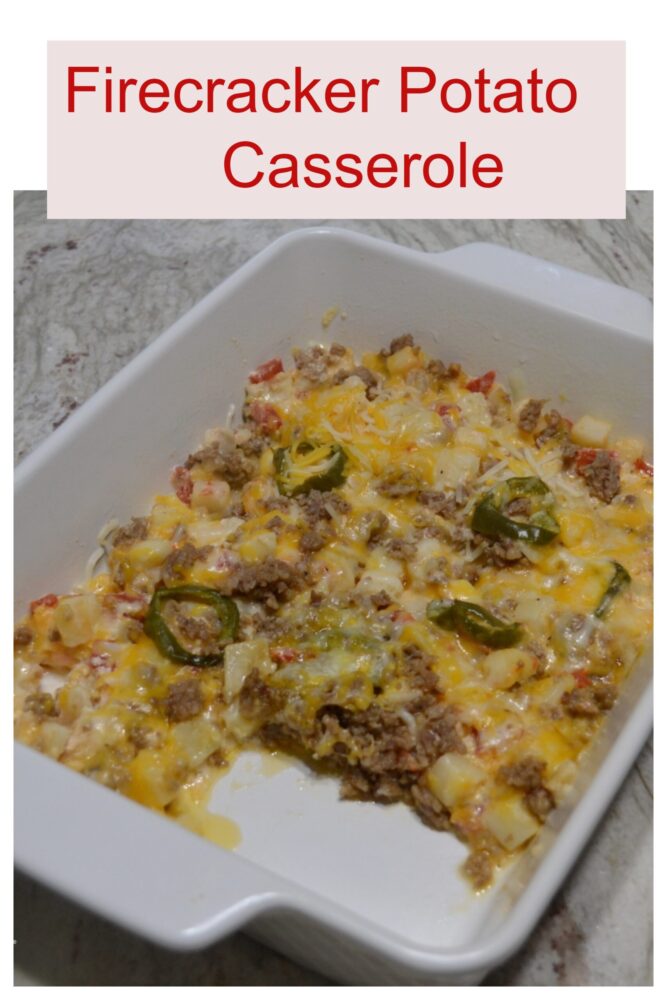 Please follow and like us: