Jump to recipe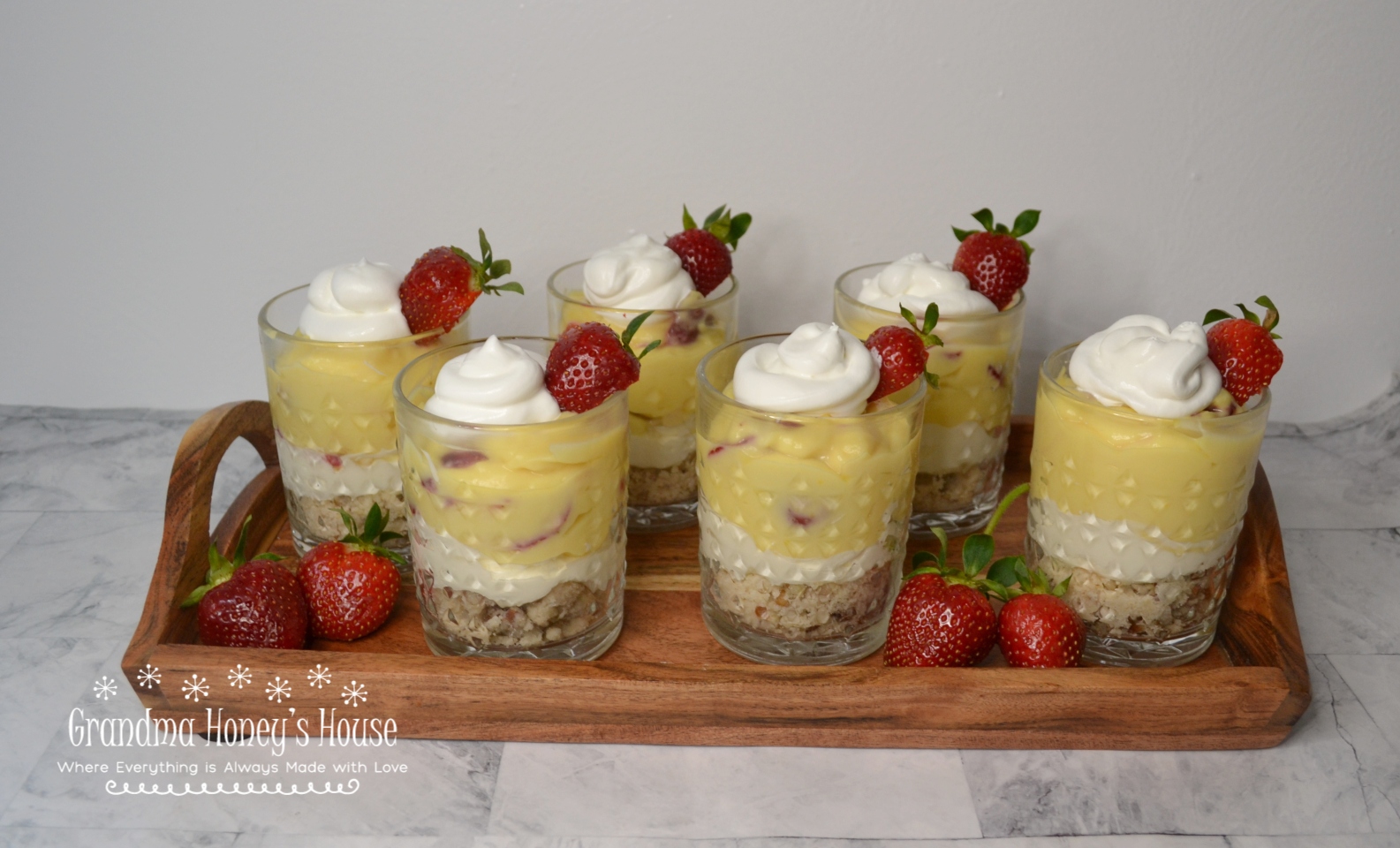 Strawberry Vanilla Cream Dessert,  a pecan crust, layers of cream cheese-whipped topping-confectioner sugar, vanilla pudding with fresh sliced strawberries, then topped with whipped topping and a strawberry.  This is the perfect dessert to take to any summer event.
I was looking through an older cookbook that was put together by the Junior League of Charleston WV when I saw this recipe.  I have  made versions of this, using chocolate, banana, lemon, vanilla, or butterscotch pudding, but this one had fresh strawberries folded into the pudding and I thought it really sounded good. This recipe,  Strawberry Cream Dessert won first place in its division in the 1983 WV Strawberry Festival. The original recipe used strawberry instant pudding, but I have not been able to find that.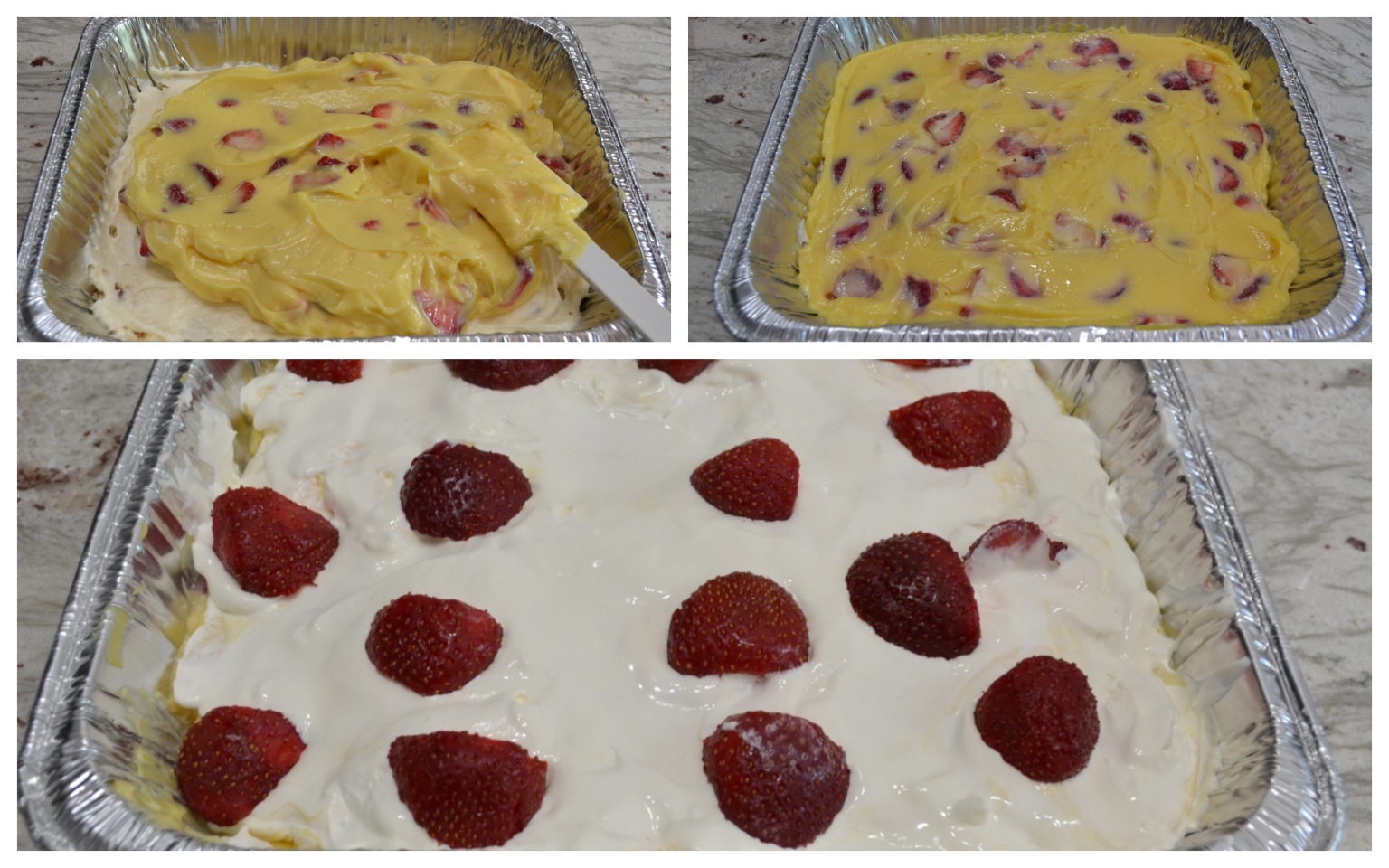 This recipe can be made in a 9×13 inch pan, and would make it easier to transport.  I used 9oz dessert glasses on this day, and made 10 desserts.
Strawberry Vanilla Cream Dessert can be made a day ahead, or early the day you will be serving it.  If making it ahead, do not put on the whipped topping garnish.  It holds up best if added right before serving.
A few years ago, two of my little grandsons were visiting from out of town. They love to do things with me in the kitchen, so this is one of the desserts the 3 year old made. STRAWBERRY CREAM DESSERT
Fresh strawberries are in abundance right now, so this is the perfect time to try this dessert.
Recipe card includes directions for making it in a 9×13 inch pan or in individual serving glasses.
STRAWBERRY VANILLA CREAM DESSERT
Ingredients
STRAWBERRY VANILLA CREAM DESSERT
CRUST:
1 1/2 sticks (3/4 cup) butter, softened
1 1/2 cups all purpose flour
2 Tablespoons sugar
1 cup pecans, chopped
2nd Layer:
8 oz package cream cheese, softened
1 cup confectioner sugar
1 cup whipped topping (from 9 oz container)
1 teaspoon vanilla
3rd Layer:
2 (3oz) boxes instant vanilla pudding
3 cups whole milk
3 cups fresh strawberries, hulled and sliced
Topping:
1 cups fresh strawberries,
Remaining amount whipped topping
Instructions
Preheat oven to 350 degress.
Place the butter, flour, sugar, and pecans in a large mixing bowl. Combine ingredients well, using a fork or pastry cutter. Press into the bottom of a 9x13 inch baking dish. Bake for 15 minutes. Remove from oven and cool completely.
In a large mixing bowl, using an electric mixer, beat together the cream cheese, confectioner sugar, whipped topping, and vanilla until smooth. Spread over cooled crust and refrigerate for about 30 minutes.
In a large size mixing bowl, beat together the pudding and milk for about 2 minutes, until starts to thicken. Fold in 3 cups of the strawberries. Spread evenly over the cream cheese layer. Refrigerate at least 4 hours.
Prior to serving, spread remaining whipped topping over the pudding and garnish with fresh sliced strawberries.
MAKING INDIVIDUAL SERVINGS:
***If serving this in individual parfait/dessert glasses, when crust comes out of the oven, spoon 2 heaping tablespoons in bottom of each glass. Cool. Divide the cream cheese mixture evenly between the glasses. Chill. Divide the pudding mixture evenly between the glasses. Just prior to serving, top with a scoop of the whipped topping and a fresh strawberry*** This will make 9 or 10 (9oz) servings.
© 2023 Copyright GRANDMA HONEY\\\\\\\'S HOUSE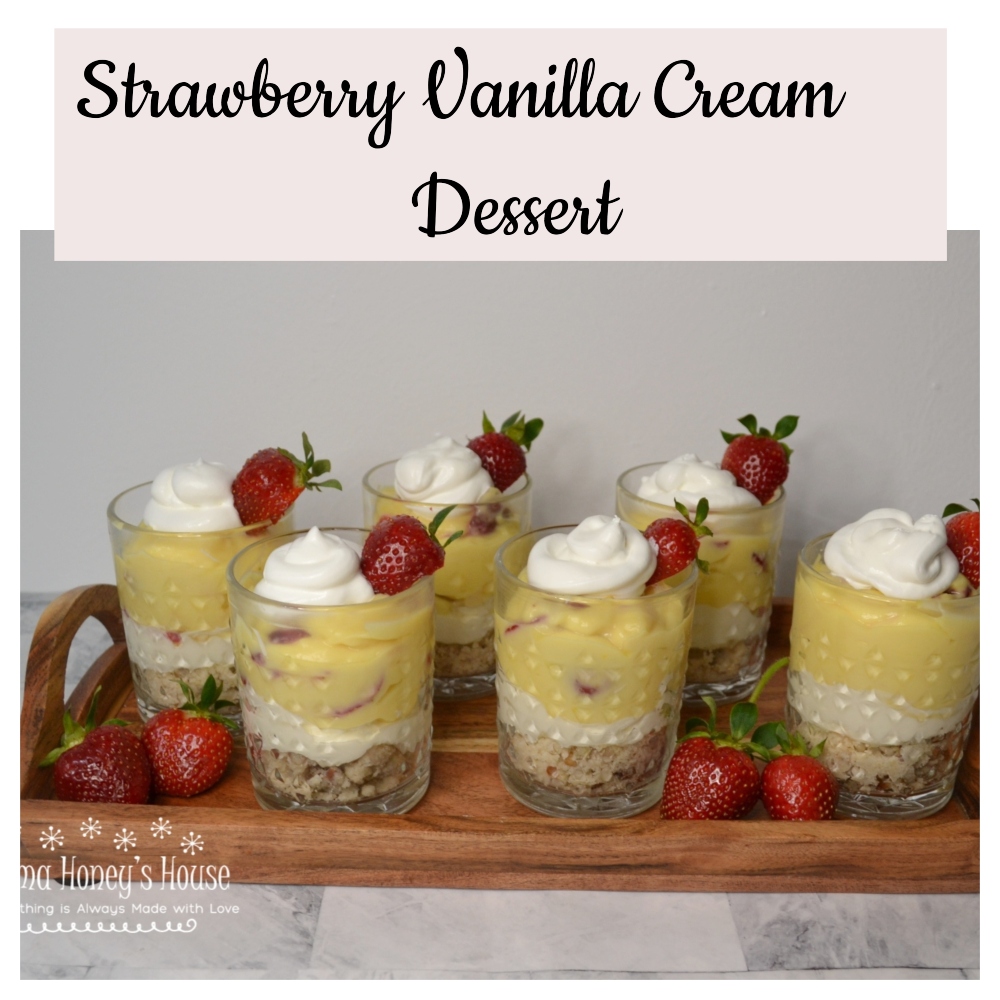 Please follow and like us: