Jump to recipe
These punch bowl cake cups are a fun
variation to the punch bowl cake dessert that we all enjoyed many years ago.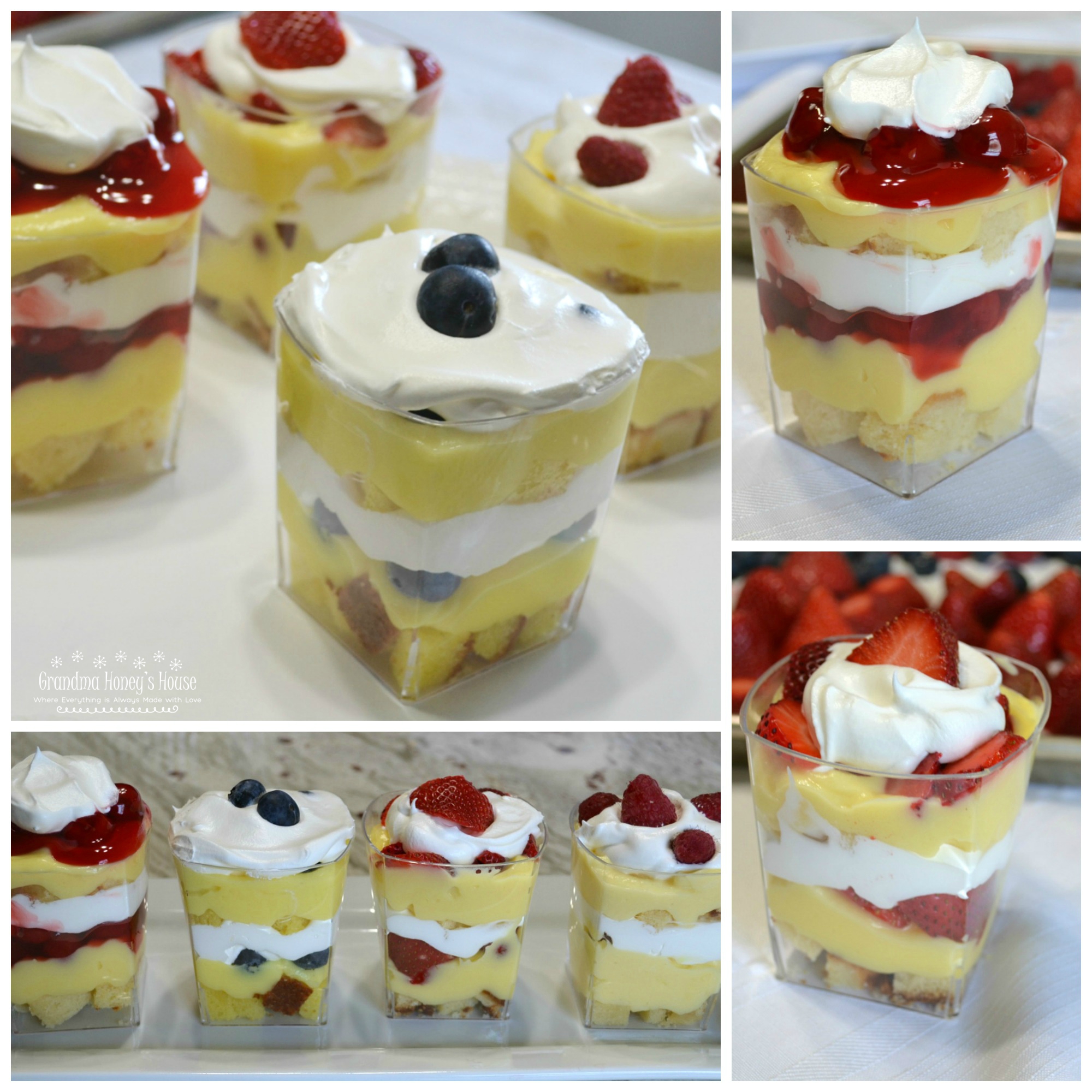 I have been making retro desserts with my grandchildren, and last week I made them the famous punch bowl cake.  We decided that it is a little too messy after someone digs into it, so I tried making it today in individual cups.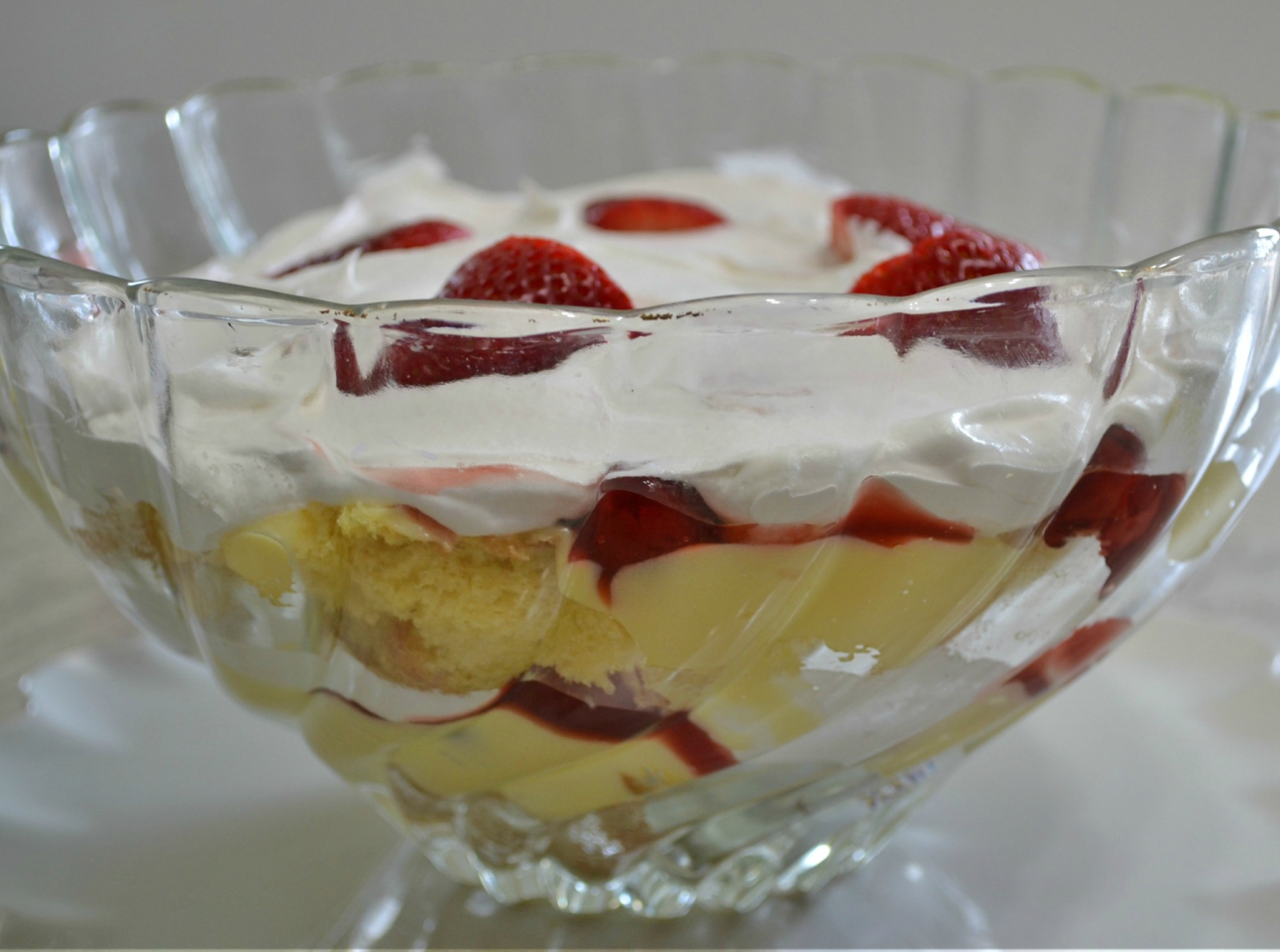 These are a delicious variation to the original punch bowl cake. Made in parfait cups for an easier dessert to enjoy.
The original punch bowl cake was layers of cake, pudding, fruit or pie filling, and cool-whip.  It was made in a punch bowl or trifle dish.  It does look pretty and is easy to transport to an event.  It is not so pretty after people start digging into it.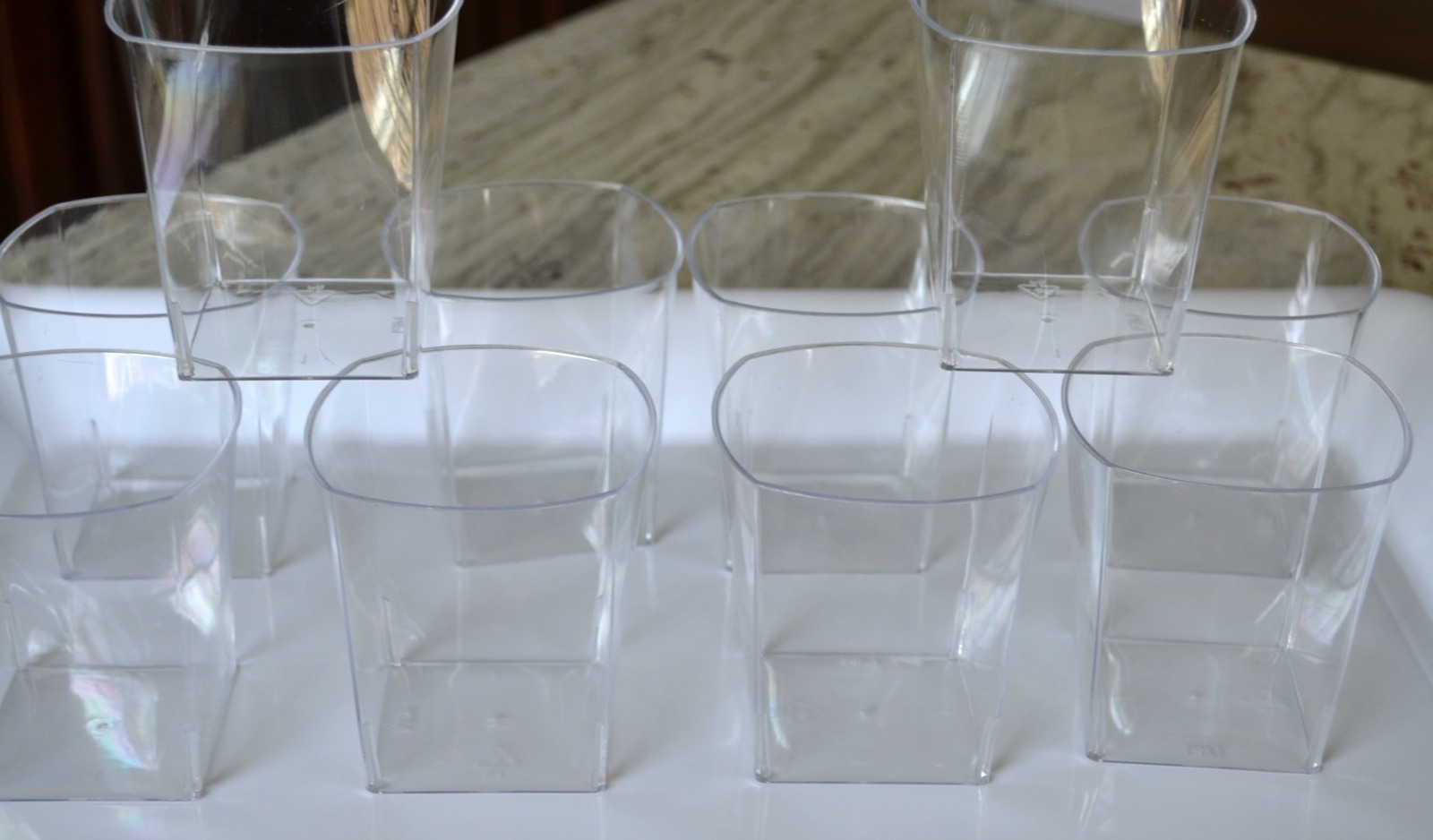 I found these cute little  plastic glasses at a local craft store.
They are 9 oz  and are square.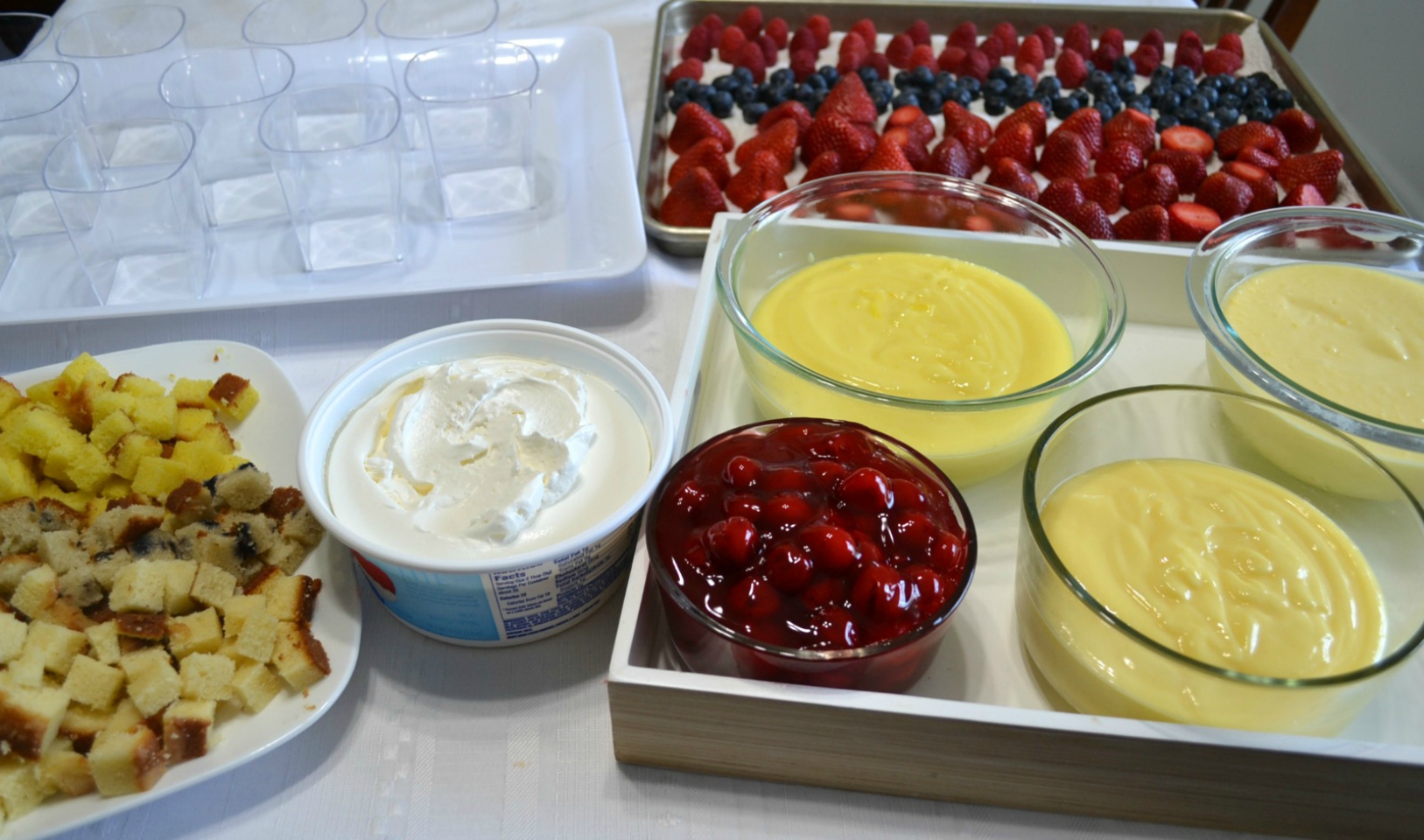 Prepare some different puddings; vanilla, lemon, and coconut cream.
Clean a variety of fresh fruit and line it up on a tray.
Mine were raspberries, blueberries, and strawberries.
I also set out a can of cherry pie filling.
I purchased a package of pound cake at the store that had a variety of vanilla, lemon, and blueberry  cake in it.  This is an easy way to
have a variety of cake.  Cut each slice of cake into 1/4 inch cubes.
For these, I used 4 slices of each kind of cake.
Use cool-whip or Dream Whip in the layers.
These cups are a fun project to do with your children or grandchildren.  Just line everything up and let them create their
favorite variations.  The amounts do not have to be accurate, just make sure it doesn't run over the cups.
These dessert cups would be good to serve at a summertime party.
I just started with a layer of cake, pudding, fruit, cool-whip and then repeated the layer.  Try creating different varieties.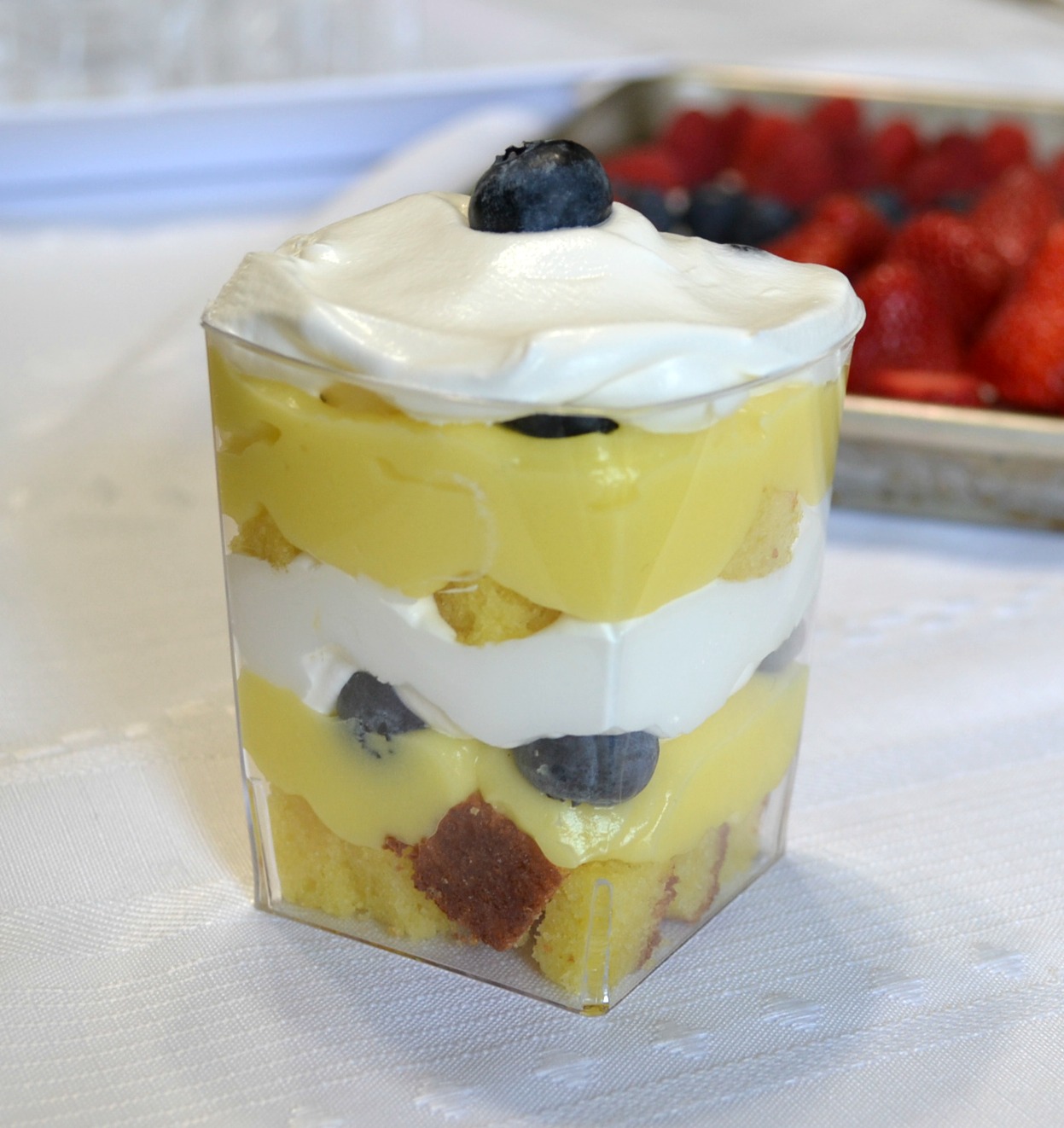 Blueberry Lemon.. lemon cake, lemon pudding, blueberries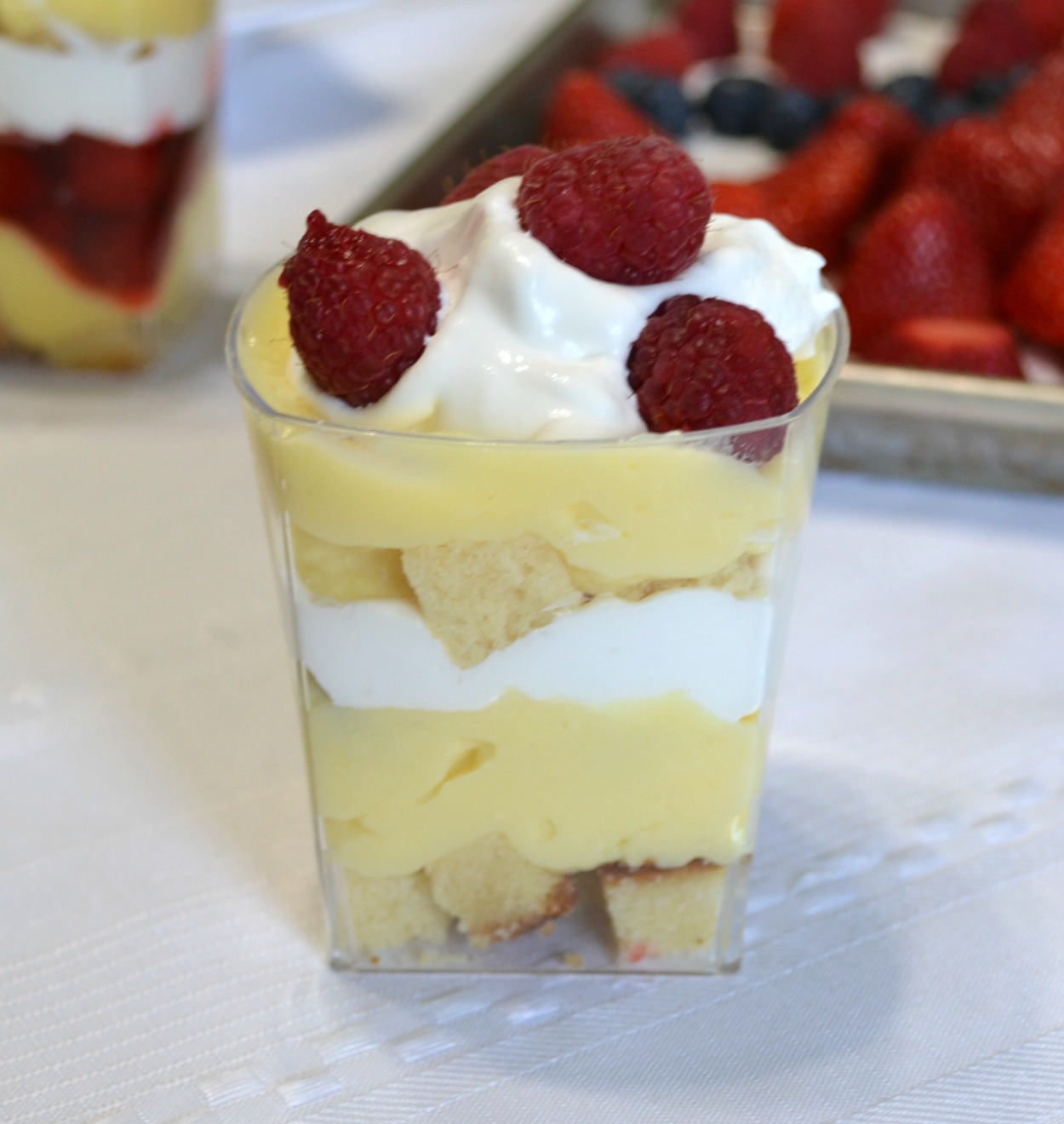 Raspberry Coconut Cream…. vanilla cake, coconut cream pudding, raspberries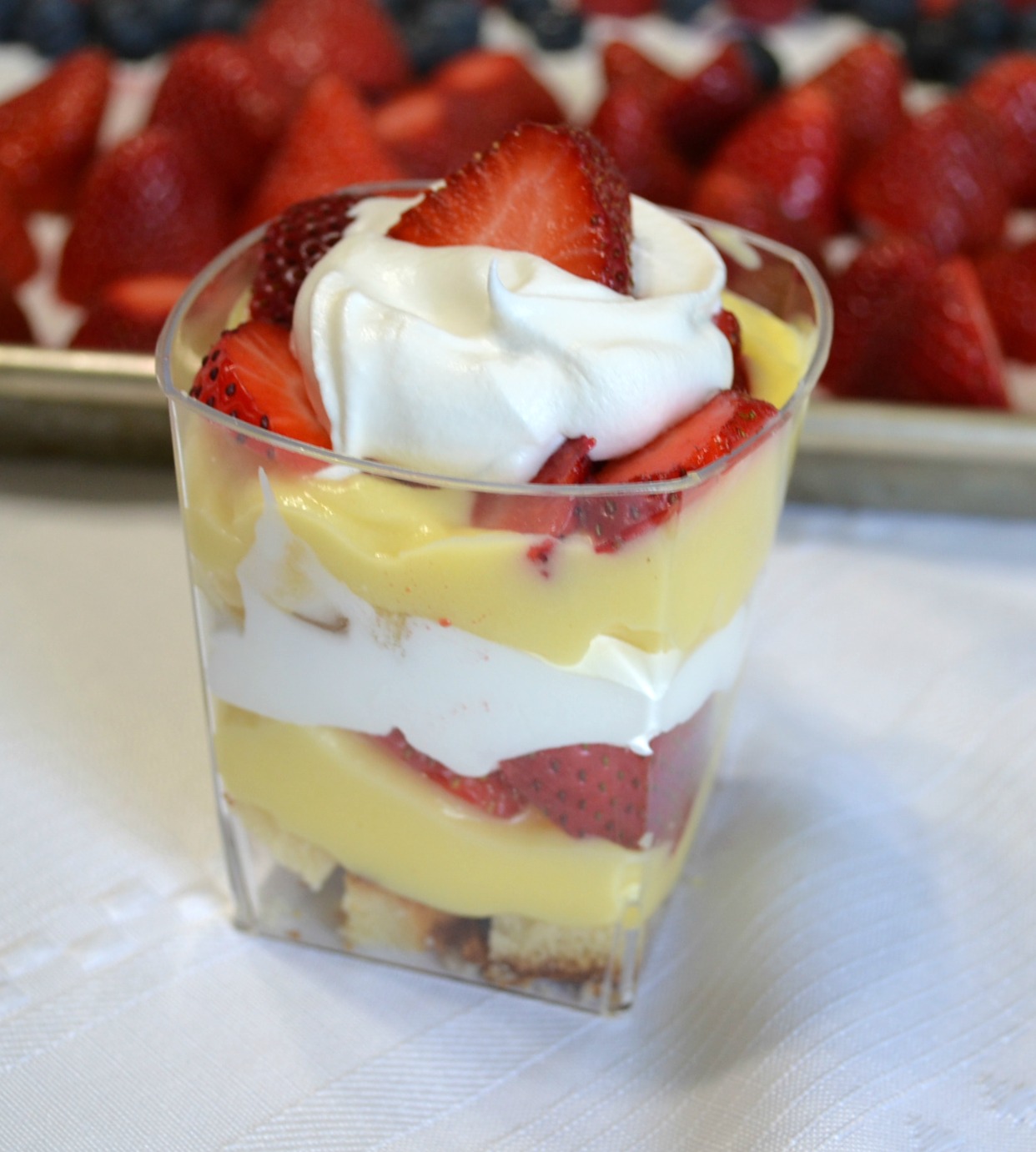 Strawberry…  vanilla  cake, vanilla pudding, strawberries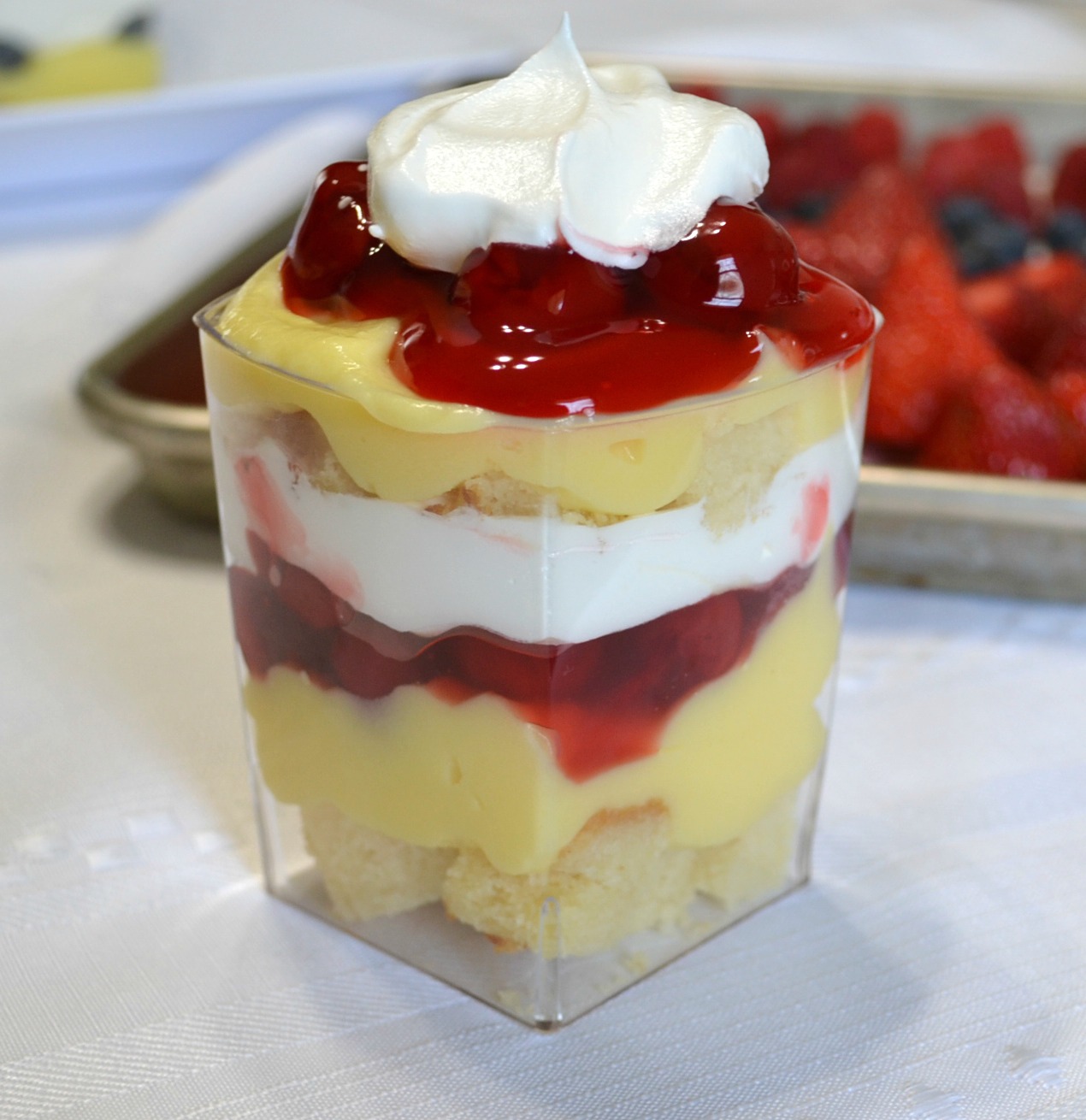 Punch bowl cake original… vanilla cake, vanilla pudding, cherry pie filling
It was fun to be creative and mix different fruits, cakes, and the
puddings.  I made 15 cups from my ingredients, but it would vary
depending on how much of each ingredient you put in the cup.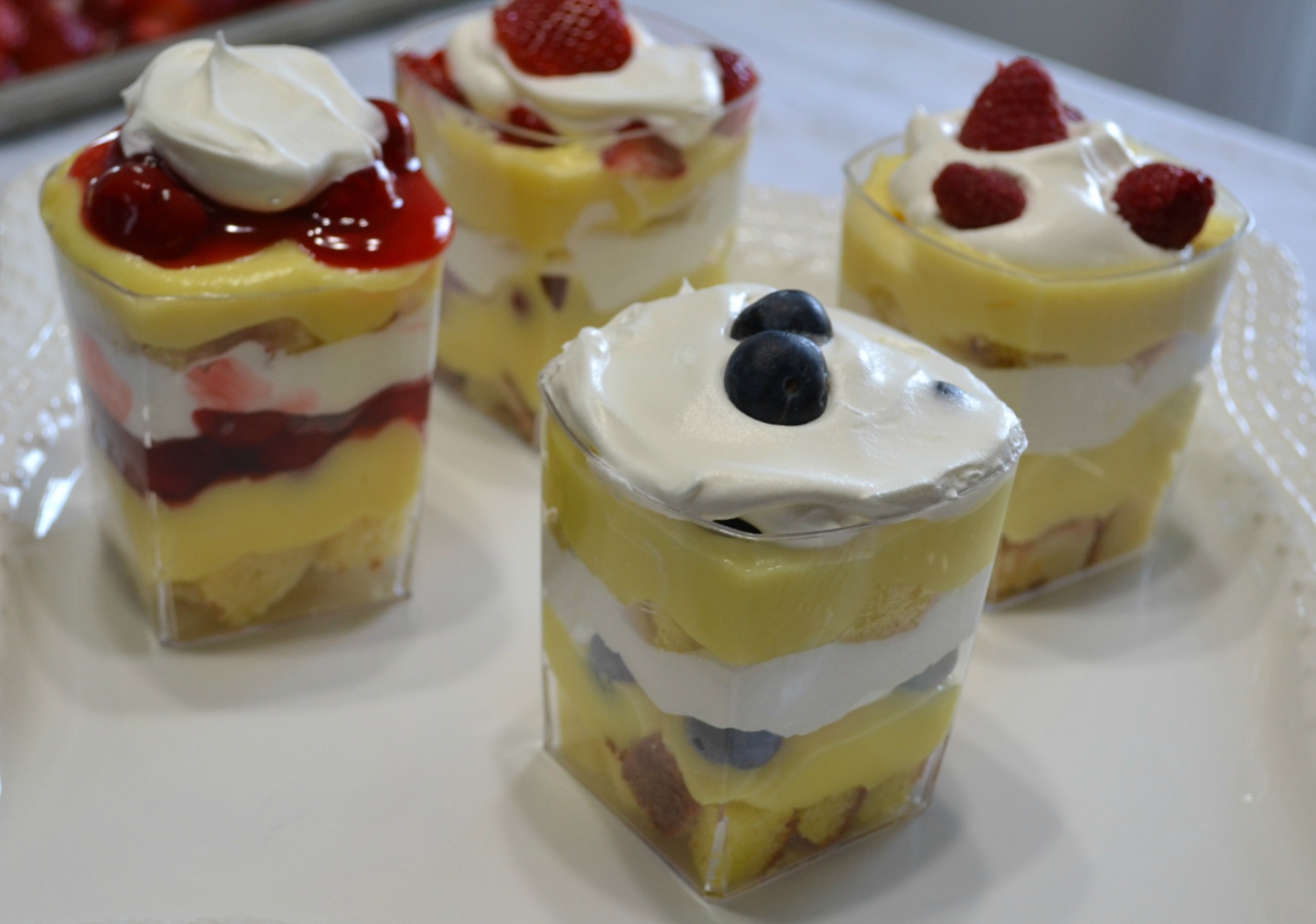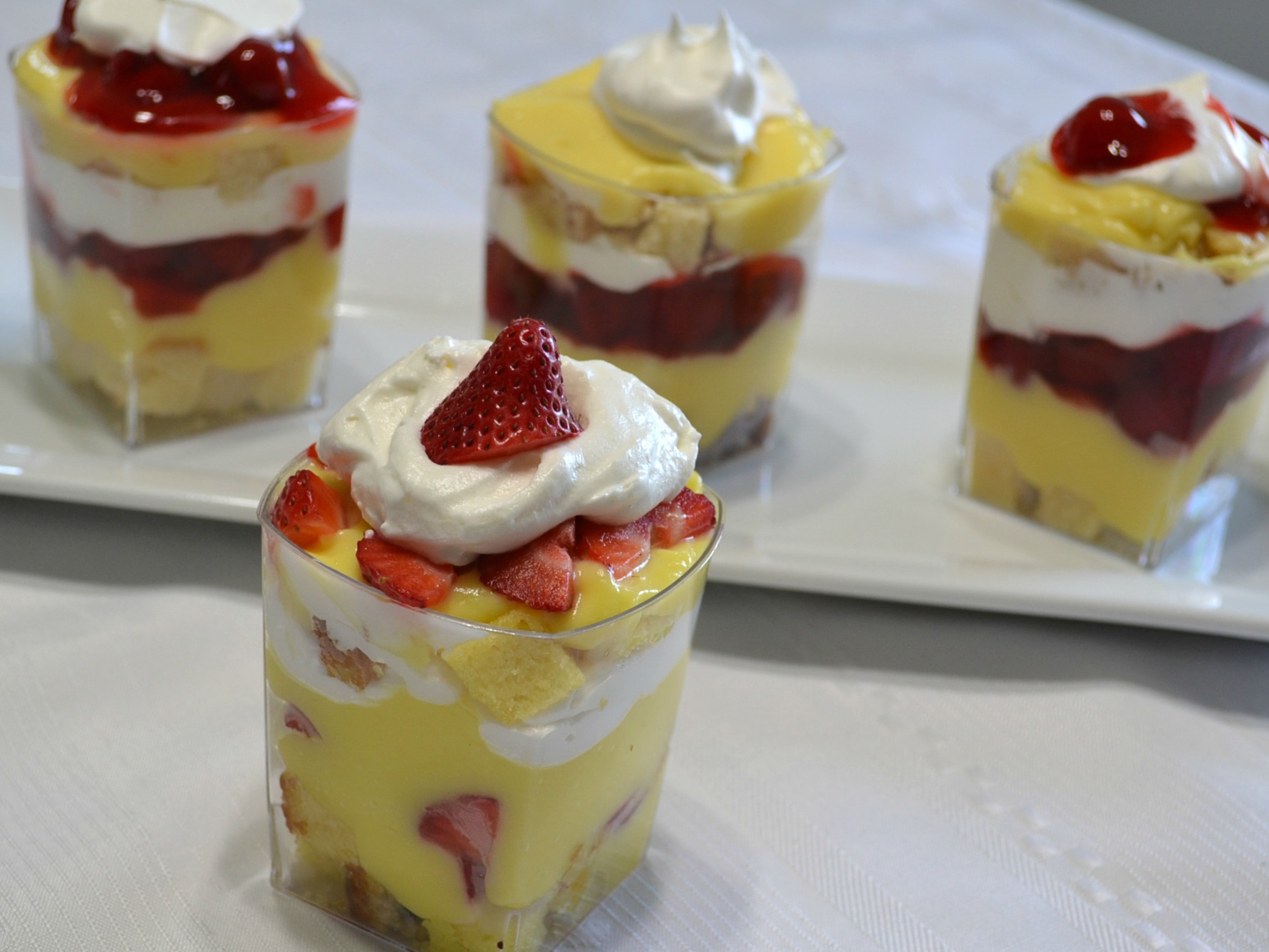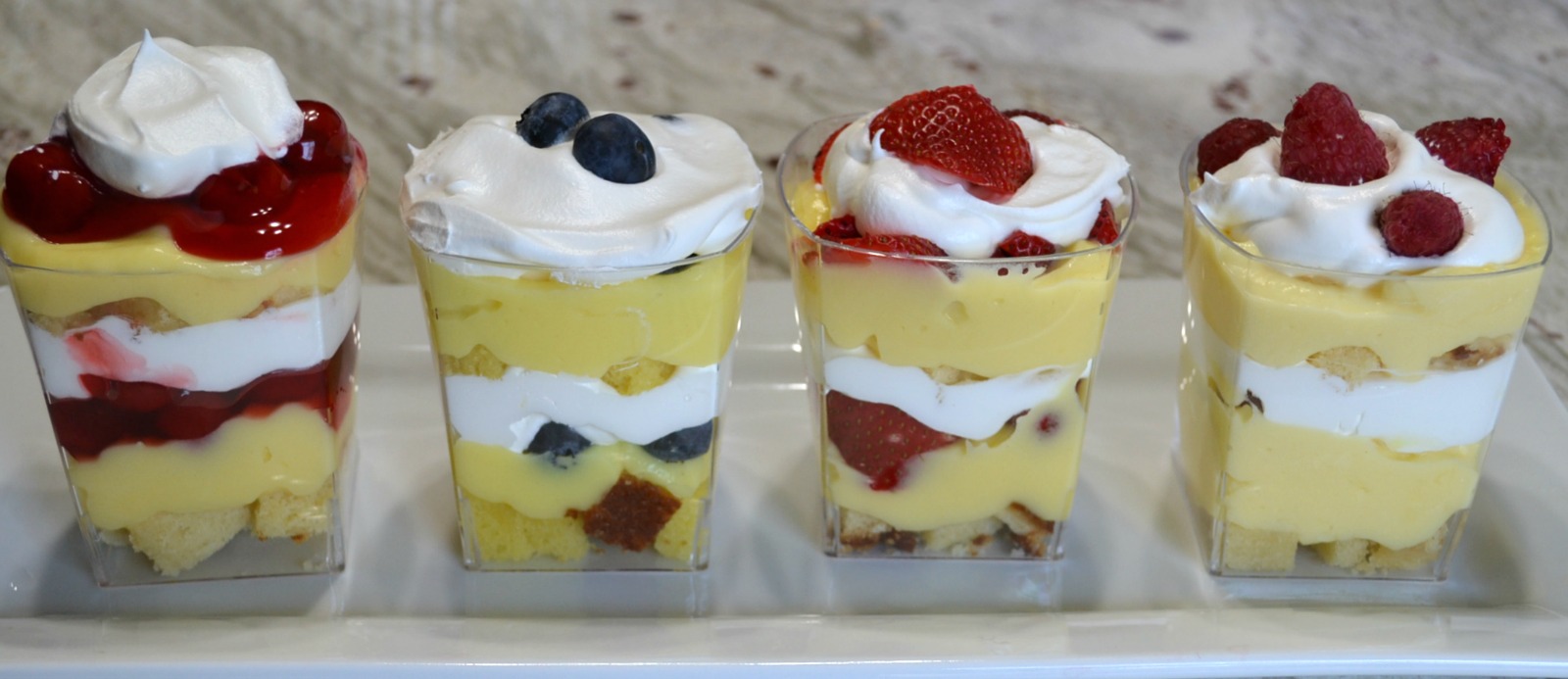 Refrigerate after creating these until ready to serve.
PUNCH BOWL CAKE CUPS
Ingredients
1 (3.4oz) box vanilla instant pudding mix
1 (3.4oz) box lemon instant pudding mix
1 (3.4oz) box coconut cream instant pudding mix
6 cups whole milk
1 pint fresh raspberries, cleaned & dry
1 pint fresh blueberries, cleaned & dry
1 pint fresh strawberries, cleaned & dry
1 can cherry pie filling
12 slices pound cake (variety of flavors is great)
1 (8oz) container frozen whipped topping, thawed
Instructions
Prepare each box of pudding with 2 cups cold milk as directed on the box. Refrigerate.
Clean and arrange fruit on a tray. Open pie filling and place in a small bowl.
Cut each slice of cake into 1/4 inch cubes. I purchased a package of variety pound cake.
To create each cake cup, place a thin layer of cake on the bottom. Top with about a heaping tablespoon of pudding, 1 tablespoon fruit or pie filling, and then about a tablespoon of whipped topping to cover. Repeat another layer in the same order.
Garnish with a fruit on top.
The amount of ingredients I used created 15 cups.
© 2023 Copyright GRANDMA HONEY\\\\\\\'S HOUSE
This recipe was shared on Weekend Potluck @Sweet Little Bluebird.
Enjoy these little punch bowl cake cups.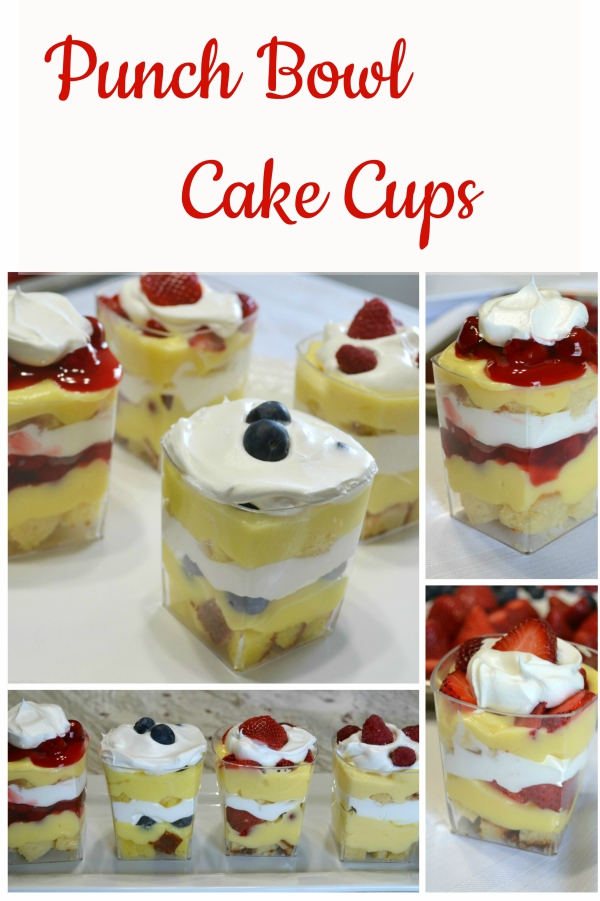 Please follow and like us: