Jump to recipe
Smoky Sausage Pimento Cheese Dip 

This Smoky Sausage Pimento Cheese Dip is made with sausage, bacon, and all of the ingredients in pimento cheese.  Cream cheese, mayo, pimentos, jalapenos and sharp cheddar cheese, are arranged in a disposable pan, and baked on the grill until warm and bubbly.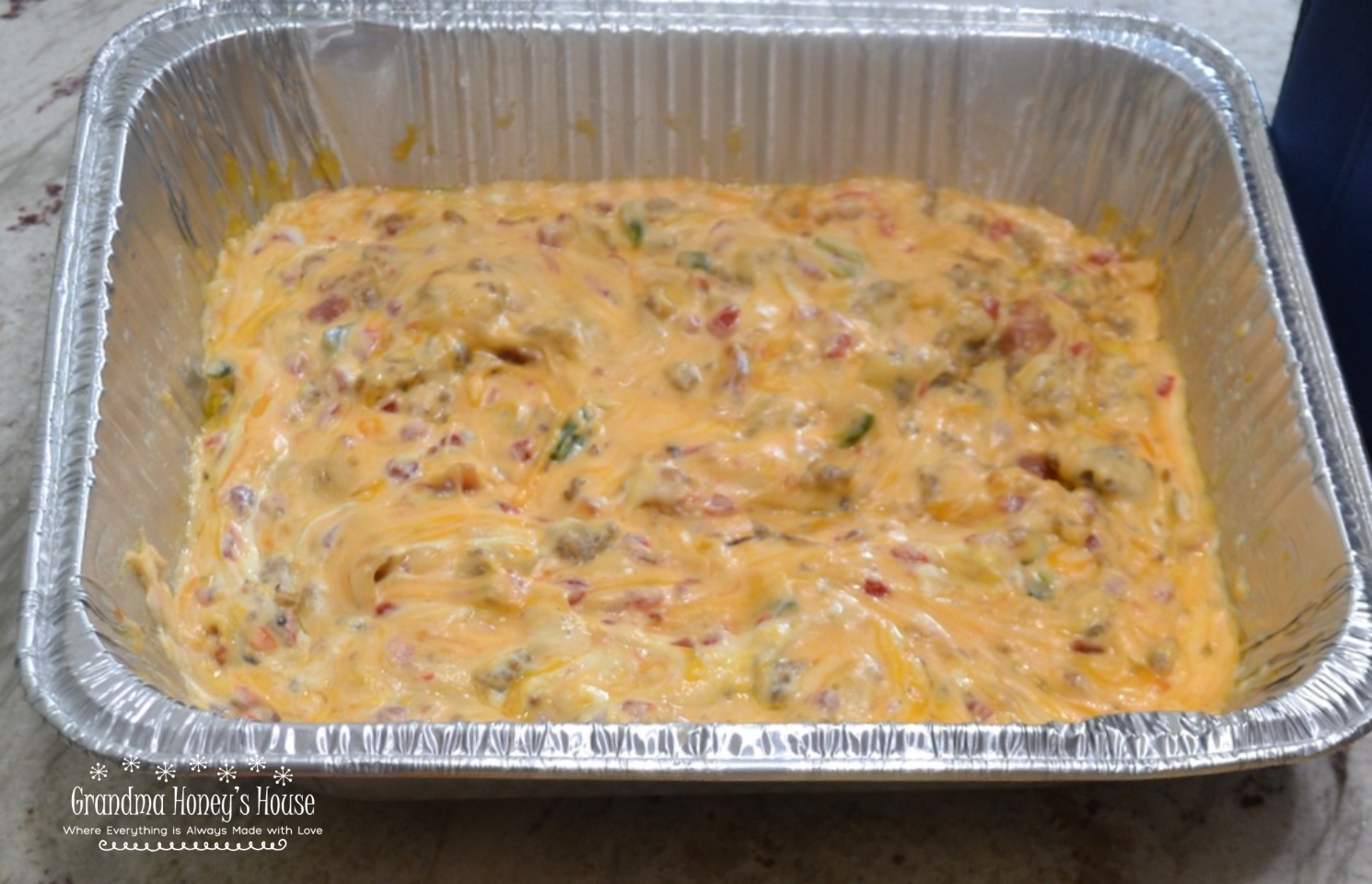 This is the perfect dip to serve at any tailgate party.
SMOKY SAUSAGE PIMENTO CHEESE DIP
Ingredients
5 slices bacon
1/2 lb ground sausage
8 oz cream cheese, room temperature
1 cup mayonnaise
4 oz jar pimentos, drained
1 jalapeno pepper, diced
2 1/2 cups sharp cheddar cheese, shredded
crackers, tortilla chips, doritos, small pieces of french bread, celery sticks
Instructions
Preheat grill to 350 degrees F. Spray a disposable aluminum pan with no stick cooking spray.
Cook bacon until crisp, chop into pieces and set aside. Crumble and brown sausage, drain grease: set aside. (You can prepare these ahead of time and transport to the tailgate in small bags, or prepare in a skillet on the grill)
Place the cream cheese and mayonnaise in center of the pan. Arrange the bacon, sausage, pimentos and cheese around the cream cheese block. Divide the cheese into 3 or 4 piles.
Place the pan on the grill, uncovered. Close the lid and let cook about 20-25 minutes until the cheeses are melted and bubbly. Stir the mixture frequently with a long handle spoon while it is cooking on the grill.
Arrange dippers onto a tray while the cheese dip is cooking. Use variety of crackers, small pieces of bread, and celery.
© 2023 Copyright GRANDMA HONEY\\\\\\\'S HOUSE
Our family loves every kind of hot cheese dip, especially a pimento cheese dip. I have made several variations of this, but wanted to see how it would work baking it on a grill.
We have tried this SMOKY SAUSAGE PIMENTO CHEESE DIP on a camping trip, and were very happy with it. It is so convenient to serve at an outside event, by serving it in a disposable pan.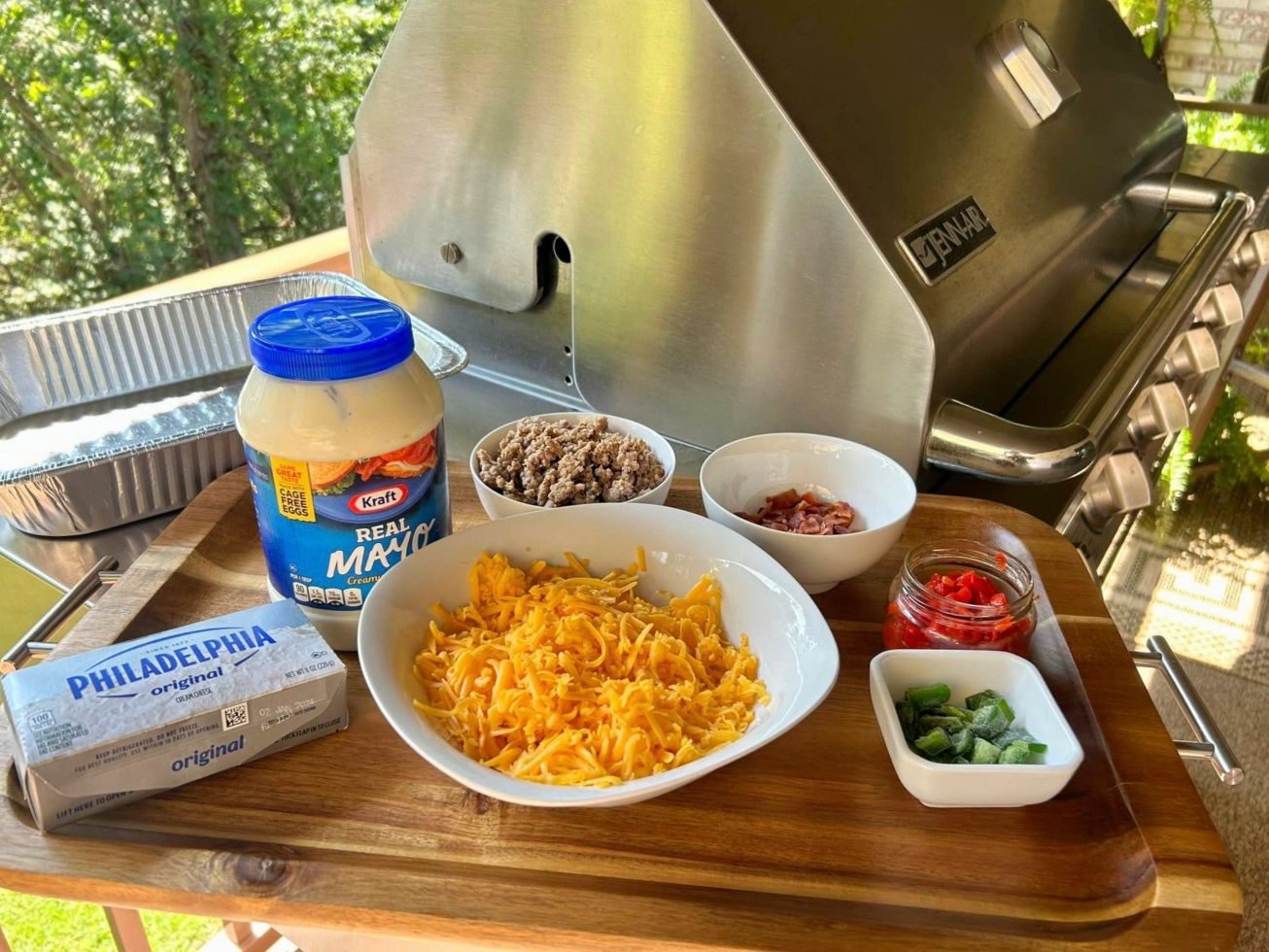 When we go to football games, I always have our food prepped so that it is easy to set up and serve. No one wants to be tied down to a lot of cooking, and miss the game!  I prepared the sausage and bacon ahead of time and put them in ziploc bags. All there was to do at the stadium was to arrange it in the pan and bake on the grill.
It stayed warm for a long time too. To rewarm, just turn the grill on a low temperature under the pan. Stir frequently so that it doesn't burn. Set up a tray of dippers, or to make it even easier, arrange them in another disposable pan.
The recipe calls for sausage, so you can use a mild or spicy one, depending on what your crew likes.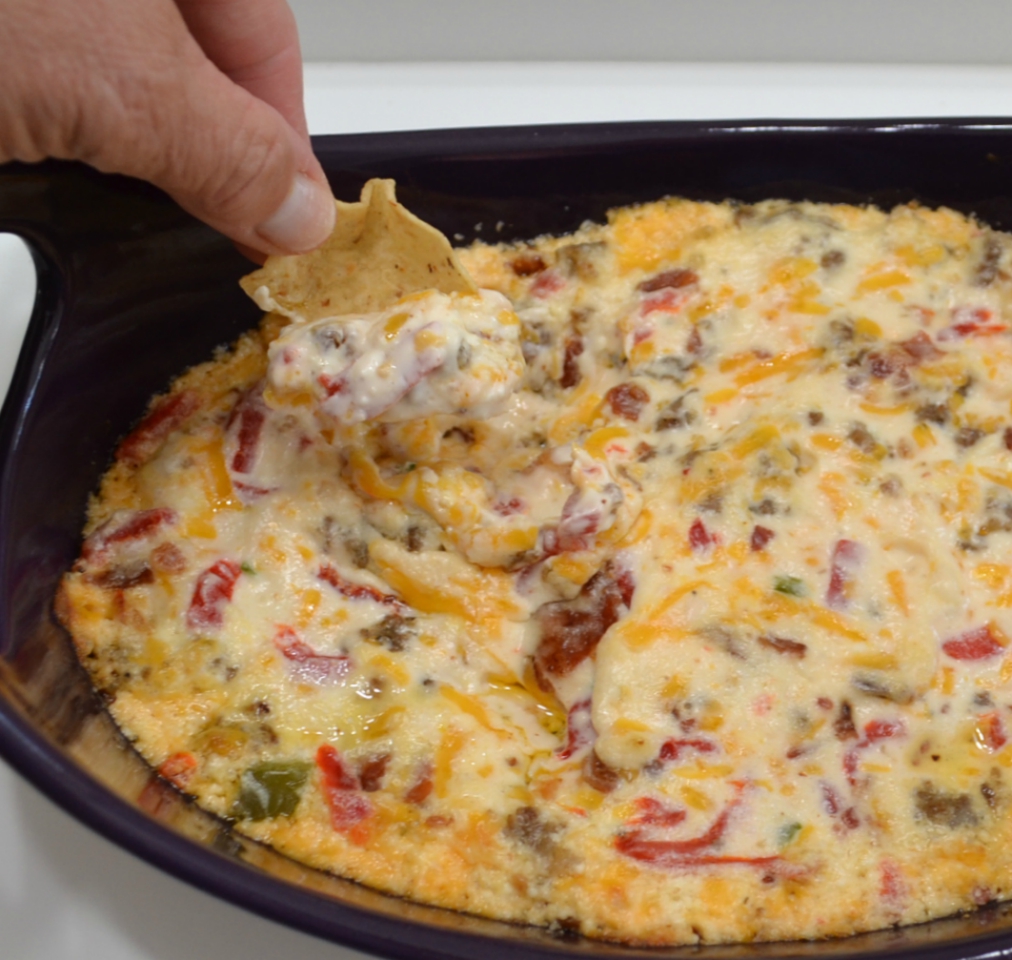 HERE is another variation of this dip that I had previously done and baked in the oven.  Same ingredients, just different technique.
Enjoy watching your favorite football team, and eating some good snacks.
Please follow and like us: