Jump to recipe
This Halloween Candy Bar Cookie is a combination of chocolate chip dough, peanut butter dough, and brownie mix baked all together on a large cookie sheet.  Mini candies and chips are mixed in the dough and top the baked cookie.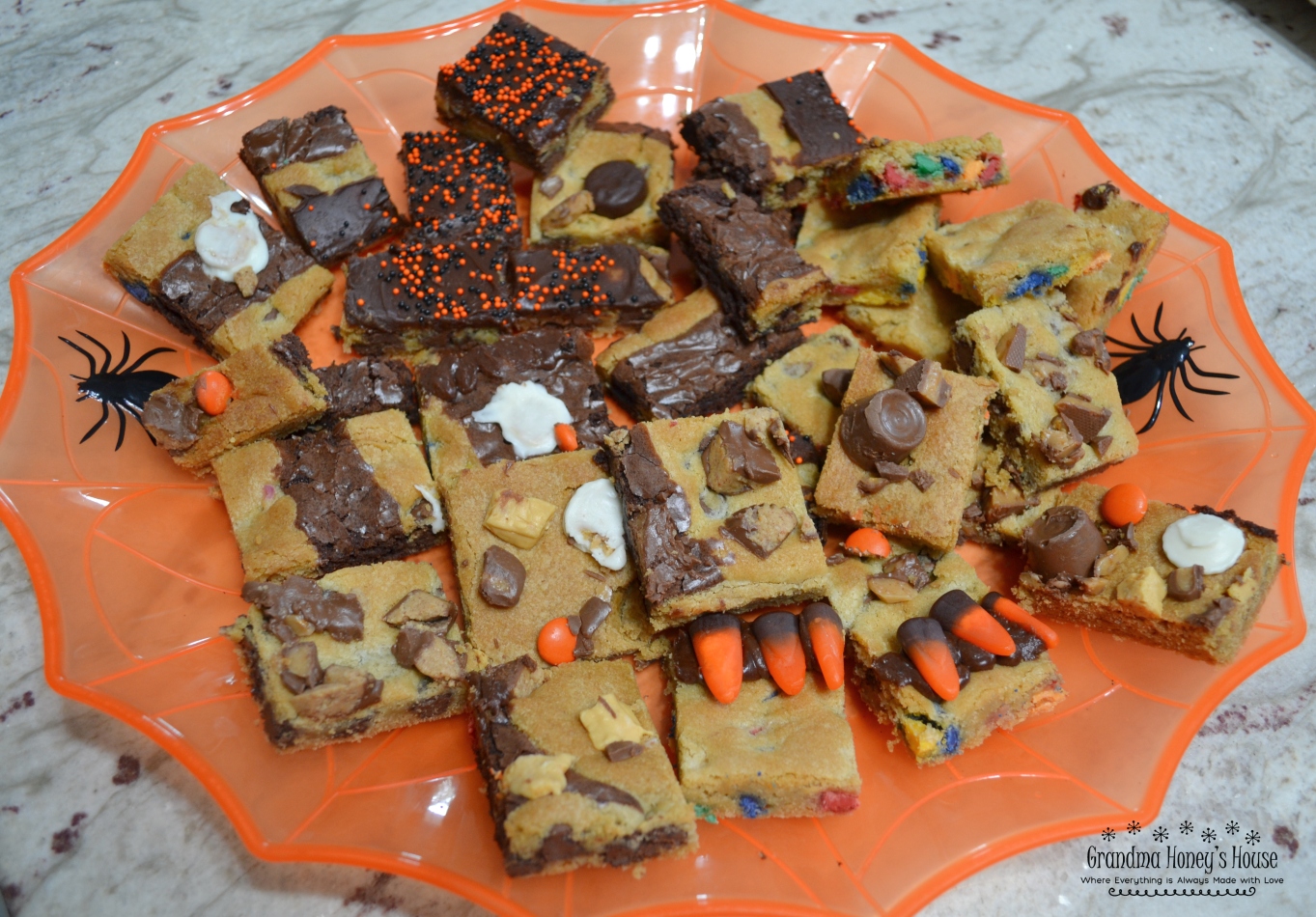 My Halloween Candy Bar Cookie is a fun treat to serve at any party, as well as a good way to use some of the leftover Halloween candy. Cookie cakes are all over the internet and so easy to make. They can be decorated for any occasion.  For many years, I have made chocolate chip ones, but decided to get a little adventurous with this cookie.
I purchased some bags of mini candies, chocolate chips, and colored chocolate chips.  Crush the mini candy bars into smaller pieces, to  add in dough.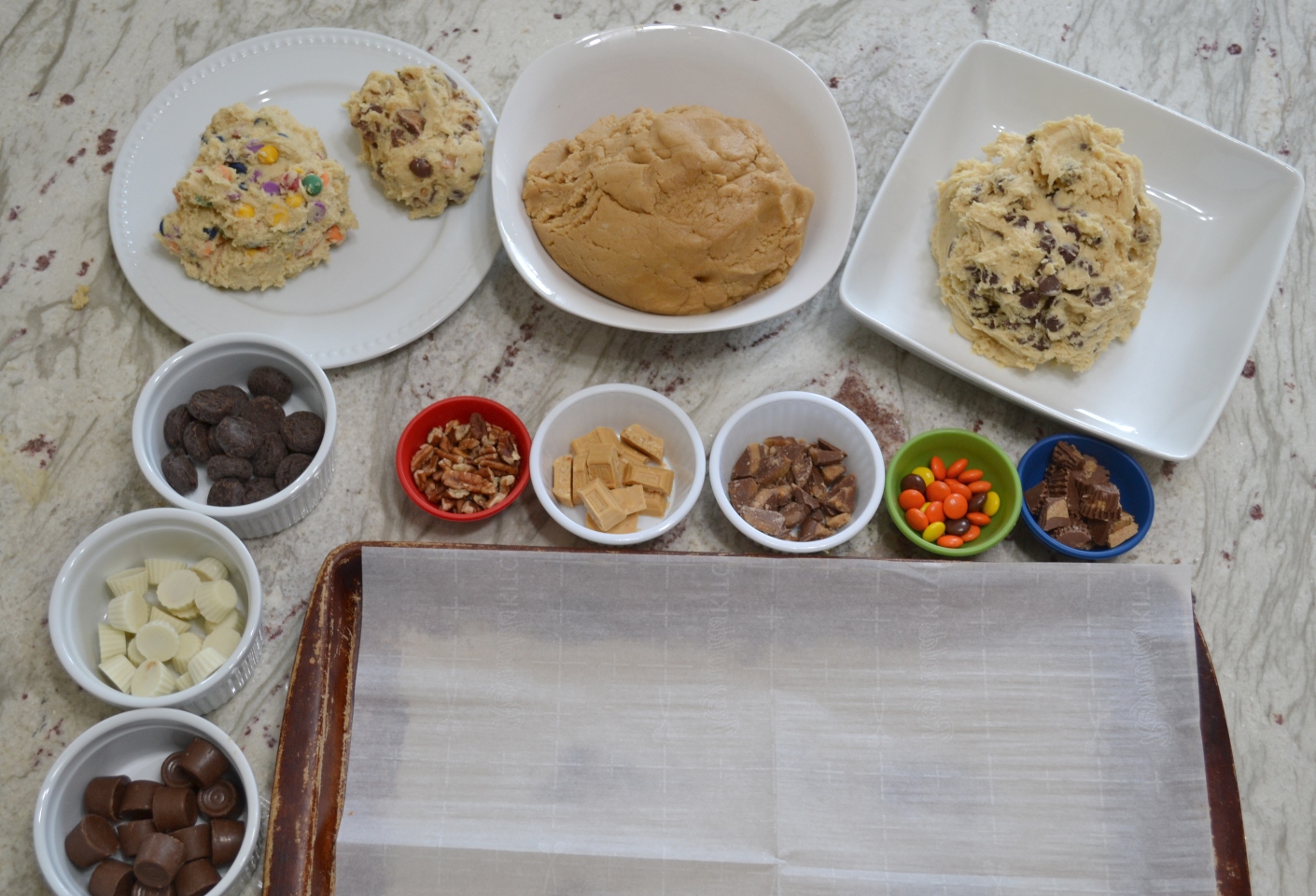 Mix a chocolate chip cookie dough, and divide into  3 sections. (I used the Nestles Toll House  Choc Chip recipe).  I added chocolate chips to one part, colored chips to one, and crushed toffee bars to the last one.
Prepare a peanut butter cookie dough (I used the one on JIF jar).  Prepare a brownie mix  (I used Pillsbury Chocolate Fudge).
I did not use the full amount of any of the cookie dough in this bar cookie, so I  baked the brownies, and froze the remaining cookie dough in balls.
To start, line a baking sheet with parchment paper. I used a Pampered Chef Stoneware sheet that is 11 x 17 inches.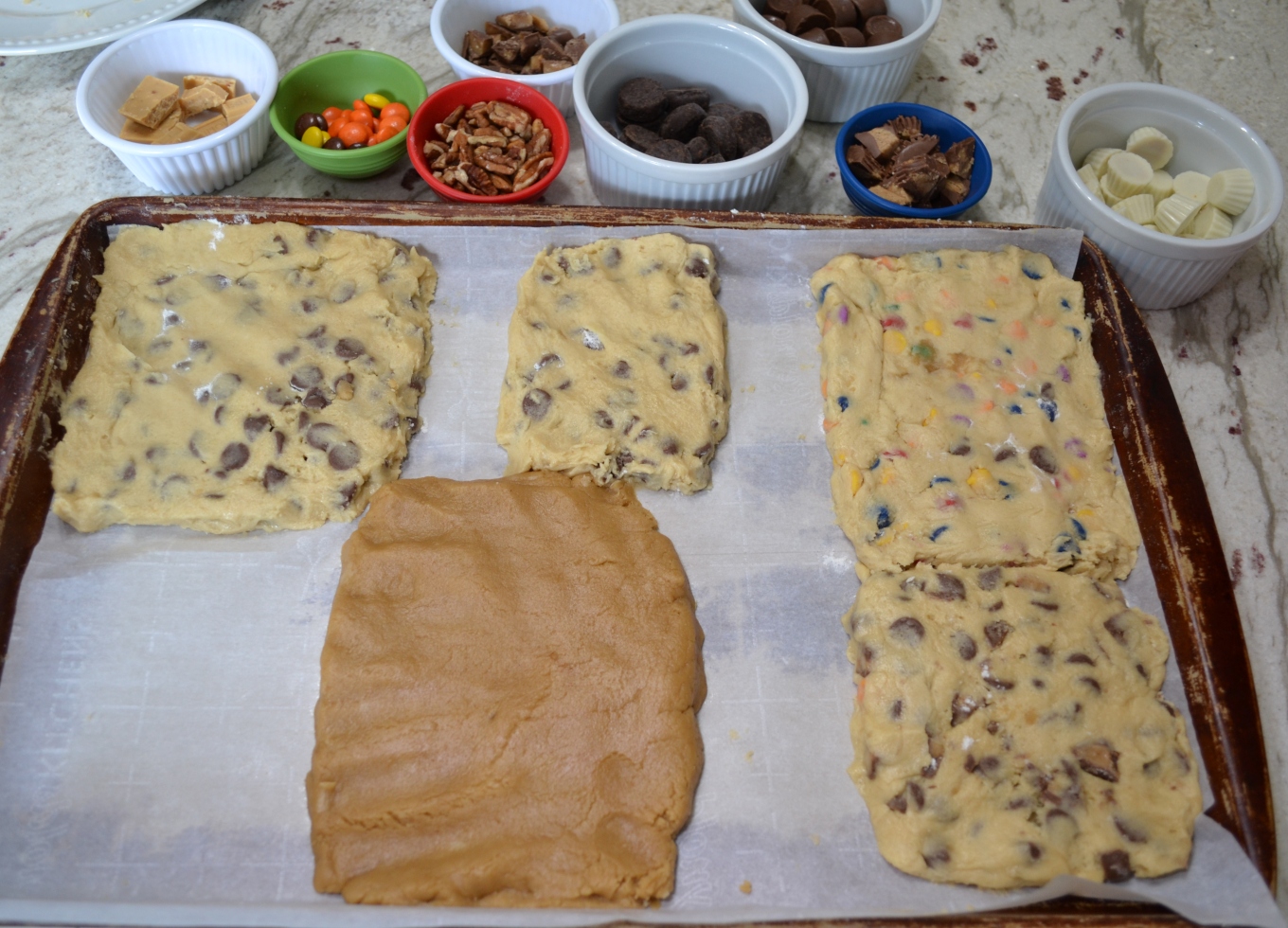 For my Halloween Candy Bar Cookie, I pressed 1 cup amounts of the dough into rectangles on different areas of the pan.  I kept my peanut butter dough as one larger part, but in the future, I would divide it also.
Save open areas on the pan for the brownie mixture. Press any candy pieces into the dough you choose, or add  it after it is baked.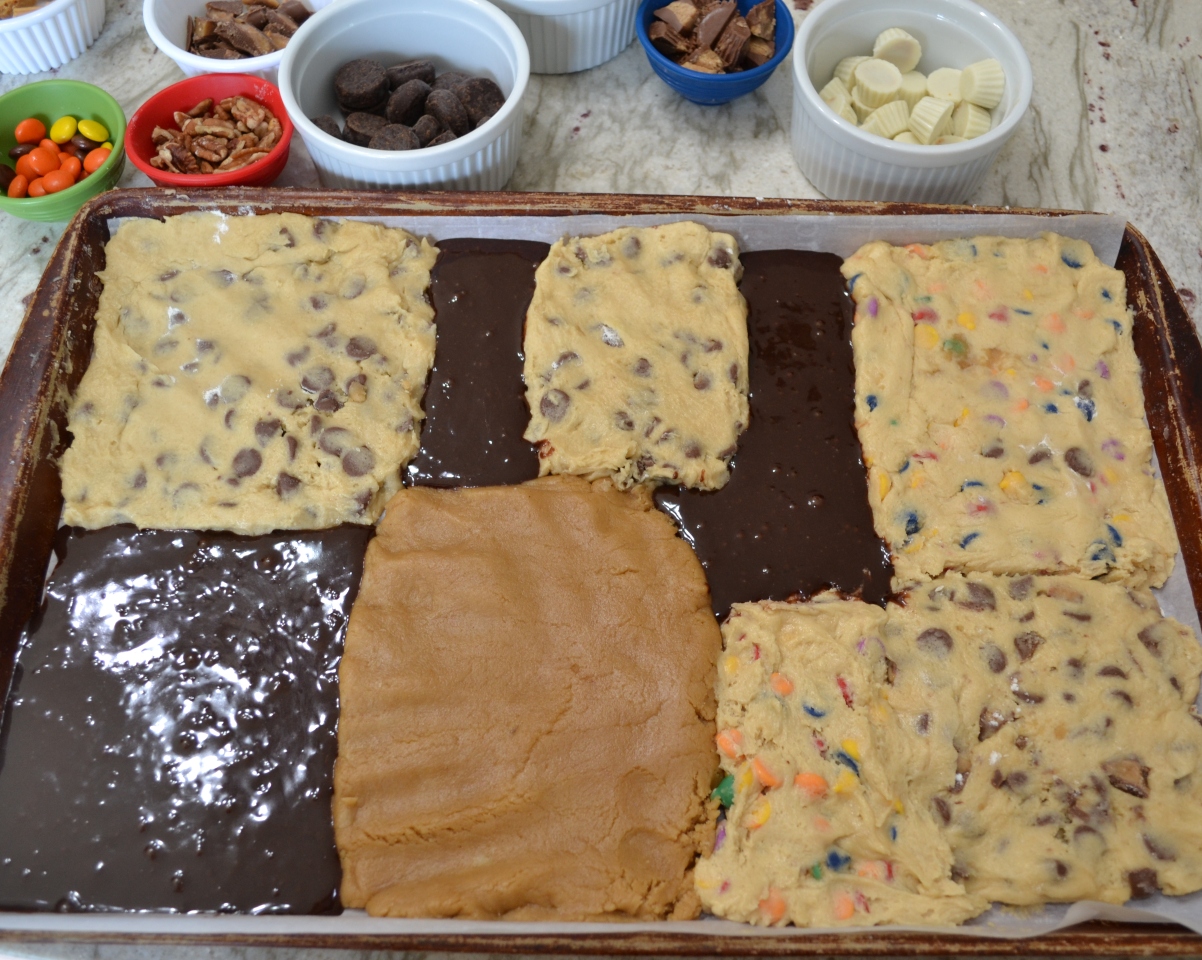 Spoon the brownie mixture into areas that are open. This will run into some of the other dough and turns out delicious.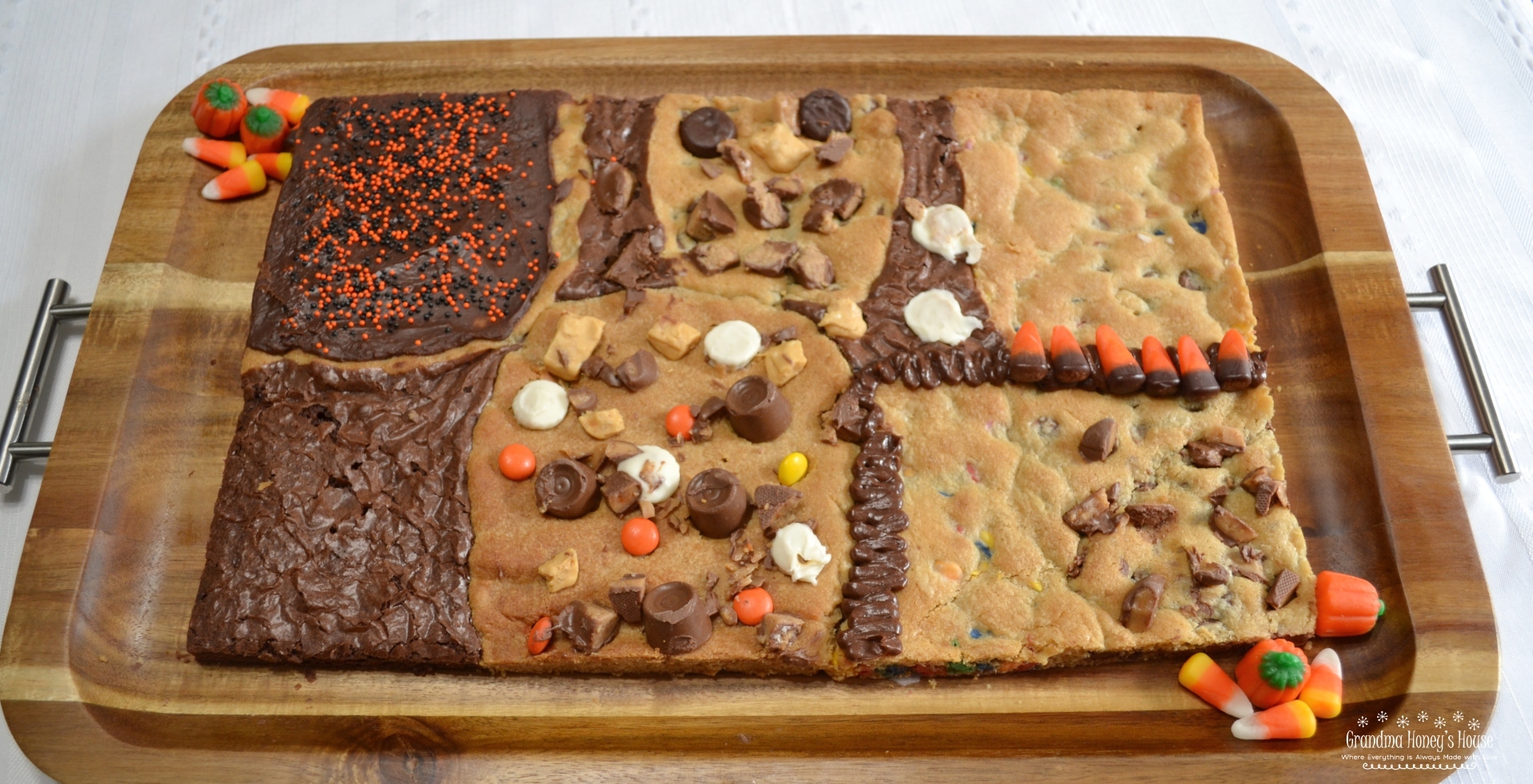 Bake for about 15-18 minutes, or until toothpick comes out clean when inserted in the dough. Remove from oven and cool on a wire cooling rack for about 45 minutes or more.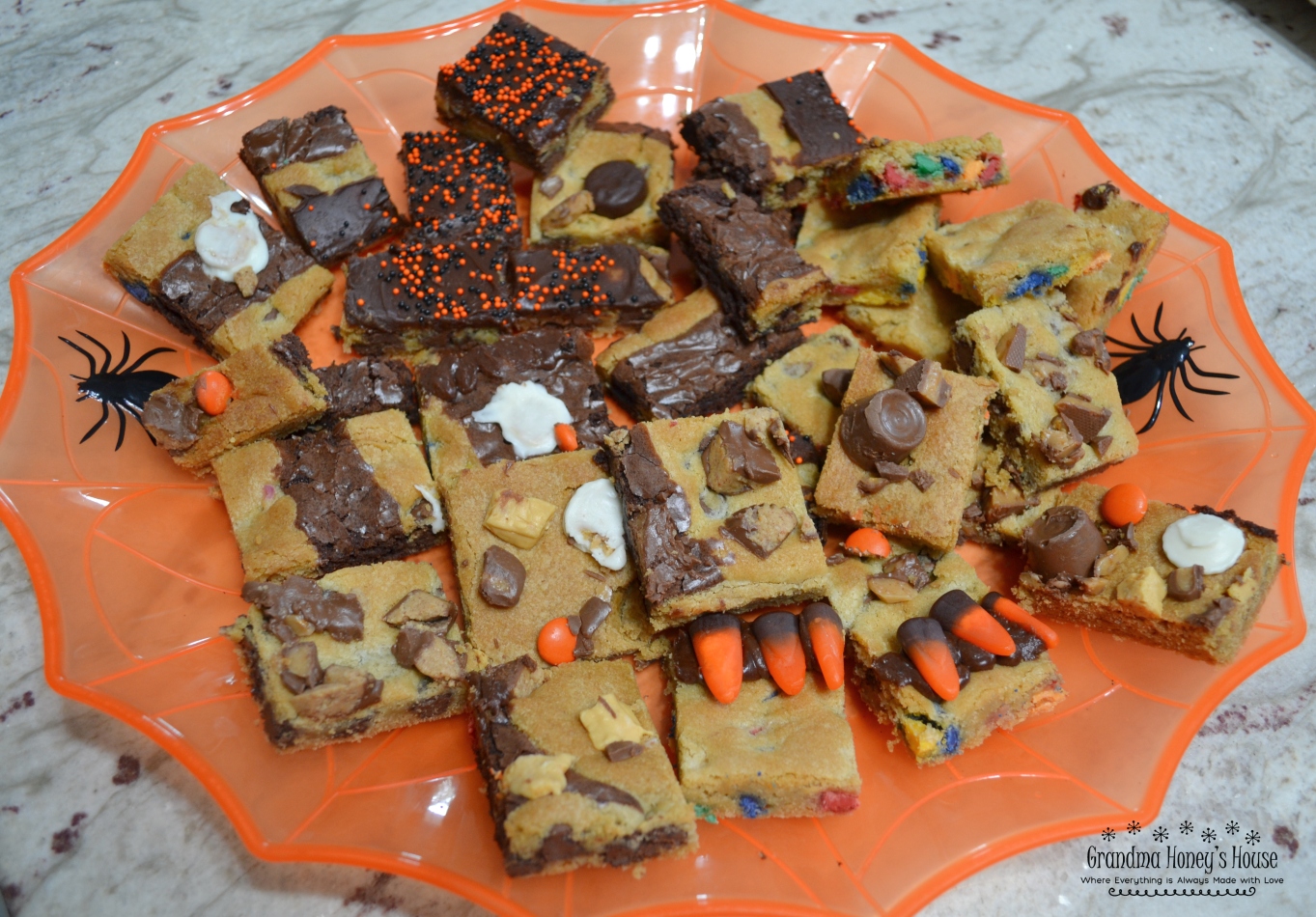 Transfer to a cutting board, decorate if desired with icing and more candy. Allow to cool completely and cut into desired size shapes.
There are no set rules for this Halloween Candy Bar Cookie.  Add any variety of candies or chips. This is such a fun project to do with children.
HALLOWEEN CANDY BAR COOKIE
Ingredients
Recipe of Chocolate Chip Cookie Dough (Scratch, refrigerated tube, or package)
Recipe of Peanut Butter Cookie Dough (Scratch,refrigerated tube or package)
Box of Brownie Mix
chocolate, white, or butterscotch chips
6-8 kinds of mini candies (if using candy bars, crush into pieces)
can of frosting
Instructions
Preheat oven to 350 degrees F. Line a large baking sheet with parchment paper.
Prepare each of the cookie doughs. May use a scratch recipe, refrigerated dough, or a package.
Prepare the brownie mix.
Place candies and chips in small bowls.
Divide the chocolate chip dough into 3 parts and add chips or candies in each. Add candies or chips to peanut butter dough if desired. I preferred to add candies after it was baked to this part.
Measure out 1 cup portions of the cookie dough and press into rectangle shapes in different areas of baking sheet, leaving areas open for the brownie mix. Spoon the brownie mix into designated areas. Add candies if desired.
Bake for 15-18 minutes or until a toothpick comes out clean when inserted into the dough.
Remove from oven and cool on a wire rack. After cooled, transfer to a cutting board.
Decorate with frosting and candies. Cut into desired shapes to serve.
© 2023 Copyright GRANDMA HONEY\\\\\\\'S HOUSE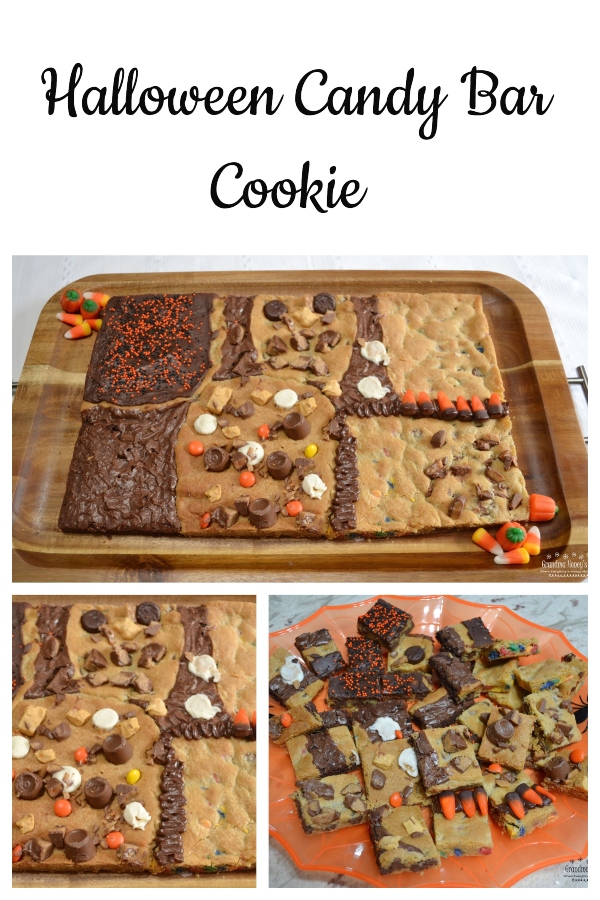 Please follow and like us: