Strawberry season is here now and this is a recipe I would love for you to try.
This recipe is a fun one to make, especially when you have delicious, fresh strawberries. It is quick, easy, and anything with mascarpone cheese in the filling has to be wonderful.
I had entered this recipe last year in the Pillsbury Bake-off contest, and it was not the one they chose for me as a finalist, but I have made it for my family several times since then so, I guess that makes it a winner.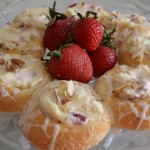 Strawberry Mascarpone Danish Breakfast Ring
2015-07-28 20:09:14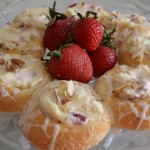 Serves 8
Ingredients
1 roll (8oz) Pillsbury Crescent Seamless Dough Sheet
1/2 cup mascarpone cheese, room temperature
1/2 teaspoon vanilla extract
1/2 cup confectioner sugar
10 medium size fresh strawberries, washed
2 teaspoons milk
2 Tablespoons sliced almonds
Instructions
Preheat oven to 350 degrees F. Line a large baking sheet with parchment paper.
Open can of dough but do not unroll. Cut into 8 equal slices. Press each slice down with the palm of your hand to flatten slightly. Arrange rolls in center of parchment paper, in a circle, with edges slightly overlapping.
Bake for 15-17 minutes or until rolls are light golden brown. Remove from oven and make a large indentation in center of each roll, using a wooden mini tart shaper. Allow to cool for 5 minutes then transfer to a serving platter.
While rolls are baking, in a medium size bowl, combine the mascarpone cheese, vanilla and 2 Tablespoons of confectioner sugar, using a spoon. Dice 1/2 cup of the strawberries and gently fold into the mascarpone mixture. Place the remaining confectioner sugar in a small bowl and stir in small amounts of the milk at a time to obtain a consistency to drizzle.
Divide the filling evenly between each of the roll centers, about a heaping teaspoon, trying to leave some strawberry pieces toward the top. Smooth tops slightly with a knife. Drizzle the glaze over the rolls. Sprinkle almonds on top. Arrange remaining strawberries in center of the ring.
GRANDMA HONEY'S HOUSE https://grandmahoneyshouse.com/
Please follow and like us: