Jump to recipe
Summer is here and time to share this recipe for Protein Packed Pasta Salad.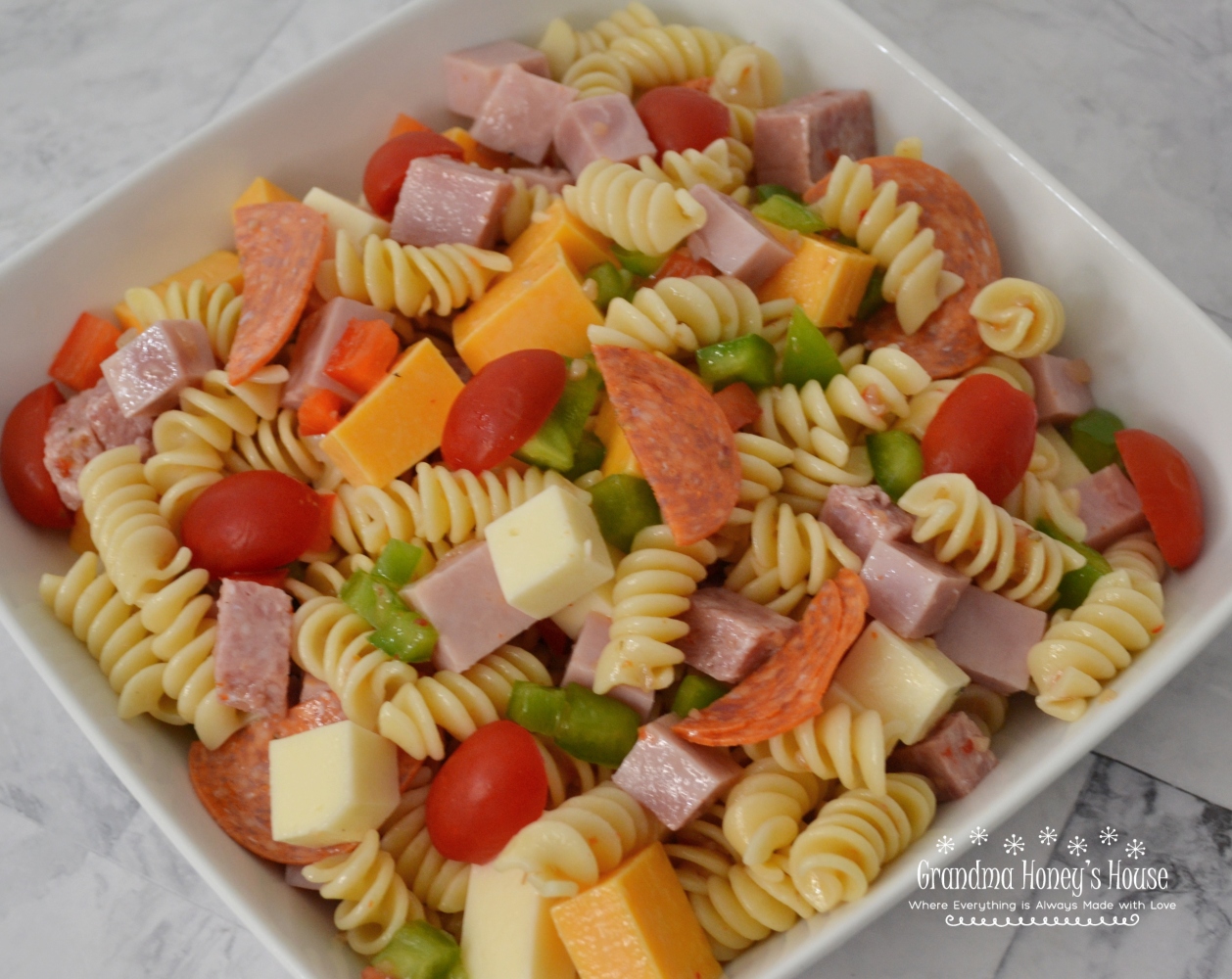 I call this dish Protein Packed Pasta Salad because of the abundance of different meats and cheeses in it. It is a colorful dish and makes a great side. It also makes a complete meal itself.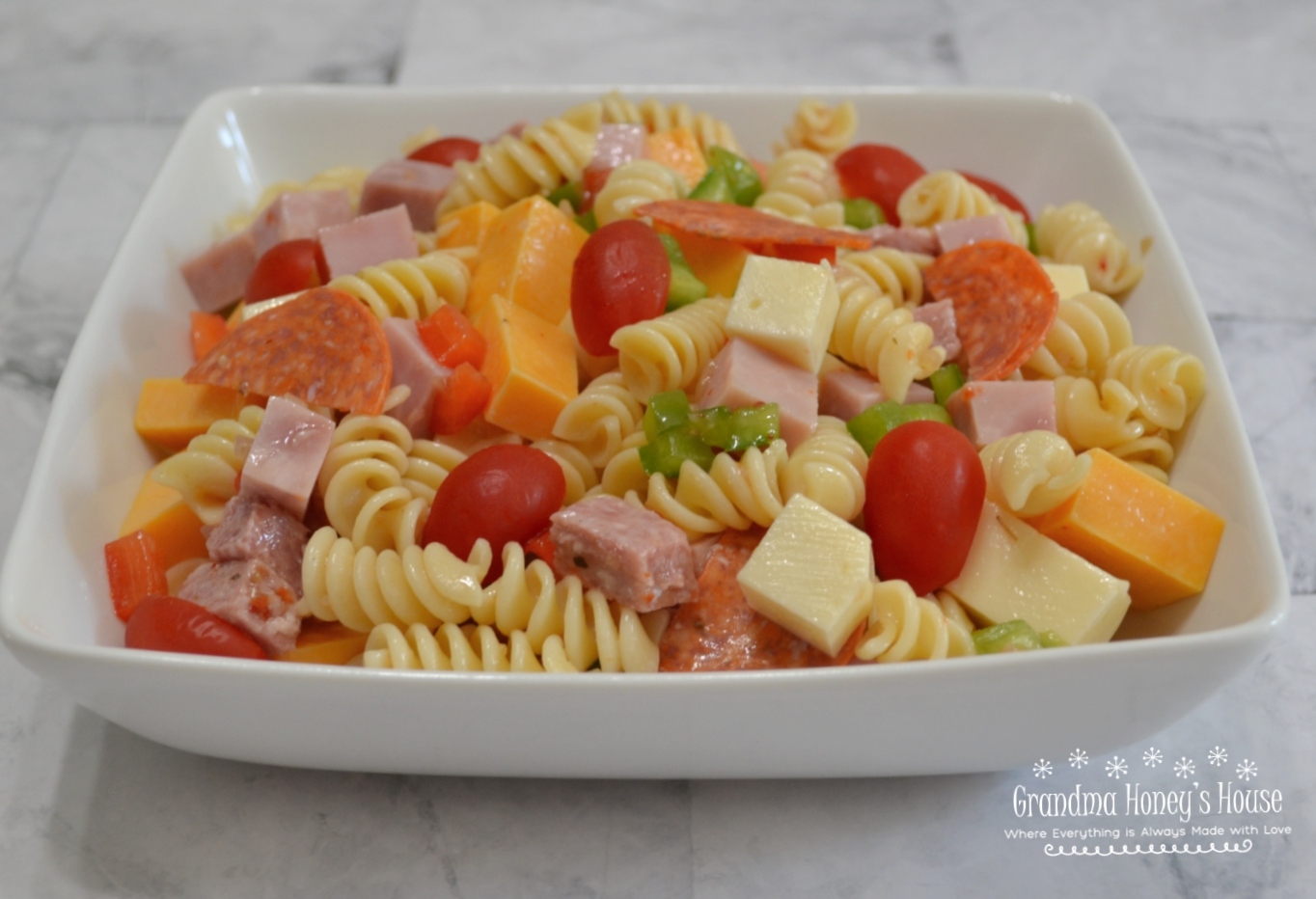 My family always requests this pasta salad for any get
together, and my husband makes sure there is never any
leftover.
Two of my daughters have to eat Gluten Free, so this is
wonderful if you use the Gluten Free Pasta also.
I like to buy the meats and cheeses from the deli so that I can get thick pieces and cut them into cubes.
HOW TO MAKE PASTA SALAD:
Boil the pasta, drain and set aside to cool. Place in mixing bowl.
Cut the peppers into small pieces and add to pasta.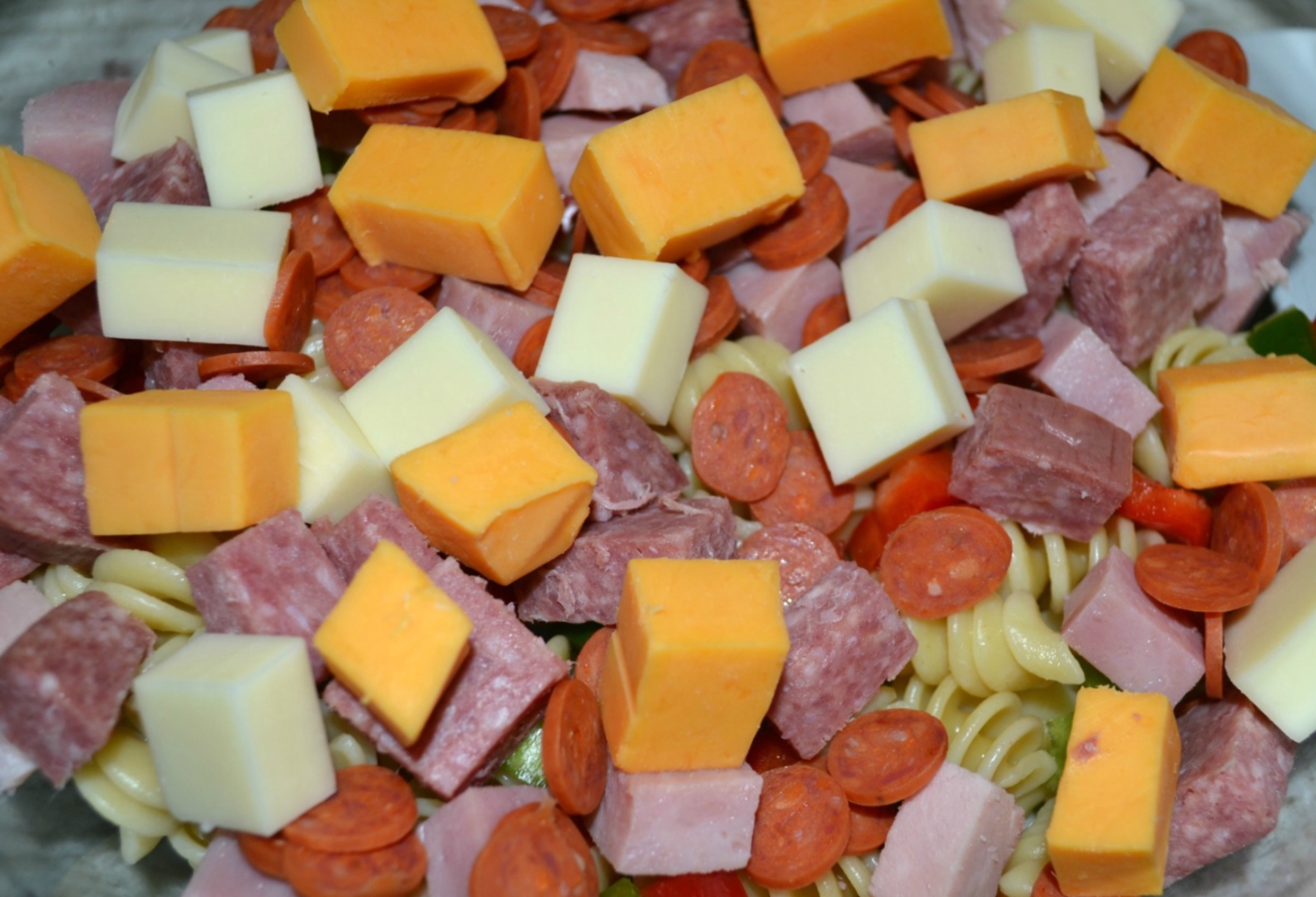 Cut the ham, salami, and cheeses into 1/2-inch cubes and add to the pasta, along with pepperoni.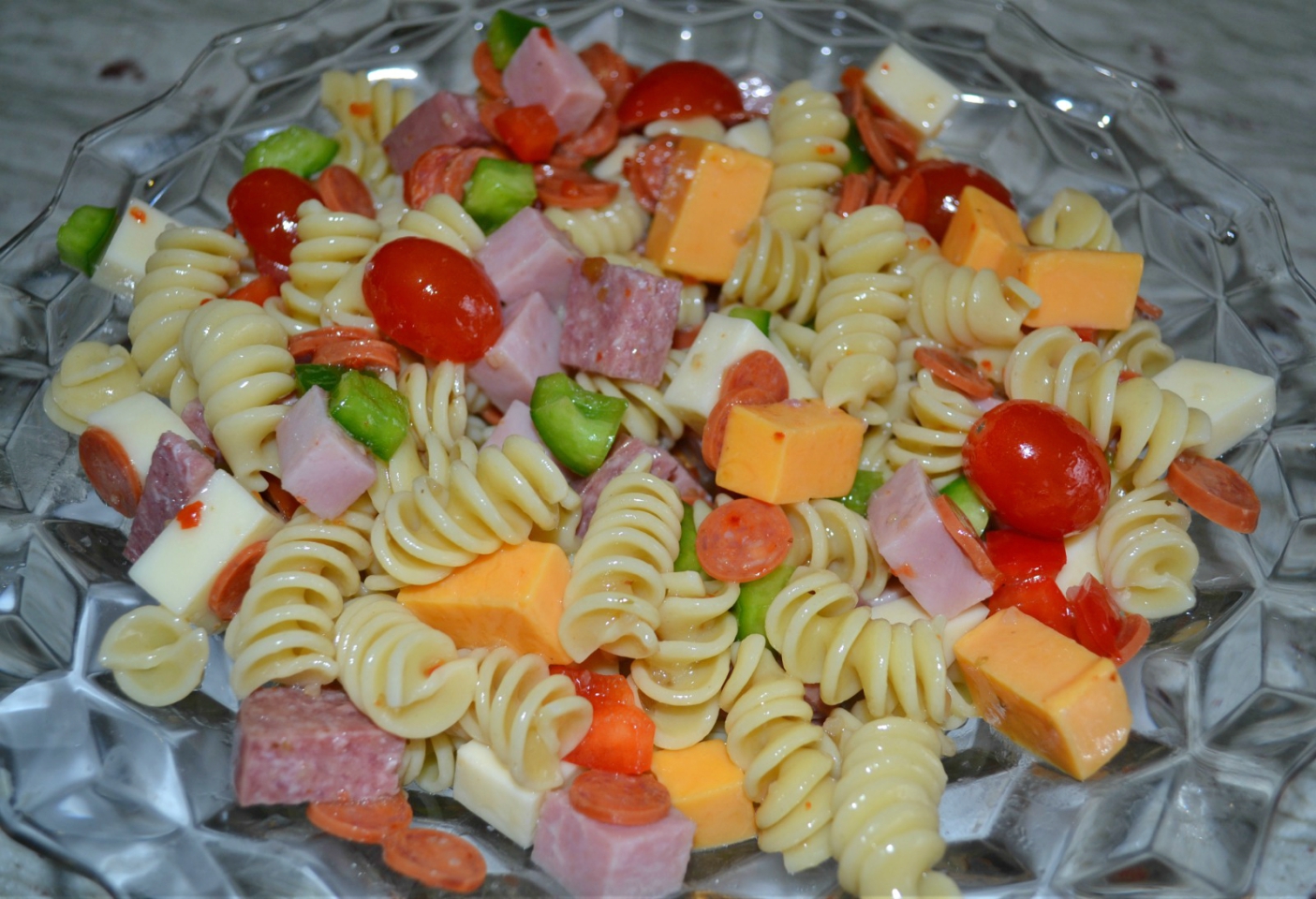 Cut tomatoes in half and add to bowl.
Add the dressing slowly, tossing to coat all ingredients.
Cover and chill at least 4 hours.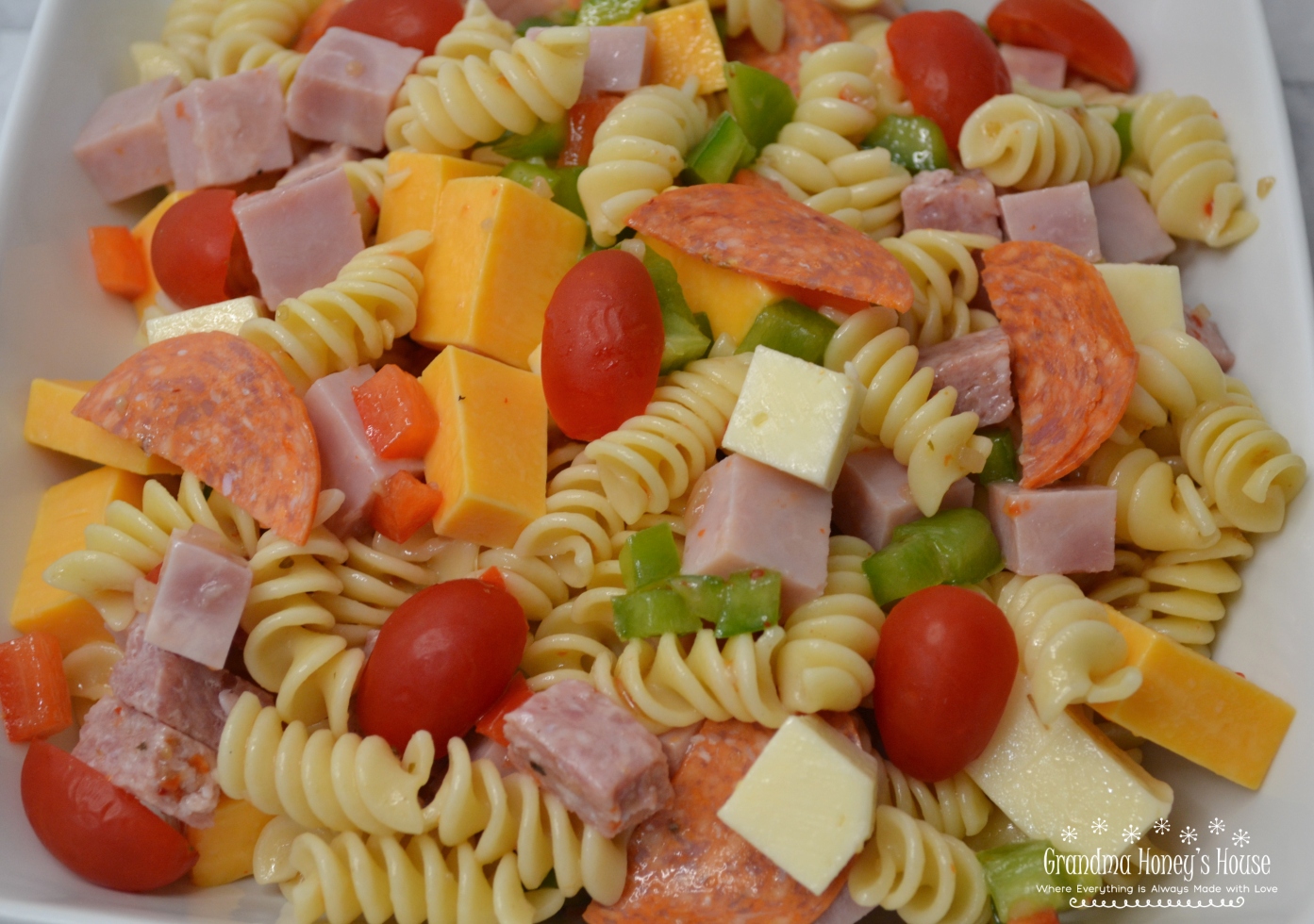 Gently toss salad prior to serving, drizzle additional dressing if needed.
PROTEIN PACKED PASTA SALAD
Ingredients
3 cups rotini pasta
1/2 cup green bell pepper, chopped
1/2 cup red bell pepper, chopped
1 slice deli ham, cut thick (8 oz)
1 slice cooked salami, cut thick (4oz)
1/2 cup mini pepperoni pieces (or 10 pizza style slices, cut in half)
8 oz chunk colby cheese
8 oz chunk provolone cheese
6-7 cherry tomatoes, cut in half
1- 1 1/2 cups zesty Italian dressing
Instructions
Boil rotini in salted water as directed on box, about 12 minutes; drain and cool. Place pasta in serving bowl.
Add peppers to pasta. Cut ham, salami, colby and provolone cheese into 1/2-inch cubes. Add these ingredients, along with the pepperoni and tomatoes to pasta bowl.
Add the Italian dressing slowly, tossing ingredients to coat all ingredients. Start with lesser amount of dressing and adjust to desired amount.
Cover and chill at least 4 hours. Gently toss pasta again prior to serving.
© 2023 Copyright GRANDMA HONEY\\\\\\\'S HOUSE
This Protein Packed Pasta Salad is easy to transport,
colorful, and delicious. The perfect side dish.
This recipe was shared on Weekend Potluck @Sweet Little Bluebird.
So many great cooks/bakers share recipes on this site.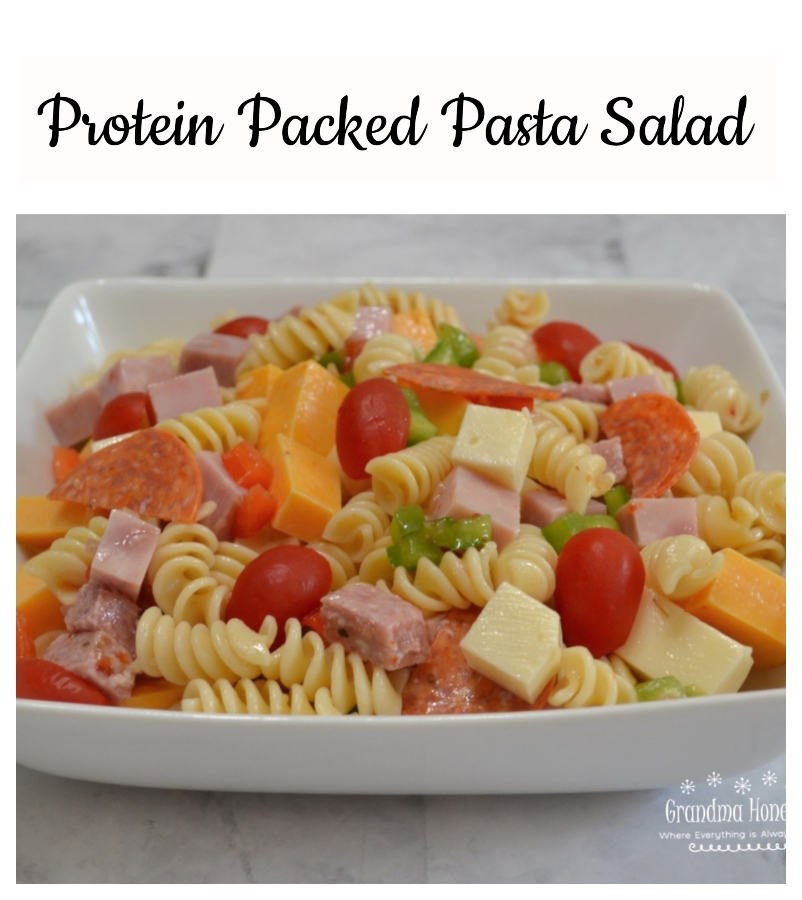 Please follow and like us: