Cranberry Orange Pecan Snickerdoodles are perfect cookies to add to your fall baking list.
The local grocery stores have started stocking fresh cranberries so I am taking advantage of it and creating cranberry recipes.
These delicious cookies are made by starting with a basic snickerdoodle recipe. I added fresh cranberries, orange zest, and pecans to the dough. After they are baked, dip in melted white chocolate and allow the chocolate to harden.
My husband and I really only started eating cranberries about 3 years ago. I always throw a few bags in the freezer to use during the year when I cannot get them.
They are delicious in Turkey Meatloaf and make it extra moist. I also make a cranberry sauce that we eat on turkey paninis, club sandwiches, and we love them in stuffing. The desserts are endless they can be used in.
What are some ways you use fresh cranberries? I would love more ideas..
Here is how I made these cookies and the recipe

Mix up the snickerdoodle recipe, then stir in fresh chopped cranberries, orange zest and pecans.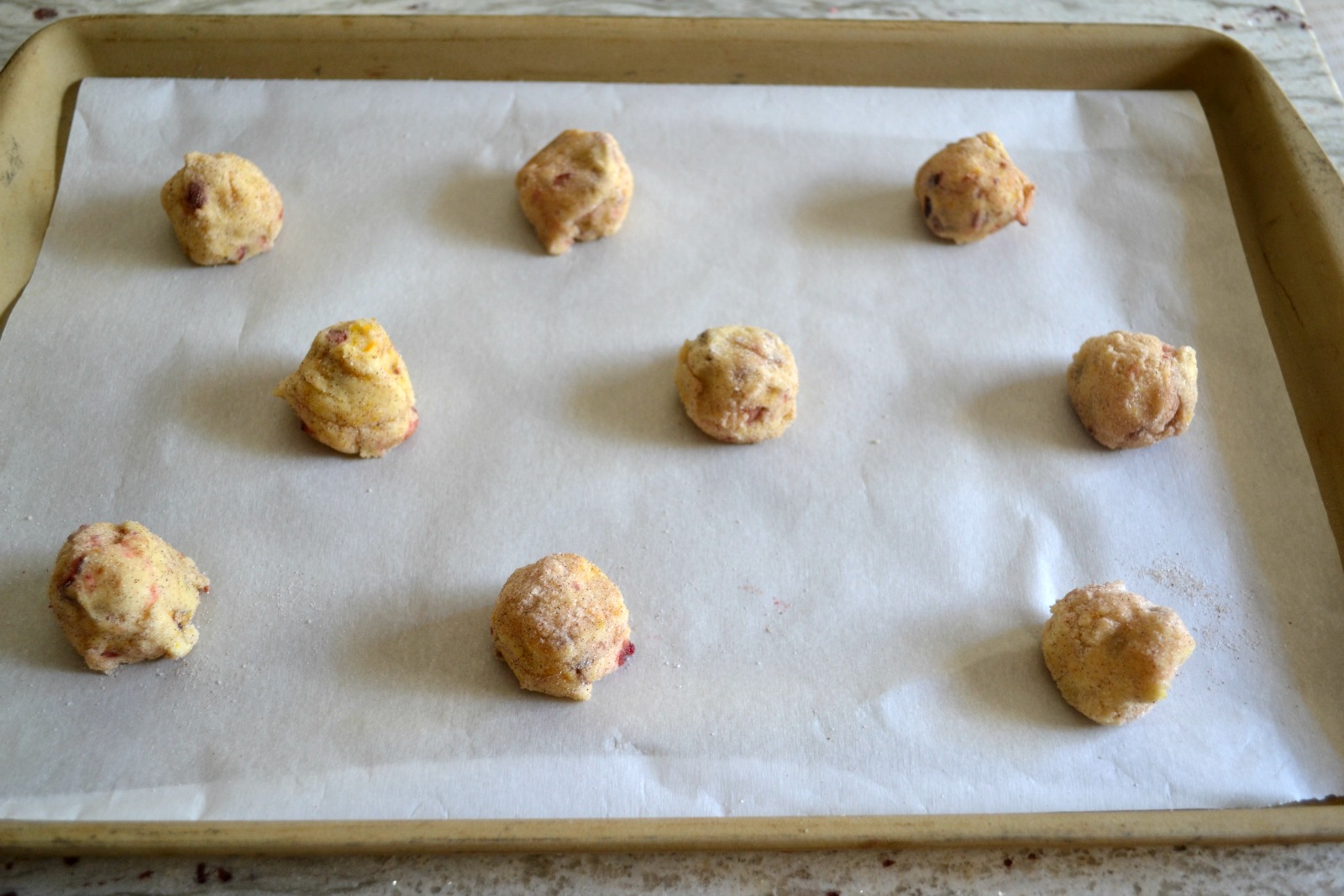 Shape the dough into balls, roll in the cinnamon-sugar mixture and then bake.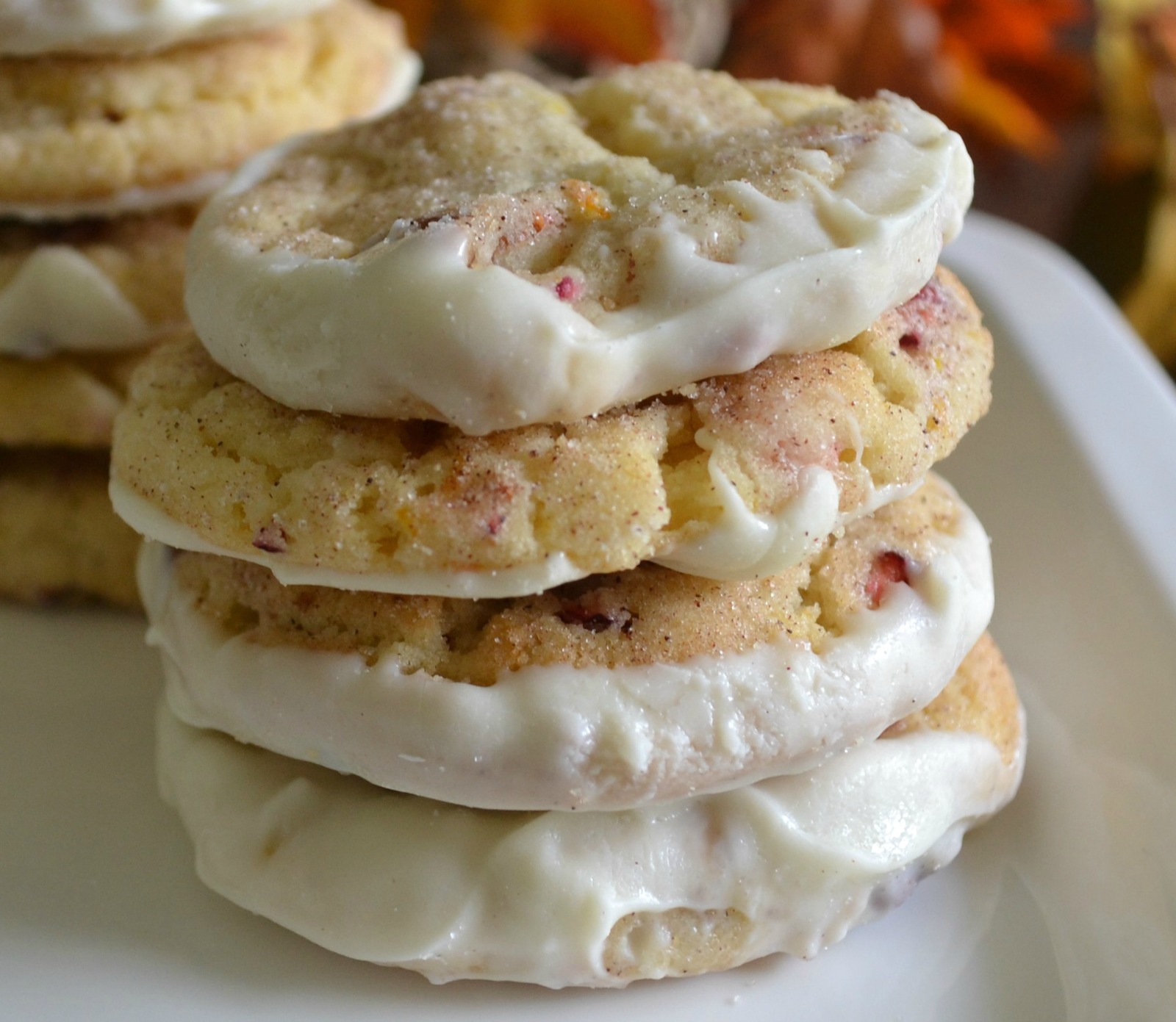 Melt white chocolate baking discs to dip the cookies in. I did the bottom of these, but you can also just hold the cookie and dip a side of it in the chocolate. I also use Ghiradelli's .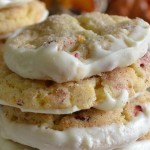 White Chocolate Dipped Cranberry Orange Pecan Snickerdoodles
2015-10-19 19:18:53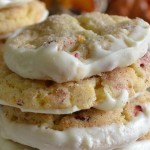 Ingredients
2 3/4 cups all purpose flour
2 teaspoons cream of tartar
1 teaspoon baking soda
1/4 teaspoon kosher salt
1/2 cup butter, softened
1/2 cup solid shortening
2 cups sugar, divided
2 large eggs
1 Tablespoon ground cinnamon
1/3 cup fresh cranberries, finely chopped (may use frozen)
zest of 1 medium size orange (finely zested)
1/2 cup pecans, chopped
8 oz white chocolate baking discs
1 teaspoon vegetable oil
Instructions
Preheat oven to 350 degrees F. Line cookie sheets with parchment paper.
In a large mixing bowl, whisk together the flour, cream of tartar, soda, and salt: set aside.
In another large mixing bowl, cream the butter and shortening together, using an electric mixer. Add 1 1/2 cups sugar and the eggs, continue to mix until well combined. Combine the cinnamon to the remaining sugar in a small bowl and set aside. Gradually add the flour mixture to butter mixture, in 3 divided amounts, mix only until combined. Stir in the cranberries, orange zest, and pecans. Shape dough into 1 1/2 inch size balls, using a teaspoon or small scoop. Roll each ball in the cinnamon-sugar mixture and place on cookie sheets 2 inches apart.
Bake for 9-11 minutes or until edges are light golden brown. Remove cookies from the oven and allow to set on pans about 5 minutes. Transfer cookies to a wire cooling rack.
Place the white chocolate and oil into a medium size, microwave safe bowl. Microwave for 40 seconds and stir. Continue to microwave at 20 second intervals, stirring after each, until chocolate is melted and smooth. Hold each cookie bottom in the melted chocolate, allow excess to drip off, then return to cooling rack with chocolate side up. Allow cookies to cool until the white chocolate hardens before placing on serving tray or packing.
Makes 4 dozen
GRANDMA HONEY'S HOUSE https://grandmahoneyshouse.com/
This post was shared @ Grandma's Briefs blog.
This post was shared @Weekend Potluck@Sweet Little Bluebird.