Jump to recipe
Sometimes a great recipe idea comes to you just by using the ingredients leftover in your pantry.  My Butterscotch Toffee Chocolate Chip Cookies recipe was created just this way.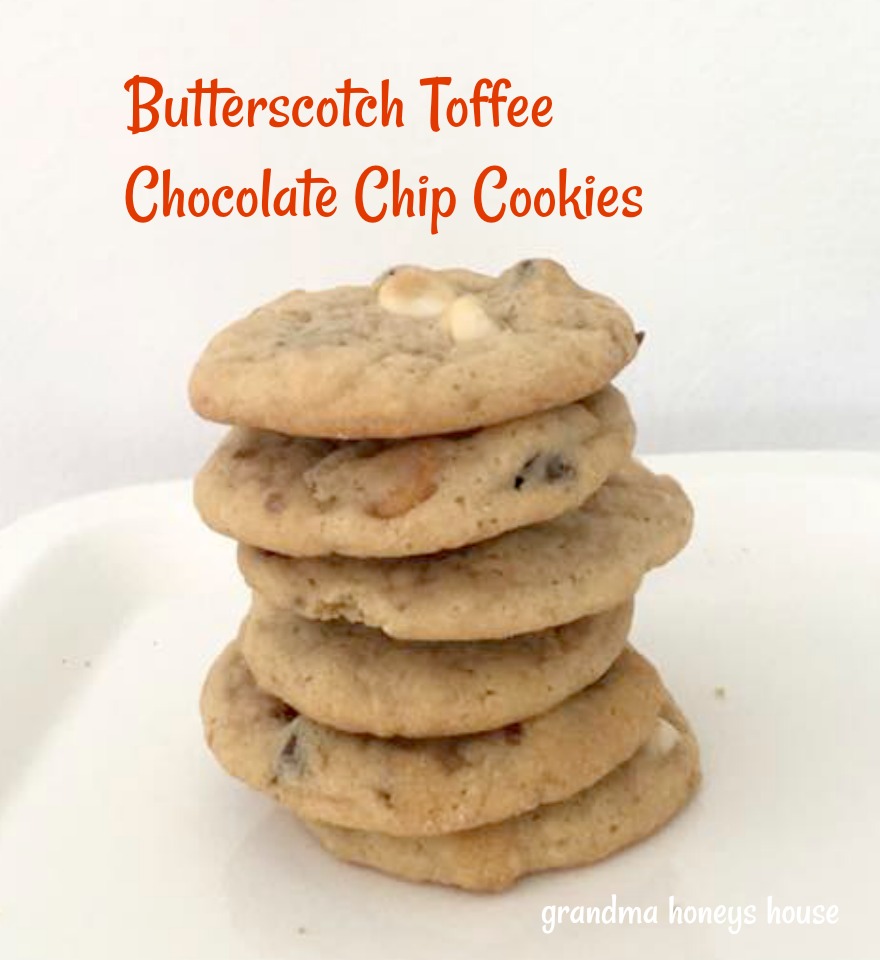 Last week, I was straightening up my pantry and I saw that I had a variety of baking chips leftover from other baking days.  There was just a small amount of each. When this happens, I set them all out on the counter and start moving them around to see what would taste good together.  Butterscotch Toffee Chocolate Chip Cookies was the result for this day.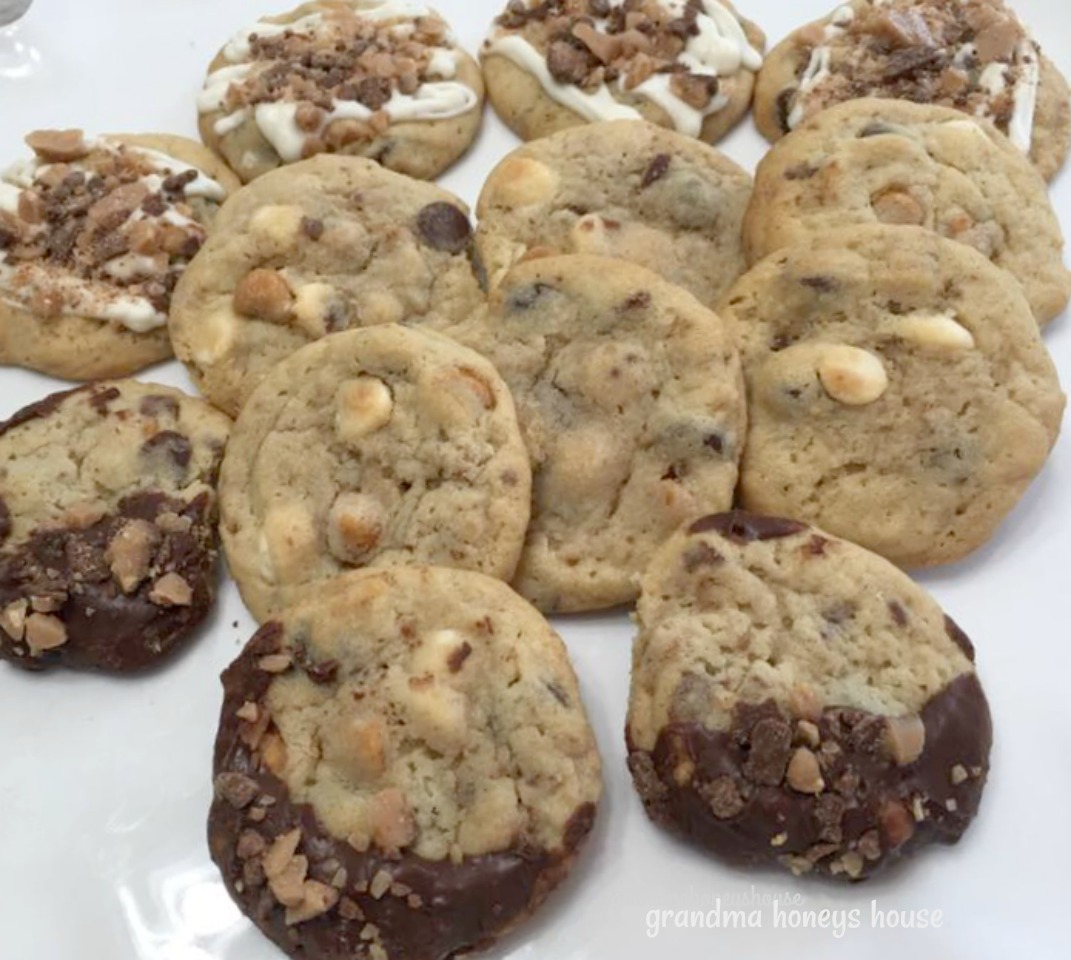 Finished product!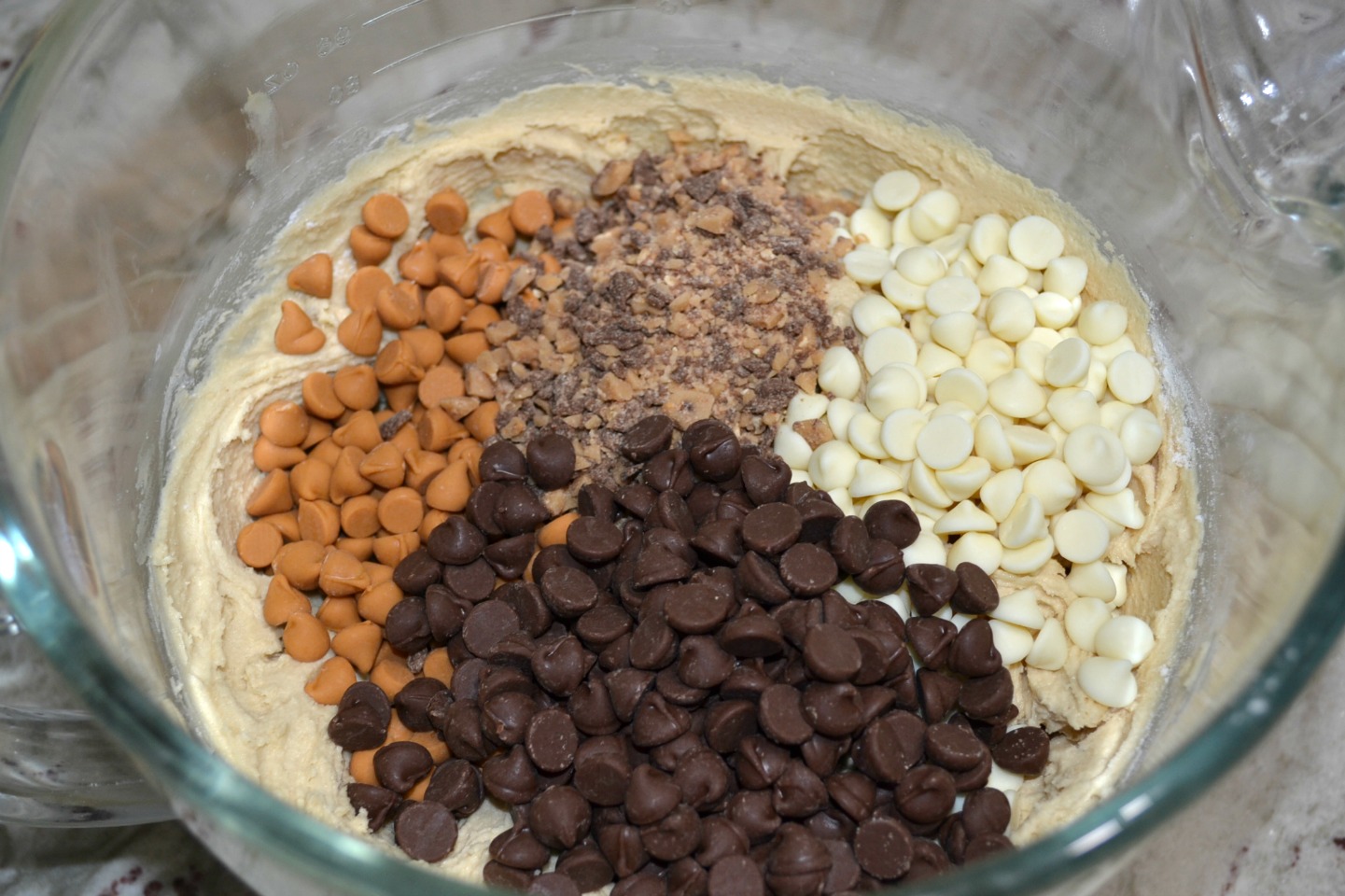 I started with the  Nestles Toll House Cookie dough recipe.  Then, I added butterscotch chips, milk chocolate chips, white chocolate chips, and chocolate toffee bits.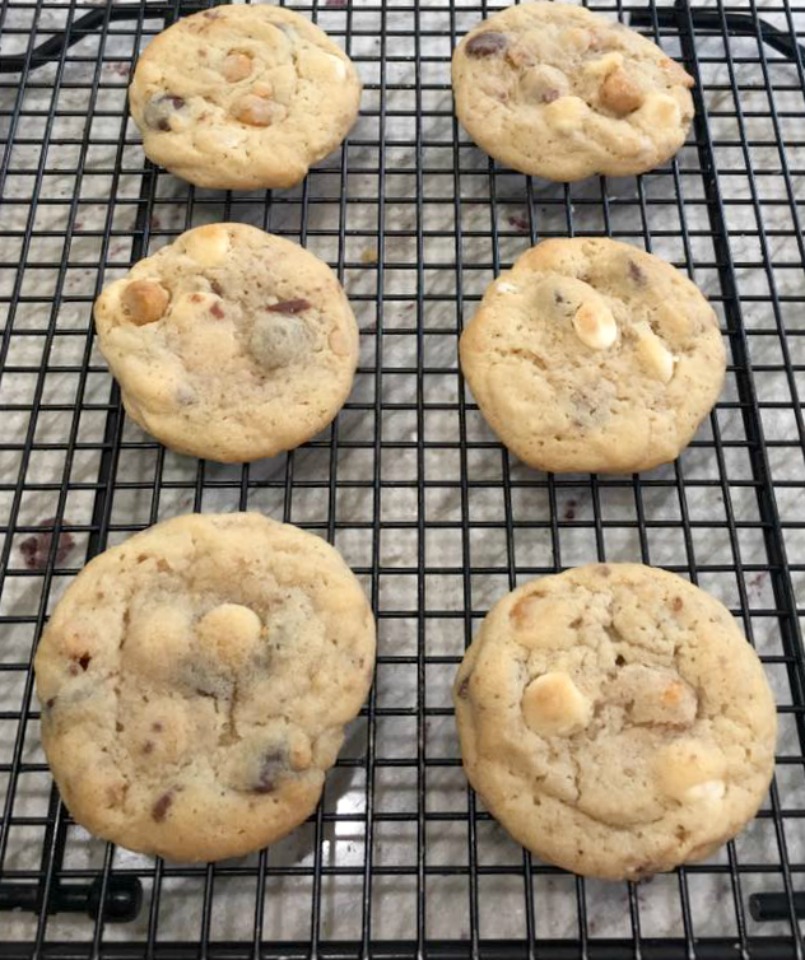 Bake and transfer to a cooling rack. These were so good warm.  They have just a mild taste of the butterscotch.
They are perfect at this stage, but I had a cup of white melting chocolate leftover, so I thought I could use it.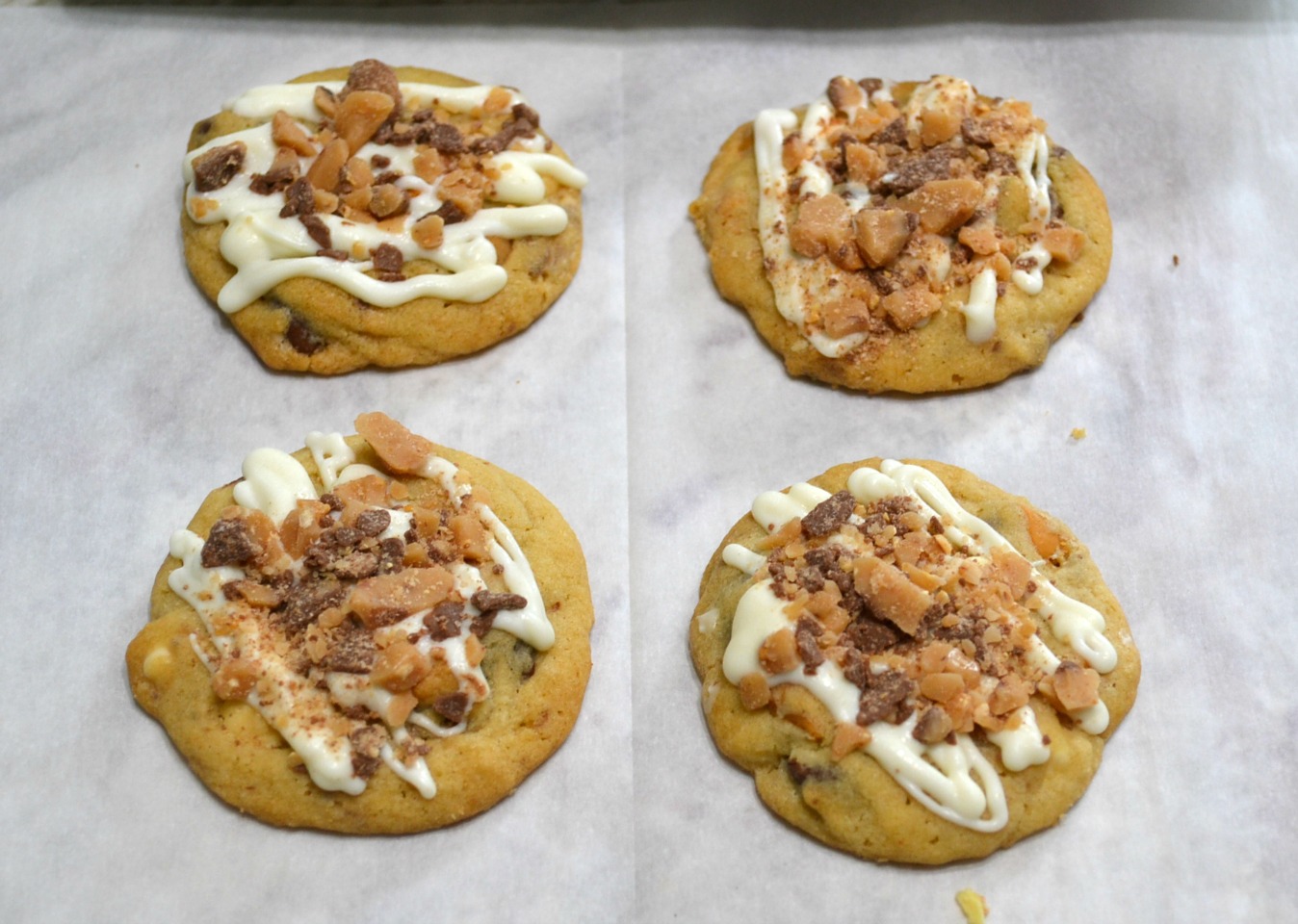 I melted the discs, drizzled over a few of the cookies, and sprinkled some more toffee bits on them.  I was a little disappointed. This made them too rich.
My handsome grandson, Bobby, tried one and said it was very good, but I know he was just being nice.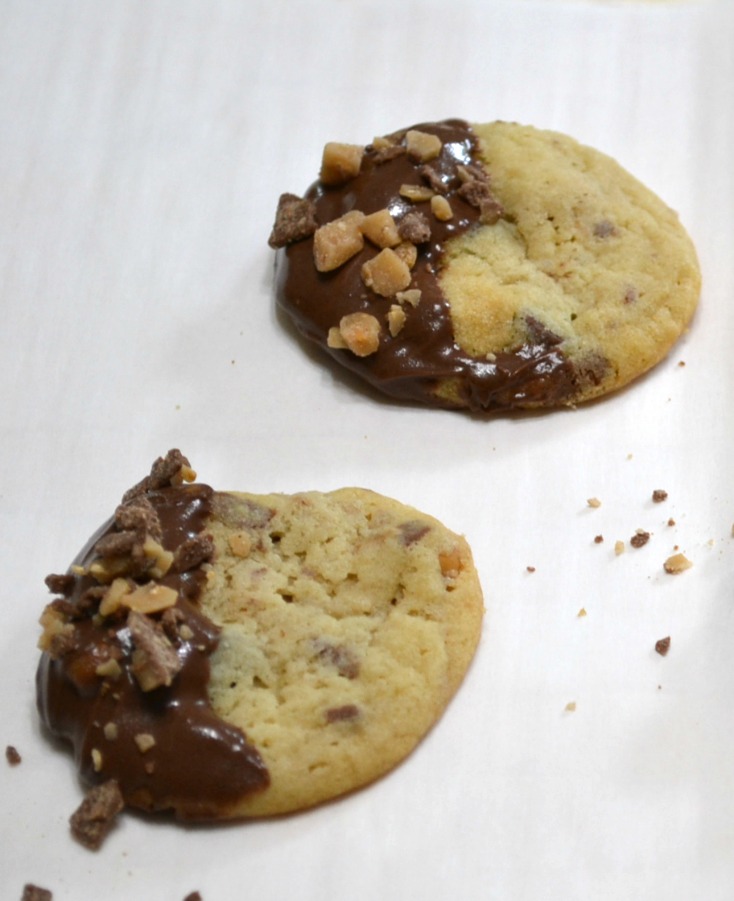 Then I melted a few milk chocolate chips, dipped part of the cookie in it, and sprinkled some toffee bits.  I liked them this way.   They are still just a little rich tasting.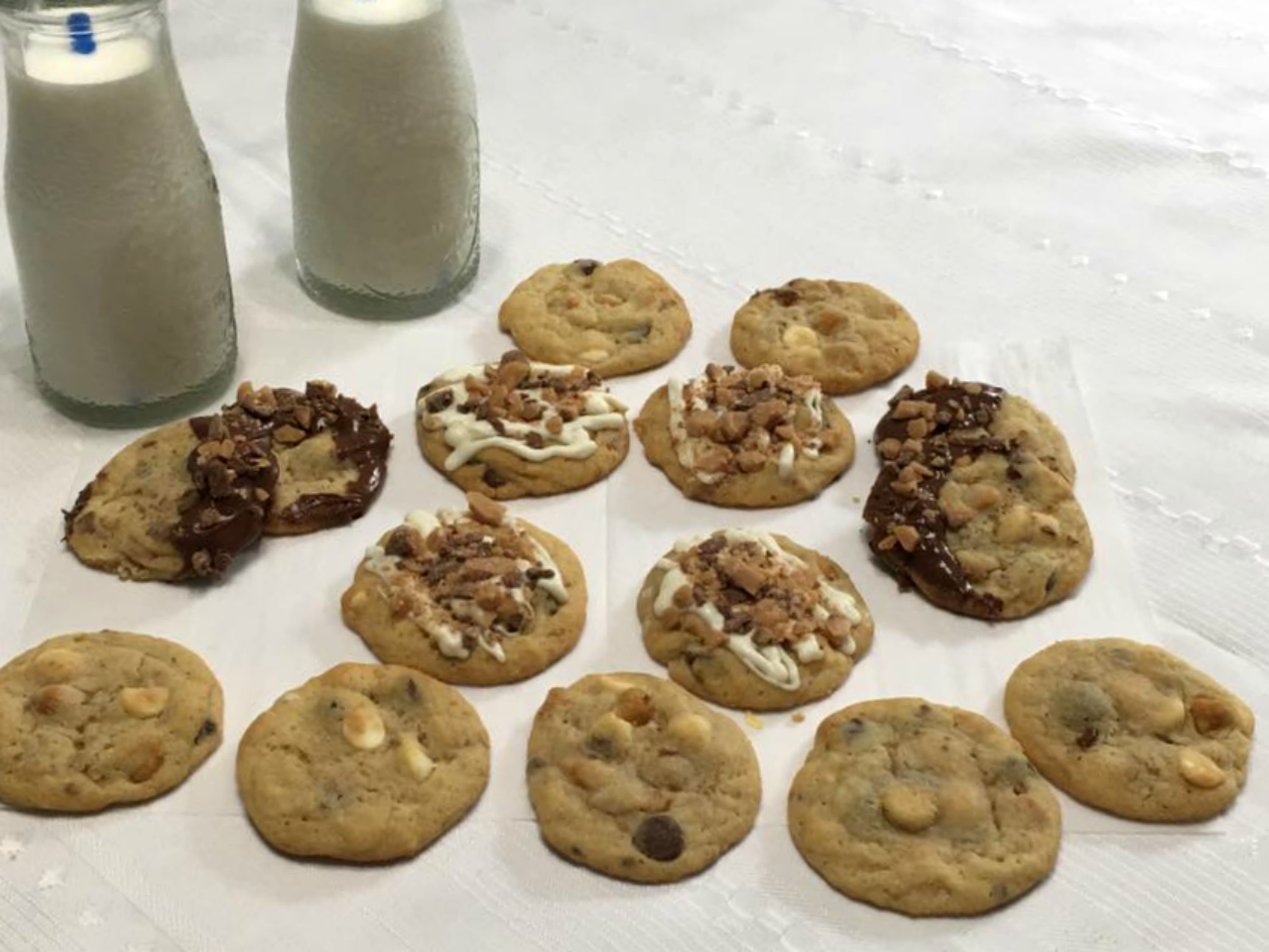 They go  great with a glass of cold milk.
I took these cookie variations to my neighbors for a taste test and their favorite way was with the melted chocolate.
BUTTERSCOTCH TOFFEE CHOCOLATE CHIP COOKIES
Ingredients
2 1/4 cups all purpose flour
1 teaspoon baking soda
1 teaspoon salt
1 cup butter, softened
3/4 cup granulated sugar
3/4 cup packed brown sugar
1 teaspoon vanilla extract
2 large eggs
1 cup milk chocolate chips
1 cup butterscotch chips
1 cup white chocolate chips
1 cup milk chocolate toffee bits
Optional Glaze:
1 cup white chocolate melting discs
1/2 cup milk chocolate toffee bits
OR
1 cup milk chocolate chips
1/2 cup milk chocolate toffee bits
Instructions
Preheat oven to 350 degrees F. Line baking sheets with parchment paper.
In a medium size mixing bowl, combine the flour, baking soda, salt; set aside.
In a large mixing bowl, using an electric mixer, beat the butter until smooth. Add the sugar, brown sugar and combine. Add the vanilla and eggs, one at a time. Beat on medium speed to combine ingredients well.
Gradually add the flour mixture, in three parts, beating just enough to combine.
Stir in the milk chocolate, butterscotch, white chocolate chips, and toffee bits. Combine ingredients well.
Drop dough by using a small scoop or rounded tablespoon onto parchment paper.
Bake 9-11 minutes. I like to remove them from the oven a little early and allow to continue baking on sheet.
Transfer cookies to a wire cooling rack when they are set. (about 3-5 minutes)
If making one of the glazes, melt the chips over a double broiler, or in the microwave at 15 second intervals until they are melted, stirring after each. Drizzle or dip the cookies in melted chocolate and sprinkle small amount of toffee bits on top while hot. Allow chocolate to cool and set back up before packing away.
Makes about 5 dozen cookies.
© 2023 Copyright GRANDMA HONEY\\\\\\\'S HOUSE
Butterscotch Toffee Chocolate Chip Cookies are a great
variation to a chocolate chip cookie.
Another delicious variation to a chocolate chip cookie is my
Caramel Pecan Choc Chip cookies.
This post was shared on Weekend Potluck @ Sweet Little Bluebird
Check out their amazing collection of recipes.
**This was not a sponsored post. The opinions are 100 % my own.
Please follow and like us: