Jump to recipe
Peanut Butter Candy Bite Cookie Bars
Peanut Butter Candy Bite Cookie Bars are a rich, gooey, treat loaded with peanut butter and bite size pieces of candy.  The bottom crust is a peanut butter cookie dough, bite size candies arranged on top, covered with remaining cookie dough and drizzled with sweetened condensed milk.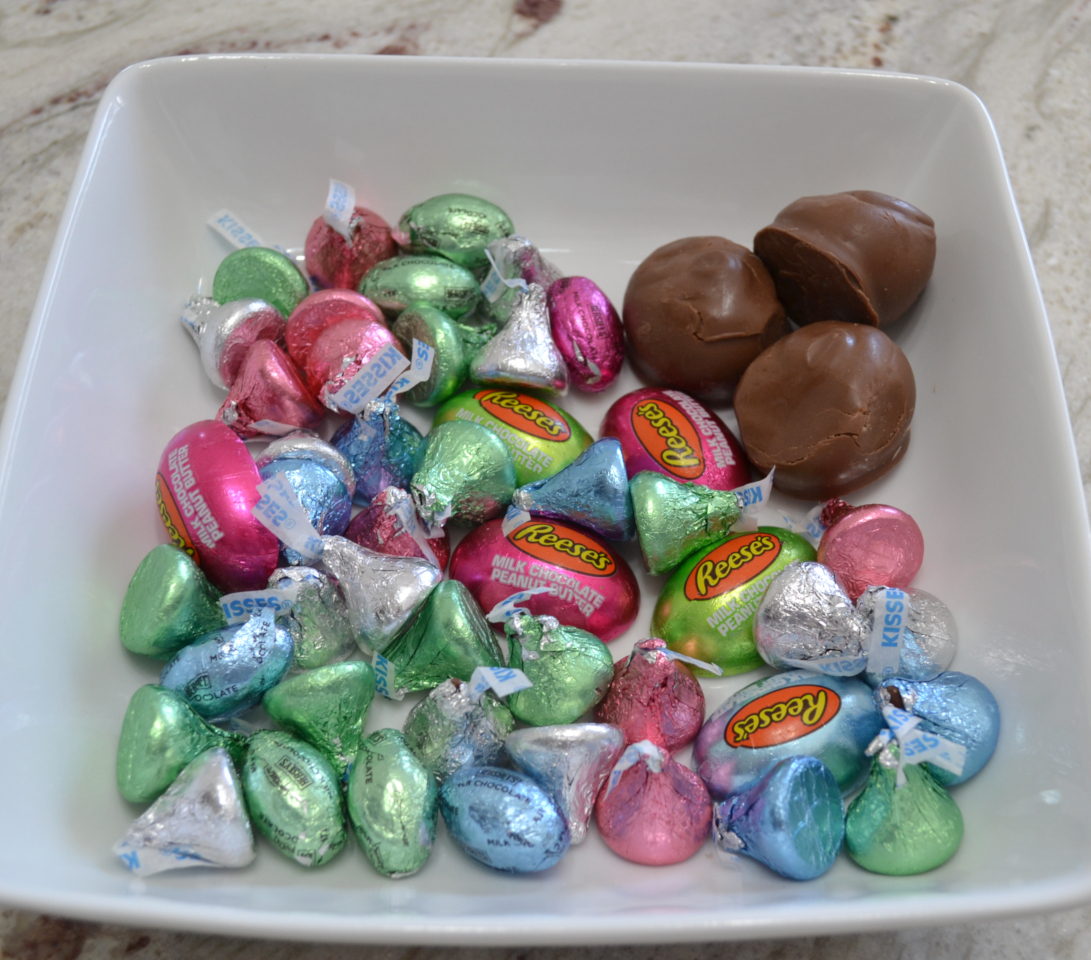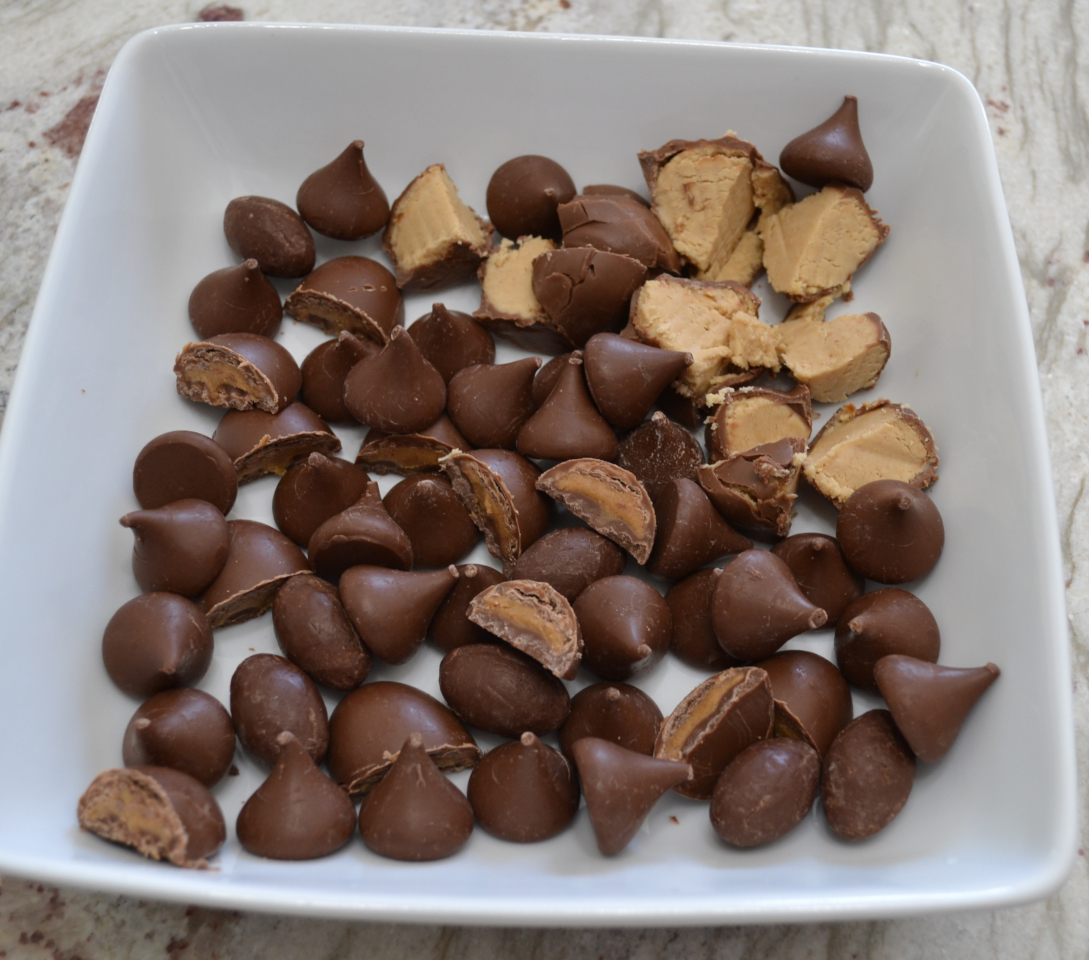 I had a bowl of leftover Easter candies after my grandchildren left, and someone (me) kept getting into it.  Those pieces of chocolate just looked like they would be happy going into a cookie dough.  There was originally several Rolo candies, but I cleaned those out rather quickly.  They would have been great in this recipe. Use any kind of candy you have available.
Mix the cookie dough.
Press about two thirds of the dough into a brownie pan (7×11 inch) that has been lined with parchment paper.
Arrange the candy pieces over the top of the dough. I used about 50 pieces of candy. The larger ones were cut in half. I had 3 pieces of peanut butter-chocolate candy from a church sale, that I even add in.  These cookie bars would still be wonderful with less pieces of candy also.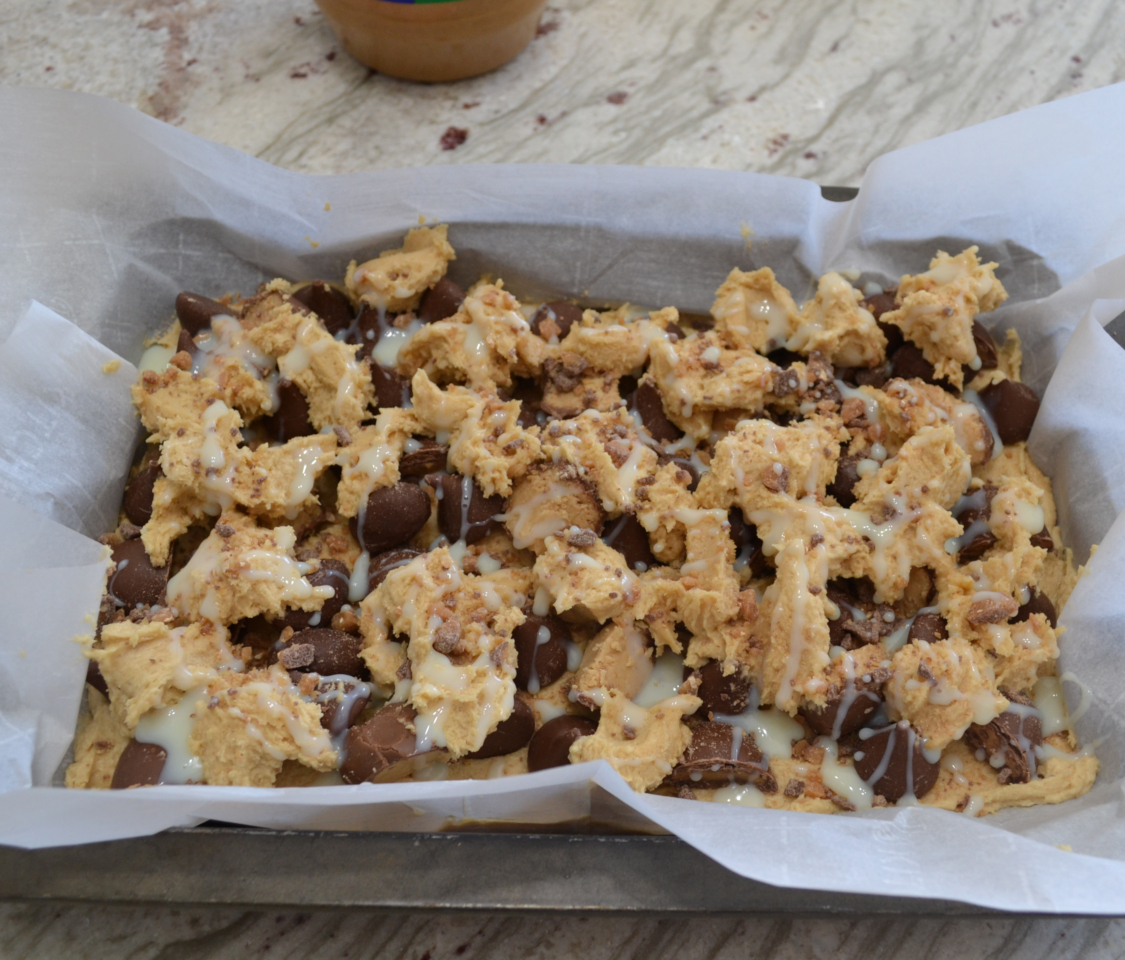 Cover candy with the remaining dough. I dropped the dough on top using a teaspoon, covering all of the candy that I could.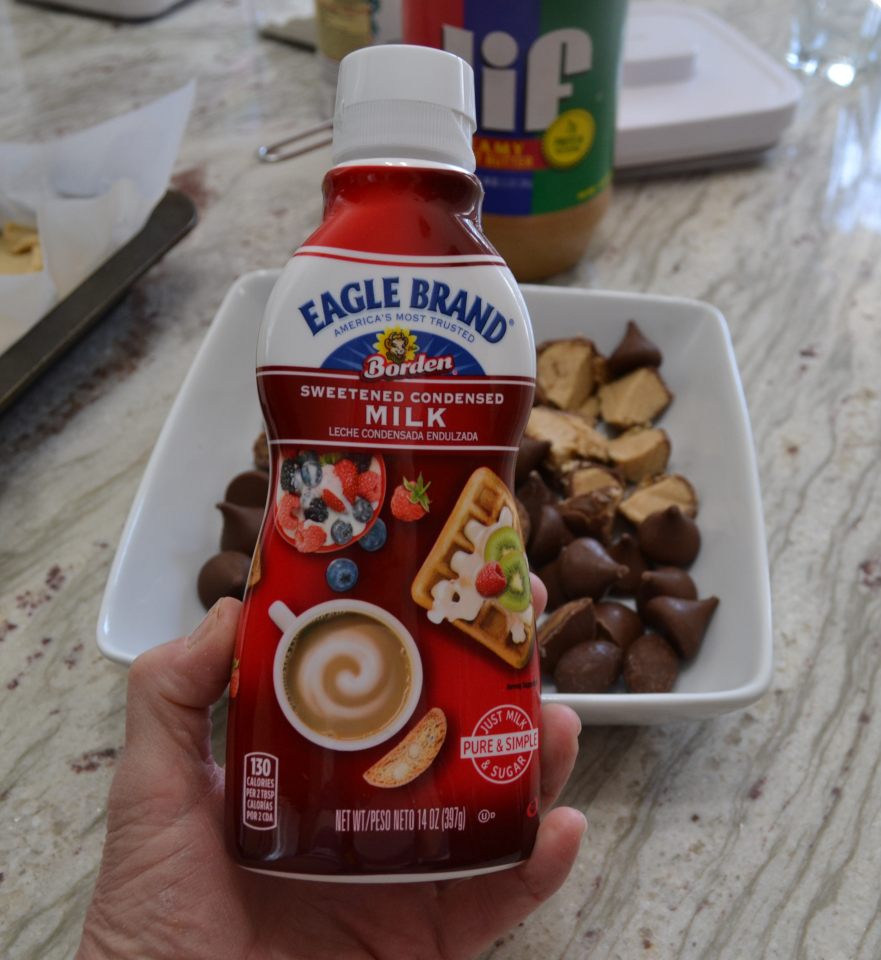 Drizzle Eagle Brand Sweetened Condensed Milk over the top. I love buying the milk in this container. It is so easy to store the leftover amount.
Bake cookie bars. Remove from oven, place on wire cooling rack.
Allow to cool about 2 hours, transfer to a cutting board and cut into desired size squares.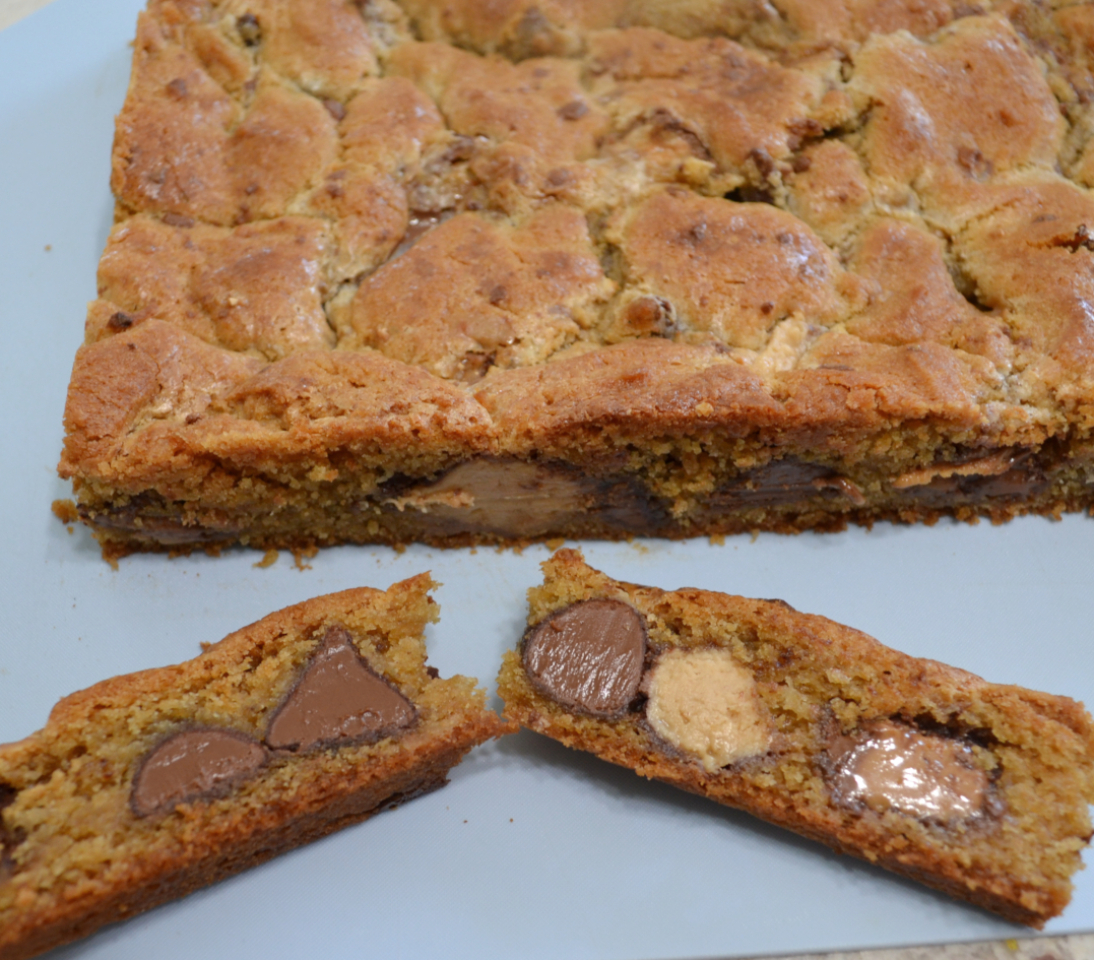 I cut off the edges before I cut the bars, and was so impressed that the candy pieces were still in the shape they started as for the most part.
This is a very rich dessert so best to cut small pieces.
PEANUT BUTTER CANDY BITE COOKIE BARS
Ingredients
50 bite size pieces of candy (ex: Hershey Kisses) may be less amount candy
1 1/4 cup all purpose flour
1/2 teaspoon baking powder
3/4 teaspoon baking soda
1/4 teaspoon kosher salt
1/2 cup butter, room temperature
1/2 cup creamy peanut butter (recommend JIF)
1/2 cup light brown sugar
1/2 cup granulated sugar
1 large egg
1 teaspoon pure vanilla extract
3 Tablespoons milk
1/4 cup Eagle Brand Sweetened Condensed Milk
Instructions
Preheat oven to 350 degrees F. Line an 11x7 (brownie pan) with parchment paper. Unwrap candy pieces.
In a small mixing bowl, whisk together the flour,baking powder, baking soda, and salt; set aside.
In a large mixing bowl, using an electric mixer, beat together the butter and peanut butter until smooth. Beat in the sugars, egg, and vanilla until well combined.
Add the flour to peanut butter mixture, alternating with the milk; one half of each at a time. Mix just until well combined.
Spread about two thirds of the cookie dough into the bottom of the pan. Arrange the candy pieces over the top of the dough. Drop remaining cookie dough, using a teaspoon, to cover as much of the candy as possible. Spread slightly with an offset spatula. Drizzle the sweetened condensed milk over the cookie dough.
Bake for about 28 to 30 minutes, or until cookie dough is golden brown and the dough seems almost set when slightly shaking the pan. Remove from the oven and allow to cool on a wire rack for about 2 hours.
Transfer cookie bars to a cutting board by lifting the parchment paper edges. Cut into bars of desired size.
© 2023 Copyright GRANDMA HONEY\\\\\\\'S HOUSE
*This is not a sponsored post. The products used are the brands I like to use, and opinions are 100% my own.
Please follow and like us: