Jump to recipe
This Almond Berry Tiara Cake with Fresh Raspberry Sauce is a beautiful springtime dessert that I am happy to share.
My Almond Berry Tiara Cake  would be perfect to serve as an Easter or  Mother's Day dessert.  Baked in a tiara pan, it has Almond Paste in the cake, mascarpone cheese in the filling, topped with fresh berries, and drizzled with a fresh raspberry sauce.
I have a large collection of baking pans, and like using different ones at times when I'm feeling creative.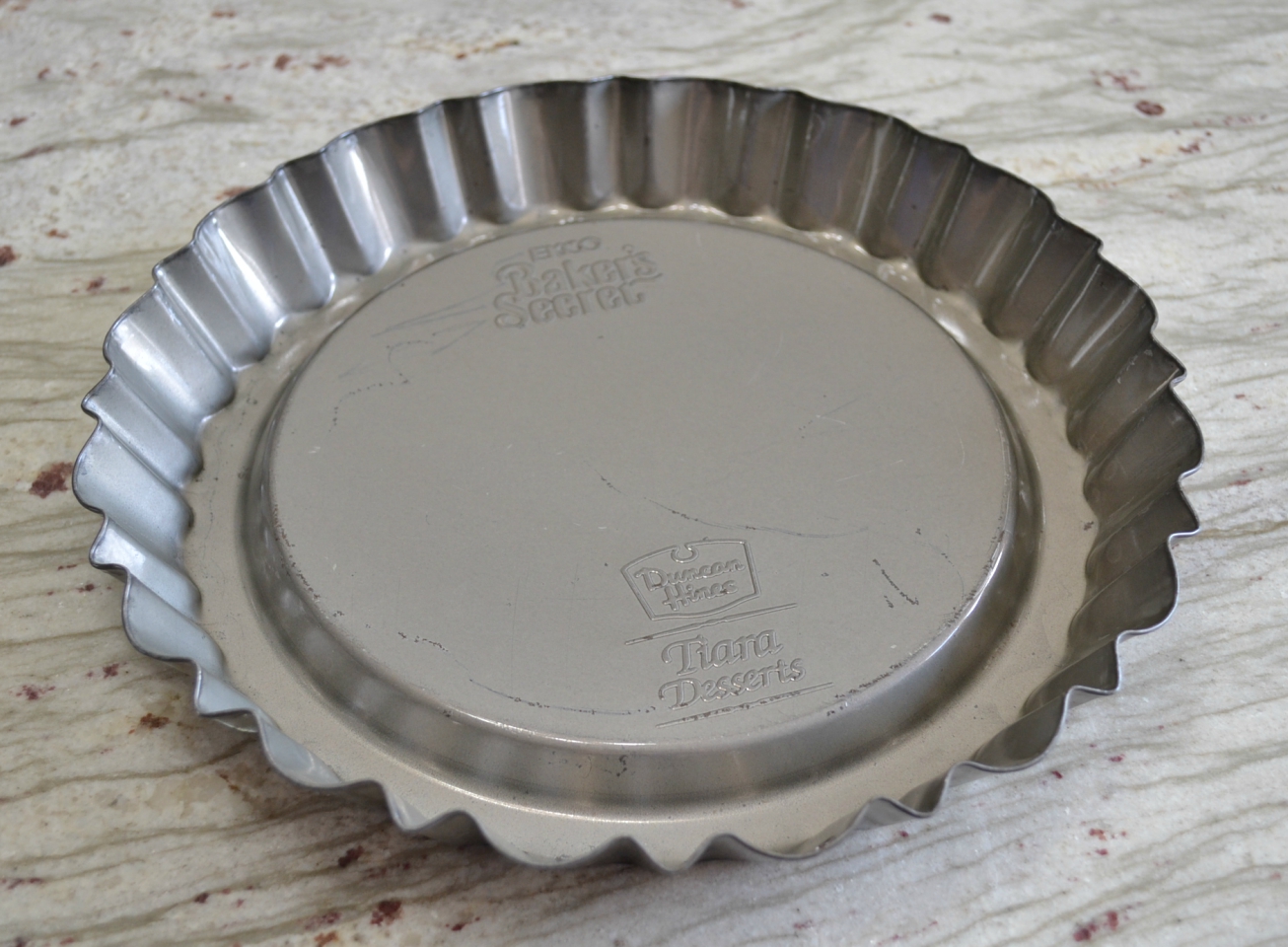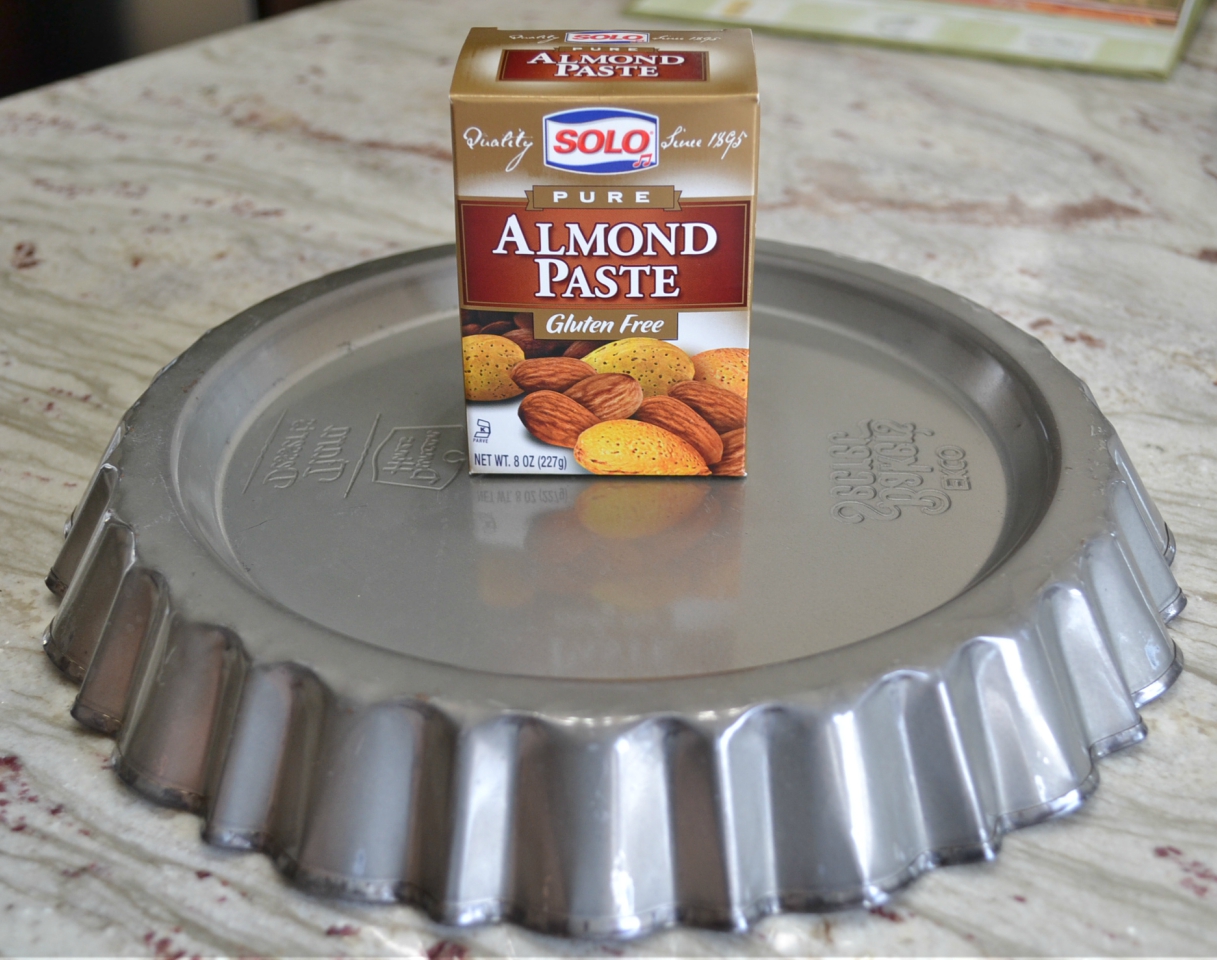 The tiara pans that I have were purchased in the 1980's, I
believe.  I remember creating so many different cakes and filling the center with pudding, then topping with canned pie filling.  These pans are also called Mary Ann pans.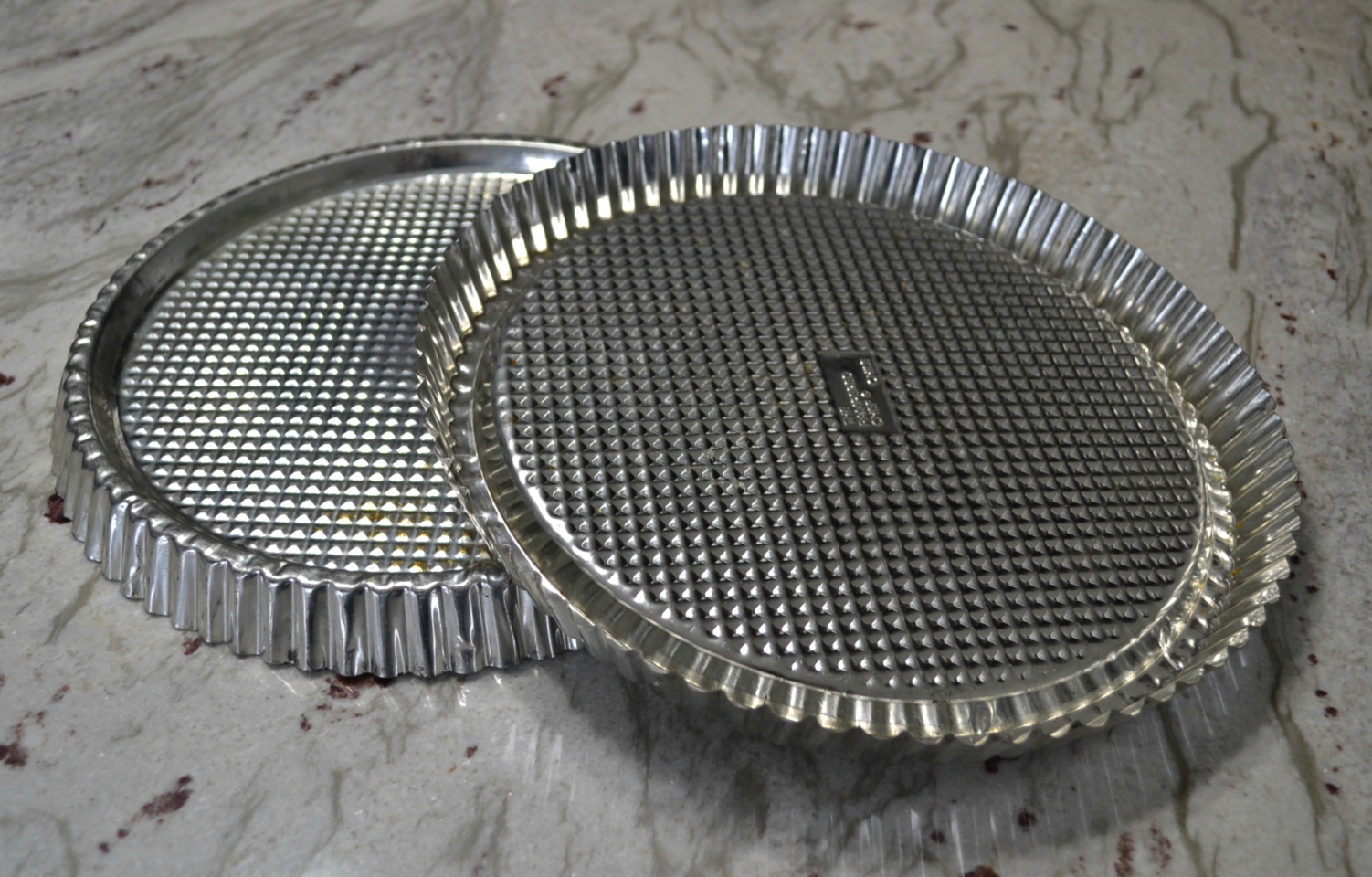 I also have similar pans from Pampered Chef.
As I was looking through my tiara pan recipes, I found one that used almond paste.  I had never used this in baking.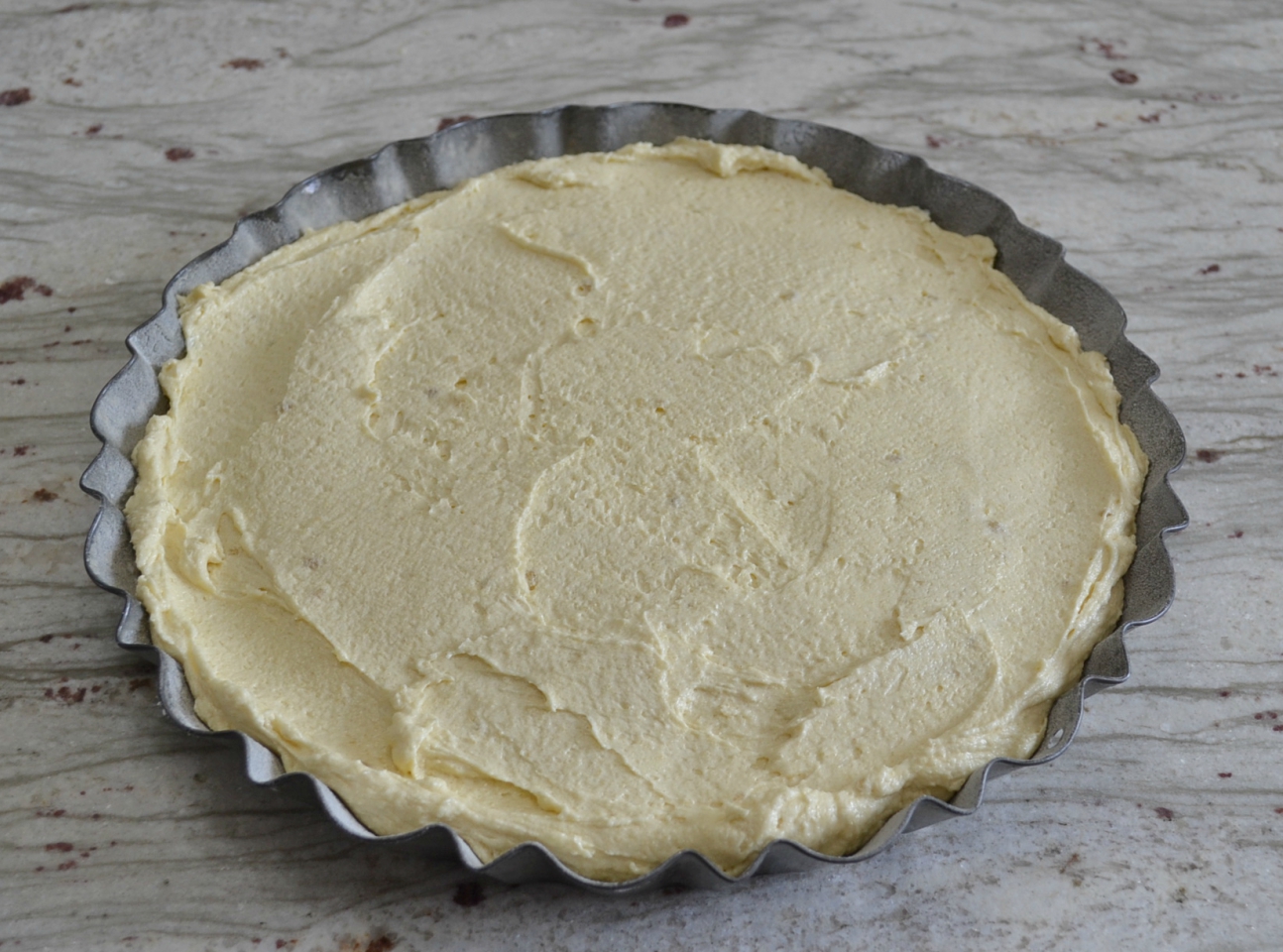 Prepare the batter as directed. Spread batter in the prepared pan.  Bake.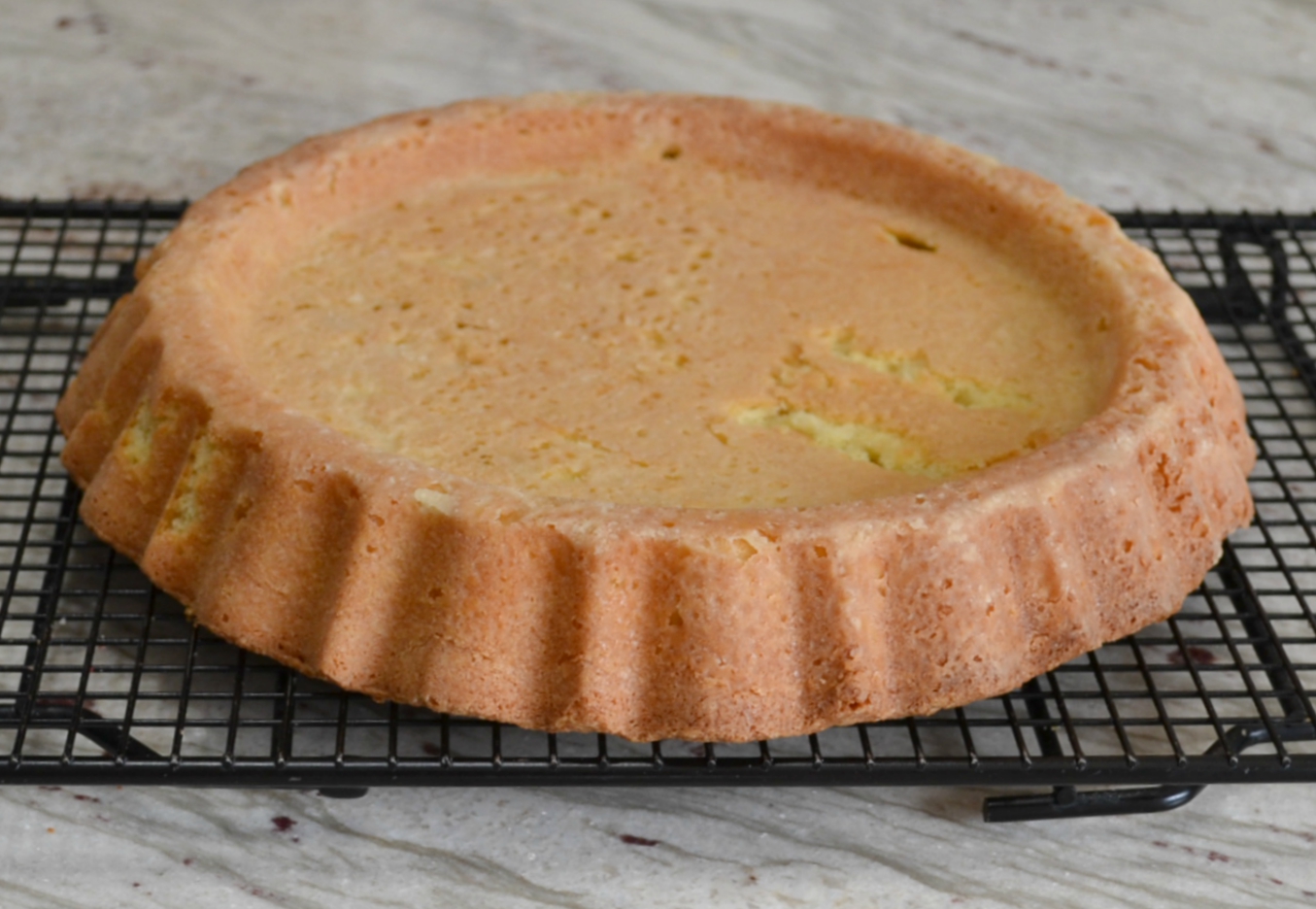 Invert onto a cooling rack.  My cake did stick a little in a few places.
Prepare the raspberry sauce while cake is cooling.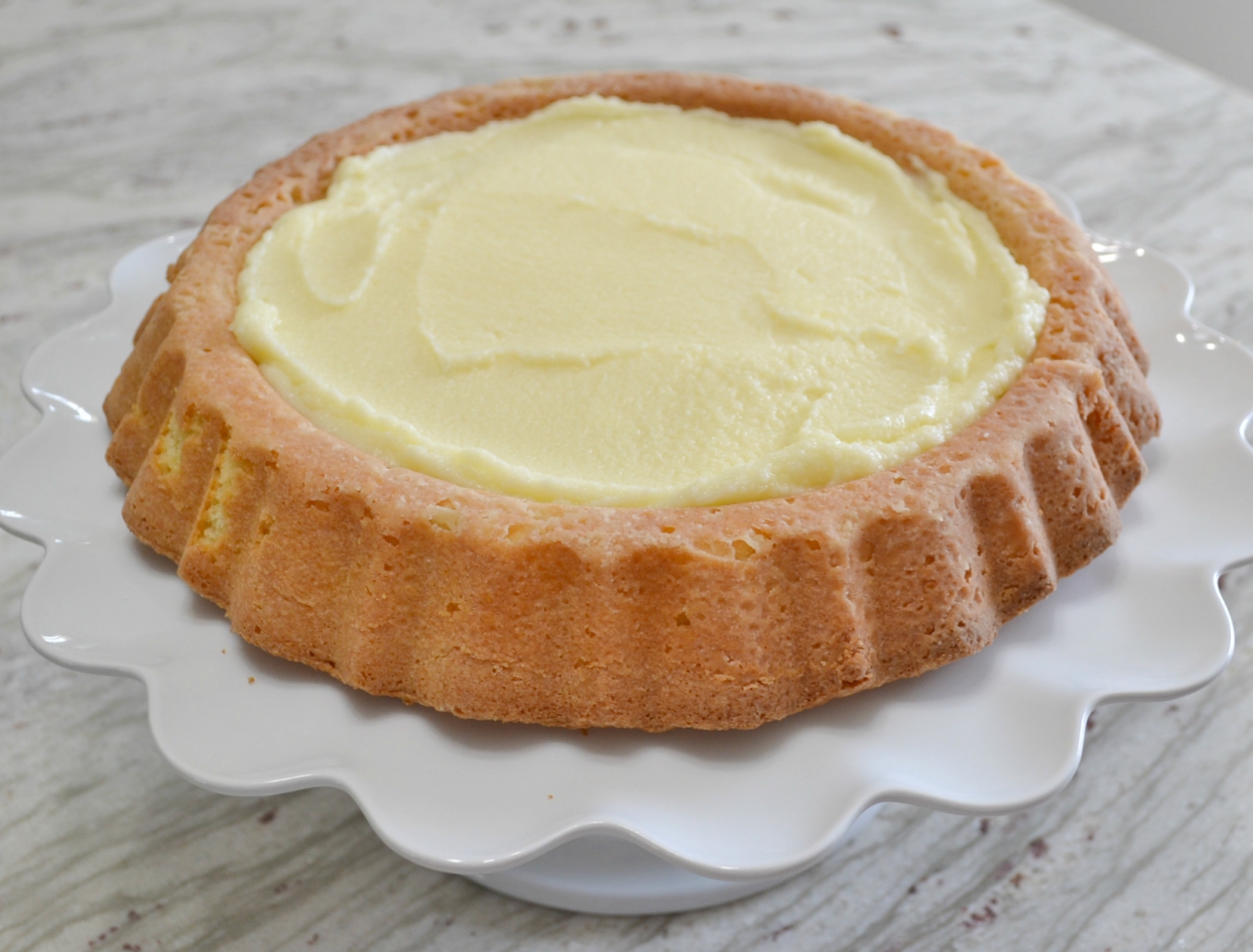 Mix the filling of mascarpone cheese, confectioner sugar and almond extract.  Spread in indented area.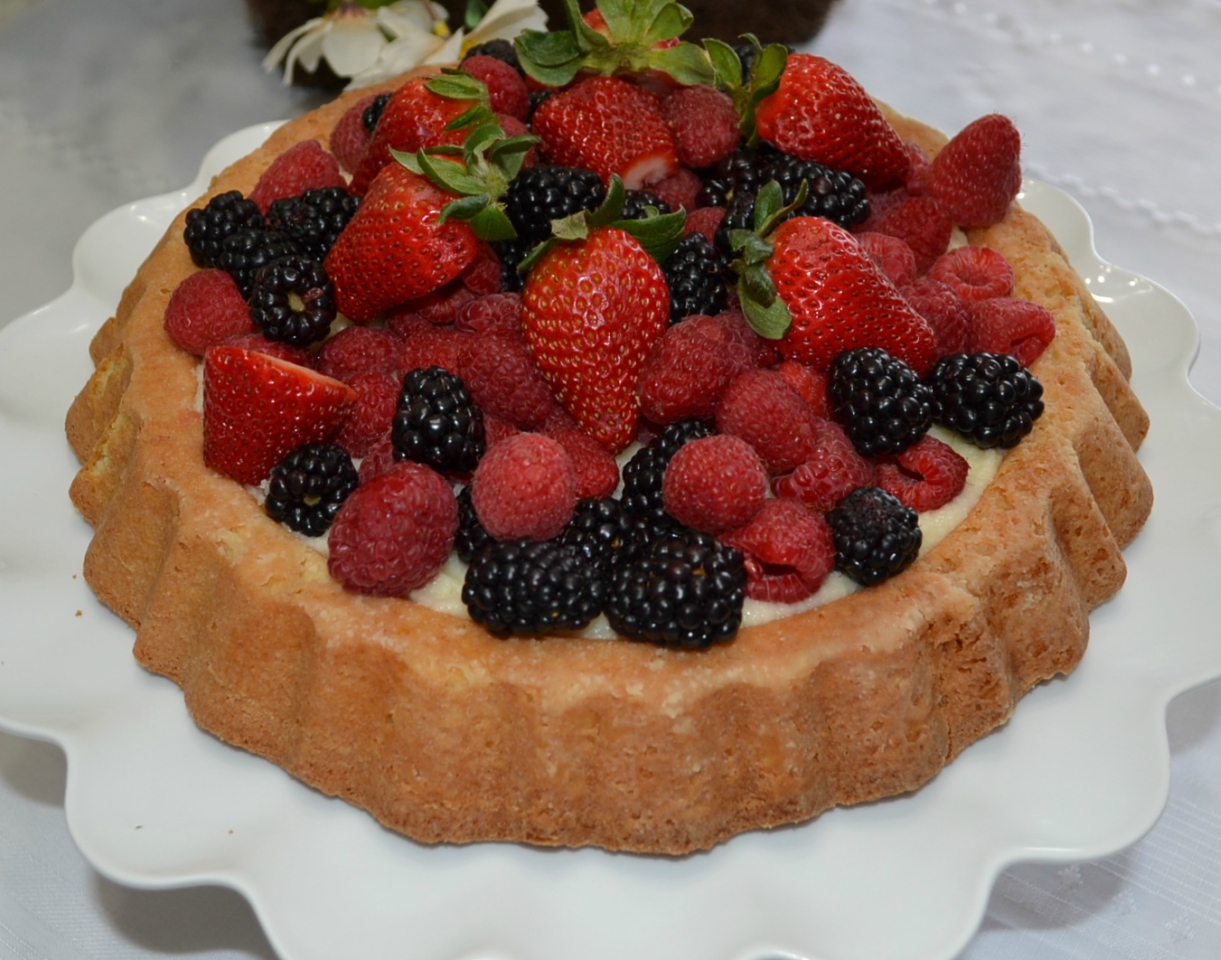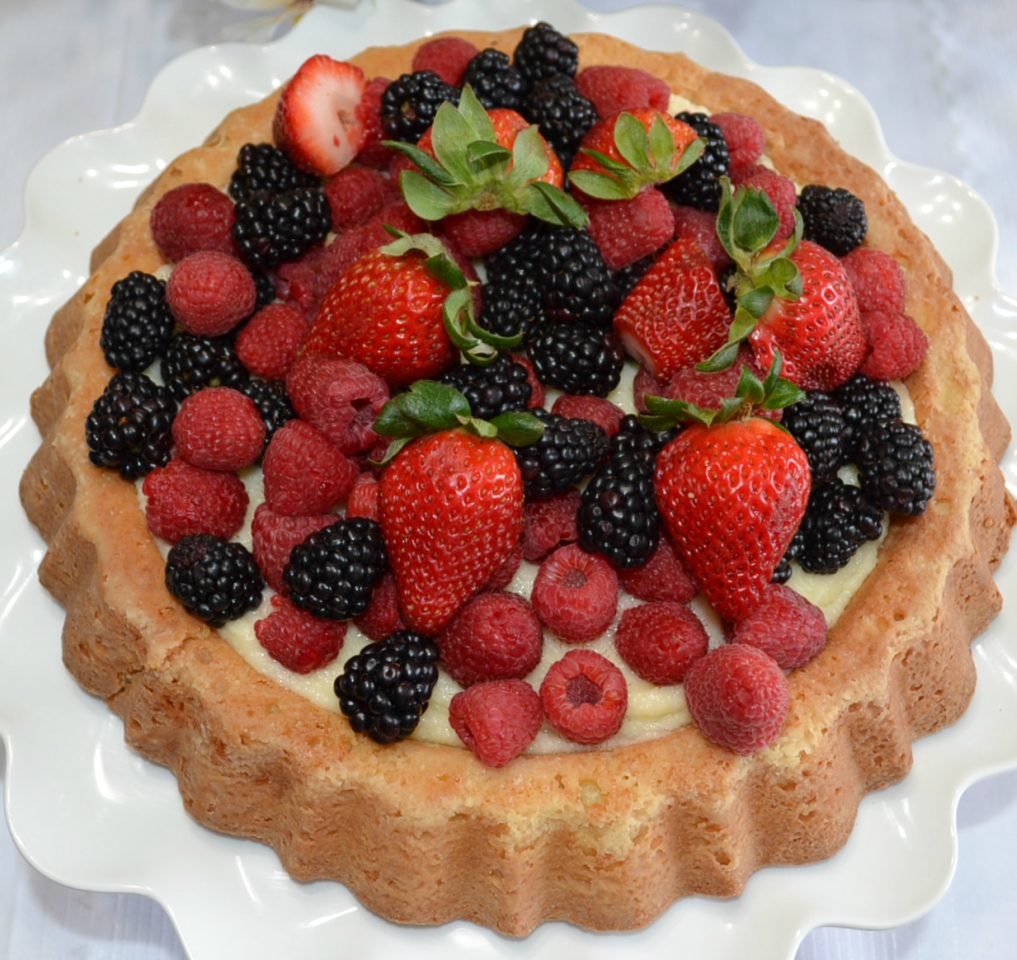 Top with any combination of fresh berries.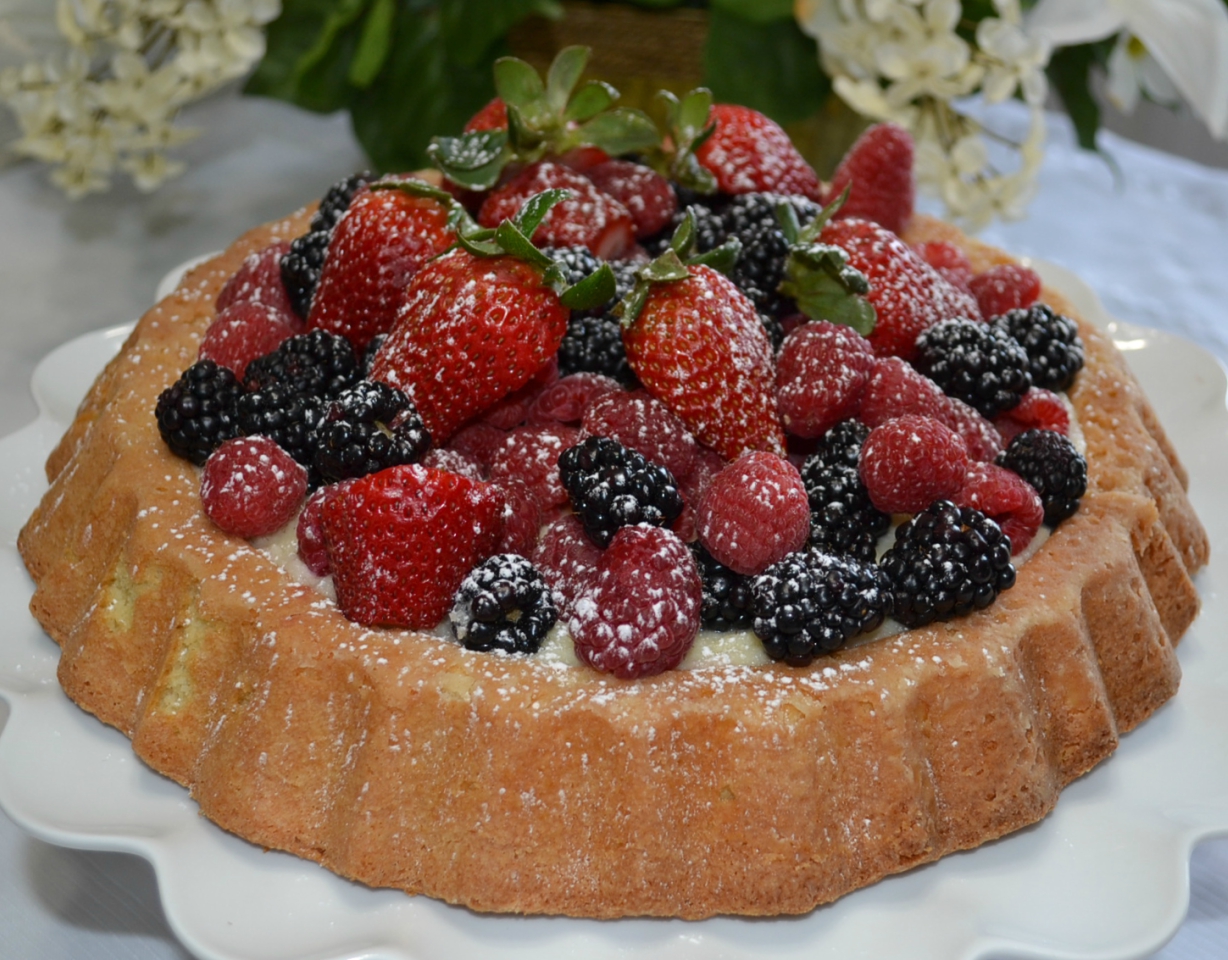 Dust berries with confectioners sugar.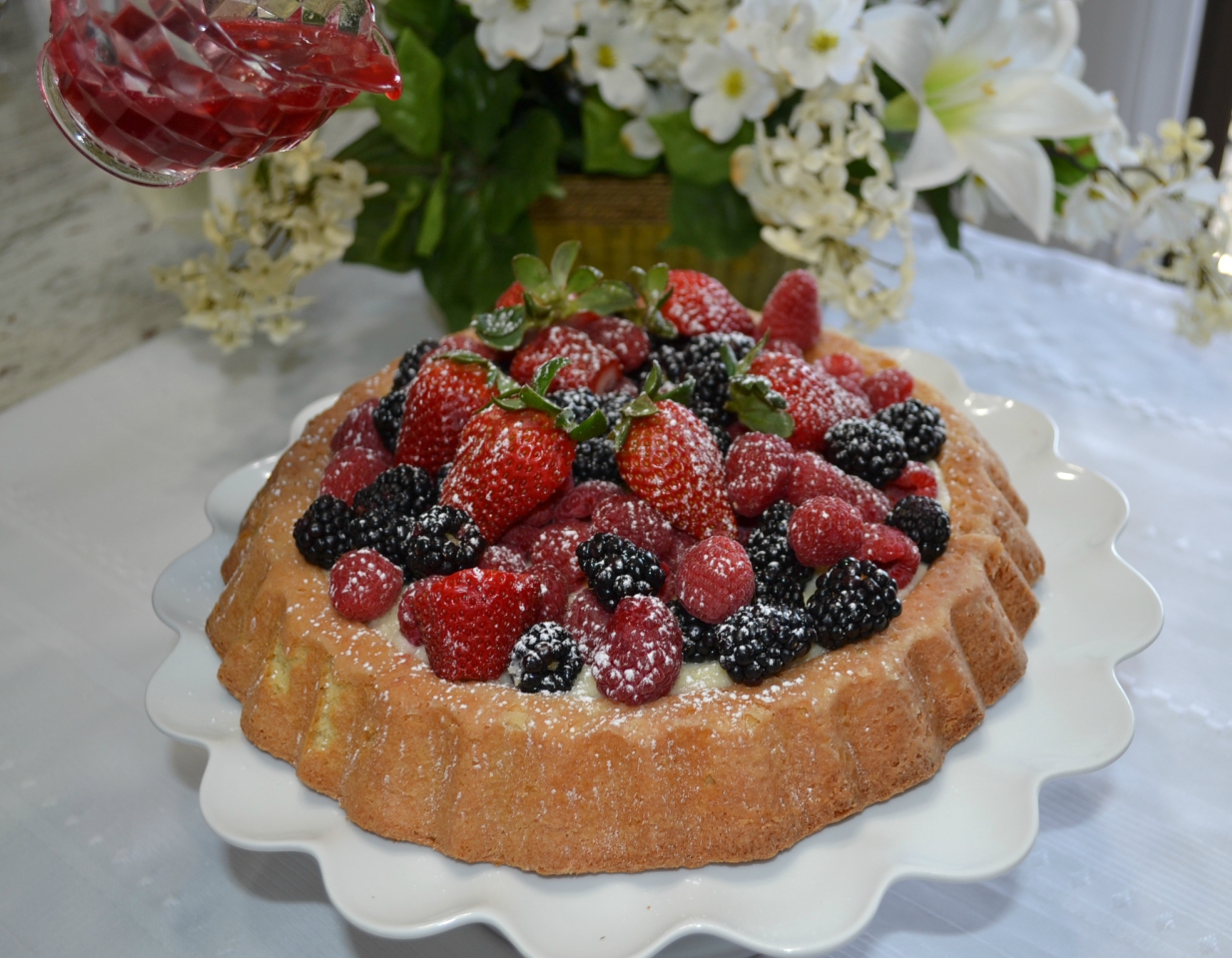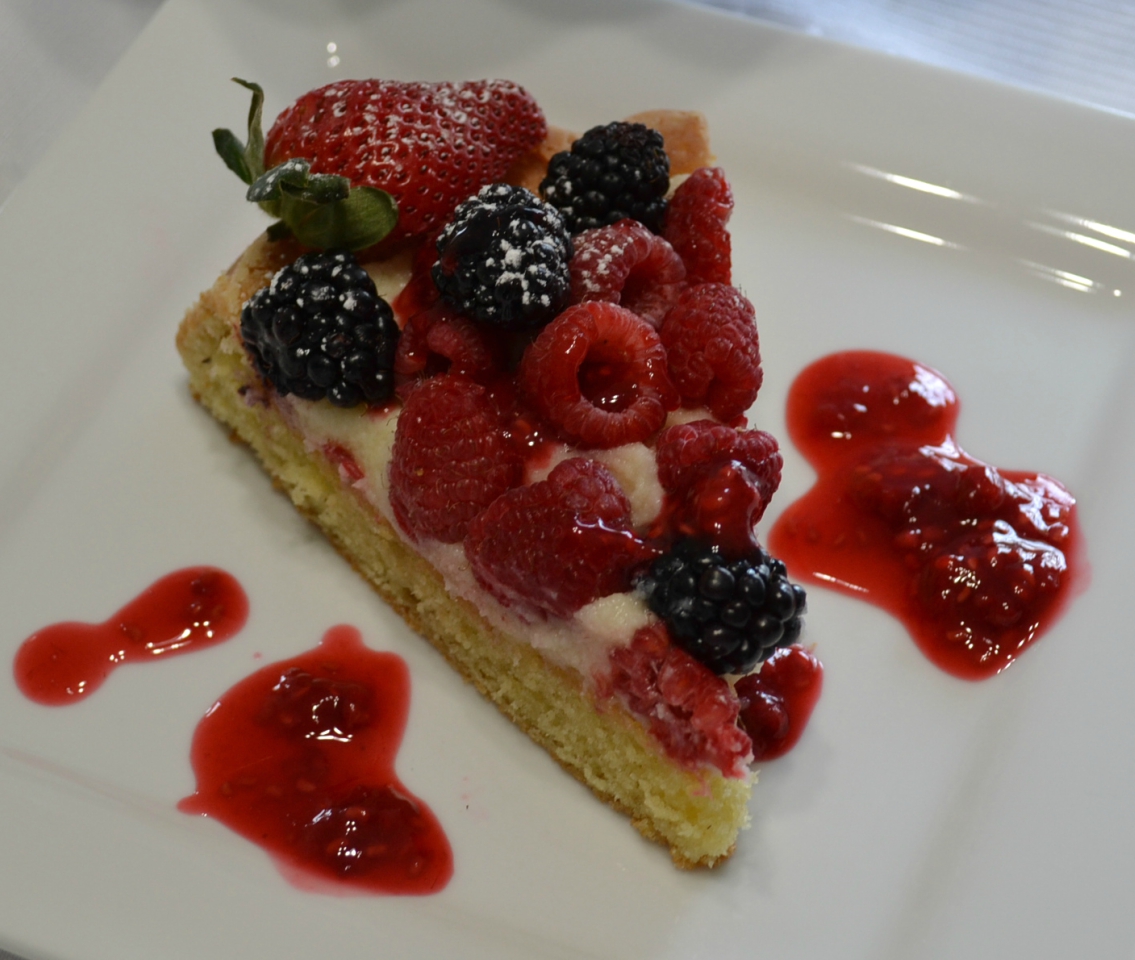 Drizzle raspberry sauce over the cake or onto plate with each individual slice.
This cake could also be made in a 9-inch round cake pan, or a spring-form pan.
Any type of berries can be used for the sauce also.
Enjoy this delicious and refreshing summertime treat.
BERRY LEMON MASCARPONE COOKIE TART is another spring dessert recipe filled with fresh berries.
This recipe was shared @https://sweetlittlebluebird.com/ on
Weekend Potluck link party.

You can also make the tiara cakes using a boxed cake mix. Below is the link to a one I made with peaches.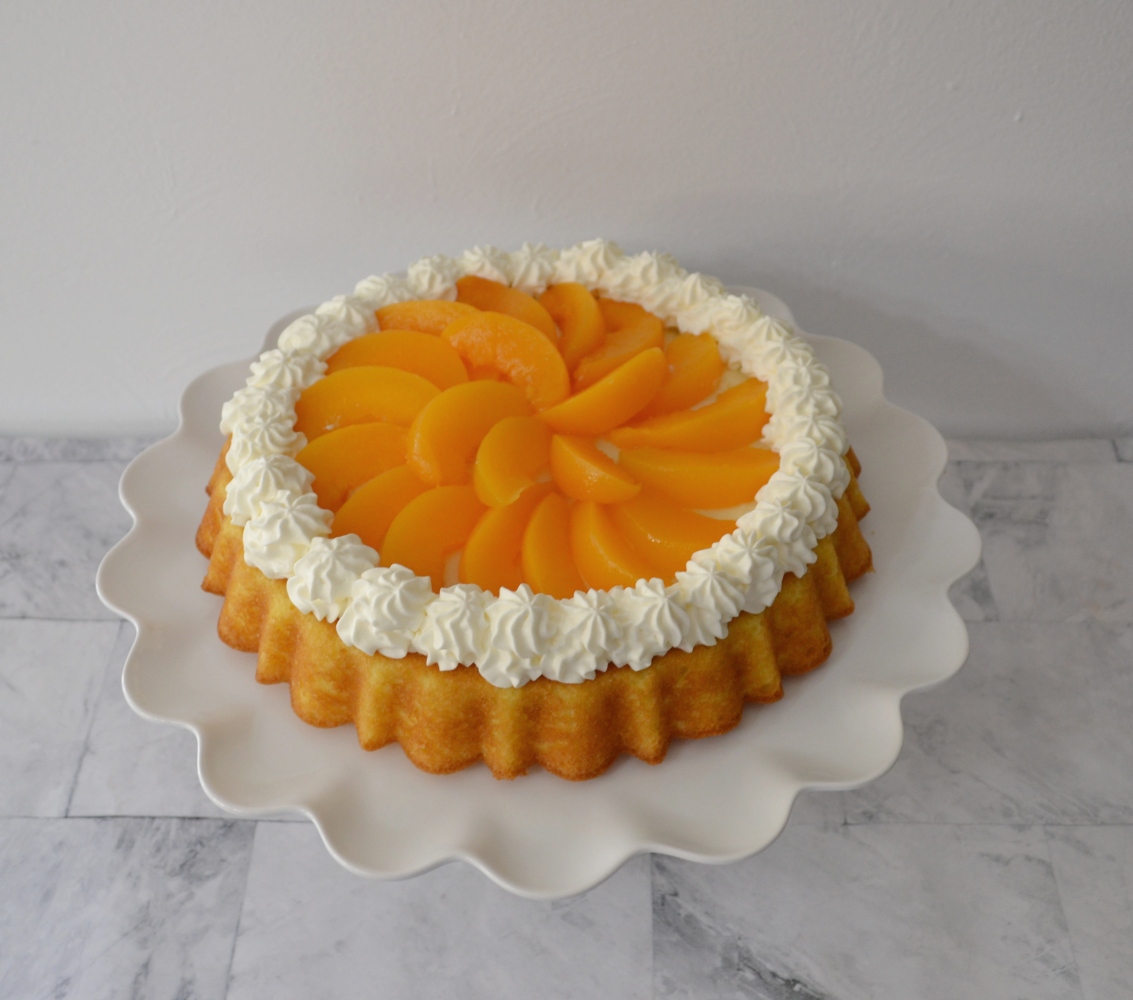 Peaches and Mascarpone Cream Tiara Cake.
ALMOND BERRY TIARA CAKE with FRESH RASPBERRY SAUCE
Ingredients
CAKE:
1/3 cup flour
1/2 teaspoon baking powder
pinch kosher salt
1/2 cup butter, softened
3/4 cup granulated sugar
8 oz almond paste
3 large eggs
1 teaspoon vanilla
FILLING:
8 oz mascarpone cheese, room temperature
1 cup confectioner sugar
1/2 teaspoon almond extract
TOPPING:
3-4 cups fresh berries
confectioner sugar for dusting
RASPBERRY SAUCE:
1/2 cup granulated sugar
2 Tablespoons cornstarch
1/8 teaspoon salt
1/2 cup water
10 oz frozen berries
Instructions
Preheat oven to 350 degrees F. Spray tiara pan (or 9-inch) cake pan with no stick cooking spray.
In a small mixing bowl, whisk together the flour, baking powder, and salt: set aside.
In a large mixing bowl, using electric mixer, beat the butter until smooth. Beat in the sugar. Crumble the almond paste into small pieces. Add to the butter mixture and beat until light and fluffy.
Beat in the eggs, (one at a time), and vanilla.
Add the flour mixture and beat just until combined. Spread evenly in the cake pan.
Bake for about 30 minutes, or until toothpick inserted in the center comes out clean. Remove from the oven and cool on wire rack for 10-15 minutes. Invert carefully onto serving plate.
In a medium size mixing bowl, beat together the mascarpone cheese, confectioner sugar, and almond extract until combined and smooth. Do not over beat. Spread in the center of cake when it is cooled.
Arrange berries on top of mascarpone layer. Dust with confectioner sugar. Drizzle with raspberry sauce when serving cake.
Prepare the raspberry sauce. Whisk together the sugar, cornstarch, and salt in a medium size saucepan. Whisk in the water. Add the frozen berries and bring to a boil. Reduce heat and simmer about 7-10 minutes, stirring frequently, until it starts to thicken. I also smash the berries while cooking. Remove from heat. Drain sauce through sieve to remove berries. Place into container.
© 2023 Copyright GRANDMA HONEY\\\\\\\'S HOUSE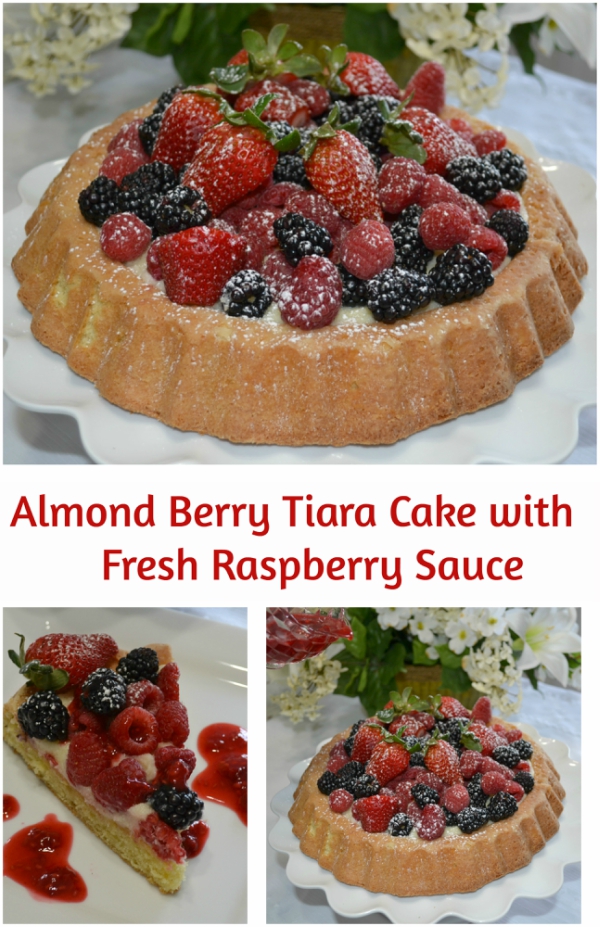 Please follow and like us: