Jump to recipe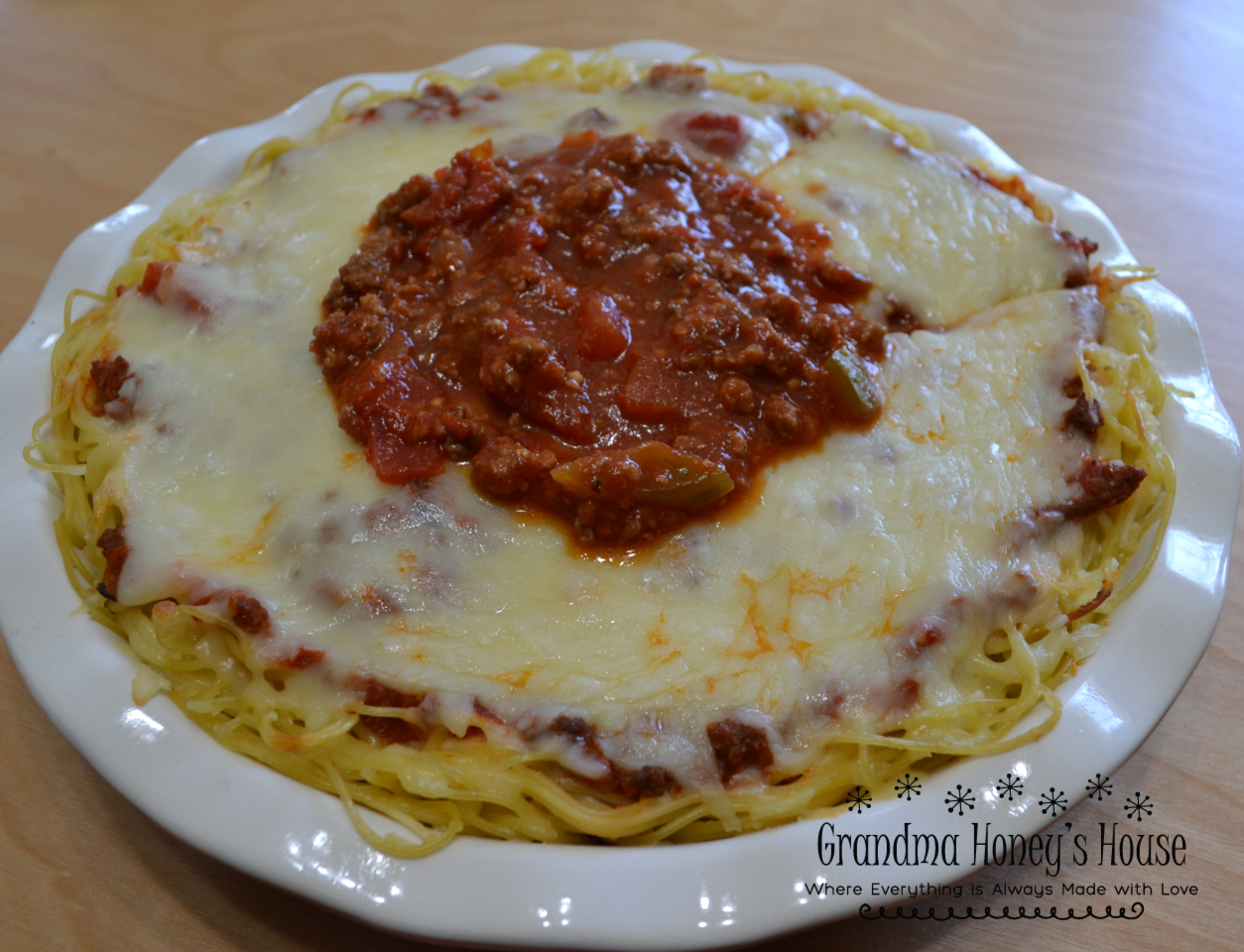 Cheese Spaghetti Pie
Cheesy Spaghetti Pie is an old time recipe that my family loves. It is baked in a deep dish pie pan with a crust of cooked spaghetti, a layer of ricotta cheese, topped with a homemade pasta sauce and covered with mozzarella cheese.
Spaghetti is one of my grandchildren's favorite meals. I remembered making a spaghetti pie many years ago, and thought it would be fun to fix this.  One day I made my pasta sauce, but had to freeze it because something else came up that week.
Last week my 15 year old granddaughter sent me a text and said she was fixing supper that night, and did I have any ideas of what she could fix.  I told her about the cheesy spaghetti pie, and she was excited.  I gave her my sauce,the ingredients, and directions since I had not had a chance to make it yet.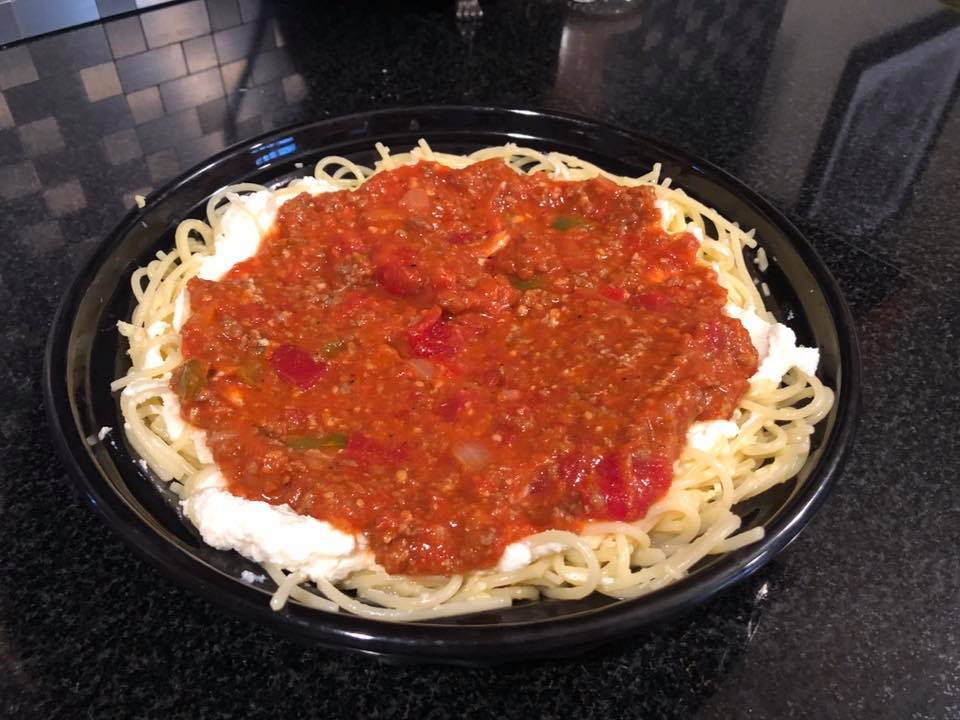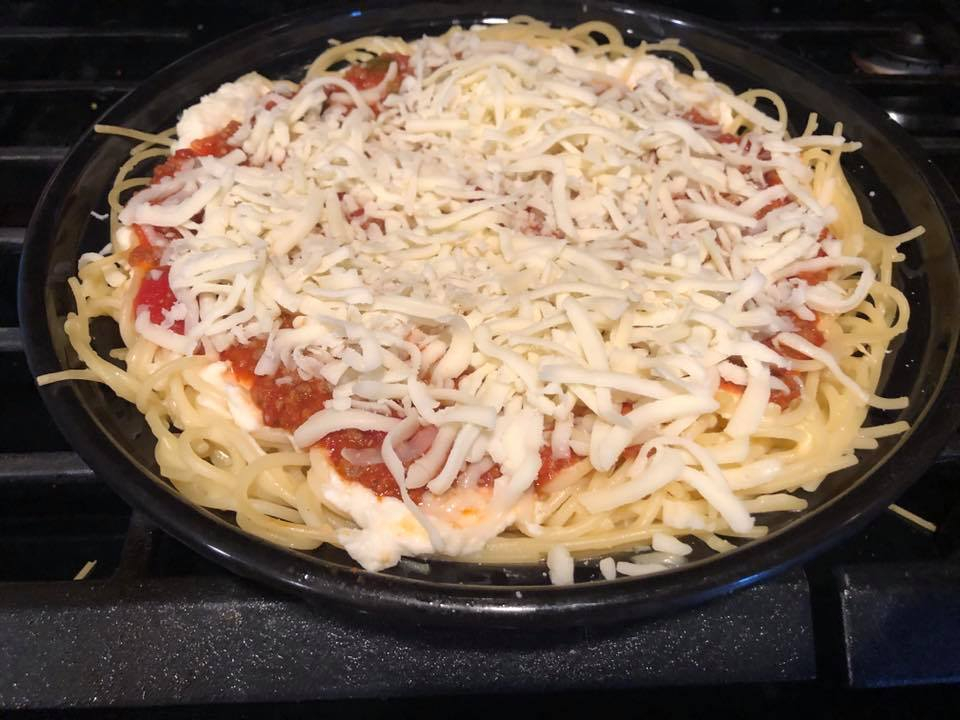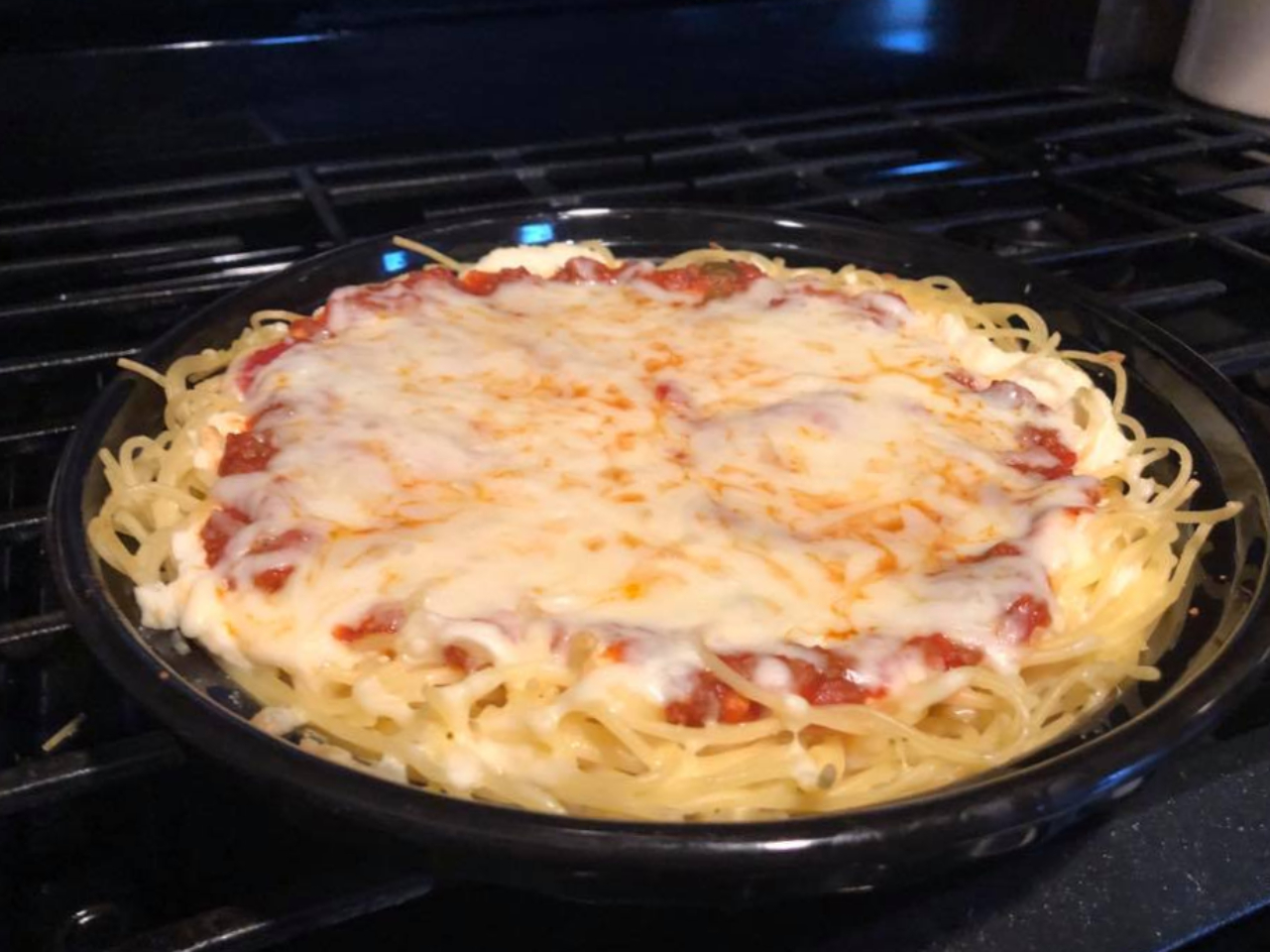 She said it was delicious, easy to make, and she sent me some pictures of hers.  Everyone agreed that she did an excellent job.
Here are the step-by-step directions. Prepare the pasta sauce.
Spray a 9-inch deep dish pie plate with no stick cooking spray.
Cook spaghetti as directed, Drain, rinse with cold water and drain well.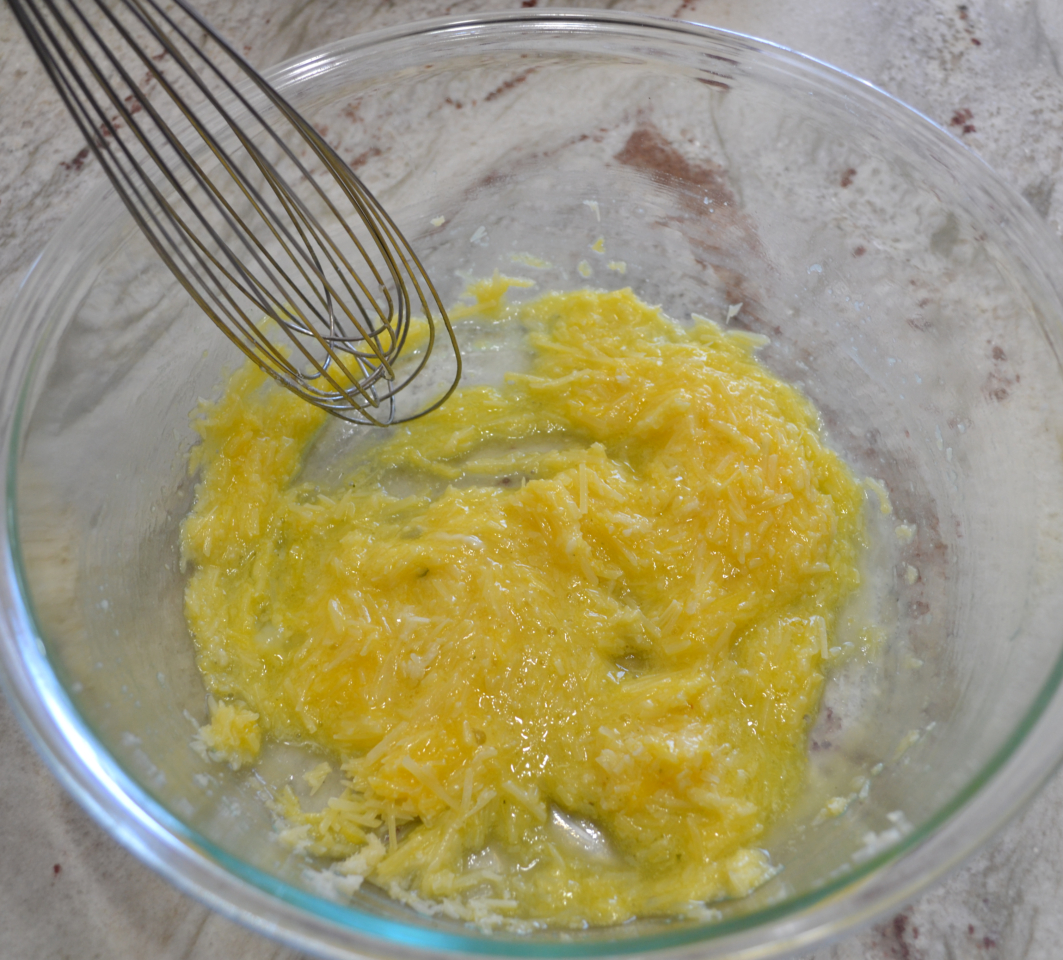 In a large bowl, combine an egg, olive oil, parmesan cheese, garlic salt,and spaghetti. Press into bottom and up the sides of the pie plate.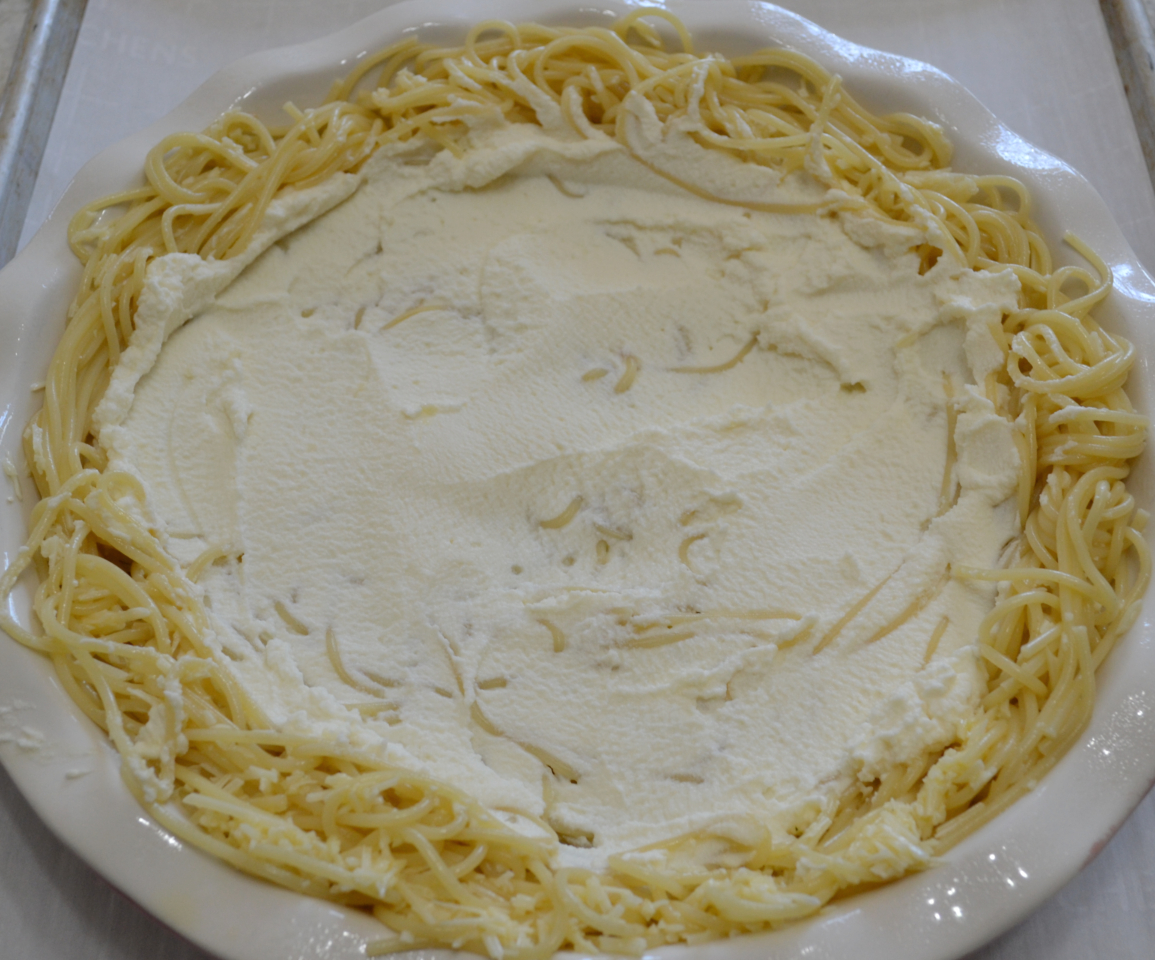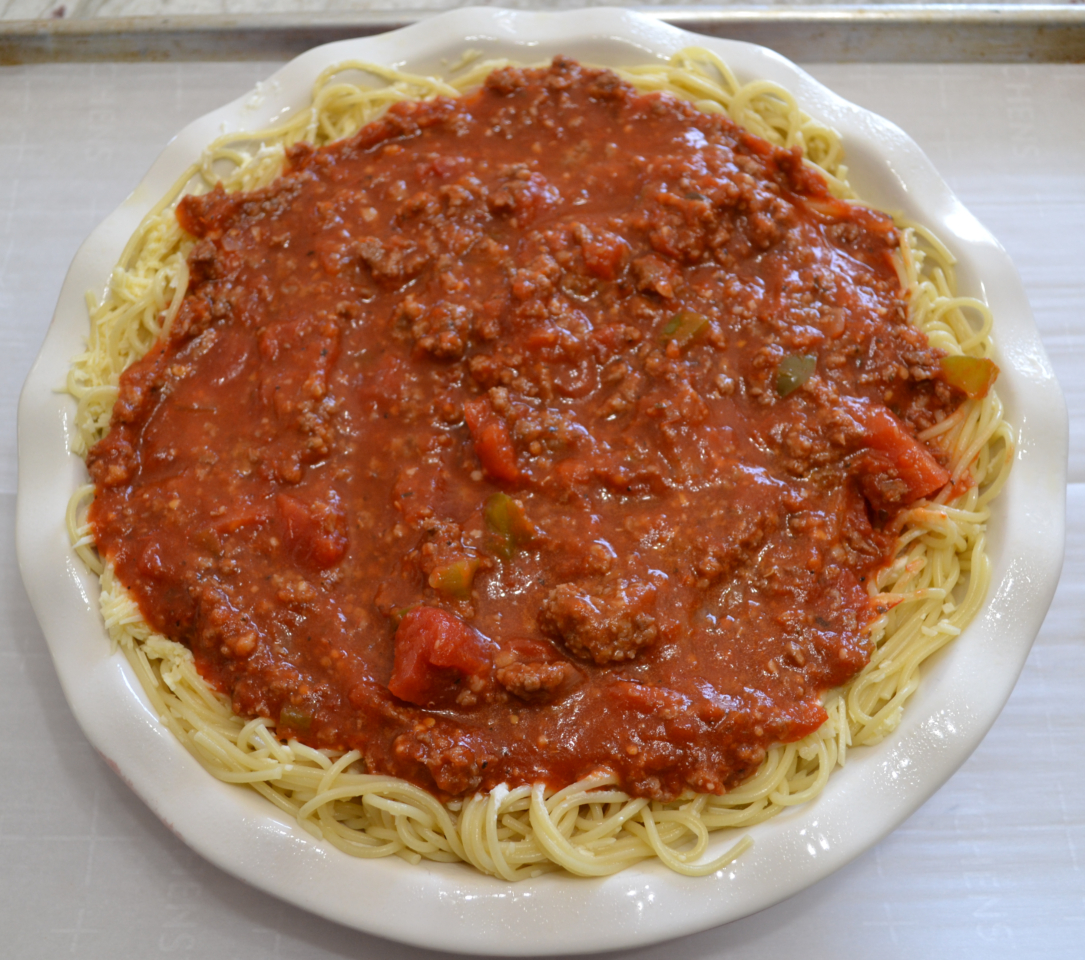 Spread ricotta cheese over the bottom of spaghetti. Top with pasta sauce, cover with foil and bake 20 minutes.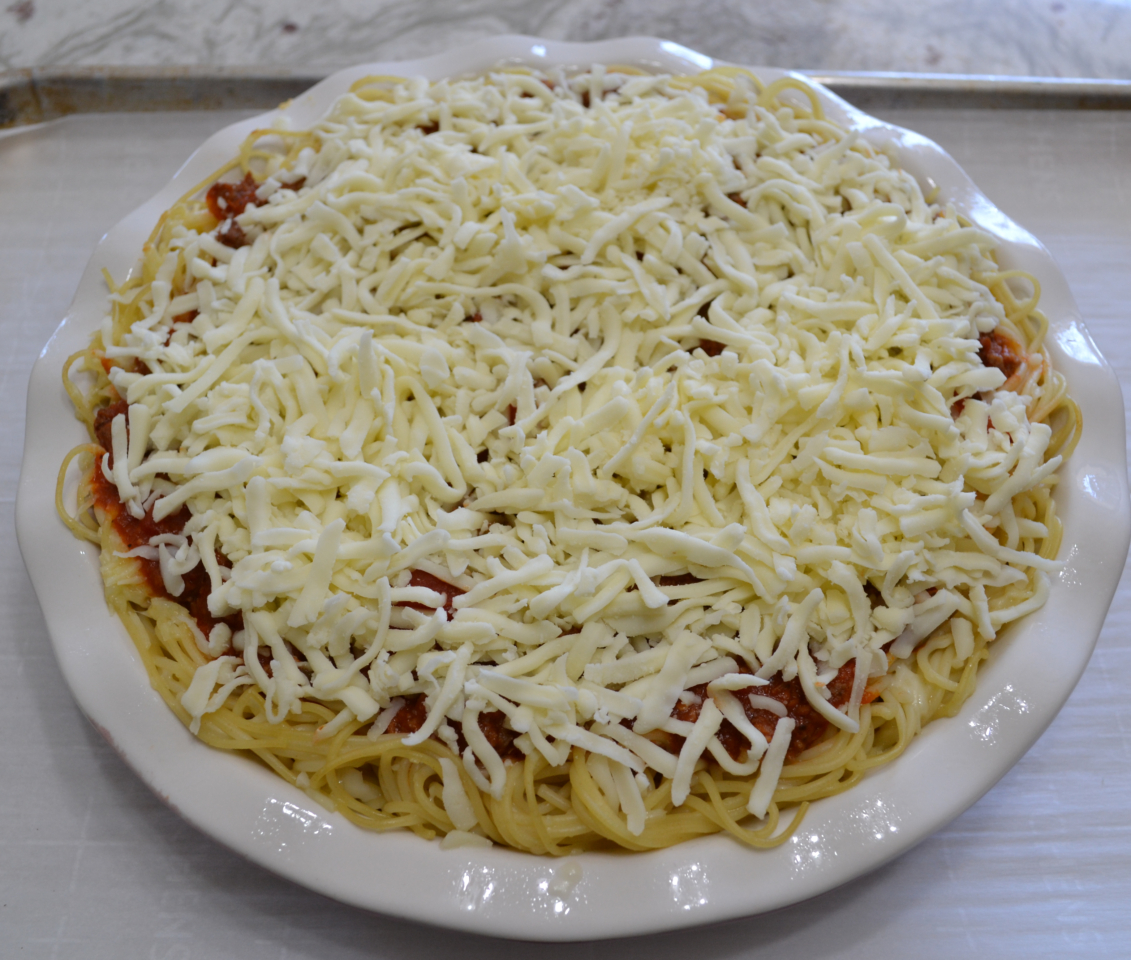 Remove foil, top with mozzarella cheese and bake 5-10 minutes until cheese is melted.
I used a pie shield to keep the exposed spaghetti edges from getting dry when baking.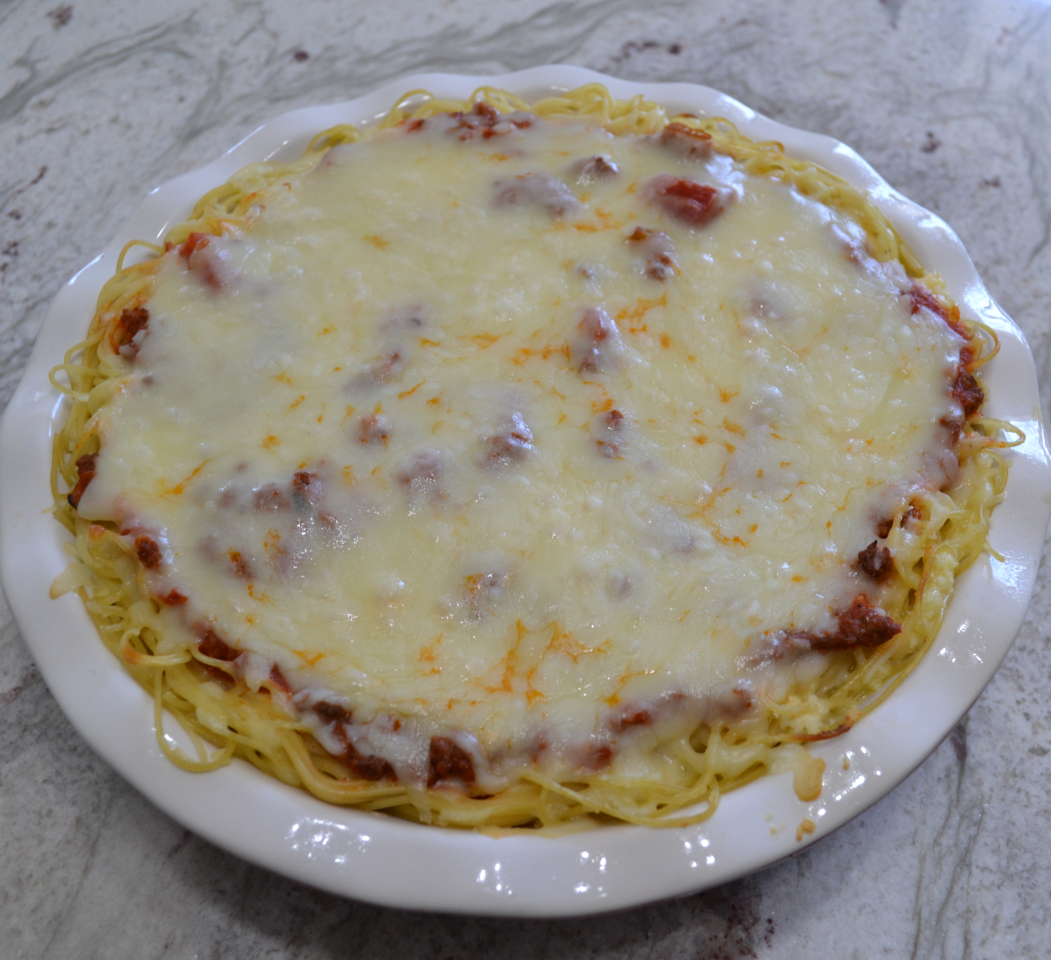 Remove from oven and allow to set 5 minutes.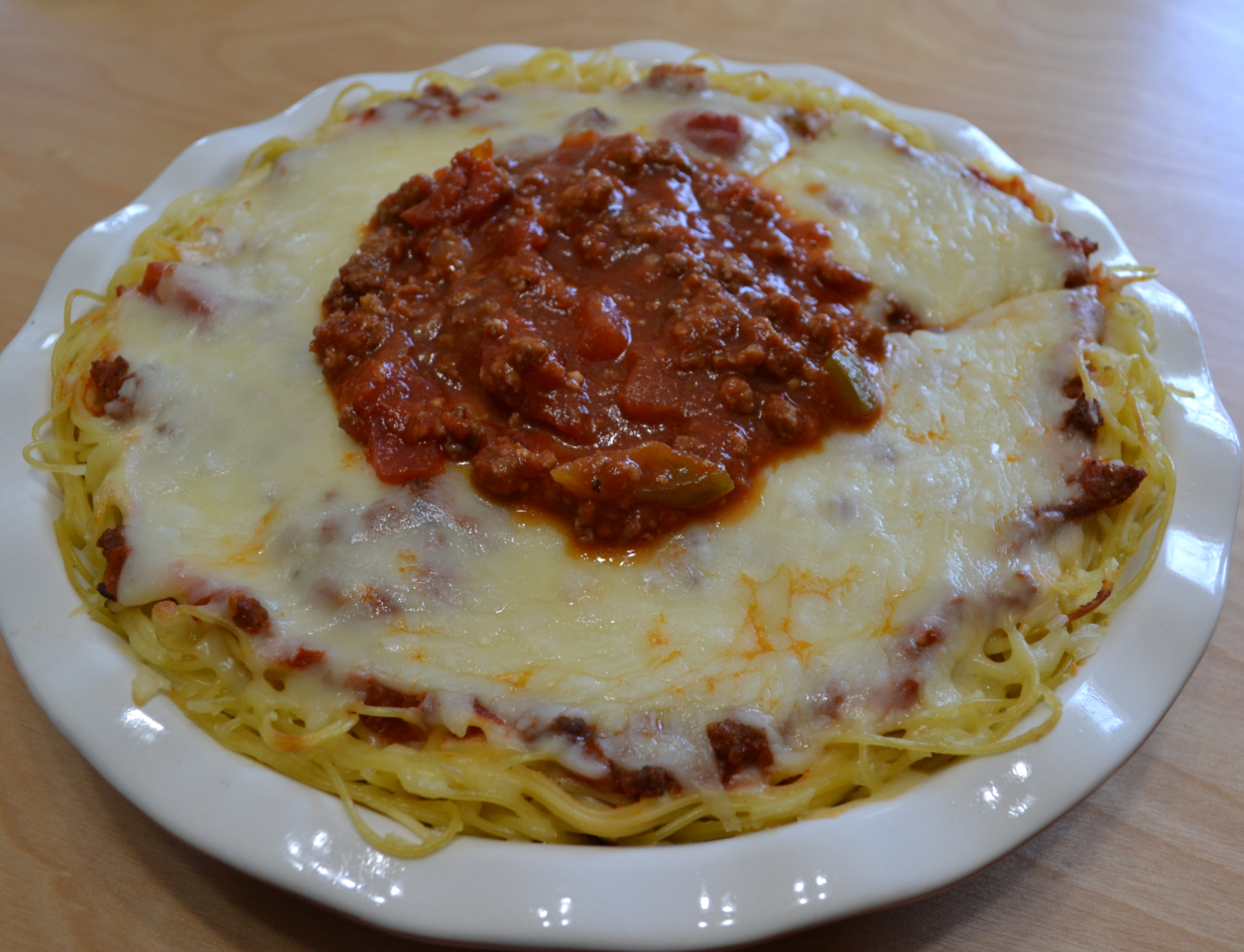 Top center with additional sauce if desired.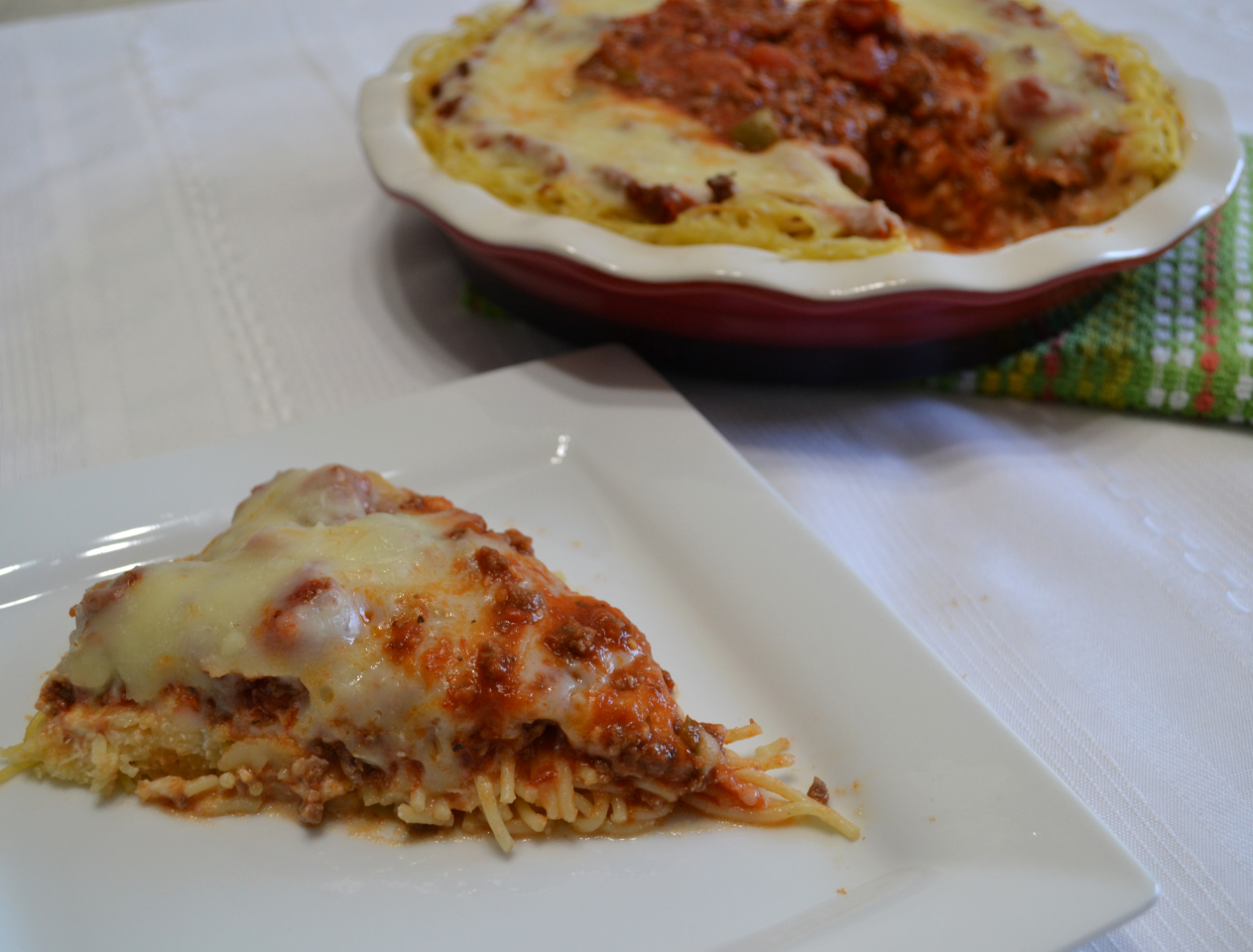 Cut into wedges and serve. This recipe makes extra sauce, which can be served on the side.
This post was shared on Weekend Potluck @Sweet Little Bluebird
CHEESY SPAGHETTI PIE
Ingredients
SAUCE:
1/2 lb ground beef
1/2 lb hot & spicy sausage
1/2 cup onions, chopped
1/2 cup green bell peppers, chopped
1/4 cup red bell peppers, chopped
2 teaspoons kosher salt
1/4 teaspoon coarse black pepper
1/4 teaspoon minced garlic flakes (or 1 clove garlic diced)
1 (14.5oz) can Italian Style diced tomatoes
1 Tablespoon sugar
1 (24oz) jar pasta sauce (I use Classico Four Cheese)
PASTA:
8 oz uncooked thin spaghetti
1 Tablespoon Extra Virgin Olive Oil
1 large egg
1/2 cup parmesan cheese
1/4 teaspoon garlic salt or garlic powder
1 cup ricotta cheese
1 1/2 cups shredded mozzarella cheese
Instructions
Brown ground beef and sausage in a large dutch oven, over a medium heat, stirring frequently. Drain grease and return to the pan. Add the onions, green and red bell peppers, salt, pepper, and garlic flakes. Cook over a medium heat, stirring frequently, for about 5 minutes. Stir in the tomatoes and sugar. Cook for another 5 minutes. Add the pasta sauce, reduce heat to low, and simmer for at least 20 minutes. Sauce can be made a day ahead if desired.
Preheat oven to 350 degrees F. Spray a 9-inch deep dish pie plate with no stick cooking spray. Place dish on a parchment lined baking sheet.
Boil spaghetti as directed on the box. Drain and rinse with cold water. Drain well; set aside.
In a large bowl, whisk together the oil and egg. Stir in the parmesan cheese and garlic salt. Add the spaghetti and toss together well.
Place spaghetti mixture in the pie plate. Press onto the bottom and up the sides to form a crust. Spread ricotta cheese over the bottom. Spoon sauce into the pie plate, leaving an inch open from the top. Cover with foil (sprayed with no stick cooking spray) and bake for 20-25 minutes, until sauce is hot.
Remove the foil and cover with mozzarella cheese. May cover exposed edges of spaghetti with a pie shield or foil to prevent it from getting too hard. Return to oven and bake 5-10 minutes or until the cheese is melted.
Remove from the oven and allow to stand 5 minutes before cutting into wedges. May add a few spoonfuls of pasta sauce in center of pie or serve additional sauce on the side.
© 2023 Copyright GRANDMA HONEY\\\\\\\'S HOUSE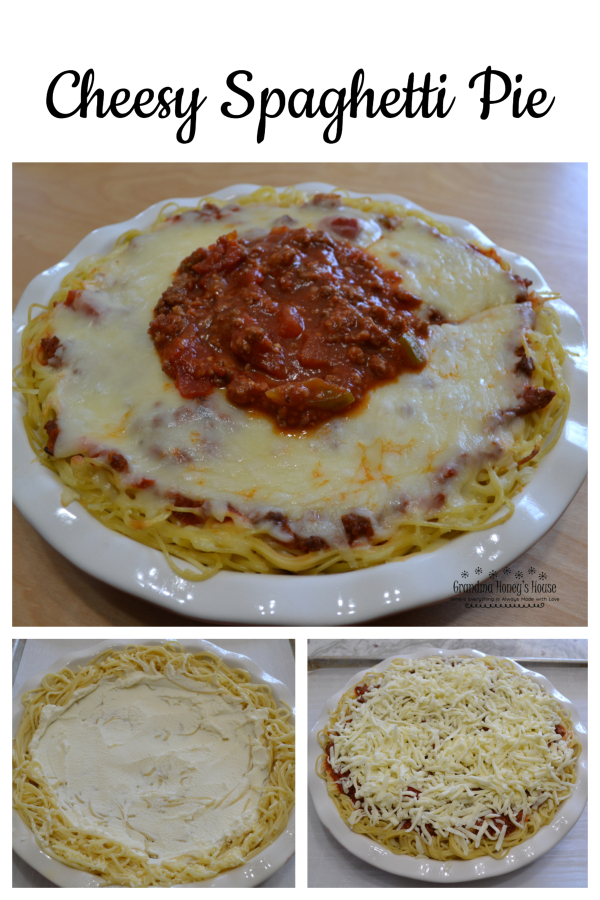 Please follow and like us: