Sharing some easy meals served on a board that are creative, colorful and so delicious. Loaded with fresh fruits, vegetables, and meats, these boards have become our new way of eating. 
The summer heat has arrived here in WV, making it hard to think of serving big meals that require heating up the kitchen.  Check out some of my easy meals served on a board and see how creative you can be.
There are so many beautiful food board ideas right now, all over Instagram and Pinterest.  I have been doing this for years, but basically called them party platters or serving trays. It seems so fun to call these food boards!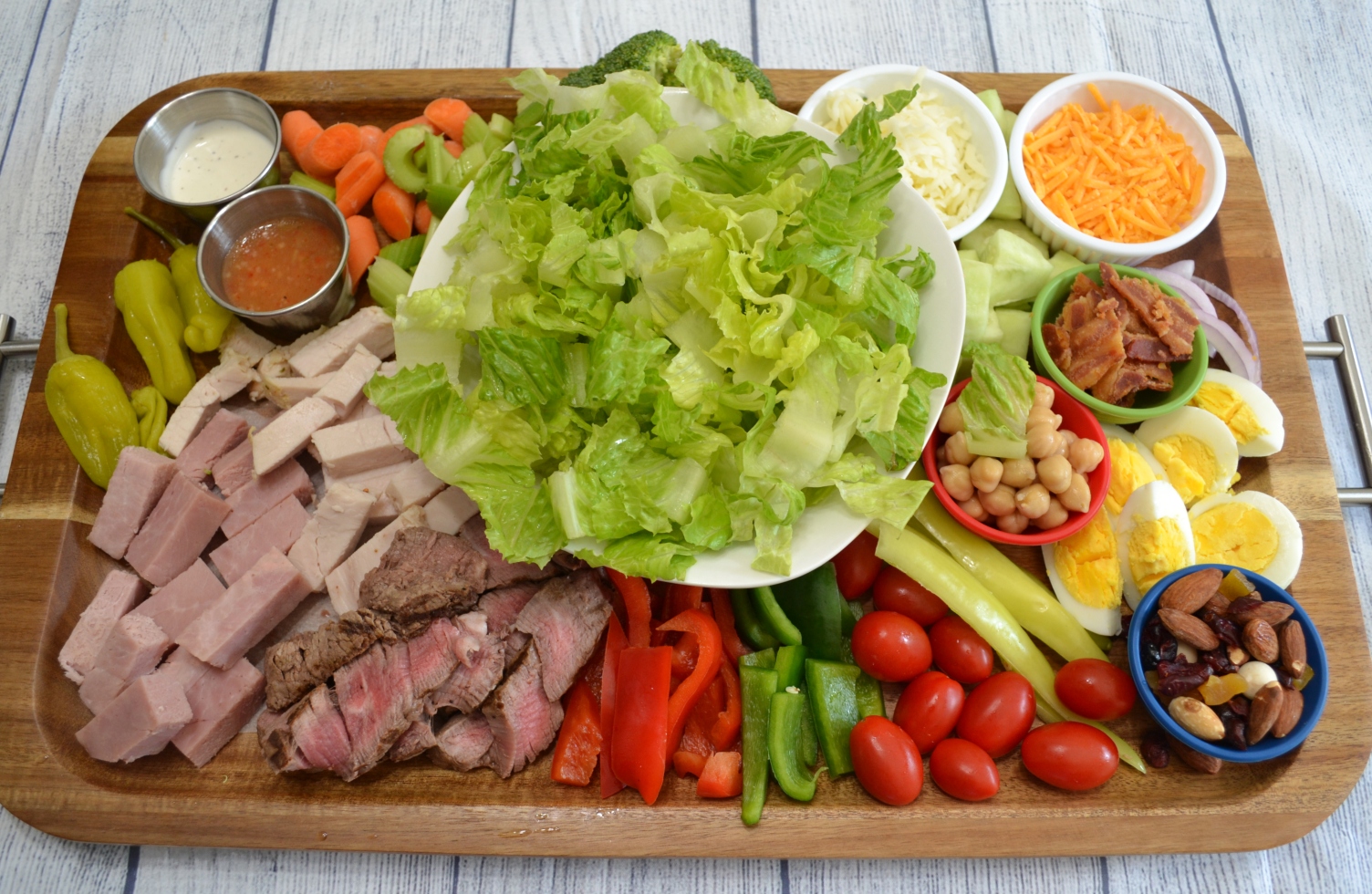 CHEF SALAD BOARD
We were having salads for lunch after church one day, so this board was created. I had some leftover filet mignon, a thick piece of ham and turkey, and these veggies in the refrigerator. For the toppings,  I set out some garbonzo beans, cheeses, some nuts and cranberries, and 2 hard boiled eggs.  Add your favorite salad dressings.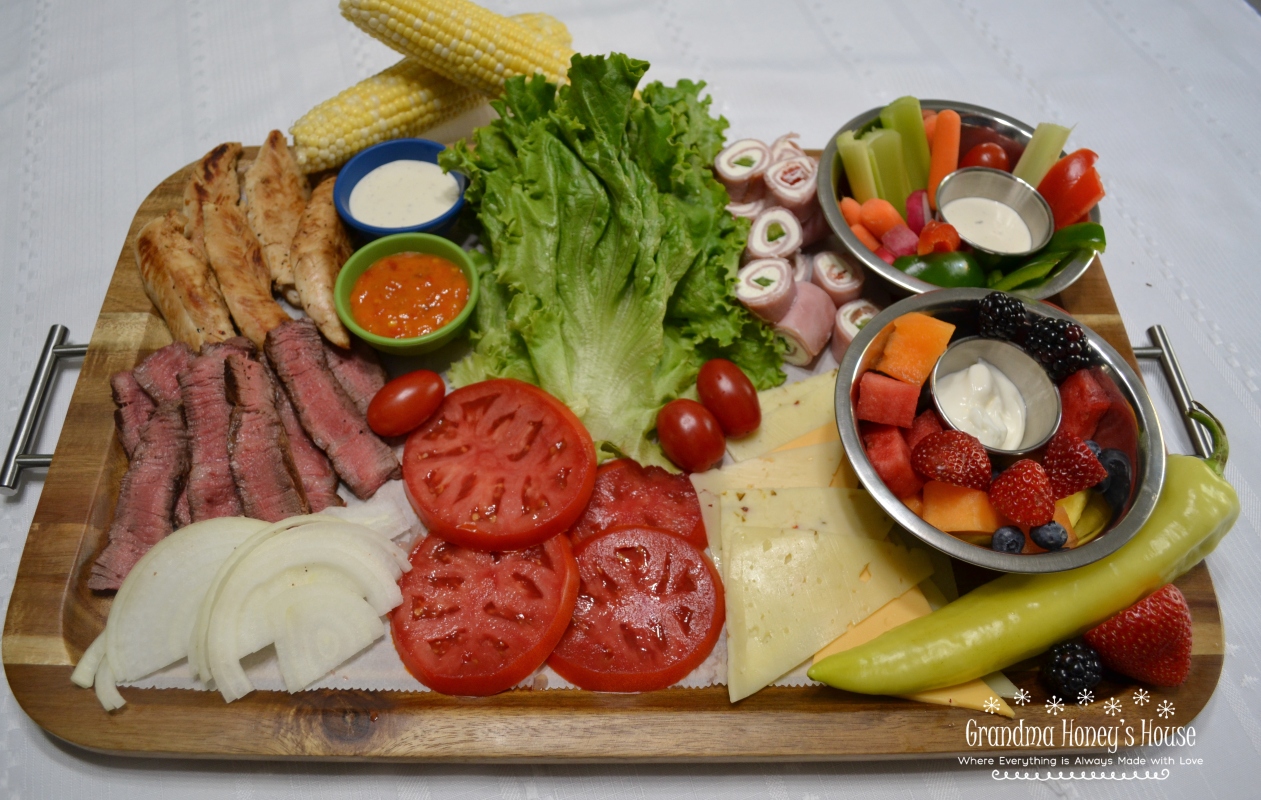 CHICKEN AND STEAK WRAP
This is probably our favorite board from my creations. My husband loves wraps and this was delicious. I grilled a filet mignon and some chicken tenderloins as the proteins. This board had green leaf lettuce, tomatoes, thinly sliced onions, cheeses,mayonnaise, and hot pepper butter. I served fresh corn on the cob, veggies and dip, fresh fruit and dip, and little ham- cream cheese pinwheels to complete the meal.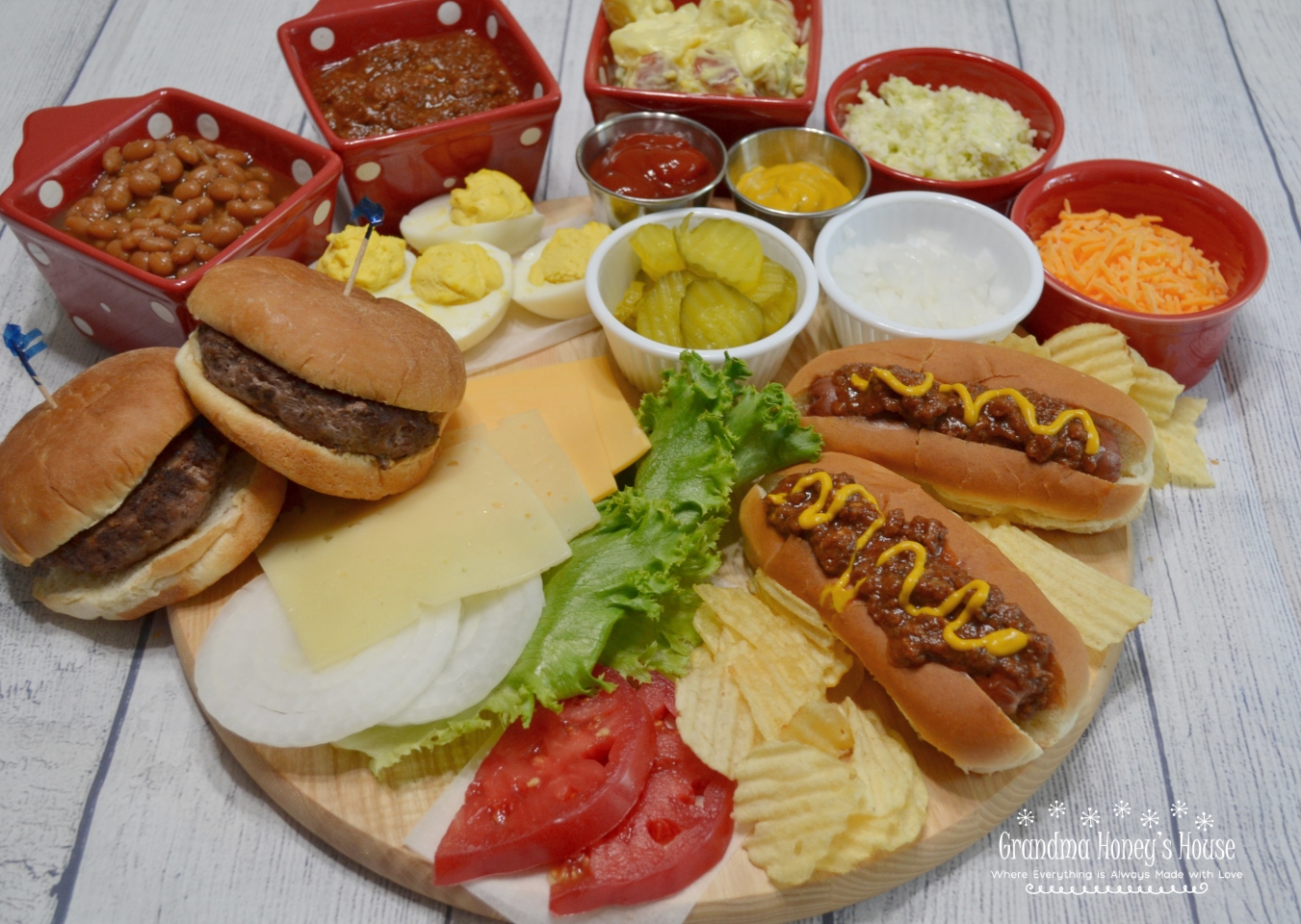 BURGER AND HOT DOG BOARD
This hamburger and hot dog board was perfect for Memorial Day for just the 2 of us.  I prepared a smaller amount of baked beans, potato salad, deviled eggs, and cole slaw as the sides. Add your favorite toppings in small dishes and on the board, for a colorful, fun meal.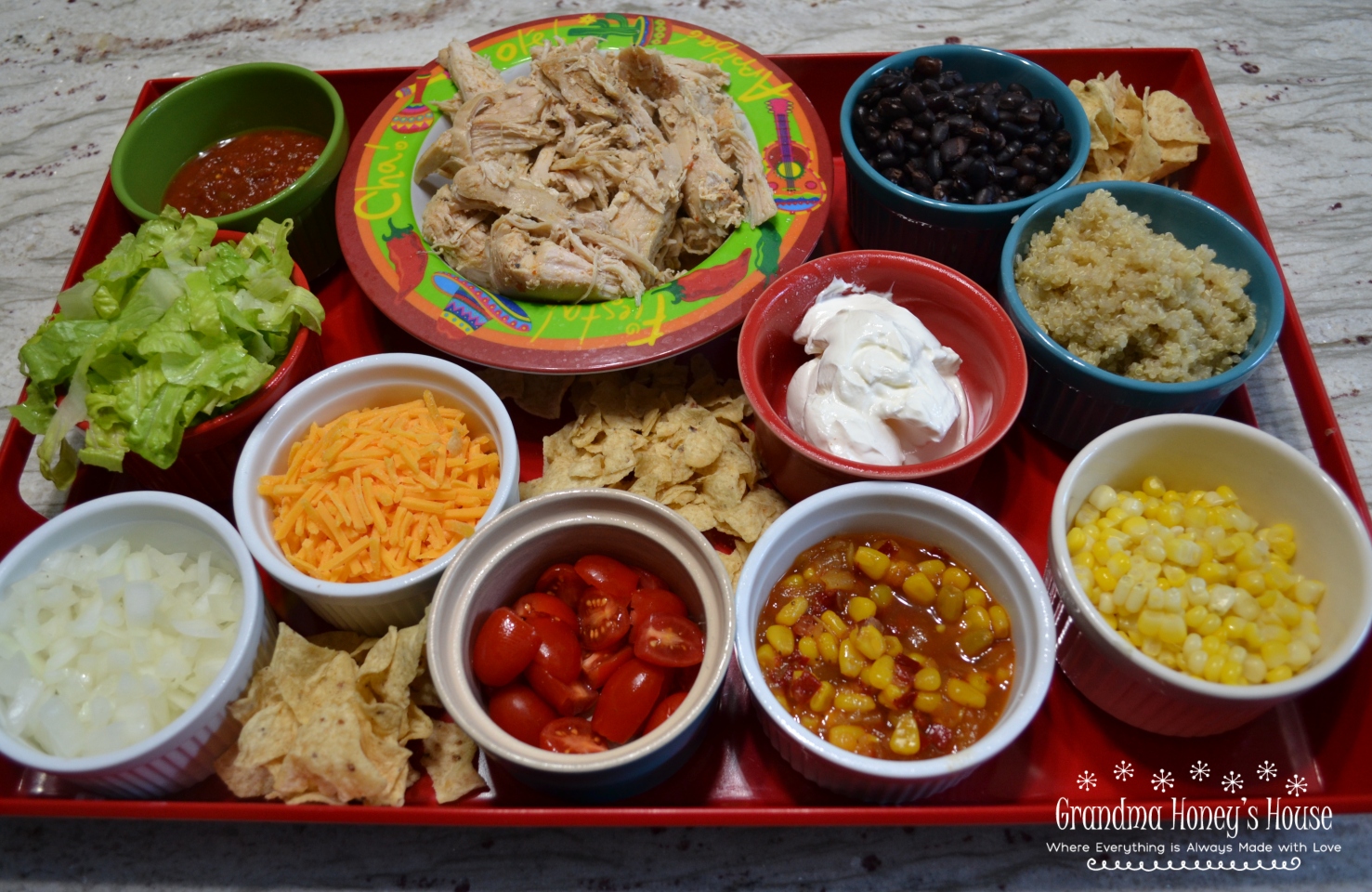 CHICKEN QUINOA BOWL BOARD

This board is really a hearty one. I cooked boneless,skinless chicken breasts in the crock pot. They were seasoned with taco seasoning, some chicken broth added, and cooked until tender. I shredded them with 2 forks in the broth mixture. On the board, I set up bowls of lettuce, quinoa, black beans, fresh corn, corn salsa, onions, tomatoes,  cheese, sour cream,and salsa. I like to add some tostitos to mine.
The basic idea is to serve your food on a wooden board (cutting board). There are so many shapes and colors available. They do not need to be expensive. I have found some on Amazon priced between $6 to $20 that I purchased.
If you do not have a wooden board, creating one on any platter or baking sheet works great.  I have actually bought new baking sheets at Sam's Club and created a tray to take to parties, so I could leave the trays there.
There are no rules when creating these easy meals served on a board, and really no exact measurements for the ingredients.   The boards can be created for any number of people.
I am going to be sharing more of the boards that I have created for different occasions. Have fun and let your imagination show.
Please follow and like us: