Jump to recipe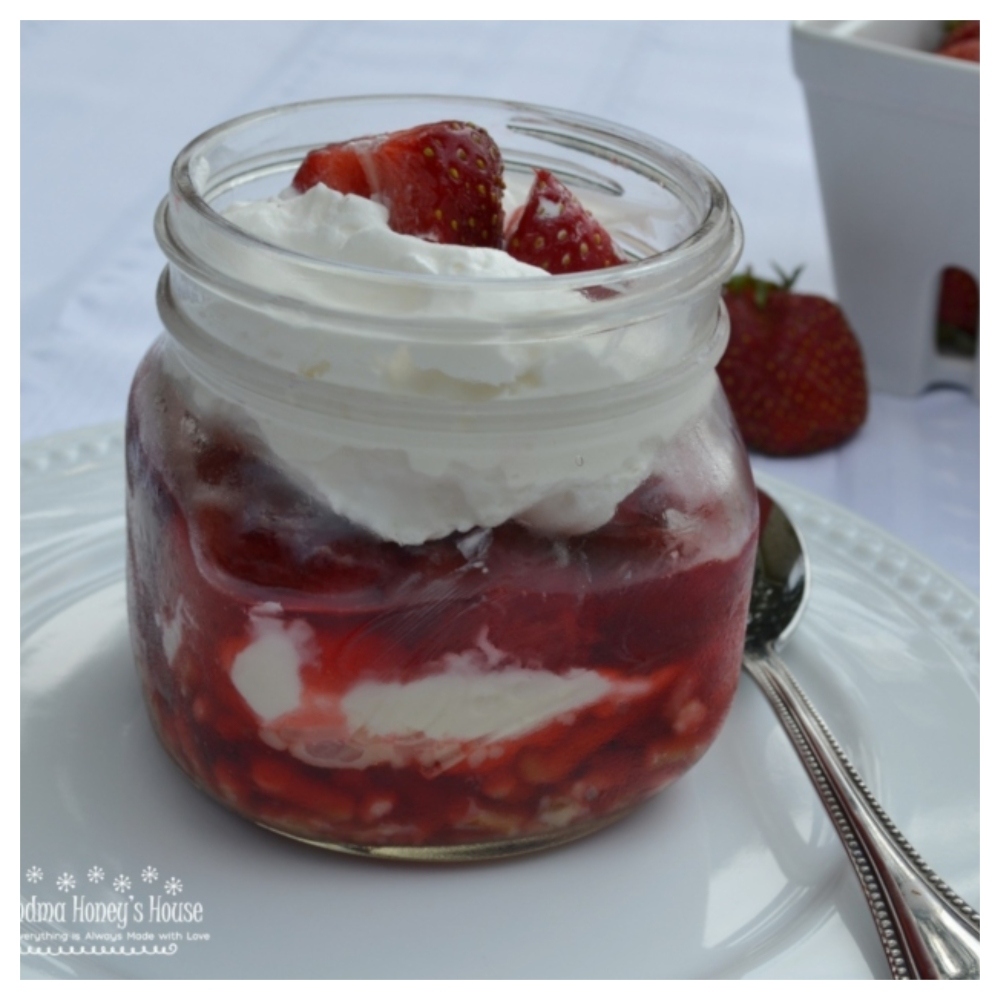 Strawberry Mascarpone Pretzel Salad in a Jar
Strawberry Mascarpone Pretzel Salad in a Jar is a variation to the reto Strawberry Pretzel Salad that has been popular since the 1960's. This dessert was at any covered dish event we ever went to. It is perfect for summer because it is colorful, refreshing, and so delicious.  Created in a jar with a lid makes it portable, it can be placed in a cooler on ice, and individual servings of any dessert are always a big hit.
Last week I was going through some shelves in my basement and ran across a vintage strawberry shortcake cake stand that my mother had given me so many years ago. I had actually forgotten about it, but seeing it again brought back many happy memories.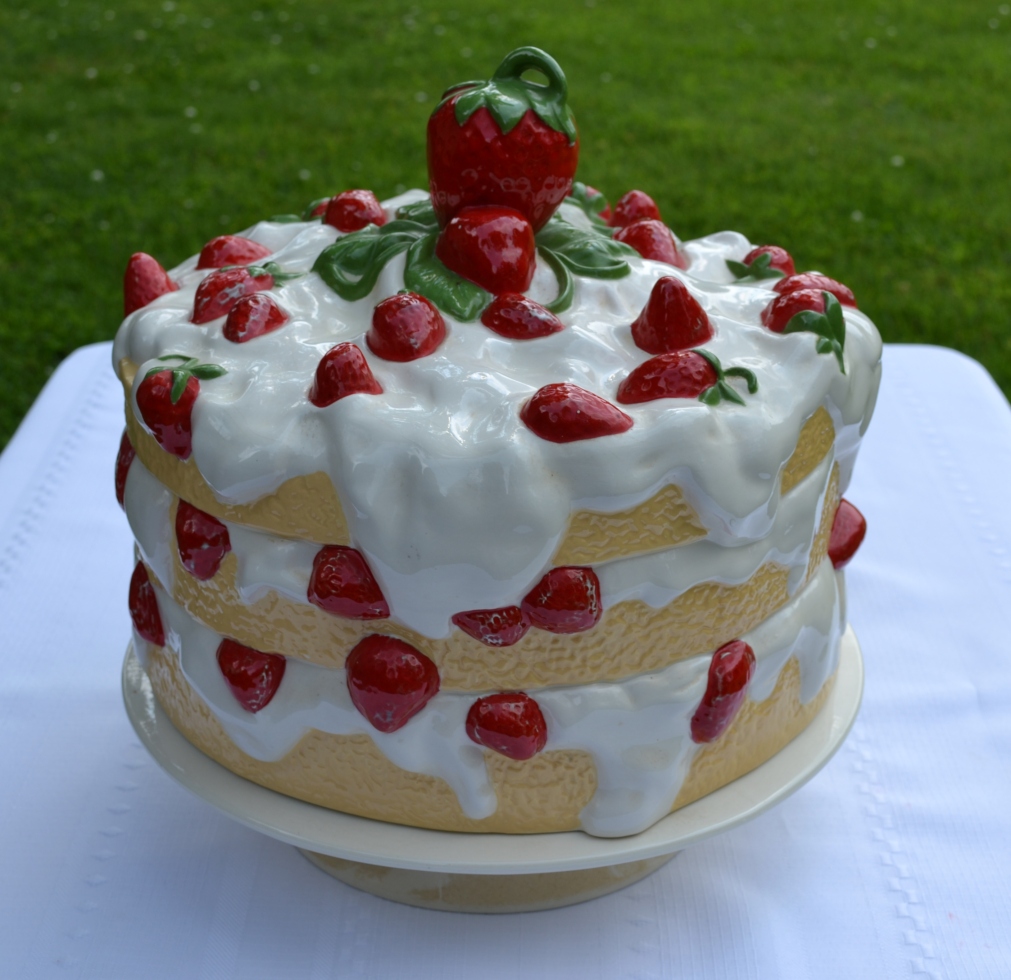 After washing it up, I set it in my kitchen to use as inspiration for making everything I could think of that was a strawberry recipe. It was my inspiration and motivation. Strawberry Pretzel Salad is one of my husband's favorite desserts, so it was on the list.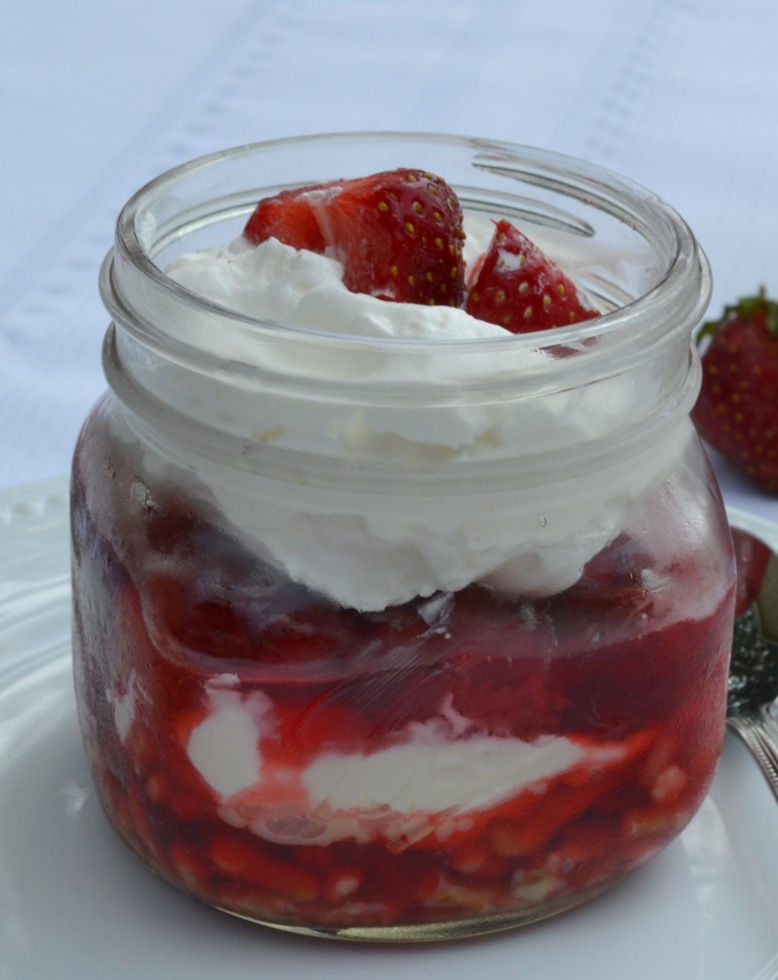 Last year I purchased these small jars with lids at Wal-Mart, and have used them so many times. We were having a cook-out, so I decided to create this dessert in the jars. This was helpful in transporting my dessert.
I made some of the jars with the traditional recipe, and in the others, I created a version using mascarpone cheese instead of the cream cheese. The reviews were mixed. My husband was the biggest critic. He did like the mascarpone ones, but prefers the traditional cream cheese.
The size of the jar will determine the exact measurements.  Mix the pretzel crust and place about 2 heaping tablespoon in bottom of each jar. Slightly press down with your fingers. Bake at 350 degrees for 6 minutes. Remove from oven and cool.
Mix an envelope of *DREAM WHIP as directed on the package. Place in refrigerator to chill.
Combine the jello with hot water and frozen strawberries as in directions. Chill until starting to set.
Mix together mascarpone cheese, confectioner sugar, and vanilla.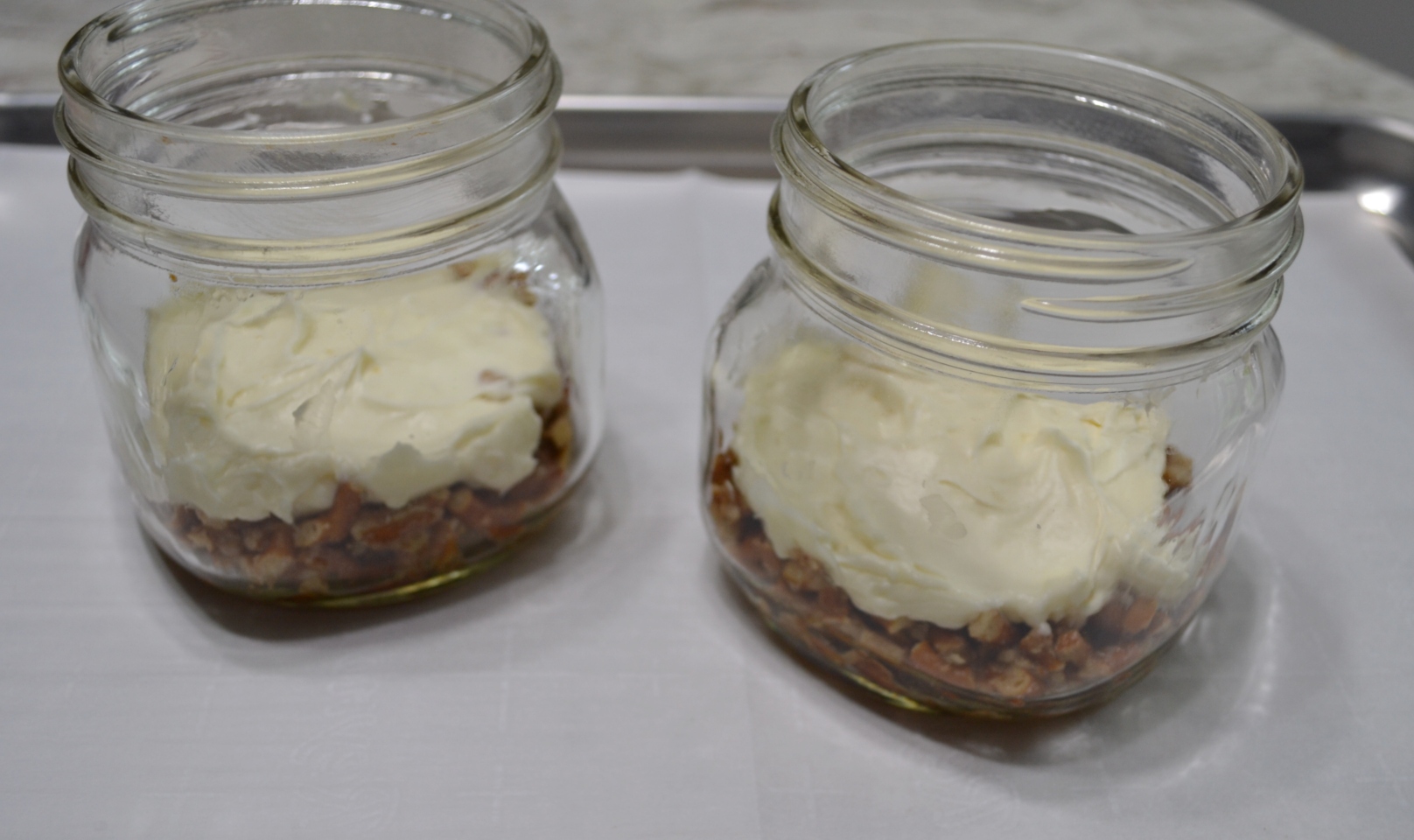 To fill the jars, add mascarpone cheese layer first.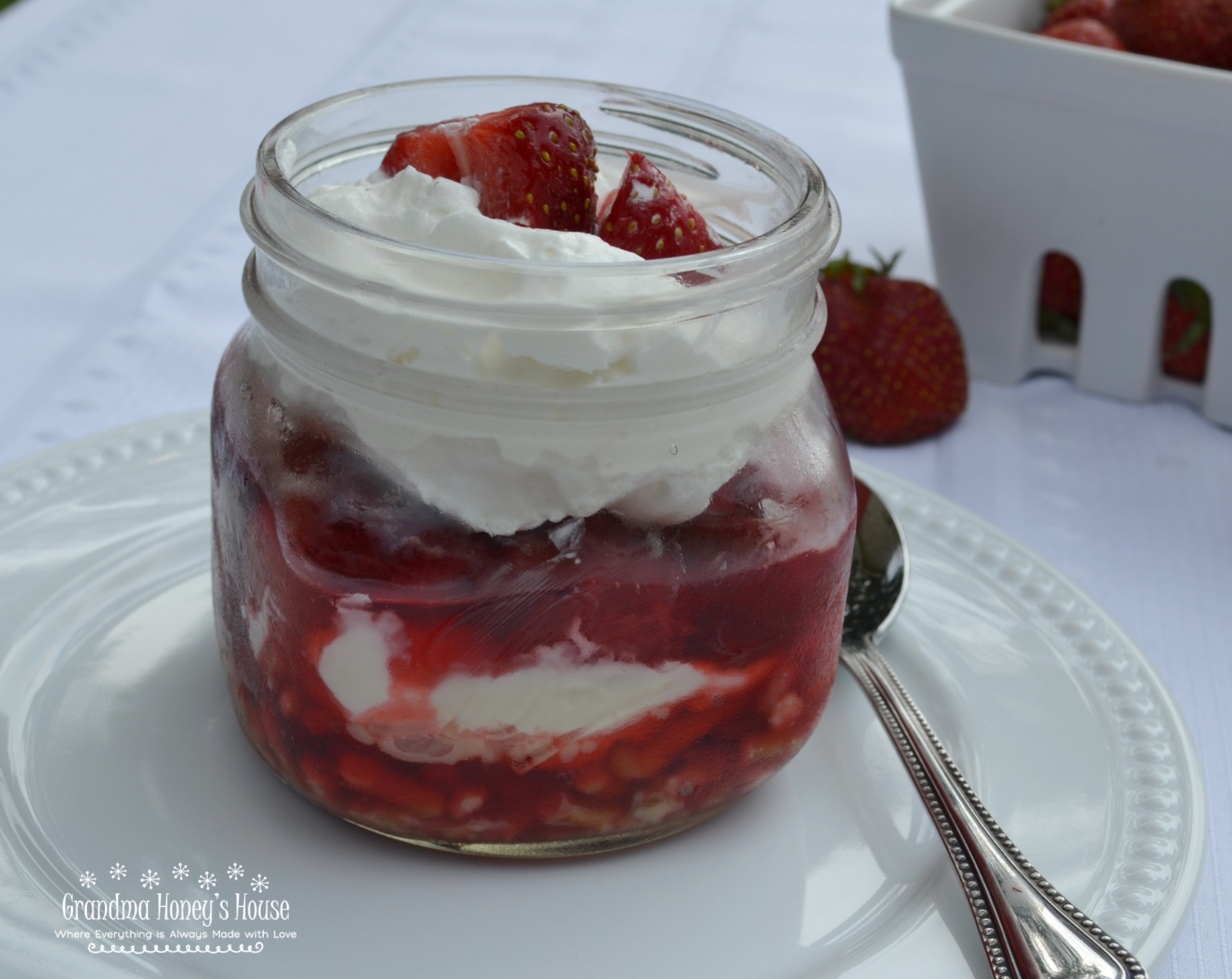 Top with jello layer, then, with Dream Whip and a fresh strawberry.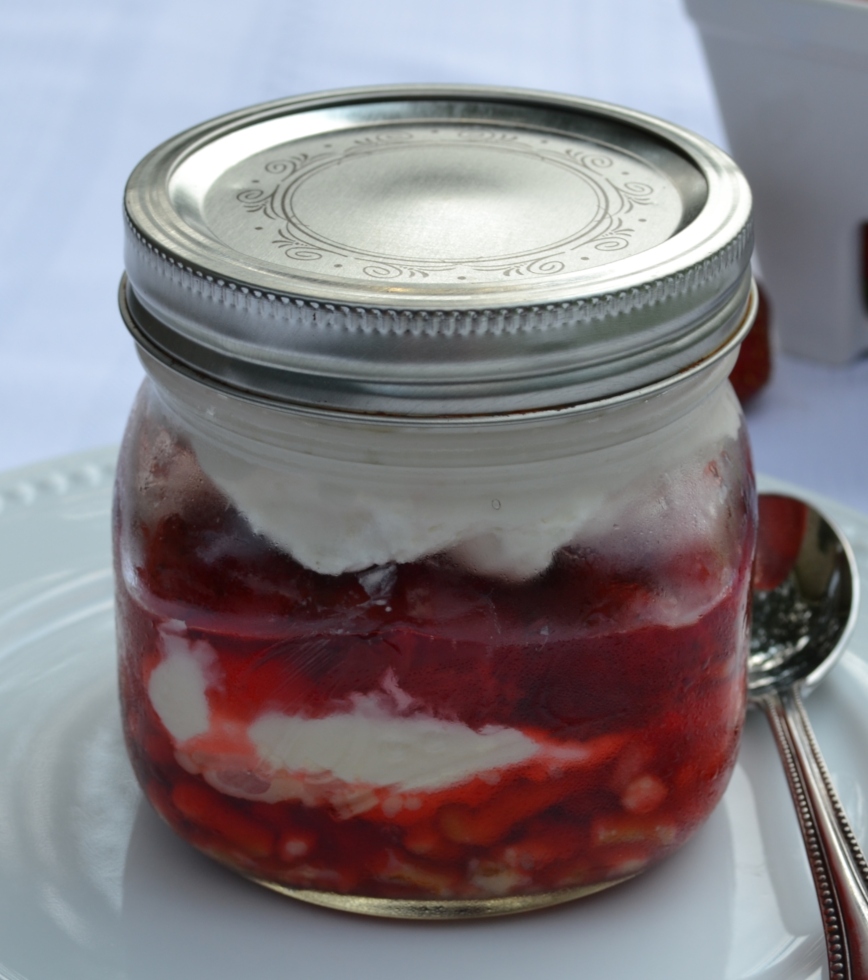 Refrigerate until ready to serve. Place the lid on jar when ready to transport.
This recipe was shared on Weekend Potluck @Sweet Little Bluebird
Check out this site for the most awesome recipes from a great group of cooks and bakers.
Ingredients
1 1/2 cups salted pretzels, crushed
4 Tablespoons sugar
8 Tablespoons butter, melted
8 oz container mascarpone cheese, room temp (prefer BelGioioso)
1/2 cup confectioner sugar
1/2 teaspoon vanilla extract
1 envelope Dream Whip
1/2 cup cold milk
1/2 teaspoon vanilla extract
1 (6oz) Package strawberry flavored gelatin
2 cups boiling water
1 (16oz) package frozen sliced strawberries
fresh strawberries for garnish
4 (10oz) ovenproof jars
Instructions
Preheat oven to 350 degrees F.
In a medium size bowl, combine the pretzel crumbs, sugar, and butter. Stir with a fork to combine well. Divide the mixture evenly between the jars, about 2 heaping Tablespoons in each. Press down only slightly with fingers. Arrange the jars on a baking sheet. Bake for 6 minutes. Remove from the oven and allow to cool.
In a medium size bowl, beat together the mascarpone cheese, confectioner sugar, and 1/2 teaspoon vanilla, until well combined and smooth. Set aside.
In a small bowl, using an electric mixer, beat together the Dream Whip, milk, and 1/2 teaspoon vanilla. Mix until peaks form, about 4 minutes. Cover and place in refrigerator.
In a large mixing bowl, whisk together the gelatin and water until it is dissolved. Stir in the frozen strawberries. Place in refrigerator about 10-15 minutes, until it starts to set.
To fill the jars, evenly divide the mascarpone filling over the pretzel crusts.Using the back of a teaspoon, spread it carefully over the pretzels. Next add an even amount of the gelatin and strawberries. (You may not use all of this mixture) Return to the refrigerator for about an hour, Top with the Dream Whip, divided evenly between the jars, and garnish with a few strawberry slices just prior to serving or getting ready to add a lid and transport.
© 2023 Copyright GRANDMA HONEY\\\\\\\'S HOUSE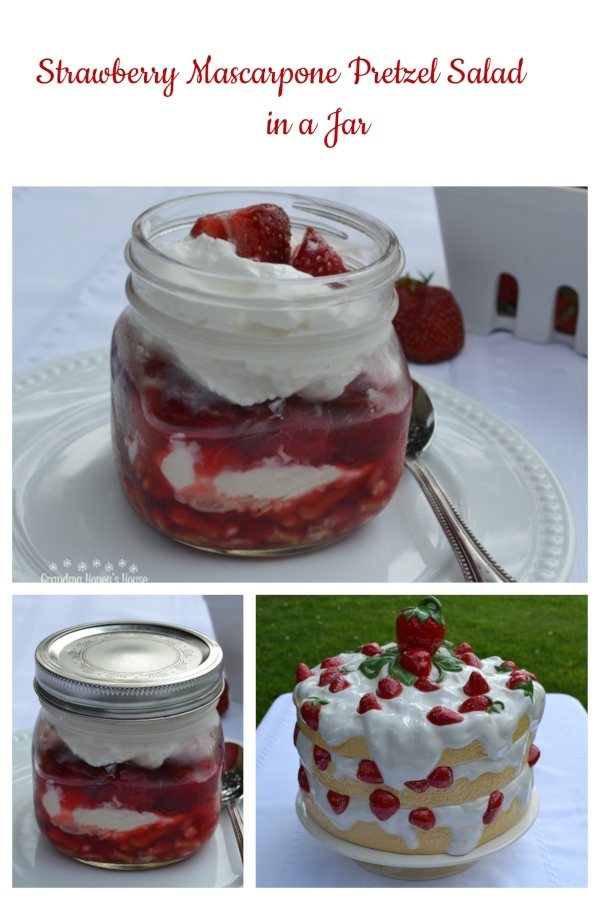 Please follow and like us: