Jump to recipe
If you enjoy steak and eggs for breakfast, you will love this Steakhouse Brunch Crostada.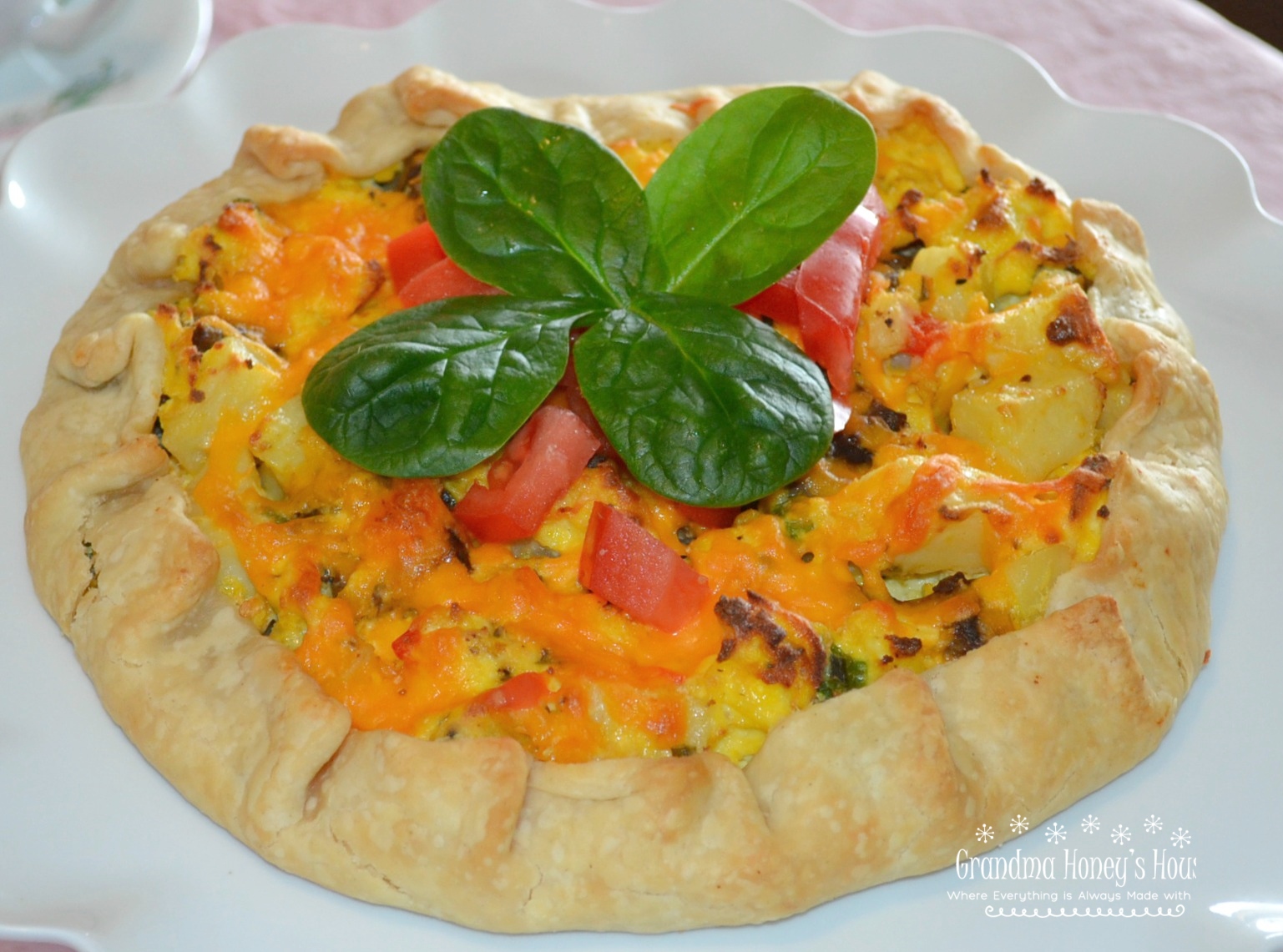 When we have leftover steak from dinner, my husband always wants to have it with eggs for breakfast the next morning.  That is how this recipe was created.  My Steakhouse Brunch Crostada is a combination of flavors that you would find in a steakhouse,  and made into a brunch recipe.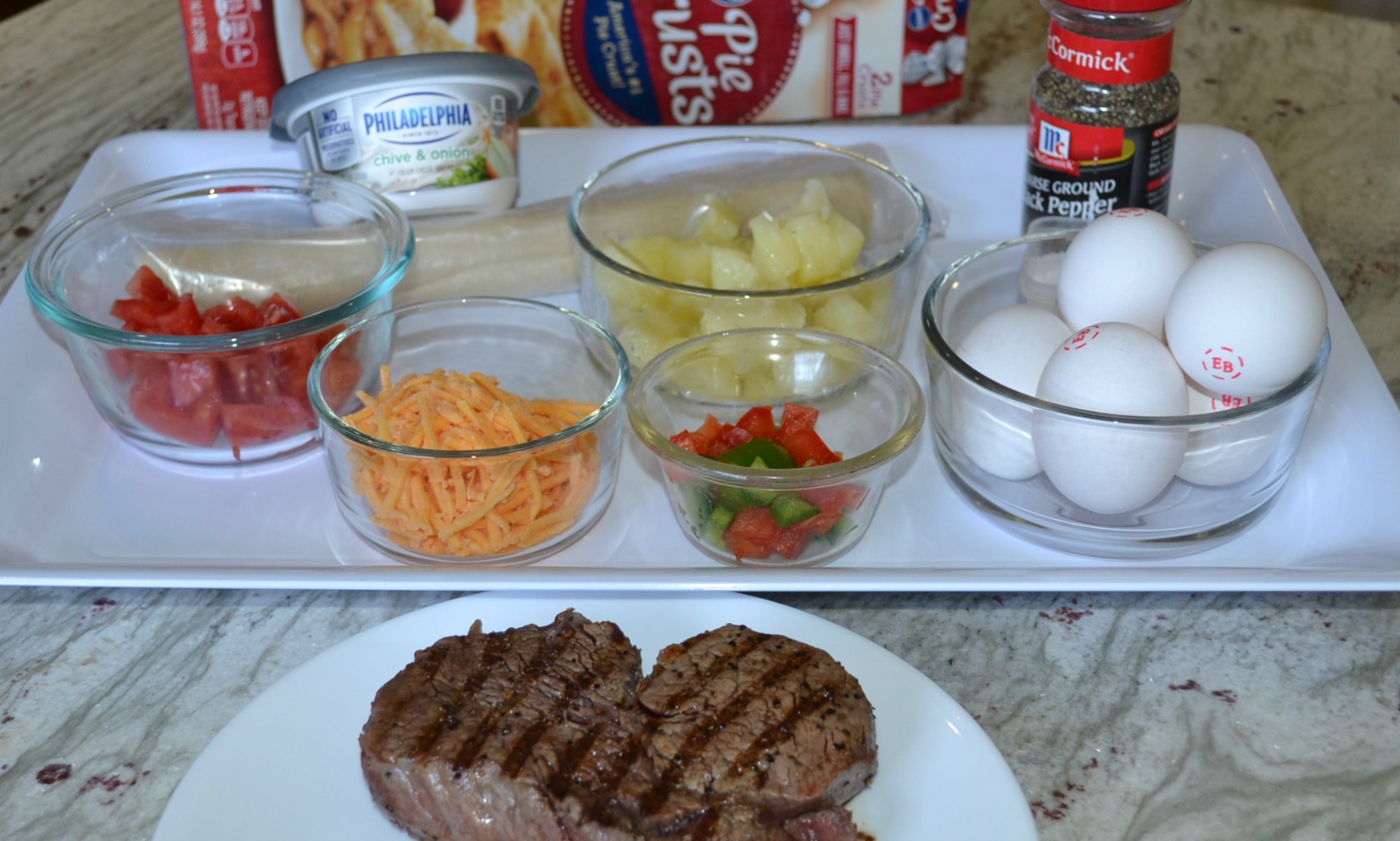 Assemble the ingredients.  If you have leftover steak, you may use this.  If I am cooking a steak for this recipe, I use filet mignon, but use any type that your family prefers.  Undercook the steak as it will cook more in the oven.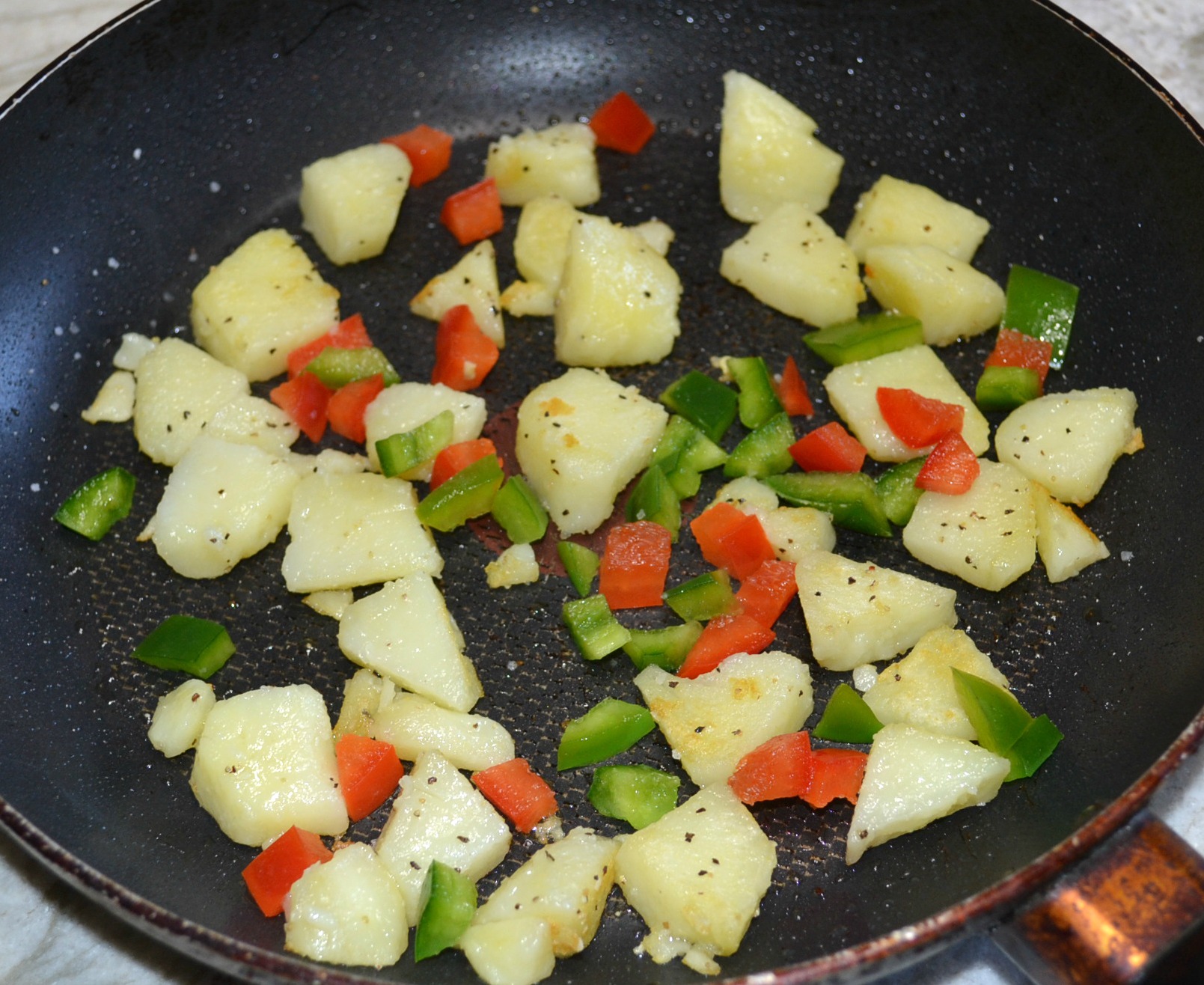 Cook the potatoes and peppers.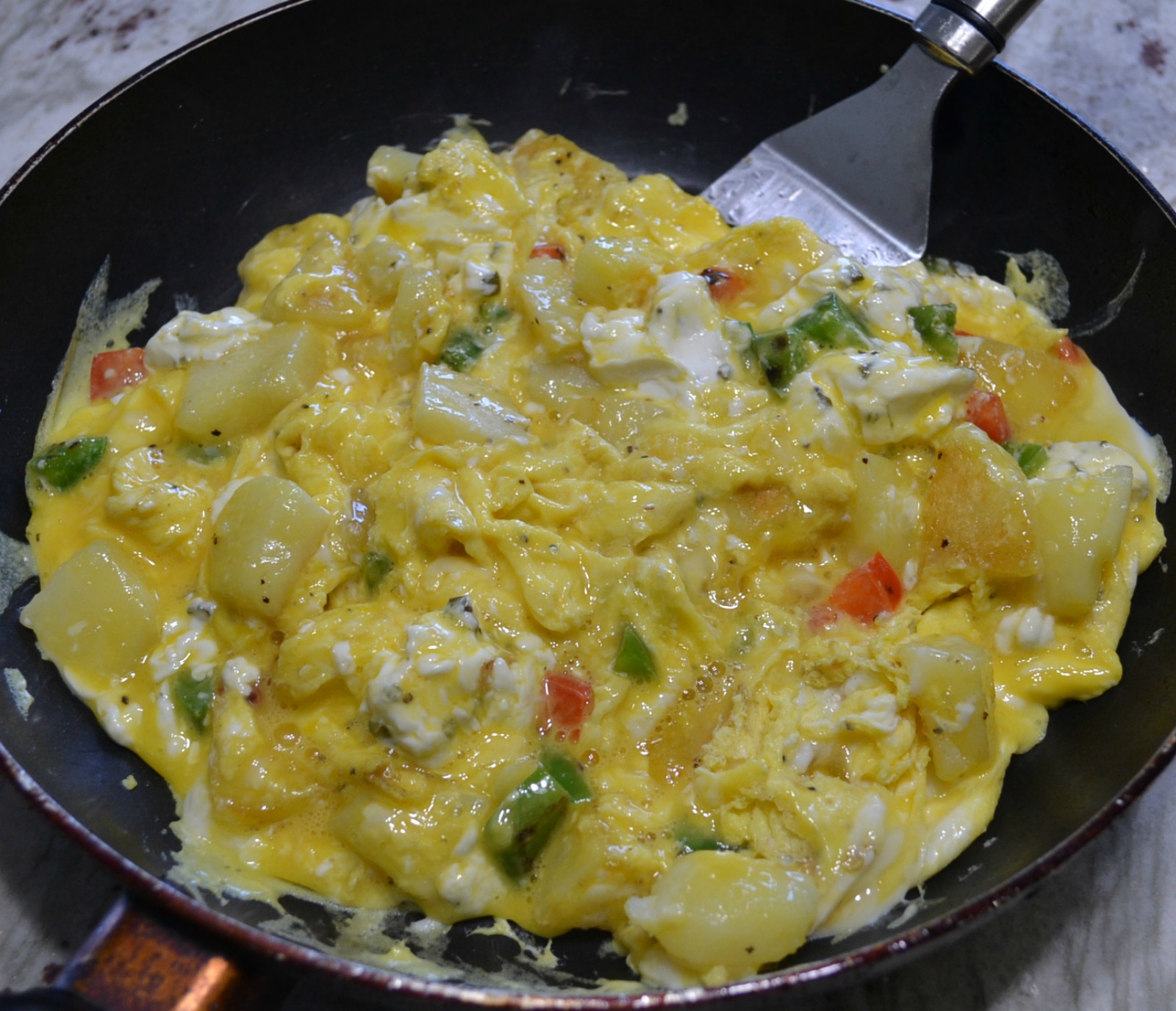 Whisk together the eggs, cream cheese, salt, pepper, garlic salt and hot sauce.  Pour mixture into skillet with potatoes.  Cook until almost set.  Remove from heat.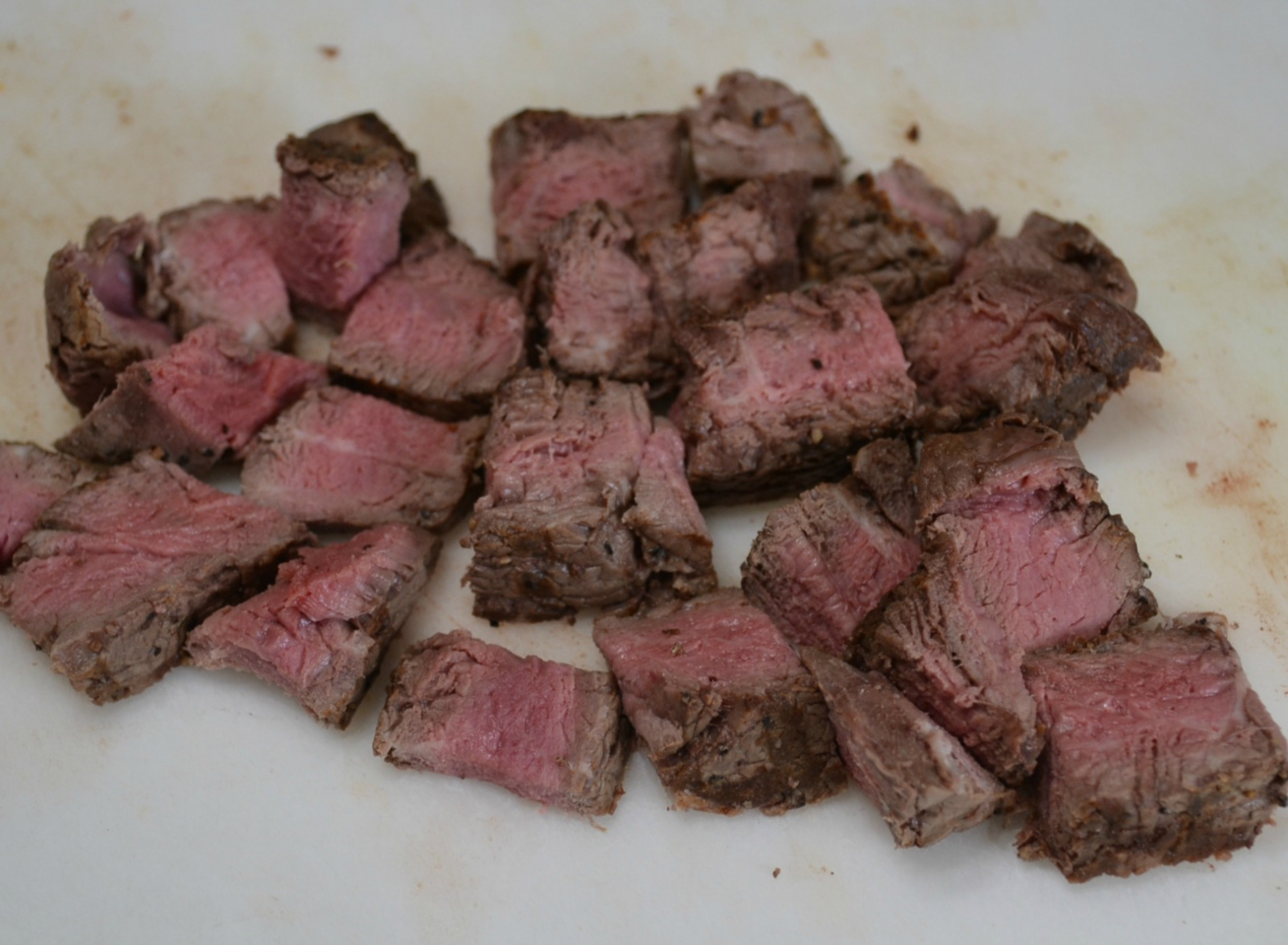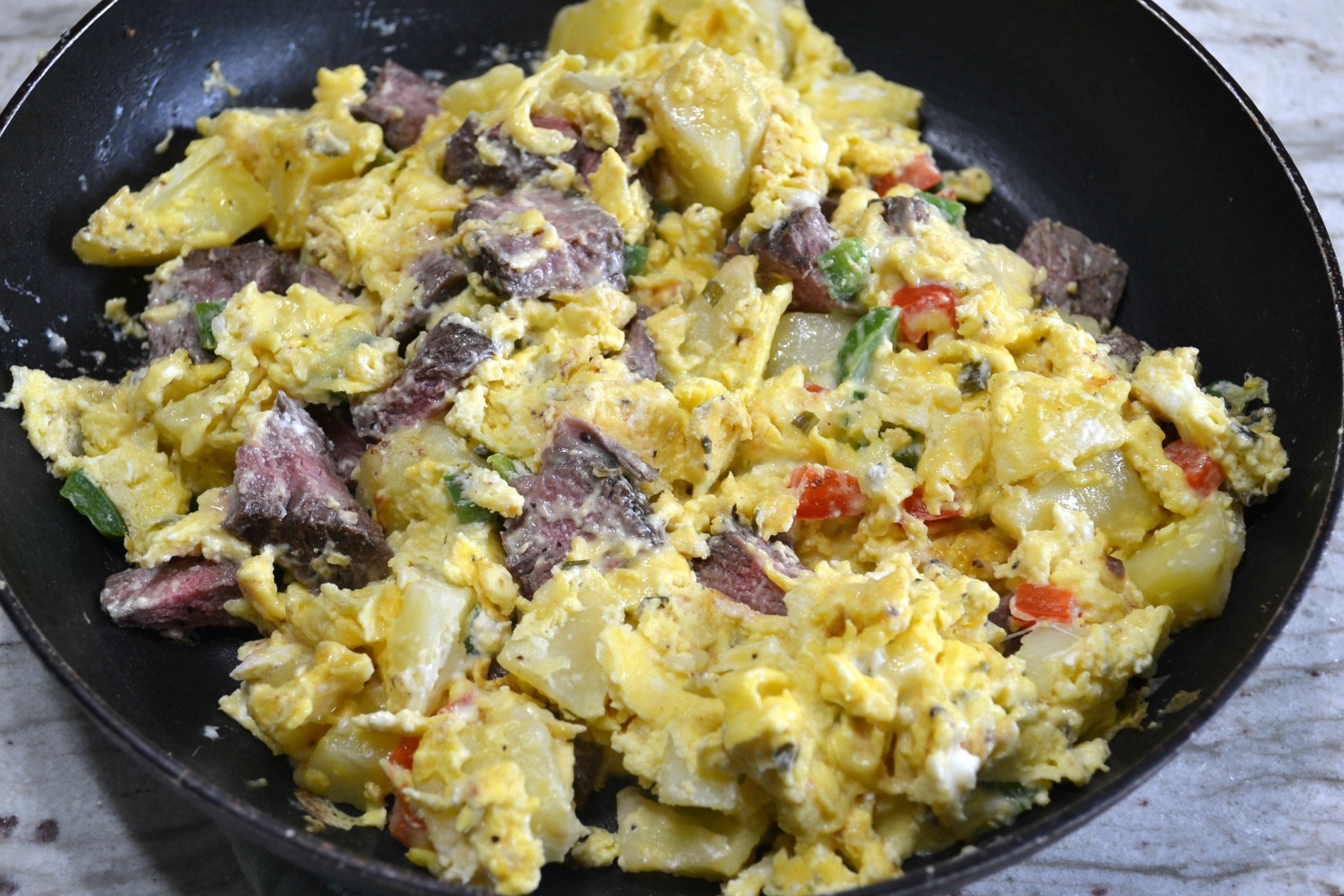 Fold in the steak.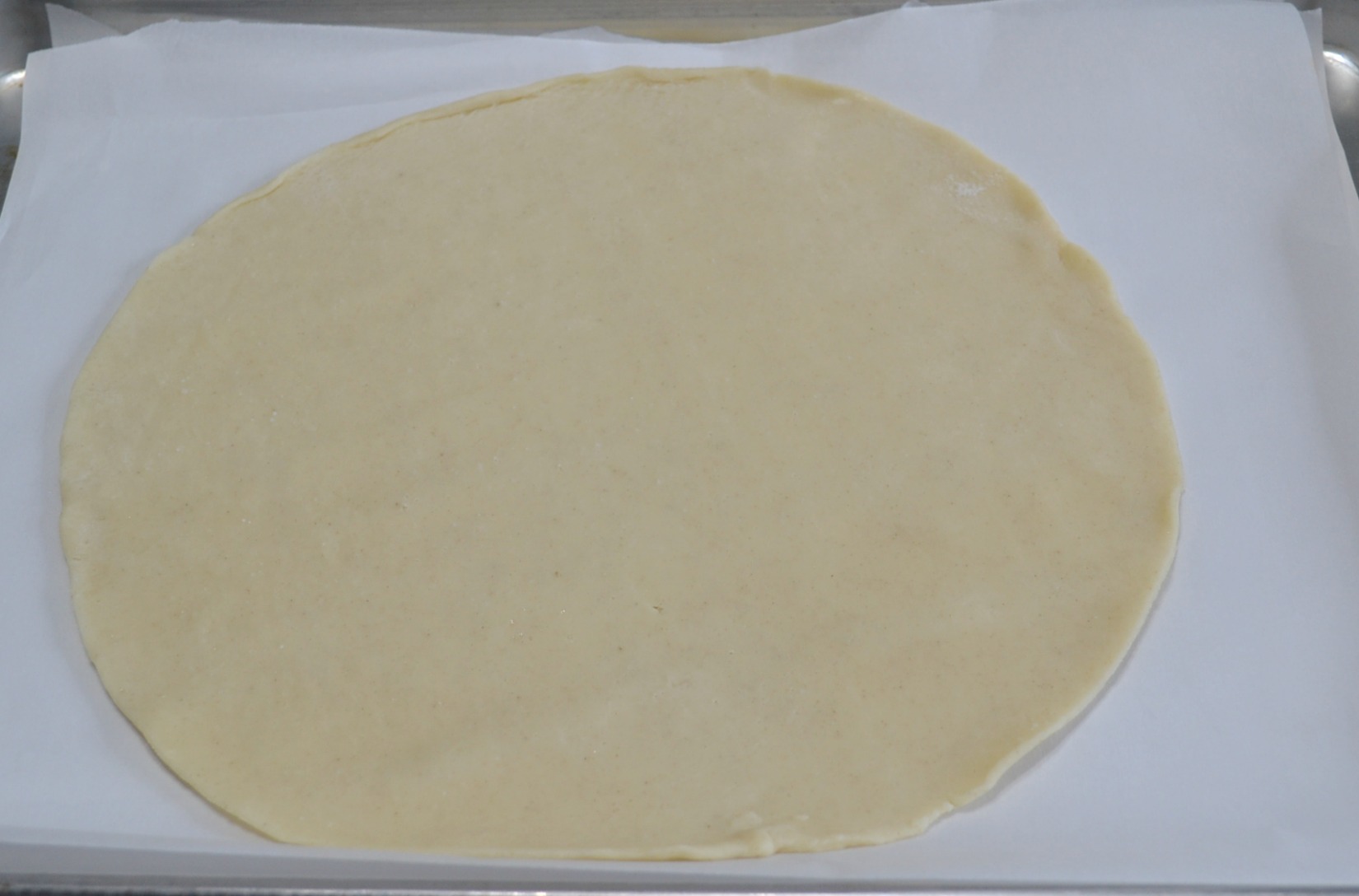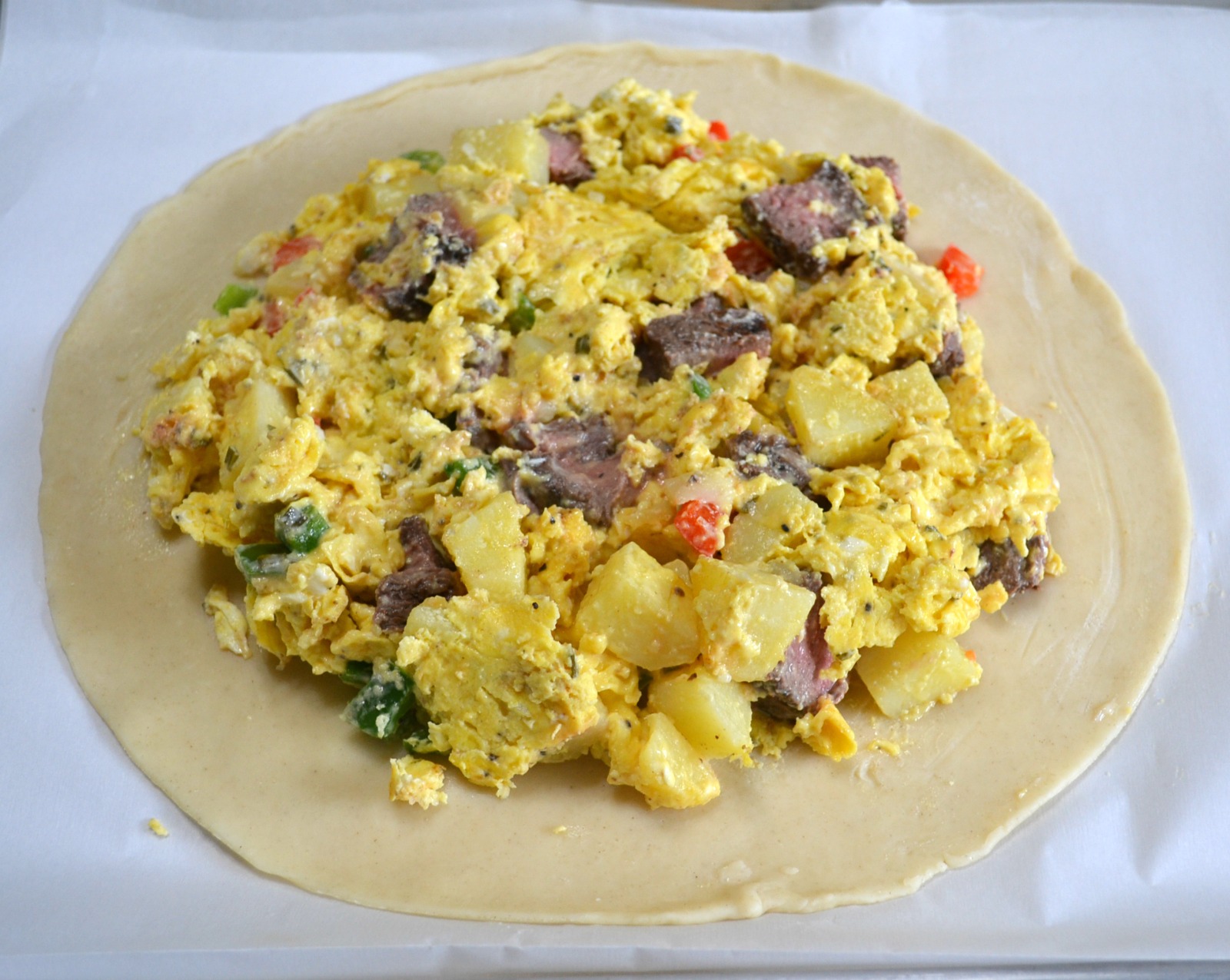 Unroll pie crust onto parchment lined baking sheet. Spoon egg mixture into center of crust to within 1 1/2 inches of the edges.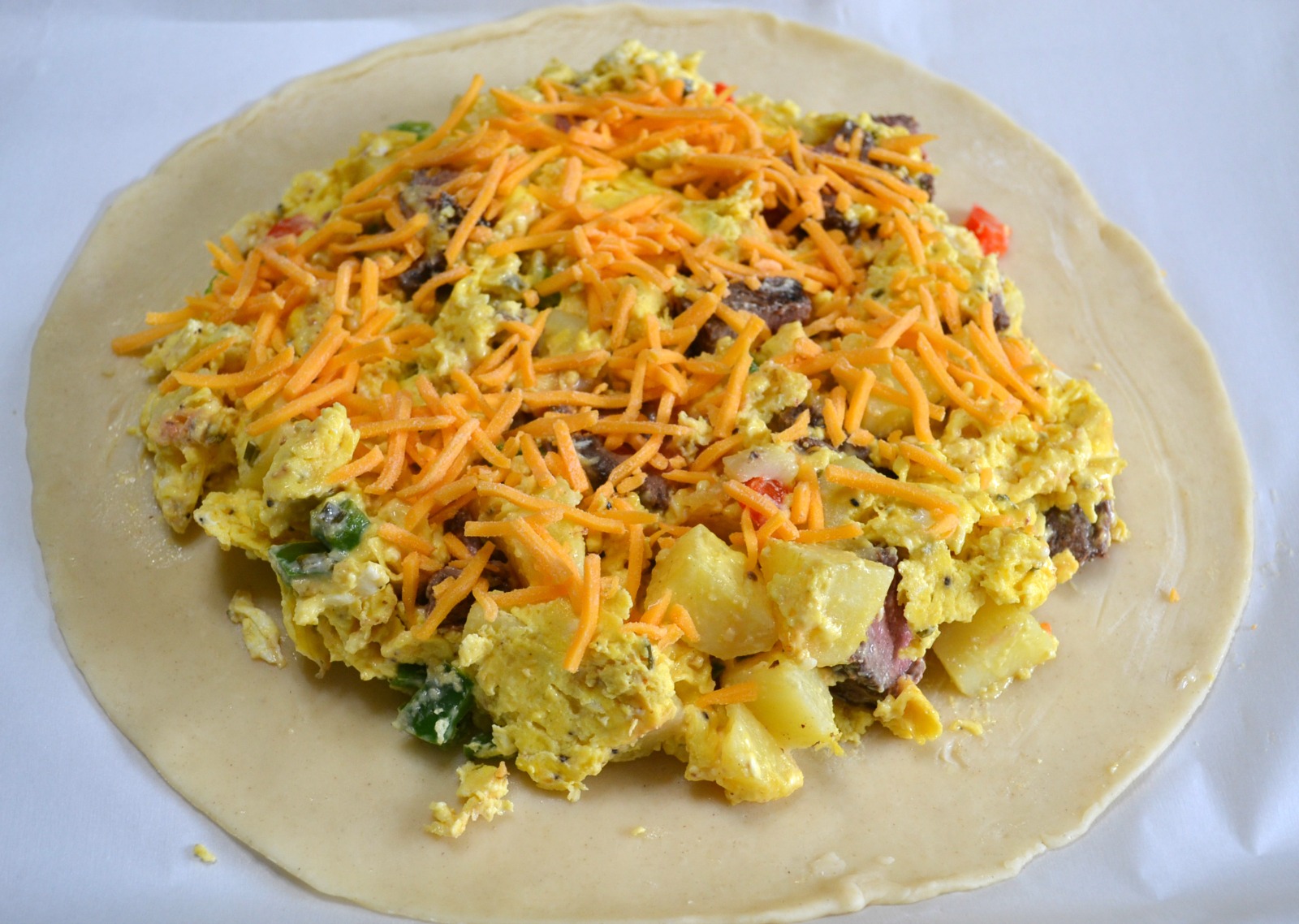 Sprinkle cheese over the filling.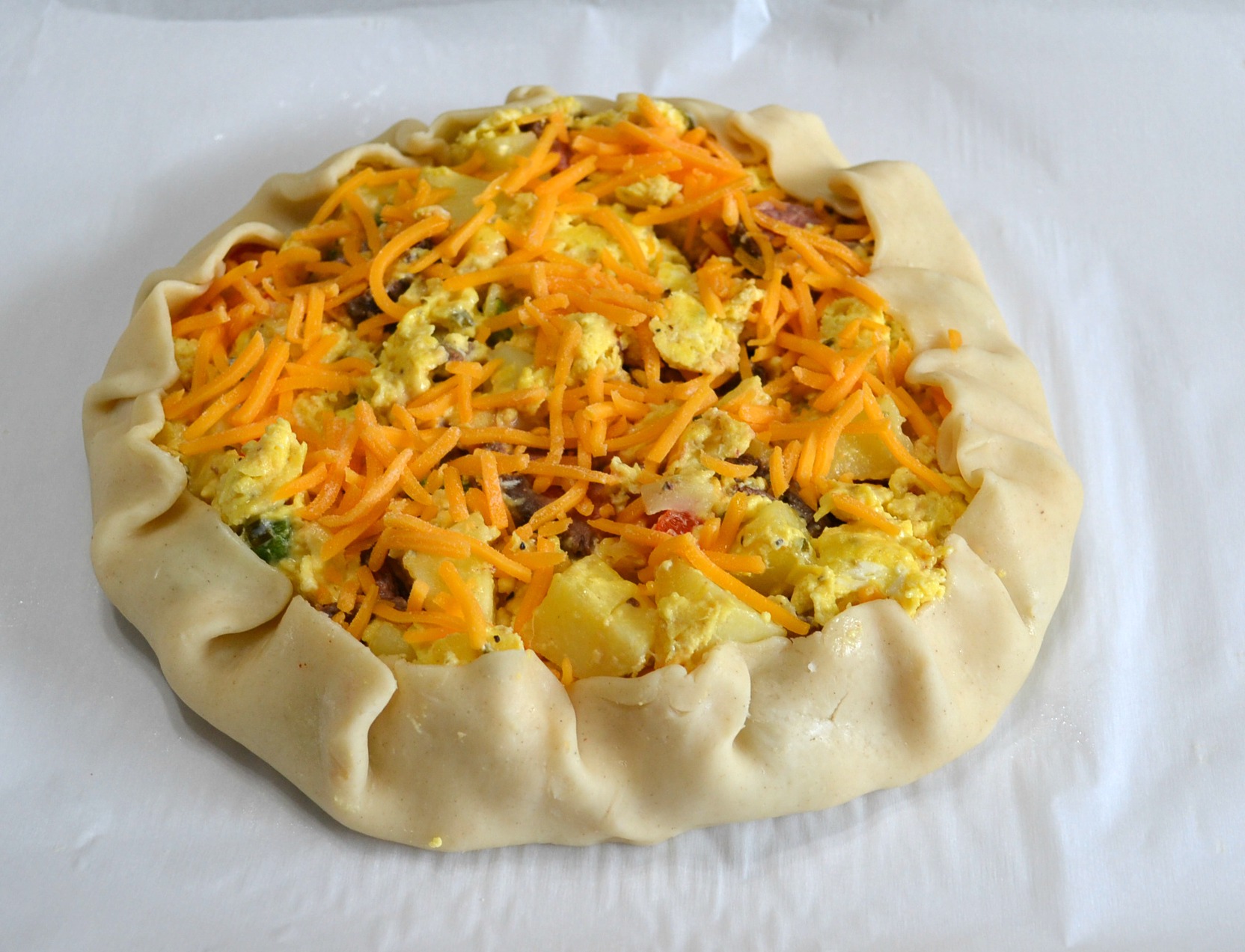 Fold edges of pie crust over egg mixture, forming pleats.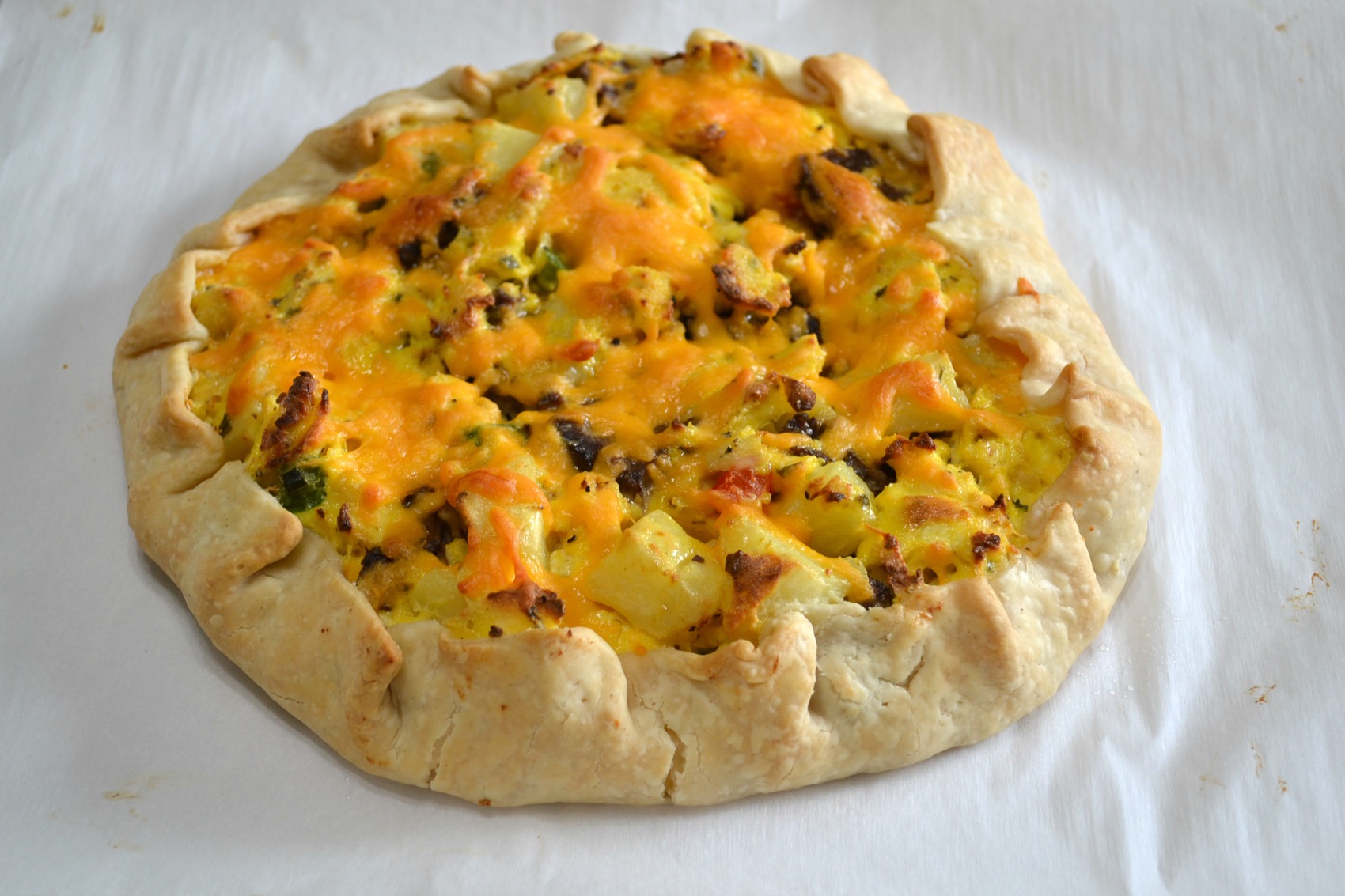 Bake until golden brown.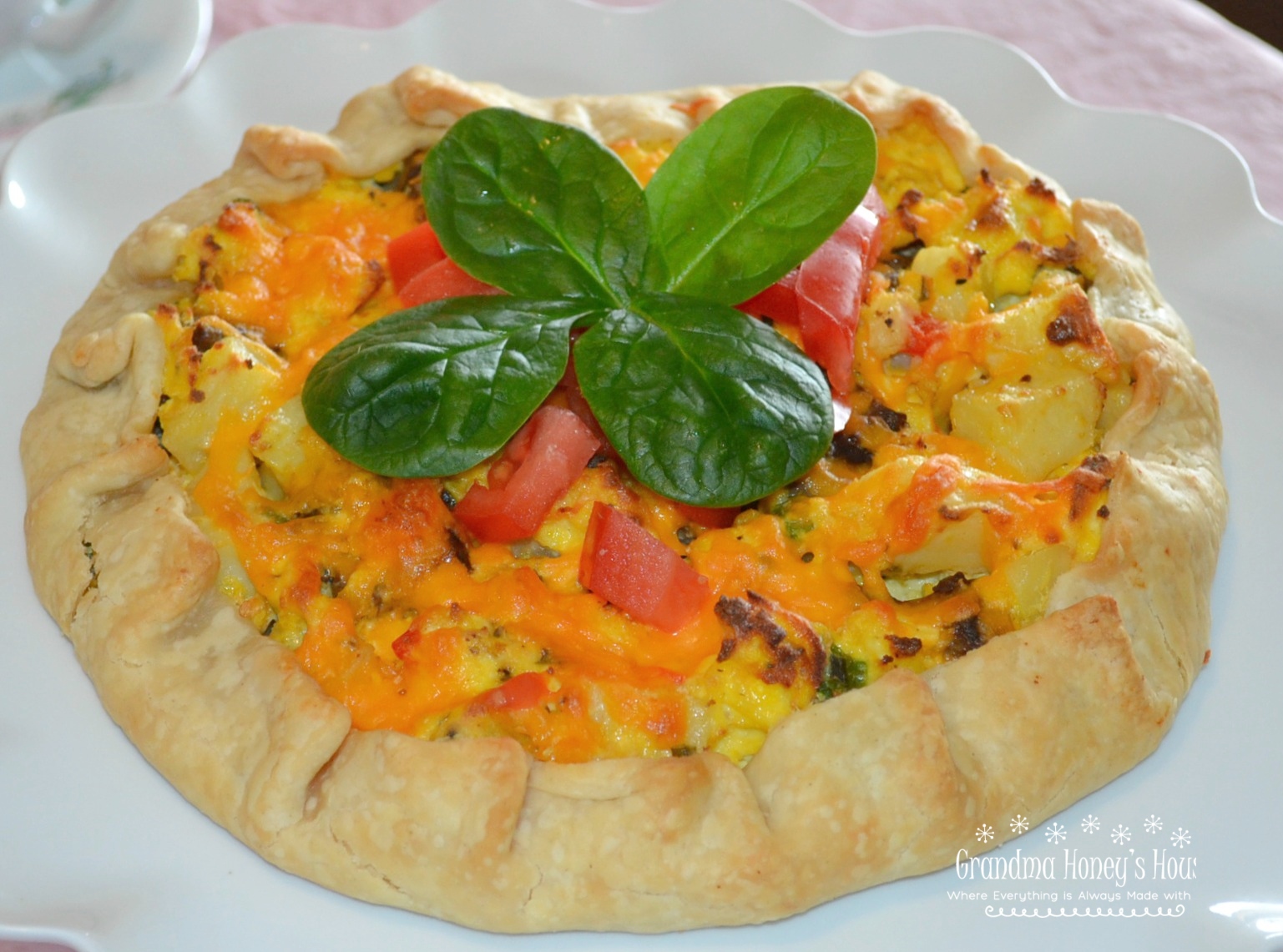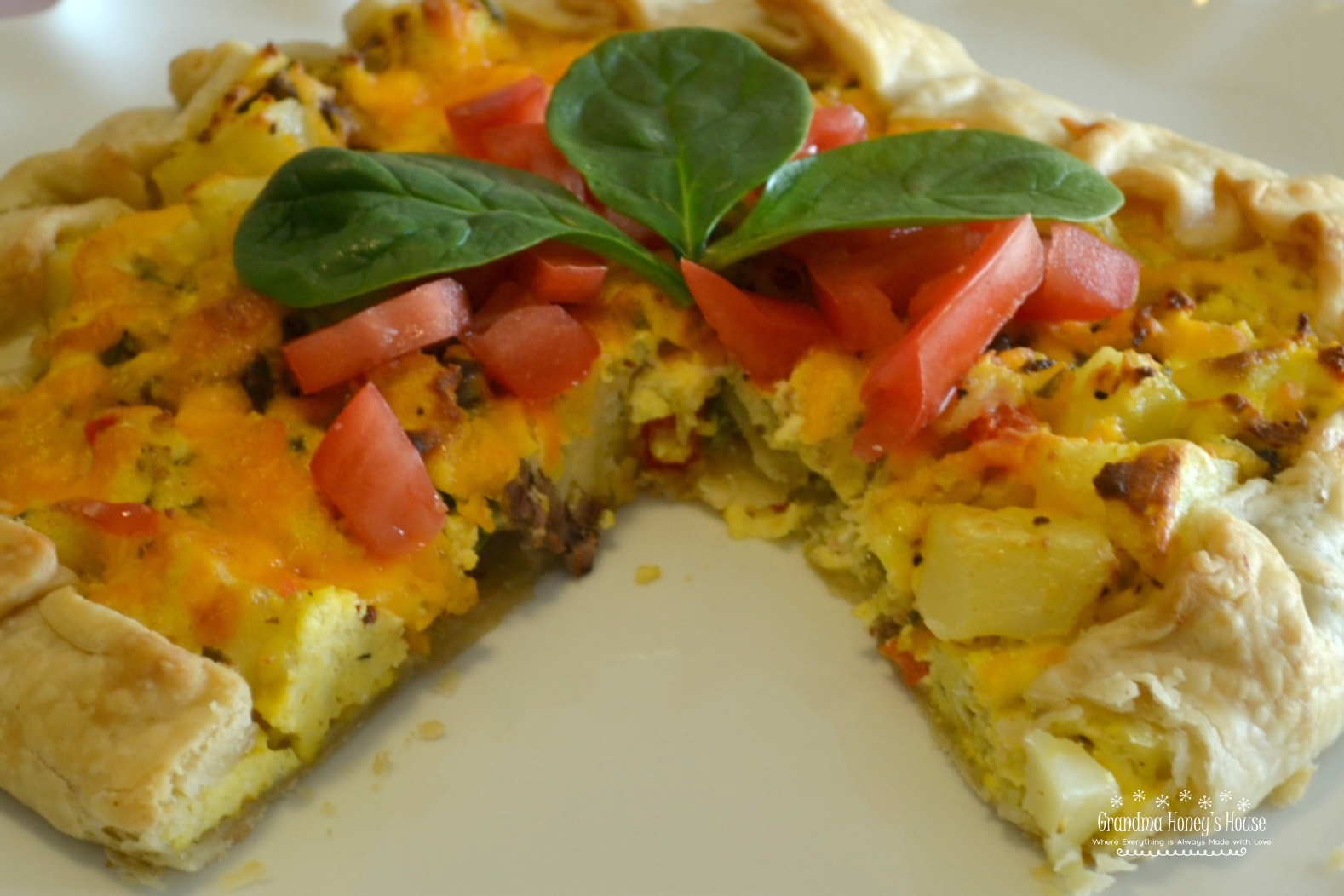 Transfer to serving platter and garnish with baby spinach and diced tomatoes.   Cut into wedges and serve warm.
Serve with additional hot sauce or ranch dressing if desired.
STEAKHOUSE BRUNCH CROSTADA
Ingredients
1 (9-inch) refrigerated pie crust
1 cup potatoes, washed and cut in small cubes
1/4 cup red bell pepper, diced
1/4 cup green bell pepper, diced
1/2 teaspoon kosher salt
1/4 teaspoon coarse black pepper
5 large eggs
1/4 teaspoon garlic salt
1/2 teaspoon hot sauce
1/3 cup chive and onion cream cheese
6oz steak, cooked, cut into bite size pieces
1/3 cup shredded cheddar cheese
4 pieces fresh baby spinach (garnish)
1 medium roma tomato, washed and cut into small pieces
additional hot sauce if desired
ranch dressing if desired
Instructions
Preheat oven to 350 degrees F. Set pie crust out of refrigerator. Line a large baking sheet with parchment paper.
Cover potatoes with cold water and bring to a boil. Cook until slightly softened; drain water.
Spray a 10-inch skillet with no stick cooking spray. Heat skillet over a medium heat. Place the red and green peppers, and potatoes into skillet; season with salt and pepper. Cook for 5 minutes, stirring occasionally.
In a medium size bowl, whisk together the eggs, garlic salt, hot sauce, and cream cheese. Pour egg mixture into the skillet with the potatoes. Cook until the eggs begin to set, pushing mixture towards center with a spatula. Remove skillet from heat. Fold in the steak. Set aside to cool.
Unroll the pie crust and place in center of the baking sheet. Spoon egg-potato mixture into the center of pie crust. Make sure the steak is covered to prevent overcooking. Spread mixture evenly to within 1 1/2 inches of the edge. Sprinkle cheese over the filling.
Fold edges of crust over the filling, forming pleats, and press down slightly.
Bake 25-30 minutes or until crust is light golden brown.
Transfer to a serving platter. Garnish with baby spinach and tomatoes.
Cut into wedges and serve warm. Refrigerate leftovers. Serves 6.
© 2023 Copyright GRANDMA HONEY\\\\\\\'S HOUSE
This Steakhouse Crostada can be served for brunch or a light supper with a salad.
This recipe was shared on Weekend Potluck @ SweetLittleBluebird. 
You will find the most delicious recipe collection here.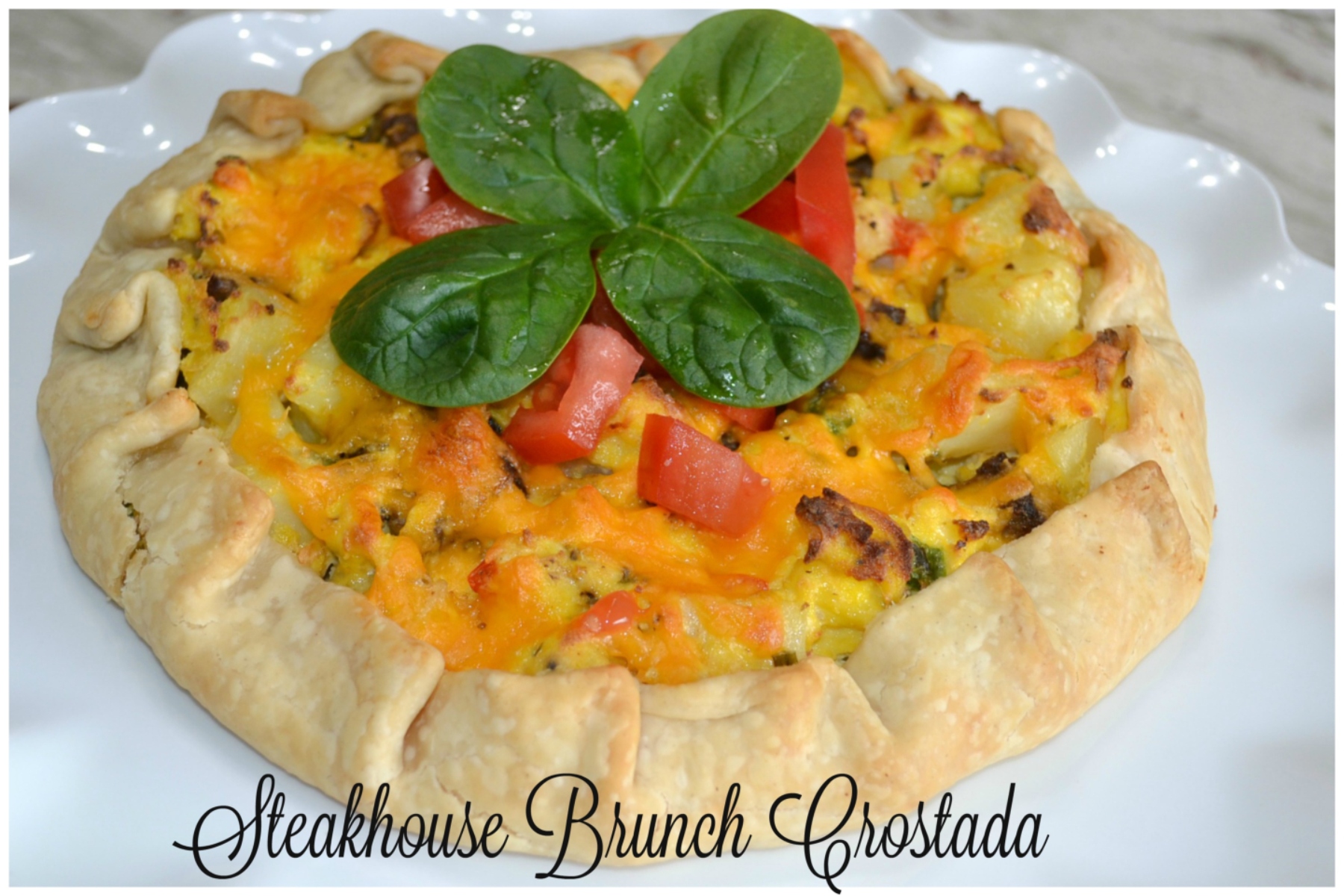 Please follow and like us: