Jump to recipe
Here is a delicious garden fresh brunch tart that is easy to make and another great way to enjoy some fresh summer veggies.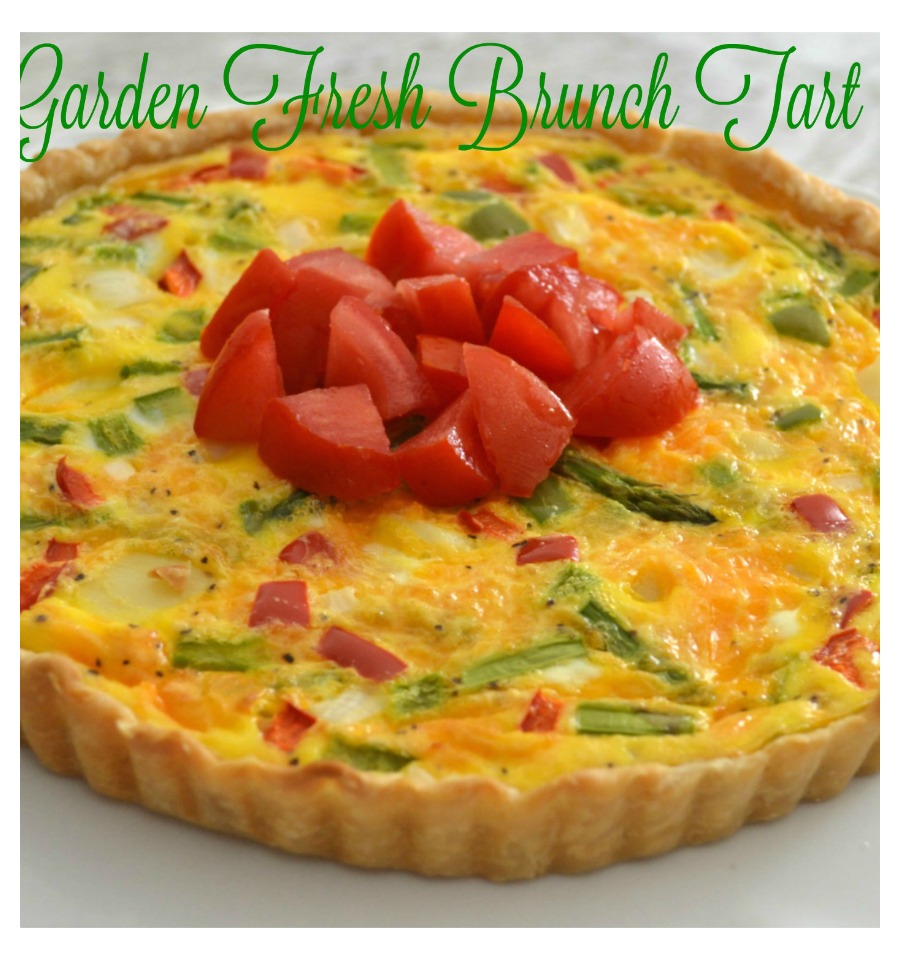 I love to make tarts, quiche, and frittatas.  The varieties are endless, and I think they are so handy because they can be made ahead of time and be warmed up when you need them.  I have made this garden fresh brunch tart several times, and my husband always gives it a big thumbs up.
My husband used to own a drag racing car and once or twice a month the guys went to a race track for the week-end. I would send food already prepared that they could just warm up in the RV.  They loved this tart.
I think this would be nice to serve at a week-end brunch, tea party, or to cut in small pieces and serve as an appetizer.
Meat, such as ham chunks,  could easily be added to this tart and I will do that sometimes, but this one was just a variety of garden veggies.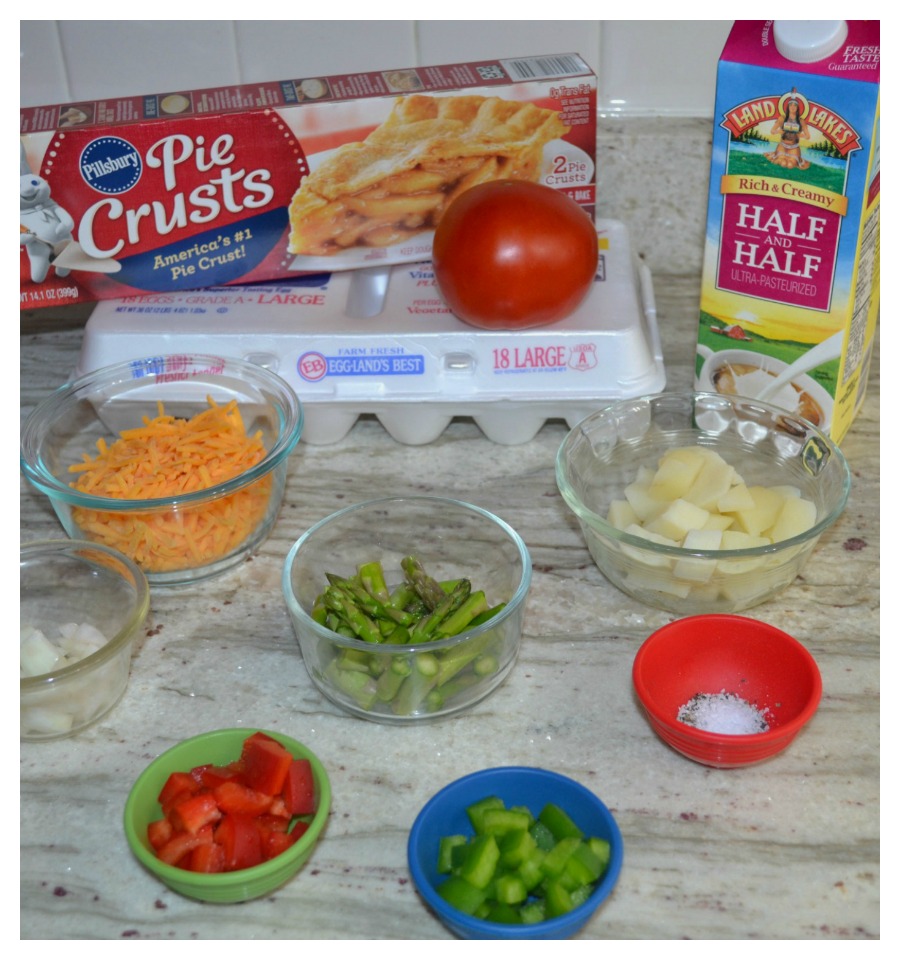 Here are the ingredients I used, very simple.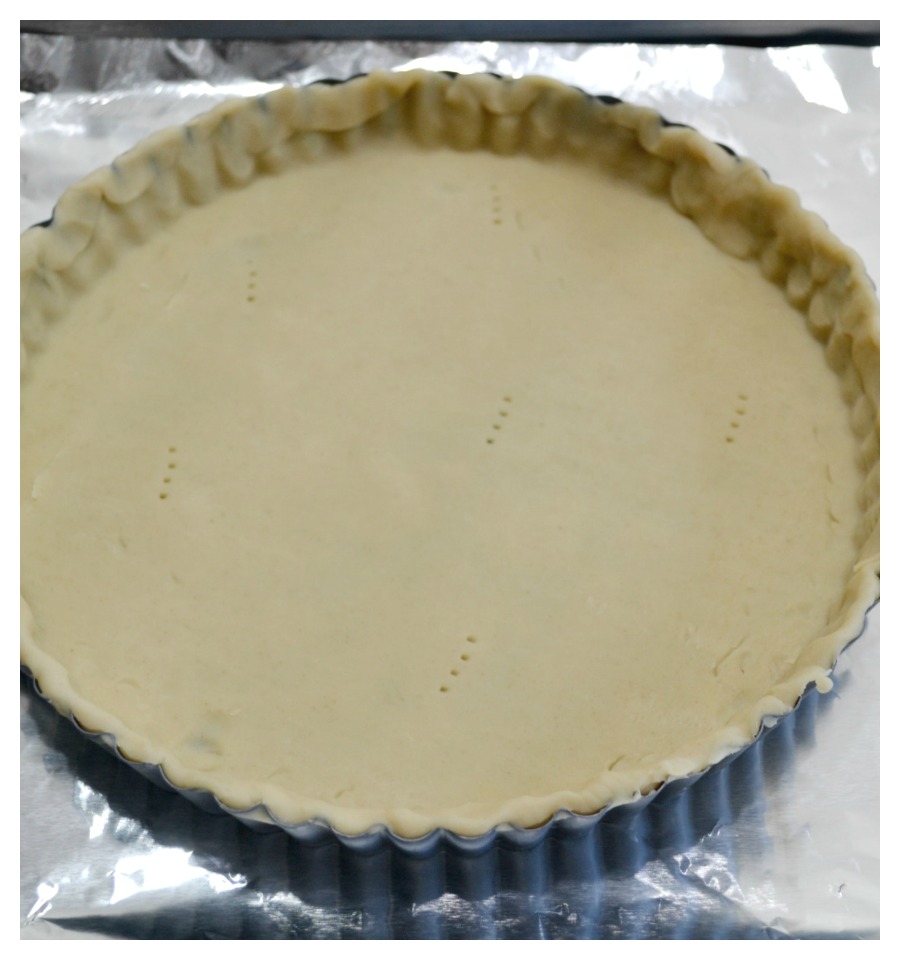 Press refrigerated pie crust into tart pan with removable bottom.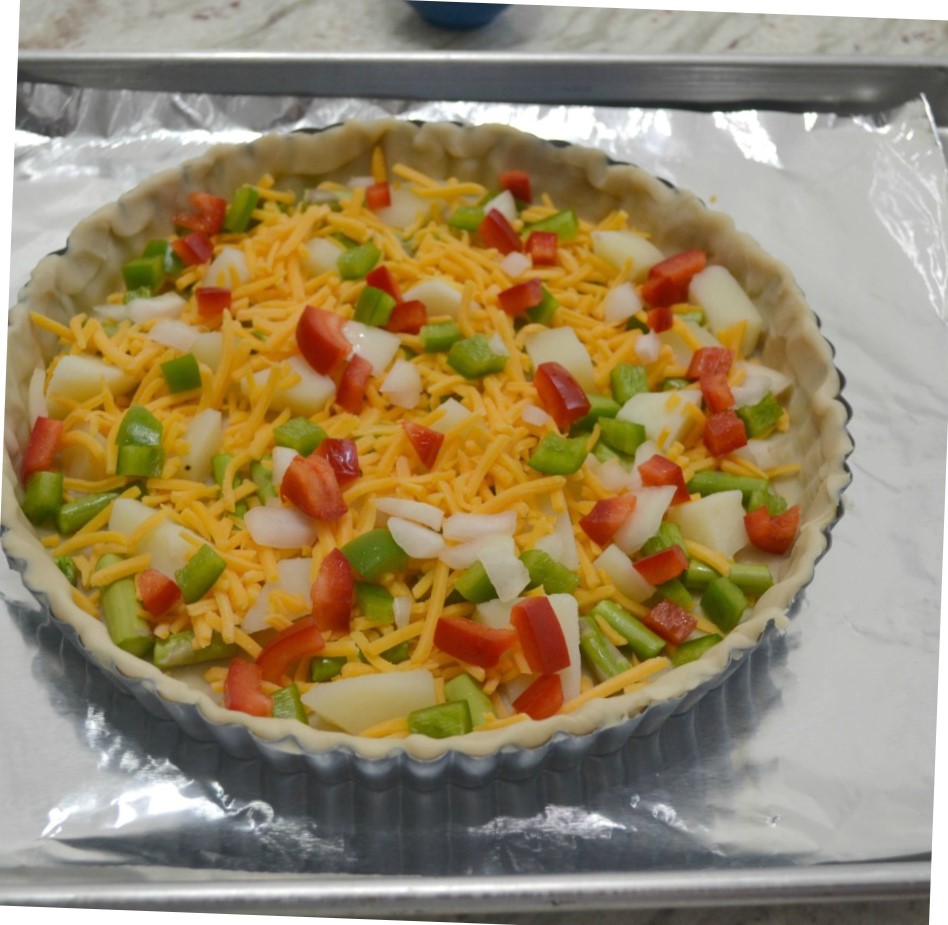 Add potatoes, asparagus, (save tips for top) cheese, onions, and both kinds of peppers.
Whisk together the eggs, salt & pepper, half-and-half, pour over the veggies. Arrange asparagus tips.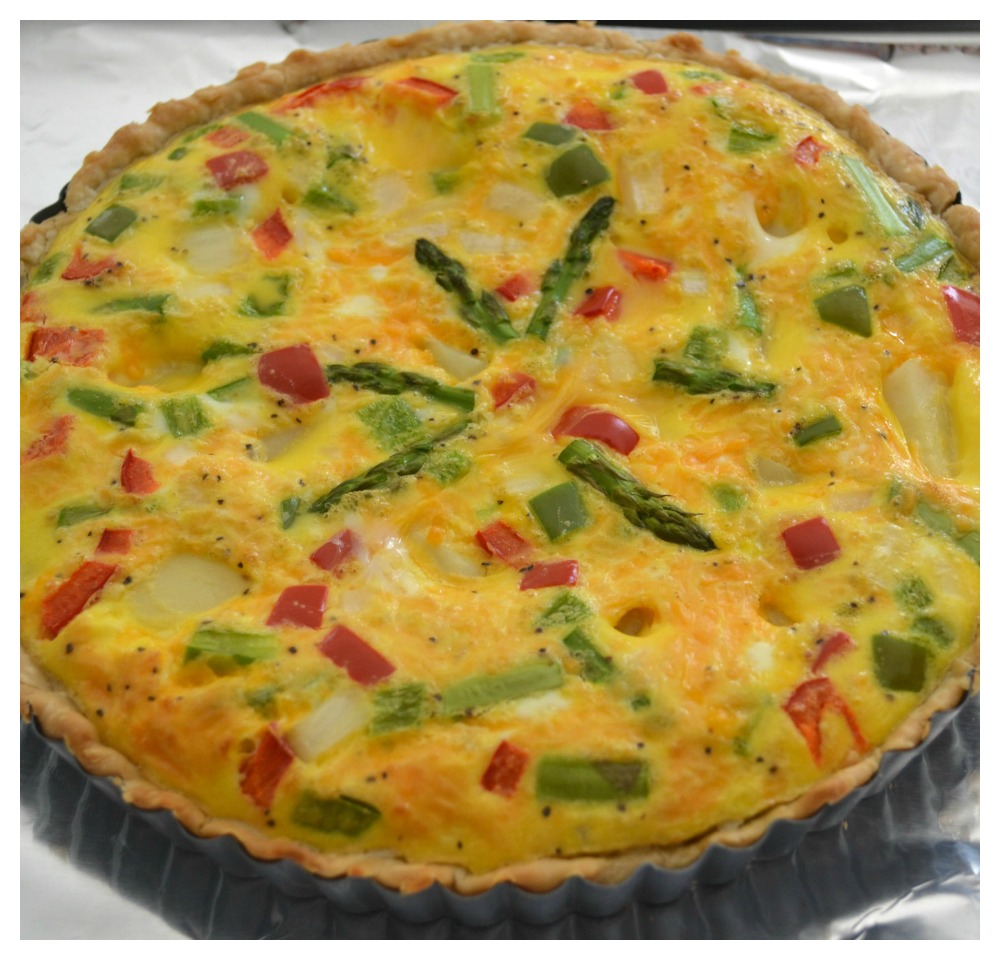 Bake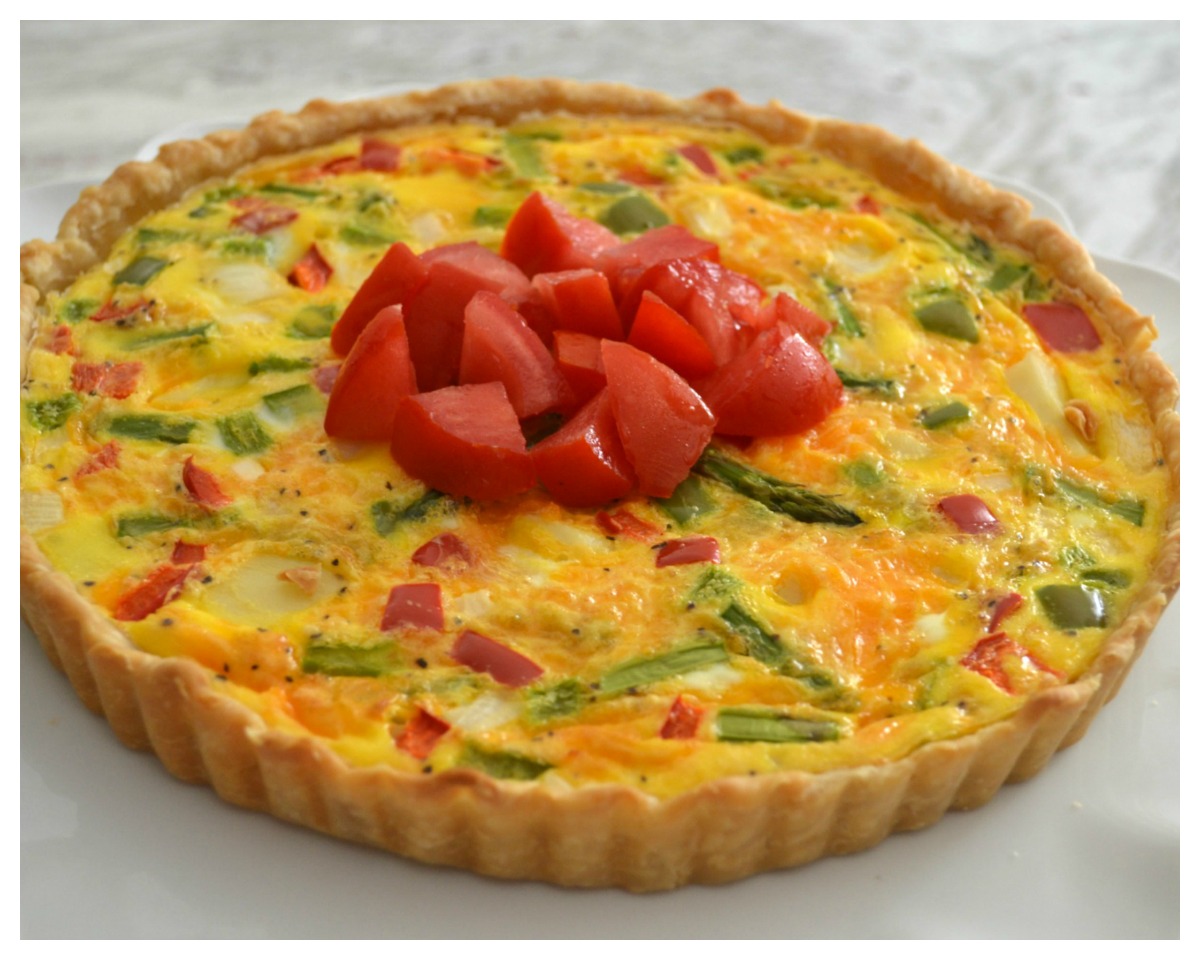 Cool and remove from tart pan.  Top with tomatoes
This is great served right from the oven, later at room temperature, or warmed up the next day.  Feel free to use any variety of veggies that your family would enjoy.
GARDEN FRESH BRUNCH TART
Ingredients
1 (9") Refrigerated Pie Crust (Pillsbury)
1 Medium Potato, peeled; cut into 1/2" cubes
6 small Fresh Asparagus Spears, cut in 1" pieces (may use ½ cup broccoli instead)
1 cup Shredded Cheddar Cheese
2 Tbsp Red Onion, diced
2 Tbsp Green Bell Pepper, diced
2 Tbsp Red Bell Pepper, diced
6 Large Eggs (Eggland's Best)
1/3 cup Half & Half (Land O' Lakes)
1/2 tsp Kosher Salt
1/4 tsp Black Pepper
1 Large Tomato, diced
Instructions
Preheat oven to 350 degrees F.
Place potatoes in a small pan, cover with water and boil until tender. Drain water.
Remove pie crust from refrigerator to come to room temperature.
Unroll pie crust and place in an ungreased 9-inch tart pan with removable bottom. Press crust firmly against the sides and bottom of the pan. Prick bottom crust with fork.
Arrange the potatoes over bottom of crust. Top evenly with asparagus (broccoli),cheese, onions, and peppers. Save the asparagus tips for top of tart.
In a large mixing bowl, whisk together the eggs, half and half, salt and pepper. Pour evenly over the other ingredients.
Bake until eggs are set and crust is light golden brown, about 25-30 minutes. Remove tart from the oven and let stand 5-10 minutes; remove sides from pan.
Garnish with tomatoes. Cut into wedges and serve warm
© 2023 Copyright GRANDMA HONEY\\\\\\\'S HOUSE
This recipe was shared on Weekend Potluck @ Sweet Little Bluebird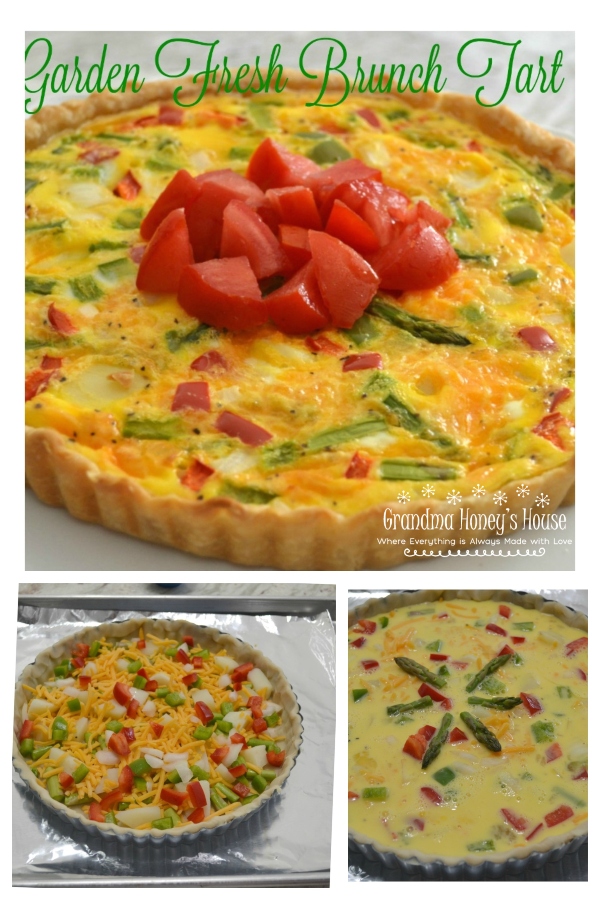 Please follow and like us: