Jump to recipe
This loaded breakfast panini is perfect to start your day with, or to serve to guests for a special treat.
Leftover ham was the inspiration for my loaded breakfast panini.  My husband loves fried egg sandwiches, but doesn't let himself eat them too often.  In the summer months he loves them with a slice of fresh tomato.  One morning while fixing breakfast, I saw the leftover ham in the refrigerator and put this sandwich together for him.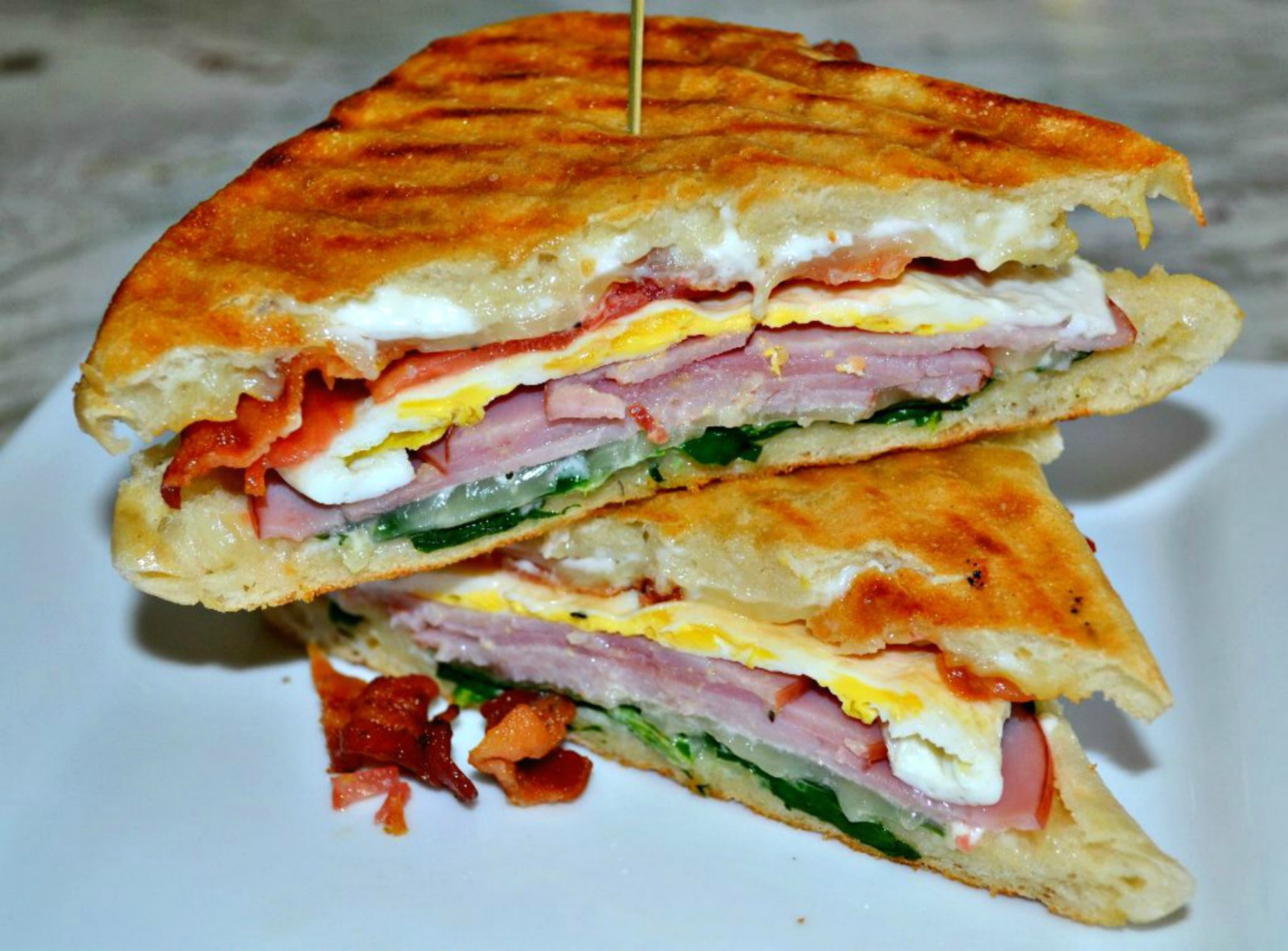 On this day, I used sour dough bread, with  mayonnaise for my condiment.  Another day I made this on ciabatta bread and used basil pesto for the condiment. Any time I have a fresh tomato, I do add a slice or 2 to the sandwich.
Here is the healthy recipe and I hope you enjoy this breakfast panini.
LOADED BREAKFAST PANINI
Ingredients
2 slices bread
1-2 teaspoons mayonnaise (or pesto)
6 baby spinach leaves
3 thin slices mozzarella cheese
3 thin slices ham
1 egg, fried with yolk cooked hard
3 slices cooked bacon
1-2 slices fresh tomato
2 teaspoons butter, melted
Instructions
Preheat panini pan, grill pan, or a heavy skillet. Spray with non stick cooking spray.
Lay one slice of bread on a flat work surface. Spread half of the mayonnaise on this slice of bread. Layer the spinach, cheese, ham, egg, bacon, and tomato. Spread remaining mayonnaise on the other slice of bread and add top to sandwich. Brush with half of the melted butter.
Lay sandwich, butter side down, on grill pan. Brush the remaining butter on top of sandwich.
Grill sandwich until bread is crisp, golden, and the cheese has melted. About 3 minutes on each side.
Transfer to a serving plate and cut in half.
© 2023 Copyright GRANDMA HONEY\\\\\\\'S HOUSE
Please follow and like us: