Happy to be sharing our family Christmas and would love to hear about some of your family traditions and activities.
My husband and I have been married 30 years and have a large blended family. We have a total of 8 children, their spouses/fiances, 13 grandchildren, 2 almost grandchildren, and a new baby on the way! My son, his wife, and 2 sons live in Denver, which is across the country from us and were not able to come home this year.
We celebrate our family gathering a little earlier in December so that they may be with other family also during the holidays. In one way this is nice for me because Bob and I can relax and enjoy some quiet Christmas time alone.
I start preparing for Christmas the weekend after Thanksgiving. I make lists for everything, so I do a planned timeline of what I need to accomplish each week until our family Christmas party. Our party was on December 17th so that doesn't leave much time.
I try to do some shopping each day, either at the stores or on-line. I set a gift wrapping table up in my basement and wrap gifts each day to keep up with them.
The house gets the usual decorating.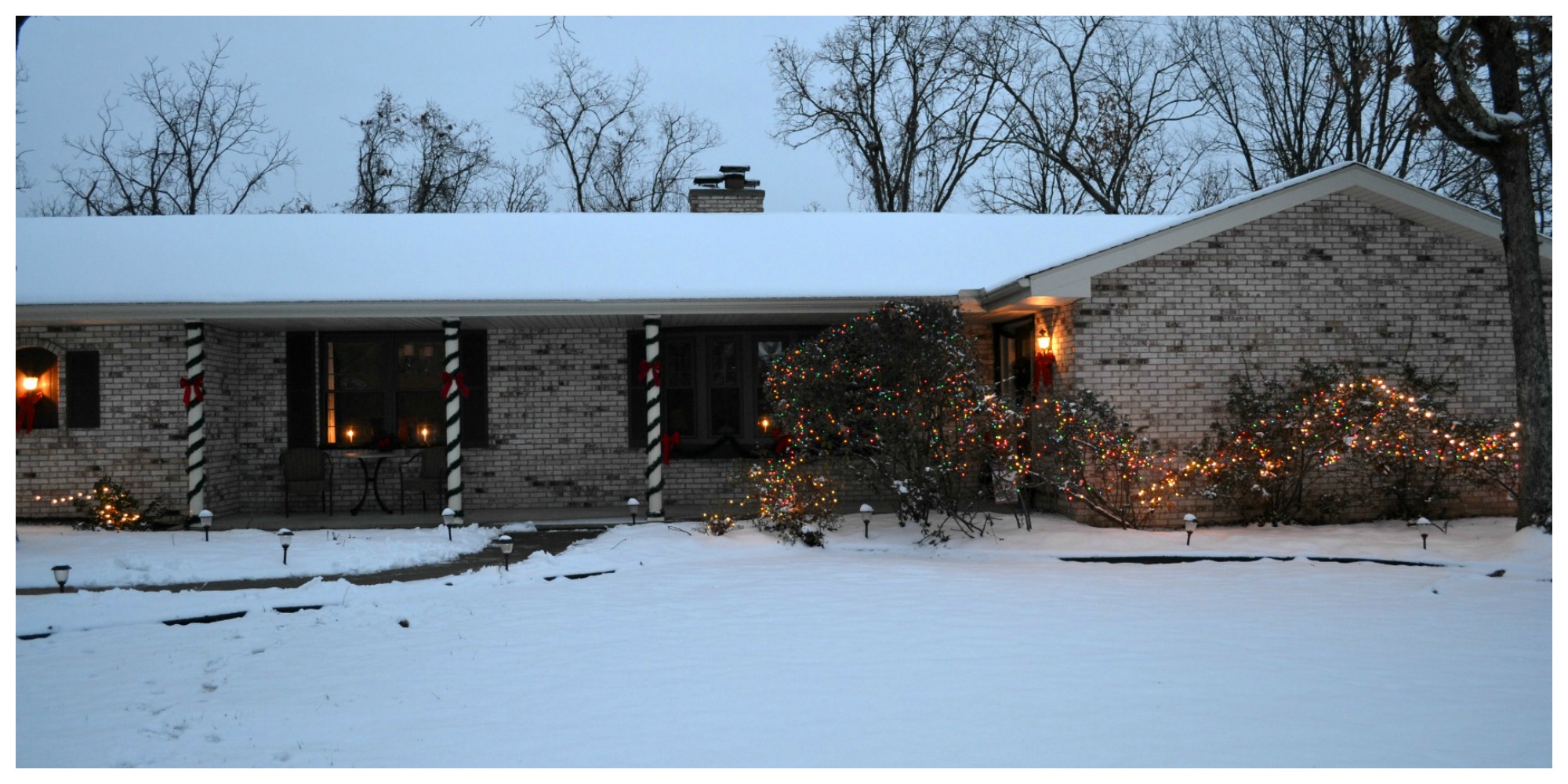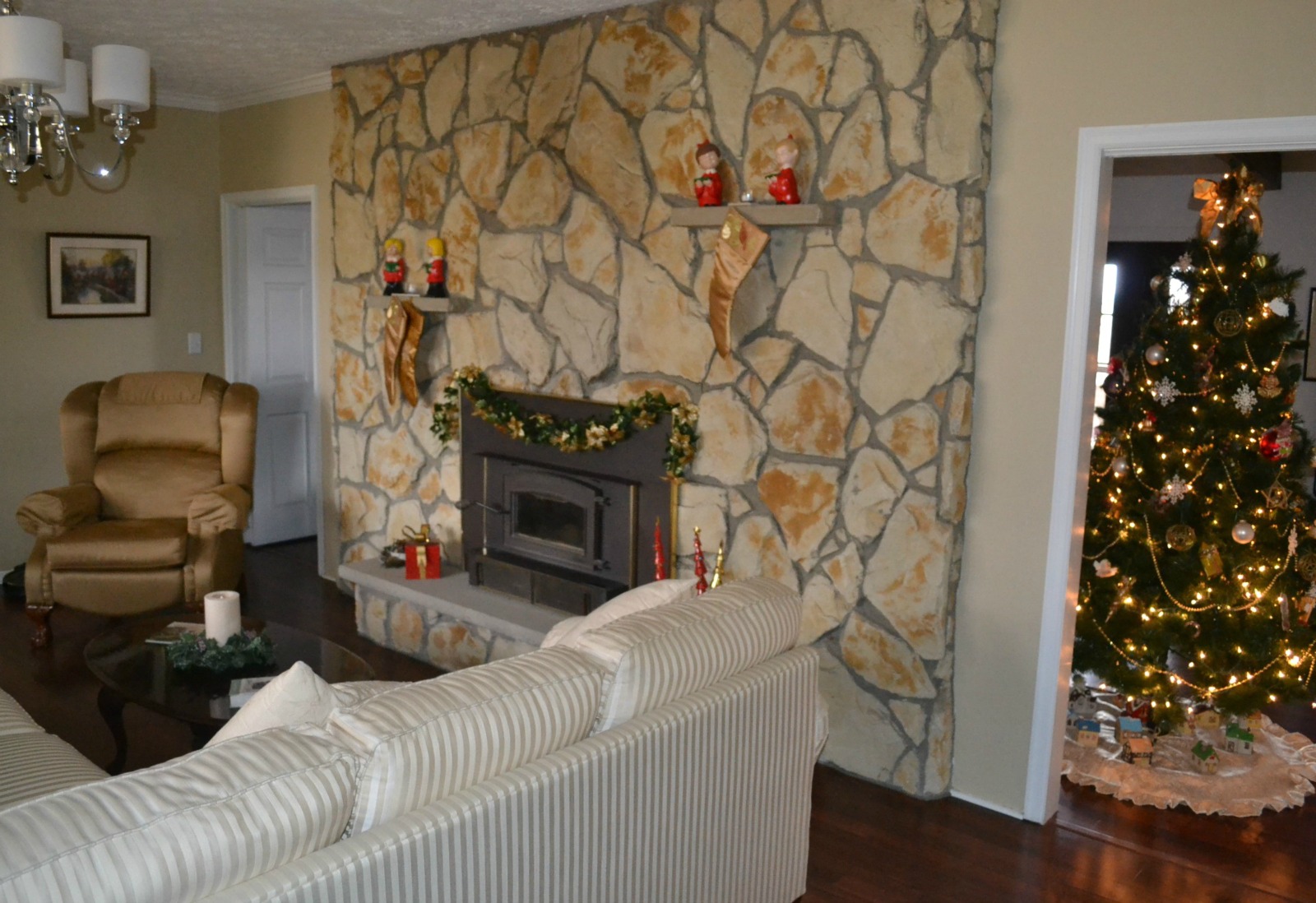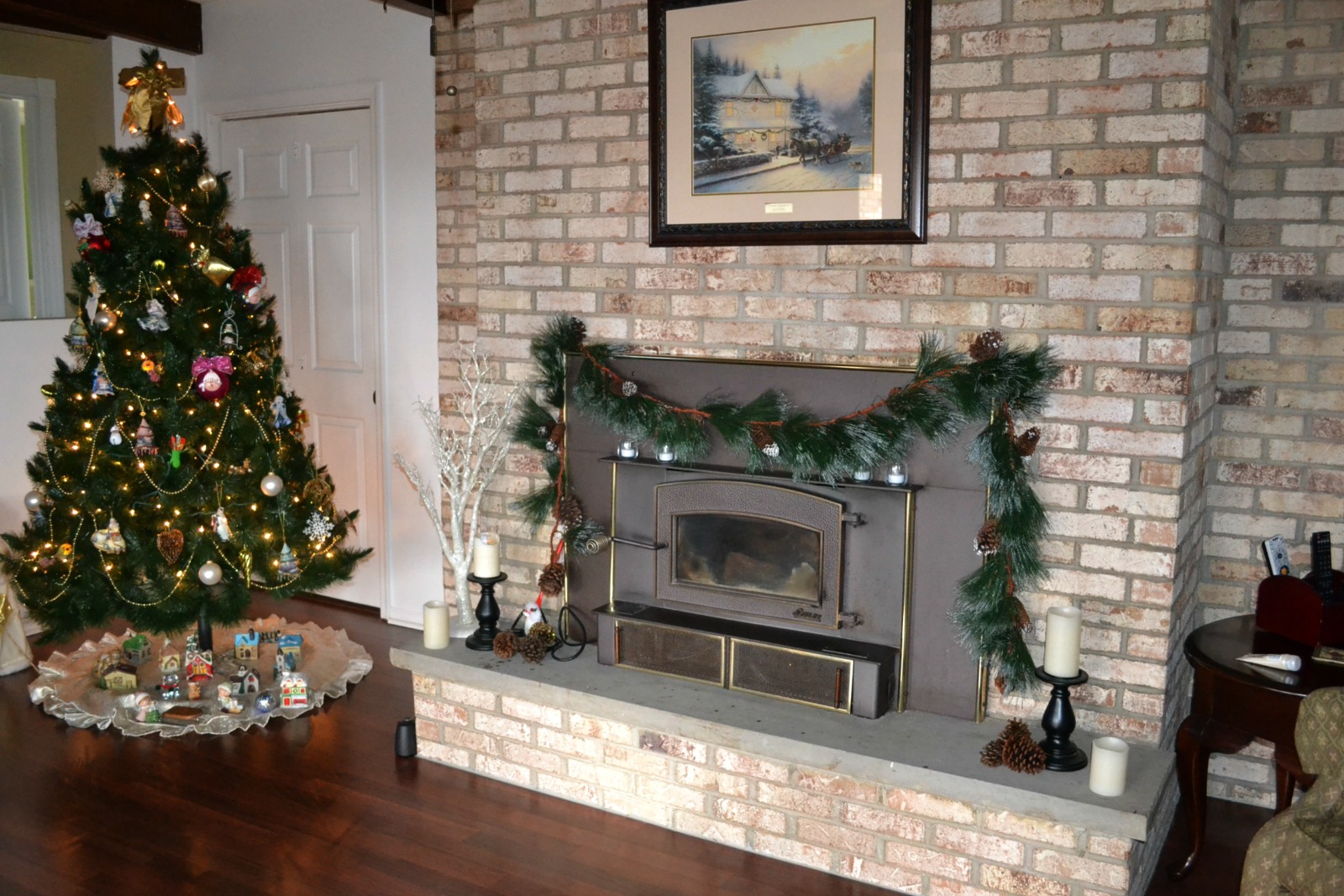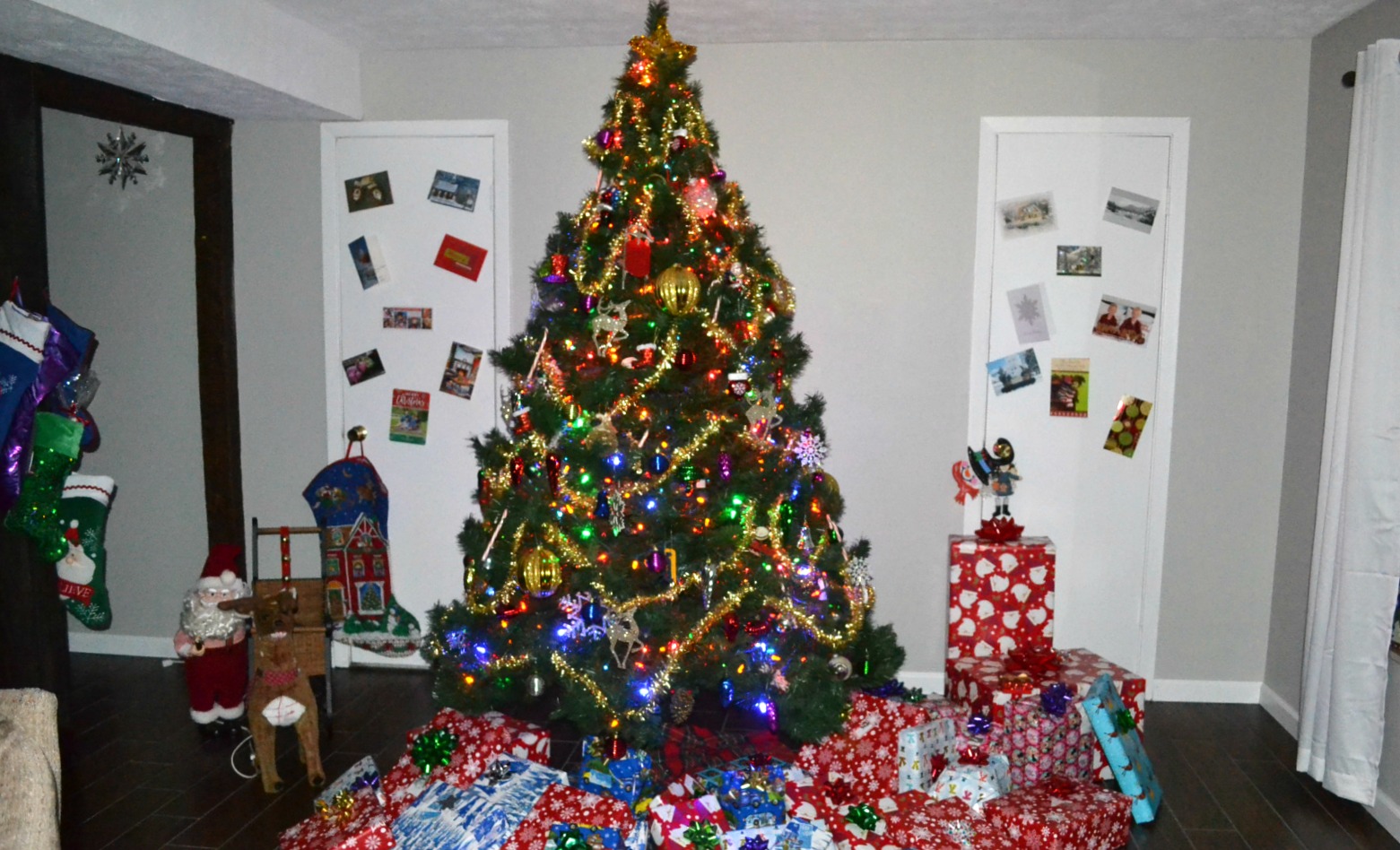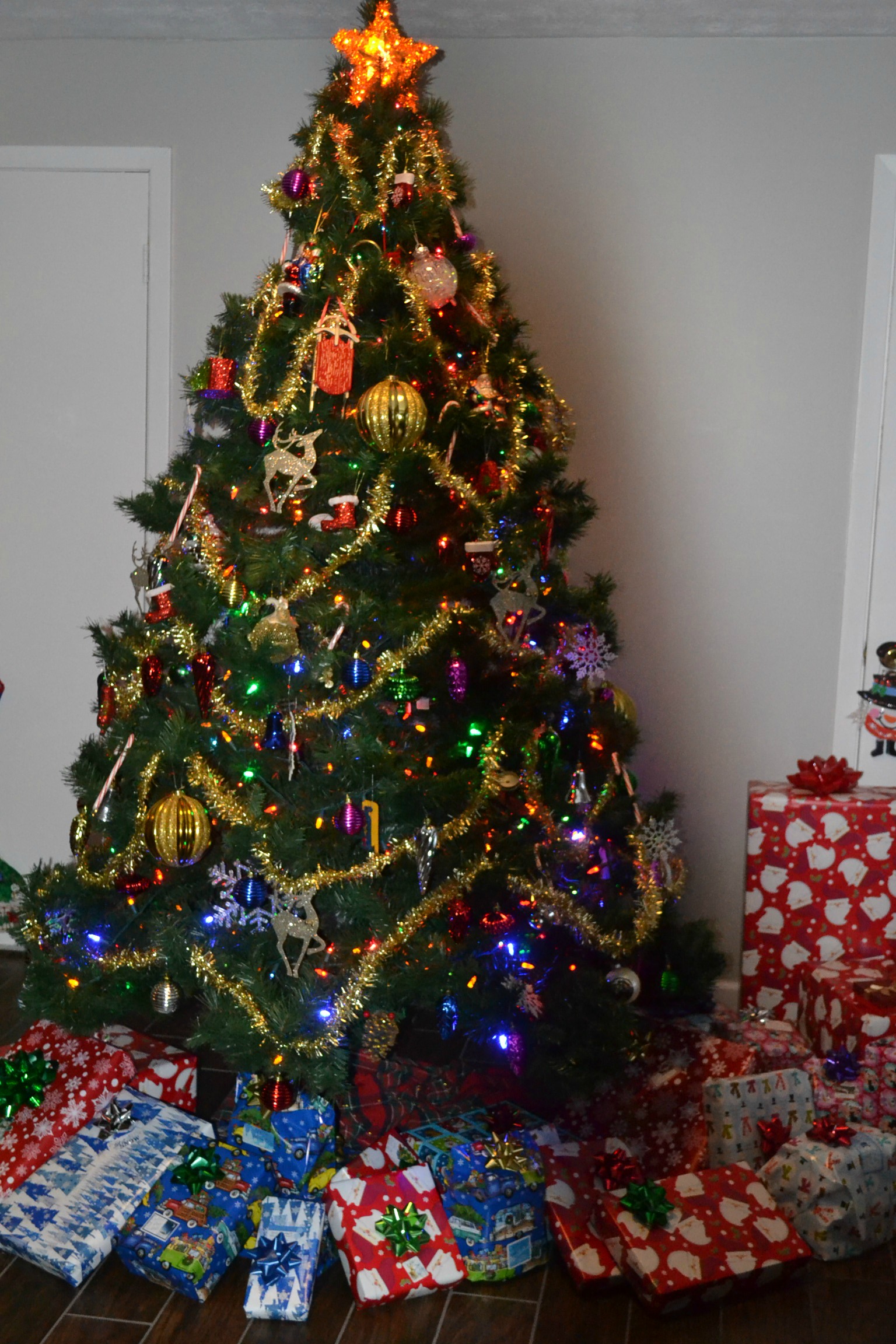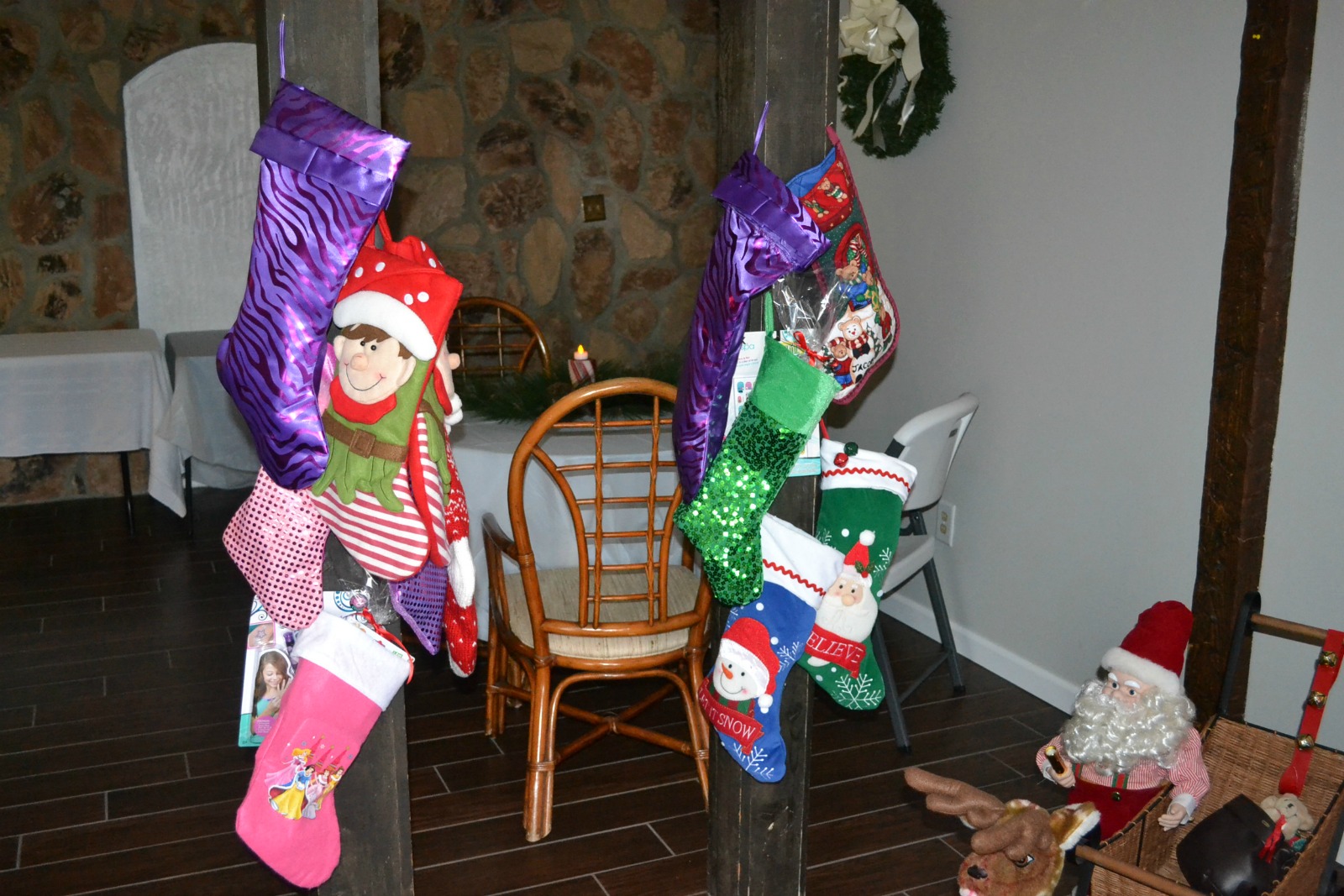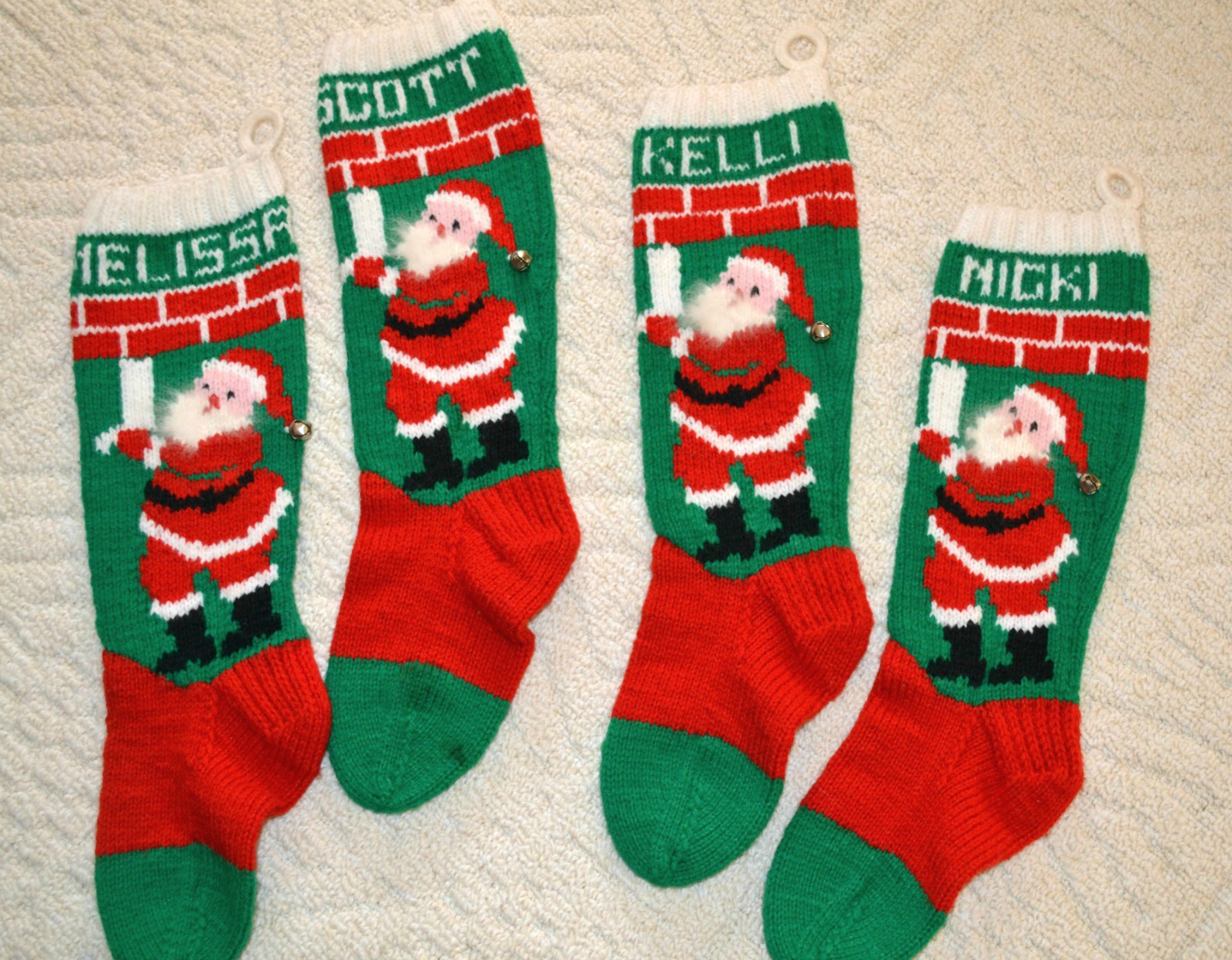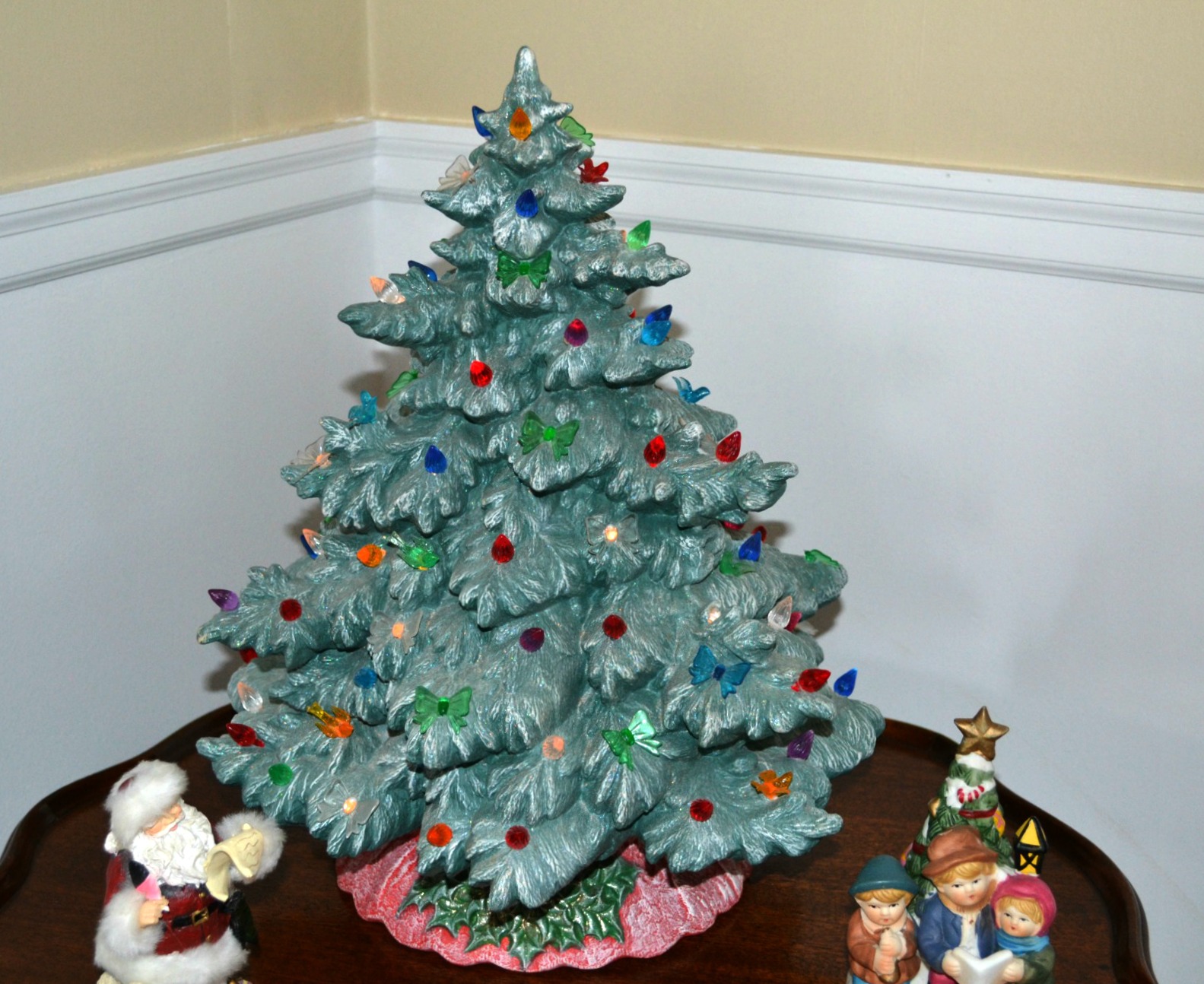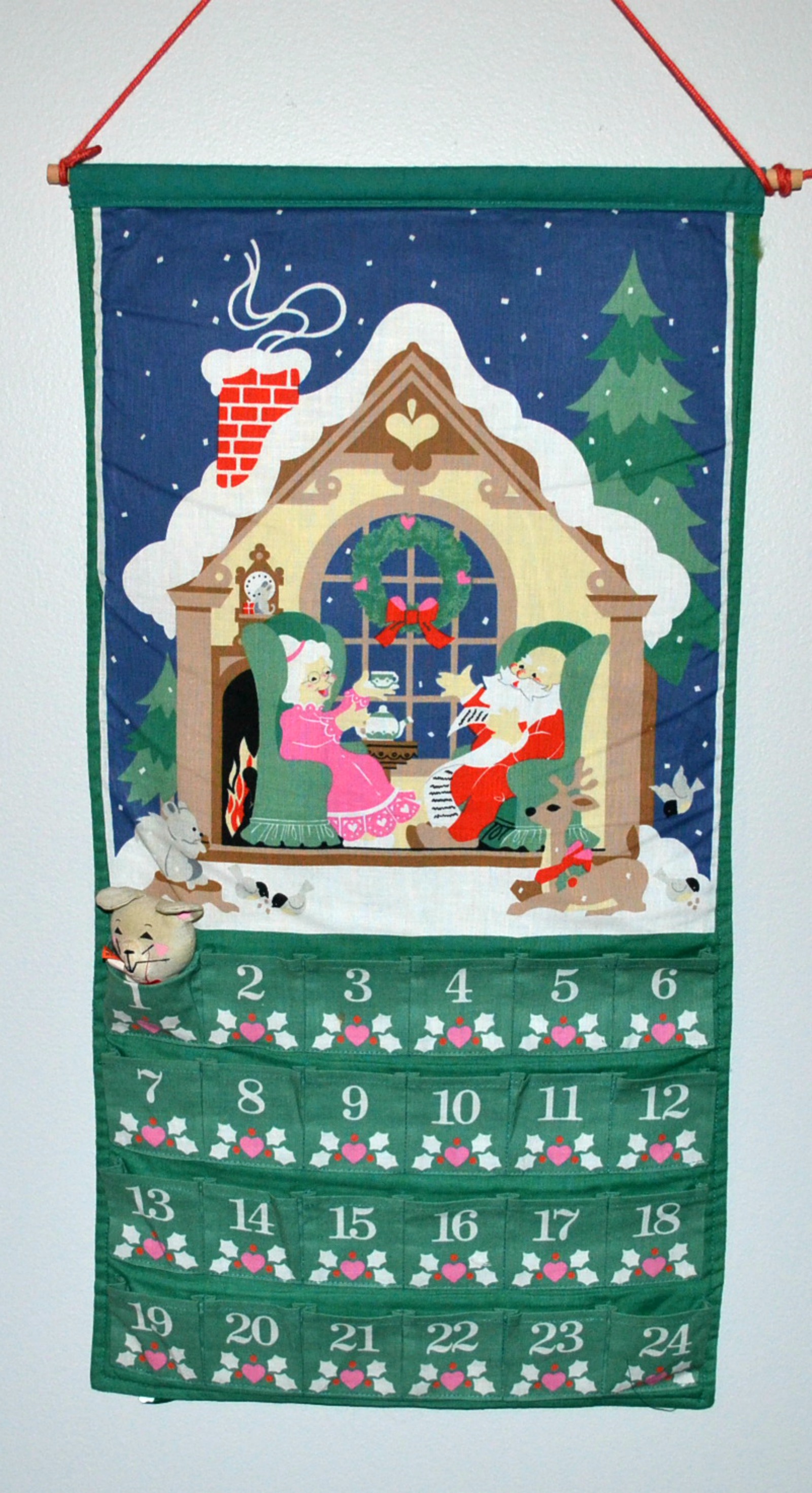 I put something out in each room, even if it is only a candle and towels in a bathroom.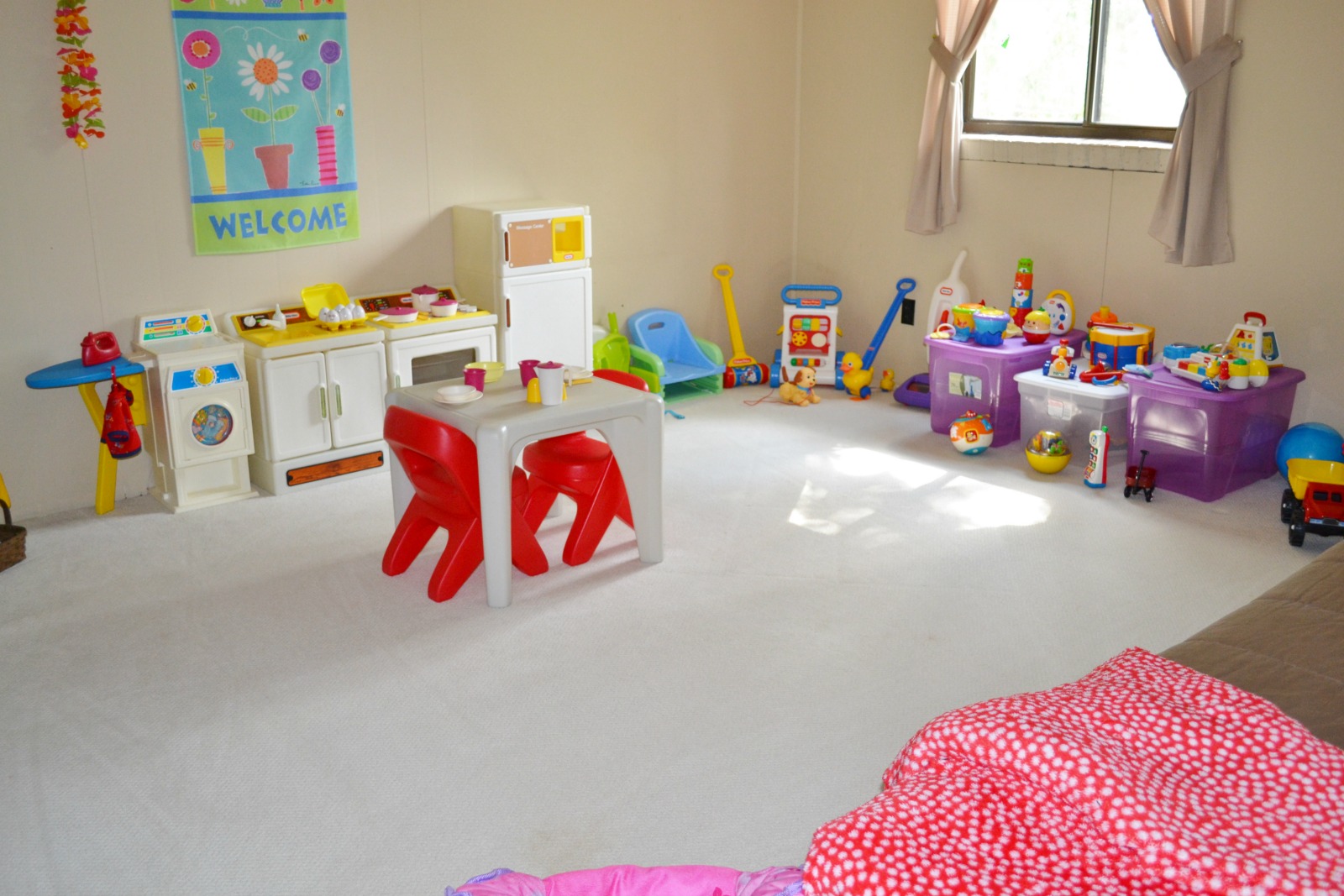 I am very lucky to have a large house to accommodate my crowd. In our basement we have a toy room that the younger children can play (or fight) in.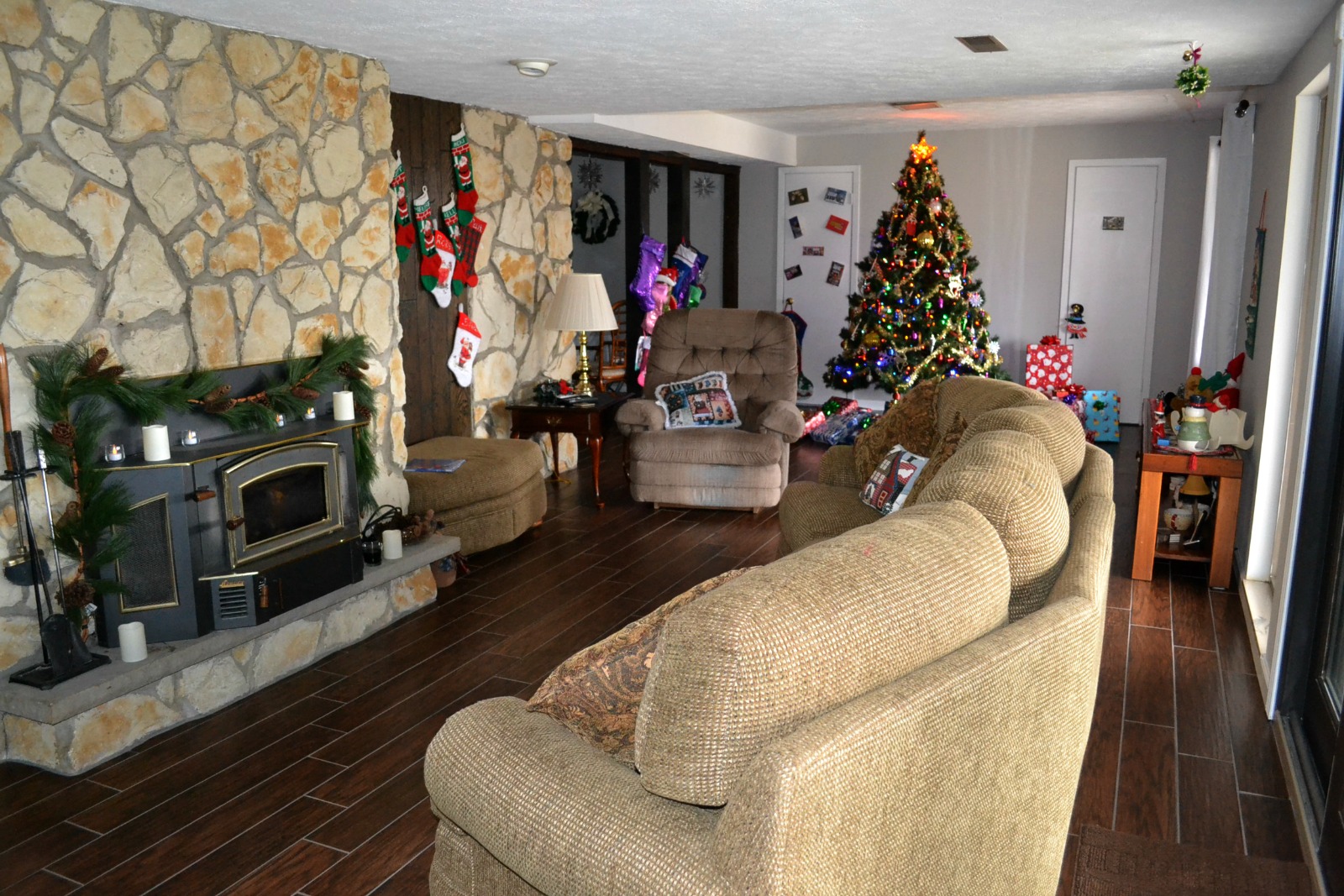 There are also 2 other large rooms downstairs.
We have a family room that we sit in to open gifts and play games.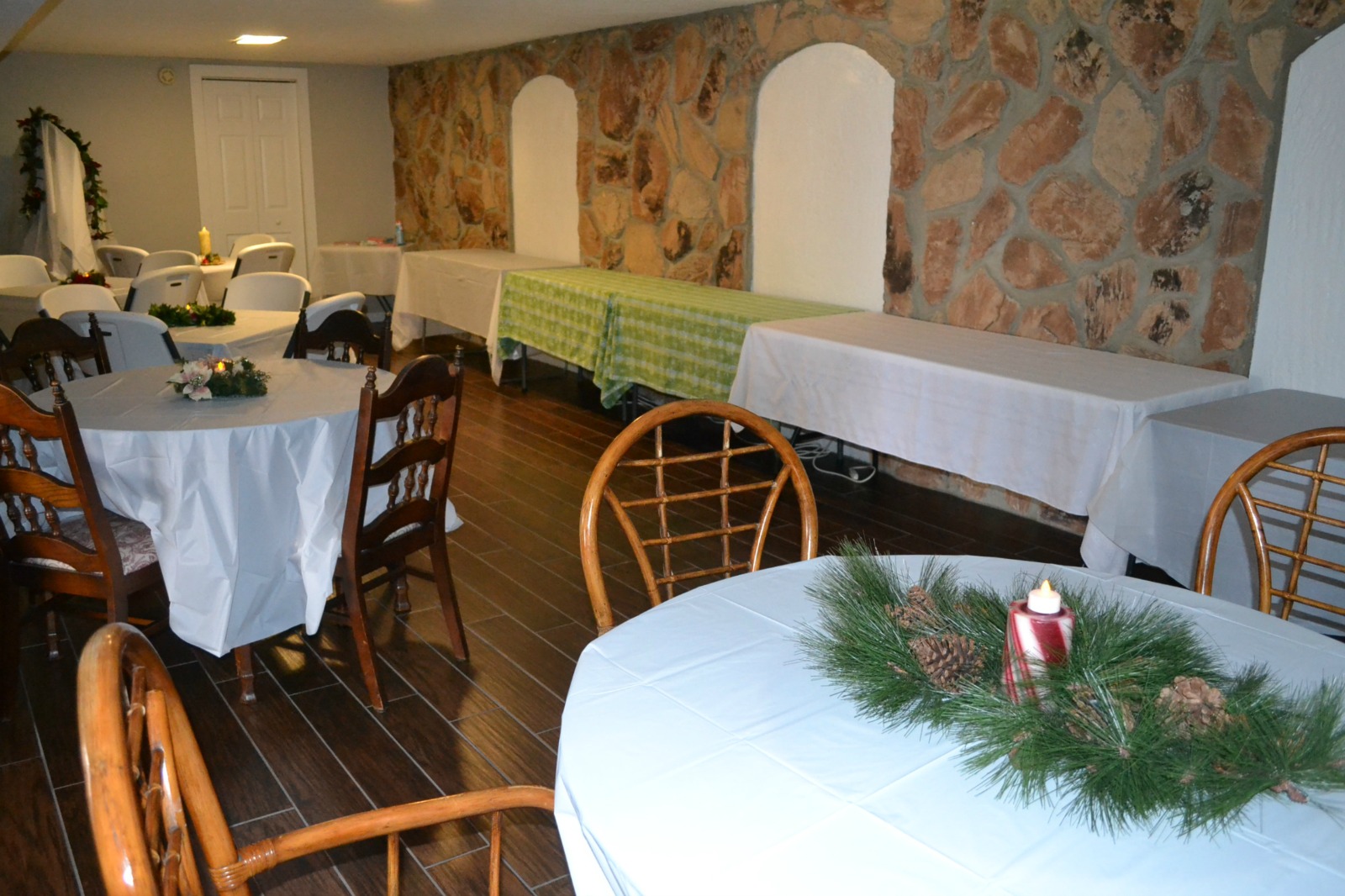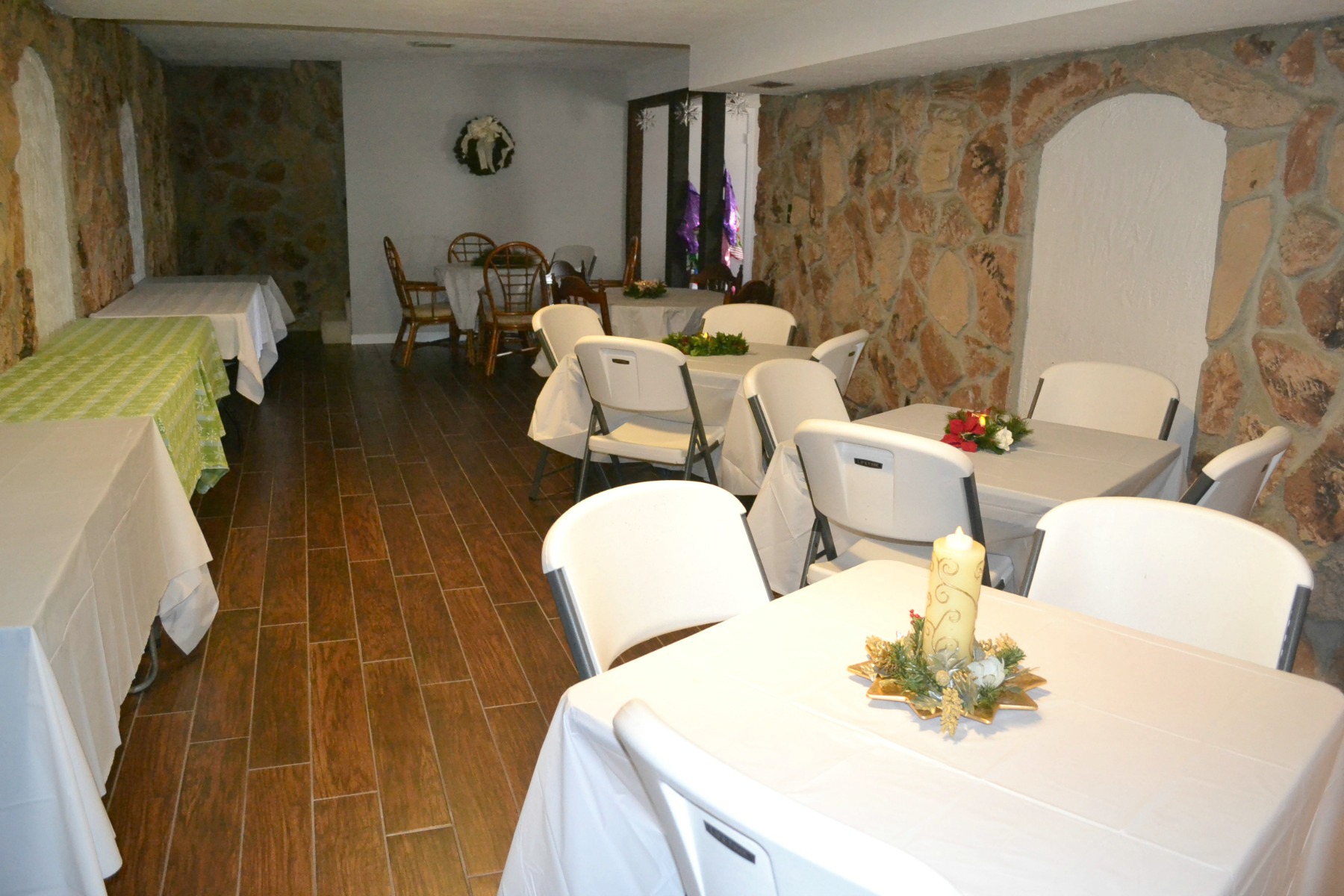 The best room is a big empty room where I set up the food. I put up card tables and chairs to sit at. I line one side of the wall with long tables for food and drinks. I can set this room up weeks in advance and just add the foods the day of the party. It gets a little crowded but at least no one has to balance a plate on their lap.
The next thing I tackle is cookie baking.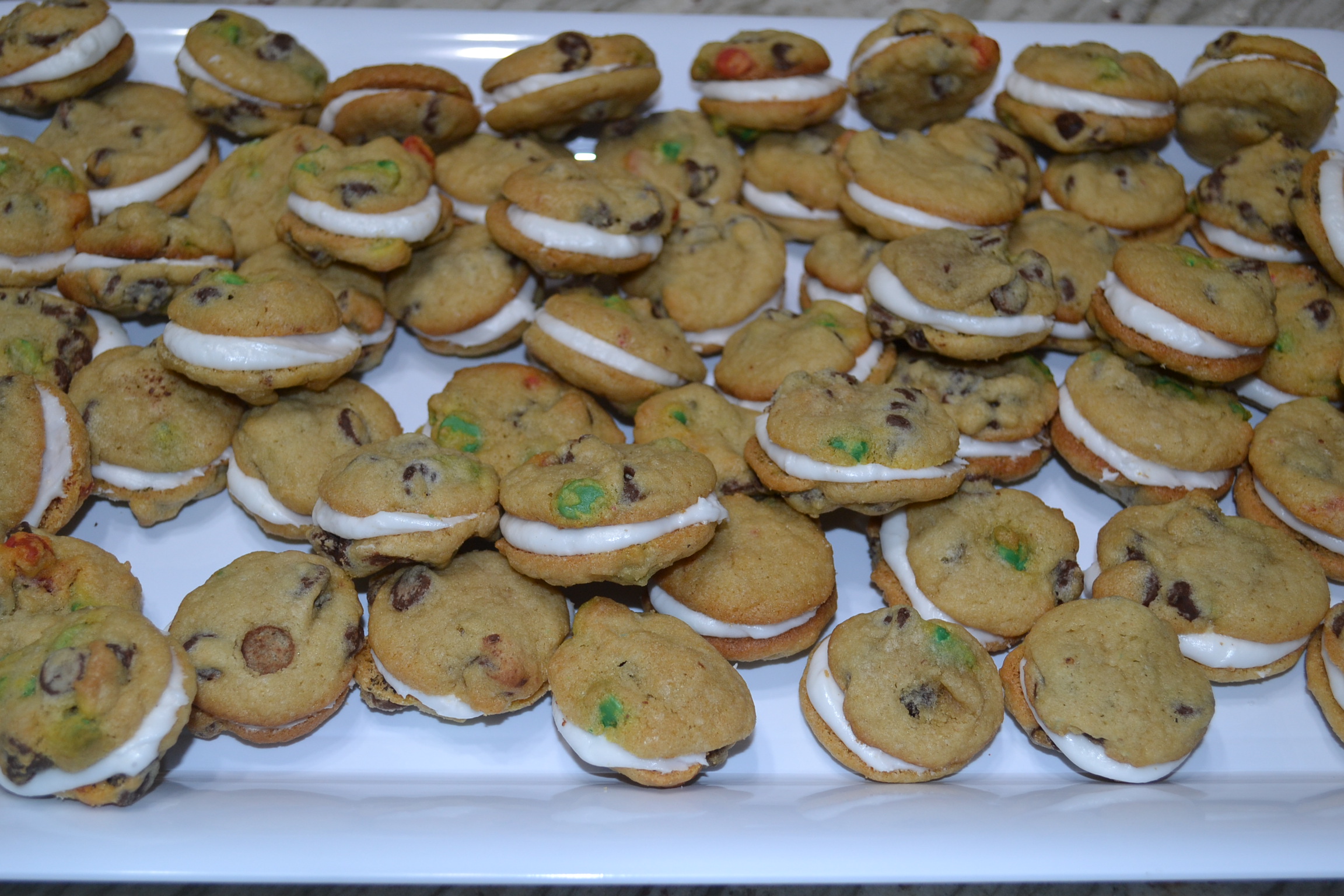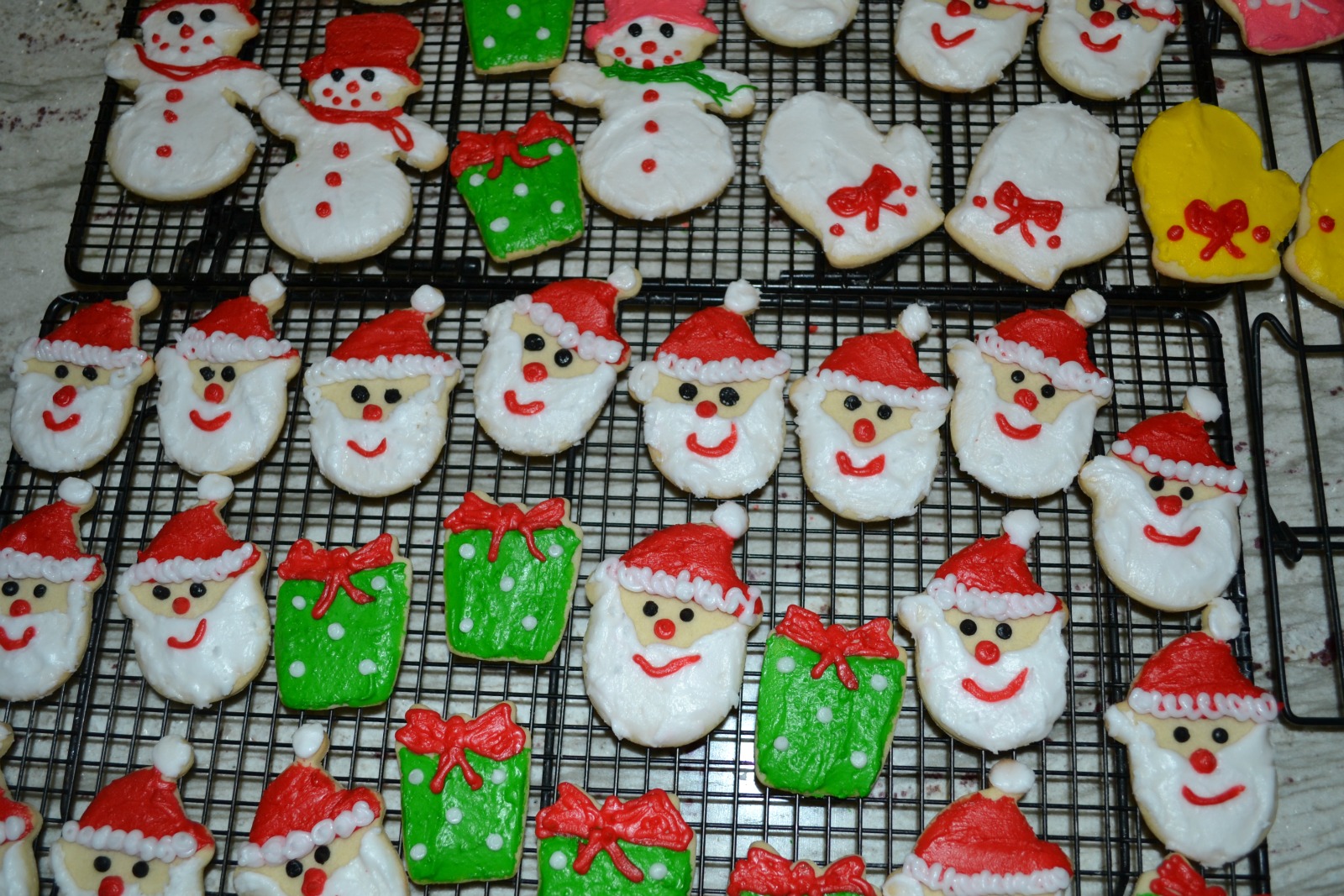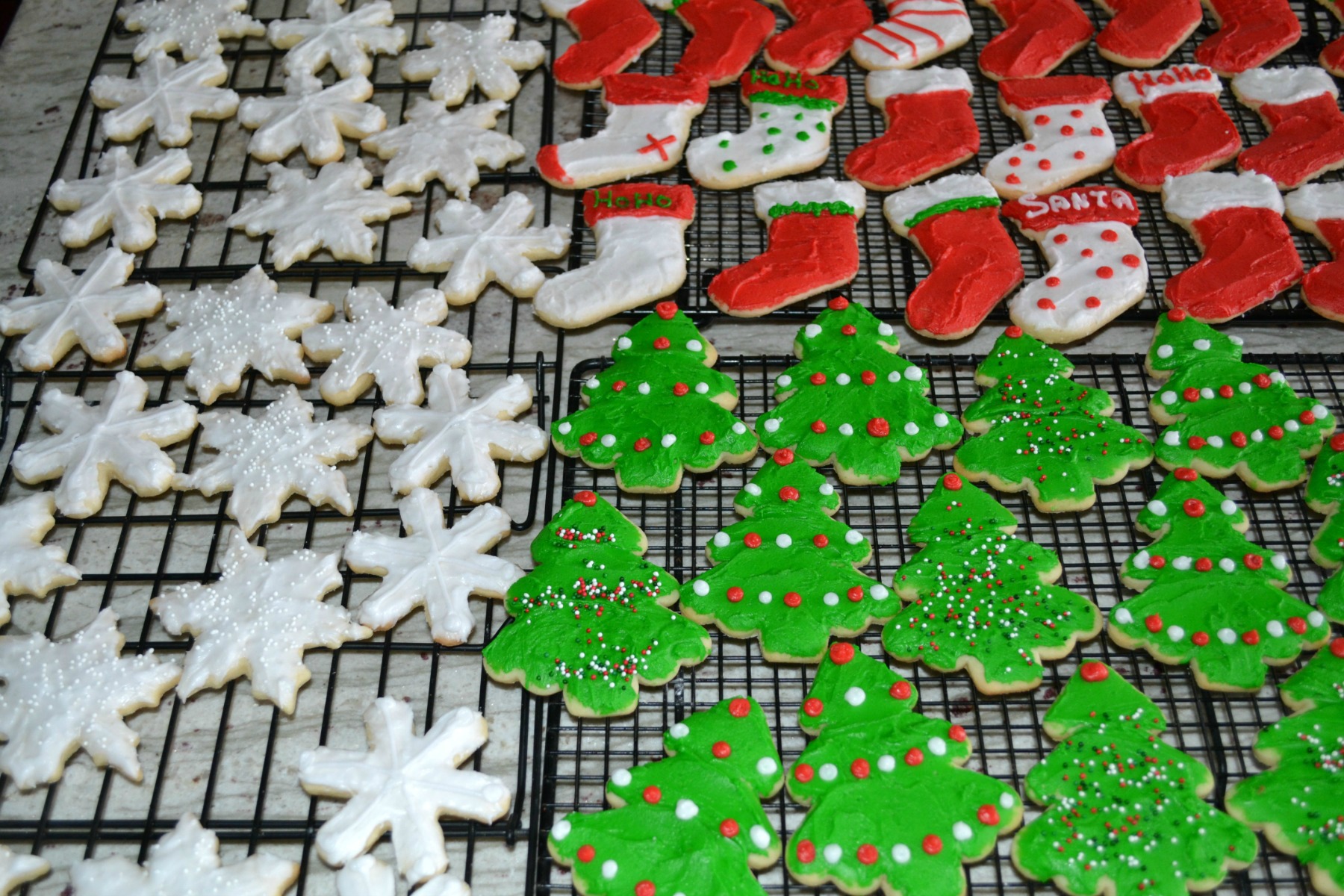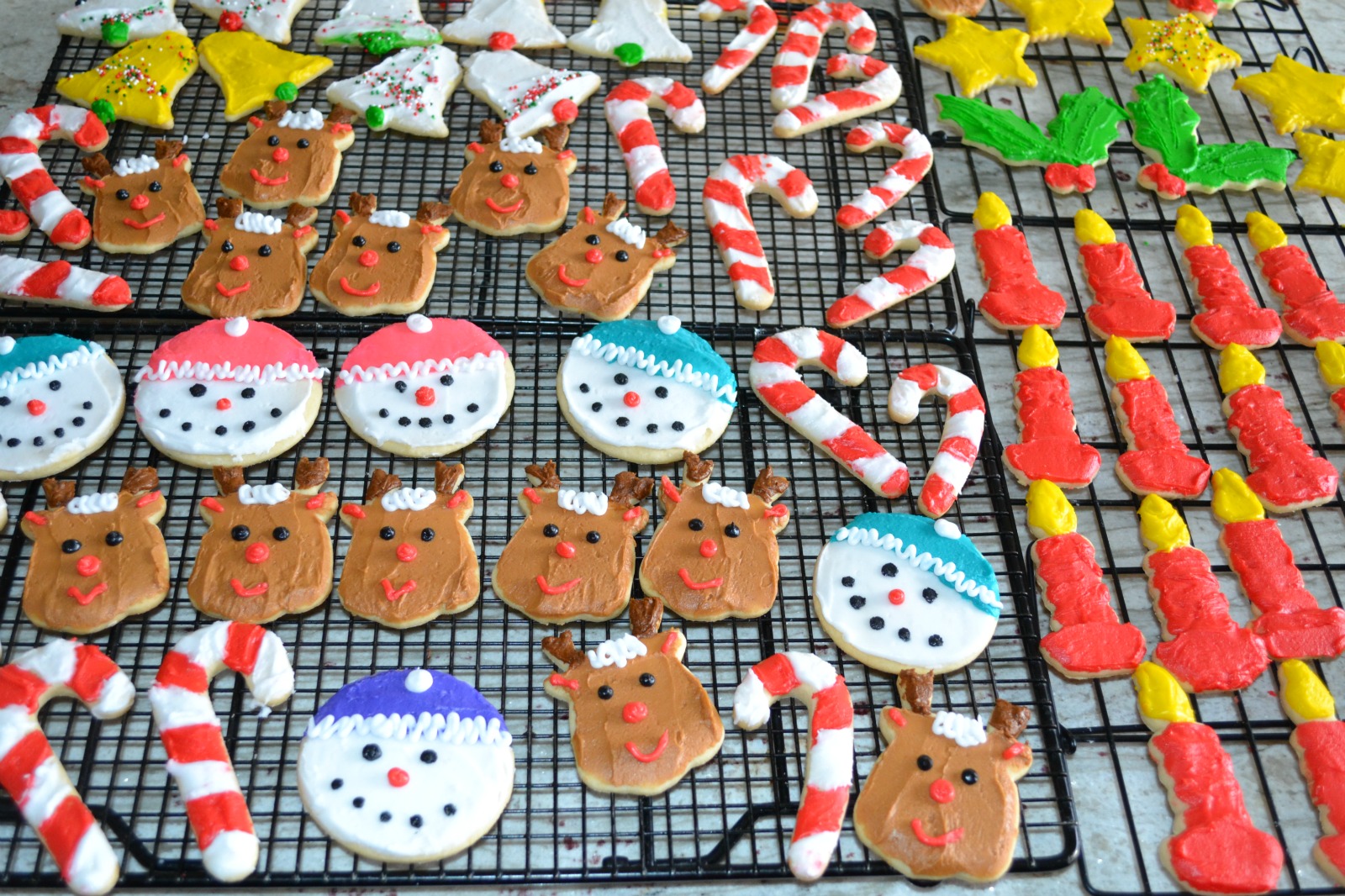 This year I baked cookies 8 hours a day for 4 days and put them in the freezer. The next day I baked 34 dozen of cut out sugar cookies. It took me 2 full days to decorate them afterwards. Another day was making Chex Mix and Peanut Butter Fudge.
Two days before our party, I put together cookie trays for each of the families to take home. I also make some for friends and neighbors.
The day before our party, I prep everything that I can of the food. My husband loves to help with this, so we usually have a lot of fun, argue about how to cook, and make a big mess in the kitchen.
Our menu is a combination of home-cooked recipes along with some purchased items. I do a variety of foods for adults and to be kid friendly.
APPETIZERS: Shrimp Cocktail, Cheese Tray, Veggie Tray, Rotel Dip, Cocktail Wieners, Chips & Dips
MEATS: Prime Rib with AuJus Sauce, Baked Ham, Baked Steak in Gravy
SIDES: Mashed Potatoes, Sweet Potatoes, Scalloped Potatoes, Chicken and Noodles, Macaroni and Cheese, Green Beans, Deviled Eggs, Baked Beans with wieners, Applesauce, Hot Rolls
DESSERTS: Cookie Trays, Cake, Lemon Bars, Brownies, Texas Sheet Cake
DRINKS: Punch, Eggnog, Soda, Iced Tea
I did not take 1 picture of any of the food….we were so busy setting it up that I forgot to do that!
After dinner, the grandkids open their gifts and stockings.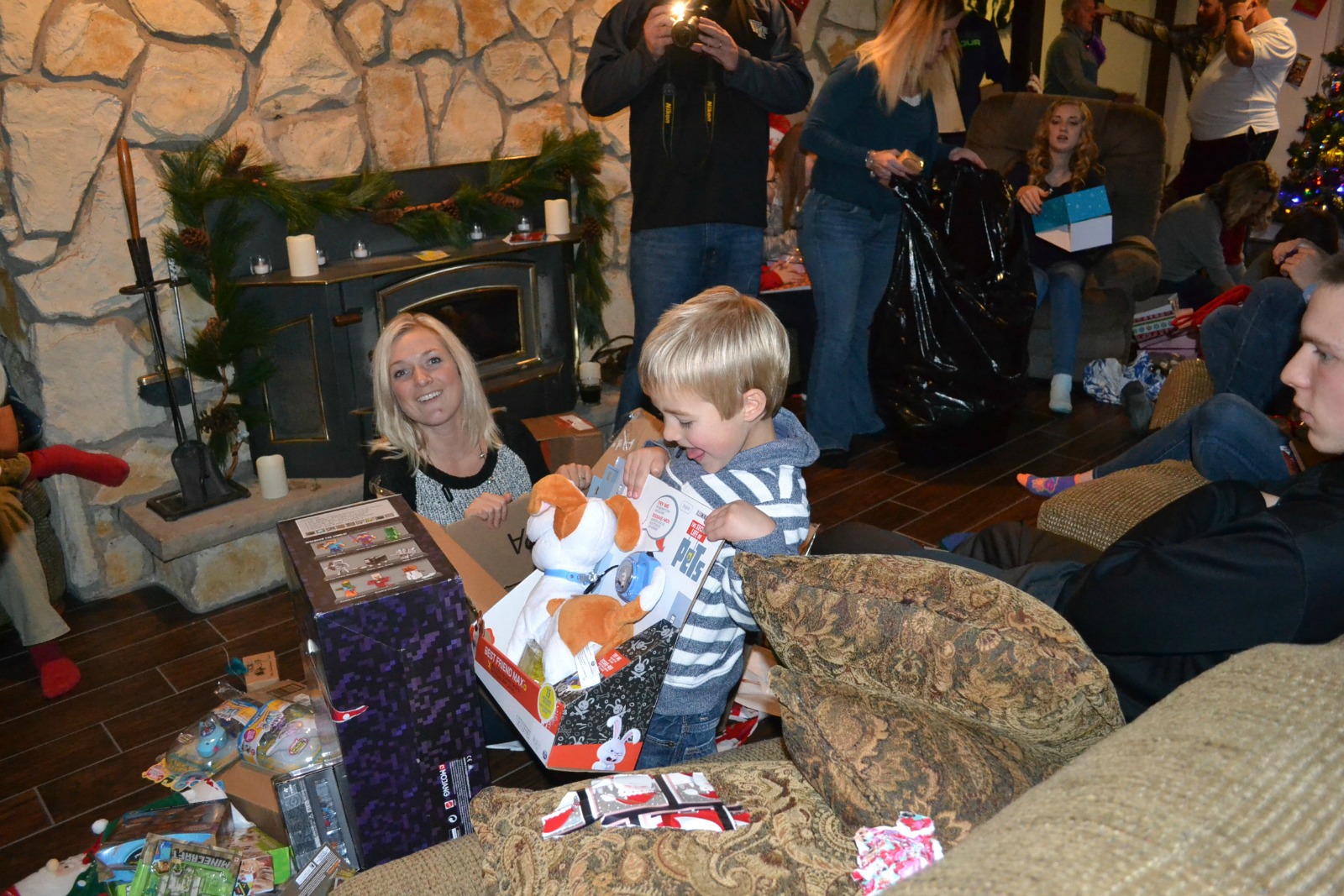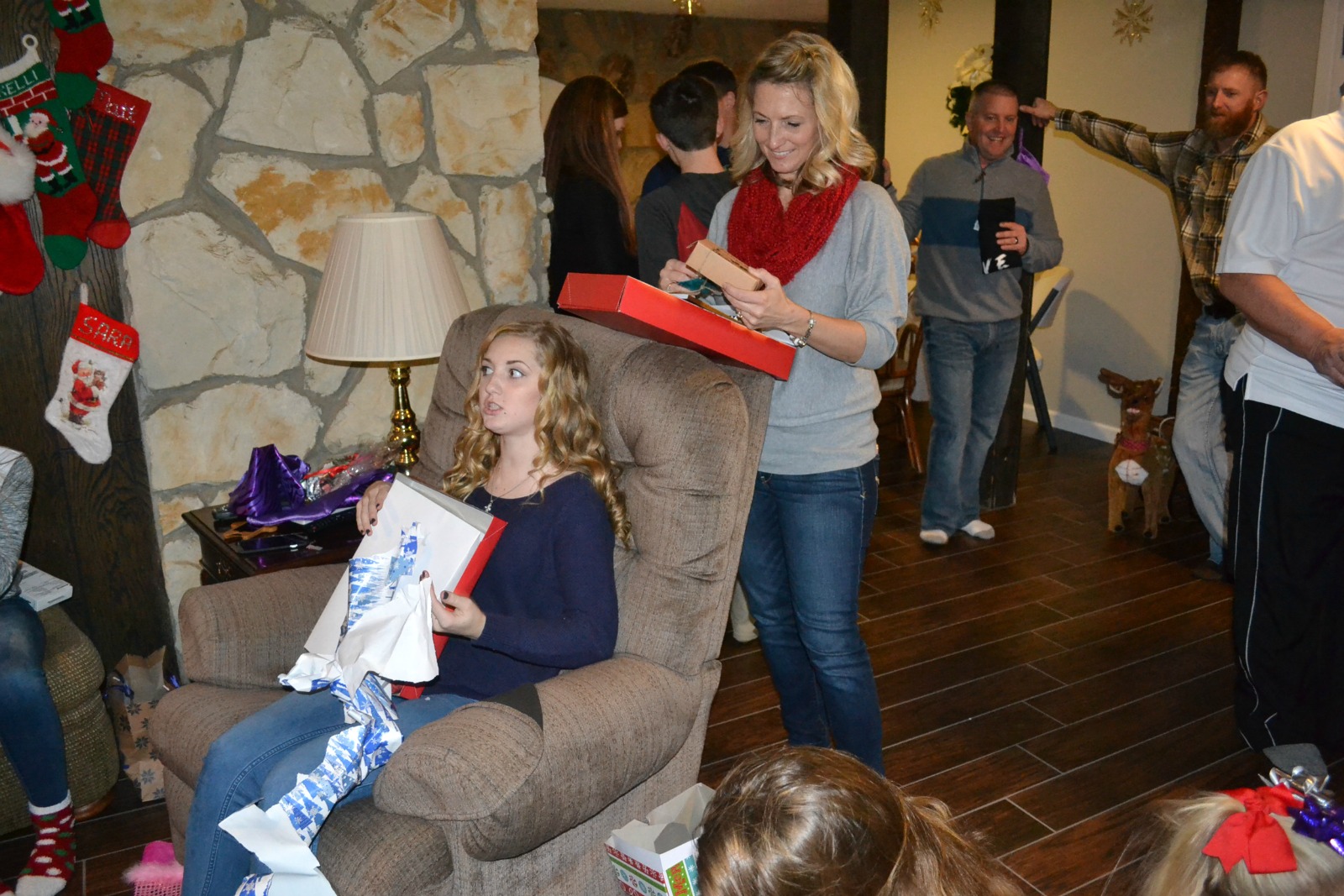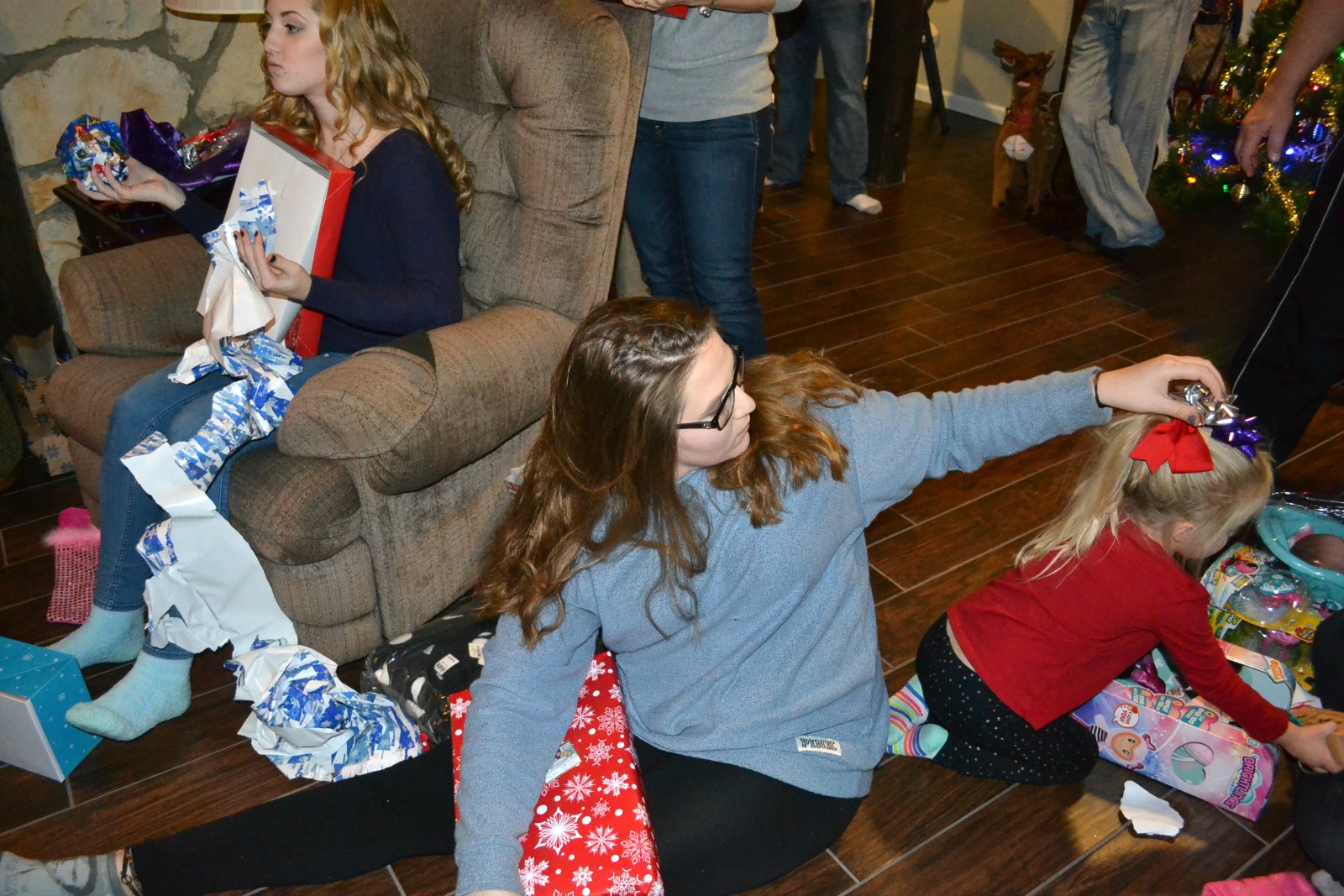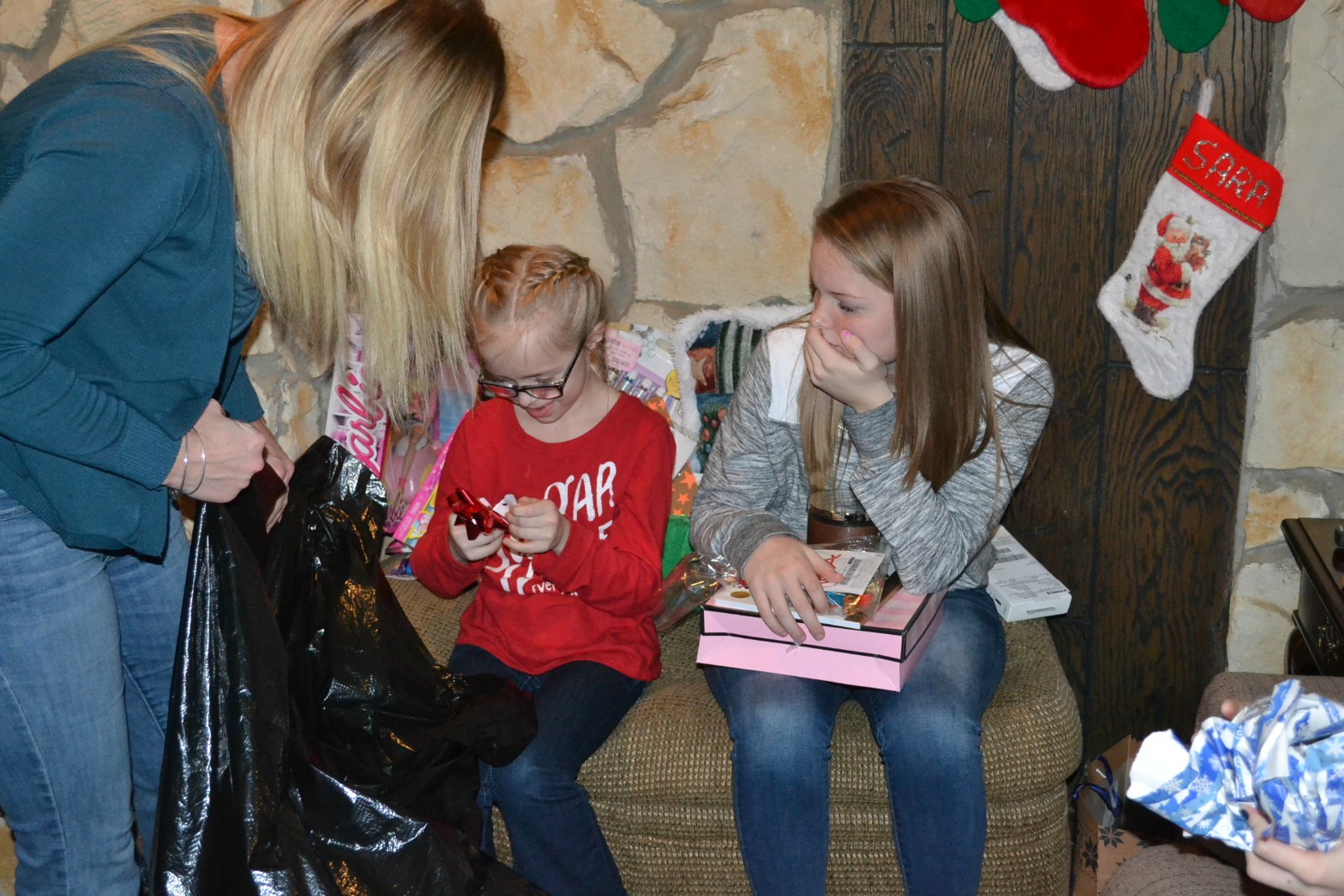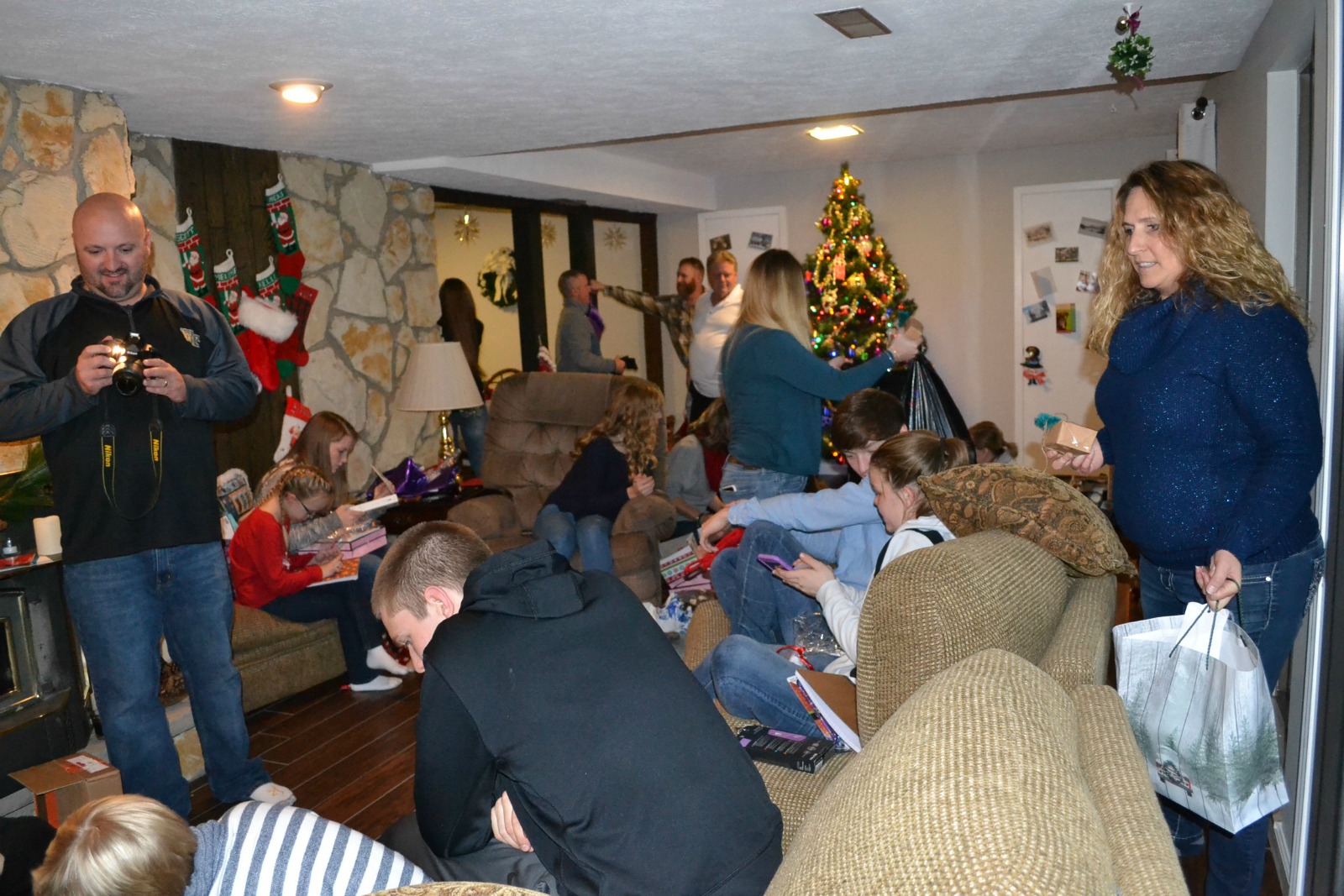 Afterwards, we play the White Elephant Game (or whatever it is really called).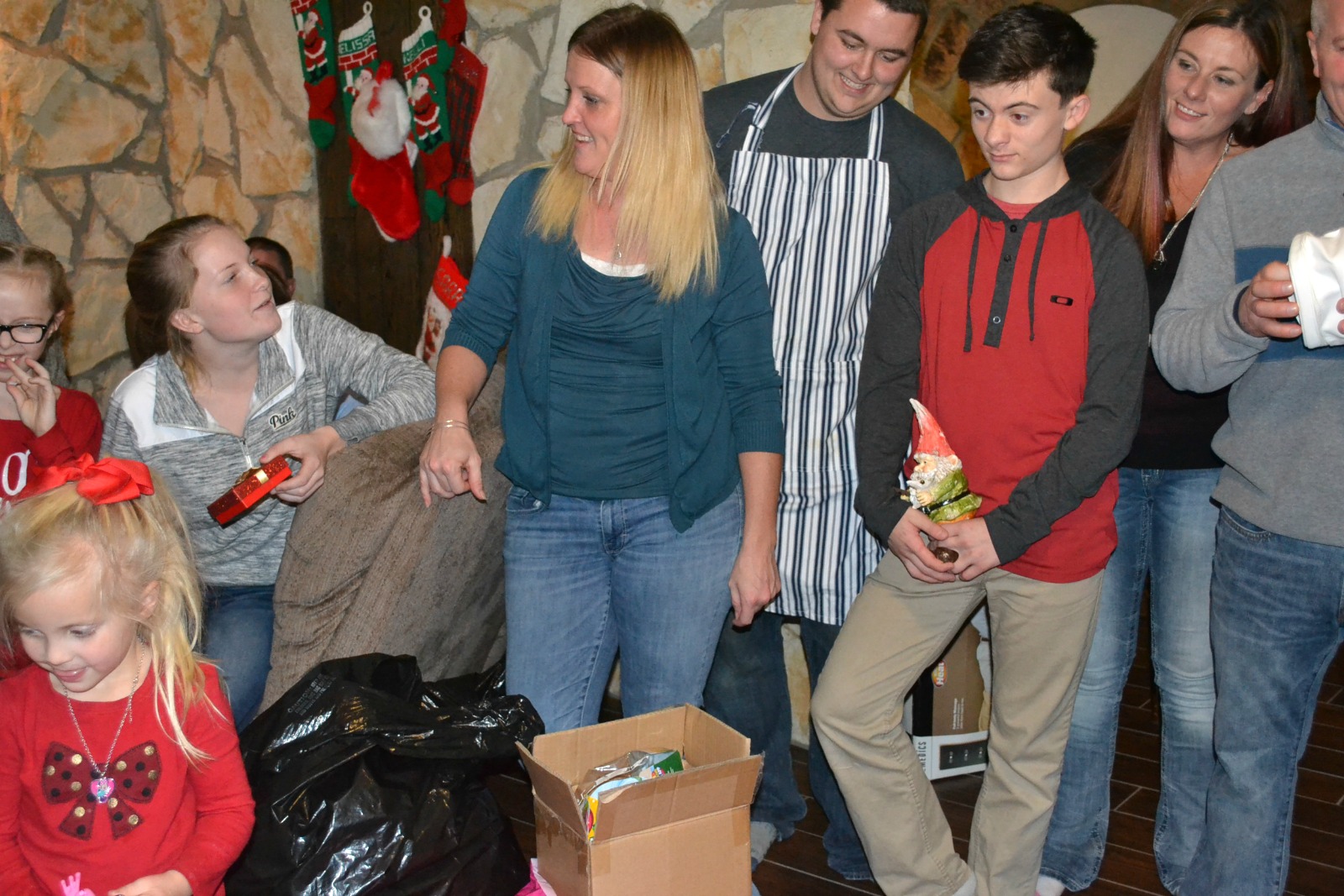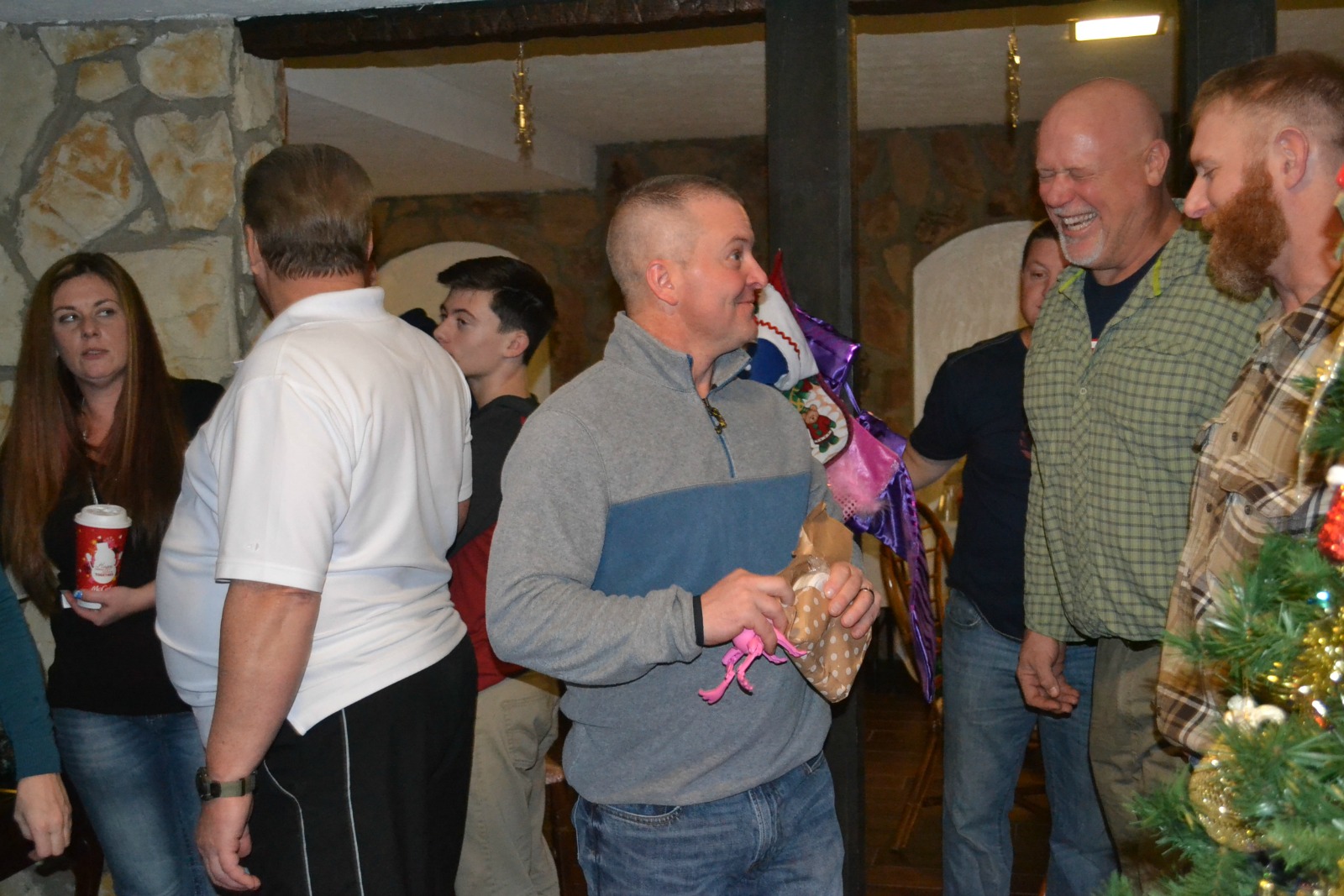 Our family can be just as naughty as nice, so some of the gifts are a little hysterical! Last year's big joke was the glass Rooster which became known by other names and caused a lot of laughter.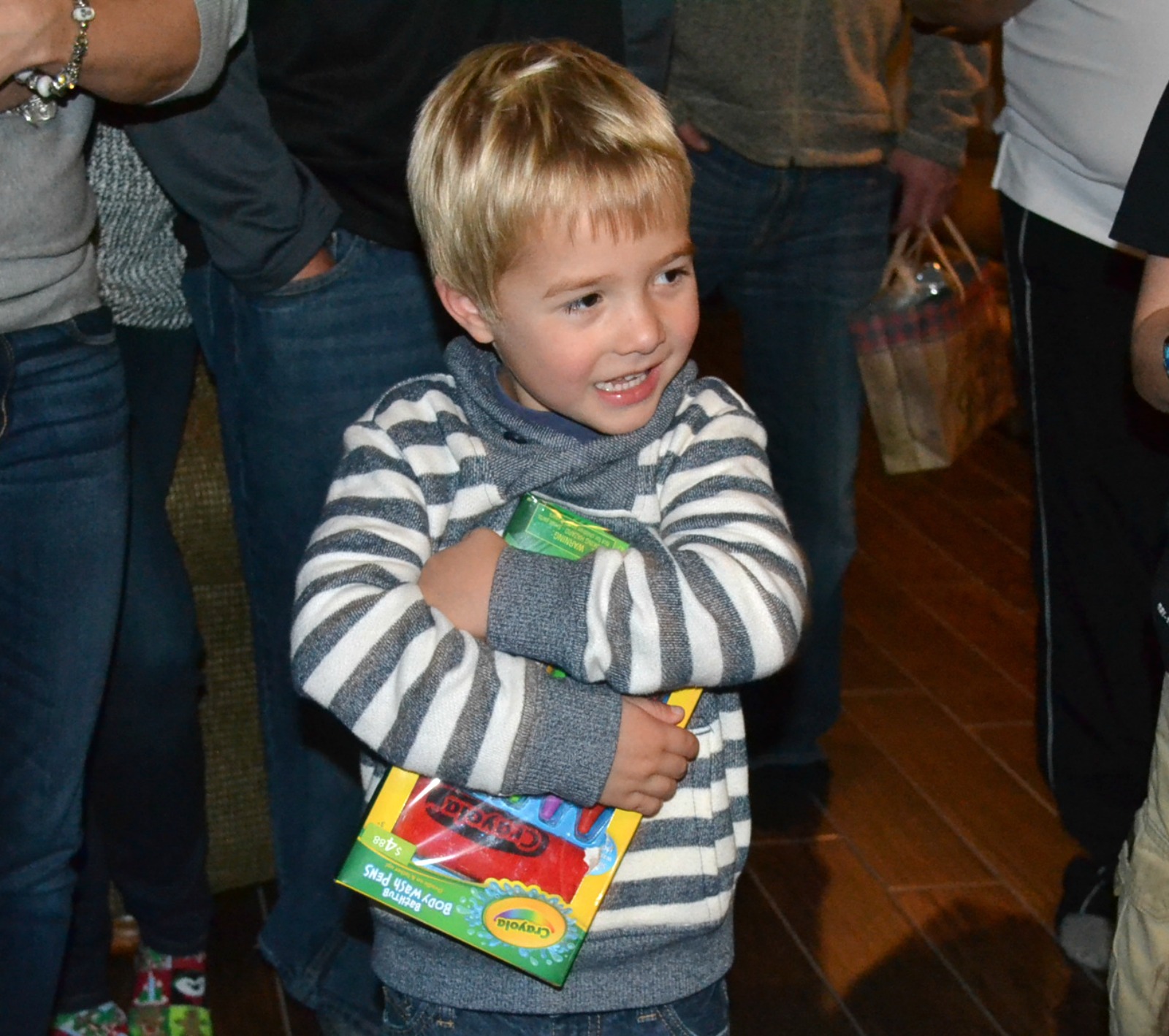 Happiness is "stealing" the bathtub crayons and then holding on to them the rest of the evening!
The children seem to wonder off to play about now and the conversation usually turns to things the kids did growing up that we did not know. The hidden family secrets start coming out. Lots of humor among them…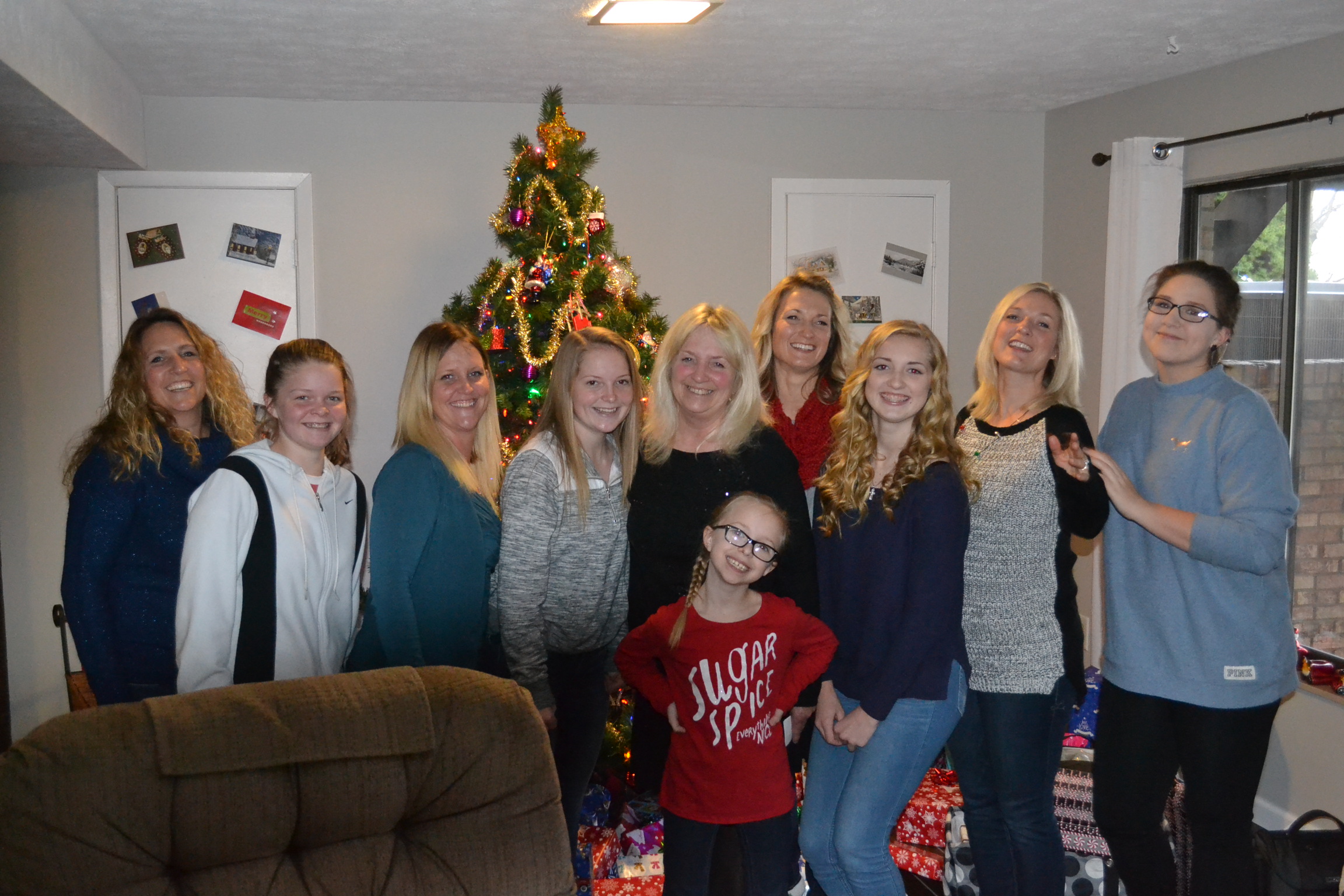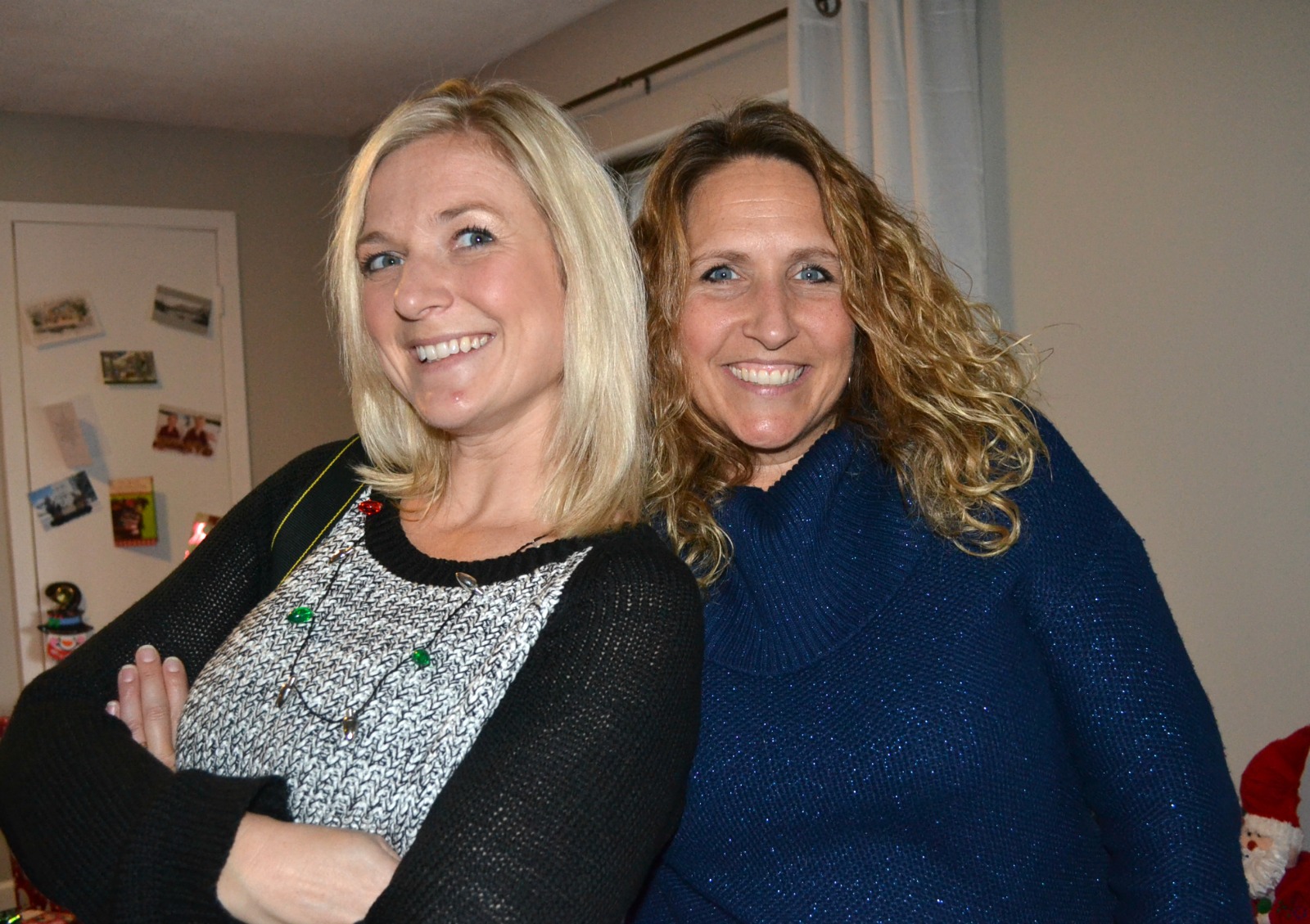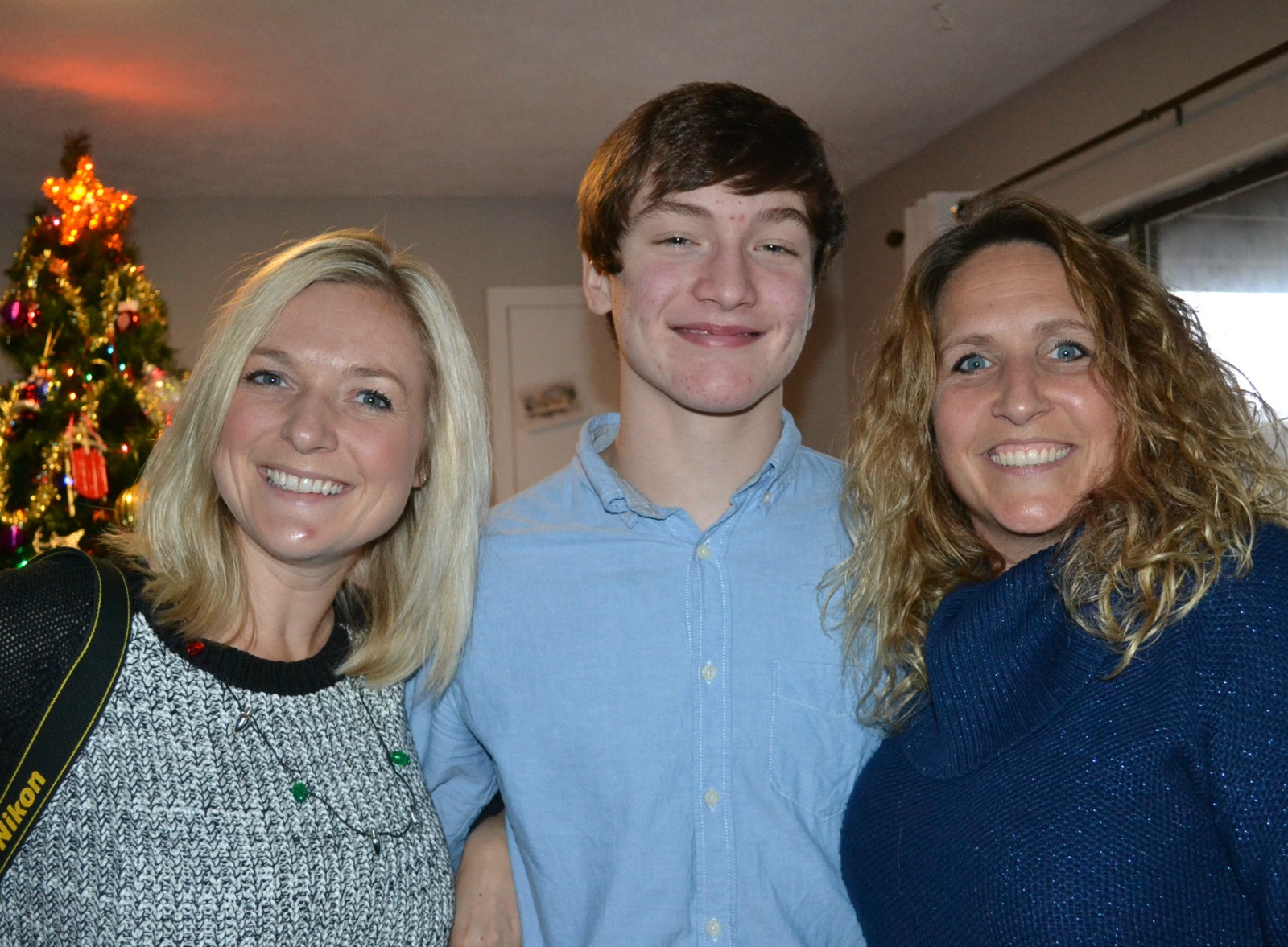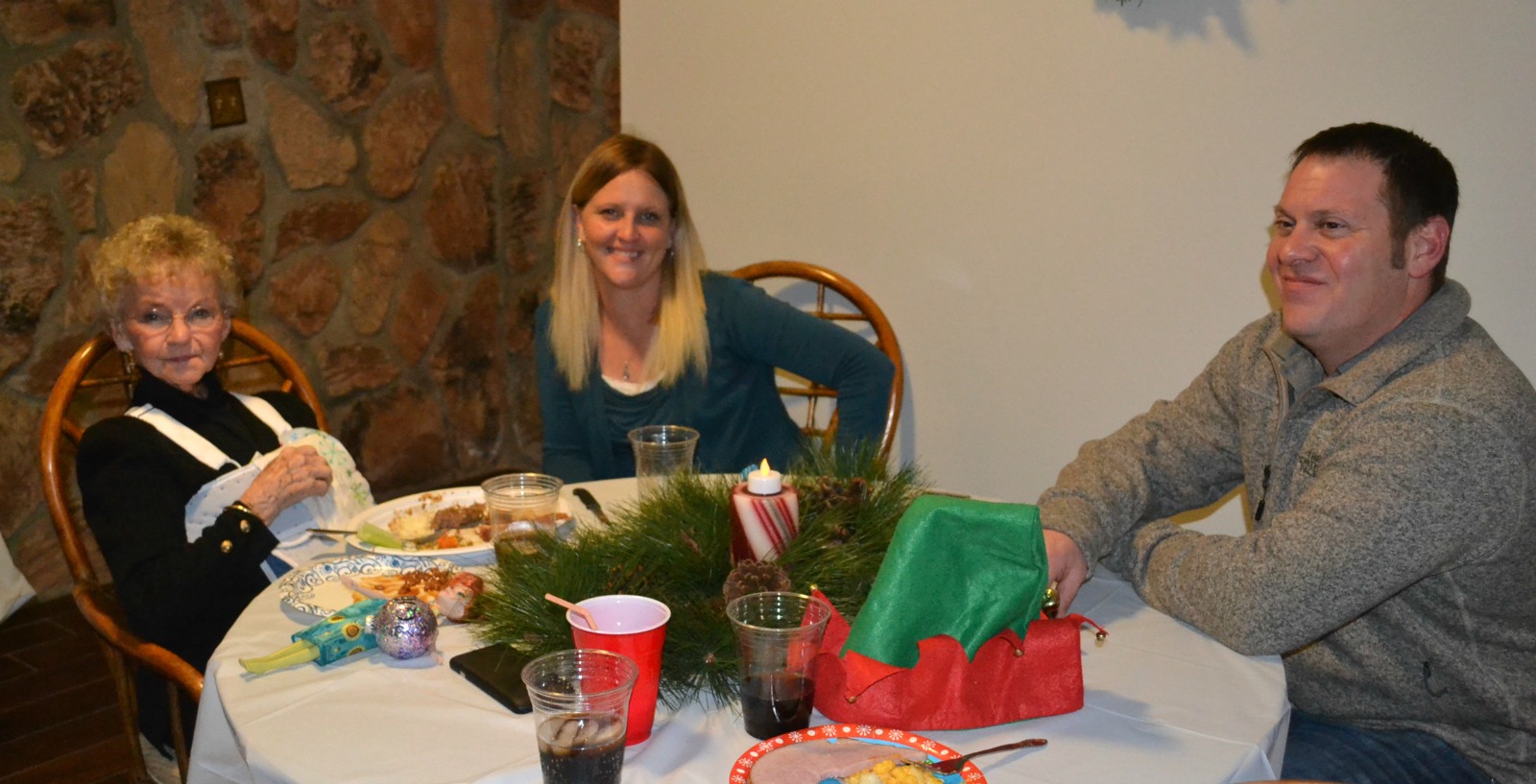 Bob and I are so blessed to have this wonderful group of people as our family. Our life has certainly not been Norman Rockwell, but each year as we get older, we hold onto our precious memories even stronger. I love Christmas and love my family so much.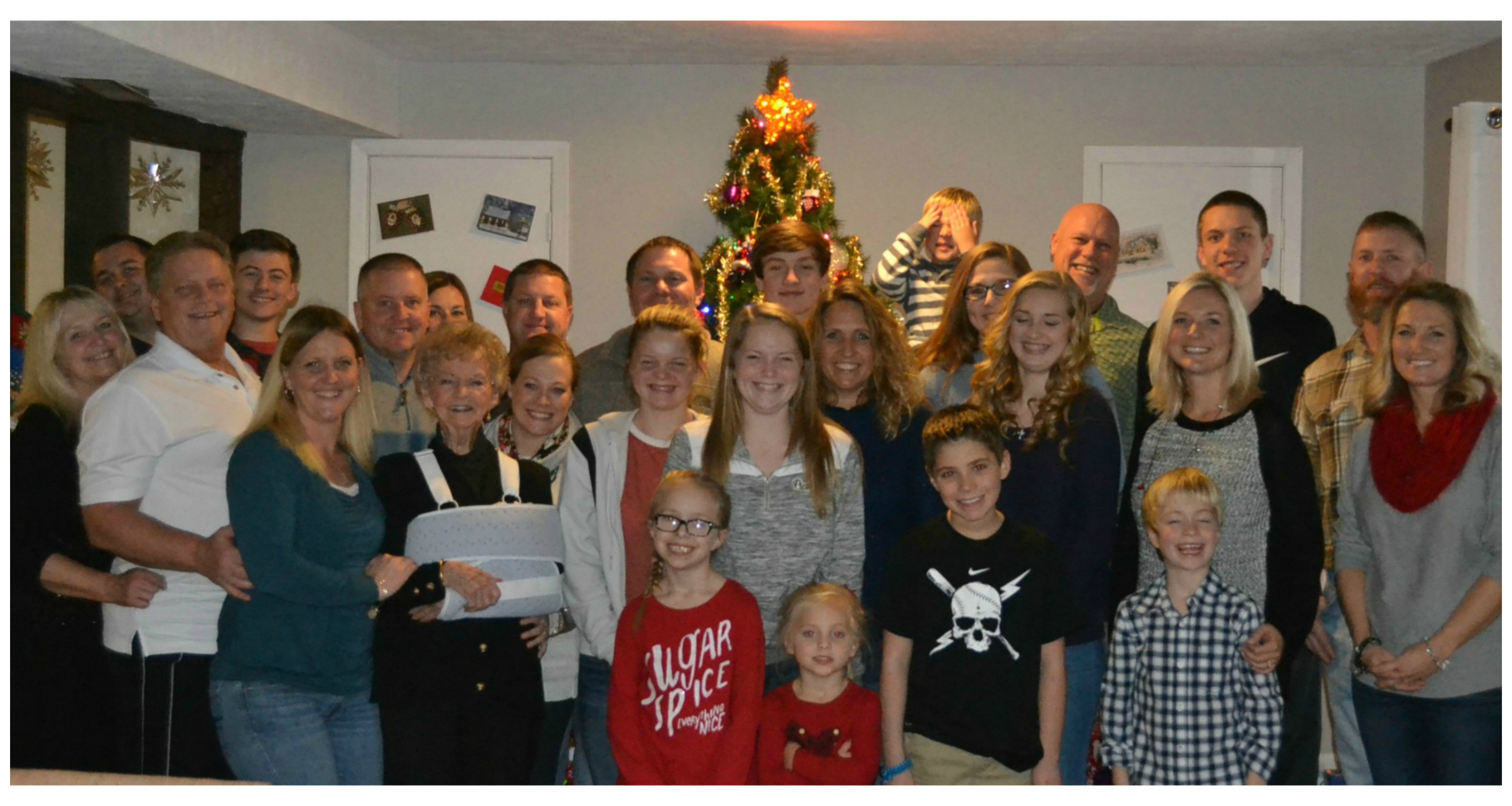 Merry Christmas to all…..
Please follow and like us: