Jump to recipe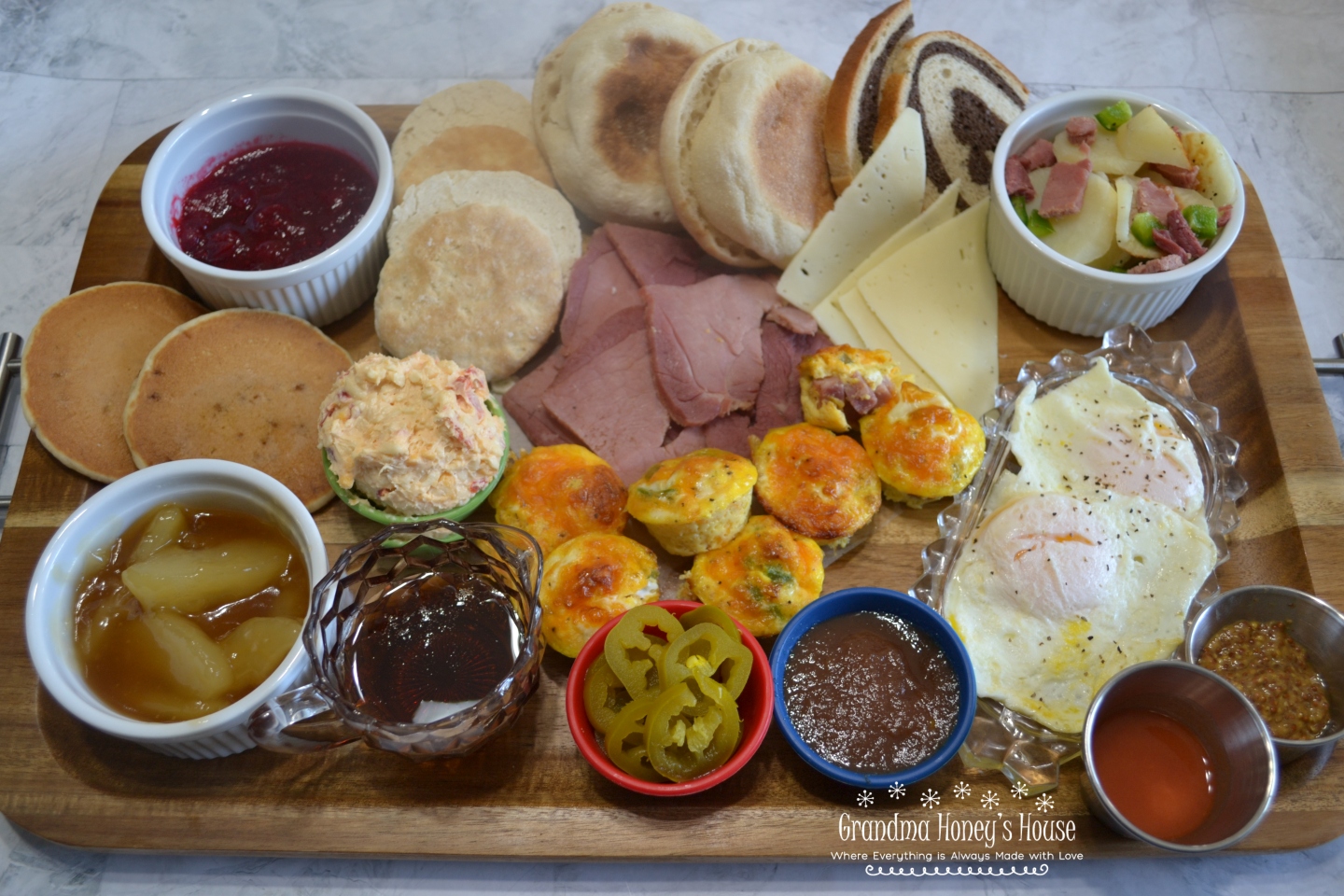 Clifty Farm Country Ham Breakfast Board
A trendy breakfast board with ingredients chosen to accent the Clifty Farm Country Ham Biscuit Slices. Surrounded by biscuits, english muffins, bread, fried apples, cranberry sauce, pimento cheese, apple butter, fried eggs, cheese, jalapenos, hot sauce, potatoes, and country ham mini crustless quiche bites, the combinations are endless. Perfect to serve to your family or guests.

I am one of the lucky bloggers chosen to compete in the Clifty Farm Blogger Recipe Challenge.  The challenge is to create recipes using Clifty Farm Country Ham products. I received products from Clifty Farm to create this recipe, however the ideas and opinions are 100% my own.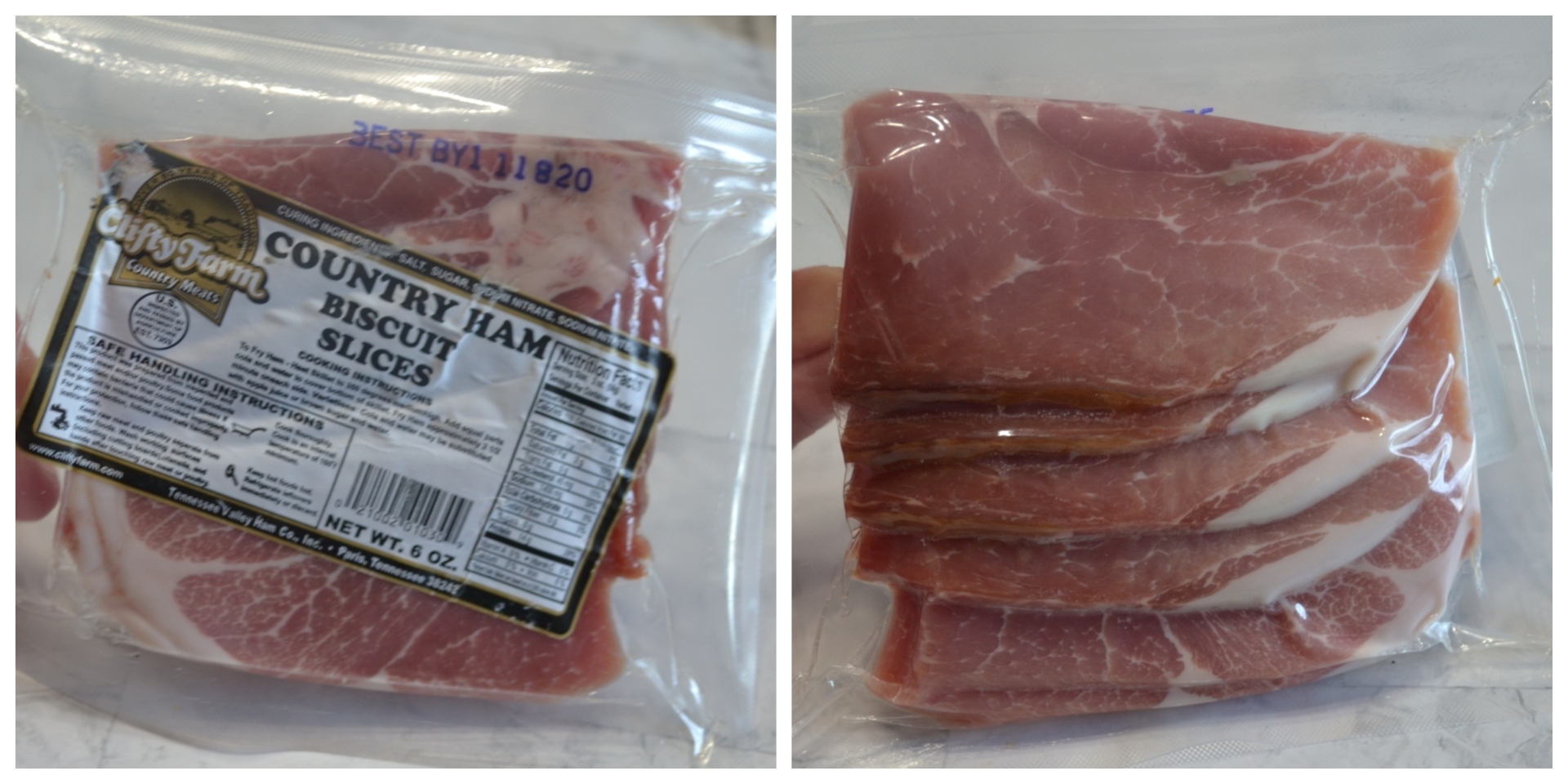 Here is their Country Ham Biscuit Slices.  As soon as I received this package, I knew what I wanted to try, because these could be used so many ways.
Using these ham slices, I built a breakfast board around them. A breakfast board can be set out so that guests can create their own breakfast, either as a sandwich or load everything onto a plate. The board can be filled with a mixture of purchased and homemade ingredients.
HOW TO BUILD THE CLIFTY FARM COUNTRY HAM BREAKFAST BOARD:
*Assemble the ingredients you wish to put on your board. The number will depend on the number of people being served.
*Prepare the mini quiche
*Fry 2-3 potatoes with green peppers and diced country ham
*Peel, slice and fry 2 apples in butter and brown sugar
*Prepare cranberry sauce adding equal amounts of water,sugar and fresh/frozen cranberries in a saucepan. Bring to a boil, lower heat and simmer until mixture thickens, stirring frequently. Remove from heat.
*Prepare, bake, or warm biscuits, english muffins, pancakes.
*Place the ham slices in a skillet with equal amounts of cola and water to warm about 4 minutes over a low heat. Drain liquid and place in the center of serving board (or platter)
*Arrange the mini quiche next to the ham slices.
*Place the apples, potatoes, cranberry sauce,pimento cheese, jalapeno slices, apple butter, mustard,and syrup in  small ramekins or dishes. Arrange dishes on the board. Add the breads.
*Fry the eggs and add to board last
The recipe I created for the contest is Country Ham Mini Crustless  Quiche Bites to put on my board.
HOW TO MAKE COUNTRY HAM MINI CRUSTLESS QUICHE BITES:
*Spray mini muffin pan with non stick cooking spray.
* Dice the ham into small pieces. Divide evenly between the mini cups.
*Add green, red bell peppers and shredded cheese
*Beat together the eggs, half-n-half, salt, pepper and dijon mustard. Place in a small measuring cup and carefully pour even amounts into each mini muffin cup.
*Bake until egg mixture is set, about 15-18 minutes. Cool on wire rack about 5 minutes and then remove from pan.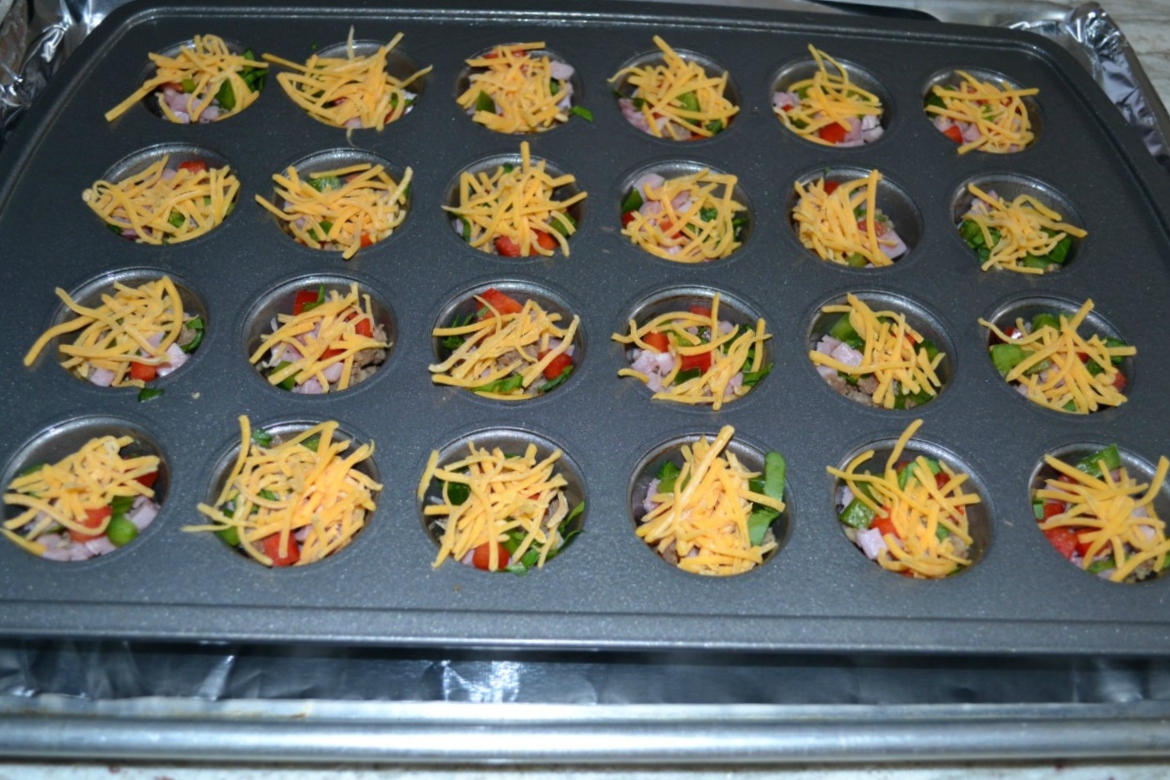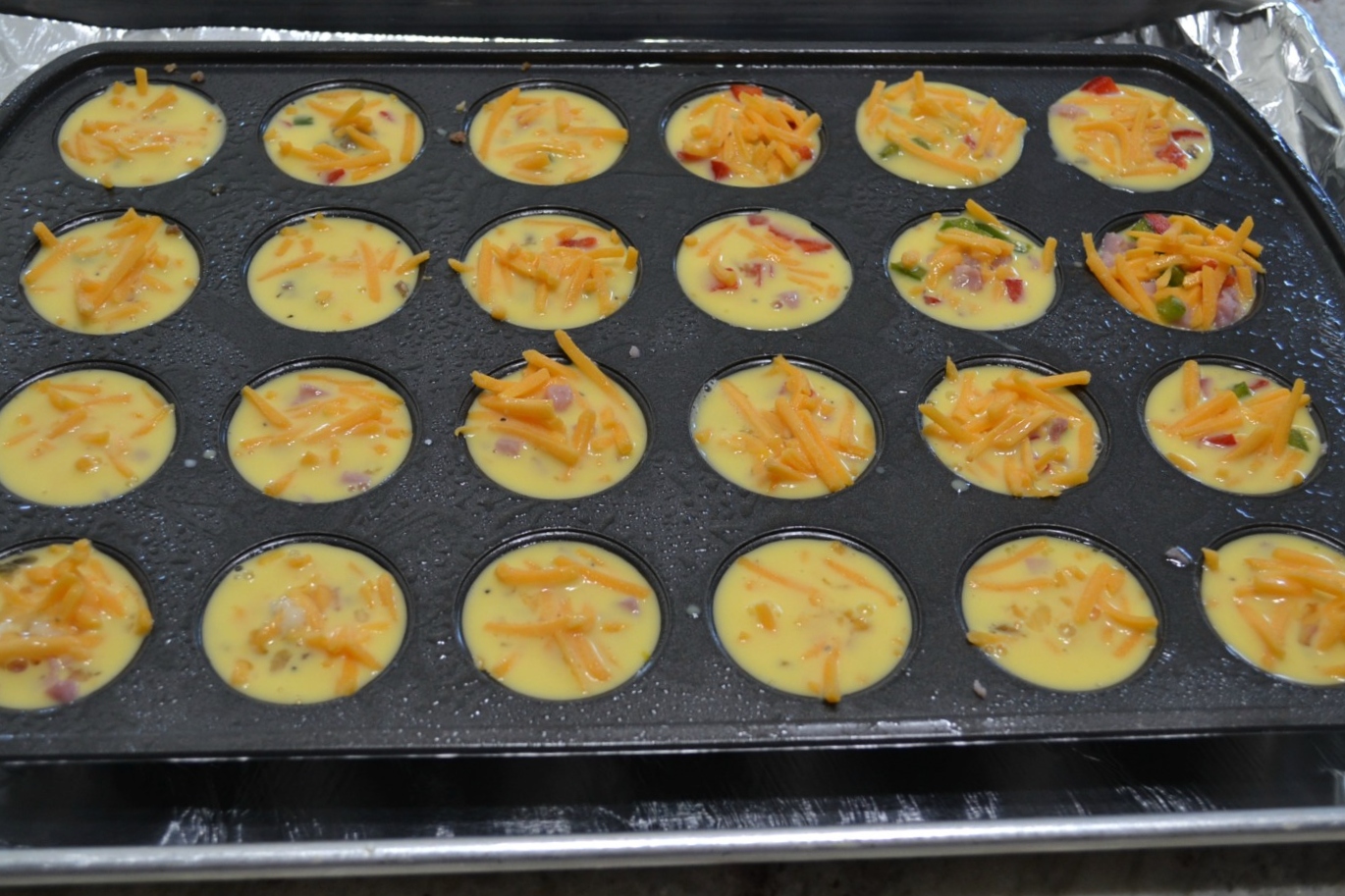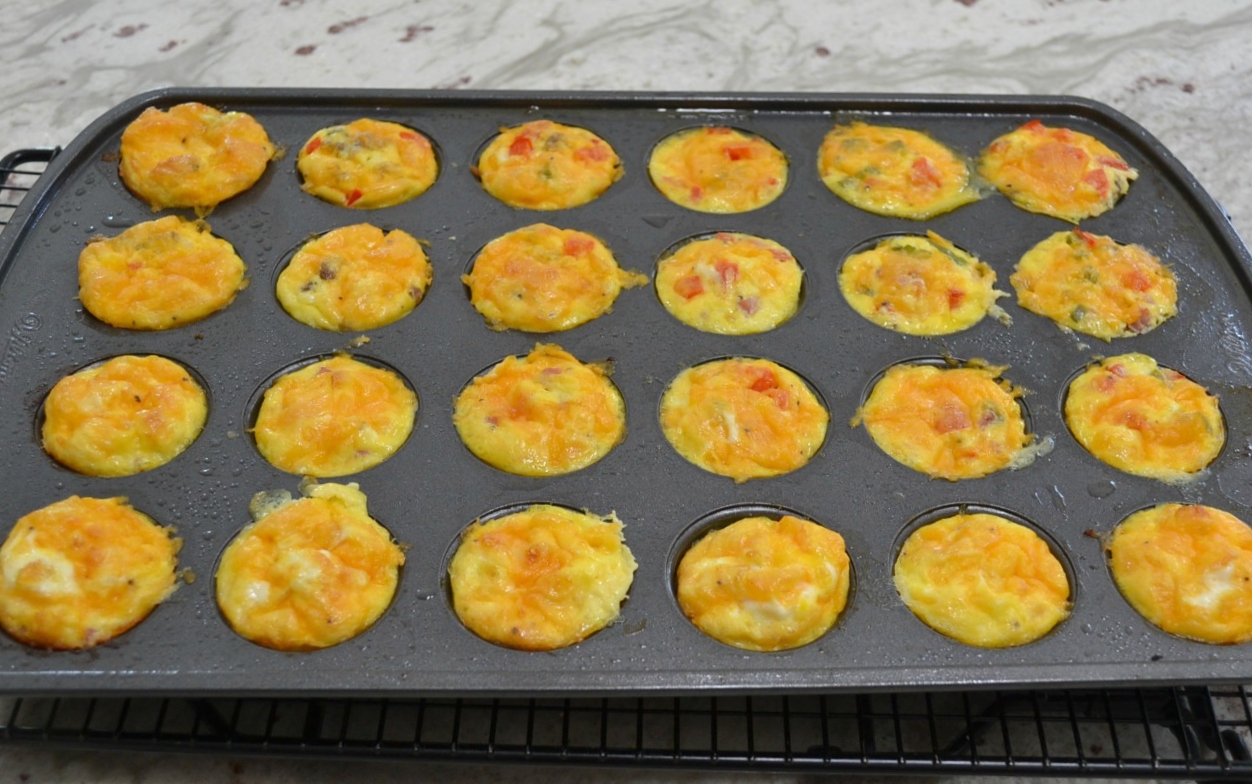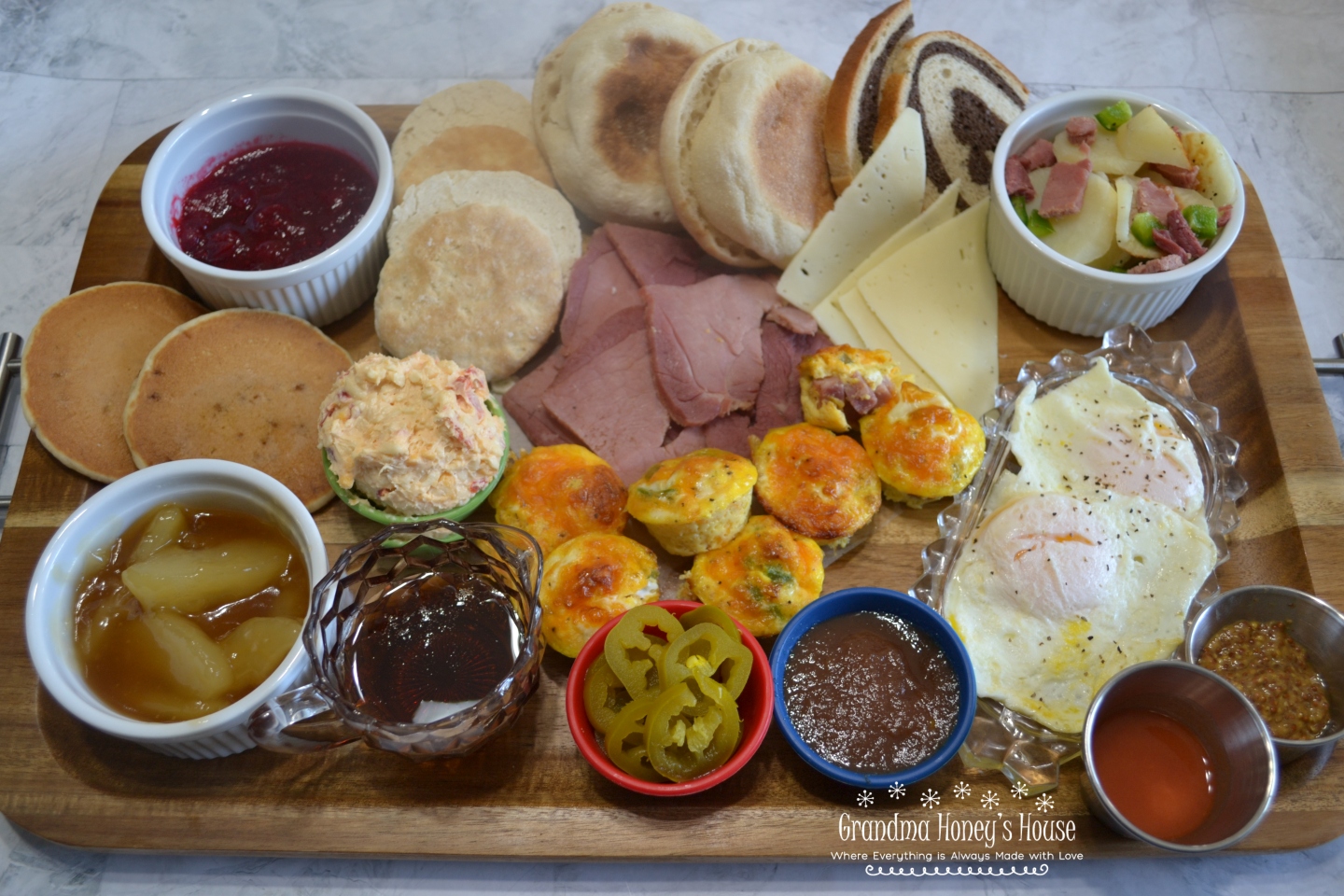 Here are some ways my family created breakfast from the board.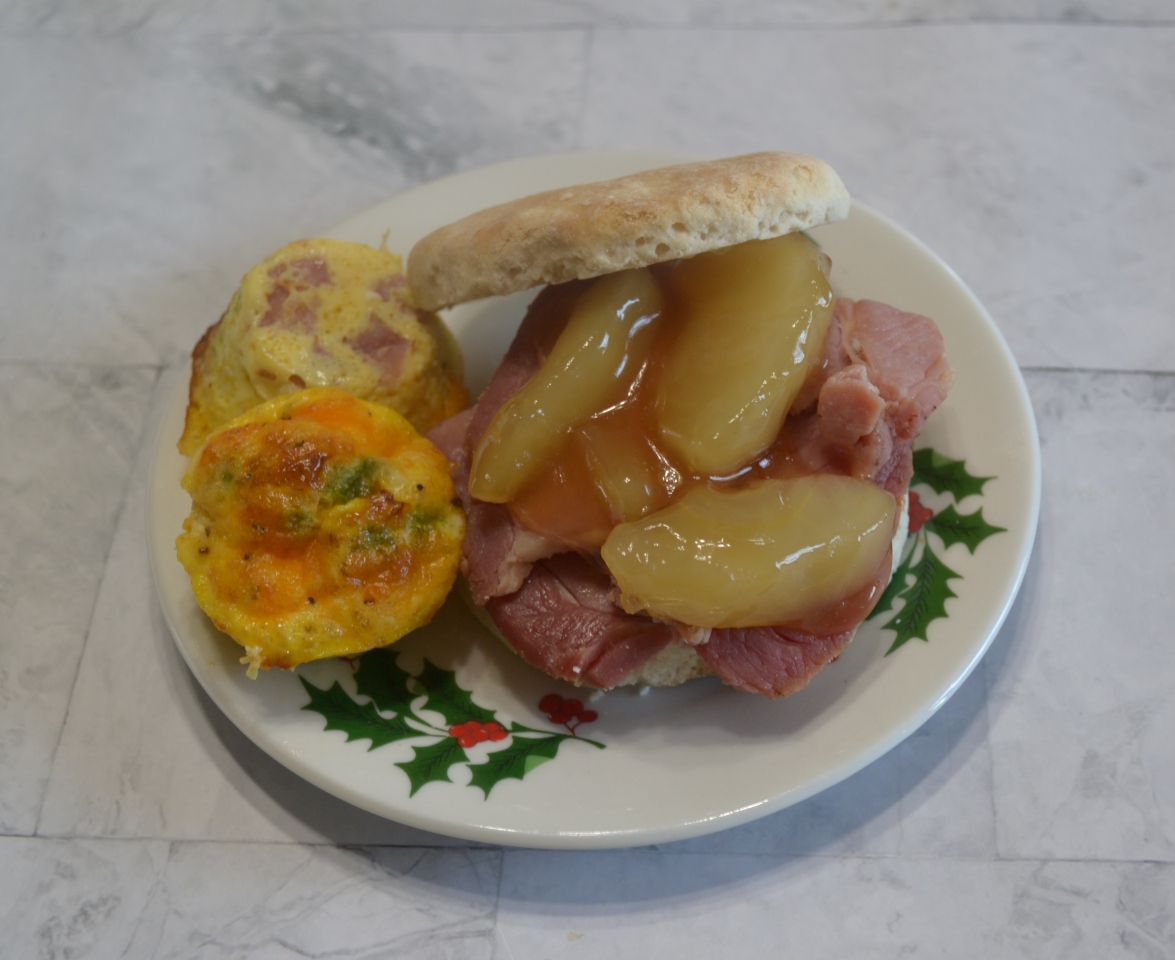 A biscuit with the Country Ham Biscuit Slices, fried apples, and mini quiche on the side.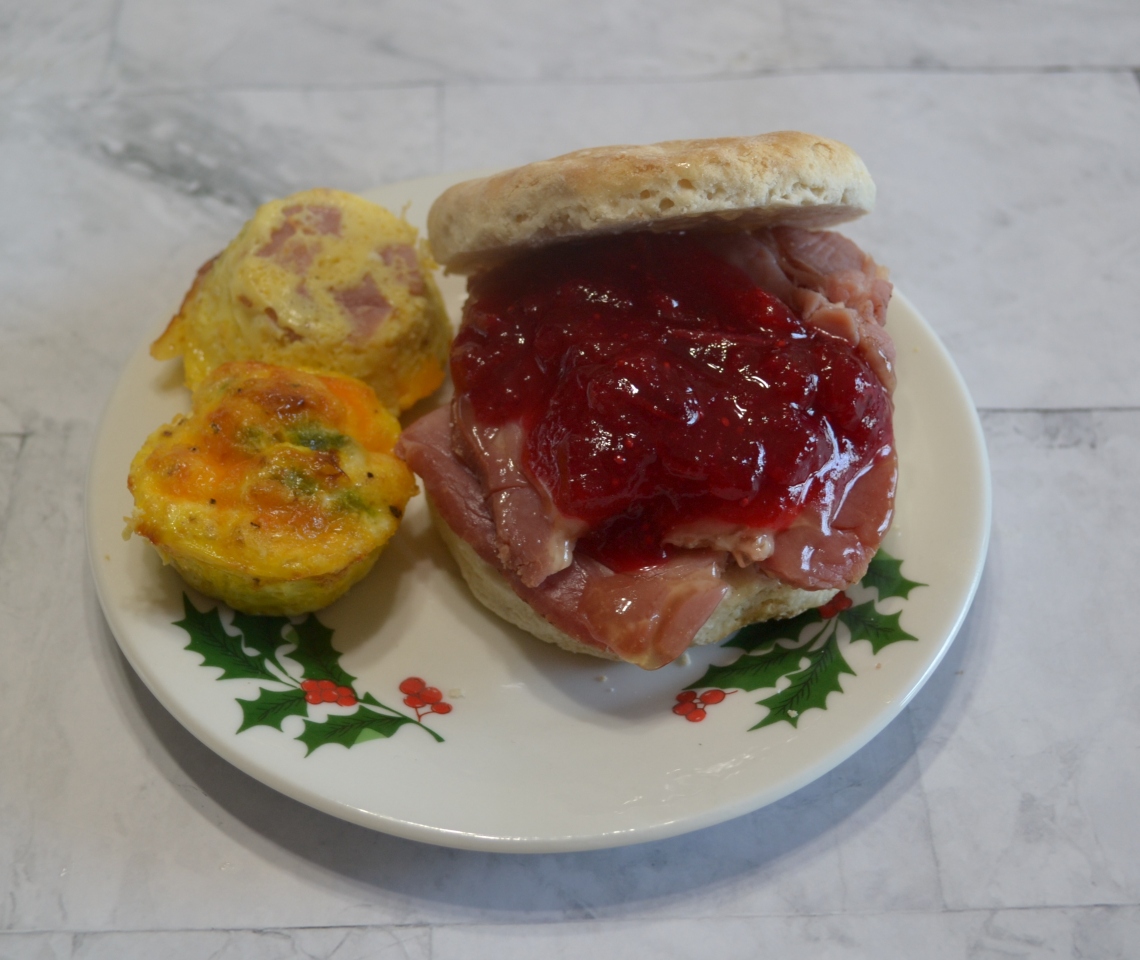 This biscuit was loaded with the ham slices, cranberry sauce, and mini quiche on the side.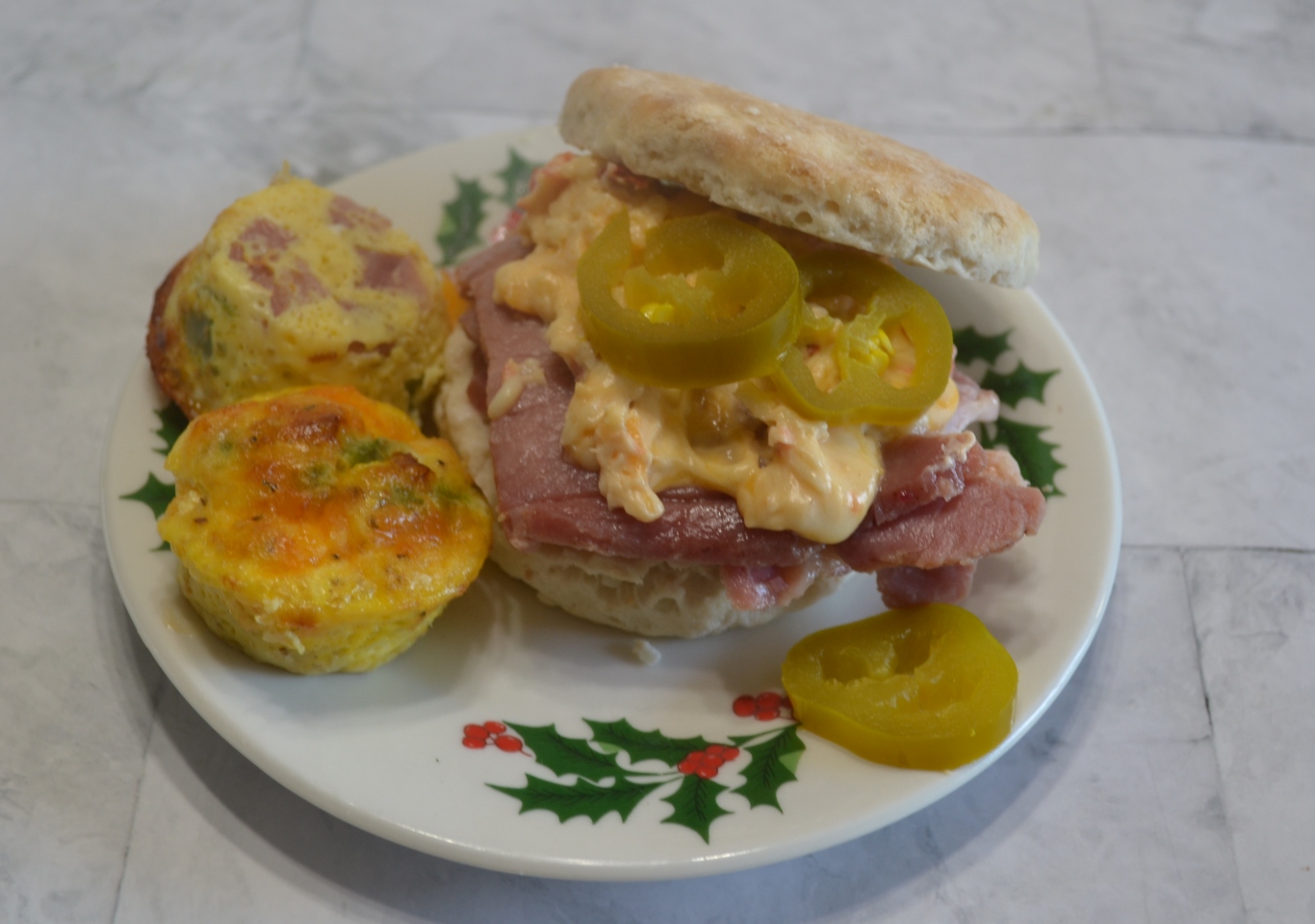 Truly southern combination of ham slices on biscuit topped with warmed pimento cheese, jalapeno slices and mini quiche on the side.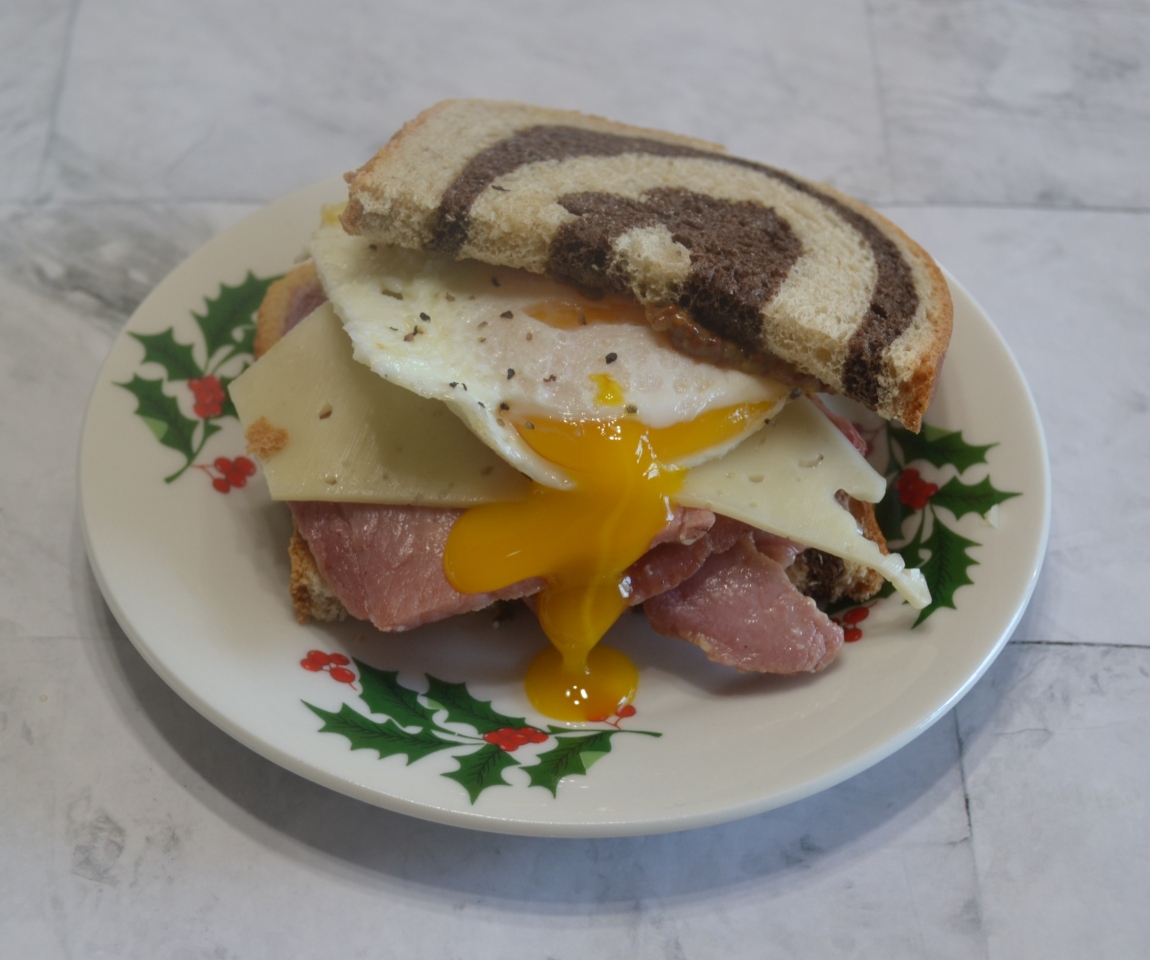 One of my favorites is the swirled deli rye bread topped with ham slices, swiss cheese, fried egg and stone ground mustard.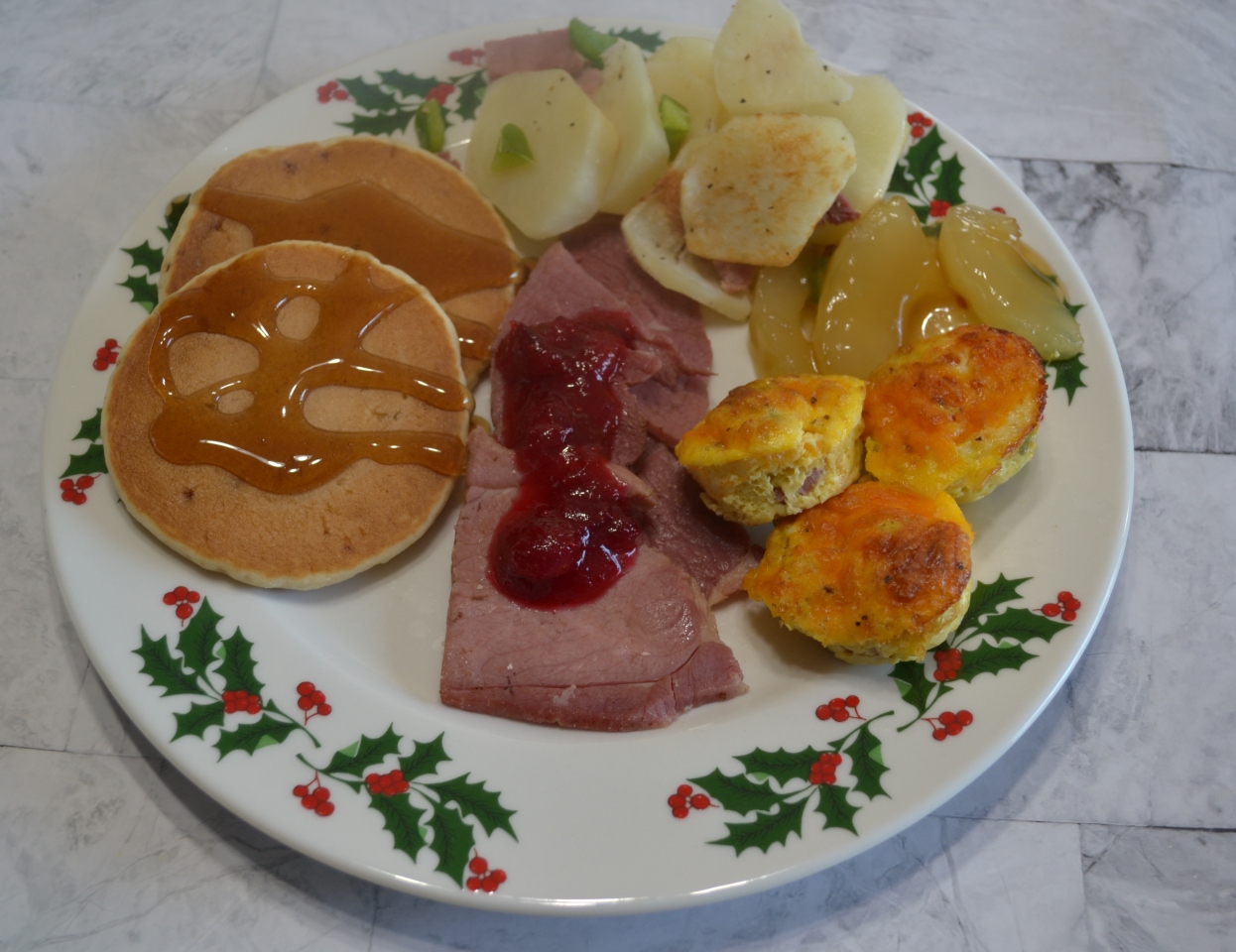 Ham slices topped with cranberry sauce, pancakes with syrup, fried apples, fried potatoes with ham and peppers, and mini quiche on the side makes the perfect breakfast plate.
As you can see the possibilities are endless and all delicious.
Clifty Farm is a fourth generation owned business located in Paris, TN.  According to their website.."The curing process, which is our secret recipe, that produces the delicate flavor of a Real Hickory Smoked Country Ham, has not changed from generation to generation."
Southerners have long known of country ham and serve it frequently.  I have family in NC and it is one of their favorite foods.
For more recipes and information please visit their website
@ www.https://cliftyfarm.com/
Facebook: https://www.facebook.com/CliftyFarm/
Instagram: https://www.instagram.com/clifty_farm/
You can also go to this link for a $1.00 store coupon: https://cliftyfarm.com/store-coupon-page/
COUNTRY HAM MINI CRUSTLESS QUICHE BITES
Ingredients
1 (6oz) package Clifty Farm Country Ham Biscuit Slices
1/3 cup red bell peppers, diced
1/3 cup green bell peppers, diced
3/4 cup shredded cheddar cheese
7 extra large eggs or 8 large eggs
1/2 teaspoon dijon mustard
1/4 teaspoon kosher salt
1/4 teaspoon coarse black pepper
3/4 cup half and half
few dashes of hot sauce
Instructions
Preheat oven to 350 degrees F. Line a large baking sheet with foil. Spray a 24 cup mini muffin pan with no stick cooking spray. Place on baking sheet.
Cut 5 country ham slices into small pieces (diced). Divide ham evenly between the mini muffin cups. May need to use an additional 1 or 2 slices from the package. Arrange the diced red and green peppers evenly between the cups. Top each with shredded cheese.
In a large mixing bowl, beat together the eggs, dijon mustard, salt, pepper, half and half, and hot sauce until well combined. Pour mixture into a small glass measuring cup. Carefully pour small amounts into each cup, covering the ingredients. Do not overfill.
Bake until egg mixture is set, about 15-17 minutes. Remove from oven and allow to set about 5 minutes. Remove each quiche with a butter knife and transfer to a wire cooling rack.
Serve warm or at room temperature.
© 2023 Copyright GRANDMA HONEY\\\\\\\'S HOUSE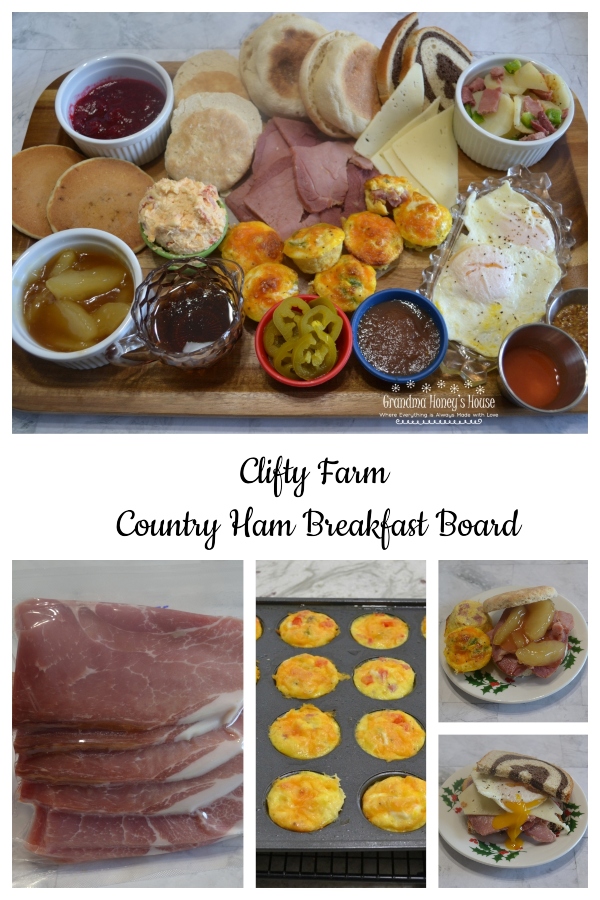 Please follow and like us: