Jump to recipe
Sharing this cute and delicious Shamrock Veggie Pizza today.
A Shamrock Veggie Pizza is an easy and fun appetizer to serve on St. Patrick's Day.  Made with a refrigerated crescent dough  crust, cream cheese and ranch filling, and then topped with green veggies it will be a big hit.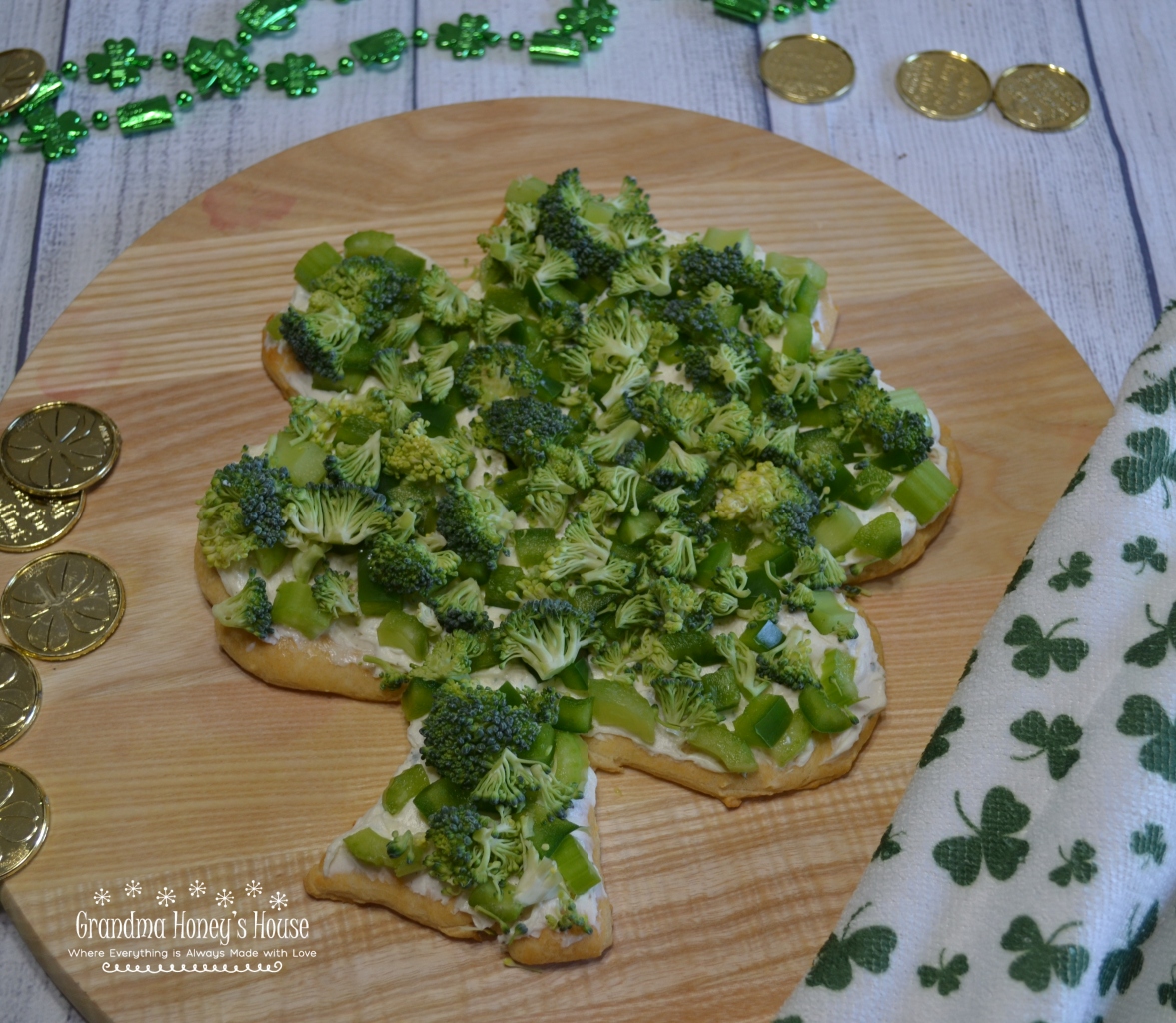 My family loves vegetable pizza and I serve it frequently at parties. I have been making these since the 1970's, but had never tried to make a Shamrock shaped one.
I am not really a crafty person, or have any art talent, so I am sure many people can design a better shaped one.
HOW TO MAKE A SHAMROCK VEGGIE PIZZA: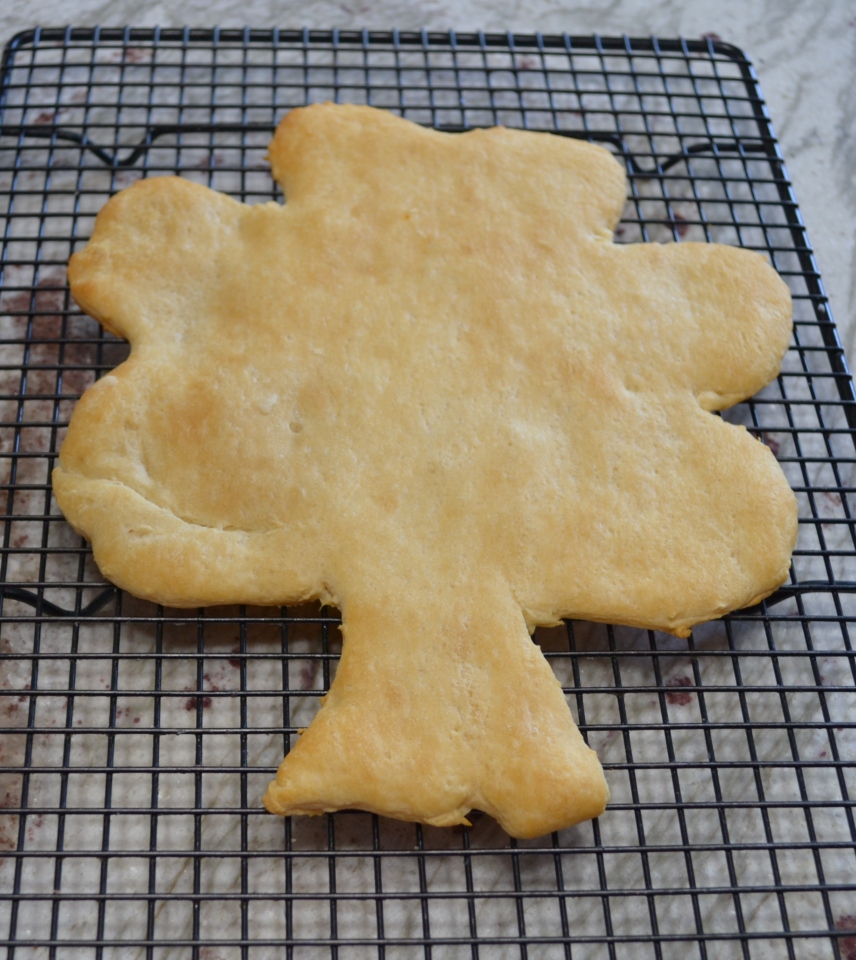 Begin with a Pillsbury Refrigerated Crescent Dough sheet. Roll it out onto a piece of parchment paper, on a baking sheet. I used a small knife to free handed cut out the shape of a shamrock. Bake until light golden brown. Transfer to a wire cooling rack. After cooled, place on a serving tray.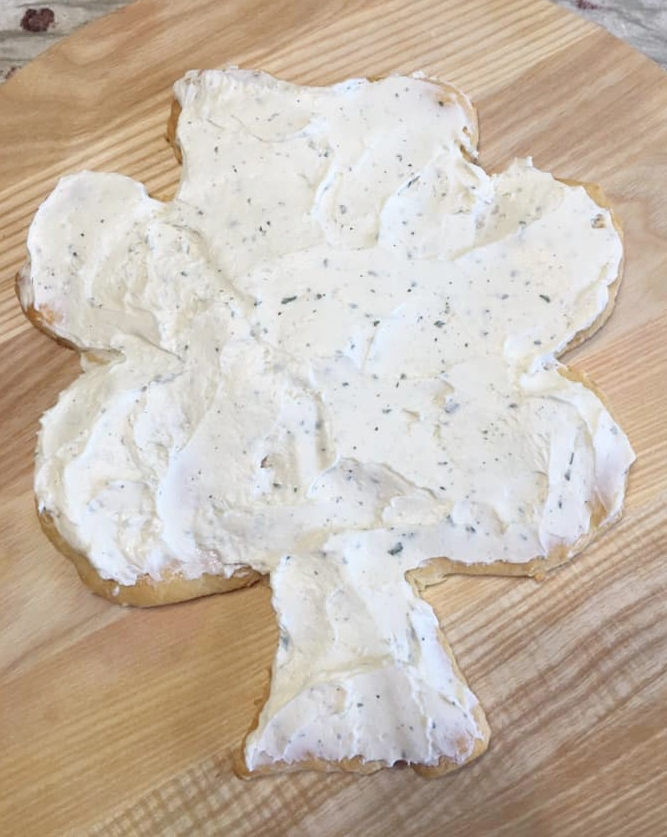 Combine cream cheese, mayonnaise, milk, and a packet of Hidden Valley Ranch  Salad Dressing and Seasoning Mix. Spread over cooled crust.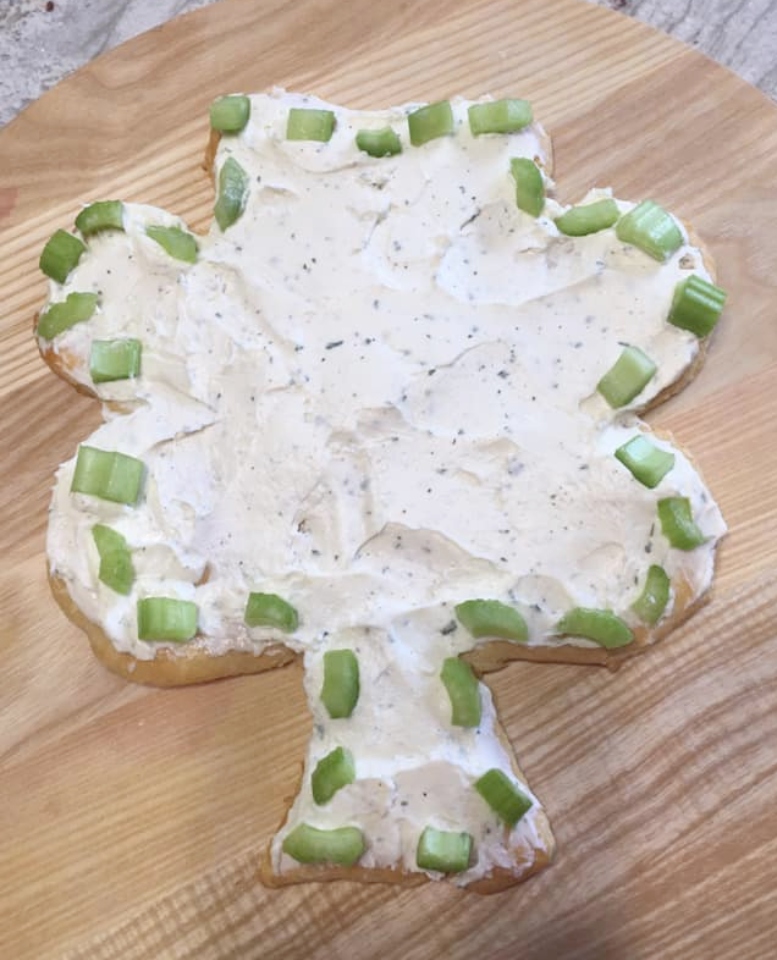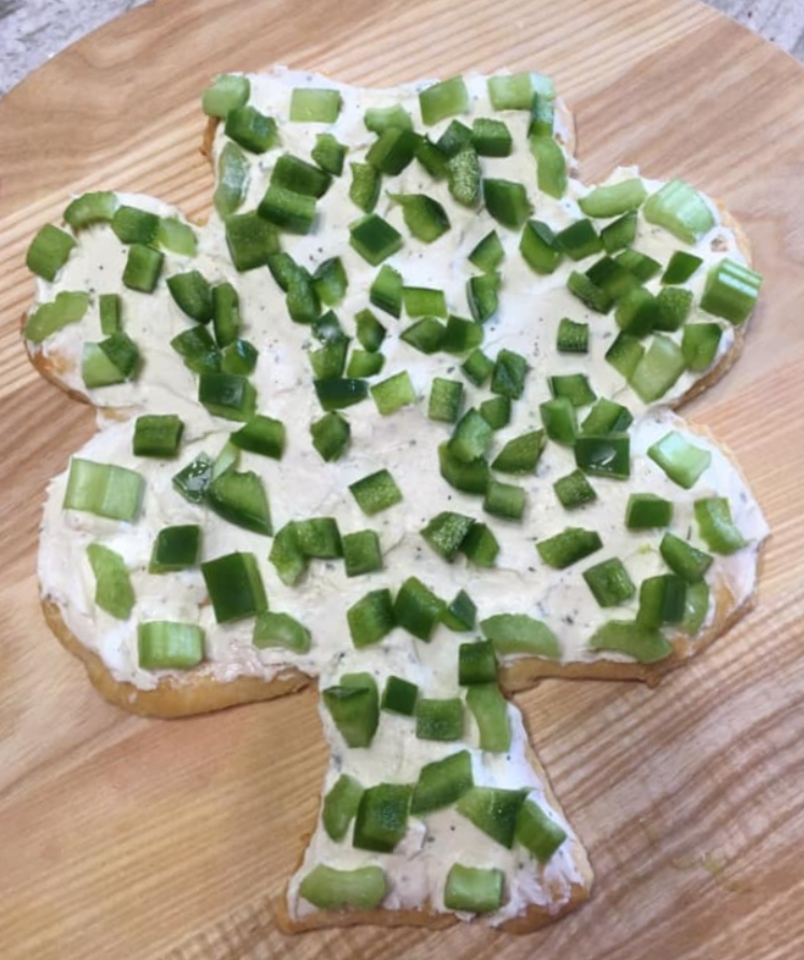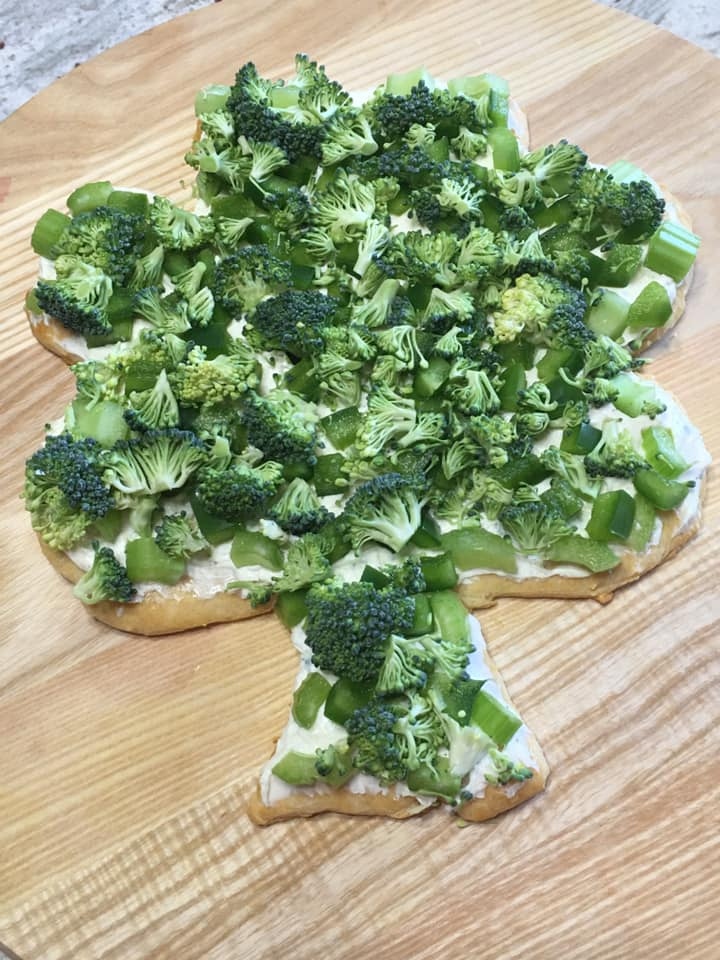 Top with chopped green veggies, such as celery, bell peppers, and broccoli.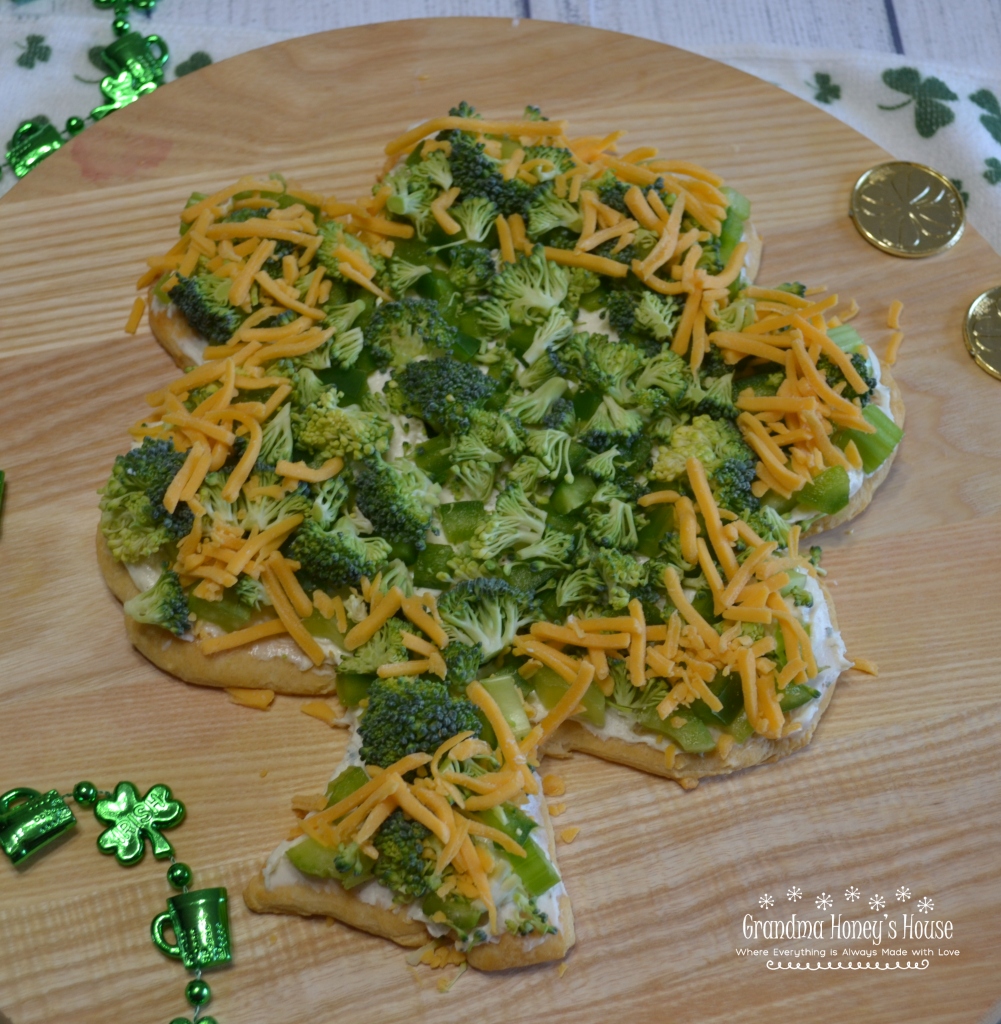 Add shredded cheddar cheese around outside of  shamrock.
Serve on St. Patrick's Day and your family with think you are the greatest!
You may also like this Christmas Crescent Appetizer Wreath that I serve during the holidays. It is a wreath shaped veggie pizza.
This post was shared on Weekend Potluck @Sweet Little Bluebird.
**This was not a sponsored post in any way. The products used in recipe are my own choices and the opinions are 100% mine. 
SHAMROCK VEGGIE PIZZA
Ingredients
1 can Pillsbury Crescent Dough Sheet
1 (8oz) package Philadelphia cream cheese, room temperature
1 (1.0 oz) package Hidden Valley Ranch Salad & Dressing Mix
2 Tablespoons mayonnaise
2 Tablespoons milk
1/2 cup celery, chopped
1 cup green bell pepper, chopped
1 cup fresh broccoli florets, chopped
1 cup shredded cheddar cheese
Instructions
Preheat oven to 350 degrees F. Line a large baking sheet with parchment paper.
Open can of crescent dough, roll out onto parchment paper into an even sized rectangle. Using a small, sharp knife, cut out a shamrock shape from the dough. I did it free handed, but you could draw a form to trace. Remove the excess dough around the shamrock.
Bake until shamrock is light golden brown, about 10-15 minutes. Transfer to a wire cooling rack.
While dough is baking, prepare the filling and toppings. Using an electric mixer, combine the cream cheese, ranch dressing, mayonnaise, and milk until well combined.
After dough is cooled, transfer to a serving tray. Spread the filling evenly over the shamrock. Line celery pieces around the edges. Fill shamrock with the peppers and broccoli. Place the cheese around the outside edges and press down slightly.
Refrigerate until ready to serve.
© 2023 Copyright GRANDMA HONEY\\\\\\\'S HOUSE
Please follow and like us: