I am so excited to be sharing this recipe that I created for the Cape Cod Select Holiday Blogger Recipe Challenge a few years ago.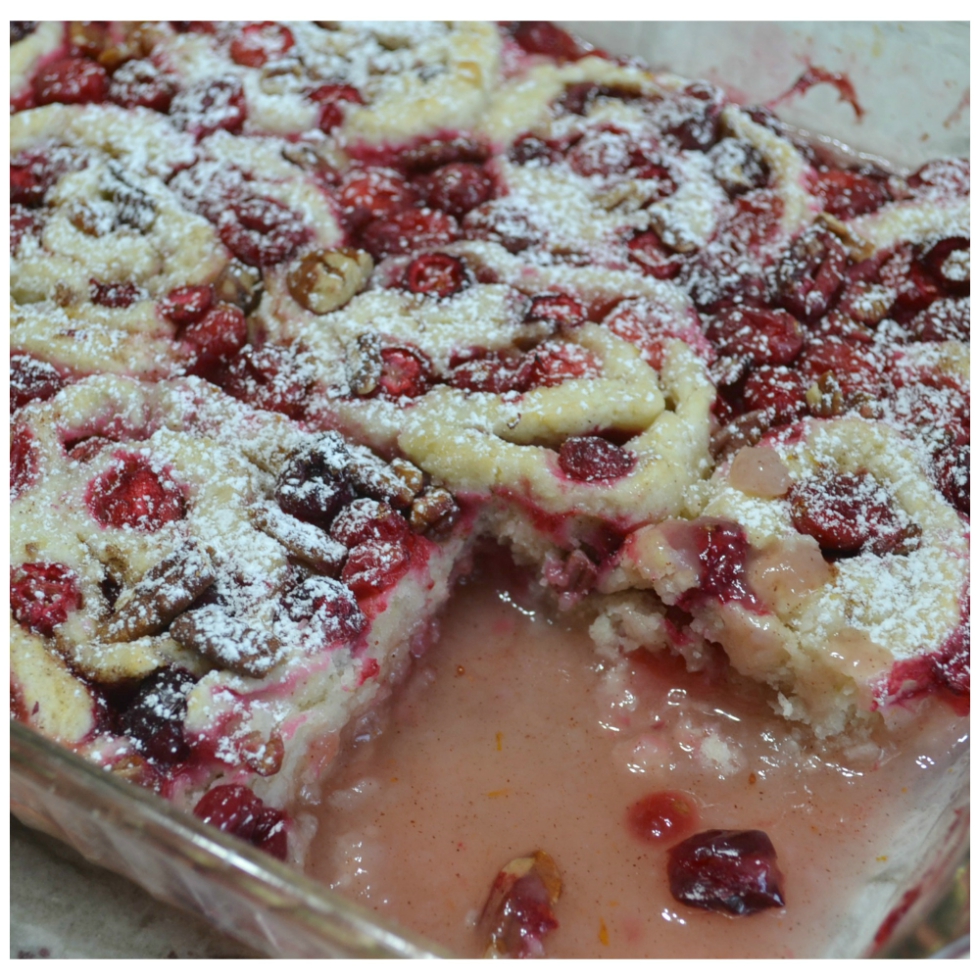 This Rustic Cranberry-Orange-Pecan Cobbler Roll was my entry. I did not win anything, but my family won by having this cobbler to eat!
It is perfect to add to your Thanksgiving dessert table.
Frozen Cranberries are so wonderful to bake with because they are always available. I like to keep a bag on hand to use year round.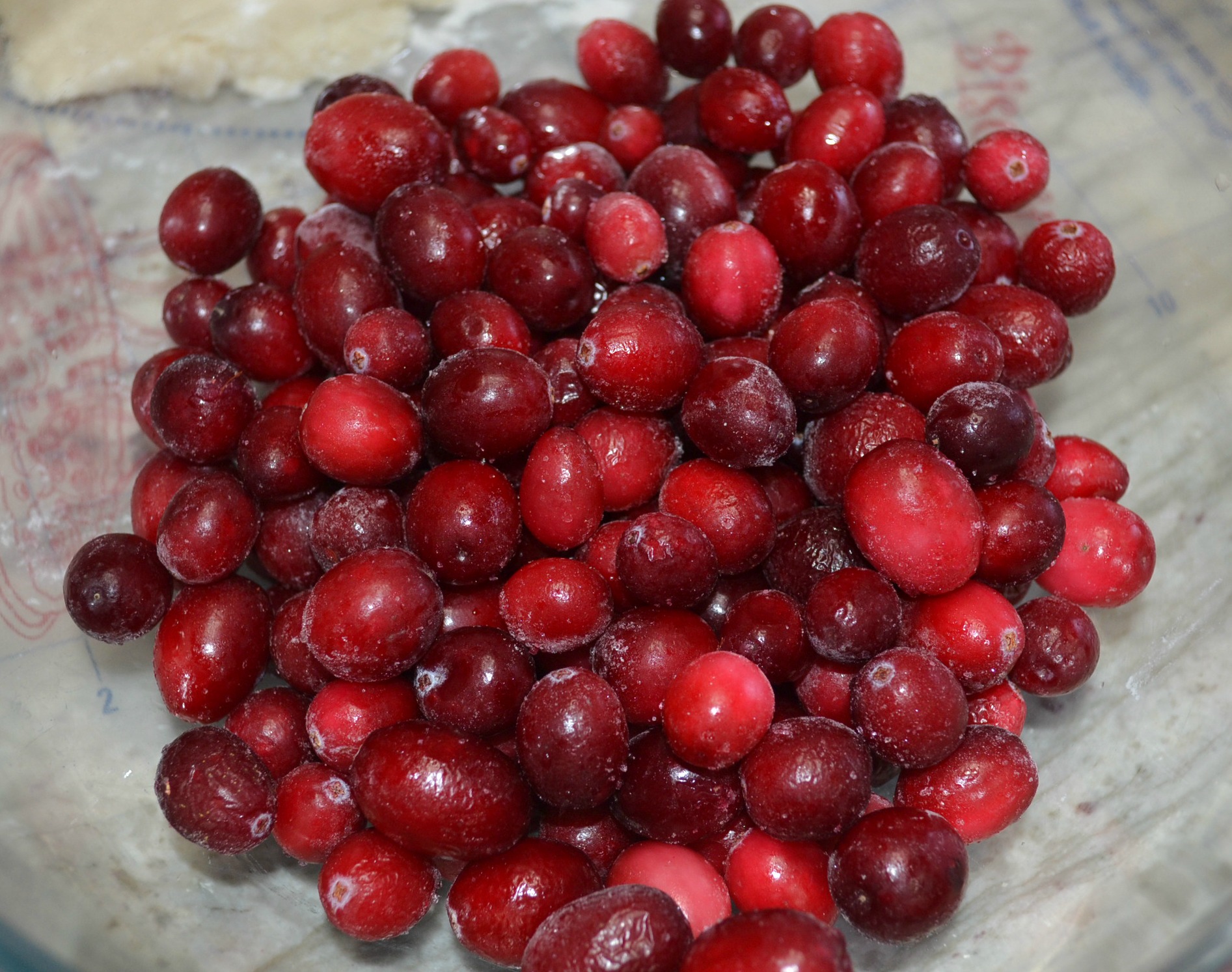 These were so perfect and such a vibrant color.
My husband and I eat a lot of cranberries in savory as well as sweet dishes.
Rustic Cranberry-Orange-Pecan Cobbler Roll is perfect for the upcoming holidays, and is a delicious twist on an old fashioned cobbler. It is a cobbler crust, rolled out and filled with cranberries, orange zest, cinnamon-sugar, and pecans. The roll is cut into slices and baked in a simple syrup sauce.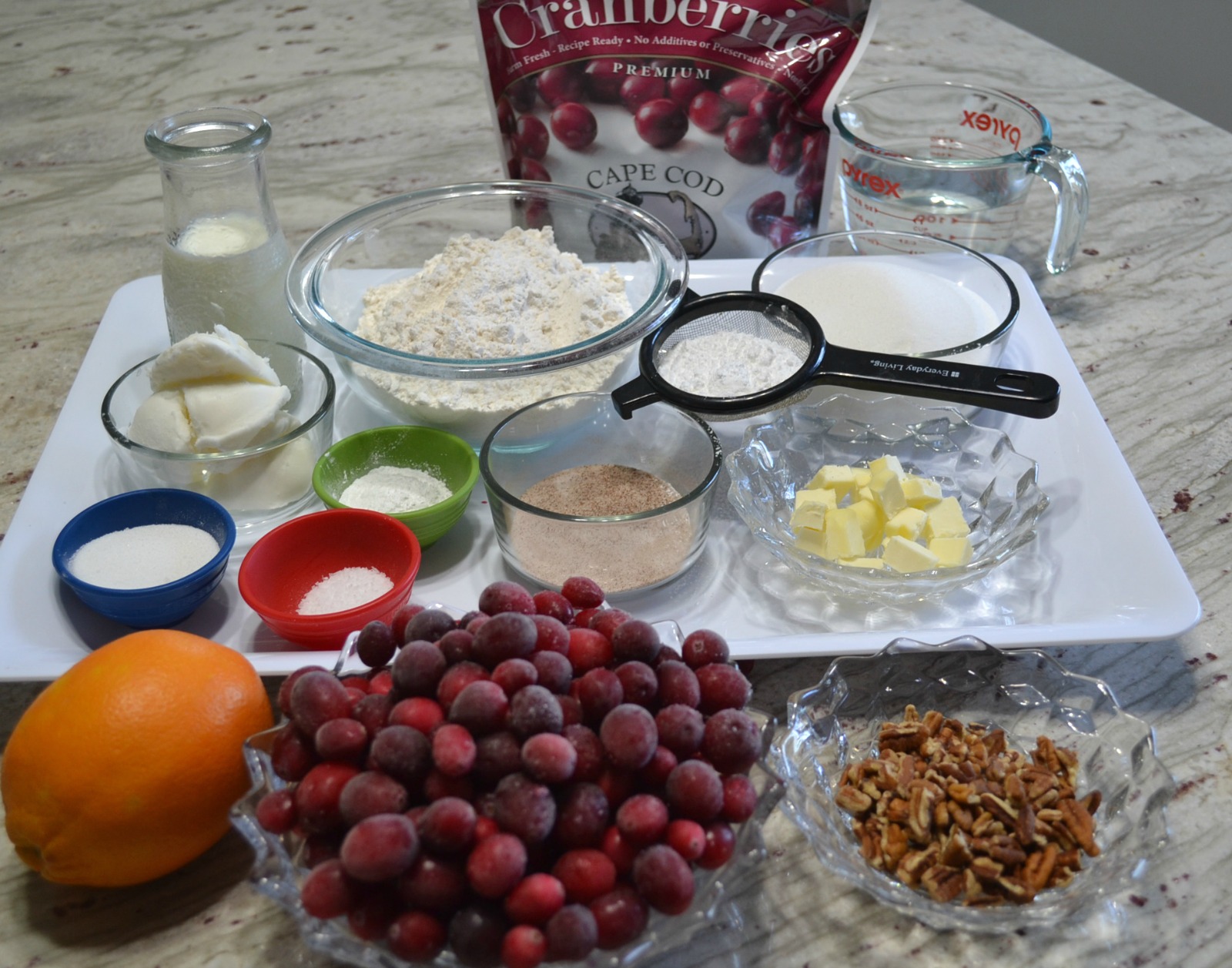 Assemble the ingredients.
Whisk together a simple syrup of water and sugar in baking pan. Bake until dough slices are ready to go into this.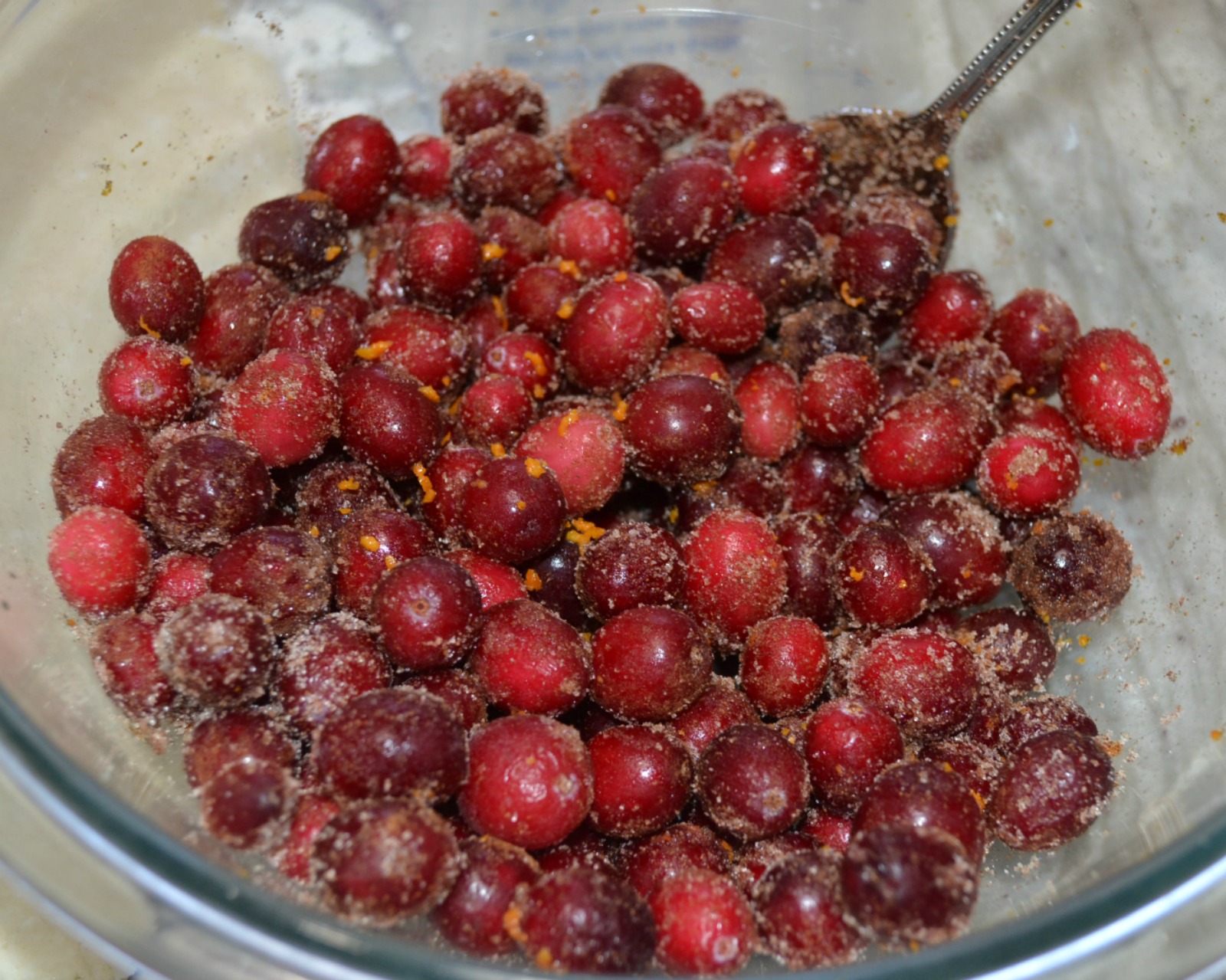 Mix together ingredients for filling.

Prepare and roll out the crust.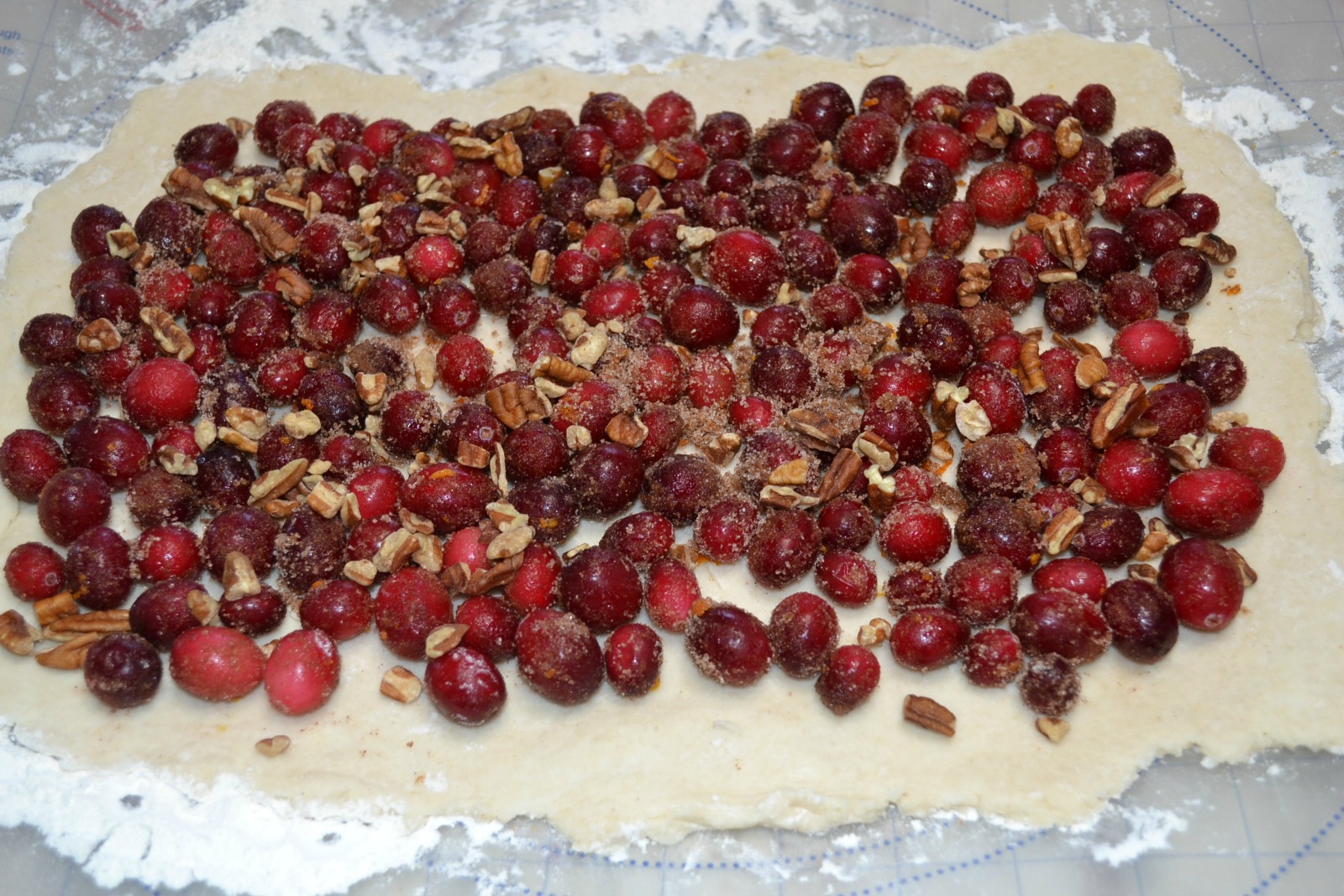 Arrange part of the filling onto the dough, pressing the cranberries down slightly into the dough.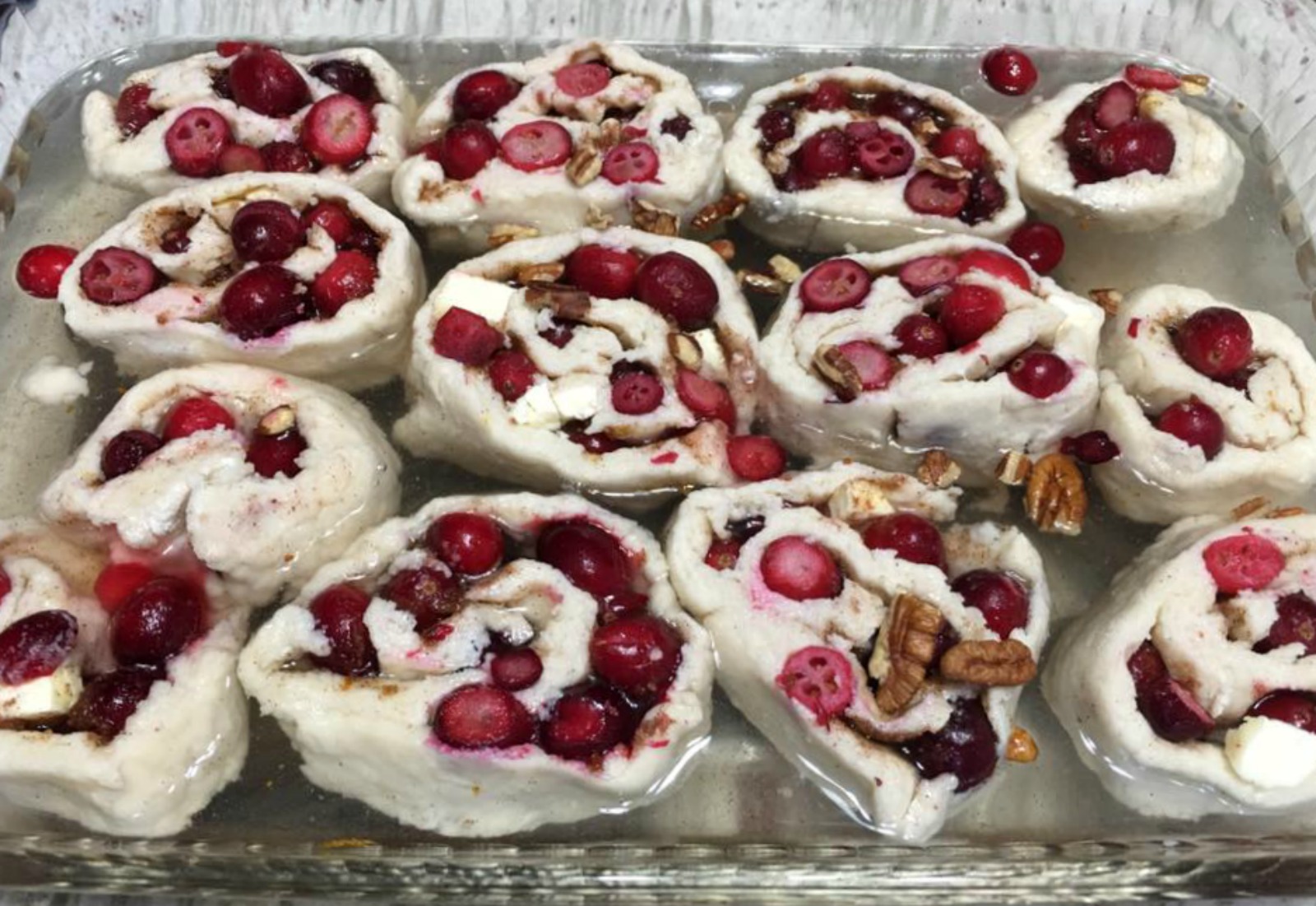 Roll up like a jelly roll. Cut into 1-inch slices and place into syrup. You can see how perfect these cranberries are. The slices do not have to be perfect as they will bake together. I also shaped them in my hand before I put them in the syrup to keep everything together.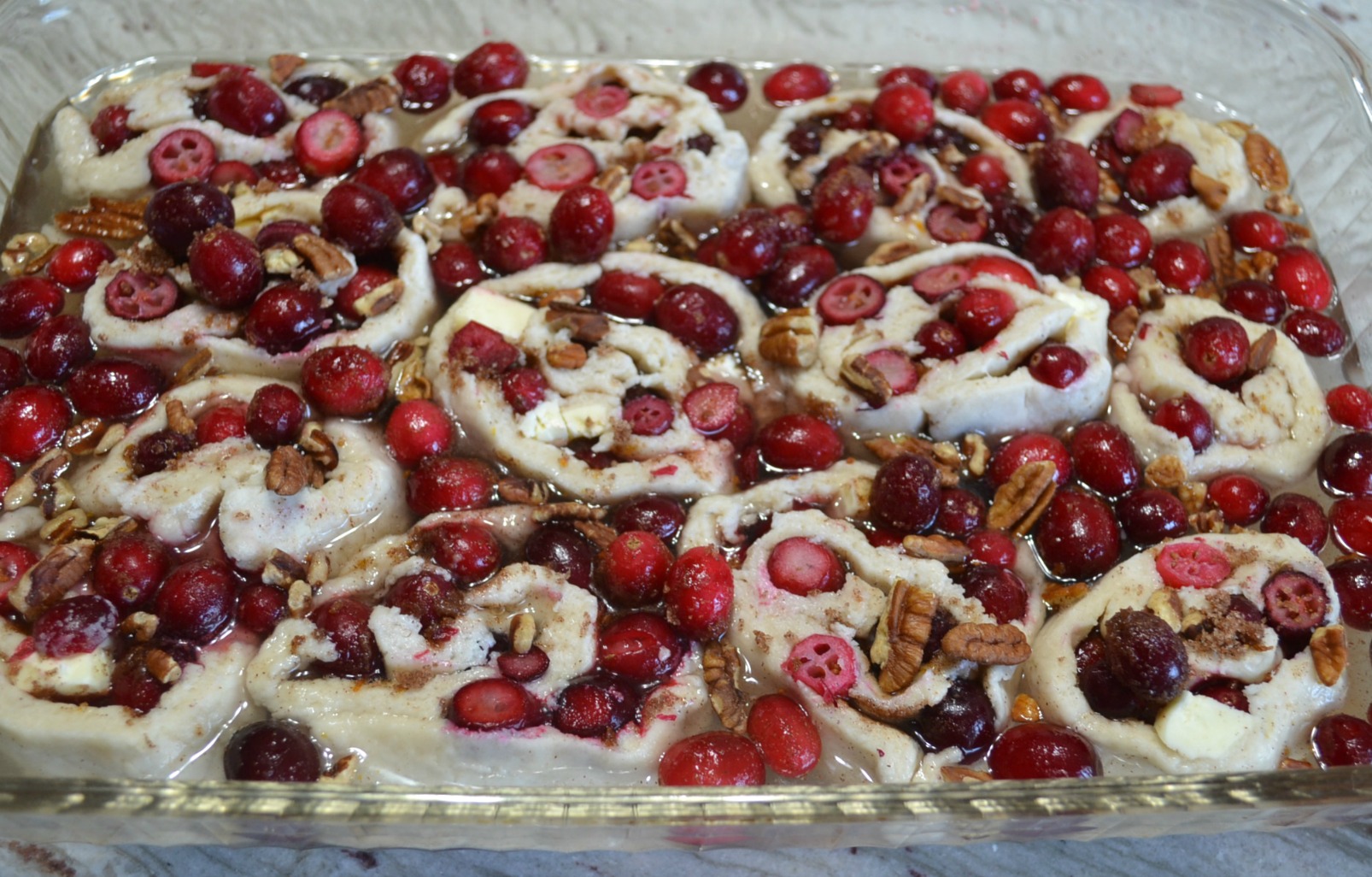 Top with remaining cranberries, and nuts, and be sure to scrape any cinnamon-sugar from the bowl to add to the pan.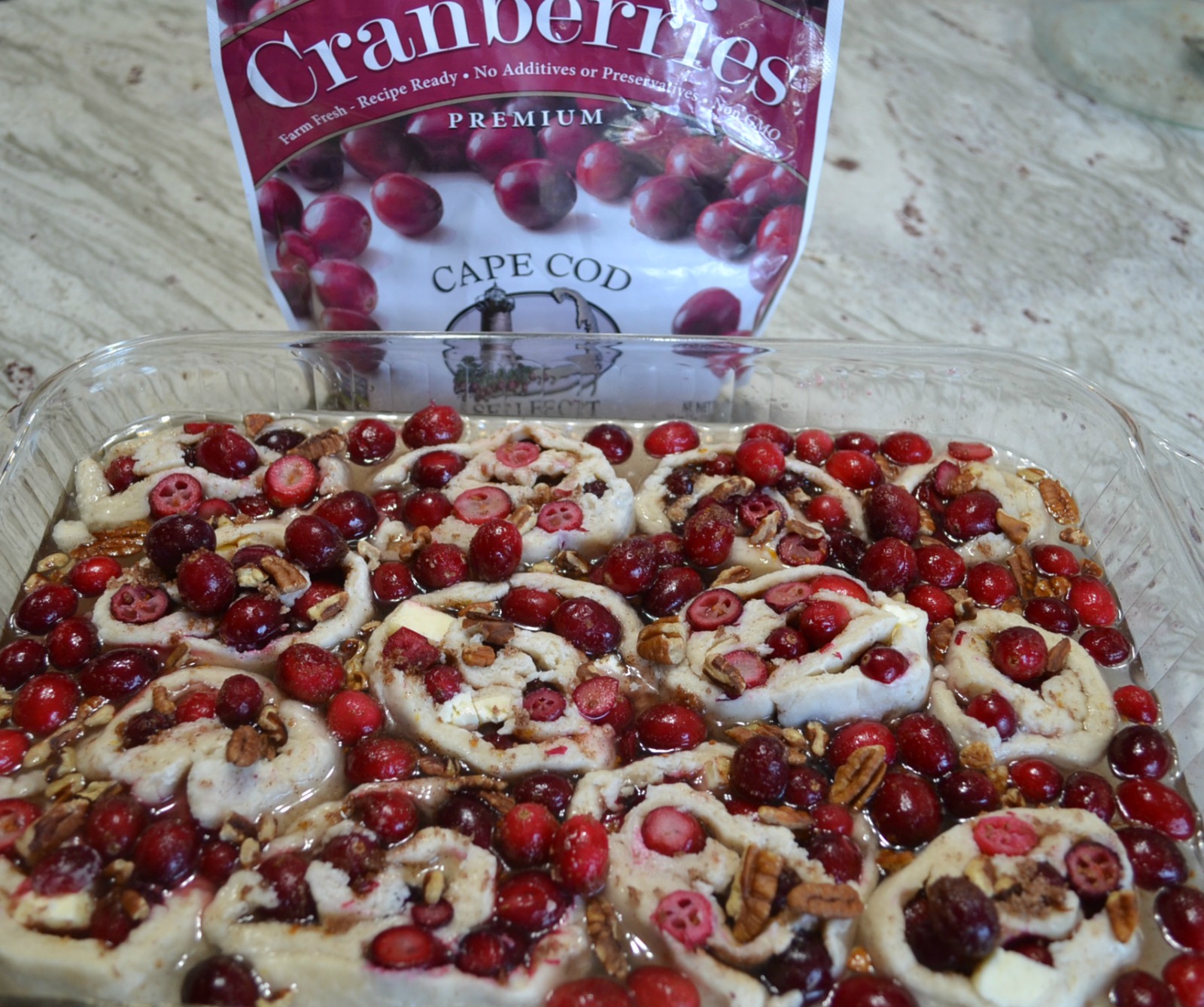 Ready for the oven! Bake until light golden brown.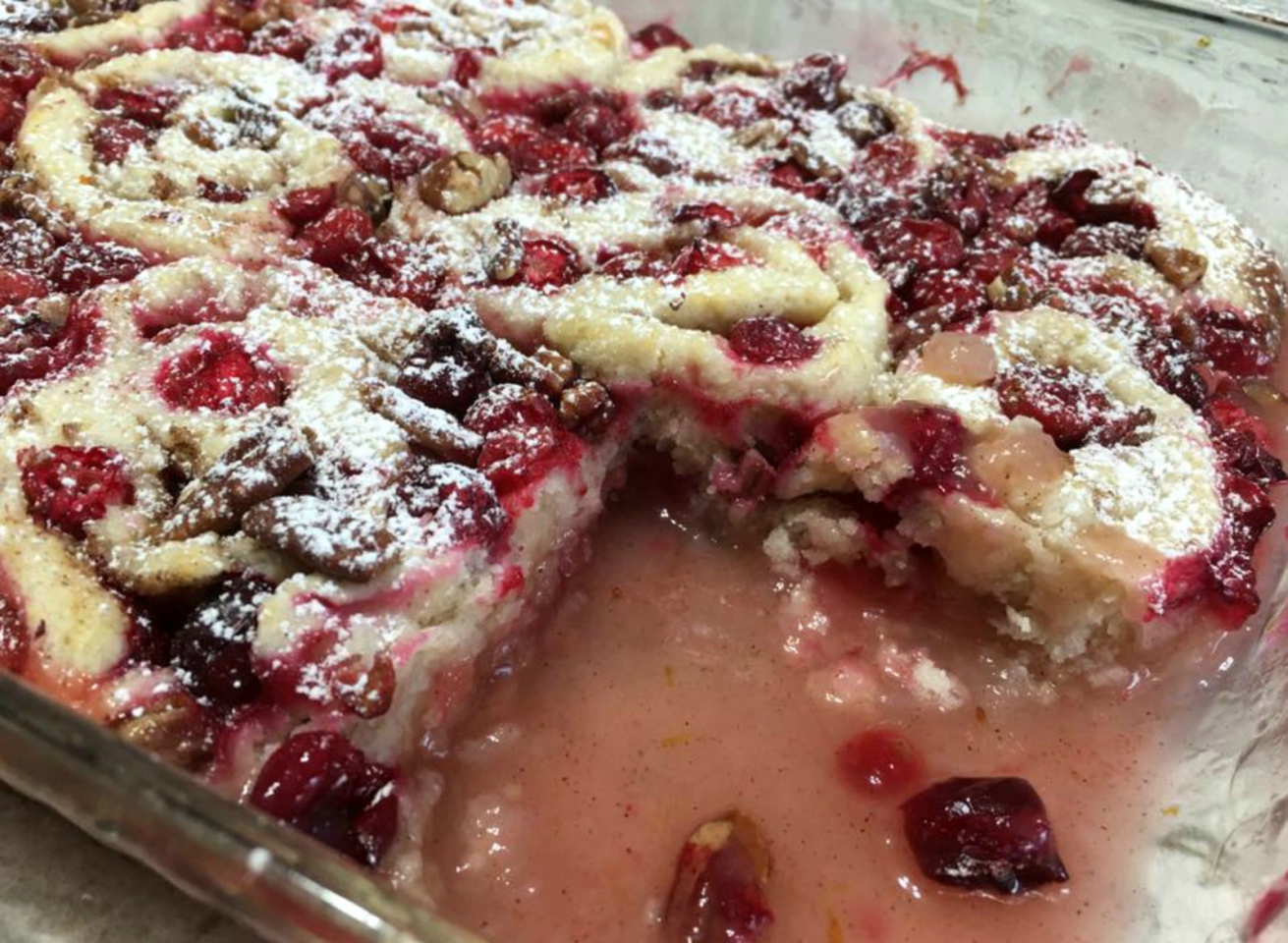 Allow to cool slightly and sprinkle with confectioner sugar.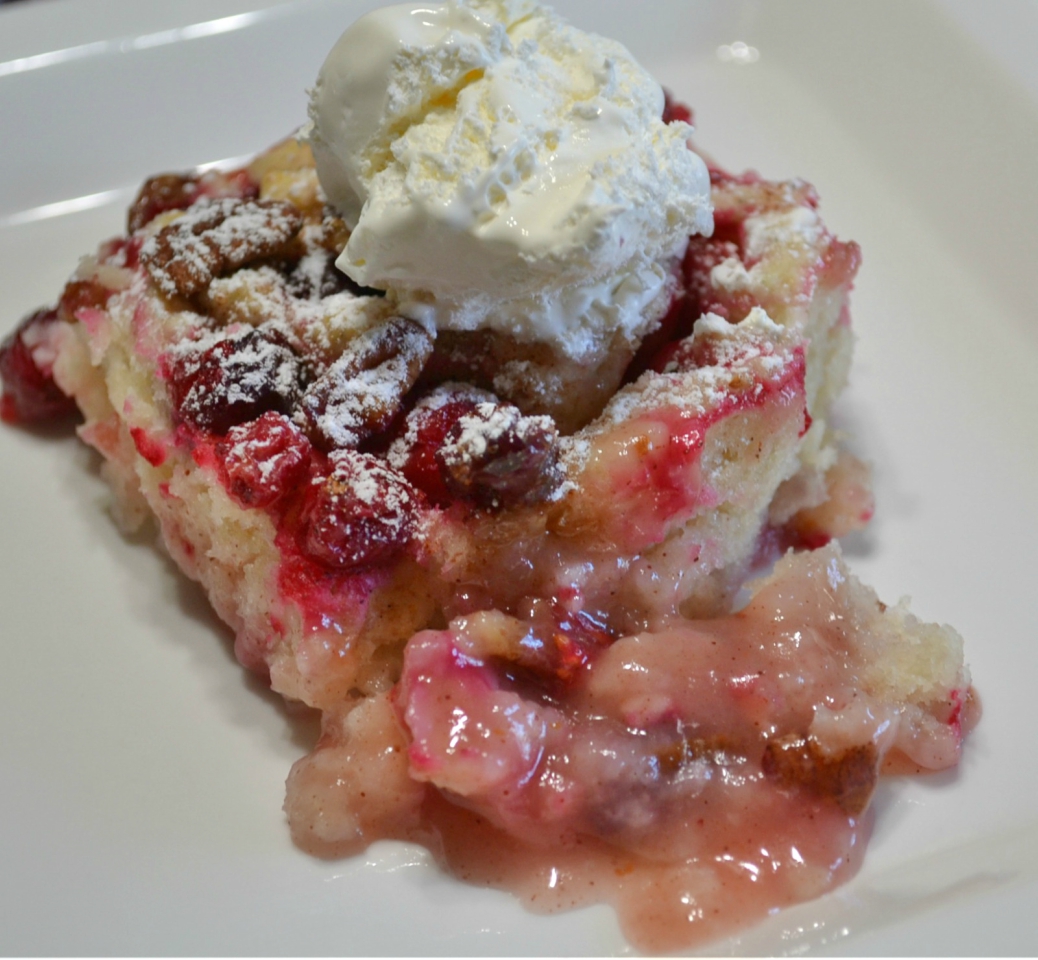 Top with ice cream or whipped topping if desired.
Frozen Cranberries added such color to this cobbler roll and held their shape after baking. They had just the right amount of tartness. It was a perfect balance of taste with the sweetness of the simple syrup in my recipe.
I made this recipe twice to get the amounts correct on some of the ingredients. I must admit that I could not quit sampling it every time I went through the kitchen.
If you like this cobbler roll, another one to try is the blueberry version.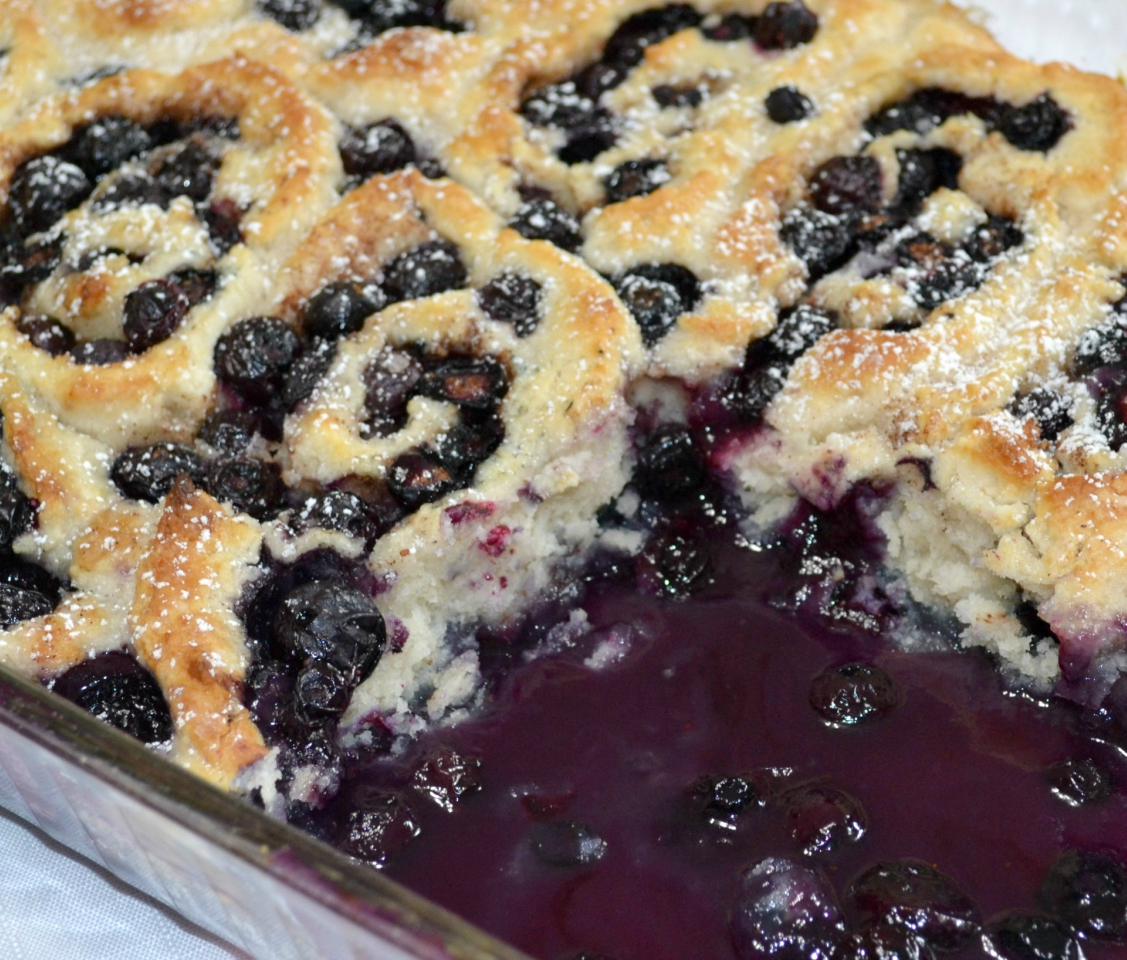 Rustic Cranberry-Orange-Pecan Cobbler Roll
2016-11-13 12:14:03
Serves 12
SAUCE
2 1/2 cups water
1 1/2 cups sugar
CRUST
2 cups all purpose flour
(+ 1/4 cup to sprinkle on pastry sheet)
2 Tablespoons sugar
3 teaspoons baking powder
1 teaspoon kosher salt
6 Tablespoons solid shortening
3/4 cup whole milk
FILLING
3 1/2 cups CAPE COD SELECT PREMIUM FROZEN CRANBERRIES
2 Tablespoons sugar
1 teaspoon ground cinnamon
zest of 1 medium orange
1 teaspoon juice from orange
1/3 cup pecans, roughly chopped
2 Tablespoons cold butter, cut in small cubes
2 Tablespoons sifted confectioner sugar
ice cream or whipped topping if desired
Instructions
Preheat oven to 375 degrees F. Whisk together the water and sugar in a 13x9 inch glass baking dish. Place in oven and allow to bake until it starts to bubble or dough is ready to be placed in it. Remove carefully from oven.
In a large mixing bowl, sift together the flour, sugar, baking powder, and salt.
Using a pastry cutter, or fork, cut in the shortening until crumbly. Stir in the milk and form ball. Chill dough about 10 minutes.
Sprinkle some of the extra flour on flat work surface. Roll dough out into a rectangle about 12x8 inches.
Place the cranberries in a large mixing bowl. Combine the sugar and cinnamon and sprinkle over the cranberries. Add orange zest, orange juice, and pecans to bowl. Toss gently to combine the ingredients.
Arrange about 2 cups of the cranberry mixture evenly over the dough. Place butter cubes over the cranberries.
Roll dough up, jelly roll style. Cut slices 1-inch thick and place, cut side down, into the syrup. ( I lightly shaped each slice in my hand prior to putting it into syrup to keep it together better) Add the remaining cranberries, nuts, and cinnamon-sugar from bowl, over top of the rolls.
Bake until crust is light golden brown and syrup is bubbly, about 25 to 30 minutes.
Remove from the oven and allow to cool slightly. Sprinkle confectioner sugar.
Top with ice cream or whipped cream if desired. Serve warm. Serves 12
.
Notes
As this sets, the simple syrup it is baked in will absorb a little more into the cobbler rolls and is so delicious!
GRANDMA HONEY'S HOUSE https://grandmahoneyshouse.com/
Please follow and like us: