Jump to recipe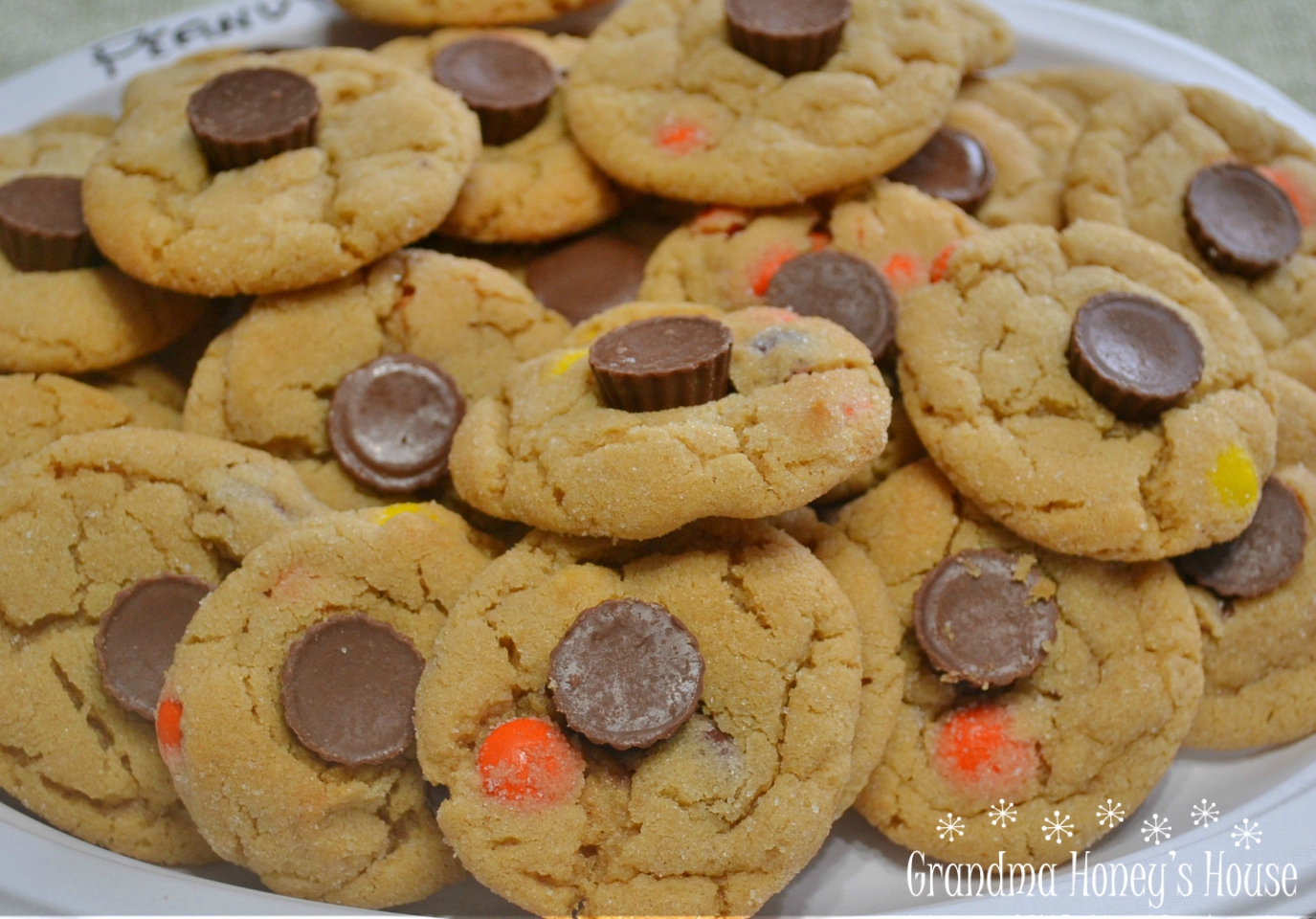 This recipe for Triple Peanut Butter Cookie Delights was created by using the
leftover candies from my Halloween baking.
I like to go through my baking cabinet, spice drawer, and dry goods frequently to use items that may be ready to expire.  It is a chance to  also use candies, chips, or other baking products that were seasonal.
Last year I found a variety of chips and candies, so making cookies was the obvious way to use them.  I will share some other recipes over the next few weeks, but first is Triple Peanut Butter Cookie Delights.
I used a basic peanut butter cookie recipe and then added
mini reese's pieces,  m&m's, and mini peanut butter cups. Any kind of little candies will work, or break bigger candy pieces into smaller ones.
When making cookies with leftover candies and chips, there does not have to be an exact measurement.  You do need to measure the actual cookie dough ingredients, but feel free to throw in whatever candies you have.
Prepare the dough.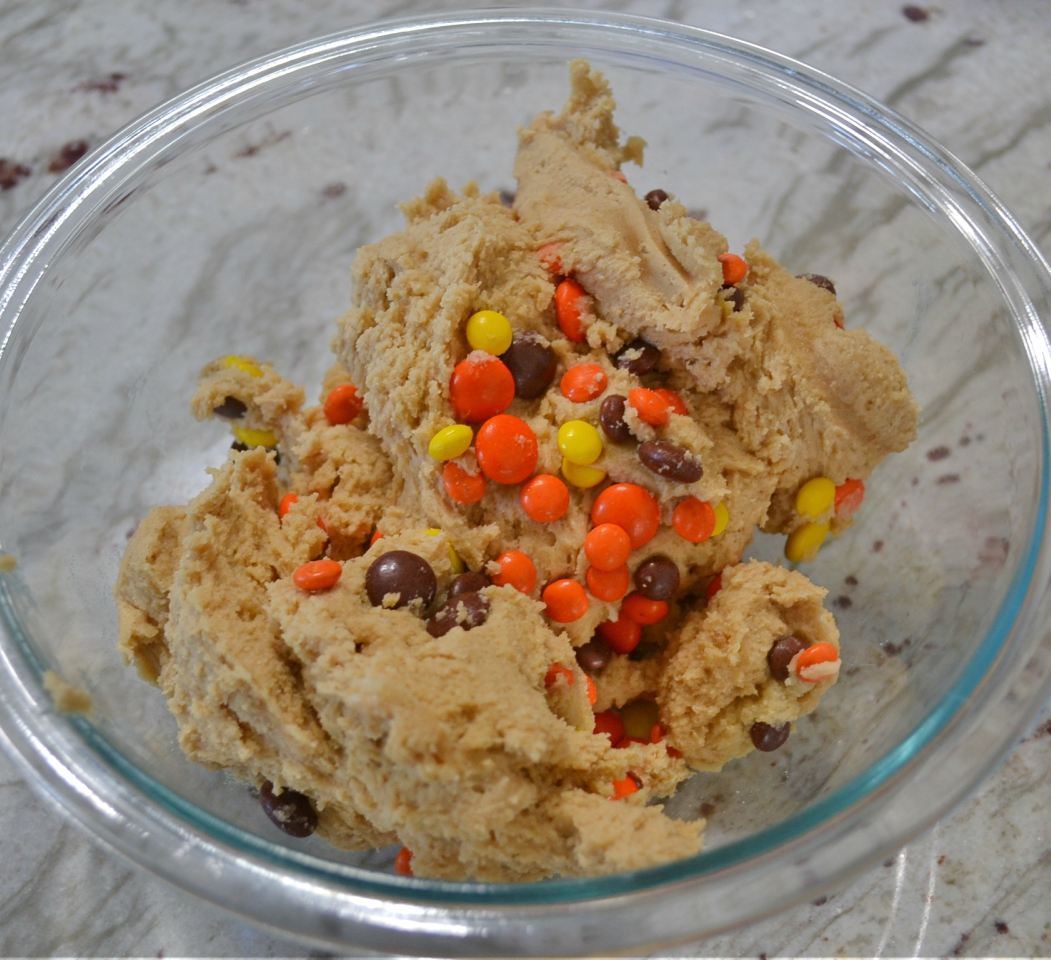 Add chips and candies.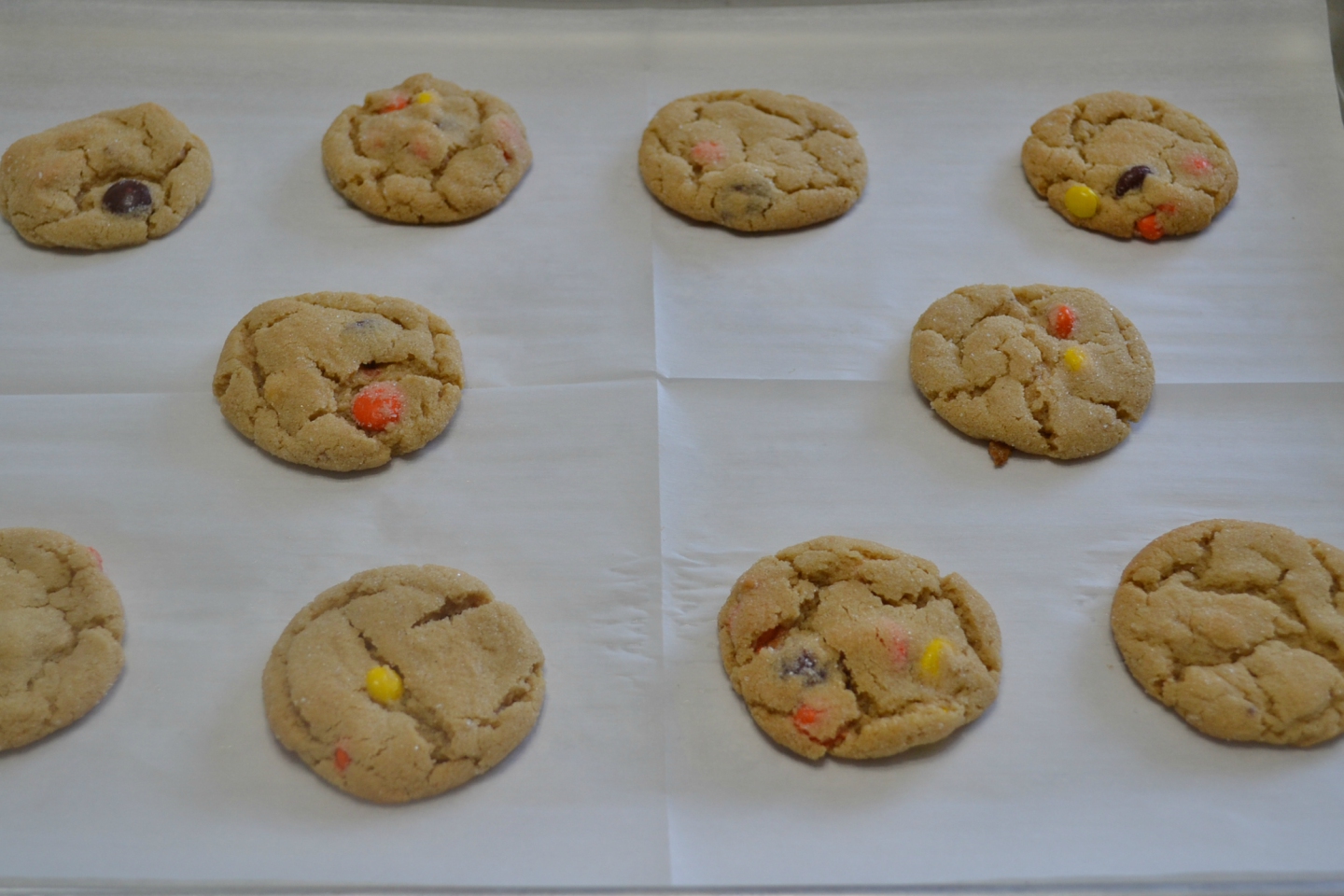 Bake.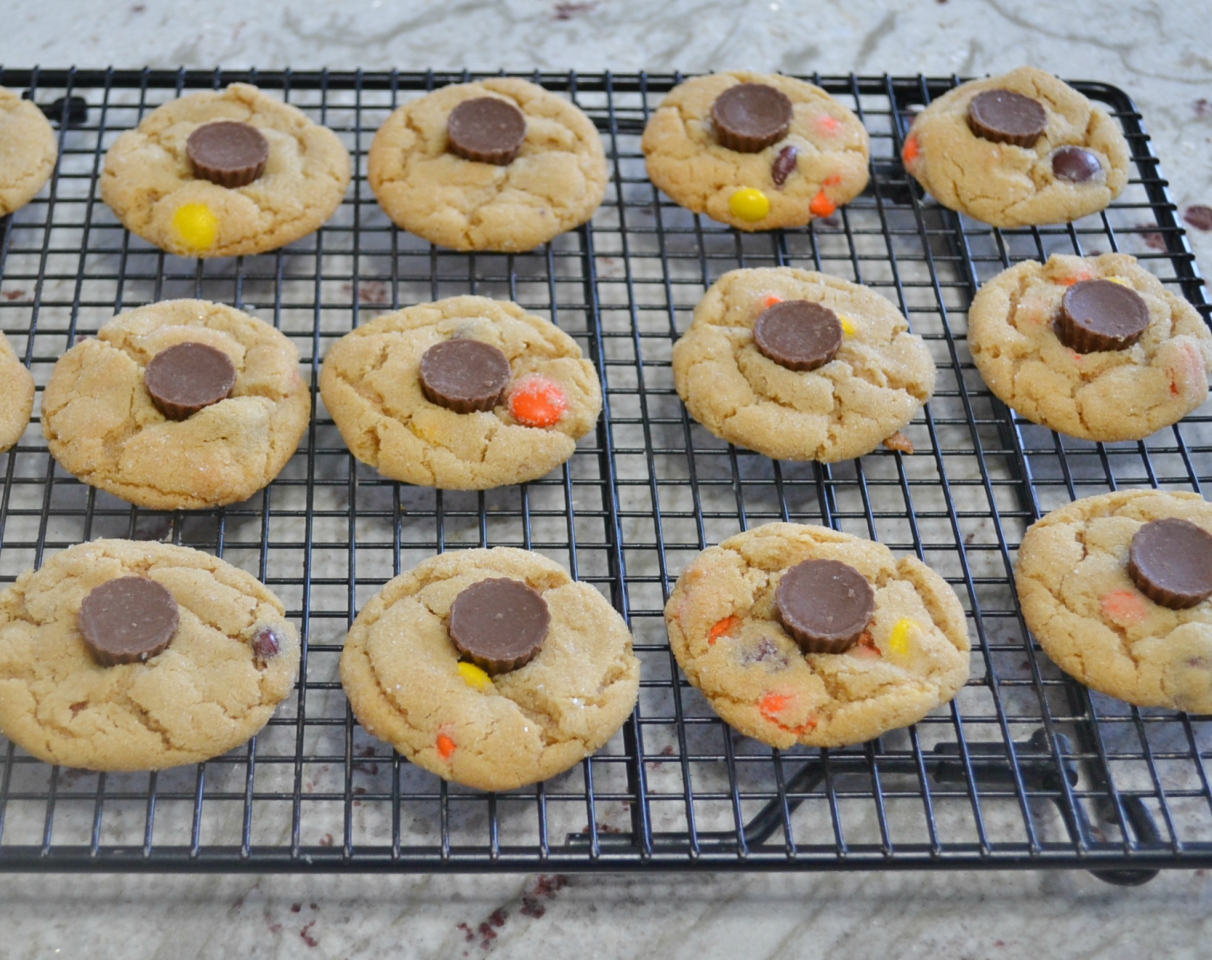 Transfer to a wire rack to cool slightly, add mini peanut butter cups to center of cookies.  I did not have enough
mini cups for all of the cookies, so some were left plain.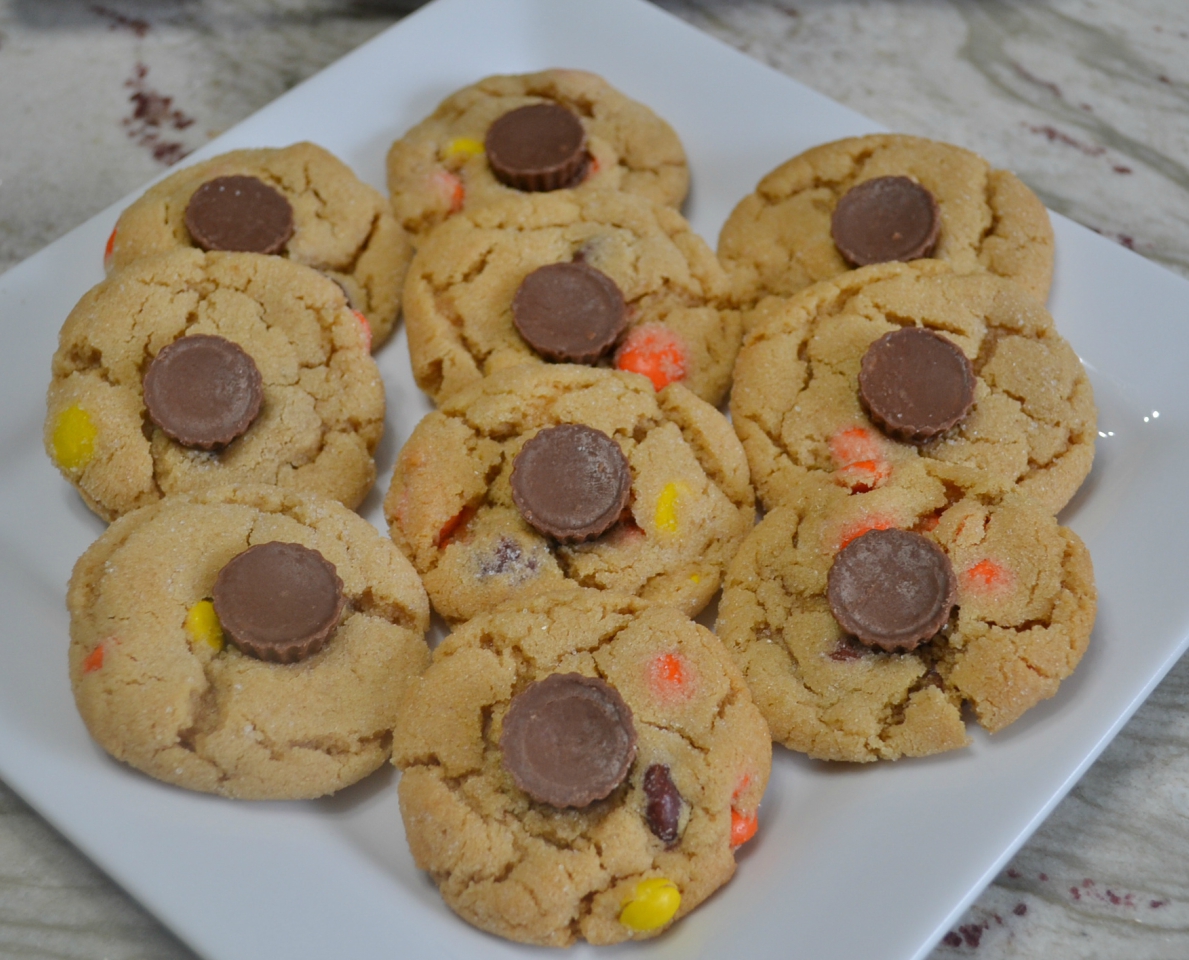 Since I am trying to eat fewer sweets, I did taste 2 and then
gave the rest away.  Hopefully I can be as strong with the other kinds of cookies that I bake.
TRIPLE PEANUT BUTTER COOKIE DELIGHTS
Ingredients
2 1/2 cups all purpose flour
1 1/2 teaspoons baking soda
1 teaspoon baking powder
1/2 teaspoon kosher salt
1 cup butter, softened
1 cup creamy peanut butter
1 cup granulated sugar
1 cup brown sugar
2 large eggs
2 cups mini candies (m&m's, reese's pieces, mini peanut butter cups)
1/4- 1/3 cup sugar to roll cookies in
Instructions
In a medium size mixing bowl, sift together the flour, soda, baking powder, and salt: set aside.
In a large mixing bowl, cream together the butter and peanut butter, using an electric mixer. Add the sugars and eggs, beat until well combined.
Gradually add the dry ingredients in 3 portions; beat until well combined.
Set aside the mini peanut butter cups; stir in the remaining mini candies. Chill dough for 1 hour.
Preheat oven to 350 degrees F.
Using a small scoop or spoon, roll dough into 1 1/2 inch balls. Roll balls in the sugar.
Place on parchment lined baking sheet.
Bake for 8-10 minutes, or until cookie edges start to become golden brown. Remove from oven and allow to set on baking sheet about 5 minutes.
Transfer to wire cooling rack. Allow to cool slightly and then press in mini peanut butter cup.
© 2023 Copyright GRANDMA HONEY\\\\\\\'S HOUSE
If you like peanut butter cookies, these are also great to try:
Peanut Butter Toffee Chocolate Chip Cookies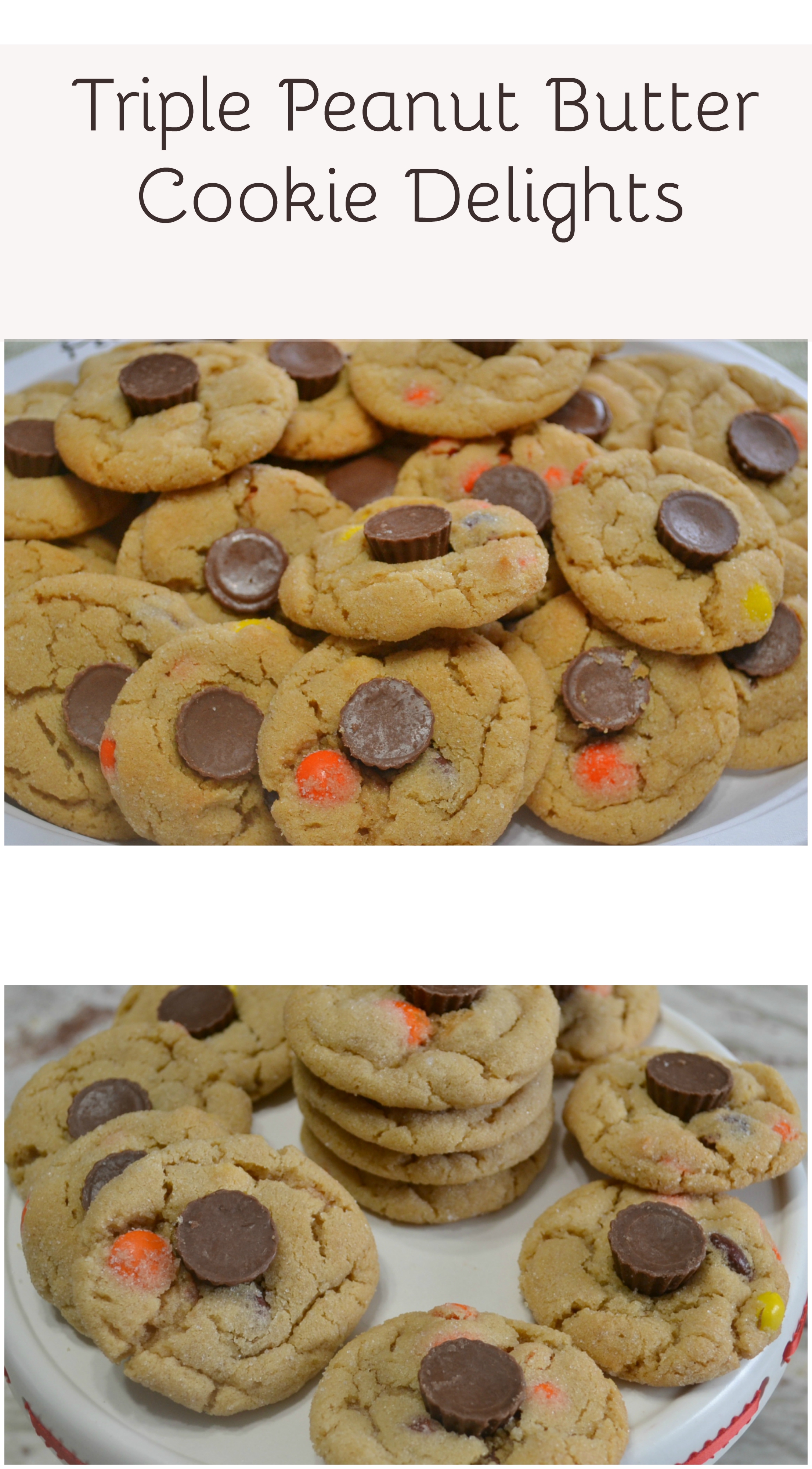 Please follow and like us: