Jump to recipe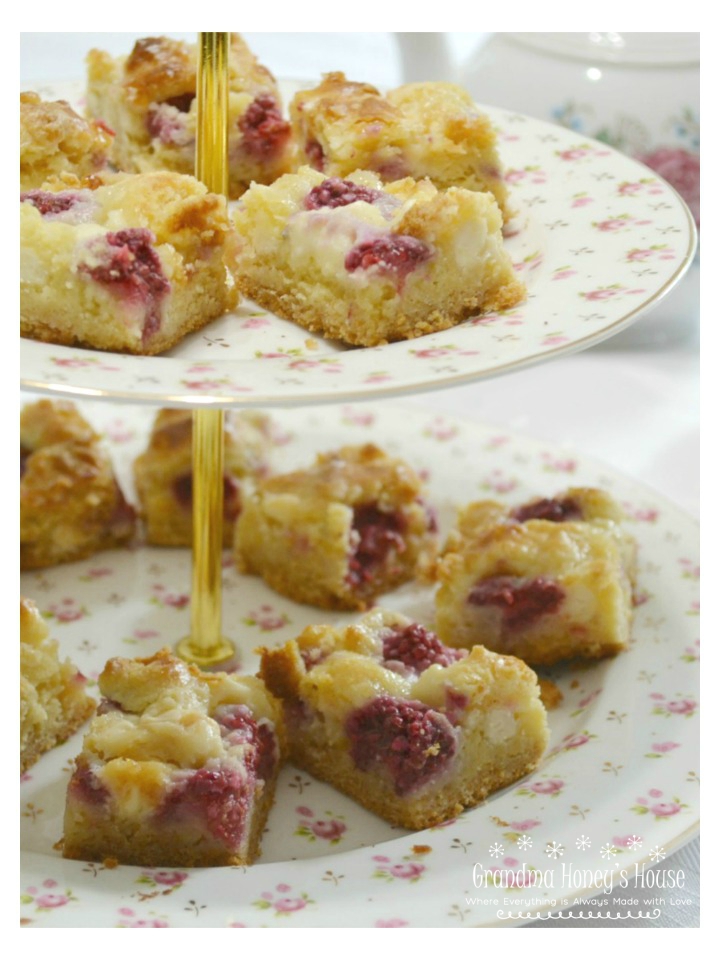 These Raspberry White Chocolate Cake Bars are the perfect treat to serve at any upcoming parties.
I picked up a variety of fresh berries at a farm stand a
few days ago and have been doing some experimenting
with them.  I first tried this recipe with blueberries, but it
tasted like eating a spoonful of jelly.  They turned out delicious with raspberries.  The flavors of raspberry, white chocolate, and sweetened condensed milk makes these Raspberry White Chocolate  Cake Bars an elegant, easy to make dessert.
The dry cake mix gives these bars a nice texture.  These
bars also transport well when taking to a covered dish
event.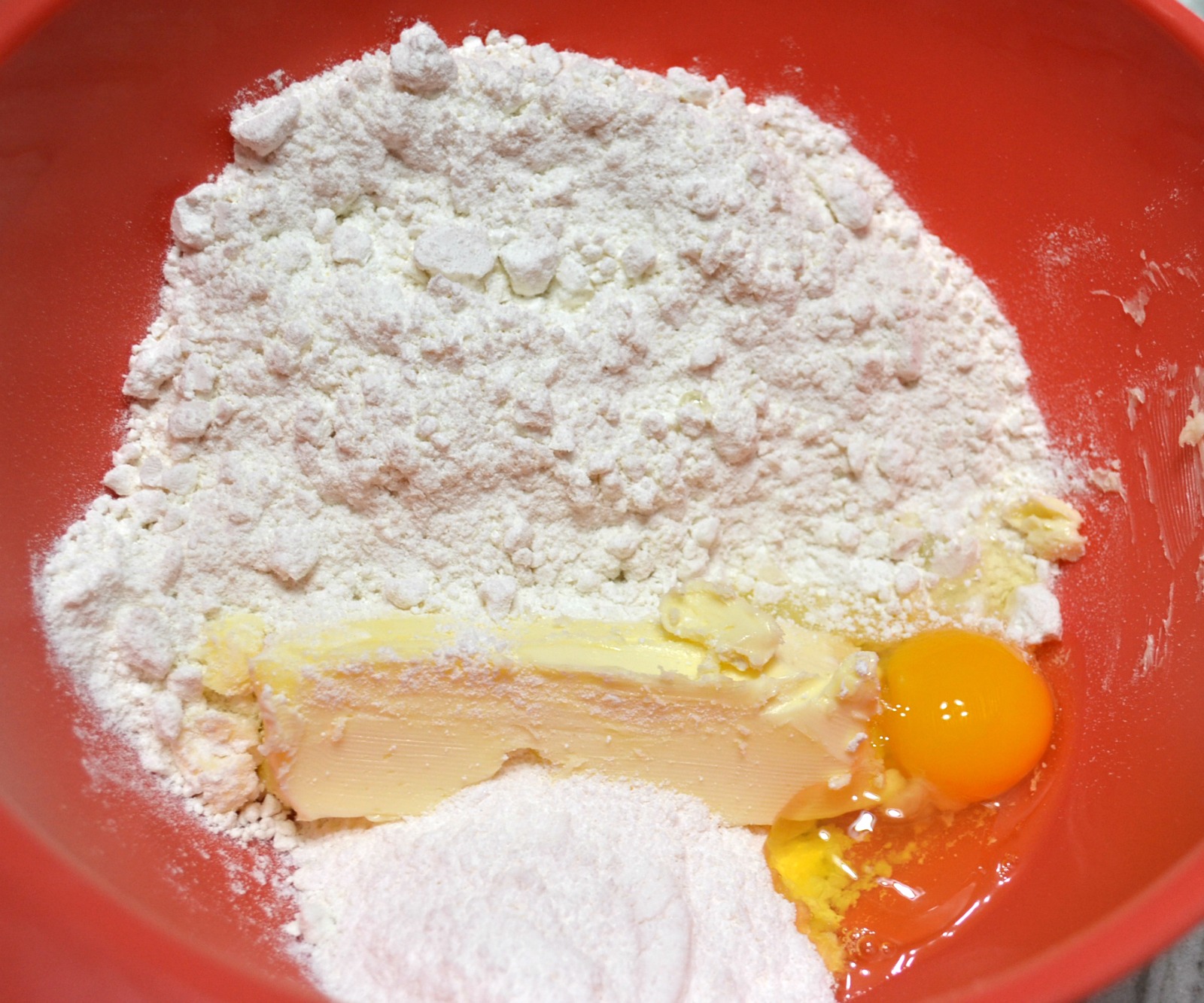 Stir together white cake mix, white chocolate instant pudding mix, an egg, and a stick of softened butter.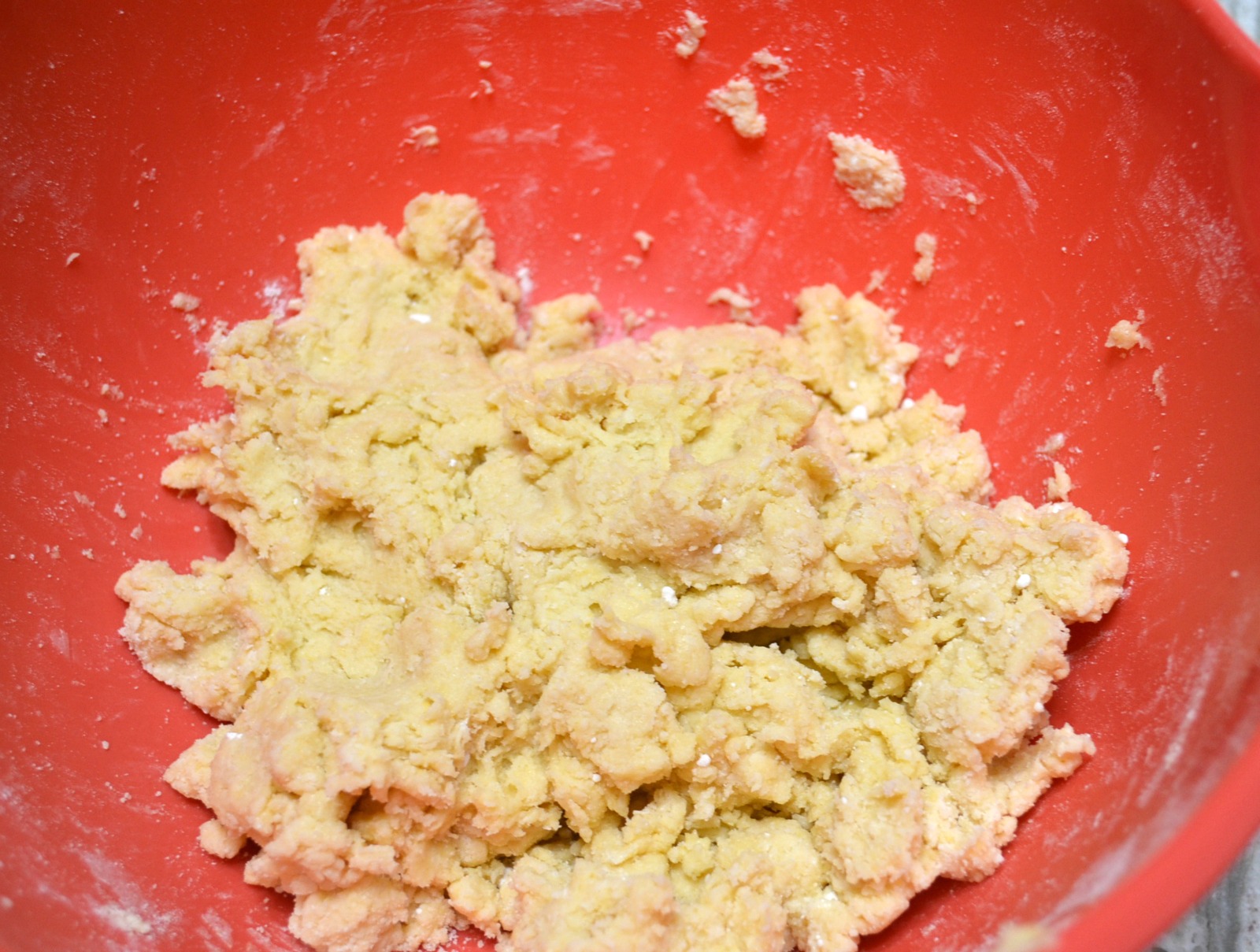 Stir until all ingredients are combined.  May also use your
fingers to help crumble it together.
Save 3/4 cup of mixture back, and press remaining amount into the bottom of a parchment paper lined pan.
I used an 11 x 7 1/2 inch brownie pan.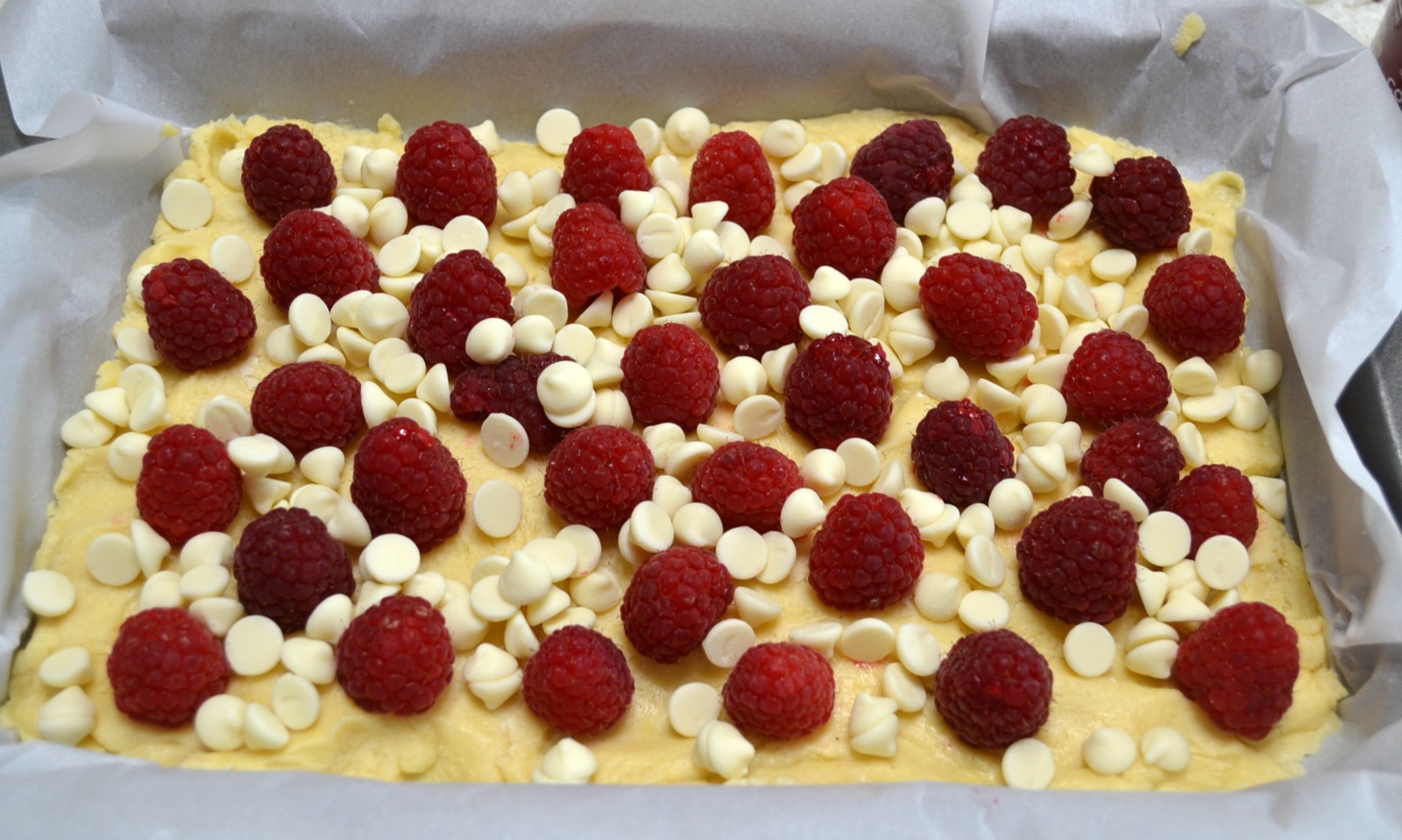 Arrange fresh raspberries and white chocolate chips over
the dough.
Crumble reserved dough over the top.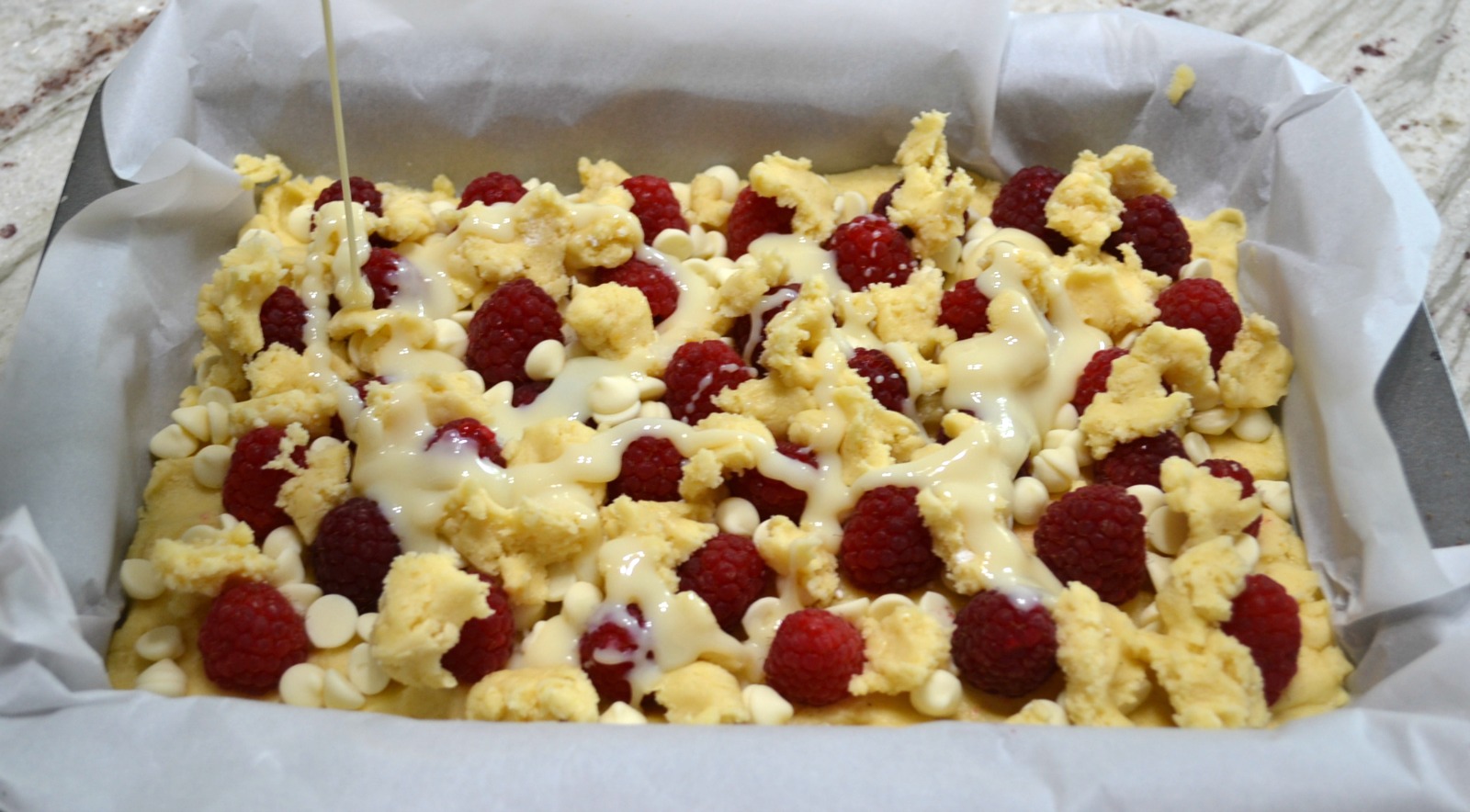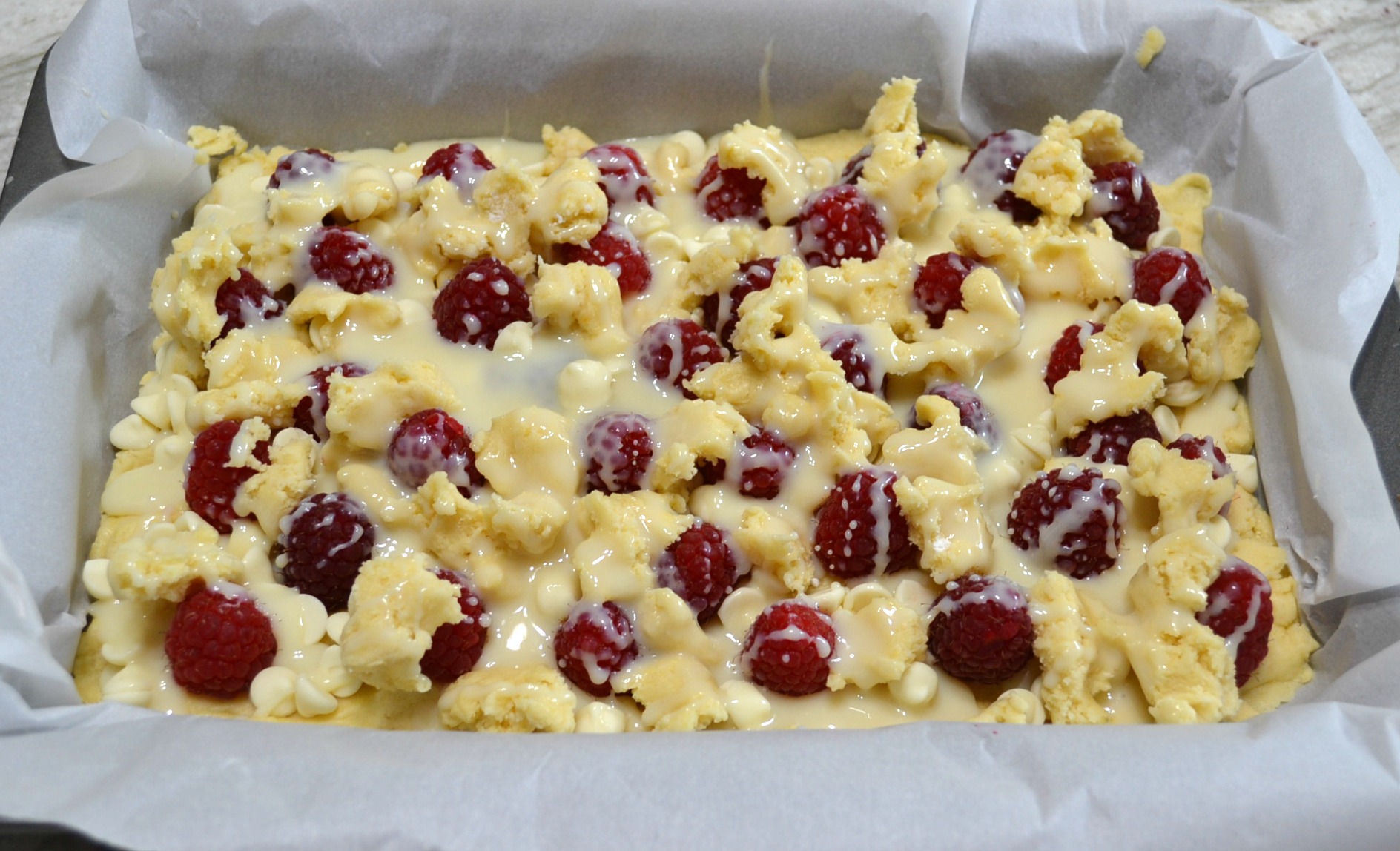 Drizzle sweetened condensed milk over the ingredients.
Bake.  Allow to cool about 1 hour, and then remove from the pan by lifting the ends of parchment paper.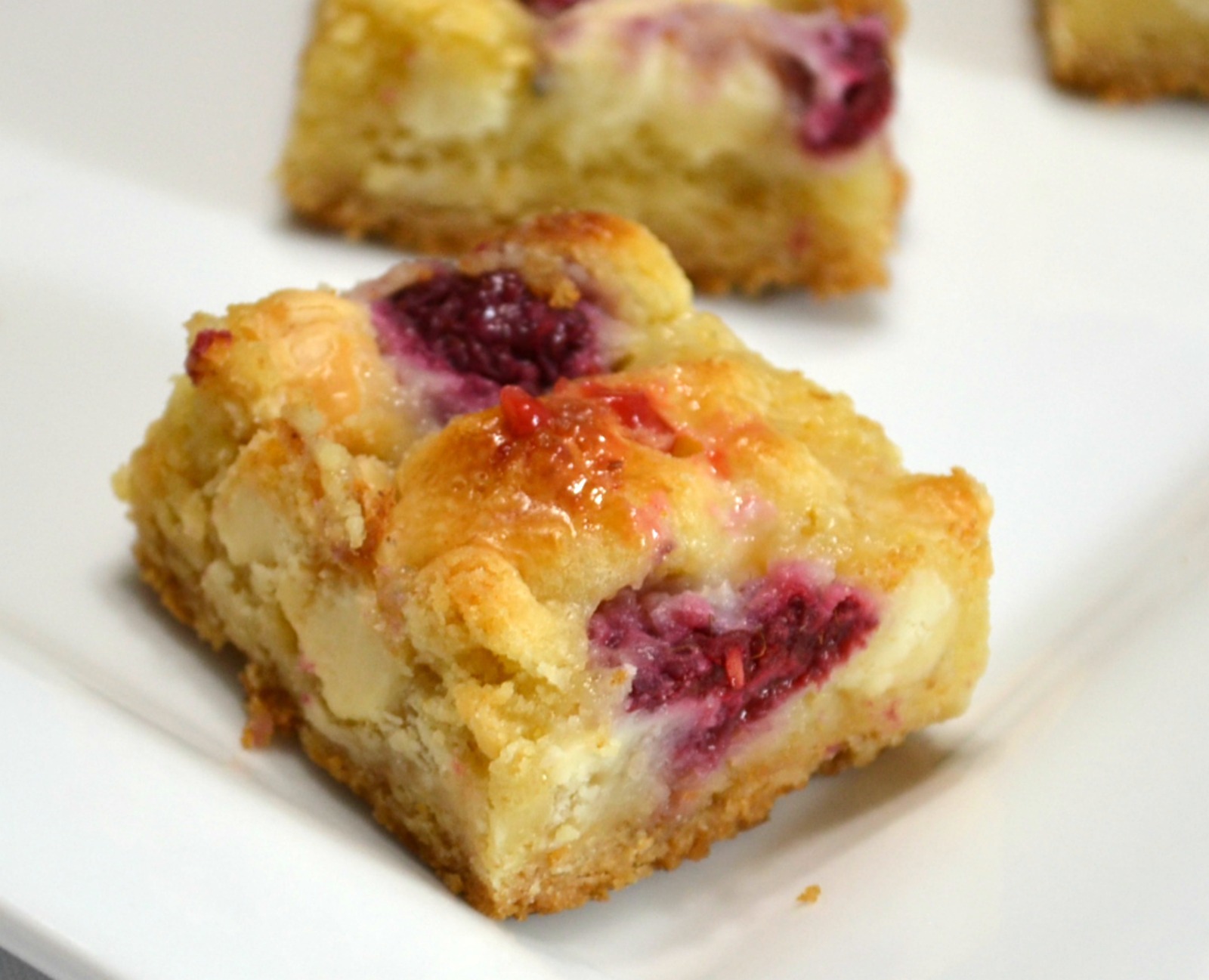 After the bars have completely cooled, cut into desired
size bars.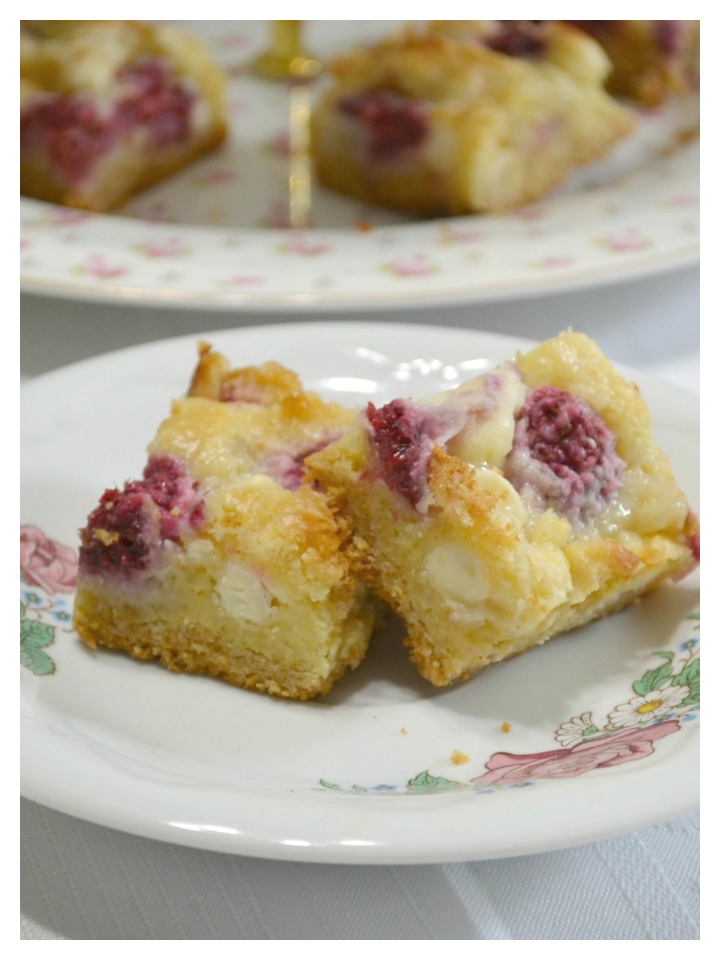 I cut mine small because this dessert is very
rich.  I got 24 bars.
RASPBERRY WHITE CHOCOLATE CAKE BARS
Ingredients
1 Box (15.25oz) white cake mix
1 Box (3.4oz) white chocolate instant pudding mix
1 stick butter, softened
1 large egg
1 pint fresh raspberries
1/2 cup white chocolate chips
1/2 cup sweetened condensed milk
Instructions
Preheat oven to 350 degrees F. Line an 11 x 7 1/2 inch brownie pan with parchment paper.
In a large mixing bowl, place the cake mix, pudding mix, butter, and egg. Stir with a fork, may also use fingers to crumble, until ingredients are all moistened. They still need to be a little crumbly.
Save 3/4 cup of the mixture for later use. Press remaining dough into the bottom of pan.
Arrange the raspberries over the dough. Sprinkle the chips around the berries.
Crumble reserved dough over the top. Drizzle the sweetened condensed milk evenly over the mixture.
Bake for 28-35 minutes, or until crust is starting to brown and the center seems set when you slightly wiggle the pan. Do not overbake.
Remove from oven, place on a wire cooling rack, and cool about an hour.
Remove from the pan by parchment paper edges and place on a cutting board.
Allow to cool at least another hour, so they will cut easier. I trim the edges off before cutting, but this is not necessary of you do not want to.
Cut into bars of desired size. (They are very rich, so I cut mine small) I got 24 bars.
Transfer to serving platter.
© 2023 Copyright GRANDMA HONEY\\\\\\\'S HOUSE
I hope that you enjoy these bars, and add them to your summertime menu.
This recipe was shared on Weekend Potluck @ https://sweetlittlebluebird.com/
Please follow and like us: