Jump to recipe
I am so happy to be sharing this recipe for a
Hummingbird Cake for 2 with you today.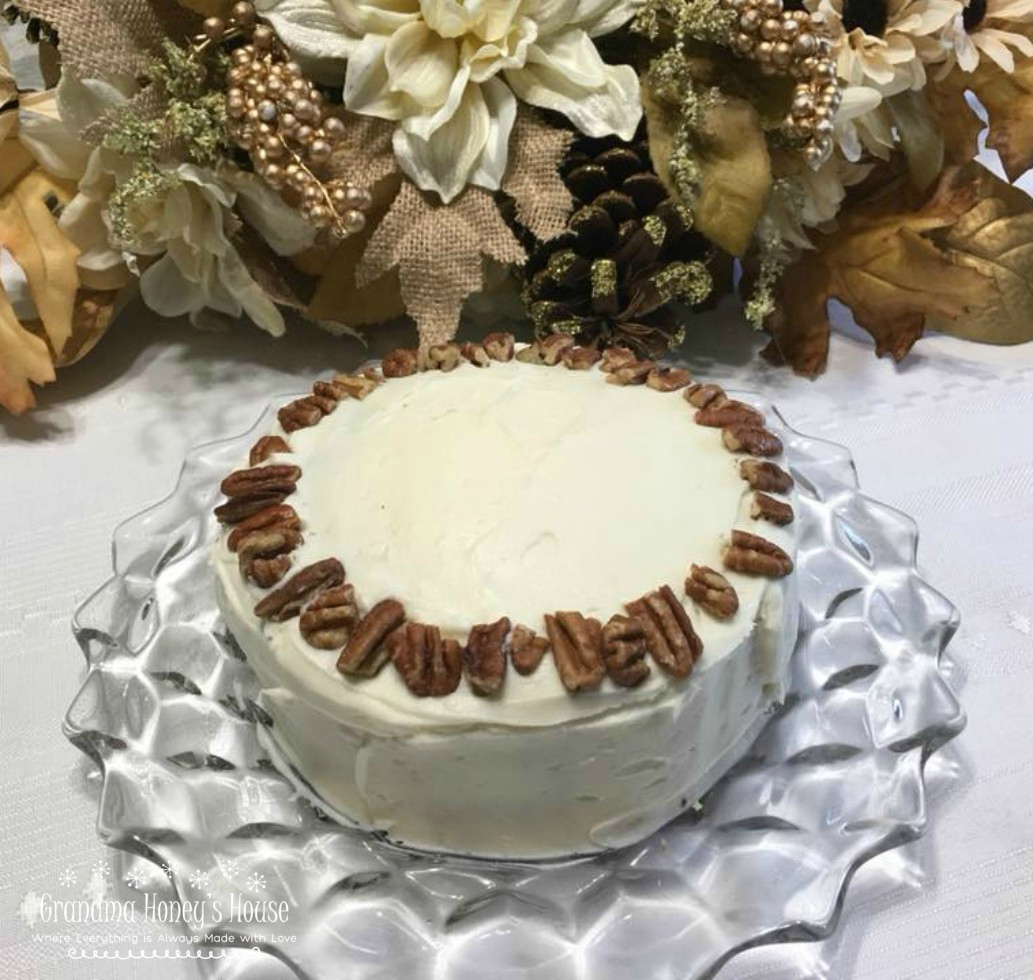 My mother frequently made this cake over the past years. It was perfect to take to covered dish events or share with guests during the holidays. The Hummingbird Cake is large and very rich, so it isn't a cake you want to make for a small crowd.
This one will be perfect for the smaller crowds at Thanksgiving this year.
A few weeks ago I was reading an article about this cake in Southern Living magazine. The article said it was the most printed recipe for the past 40 years. I started craving a piece of it, so decided to try to create a scaled down version of it.
My husband and I are empty nesters, so I frequently try to come up with downsized recipes.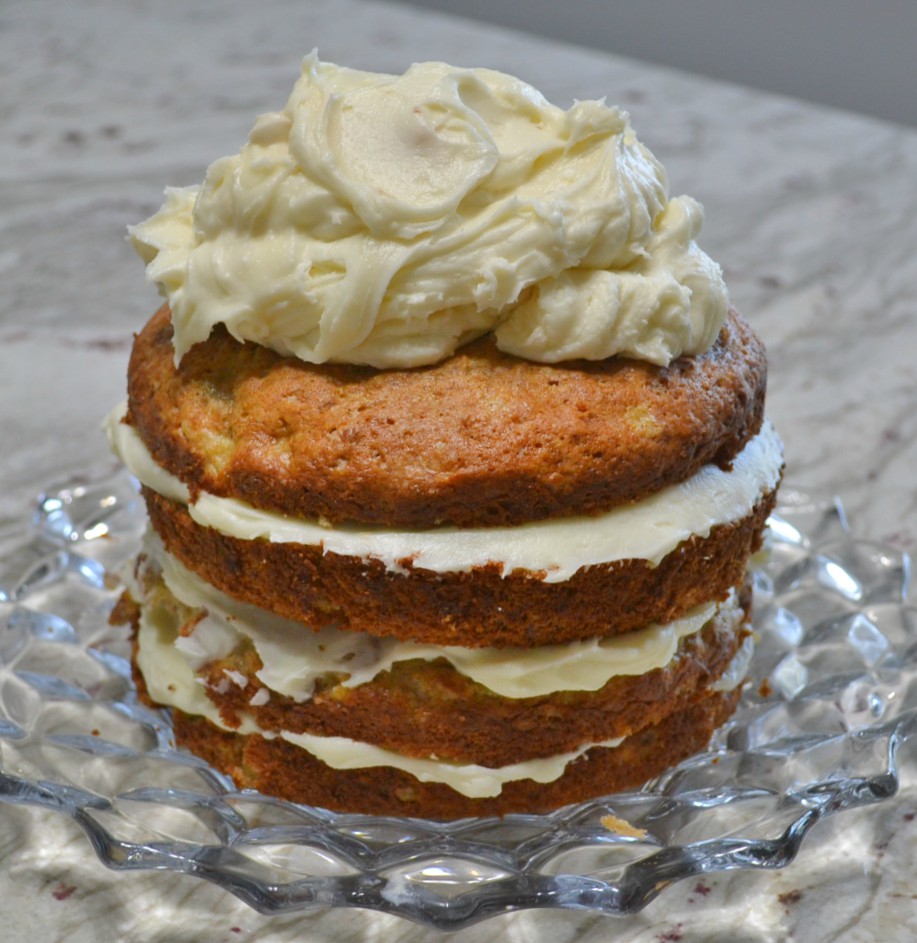 My first attempt resulted in a 4 layer cake made in (2) 6-inch round cake pans. It was still too large though. I ended up giving most of it away.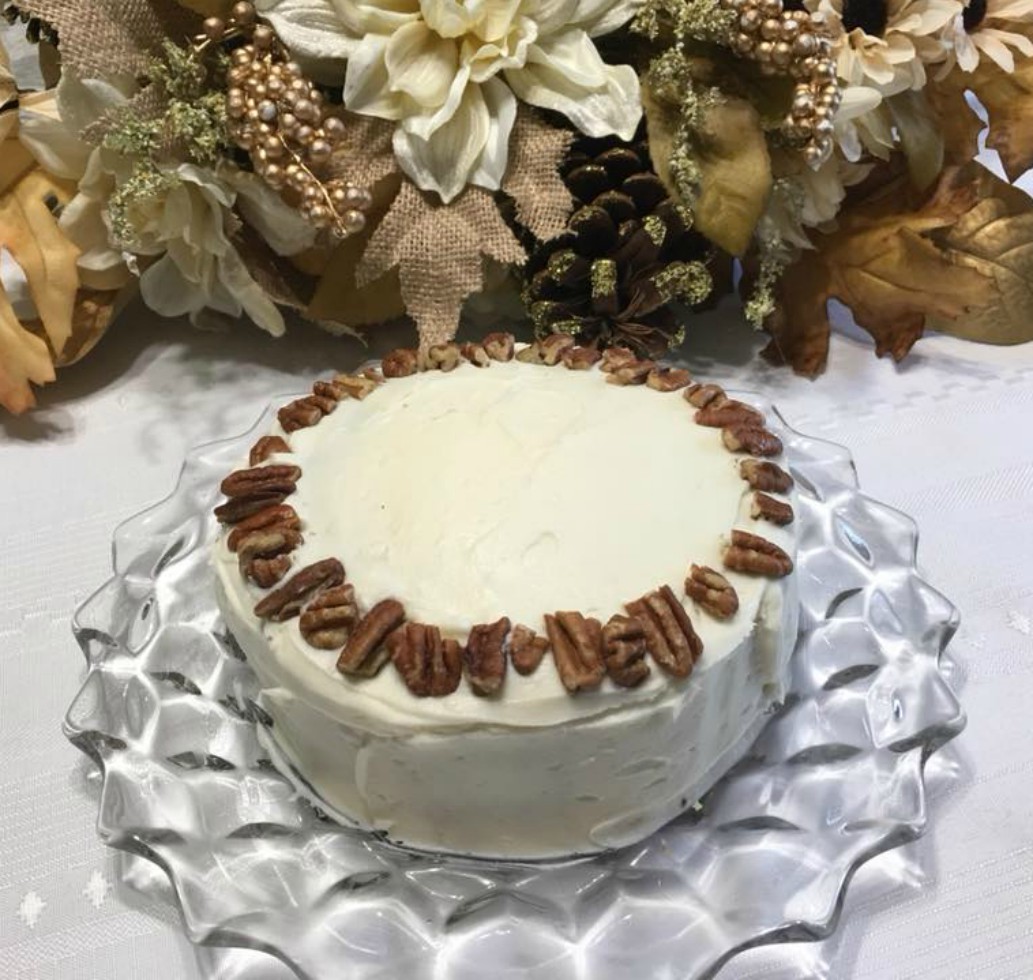 My second attempt was to make a cake in (1) 6-inch
round cake pan and make it a 2 layer cake. This one
turned out perfect! The cake is still very rich and will
serve more than 2 people, but you can eat on it a couple of days.
If you are an empty nester, having a small 6-inch cake pan is a must have item. I bought mine at our kitchen store in the mall, but I see these on Amazon also.
Here's how to make this Hummingbird Cake.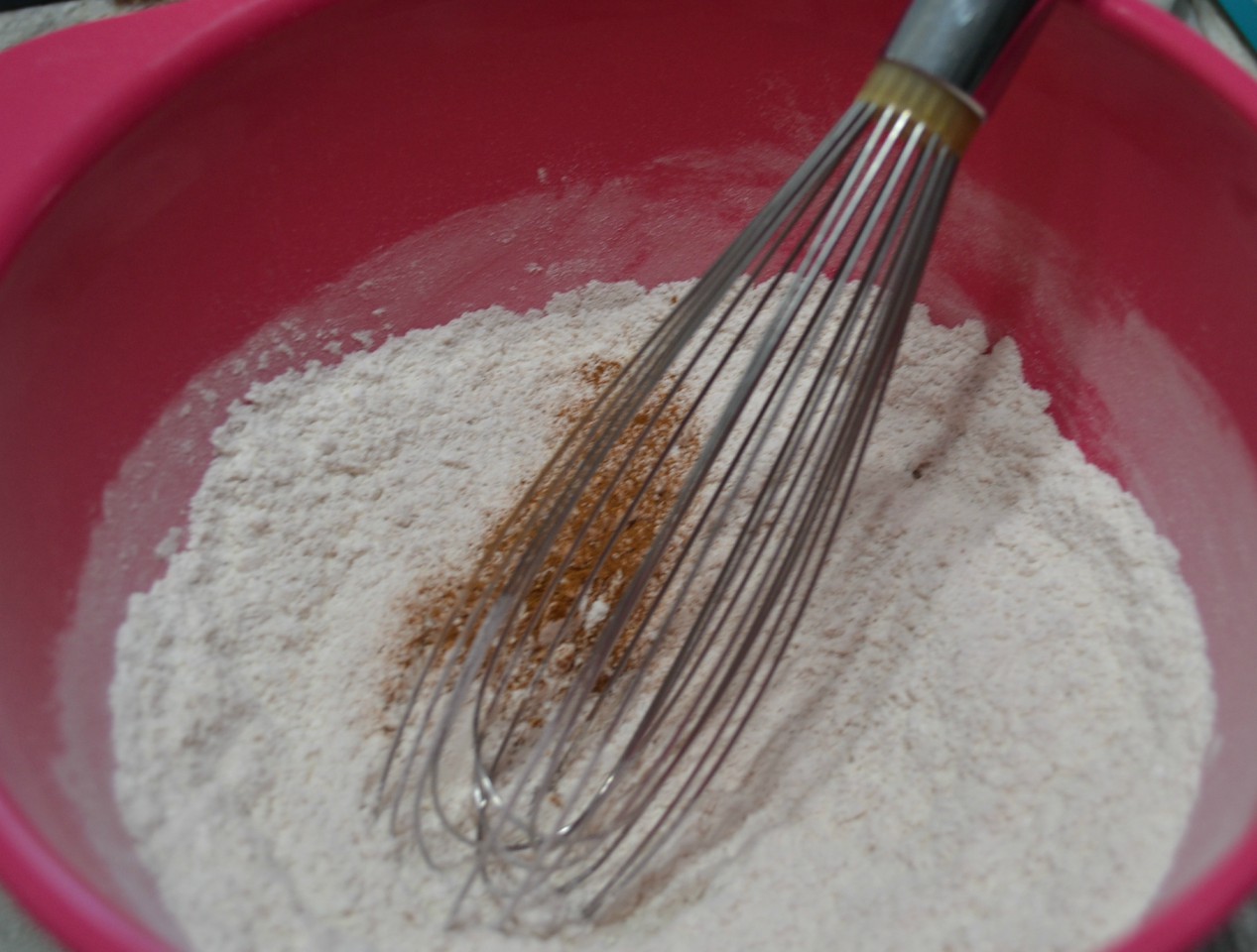 Combine flour, baking powder, soda, cinnamon, and salt.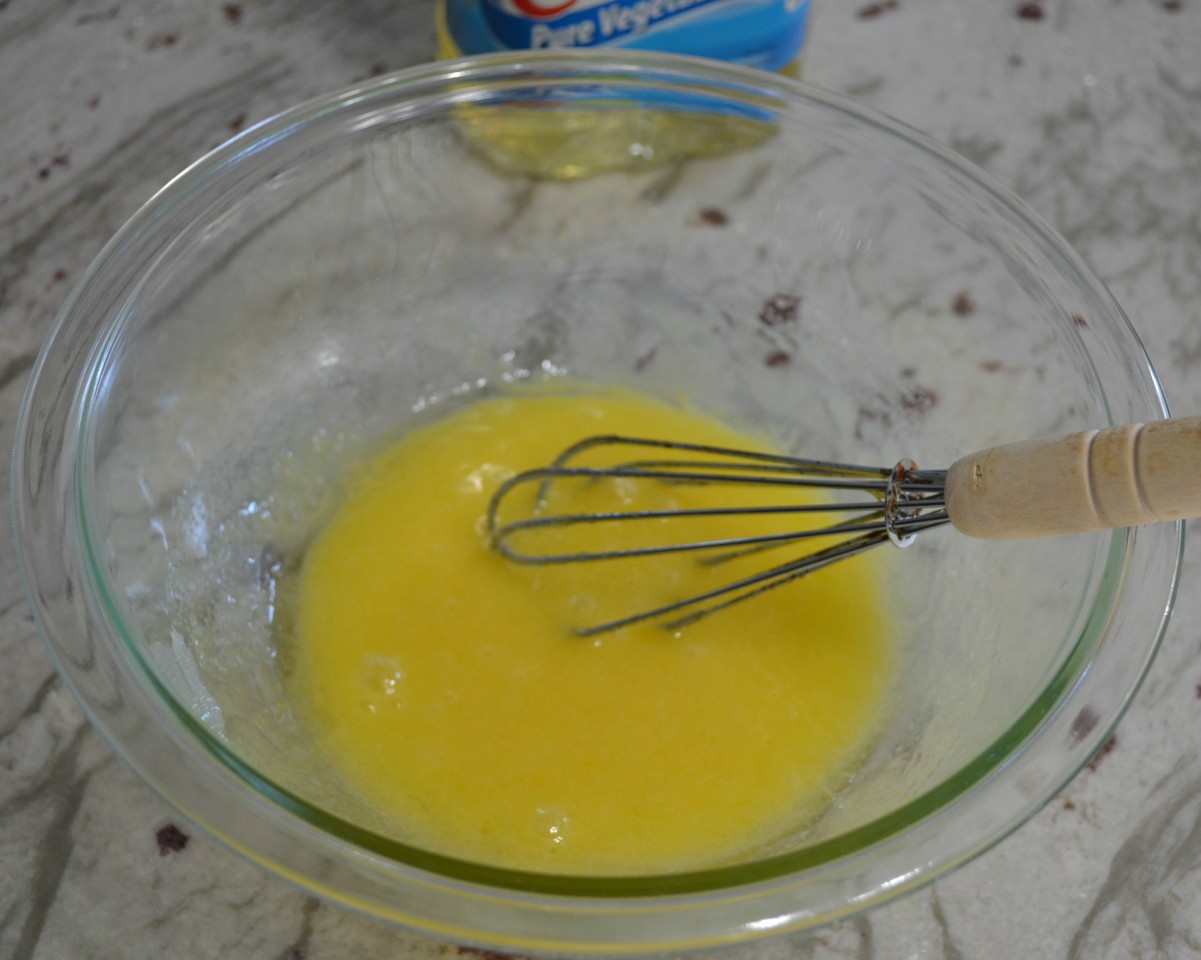 Whisk together the sugar, egg, and oil.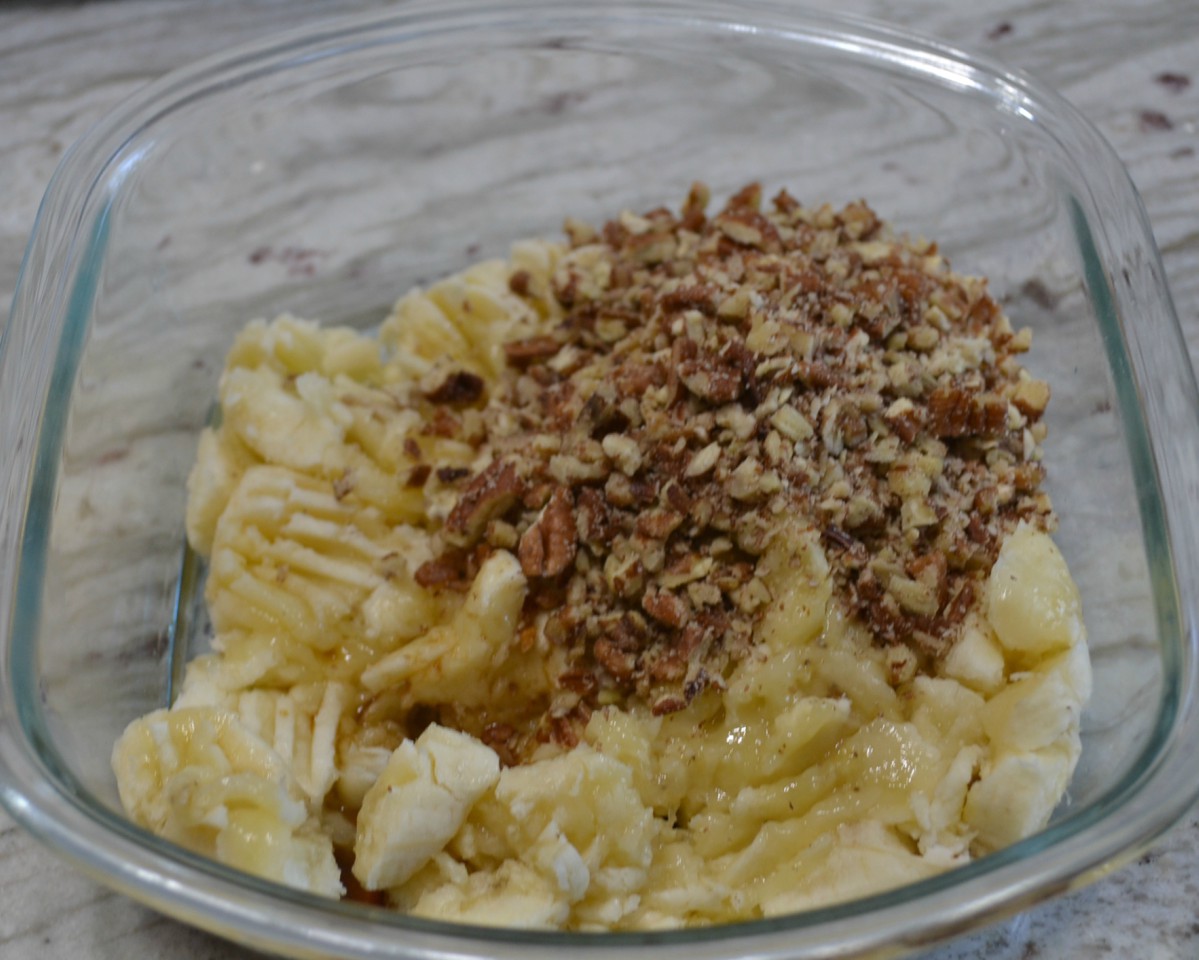 Mash the banana, pecans, vanilla, pineapple, and juice.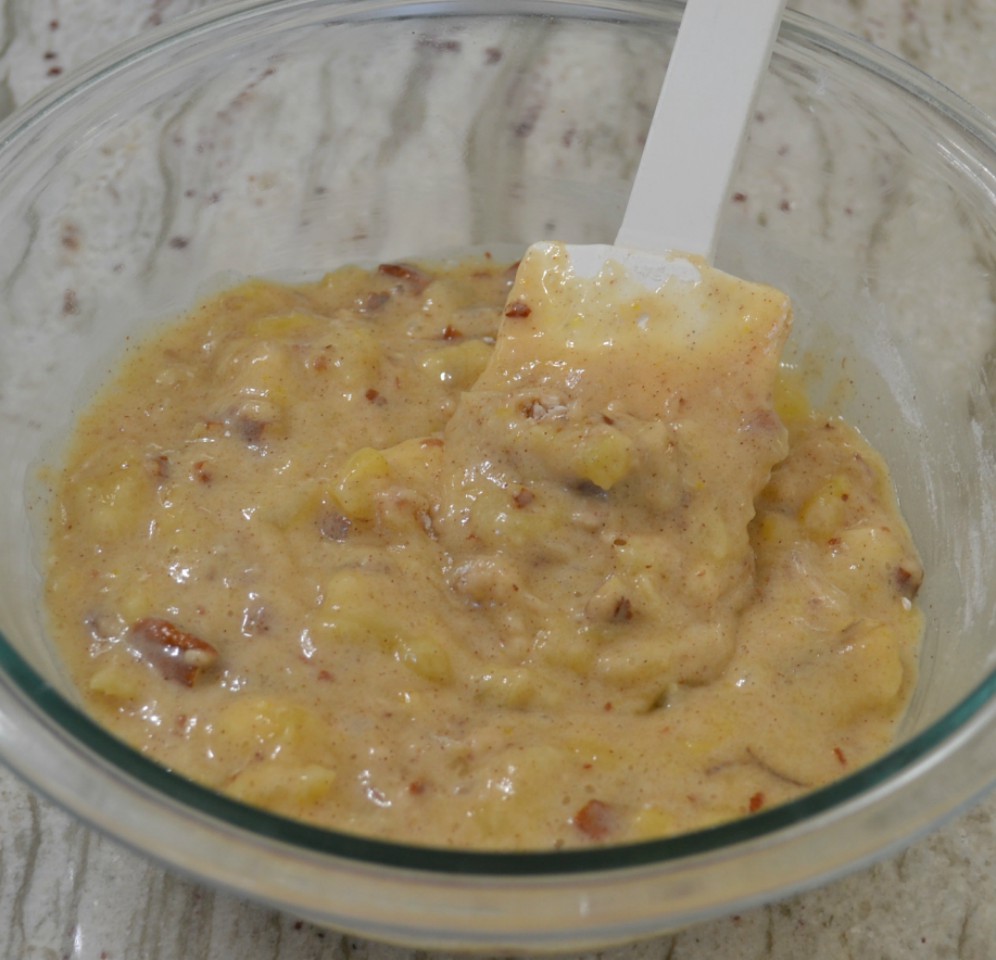 Stir into sugar mixture. Add flour mixture.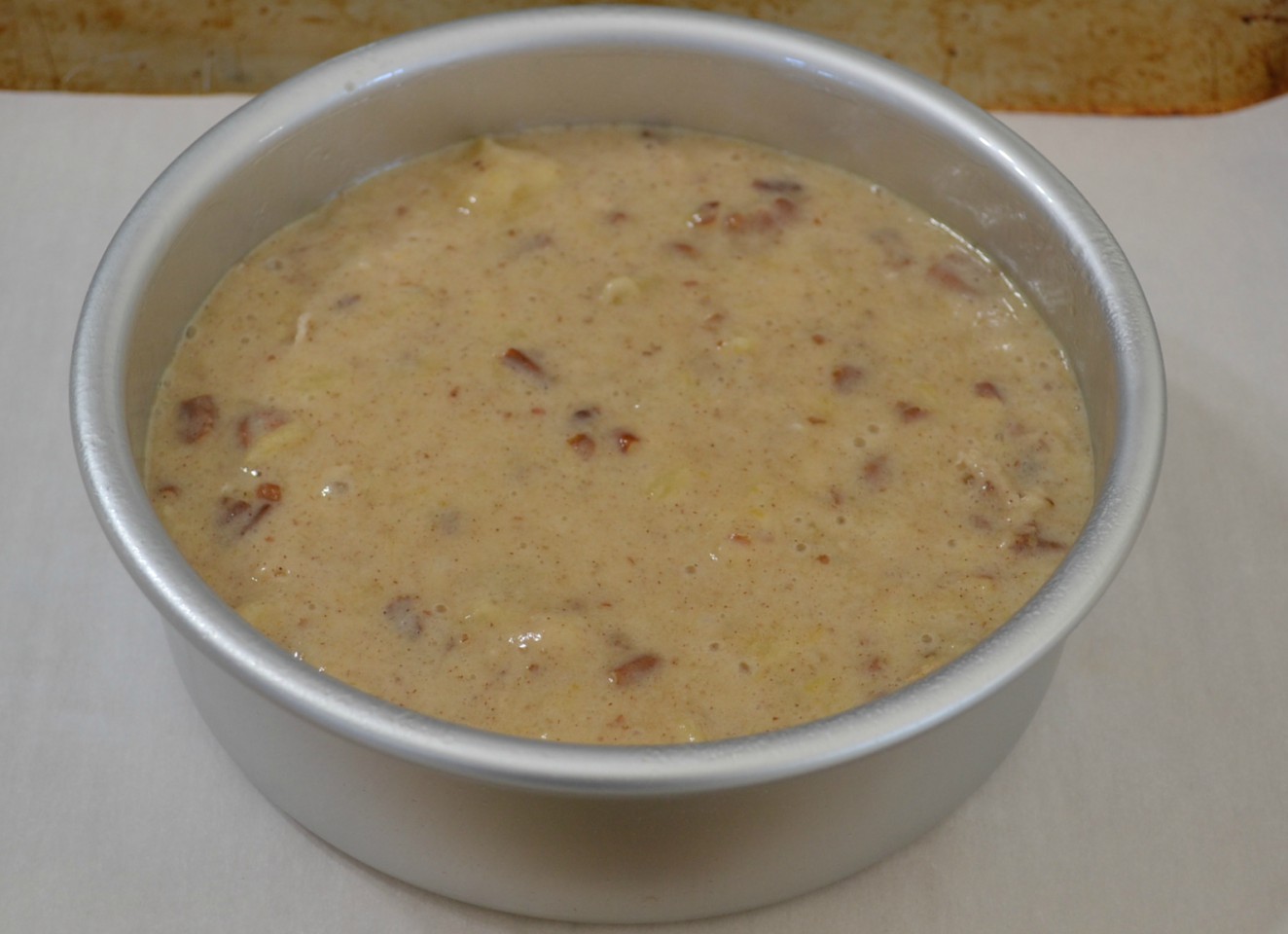 Spread in 6-inch round cake pan. Bake.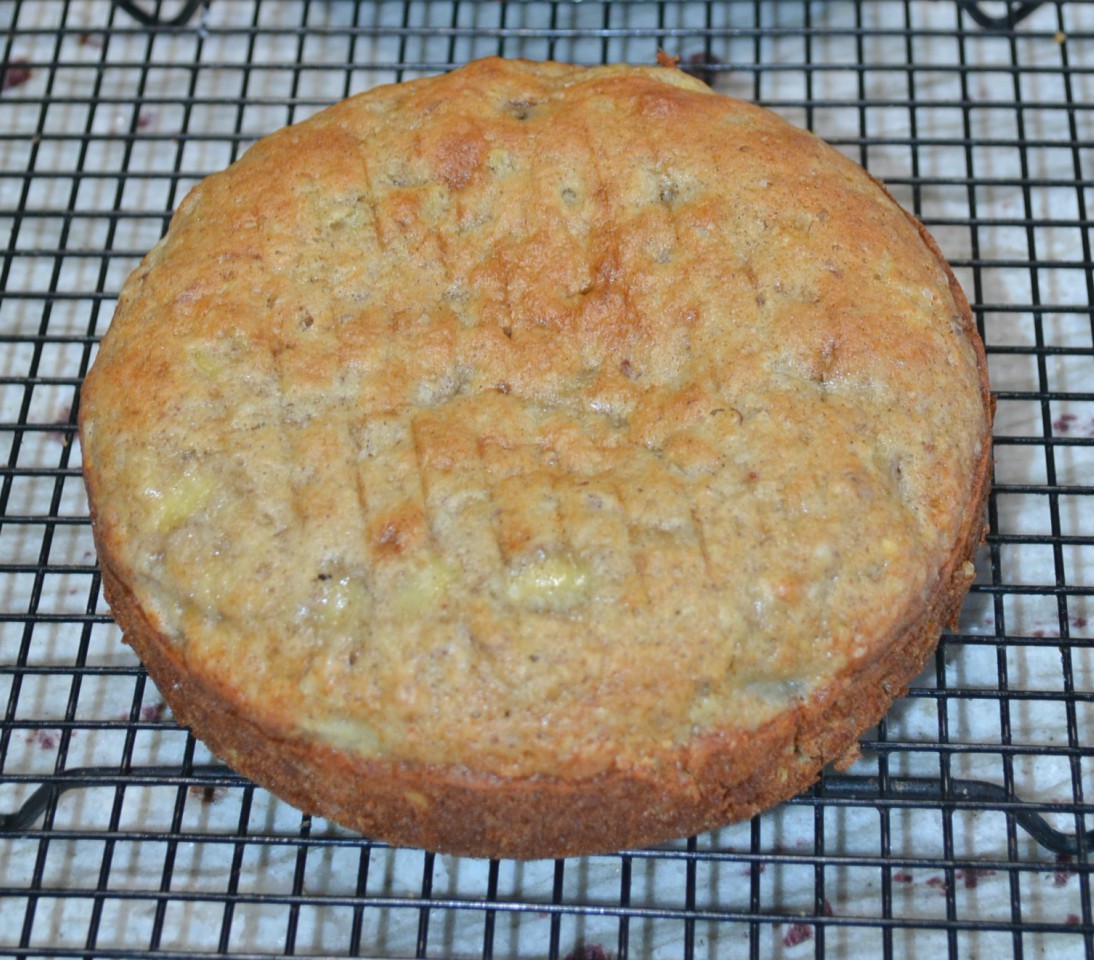 Transfer to wire rack to cool. Slice in half
horizontally when completely cooled.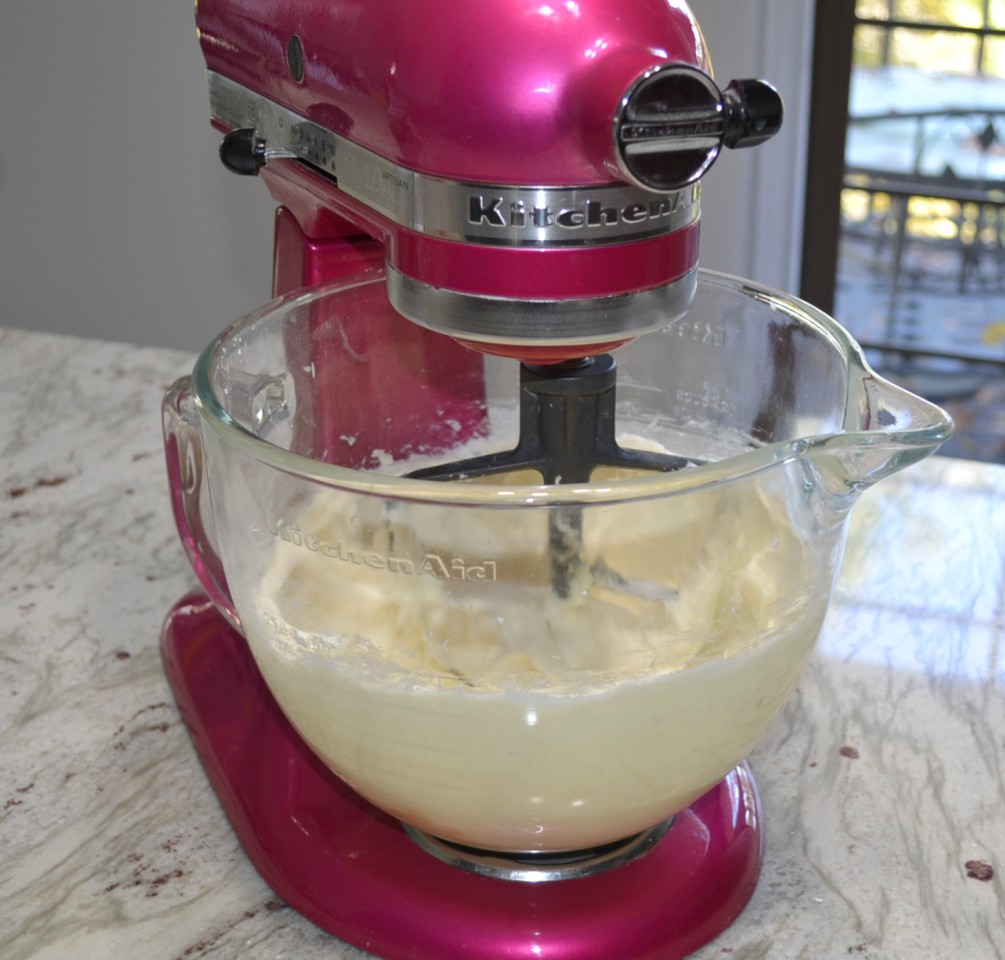 Prepare frosting. Place bottom layer on a serving
plate and spread about 3 Tablespoons of frosting on top of it. Place second layer on top. Frost top and sides of cake.
Add pecans around outer edge of the cake.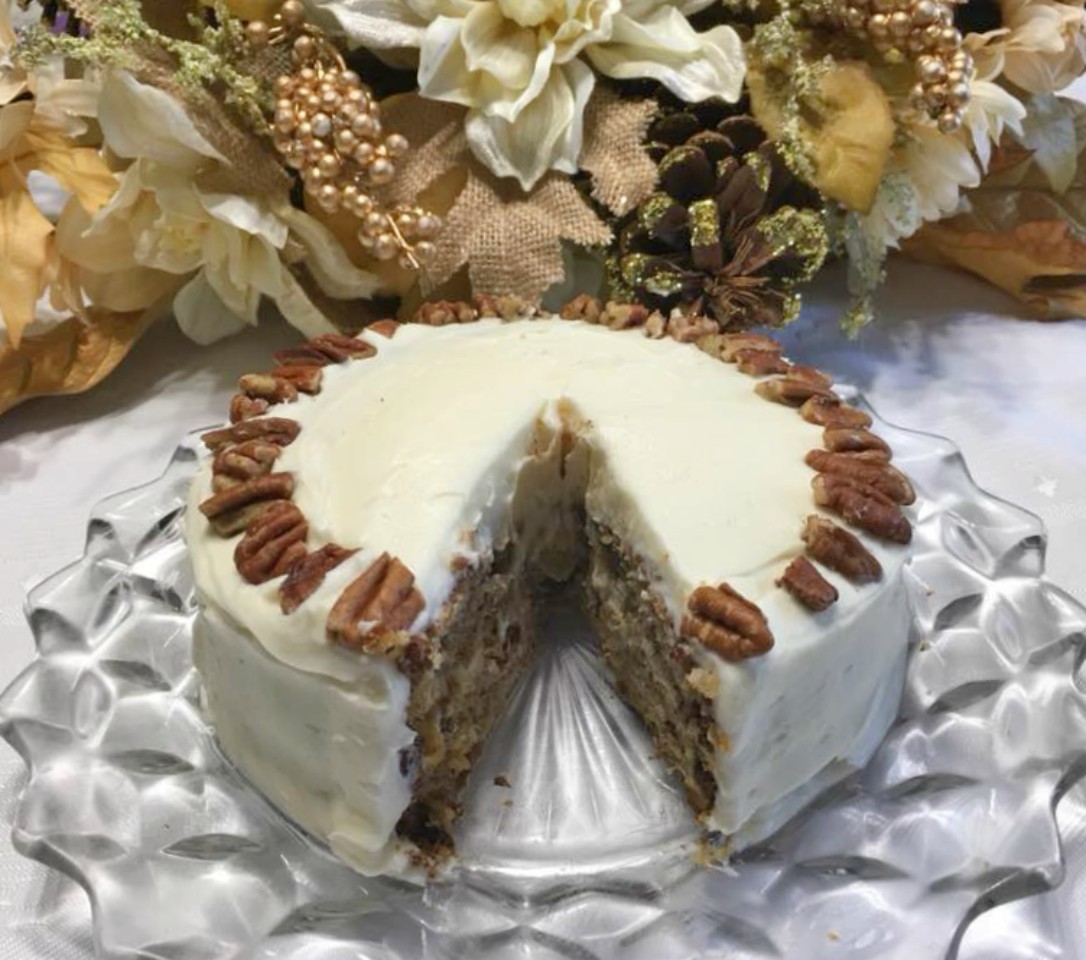 My husband does not usually eat anything sweet, but I begged him to try a few bites of this and he even admitted
that it is delicious.
I hope that you enjoy this Hummingbird Cake for 2.
Mini Citrus Bundt Cake for 2 is another delicious scaled down one.
This recipe was shared on Week-end Potluck
@Sweet Little Bluebird.
HUMMINGBIRD CAKE FOR 2
Ingredients
CAKE:
2 oz crushed pineapple in juice
2/3 cup all purpose flour
1/2 teaspoon baking powder
1/2 teaspoon baking soda
1/4 teaspoon kosher salt
1/2 teaspoon ground cinnamon
1/2 cup sugar
1 large egg
2 Tablespoons vegetable oil
1 very ripe banana
1/2 cup chopped pecans
1 teaspoon vanilla extract
FROSTING:
4 Tablespoons (1/2 stick) butter, softened
1 1/2 cups confectioner sugar
1/2 teaspoon vanilla extract
pinch of salt
4 oz cream cheese, room temperature
1/3 cup chopped pecans
Instructions
Preheat oven to 350 degrees F. Line the bottom of a 6-inch round cake pan with parchment paper. Spray pan with no stick cooking spray.
Drain pineapple in a small, mesh strainer. Press juice out of it with a fork. Set aside.
In a small bowl, whisk together the flour, baking powder, soda, salt, and cinnamon; set aside.
In a medium size bowl, whisk together the sugar and egg. Whisk in the oil next.
In a small bowl, mash the banana then add the pecans, vanilla, pineapple and 2 Tablespoons pineapple juice. Stir together with the egg mixture.
Fold the flour mixture into the banana mixture. Spread batter into prepared pan.
Bake 25-30 minutes or until toothpick inserted in the center comes out clean. Transfer to a wire cooling rack and cool completely.
Slice cake horizontally to make 2 layers.
To prepare the frosting, beat together the butter, confectioner sugar, vanilla, salt, and cream cheese with an electric mixture until well combined and smooth.
Place bottom cake layer onto a serving plate. Top with 2-3 Tablespoons of the frosting and spread. Add top layer of cake. Frost top and sides of cake with remaining frosting. Arrange pecans around edge of cake or sprinkle on top.
© 2023 Copyright GRANDMA HONEY\\\\\\\'S HOUSE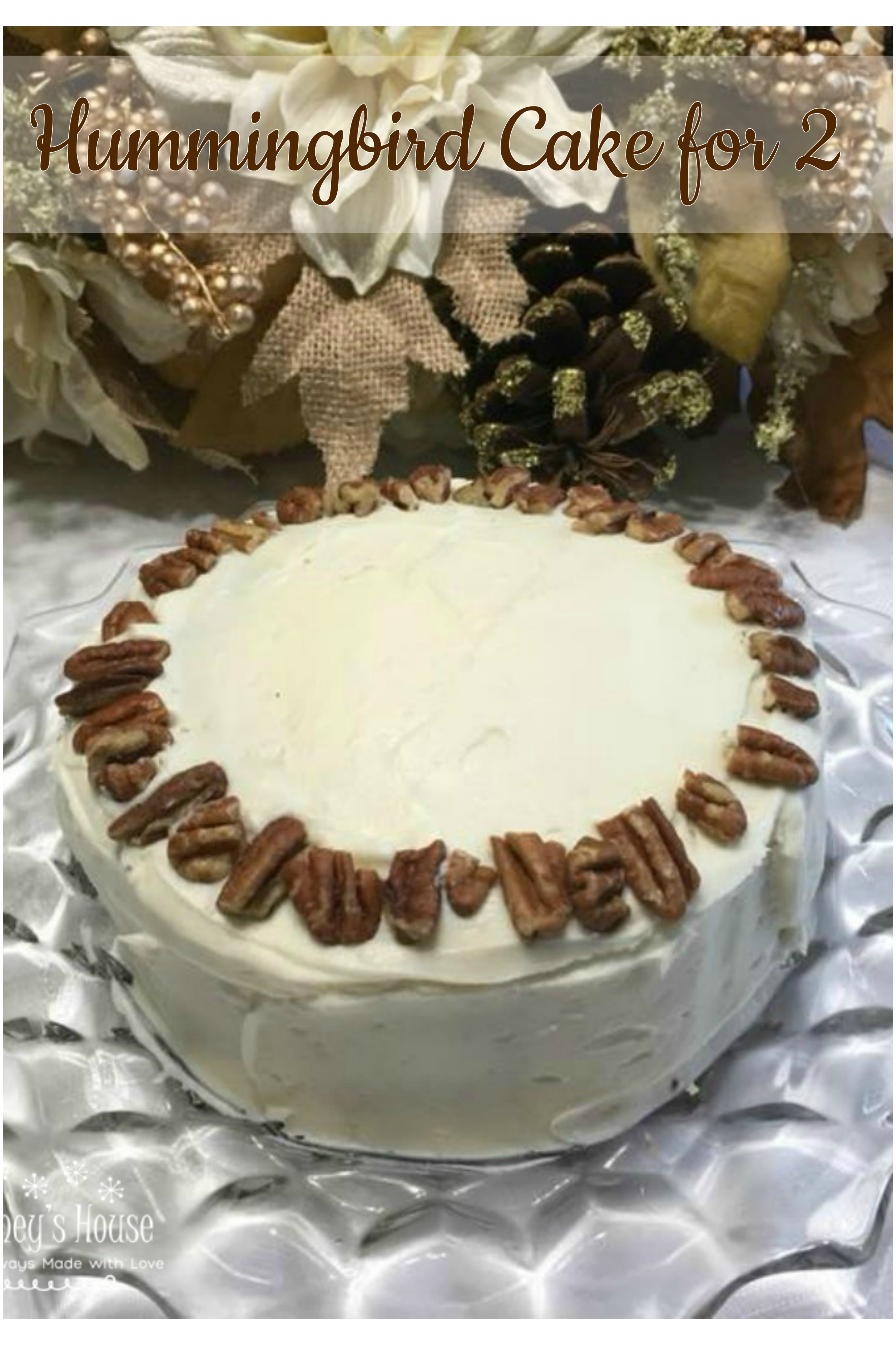 Please follow and like us: