Jump to recipe
Raspberry Almond Cream Egg rolls with Raspberry Dipping Sauce are an elegant holiday appetizer.  A crispy deep fried egg roll wrapper filled with  almond flavored cream cheese and raspberry sauce.  Serve with extra raspberry dipping sauce  on the side.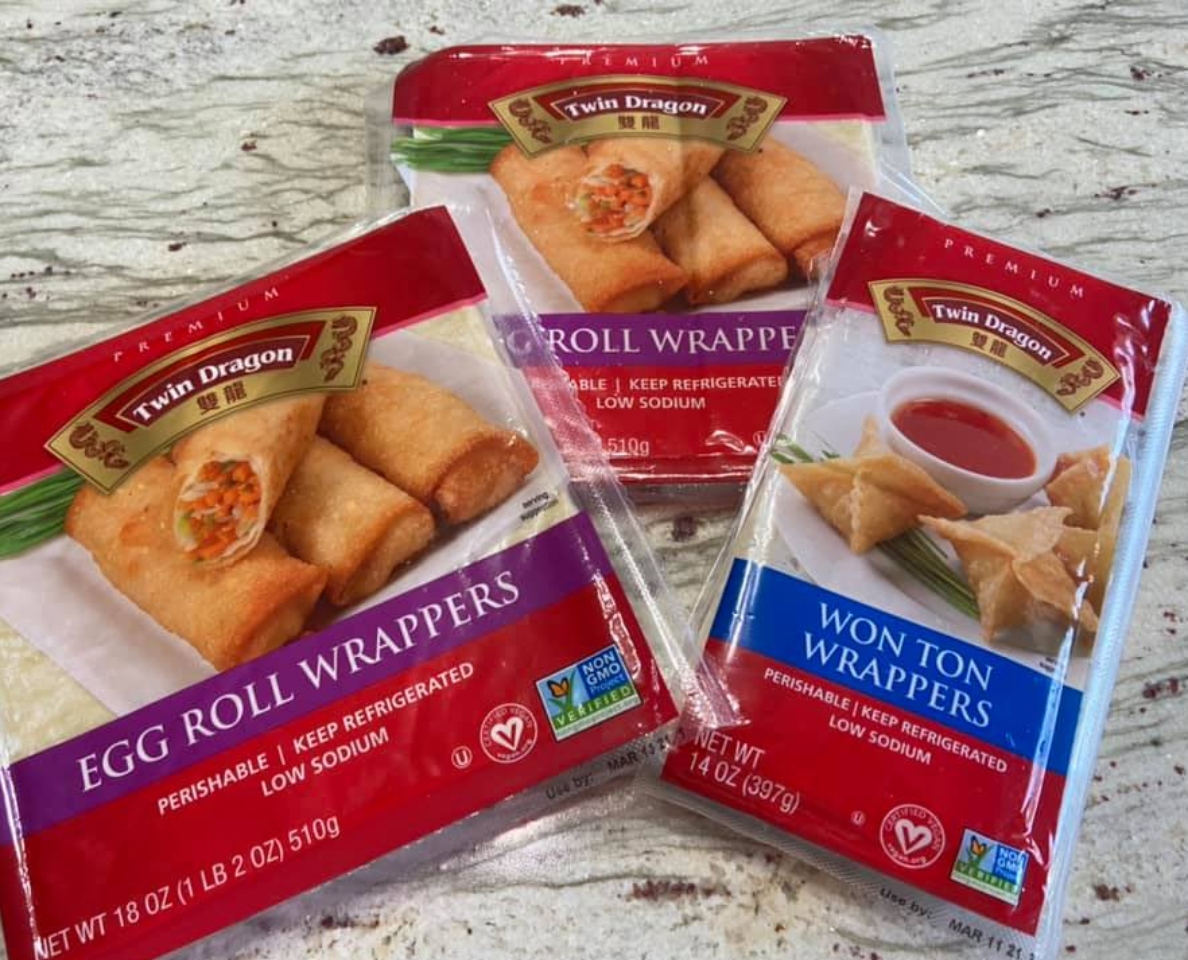 These delicious eggrolls are my entry in the Holiday Appetizer category of the TWIN DRAGON ASIAN WRAPPER RECIPE CONTEST.  I was sent packages of their wonton and egg roll wrappers to create appetizers in holiday and game day categories.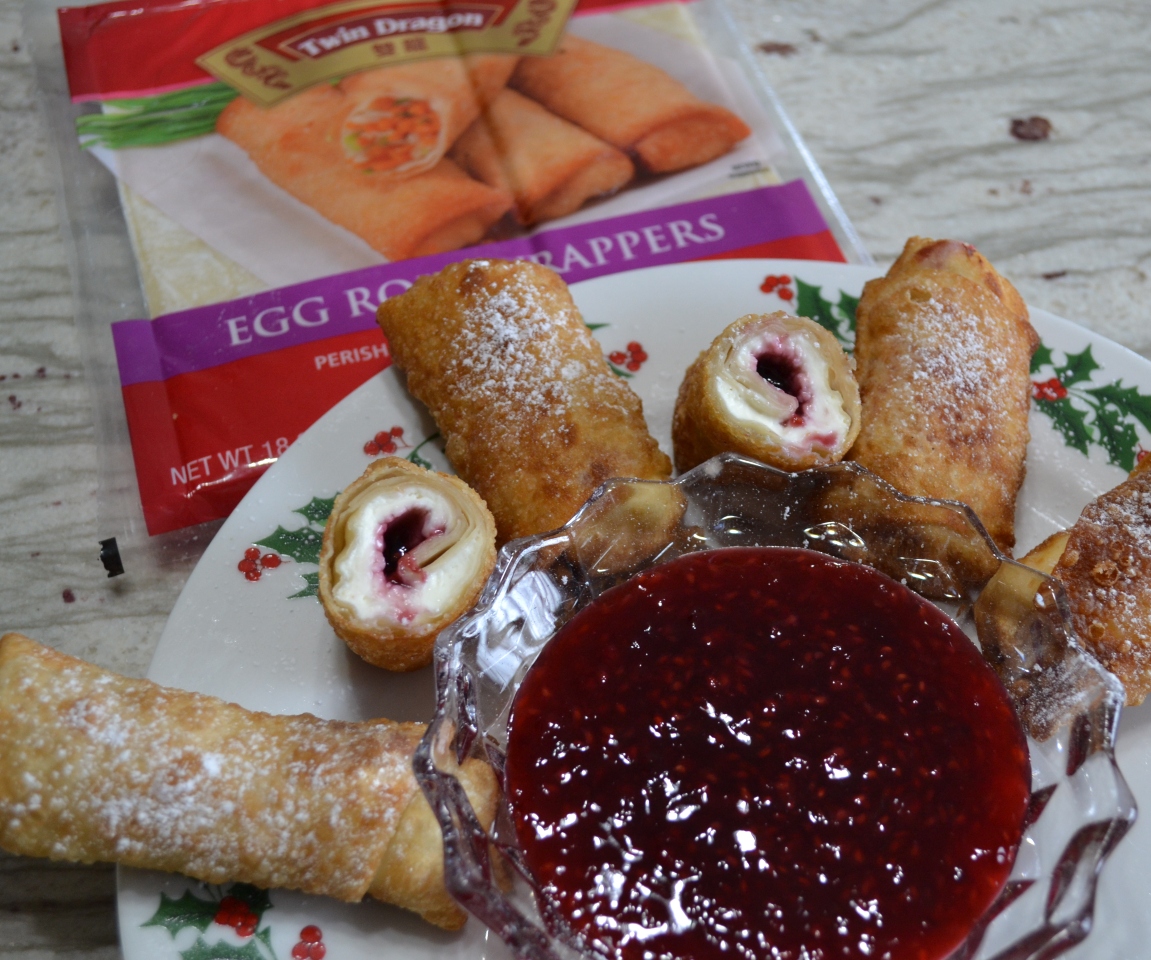 One Saturday afternoon, my granddaughter came to my house to be a taste tester.  We had so much fun creating  different variations of this recipe.  We chose the Raspberry Almond Cream Egg Rolls as the winner.  This appetizer could be served at Christmas, Valentine's Day,  Mother's Day and the Fourth of July.
I have never tried to made eggrolls myself, and was so amazed at how easy the wrappers were to work with.  They separated easily, and stayed rolled up with just a little water around the edges. They are vegan, non-gmo, contain no preservatives, and are very light.
Prepare the raspberry sauce first by combining sugar, cornstarch, and water. After this comes to a boil, stir in frozen raspberries, and reduce to a simmer until it begins to thicken.  Remove from the stove and allow to cool.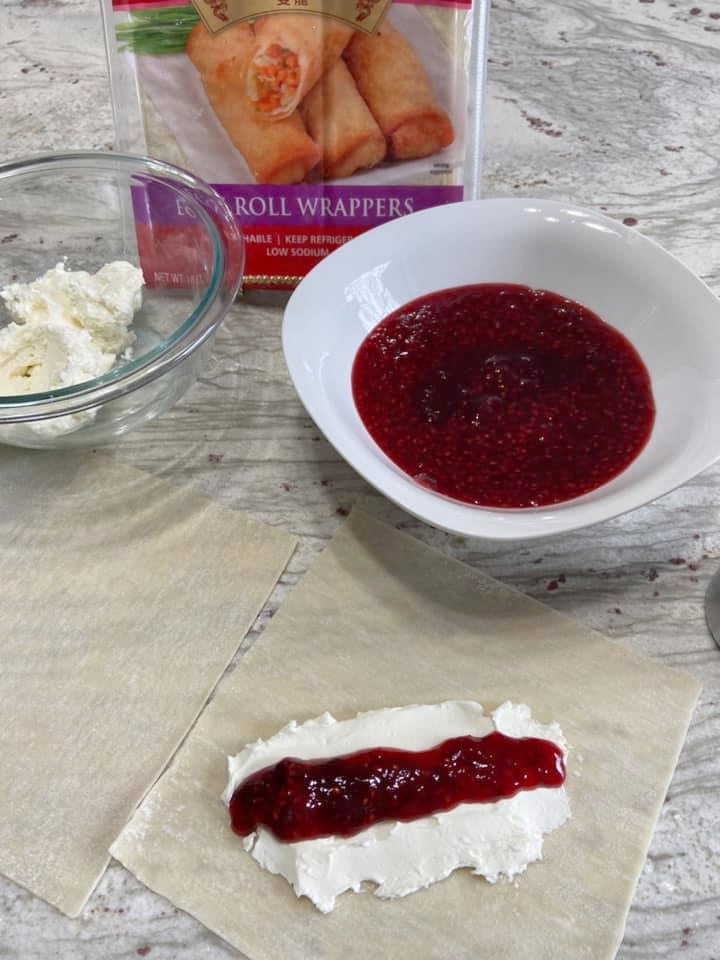 For the filling, combine cream cheese and almond extract. Spread a heaping tablespoon onto lower part of the egg roll. Carefully, top center of cream cheese with a heaping teaspoon of the raspberry sauce.
Moisten edges of the wrapper with water and  roll up to enclose the filling.    Fry in heated oil for about 3 minutes until golden brown.
Transfer egg rolls to a serving platter, sprinkle with confectioner sugar, and serve with raspberry dipping sauce on the side.
My game day entries for this contest were:
Cream Cheese Asian Chicken Wontons
BBQ Chicken and Cheddar Wontons
RASPBERRY ALMOND CREAM EGG ROLLS with RASPBERRY SAUCE
Ingredients
1/2 cup sugar
1 Tablespoon corn starch
1/2 cup water
1 1/4 cup frozen raspberries, semi thawed
6 oz cream cheese, softened
1/2 teaspoon almond extract
8 TWIN DRAGON EGG ROLL WRAPPERS
4 cups vegetable oil for frying
1/2 cup confectioner sugar
Instructions
In a medium size saucepan, whisk together the sugar and corn starch. Add water and combine well. Bring mixture to a boil, stirring frequently.
Stir in the raspberries. Reduce heat to a simmer and cook until mixture becomes thickened. stirring constantly. (About 5-7 minutes). Remove from the heat and allow to cool.
Using a hand mixer, beat together the cream cheese and almond extract until smooth.
Place an egg roll wrapper, in a diamond shape, onto a flat work surface. Place a heaping tablespoon of the cream cheese mixture towards lower part of wrapper. Gently spread it into an oval shape area. Carefully spoon a heaping teaspoon of the raspberry sauce over the cream cheese. Moisten edges of wrapper with water. Fold up bottom half, over the filling, and tightly fold in sides. Gently roll, then seal.
Heat oil in a skillet or pan to 350 degrees F. Fry about 2-3 of the egg rolls at a time, until golden brown. Transfer to a paper towel lined plate to drain any grease.
Transfer to a serving plate and sprinkle with confectioner sugar. Serve remaining raspberry sauce on the side for dipping.
© 2023 Copyright GRANDMA HONEY\\\\\\\'S HOUSE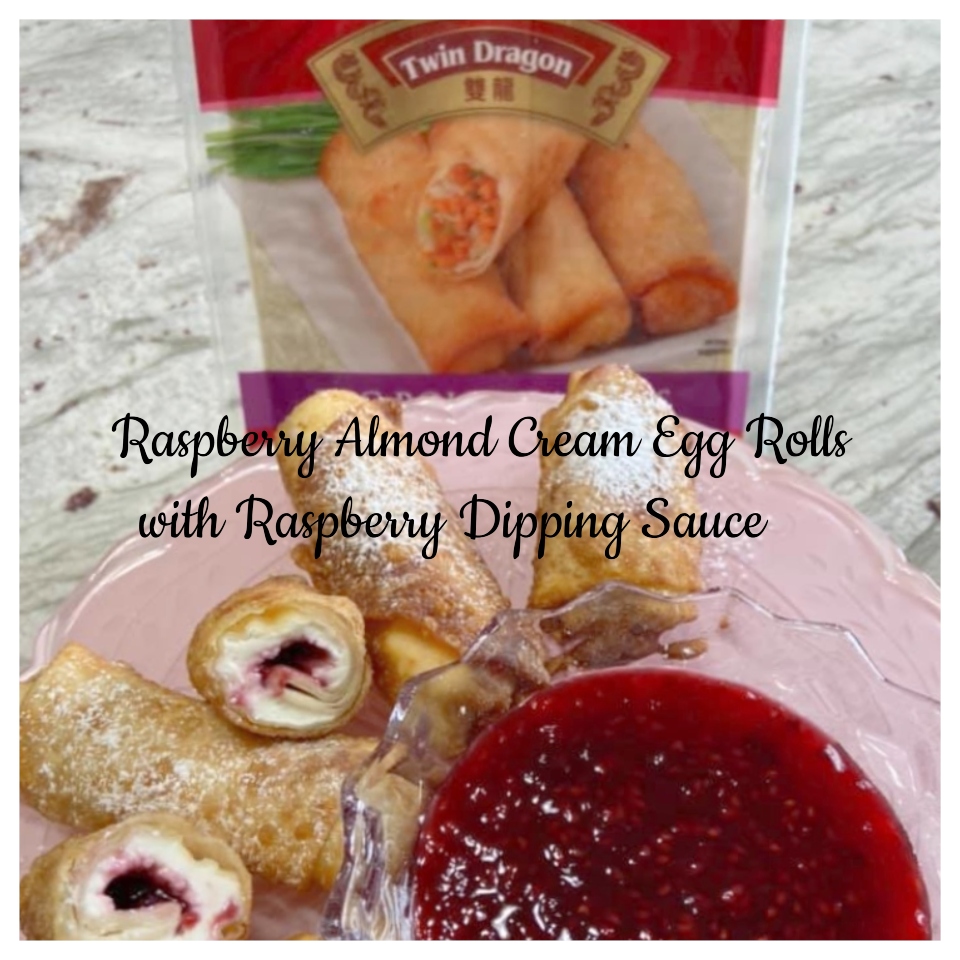 Please follow and like us: