Jump to recipe
French toast is always a special treat.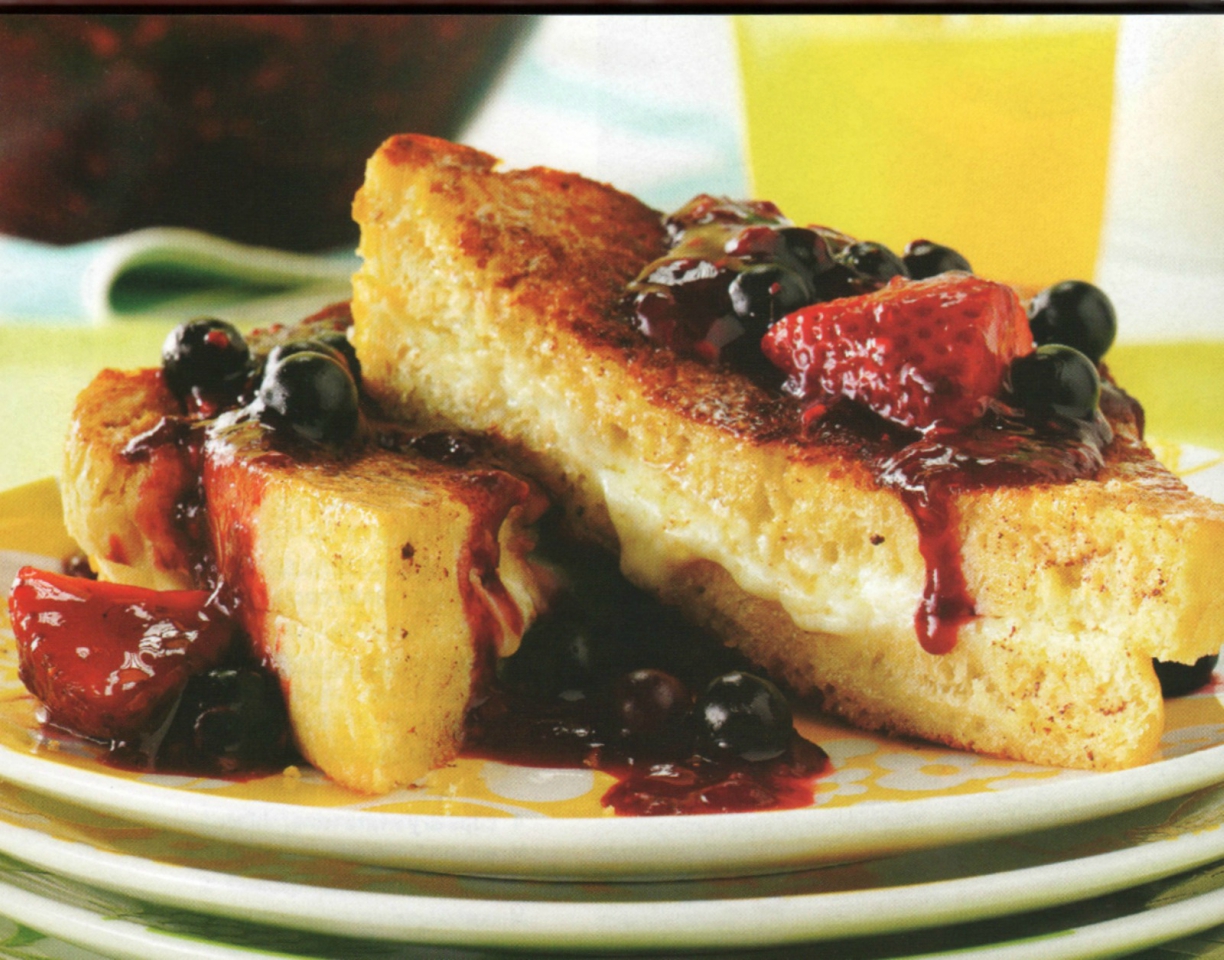 French Toast  Stuffed with Mascarpone Cheese and topped with a Triple Berry Topping is one recipe you will want to try for a very special brunch.
This is a recipe that I created a few years ago for one of these brunches.  My grandchildren love French toast and we frequently experiment with different toppings to try.   On this day, we stuffed it with a mascarpone cheese filling. This is so delicious  when the      mascarpone cheese filling is warm.  Add the flavors of the fruit and it is over the top awesome.
We liked this recipe so much, that when I saw a  contest in Taste of Home for special breakfast ideas, I entered my recipe.  I did not win the contest but, my recipe was published in one of their hard back books with so many other delicious recipes.
I felt so honored. I did receive a free copy of this beautiful book. 
I have been thinking of this French toast recipe every time I see a commercial for breakfast and decided that I need to make it again soon.  It would be great on one of these snowy week-end mornings that we have been having.
FRENCH TOAST STUFFED WITH MASCARPONE CHEESE
Ingredients
1/2 cup sugar
3 Tablespoons corn starch
1/4 teaspoon salt
1/2 cup water
1 (12oz) package frozen mixed berries
2 cups coarsely chopped fresh berries (strawberry,blueberry,or raspberry)
12 slices French, challah, or egg bread
12 Tablespoons mascarpone cheese, softened
6 large eggs
2 cups half and half
3 teaspoons ground cinnamon
1 teaspoon vanilla
4 Tablespoons butter
Instructions
In a large saucepan, combine the sugar, cornstarch, and salt. Whisk in water. Stir in the frozen berries and bring to a boil. Reduce heat to a medium and cook until mixture begins to thicken, stirring constantly. Remove from the heat and stir in fresh berries.
Spread 2 tablespoons of mascarpone cheese on 6 slices of bread. Top with remaining slices of bread.
In a large bowl, whisk together the eggs, half and half, cinnamon and the vanilla.
In a large skillet, melt 2 Tablespoons of butter over a medium heat. Dip both sides of each sandwich in the egg mixture, allowing each side to soak a minute. Place in skillet and cook on each side until golden brown.
Continue to cook all of the sandwiches, adding more butter as needed.
Serve with warm berry topping.
© 2023 Copyright GRANDMA HONEY\\\\\\\'S HOUSE
Please follow and like us: